We all see those amazing photos in the glossy magazines of those incredible houses that are styled to perfection. They are decorated with designer furniture and trinkets that are so expensive, most of us would have to sell one of our kidneys to afford them. I thought it would be fun to take a peek in some 'real' homes of 'real' people. Homes where people live and play, with children and animals, with handprints on the wall, and furniture bought from shops that we can actually afford.
What do y'all think?
First up is one of my besties homes, you can probably tell why we are friends, we have similar taste, and we shop well together (when we're not bitch fighting over a ginger jar). I know your going to love her home as much as I do.
Mel and Jason bought this home about 6 years ago and have slowly renovated the whole home, room by room.
Lets start with the front entry, where you can just catch a glimpse of the gorgeous home beyond. The downstairs flooring is polished concrete with a gold fleck through it, although its hard to capture in photos, it is rather pretty.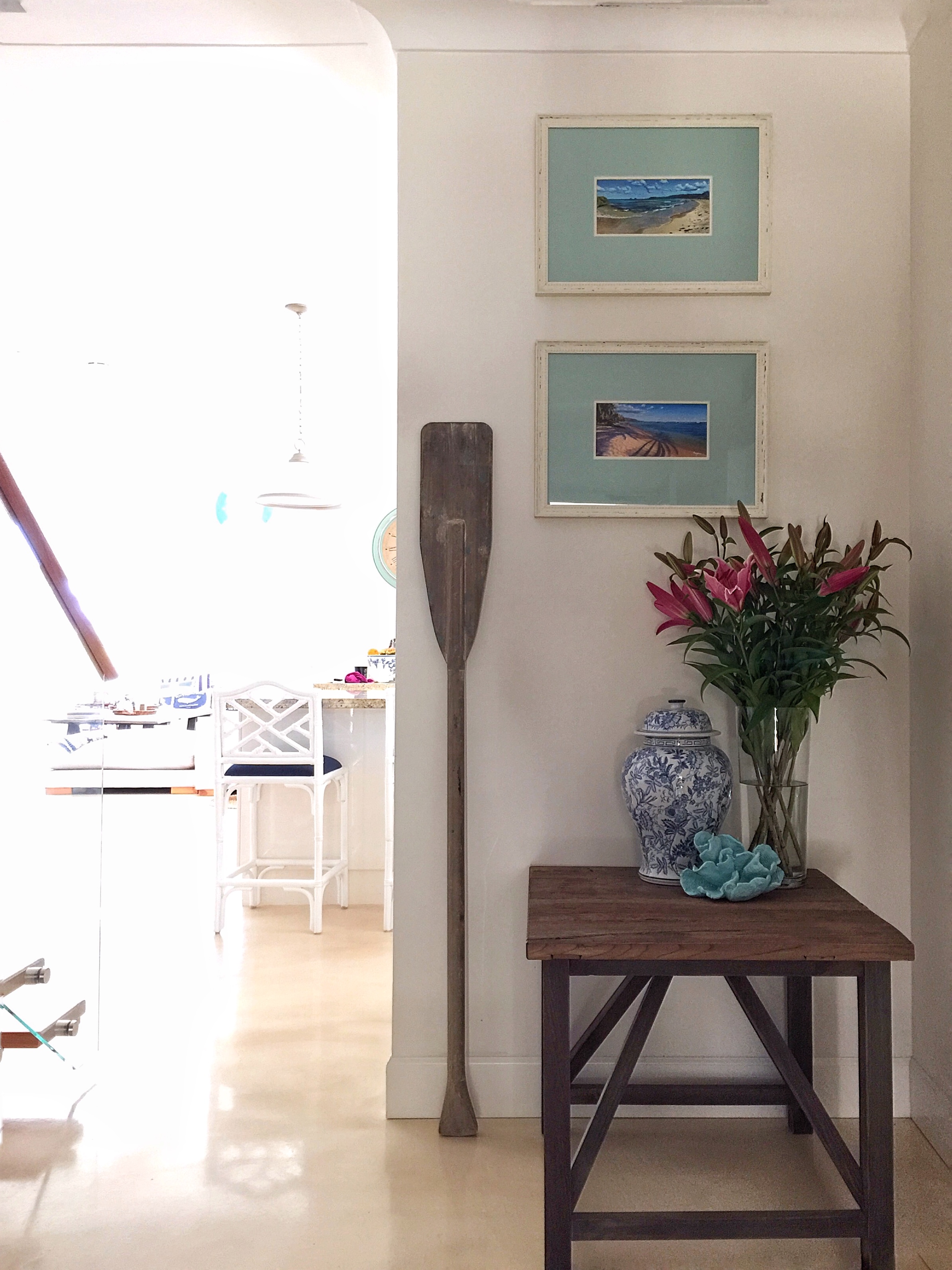 Through the front entry, you naturally gravitate toward the casual living area. They call it the 'man cave' but I've got to tell you, it's about as far from a man cave as you can get. Mel has slowly brought in pretty pieces and made it into a beautiful room, full of coastal charm and beautiful blues. It opens out to the waterfront with a wall of bi-fold shutters and is light filled and airy. Everyone loves this room, and as it was originally meant to be Jason's media man cave, he is happy to accept all compliments about this room, and often takes credit for Mel's interior decorating skills. Yes Jay-son (his self appointed interior designer name), nobody believes you!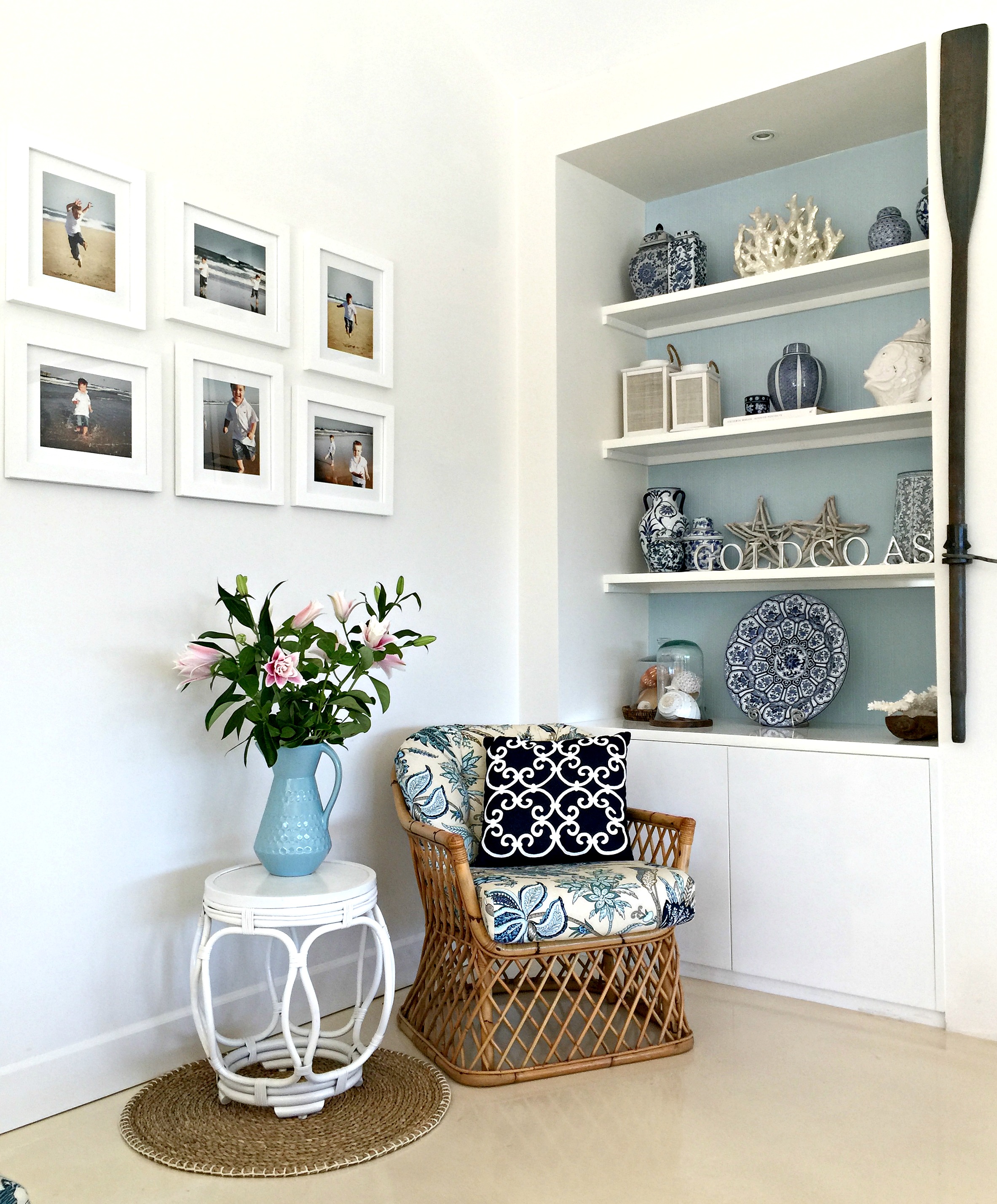 Let's move into the kitchen. Mel and Jason have kept most of the original kitchen, but just by changing the back splash and rangehood, and adding a new floral blind and pendant lights they have updated it and given it loads of character.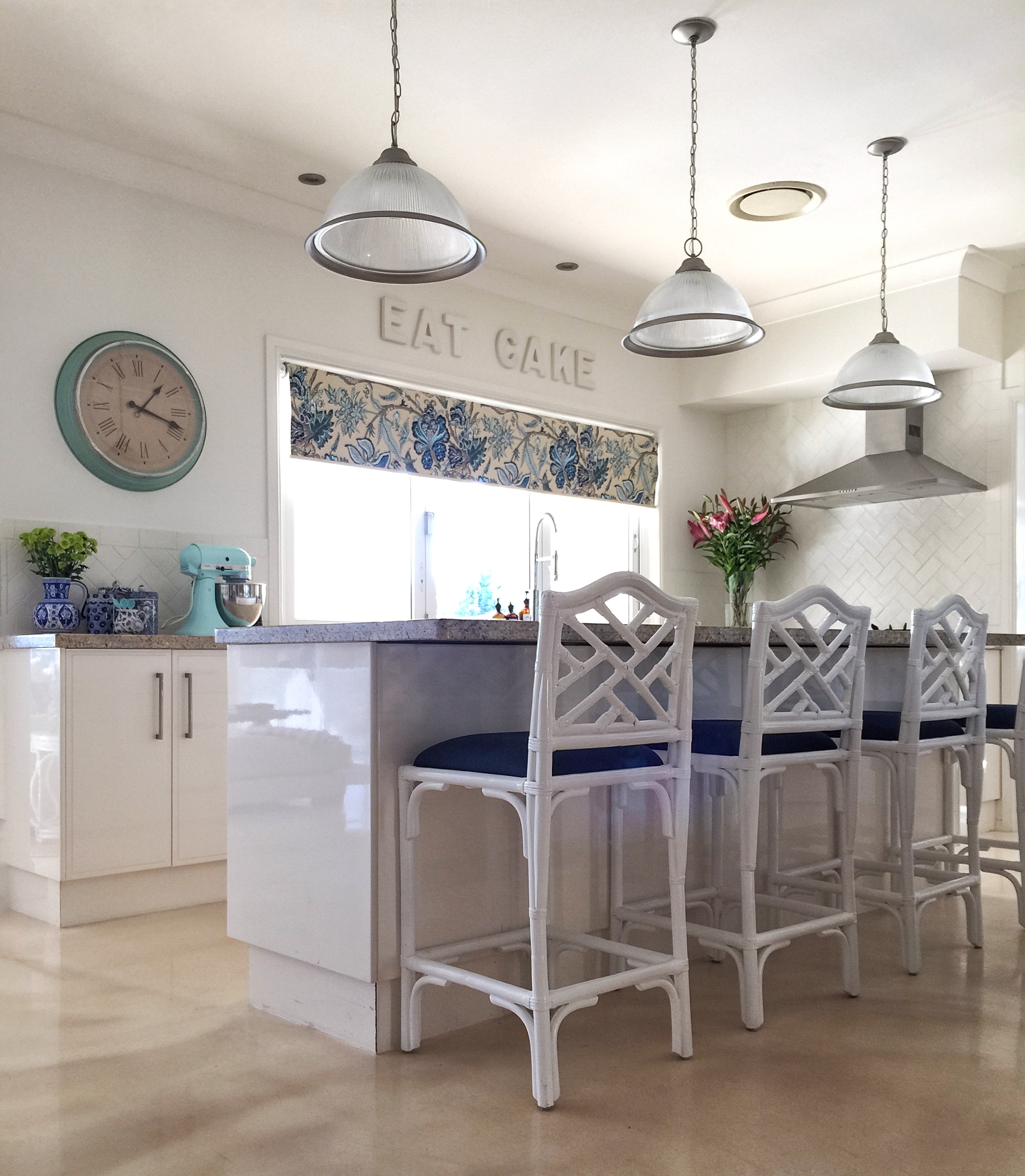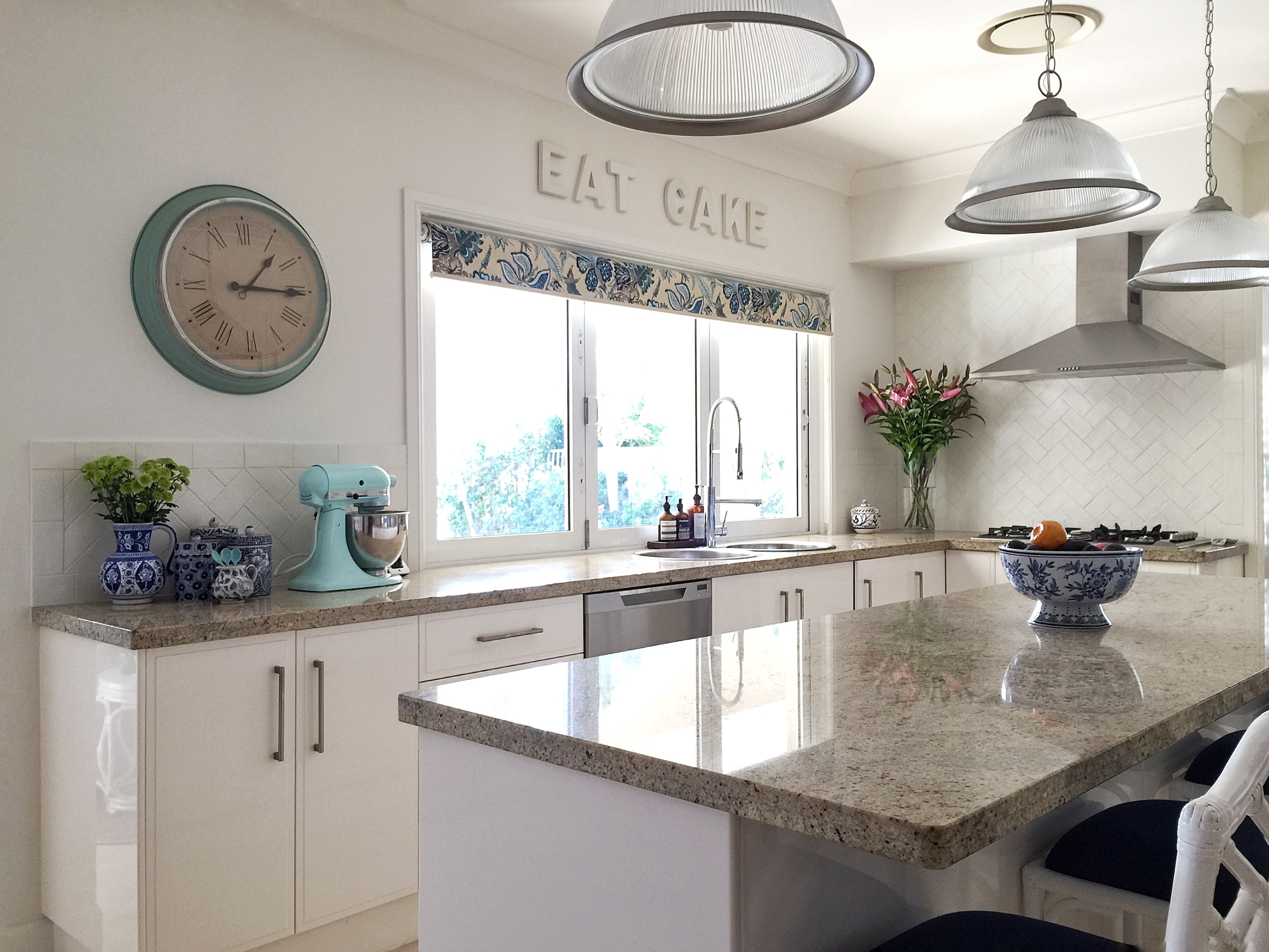 This attention demanding cabinet houses all of Mel's pretty china, she has a weakness for jugs, can you tell? Also in the kitchen area is a little desk nook, I love this idea, because lets face it, most of our paperwork piles up in the kitchen and never makes it to the office!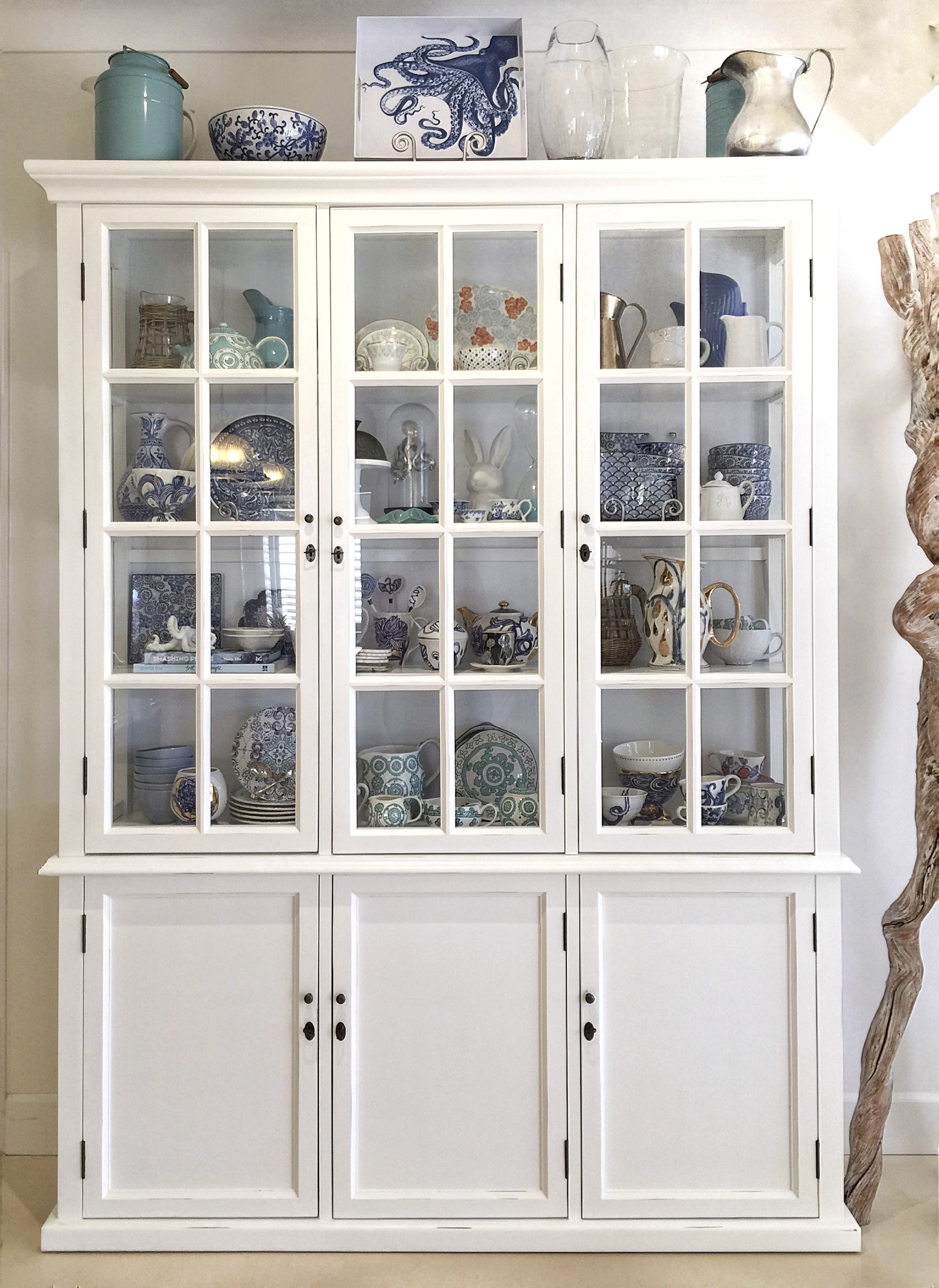 The kitchen leads on to the dining room which is a beautiful room surrounded by white shutters, it feels intimate and is perfect for dining.
On the other side of the dining room is the formal living area. I say formal, but nothing is too formal here. Mel and Jason have created a relaxed family home where you feel comfortable enough to throw your feet up on the couch, which is just the way I like it.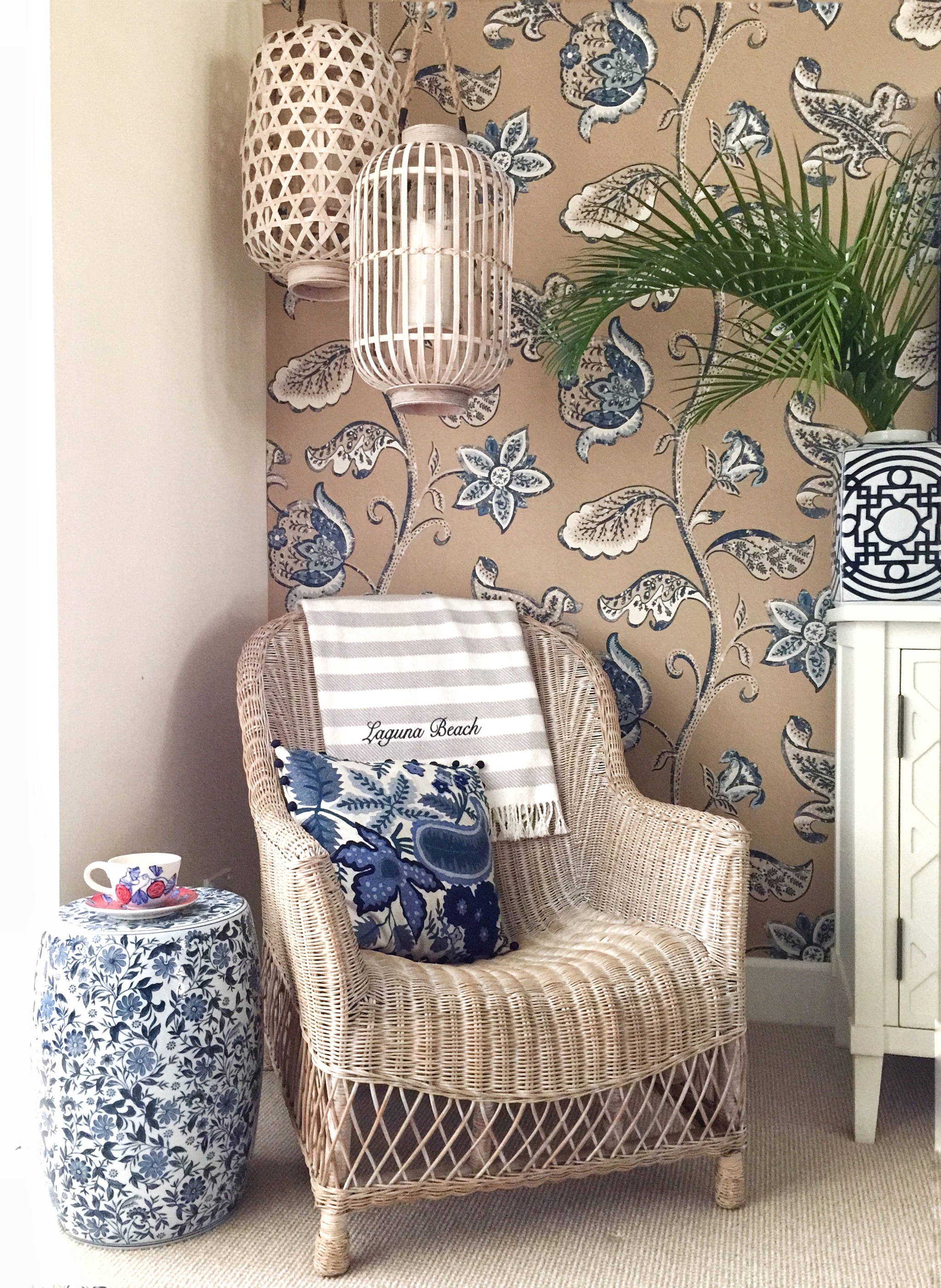 Also downstairs you will find a beautiful, blue, guest bedroom with stunning wallpaper and classic bed linens. Wouldn't you love to be a guest here?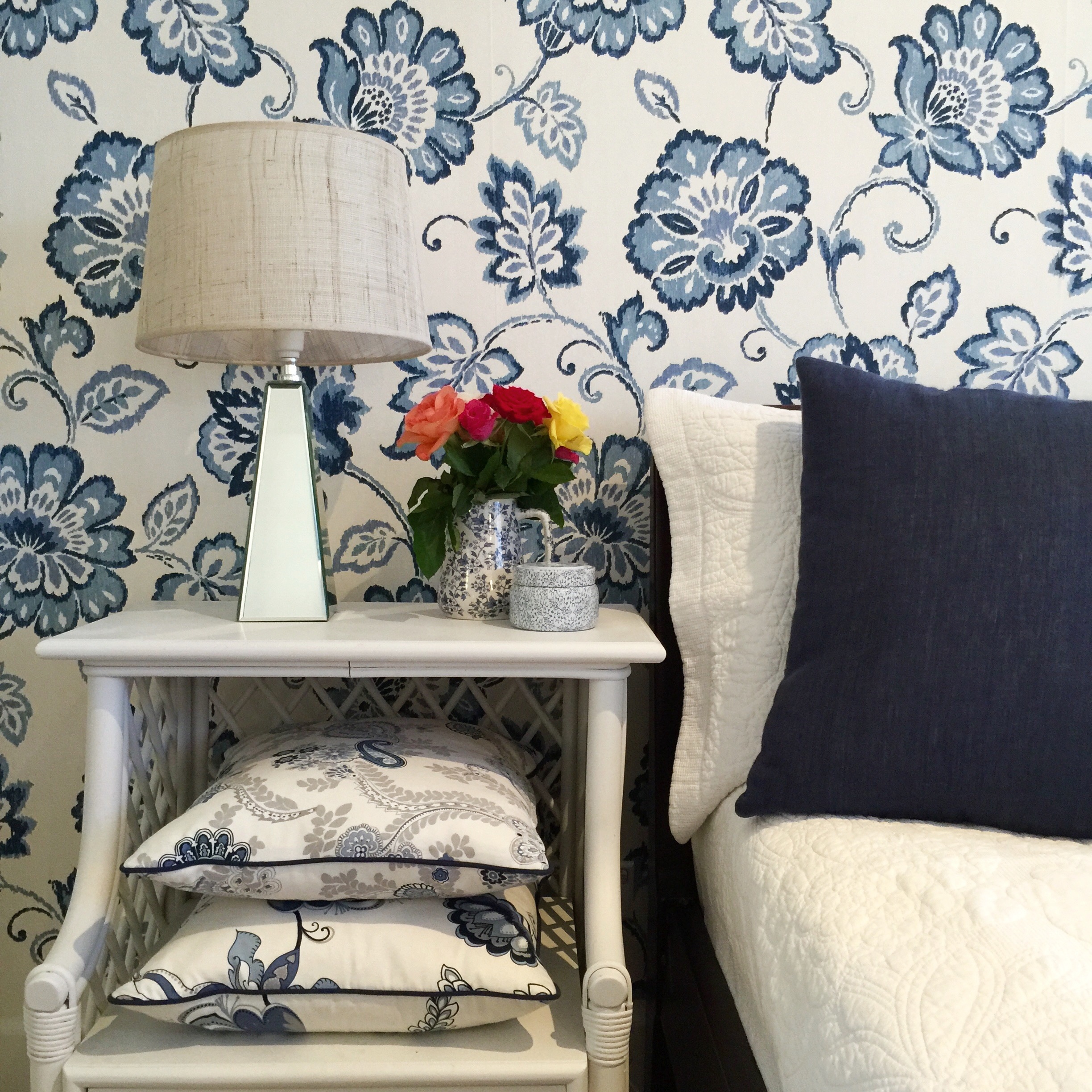 The downstairs / guest bathroom is timeless and stunning with a selection of subway tiles hand picked by Mel and Jason. They work well together and this bathroom is my favourite.
No room has been left untouched, even the laundry has had a facelift, and isn't it gorgeous with it's butlers sink and nautical wall display. And those lights are pretty special too!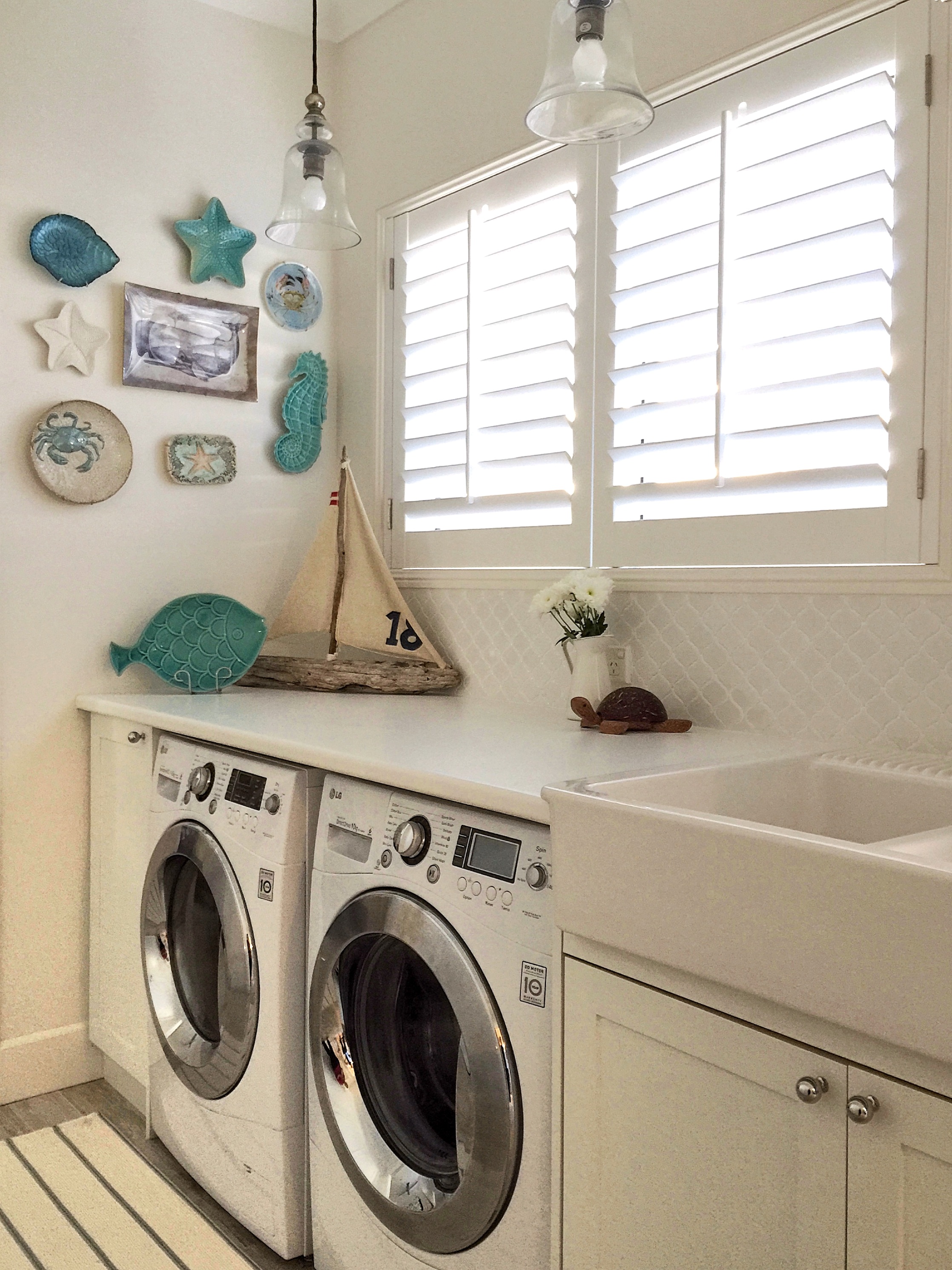 Lets go upstairs and have a peek in Mel and Jason's bedroom and ensuite. Their bedroom is decorated in an array of beautiful blues and feels relaxed and peaceful. The ensuite is finished with layers of marble tiles and shiny nickel hardware. It flows perfectly and feels serene, just like a master bedroom should.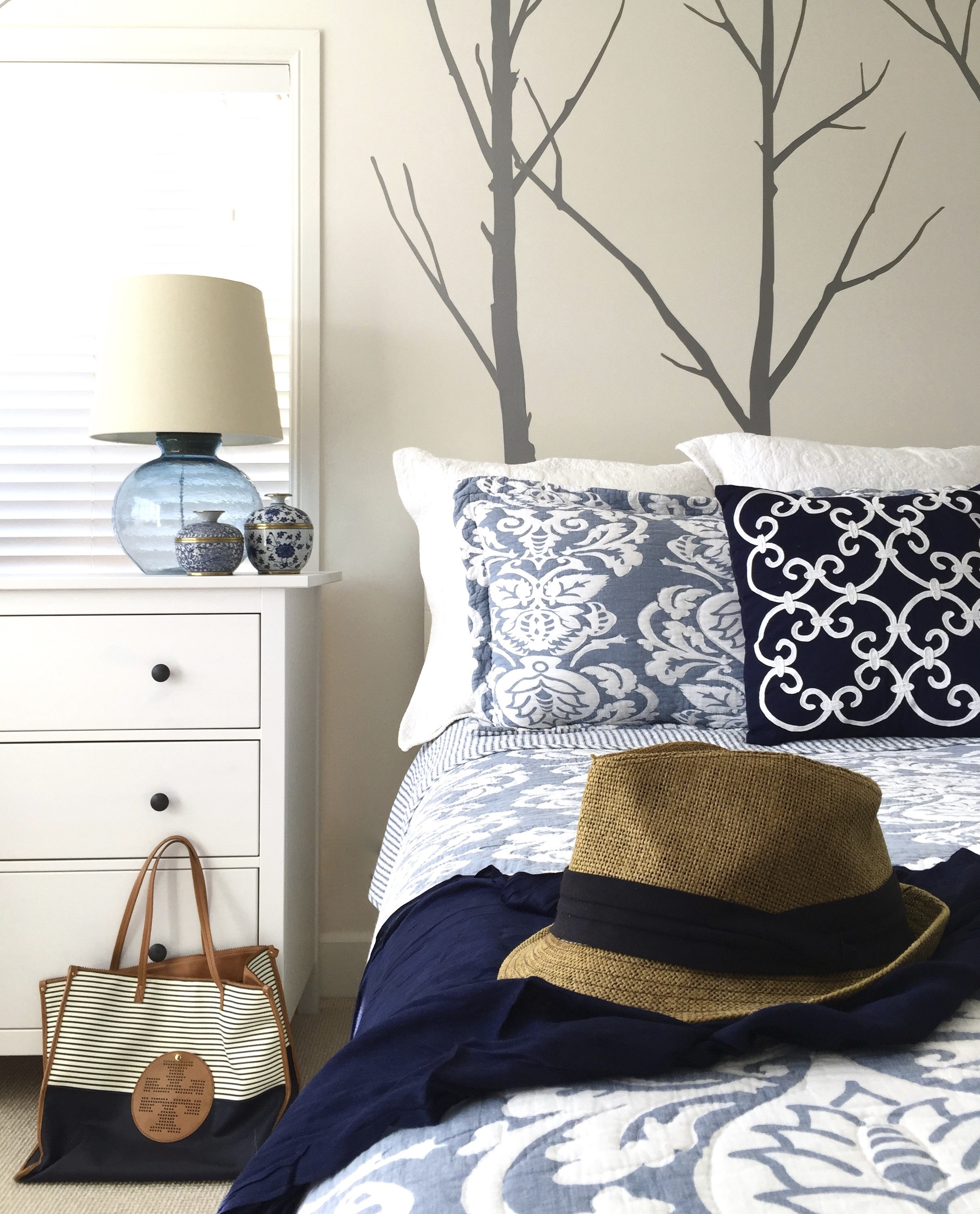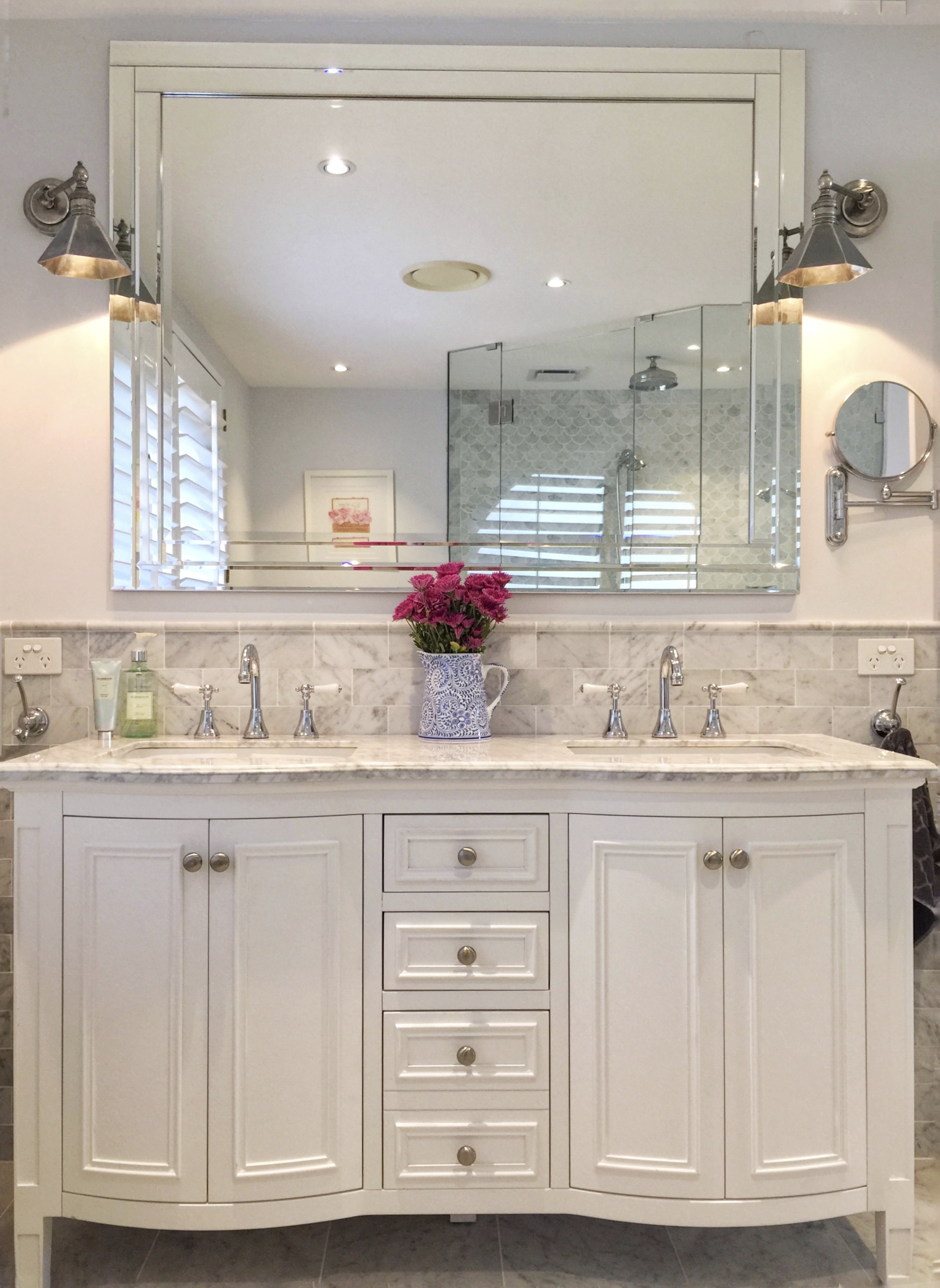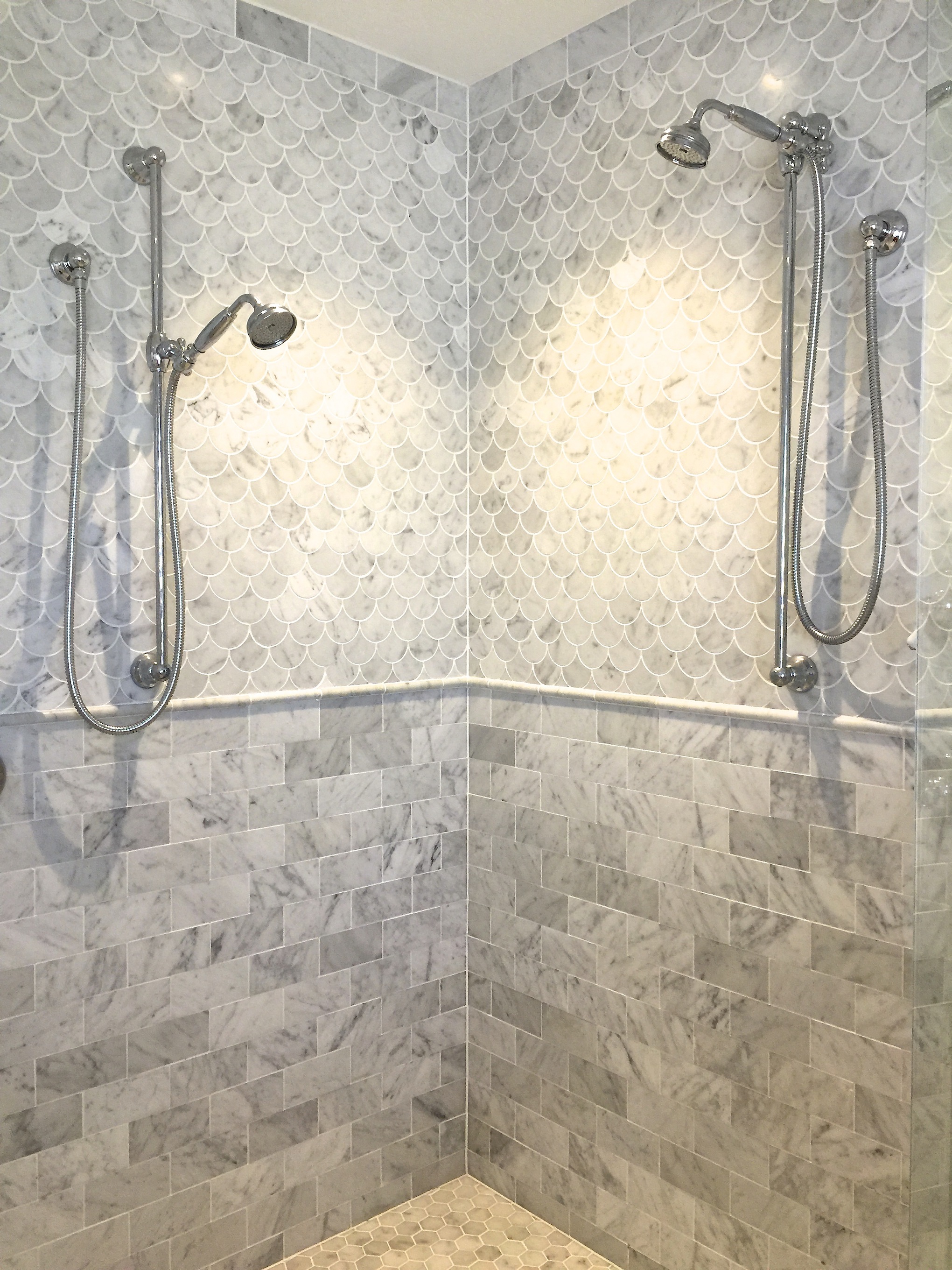 And just because Mel and Jason are so good at renovating bathrooms I thought I'd show you the third bathroom as well. It is the kids bathroom, and is also finished beautifully.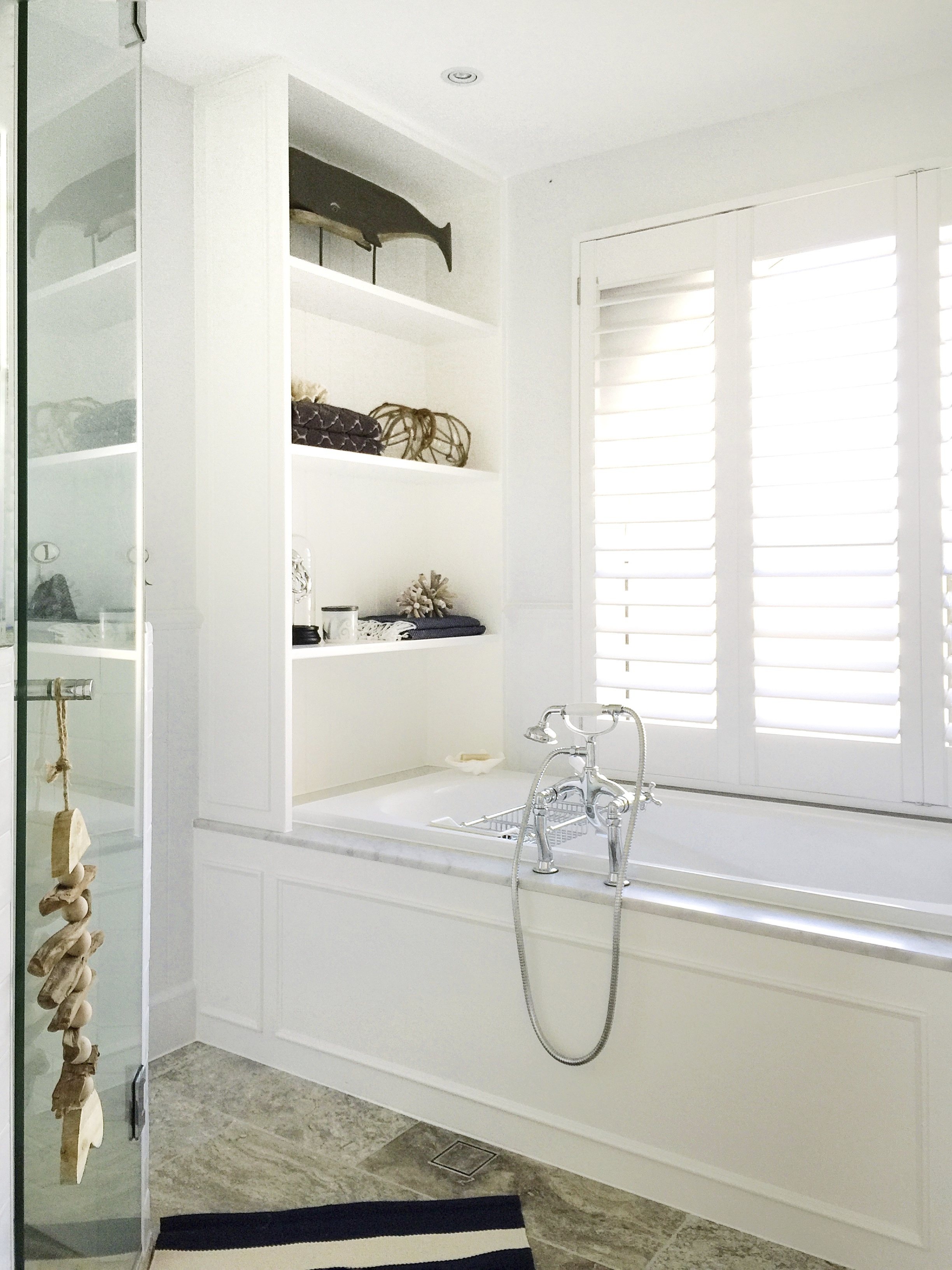 What do you think? Isn't is a beautiful family home?
You can find Melissa on Instagram – @melly2605
Do you want to see more 'Real Homes'? I know I do! If you have a home you think I should feature please let me know, e-mail me some pics or tag me on Instagram.
Hayley x
FYI : All photos were taken by me (not a pro photographer) on my iPhone, on a rather dull day. Sorry! I hope I did your beautiful home justice Mel! xx