Who would choose to have a pink fireplace with a black and blue granite hearth and mantle? I'll tell you who …. me!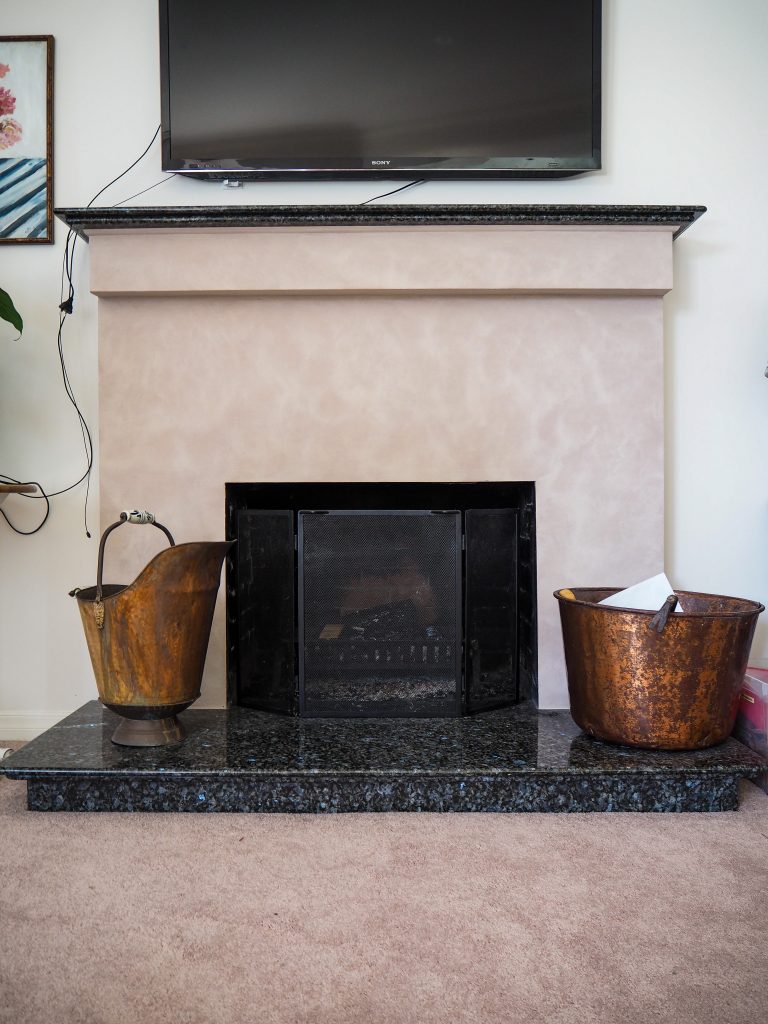 Not really, but we bought a house and the previous owners made that choice and we were stuck with it until we came up with a plan to turn it into something special.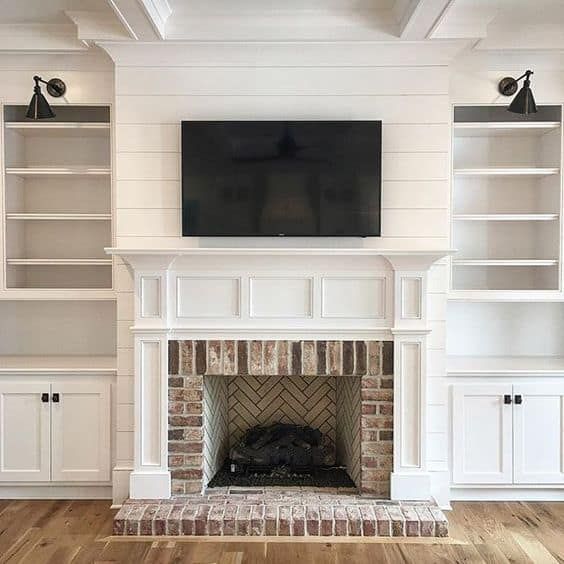 I'd been trawling Pinterest (again) and I really wanted an exposed brick fireplace with a beautiful white timber surround and mantle.
We wondered what was under the pink render on our fireplace so we did some research, we found it would probably be bricks or concrete blocks. We thought we had nothing to lose and got the jack hammer out.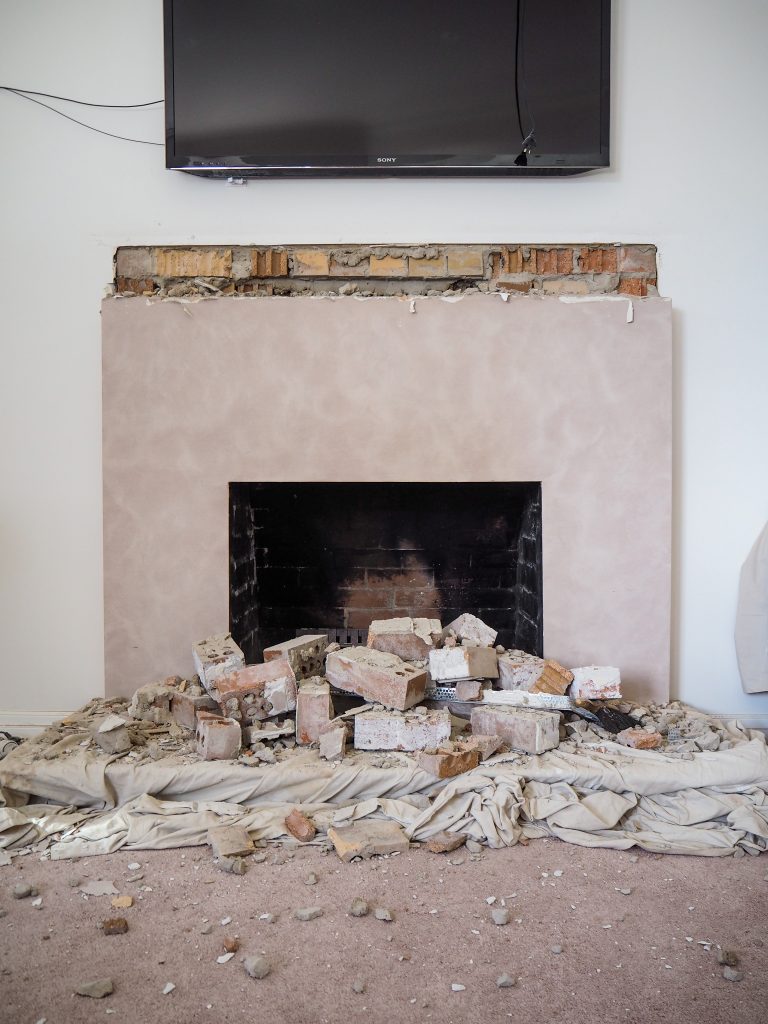 We had to address the problem of it being too high anyway, so we got started.
The old fireplace was very high, which would usually be fine, but we wanted to hang our TV above the fireplace and it needed to come down to a better level. We ended up removing 3 rows of bricks.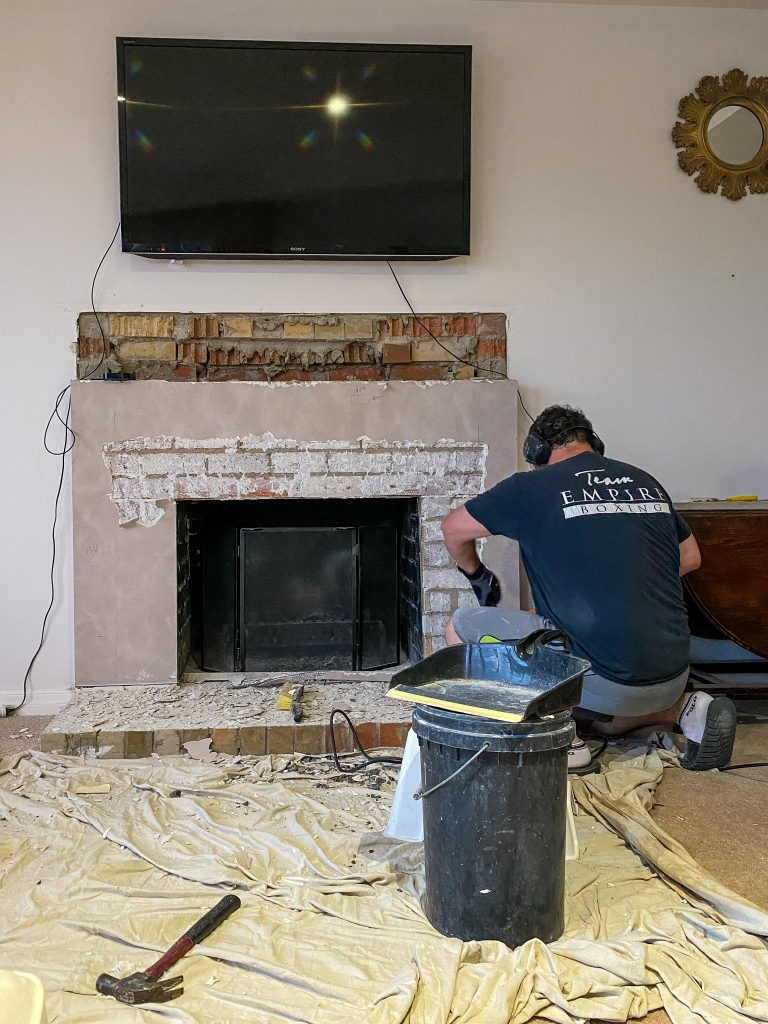 My husband slowly and carefully started chipping away at the pink concrete coating and found we had beautiful bricks underneath. I did a little happy dance and it only took about an hour to remove the majority of the pink and the rows of bricks.
Our next question was what was under the black and blue stone hearth. There was no saving it so we got the sledge hammer out and smashed it up. To our absolute delight, there was bricks underneath that too.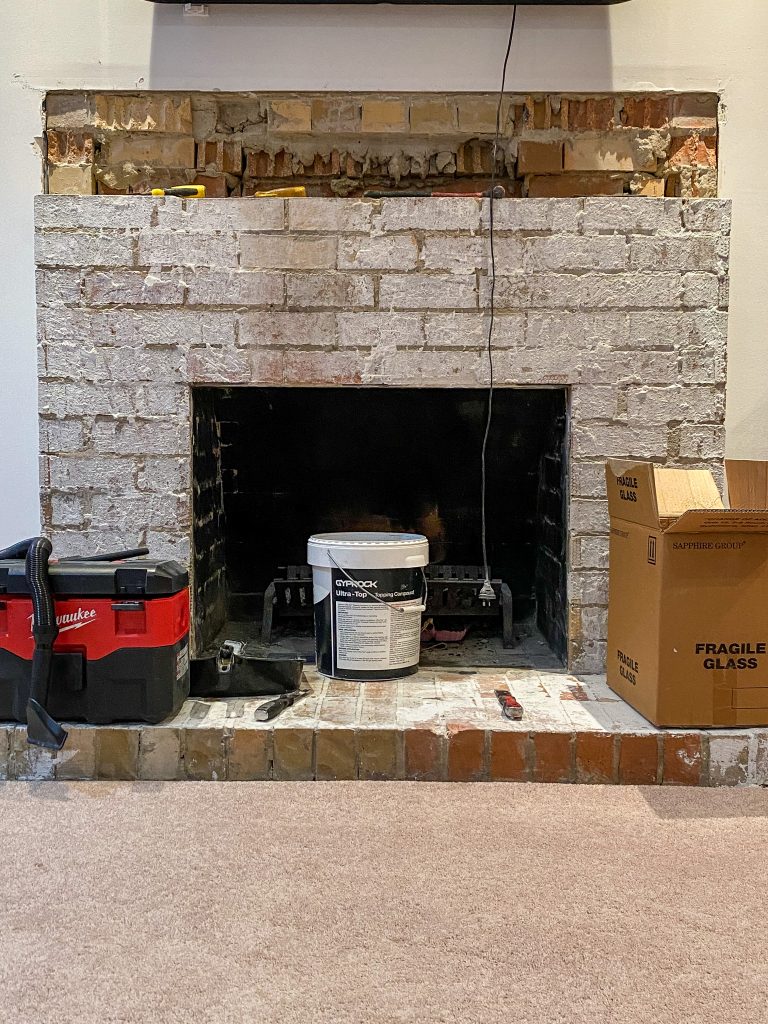 It looked better already and we had the perfect canvas to achieve the look I wanted.
I spent a day or two with a blunt chisel and a wire brush and cleaned the bricks up, not too much though, I wanted them to have some history and look a little aged.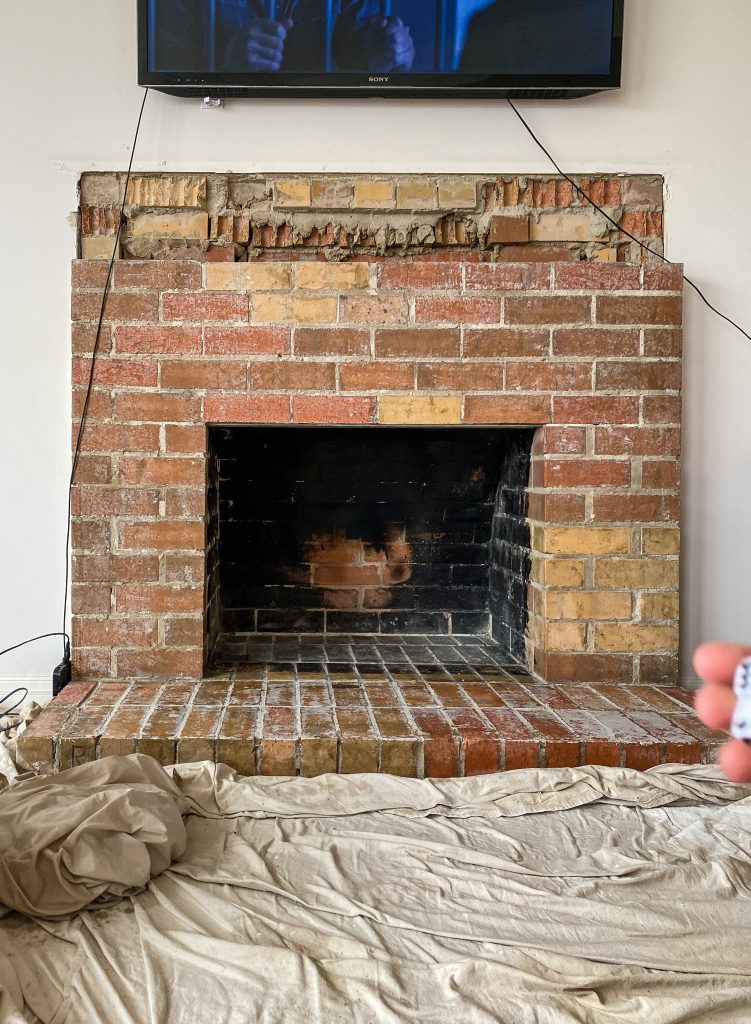 I made a whitewash with some white Annie Sloan Chalk Paint and water and brushed it lightly over the bricks wiping away any excess with a rag. I concentrated on the mortar to lighten it up. I'm really happy with the overall effect I achieved.
I also filled any obvious holes in the bricks with Mortafil and painted the inside with Pot Belly Black paint. I sealed the bricks with Lithofin Stain-Stop to stop the dust and prevent them from getting any stains from coal or marshmallows.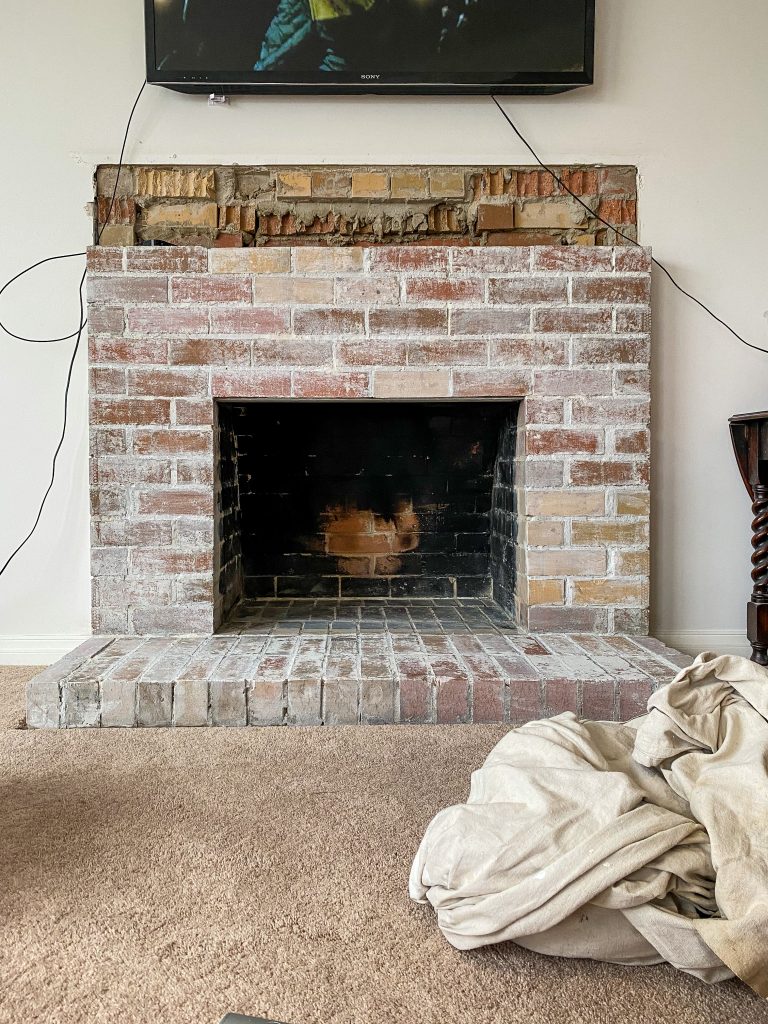 Now for the tricky part, the surround and mantle.
I'm really lucky my husband is a builder and is good at this stuff, but to be honest, as long as you are pretty handy and know your way around a power tool, you could do this. It takes a little planning as there are so many components, but you can make your surround and mantle as plain or as fancy as you wish.
We (when I say we, I mean my husband) started with the frame work. I wanted the sides to project out a little further than the middle so they look like a big chunky timber pillar.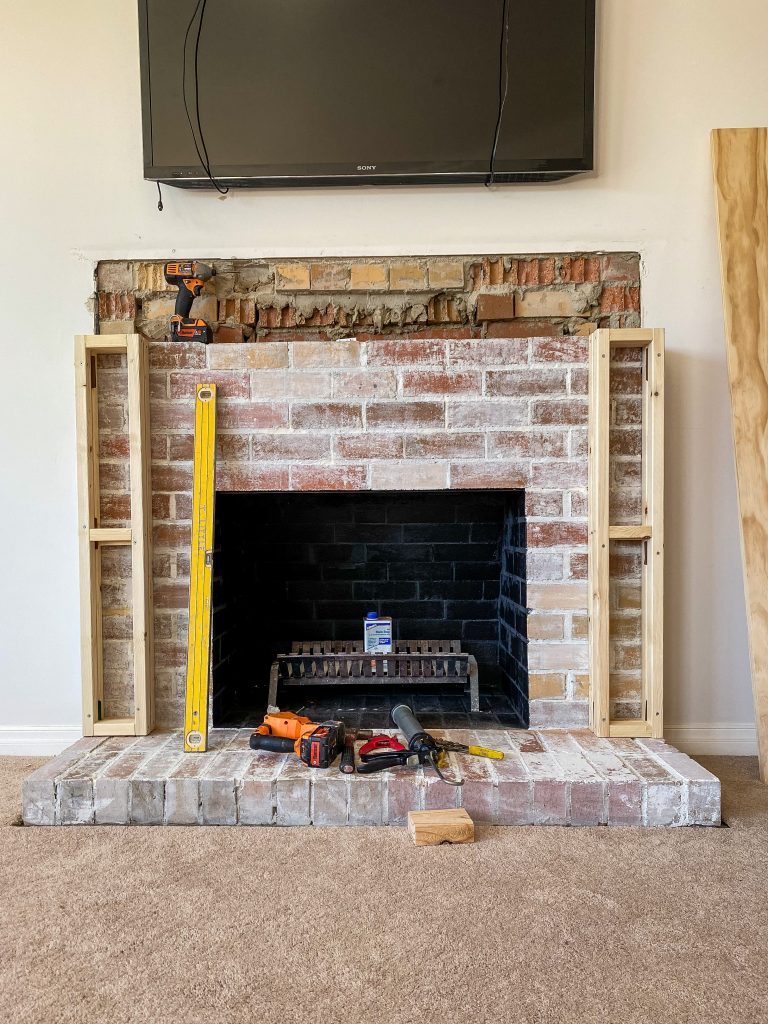 We bought most of the supplies from Bunnings and a couple of the fancier mouldings from a local timber supplier (Paradise Timbers at Helensvale for my local readers).
The frame work didn't take long. As you can see we used small bits of leftover timber across the top. We knew they'd be covered by the moulding so it was fine to use them. This is why it's important to have a clear plan and detailed drawings from the beginning (so my husband says).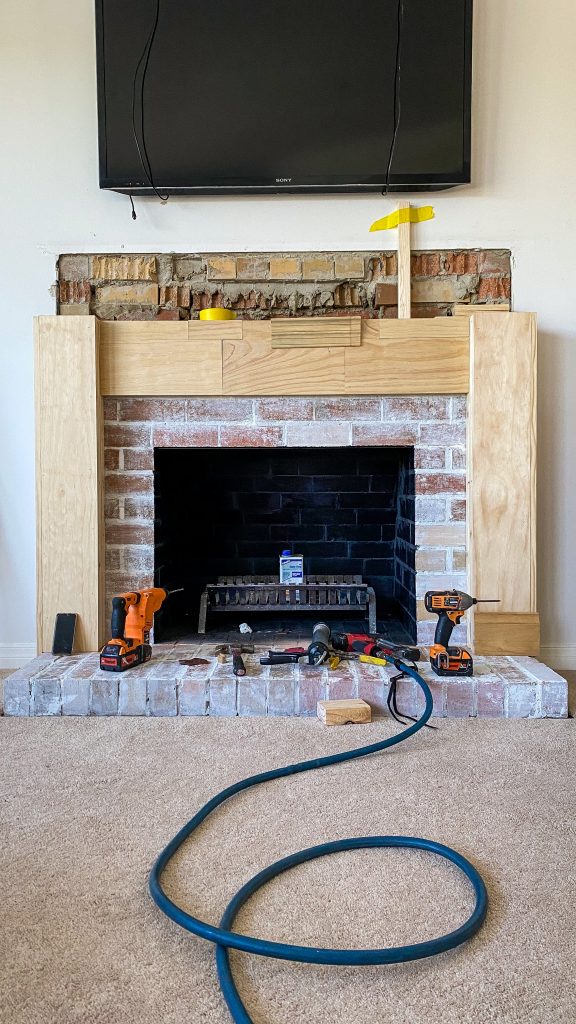 The first moulding is on below, some of it will be visible at the end, some of it is used to pack out other pieces. The corners are mitred. You can just see some of my drawings on the wood to help guide my hubby.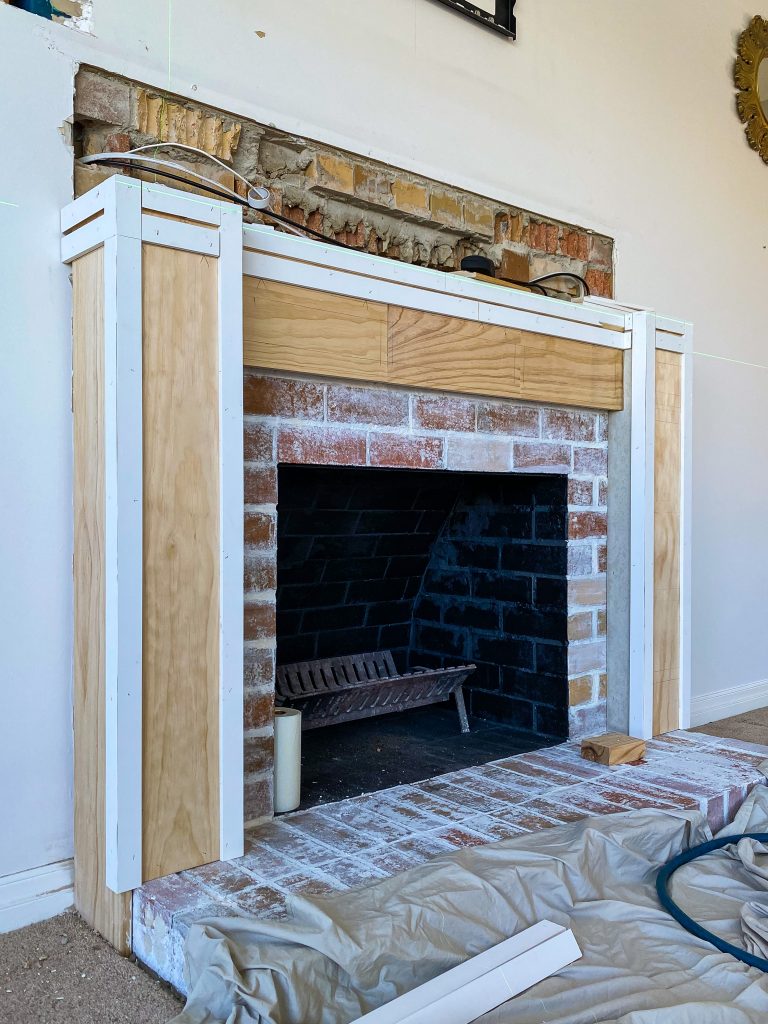 More of the moulding has been put on below, now you can see why we needed to pack out the top fancy moulding so it would sit nicely with the one below. It's a bit like a puzzle, every piece you add affects another piece.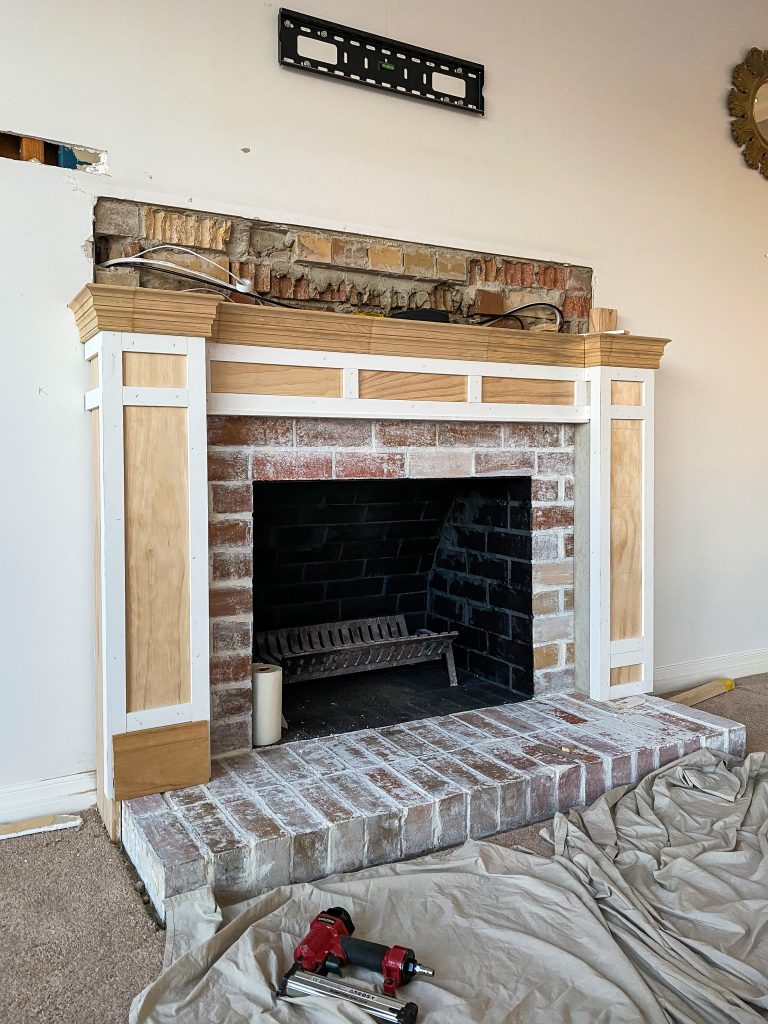 We added shiplap above and to the sides of the fireplace surround. We did it for two reasons, firstly I loved the look, but secondly so we had room to bring all the electrical wires through to the back of the TV without having cords running everywhere.
We battened out the wall then got the electrician in to do all the wiring. As you can see he needed to make a few holes which were easily fixed, but I thought I'd share a little tip if this happens to you. When you cut little holes in your wall like this, keep the bits of plasterboard to put back in for the repair. It's much easier than trying to cut a new piece the exact same size.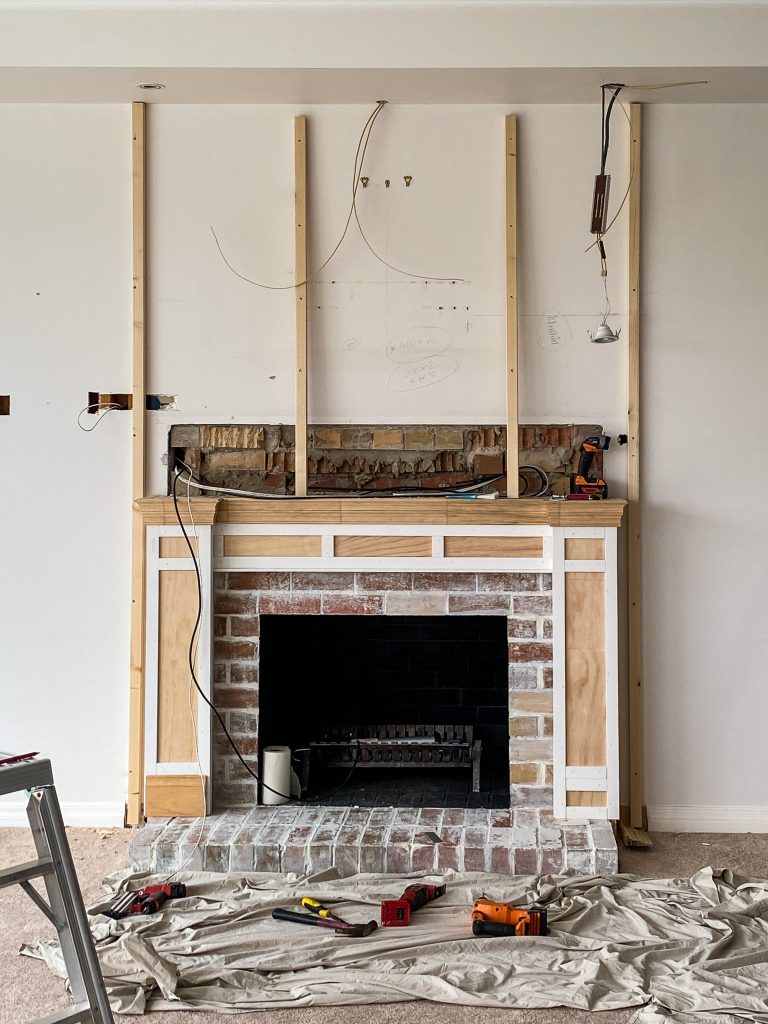 The shiplap isn't hard to install (according to hubby), it just clicks into each other. It would have been a lot easier if we just used a edge strip to go over the corner, but I wanted it mitred, so that took a little longer but I think it was worth the extra effort.
You can also see a glimpse of the round pillar that we squared off here. I'll tell you more about that later.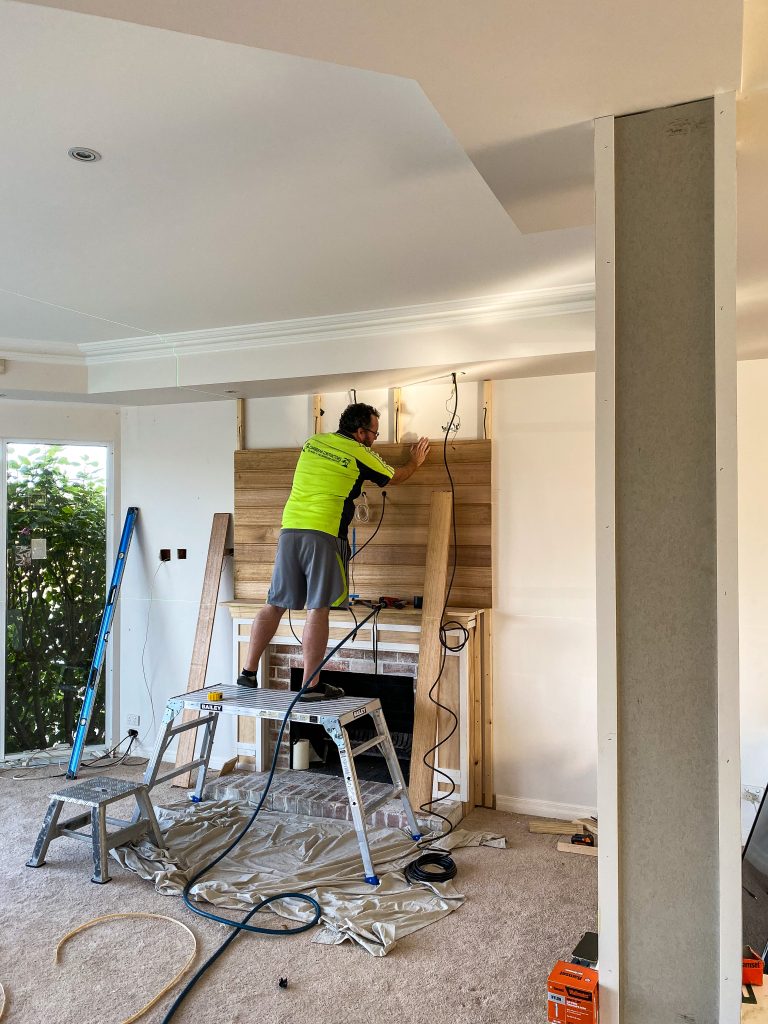 You can see the mitred shiplap edges here.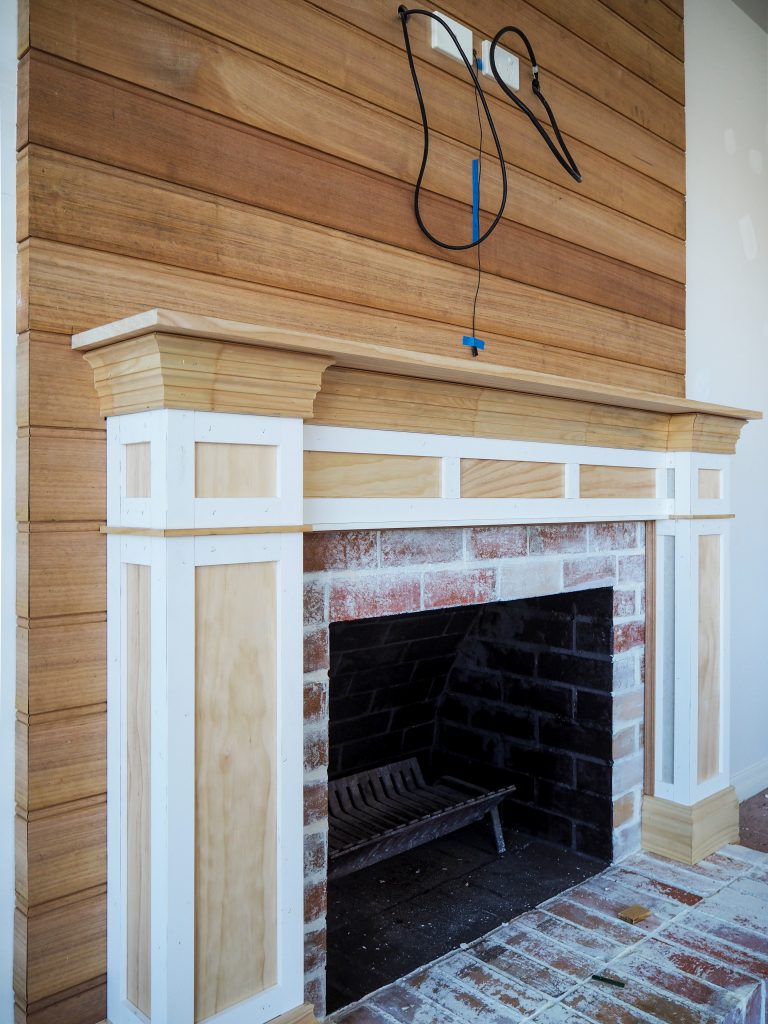 All done and ready for paint.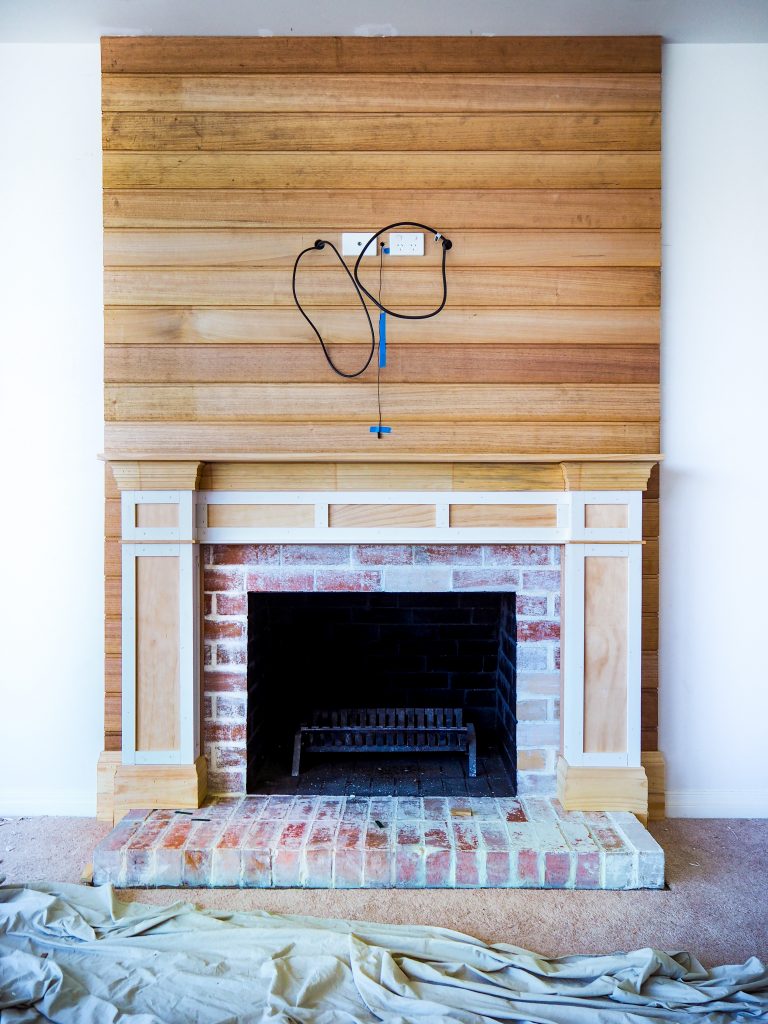 It was time consuming with all the different mouldings, mitred cuts, corners, angles and layers. It took some patience but we got there in the end.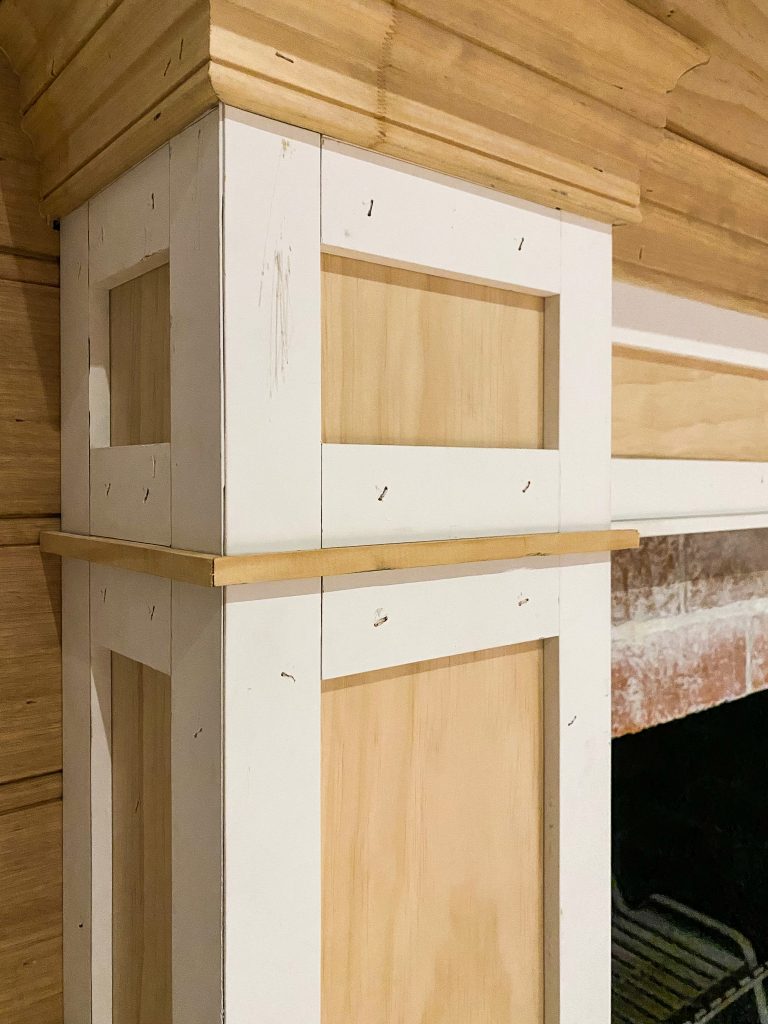 I took my time filling all the nail holes and blemishes with Spakfilla and sanding it smooth. This part is important to achieve a good base for painting. Sometimes there will be nails sticking out that haven't gone in all the way, we use a Nail Punch and hammer them in.
Due to our room layout, we had to hang the TV above the fireplace. I know some people think it is a crime to hang a TV above a beautiful fireplace, but it didn't make sense to put it anywhere else in this room.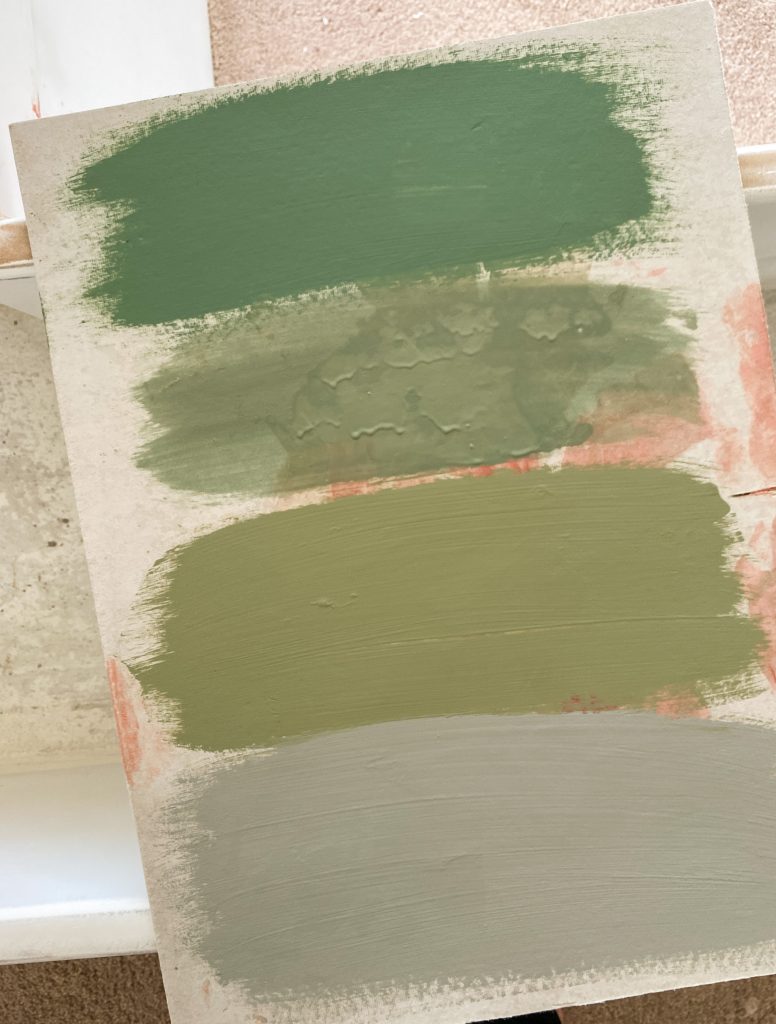 I painted the shiplap around the TV a gorgeous shade of green for a couple of reason. Firstly, because having a big black TV on a white wall is really harsh and the deeper colour softens the TV. Secondly because I really wanted to define the fireplace mantle and the green really makes it pop. And lastly, and most importantly, because I fell in love with a gorgeous floral that I chose for the window coverings, I pulled the green from the colour palette of the fabric.
We used Dulux Olive Leaf (the 3rd one down) it's a beautiful green, it looks quite different depending on the lighting conditions. Oh, and don't panic when you start painting, it looks much darker when it is wet as you can see below. We did one coat of undercoat and 2 coats of colour.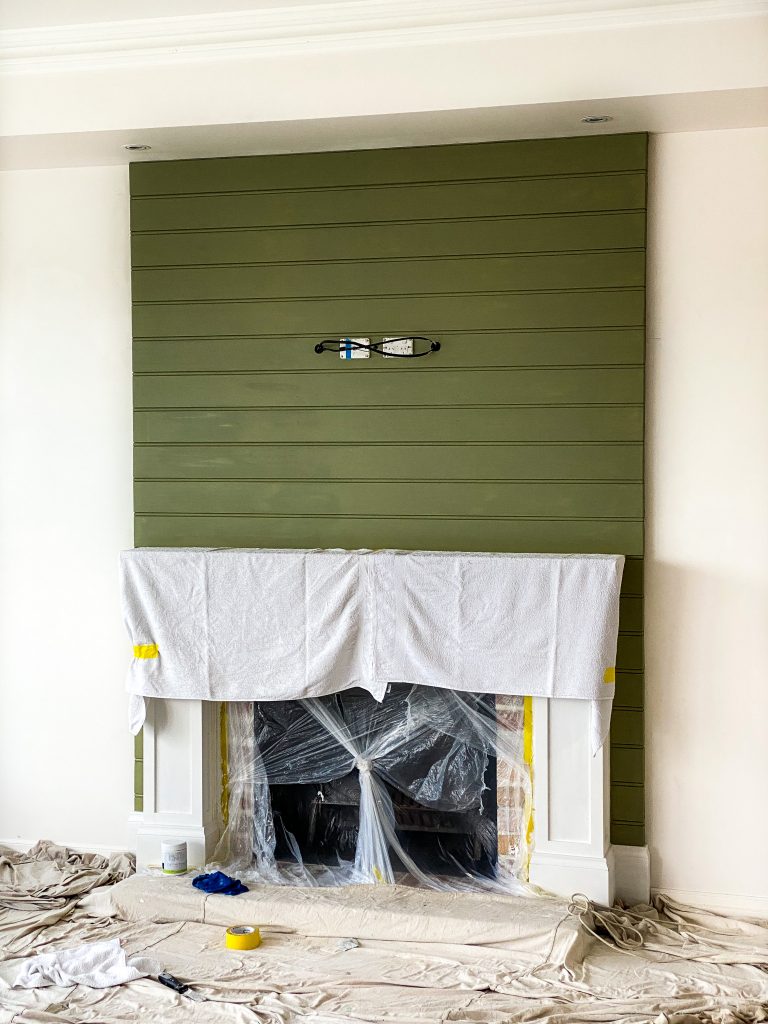 I love the green shiplap, even if I fractured my tibia, dislocated my knee and damaged some soft tissue in my knee when I was doing it! Yes, I'm serious, I stepped off the edge of the work platform (like a ladder) while I was painting at 10pm on a Thursday night. Doesn't everyone paint at that time of night when their husband is watching football, ha!
Next I painted the fireplace surround and mantle in Porters Paint Aquasatin in Popcorn. We undercoated it first and I gave it a light sand between coats. I chose the water based enamel because it is washable, meaning it can be easily wiped down with a damp sponge which is perfect around a smokey fireplace. We did 2 coats of the Aquasatin.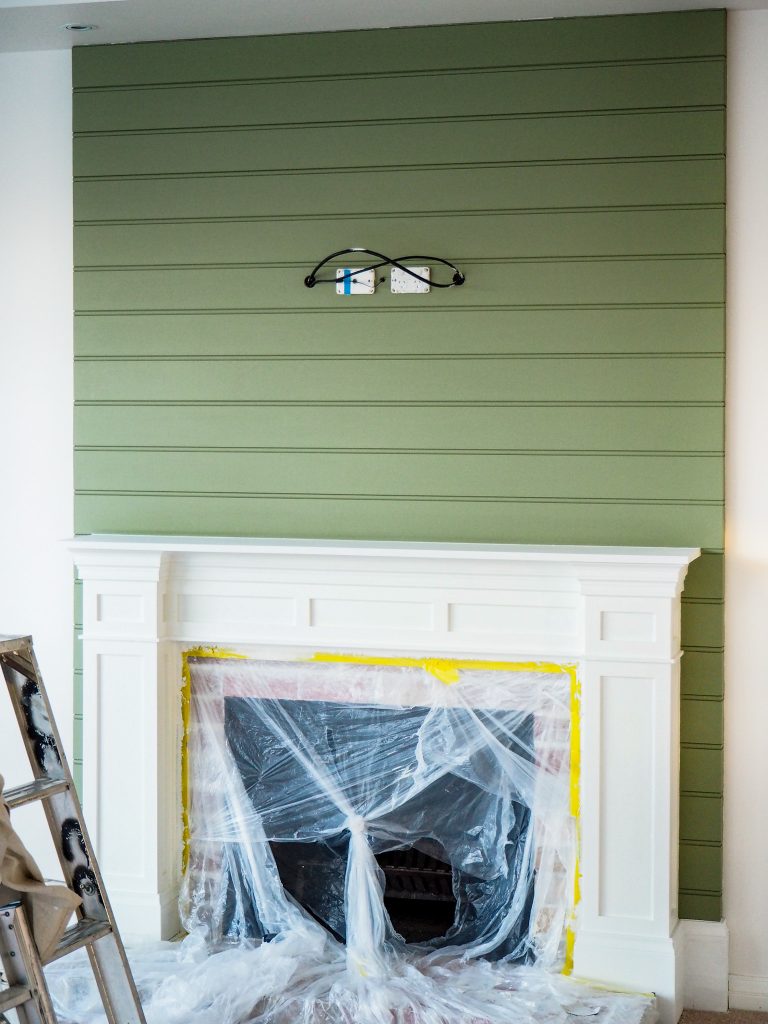 After everything is painted we like to go around the edges of everything with No More Gaps , places like the little gap between the fireplace and skirting boards and the gap at the top between the shiplap and ceiling, you can see where I mean on the picture above. It gives you a straight line and really clean finish.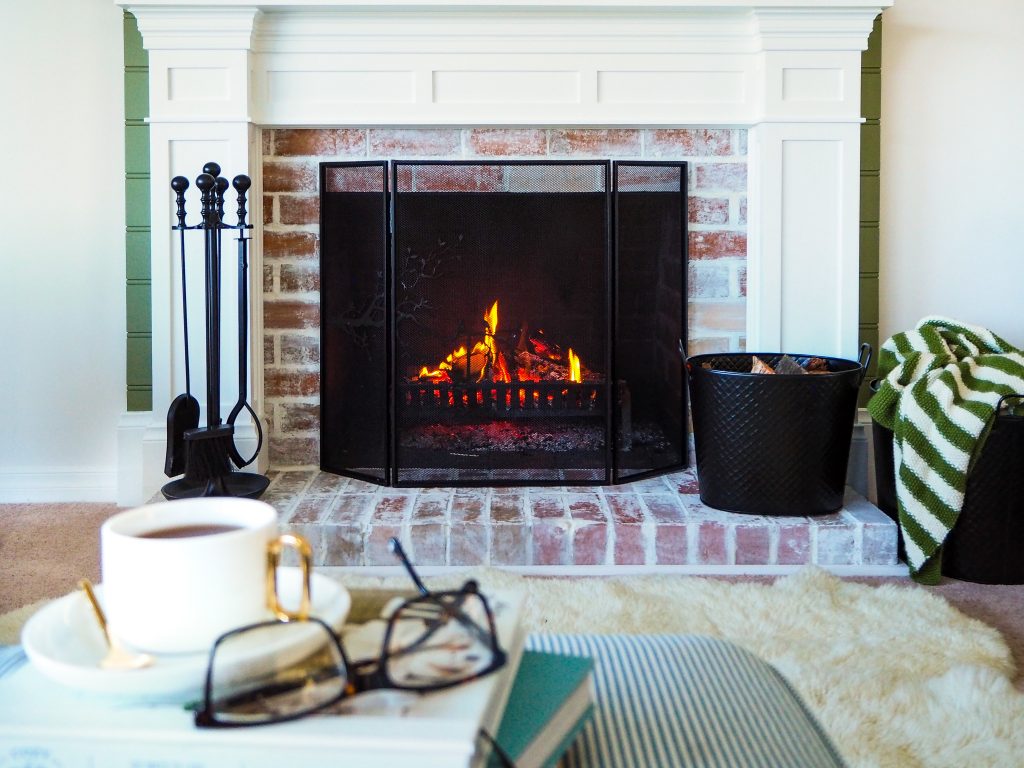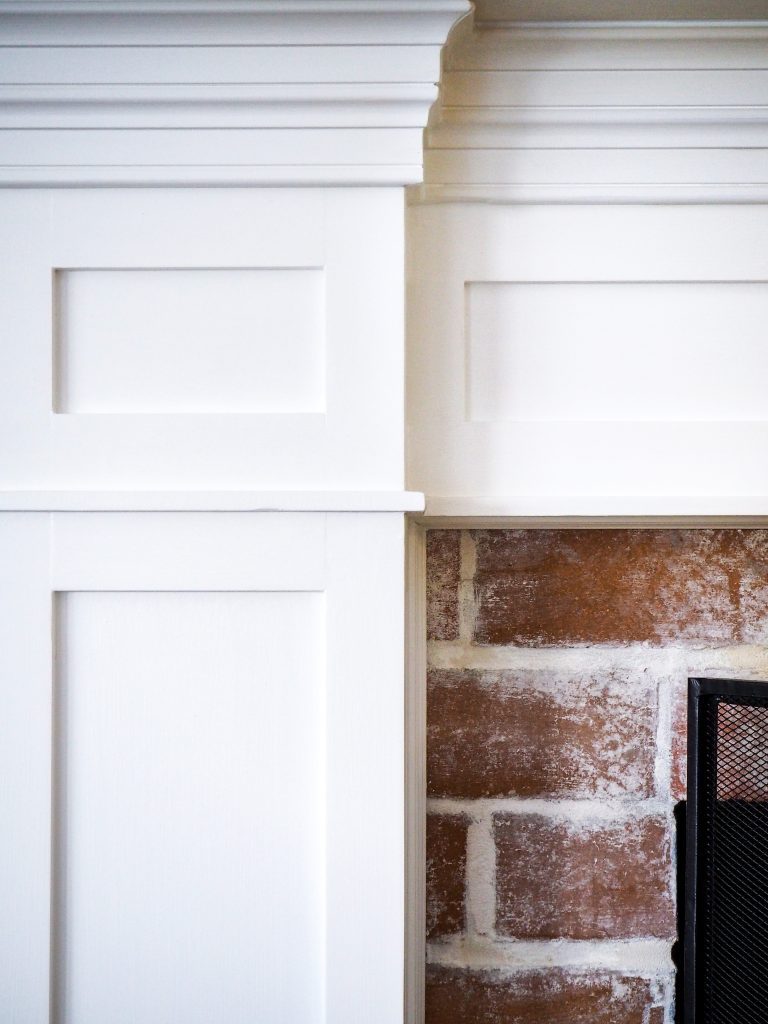 So that's the fireplace, but we did so much more in this space.
Remember the pillar I mentioned above, you can see it in the photo below. It is a classic 1990's feature and was very trendy back then, not so much now. Unfortunately many of these pillars are structural so it is a big mission to remove them and involves putting a beam in and a great amount of mess.
Also, while you are looking at this picture, take note of the benchseat … the pink cushion, the high gloss 2 pack paint and the concave feature line around the top. I'll get to that later.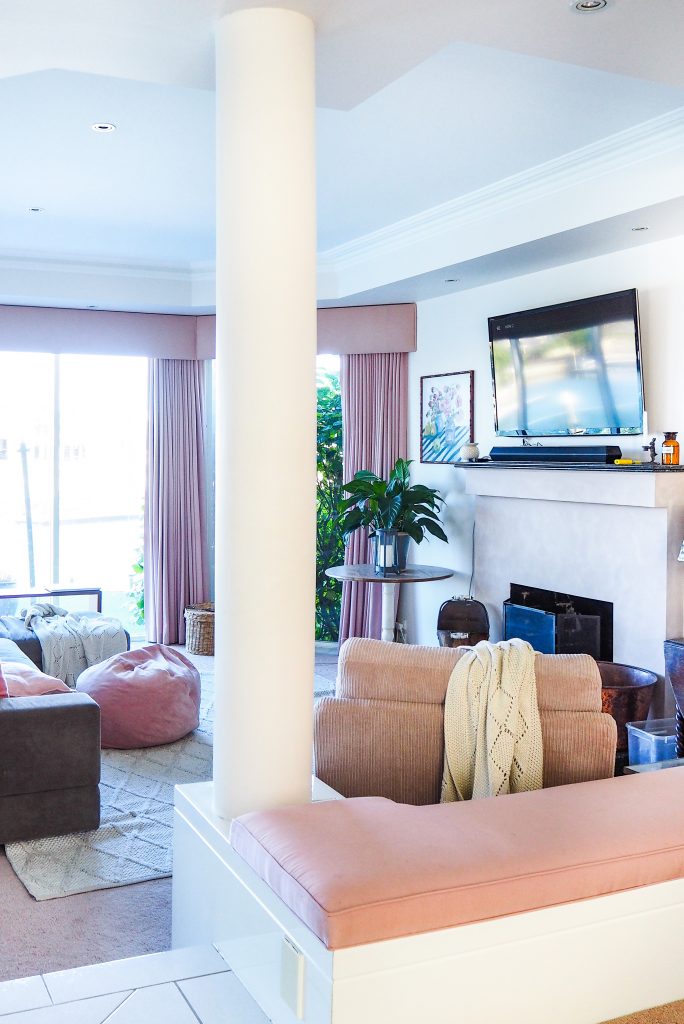 Back to the pillars, we decided to square ours off and add some mouldings.
It wasn't hard and it makes such a big difference!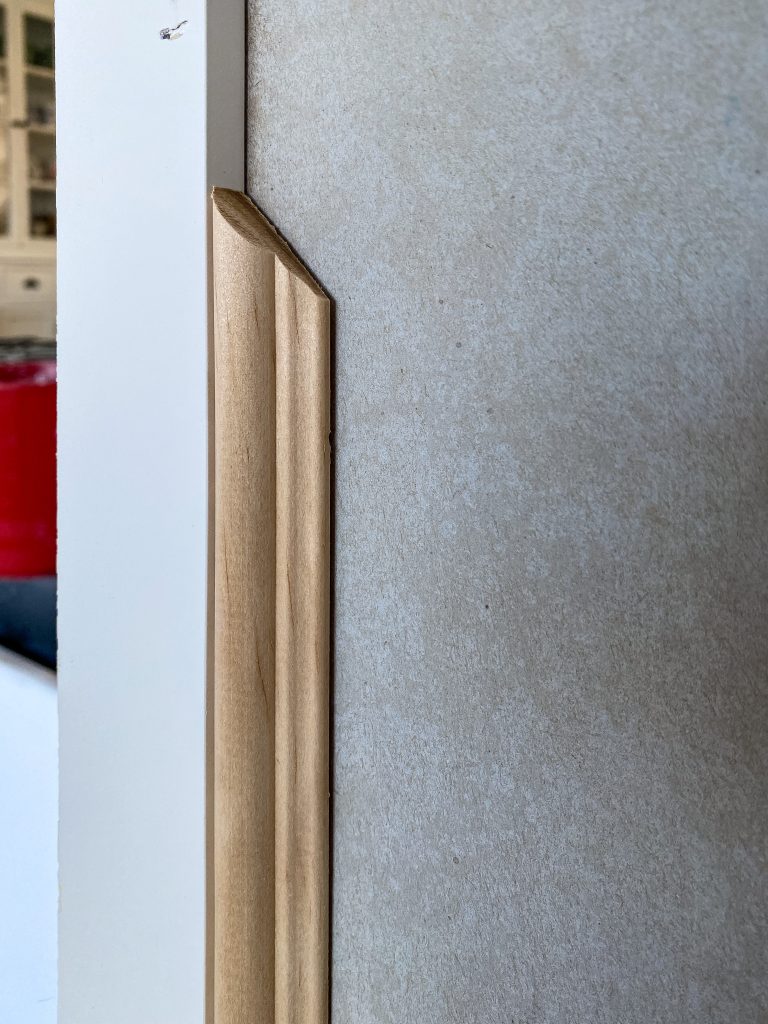 The first step was to box in the round pillar, we used fibre cement board, it's tougher than gyprock and is easy to paint. You don't need to mitre the edges of the board because it will be covered with mouldings.
We used 2 mouldings on the pillars, one for the edge that was mitered, and one to add a little bit of detail. We used the same detailed moulding on the fireplace and I like to tie things together by using the same elements.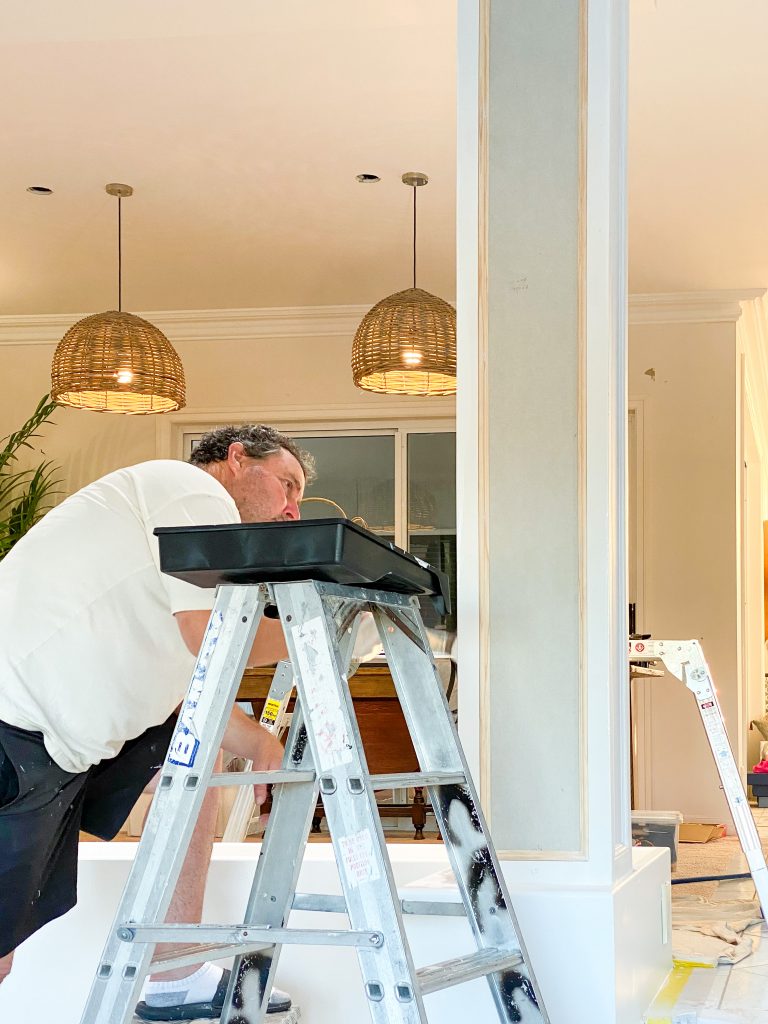 You can see a little peek at the dining room above, we have started this room and I cant wait to share it with you!
The pillar was given the same finish as the fireplace surround … punch the stray nails in, Spakfilla, sanding, undercoat and 2 coats of paint.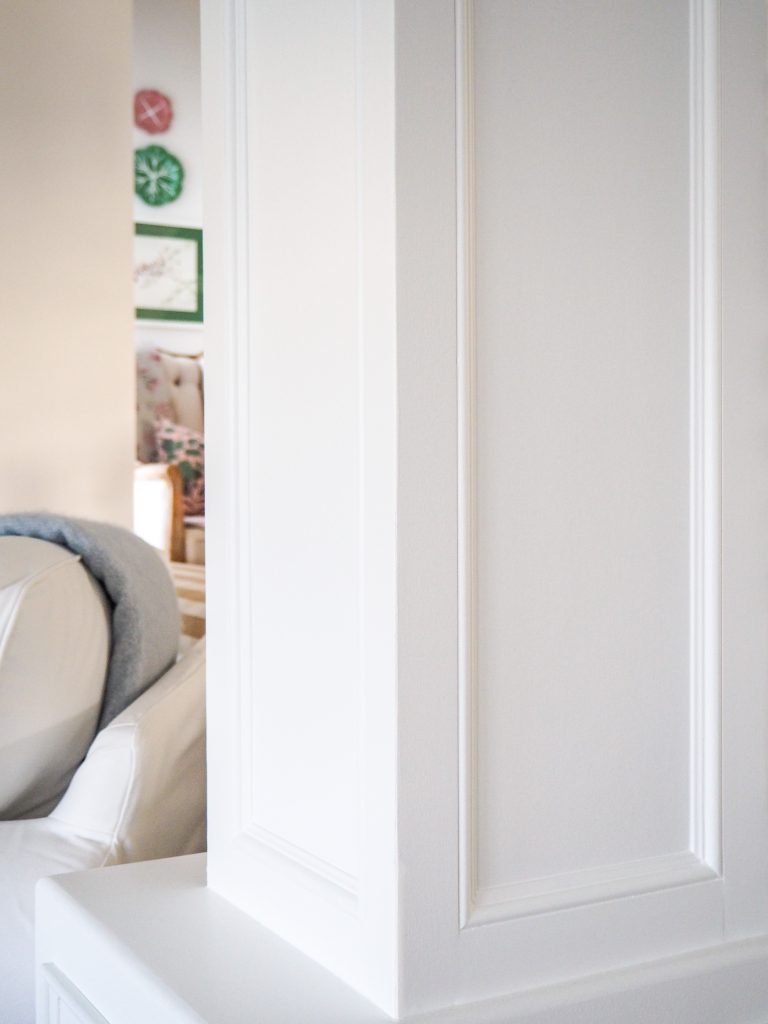 Which brings me to the bench seating that we also attacked with paint and mouldings.
The house originally had indoor gardens, we can tell because the inside is fibreglass and waterproofed and there is drainage. At some point the previous owner has converted them to bench seats, much better idea, except the cushions were covered in the same pink fabric as the putrid pink curtains.
The other issue was that they were painted in 2 pack and had a routered  line around the entire seat. I'm not a fan of the high gloss finish and I wanted to add moulding to the seats. A 2 pack finish is a paint system which involves acrylic paint for the colour and hardener resin, which results in a very tough and shiny surface.
We used a combination of 2 electric sanders to strip back the paint to a surface that we could paint. I'm not going to lie, it was a yukky job with super fine dust everywhere, and yes Mum … I wore a mask!
Then we rolled our fingers in 80 grit sandpaper and sanded the routered line. We had to get this part sanded all the way back to the custom wood because we wanted to fill this line. We used builders bog to fill it and then sanded it flat.
Then my husband did 7,483 (pretty sure he was exaggerating) saw cuts and used the nail gun to apply all the mouldings in a square pattern around the benchseats.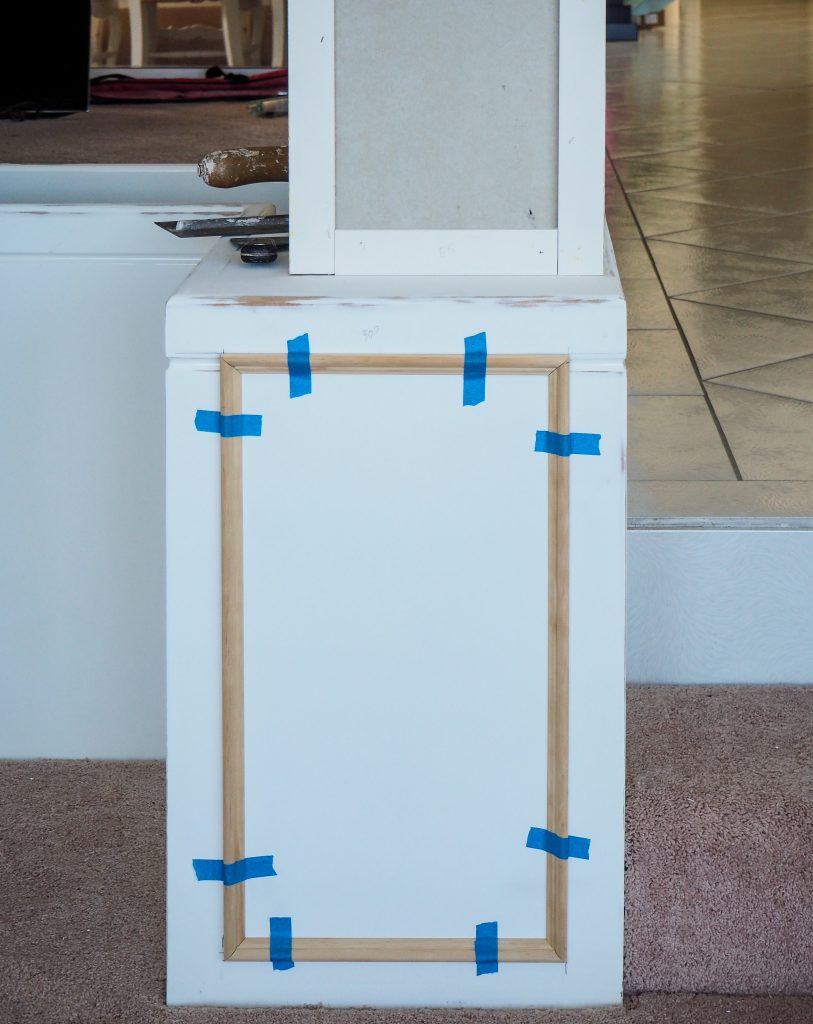 Unfortunately I didn't take any photos of this process as I had my leg in a full leg brace and I was shuffling around on my bottom trying to work. The above photo was taken before we filled the routered feature line, this is when we were working out the design, but you get the idea.
I have a few more of these benchseats to do in the front entry, so if you want more detailed photos, yell out and I can take them with the next one.
We used Dulux Precision Maximum Strength Adhesion Primer as our primer.
Then finished with 2 coats of the Aquasatin Popcorn paint.
We took the benchseat to our upholsterer to be recovered in something …. less pink. I chose a dark beige large scale check pattern and had it piped both top and bottom of the box cushion. You can see the before and after in the photos below.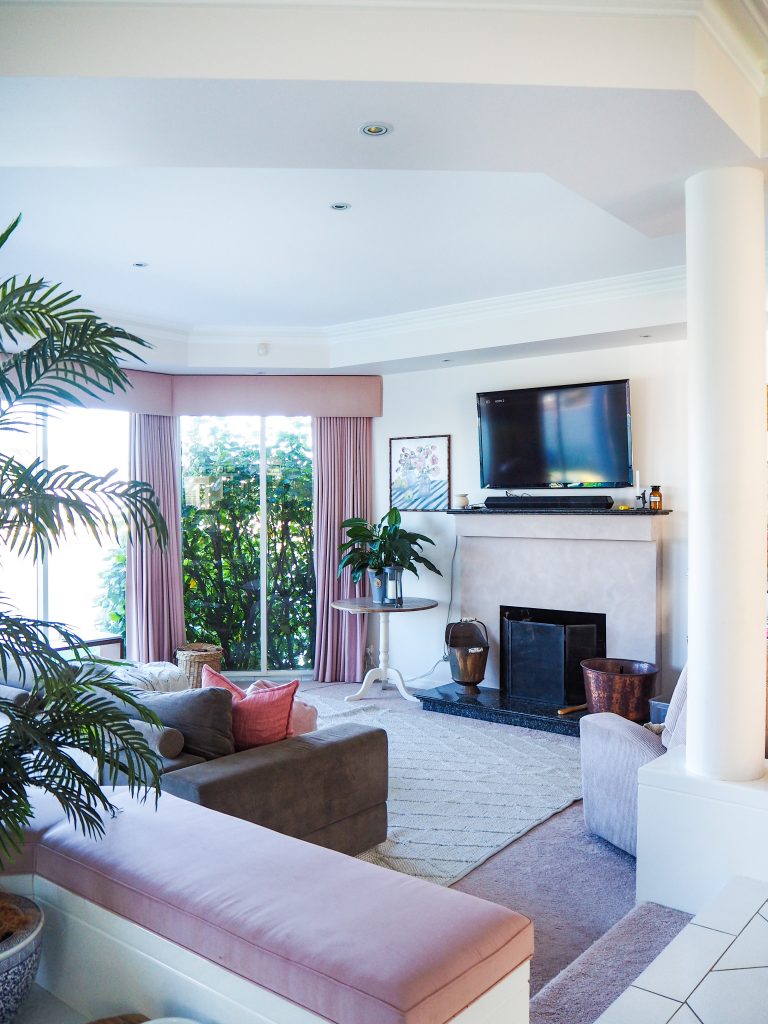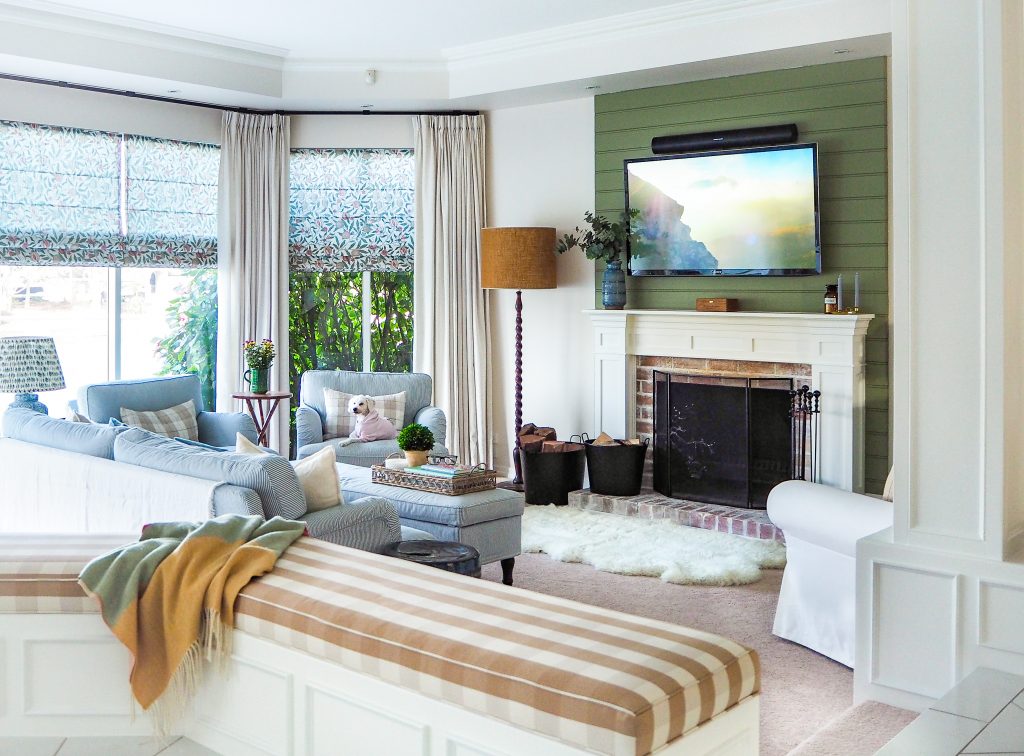 Lastly, the whole room got a coat of paint to freshen everything up before we the fun part begins … dressing the room!
The previous owner had repainted not long before we moved in but there was holes that needed patching and a few marks from moving furniture and it didn't take long to give it one quick coat. We kept the same colour the previous owner chose as it's fairly neutral and once you change one room, it snowballs into doing the rest of the house, especially when it's so open and the rooms all flow together.
The colour is Wattyl First Kiss 1/4 strength.
The last major change we made was new blinds and curtains. I personally think this has made the biggest difference in this room. The pink curtains were so drab and they reflected a weird pink hue around the entire space. I actually thought the carpet in this room was pink before I pulled the curtains down. It's not, it's a dark beige!
I wonder if the fireplace was actually pink?
I chose roman blinds in a beautiful William Morris fabric and pinch pleat curtains in a beautiful pale linen colour.
You can see more pics and read all about them here.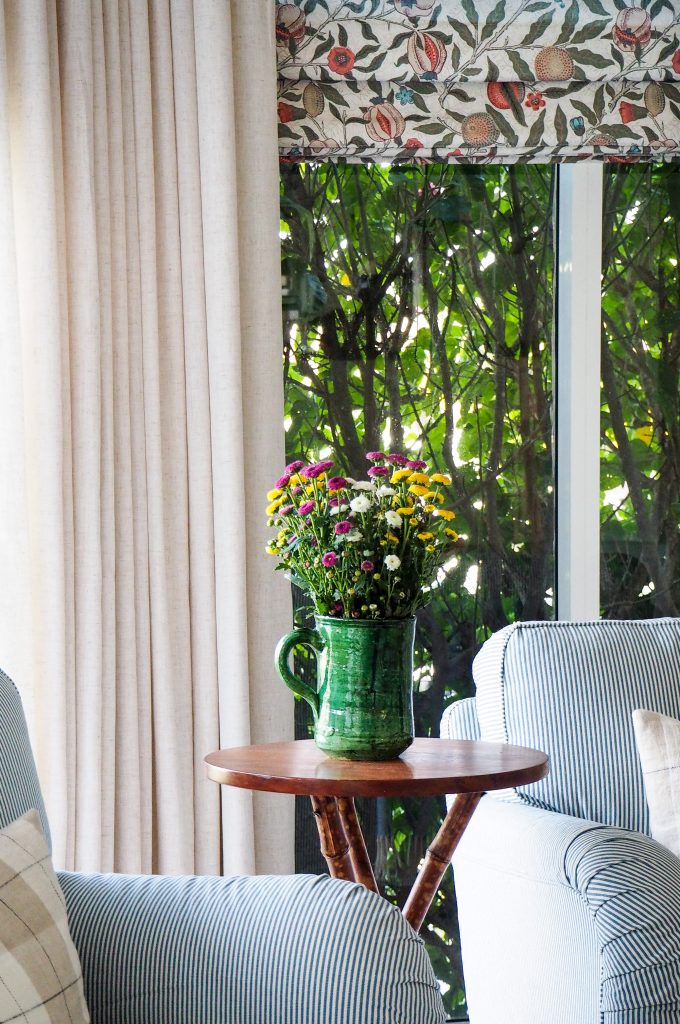 The rest was all about the furniture and styling.
We ditched the big bulky brown couch, as comfy as it is, it really isn't pretty. I also removed the big rug from the floor, now the carpet doesn't look pink it's not bad. It is wool carpet and it is absolutely perfect. I think this was the 'good room' with the last owners and it barely got used, she told me they had never used the fireplace!
I repurposed the rest of the furniture from this room and started again.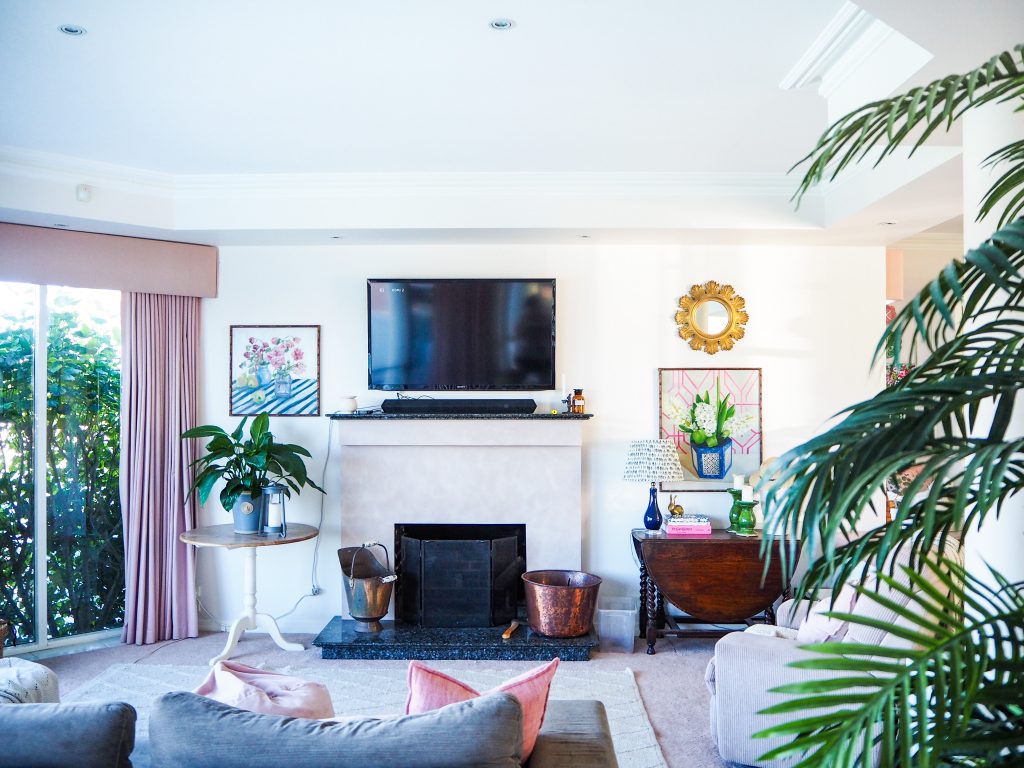 I bought the little cabinet from Facebook Marketplace and gave it a quick makeover using Annie Sloan Chalk Paint. I'm sorry I can't share the colour, I mixed it myself from a few small sample pots I had. If you want to try and recreate it, I used – Florence, English Yellow, Oxford Navy, Paris Grey and Pure White, but it's probably easier to just buy the Duck Egg Blue which is quite similar.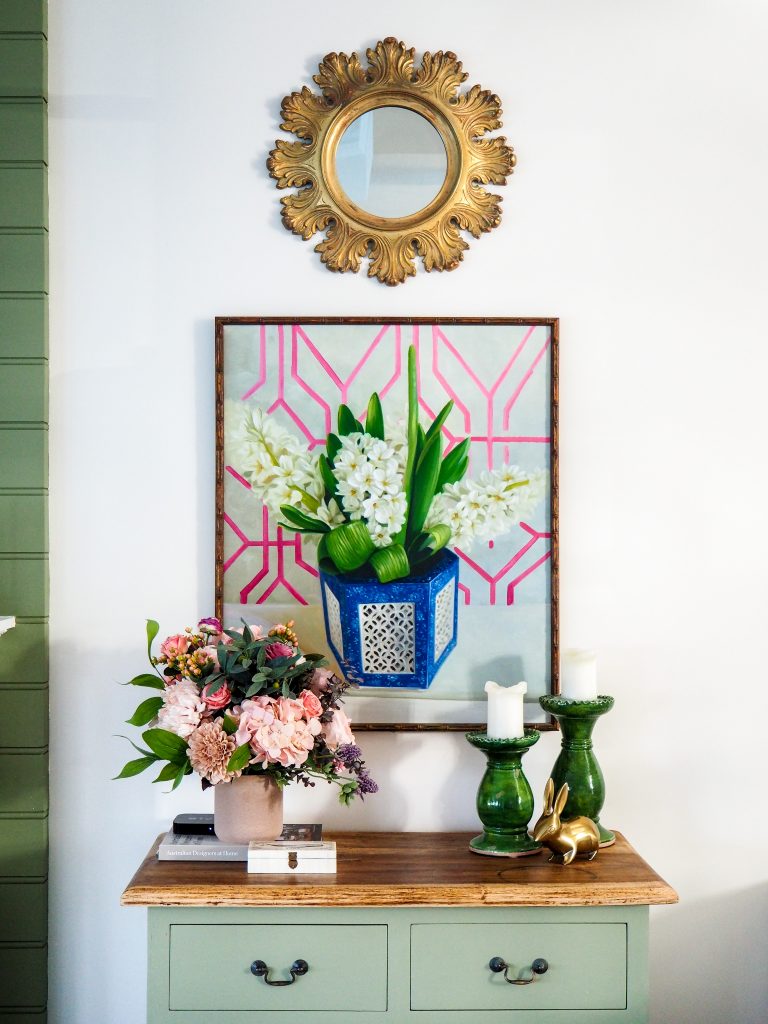 I also bought the barley twist lamp from Facebook Marketplace.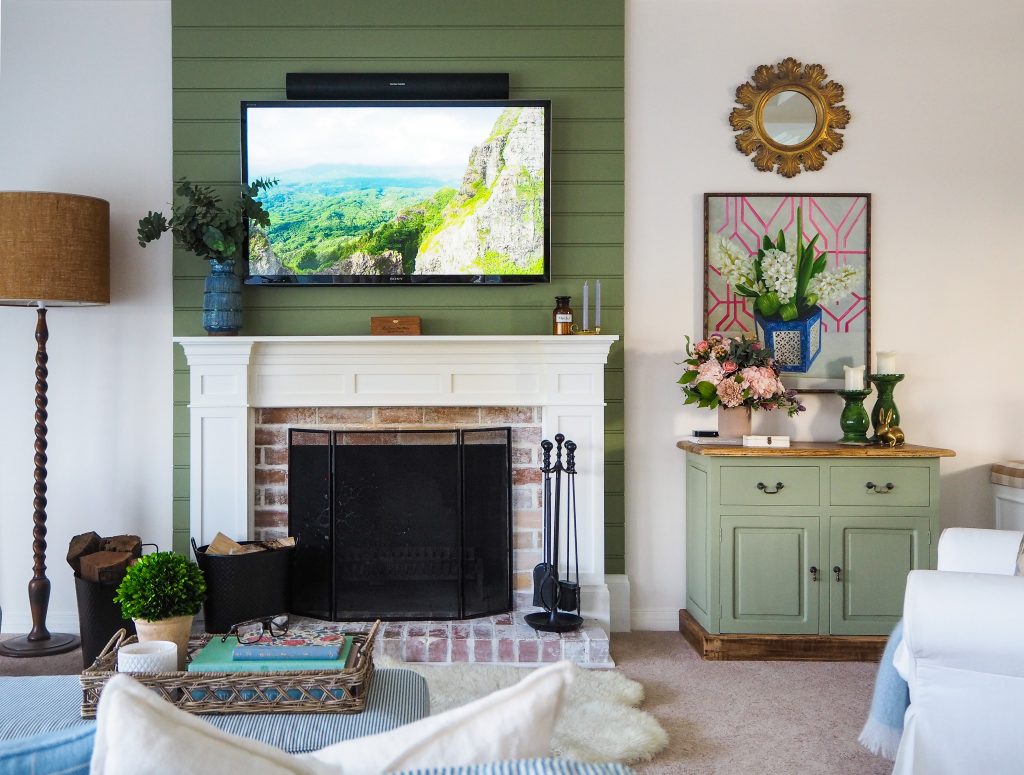 The fireplace tools, wood buckets and screen are from Early Settler. I love the little birds, they add a pretty little detail when the fire isn't on and they also look amazing when the fire is on.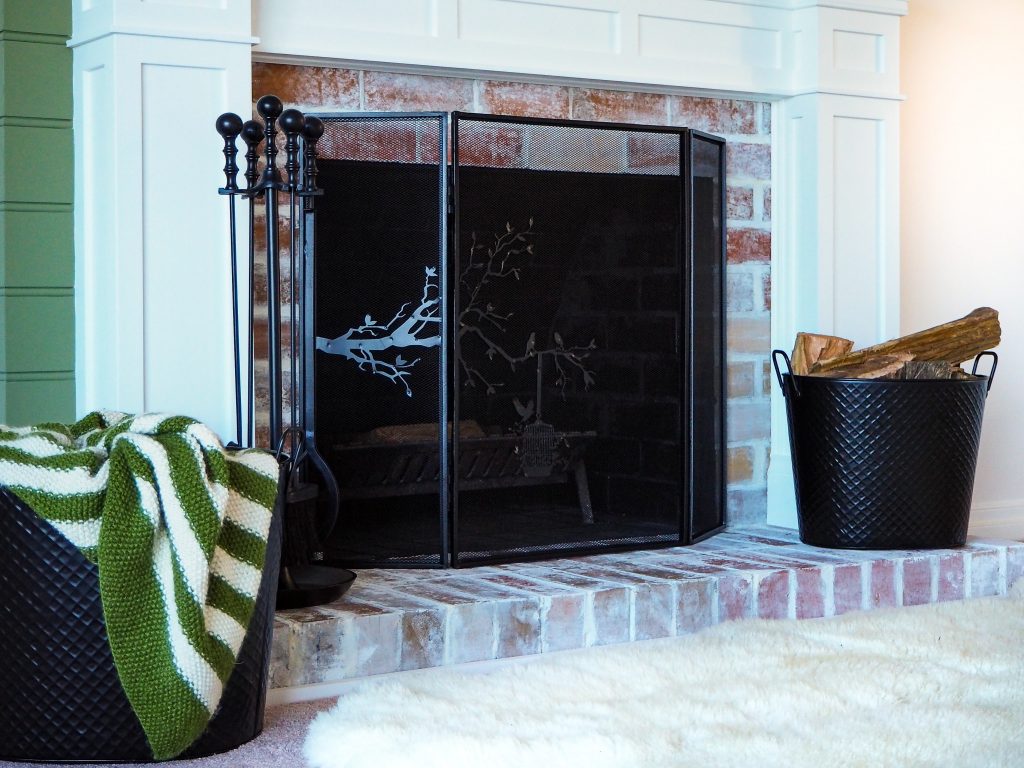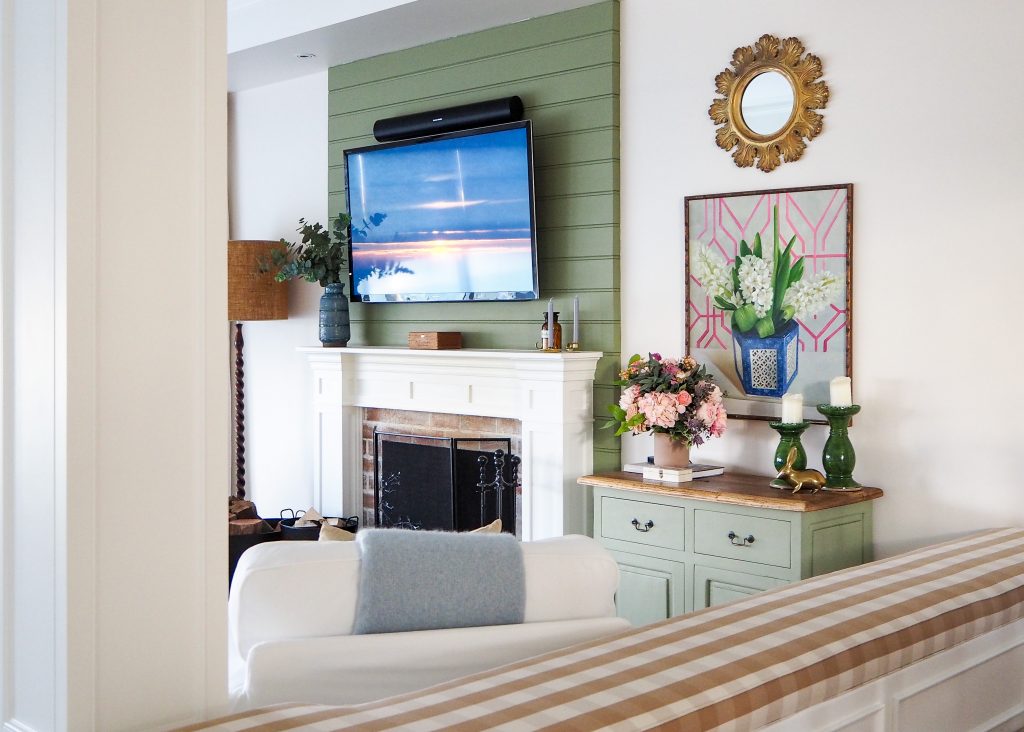 Our beloved Ikea Stocksund sofa and armchairs are perfect in here, unfortunately they don't have this fabric anymore, I live in hope that they'll bring it back or release a new one that is equally as fabulous.  The blue stripe works beautifully with the floral blinds and they pick up on the sweet little blue flowers throughout the pattern.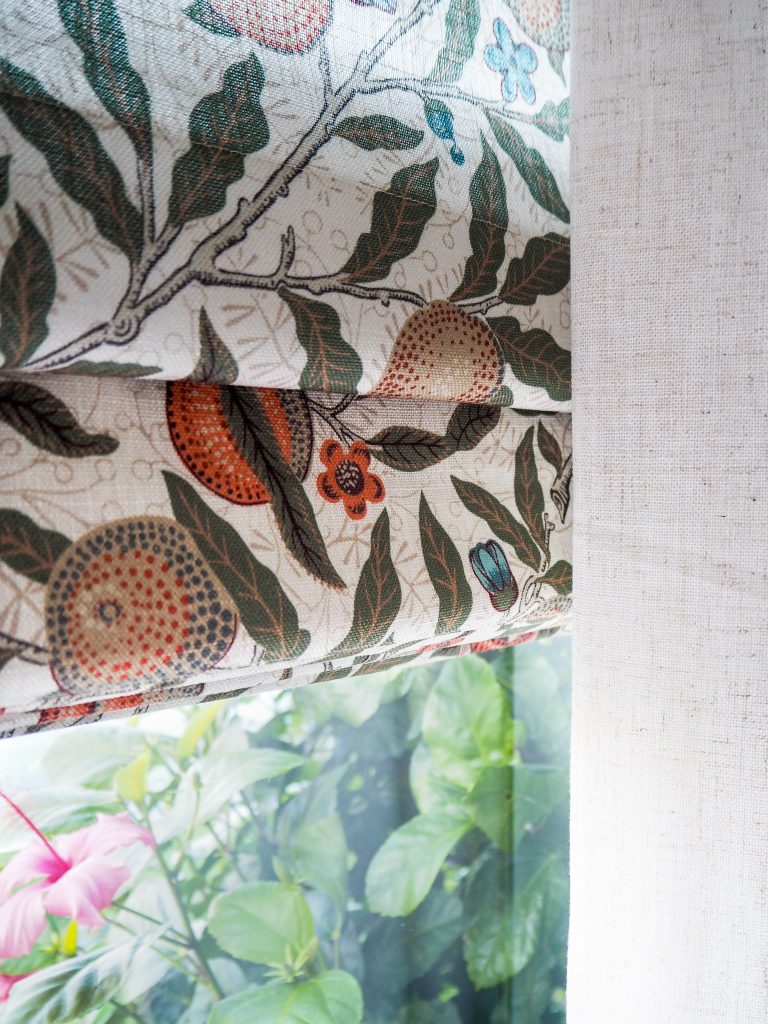 I'm currently hunting the perfect cushions for this space, I'd like to pull some more colour from that glorious blind fabric, maybe some green and terracotta.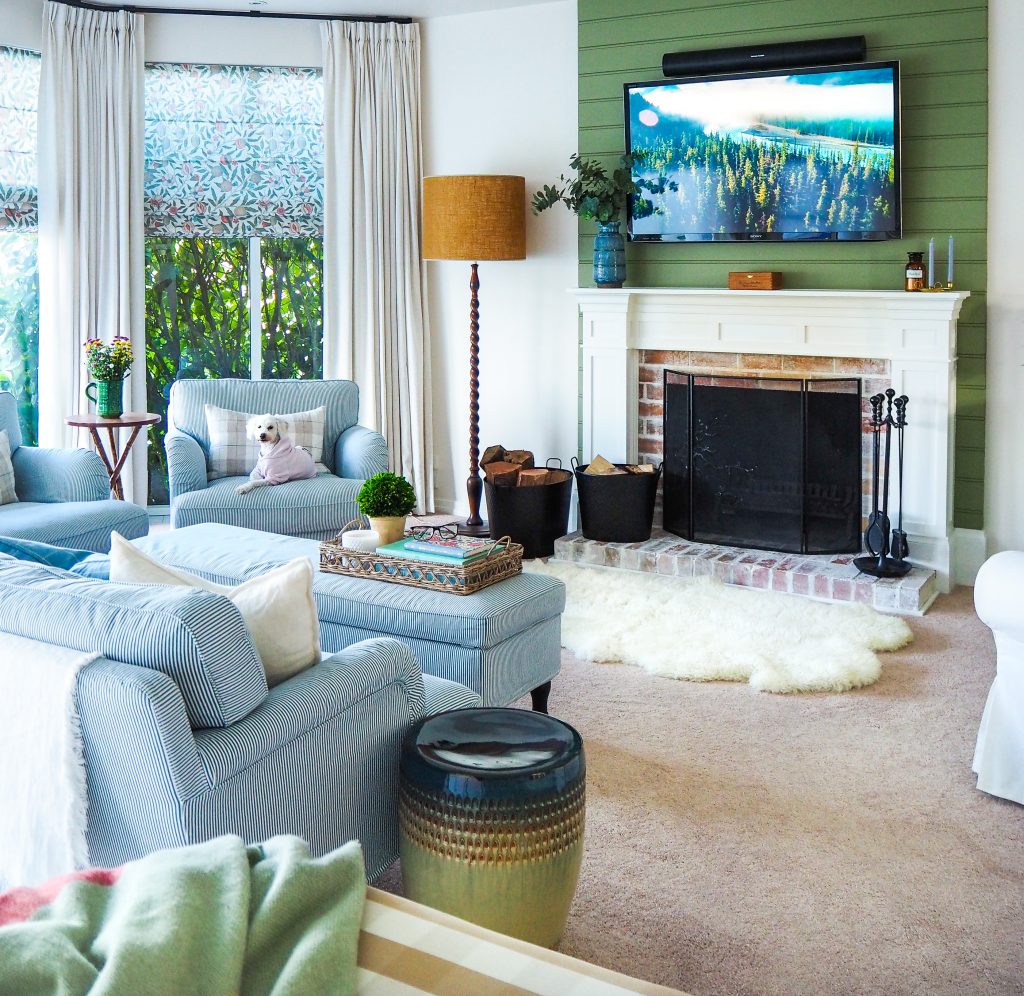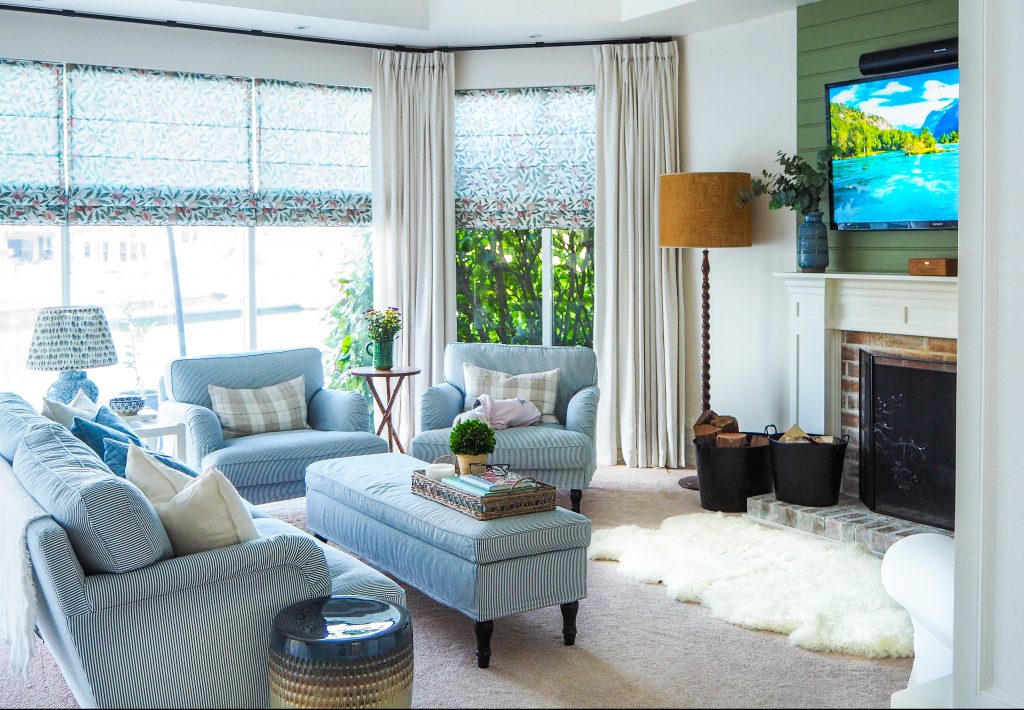 I couldn't resist popping a sheepskin rug in front of the fire, a little nod to the era the house.
We also bought the Ikea Ektorp white armchair you can see to the right in the photo below, but it's already been moved to another room, that tends to happen around here, ha!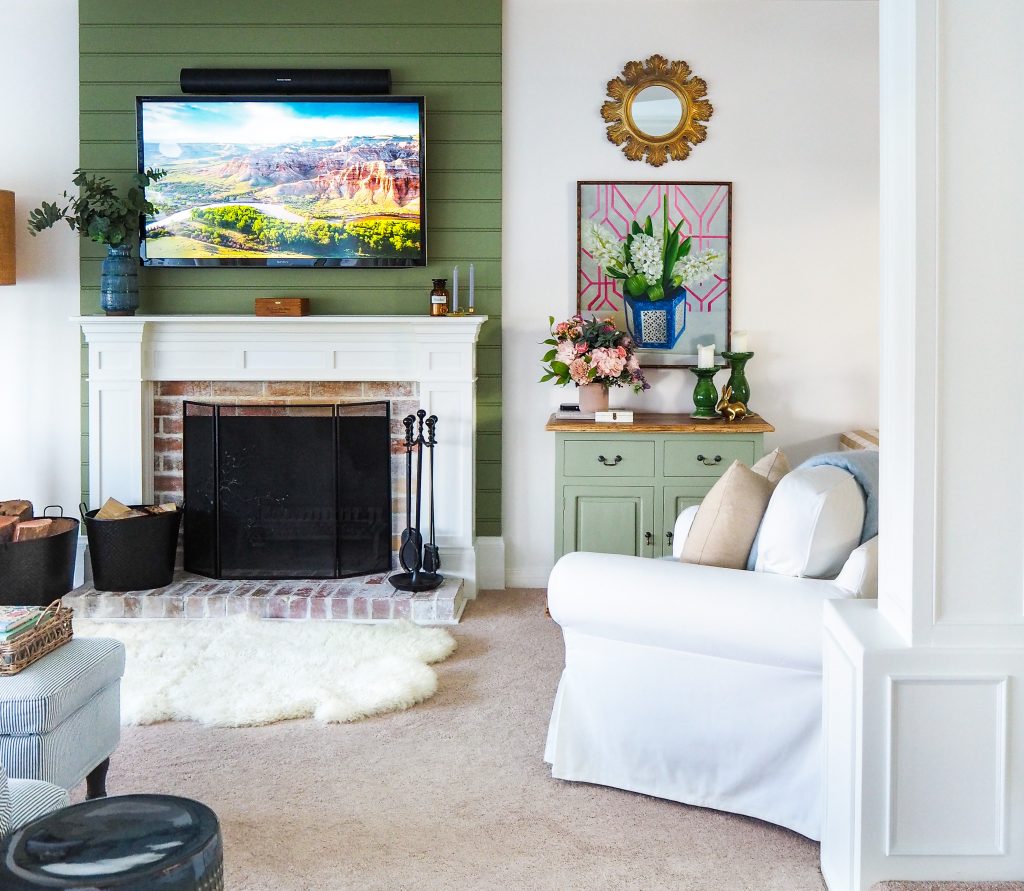 I love this room, it's warm, cosy and inviting. It feels homely and nothing is precious. All the sofas have removable, machine washable covers which makes it stress free for the kids and pets. It's a real family room and we all love spending time in here.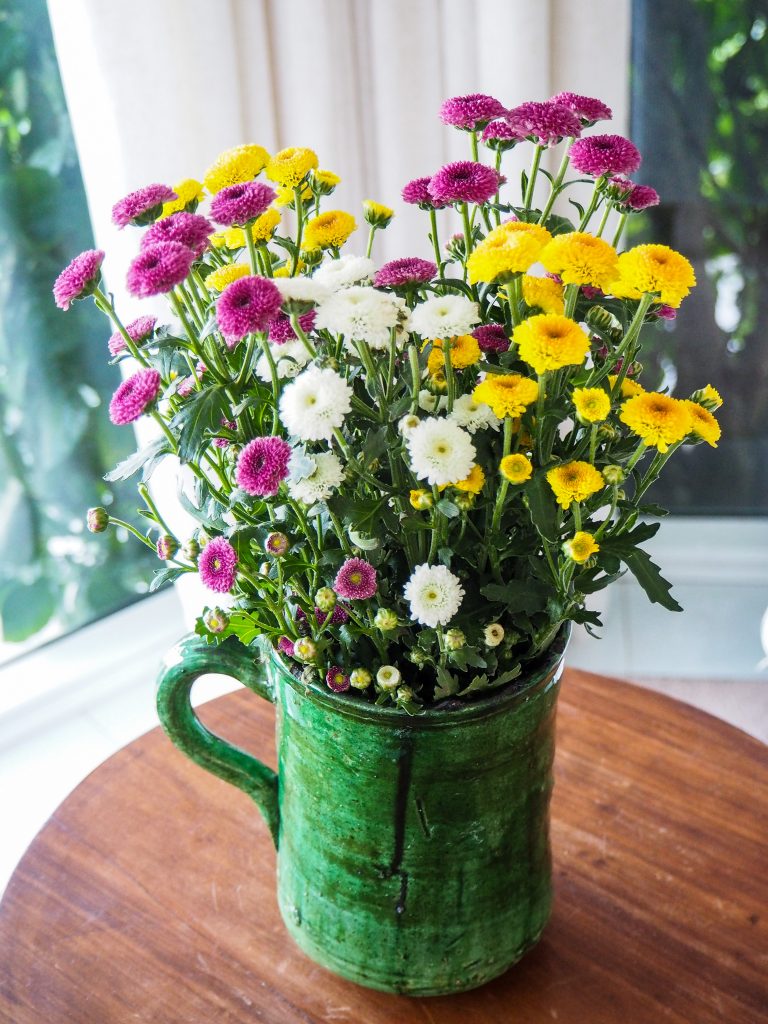 Phew, I think I've covered everything, feel free to ask any questions, I'm always happy to share.
Happy Styling!
Hayley x