I'm sure indoor gardens with black rocks, black elephant statues, grass tree plants and green lighting were very fashionable once upon a time … maybe some people still like it, each to their own, it's just not for me.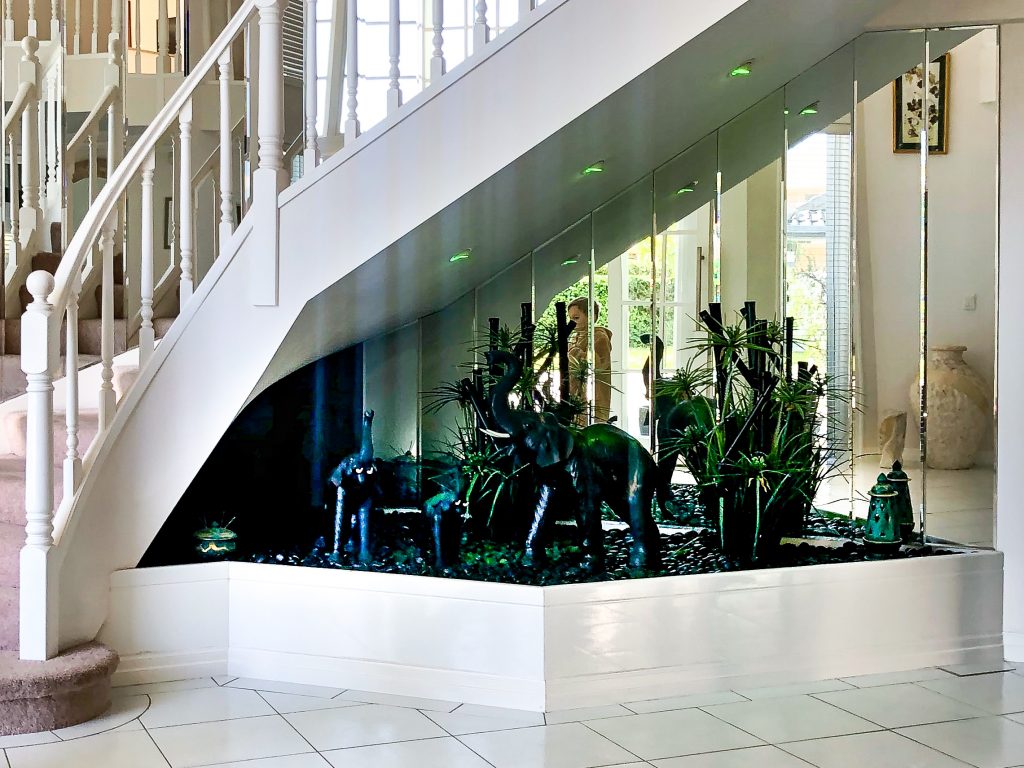 It's the first thing you used to see when you walk through the front doors.
Our front doors are truly beautiful and one of my favourite things about this house, the black rock garden was detracting from the gorgeous french doors and giving the wrong first impression for our home.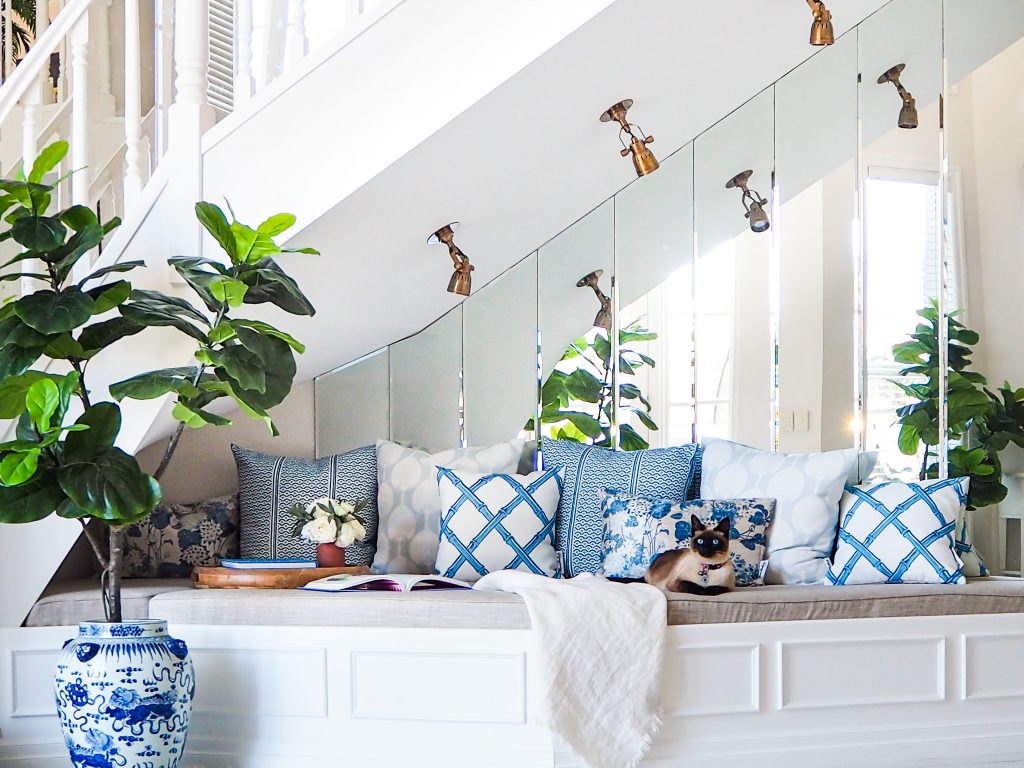 The entry is quite a large space, it's open with high ceilings and beautifully bright natural light, but it is also an awkward space and has doors everywhere. I love entries and foyers with seating, somewhere to put on your shoes or sit and wait for the postman with your online shopping. The 'black rock garden' was the perfect spot to create a huge day bed and it was easier than you think.
Structurally I didn't need to make any changes, most of the updates to this space have been aesthetic changes with lighting, fabric, paint and decor.
The frame work was already in place, it just needed some updating. I applied the same process that I did to the bench seats in the living and dining room here.
Removing the high gloss 2 pac paint finish and adding the moulding updates it to a more classic style that fits with the look I'm trying to achieve as we renovate our home.
The day bed seat and cushions were one of the most important choices I made in this space. Although I contemplated different colours, I decided to keep this area predominantly blue and white, it always look fresh, calm & inviting and I wanted to include lots of glossy green plants in blue and white pots.
I played with a few different fabric ideas for the seat cushion, I really wanted to use a fabulous blue and white pattern but I was mindful of the angular shape of the cushion and all the mirrors in this space, I decided it was going to look too busy and ended up choosing a plain fabric for the seat.
It's a beautiful fabric crafted by a traditional silk mill, it has a delicious nubby texture like a natural fibre, but it is actually a high performance polyester that will withstand my kids and pets.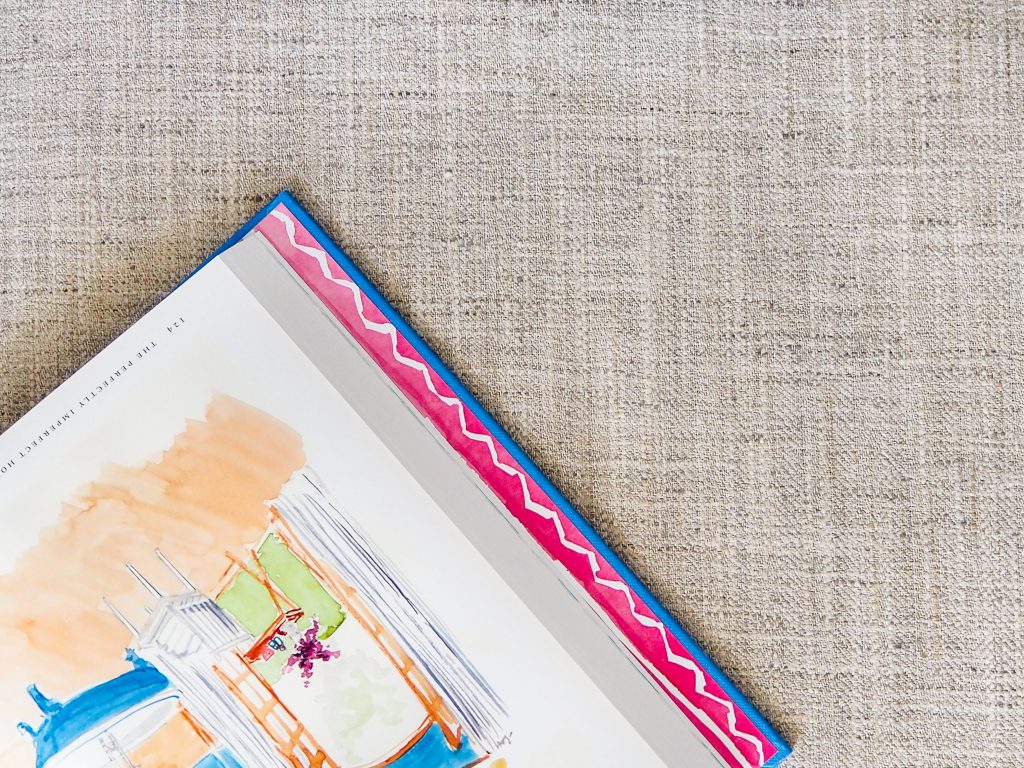 Since I chose a plain fabric for the seat, I went to town with the throw cushions and selected a stunning collection of blue and white cushions from Florence Broadhurst Fabric.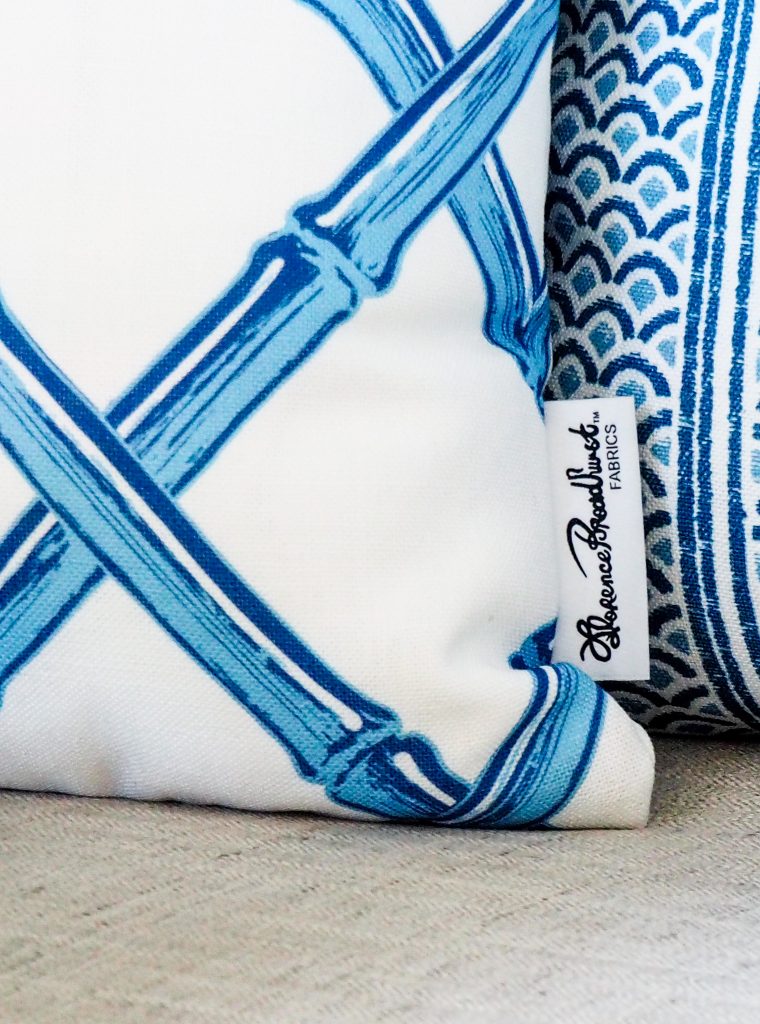 Florence Broadhurst is an Australian icon in wallpaper and fabric design. Her library consists of around 500 designs and lucky for us, Florence Broadhurst Fabrics are making a handful of them available to purchase, including some of her most well know classics. The designer fabrics are available by the metre in three different base fabrics with a cotton, velvet or brushed cotton feel.
I love the way the mix of textures, patterns and shades of blue all work together harmoniously.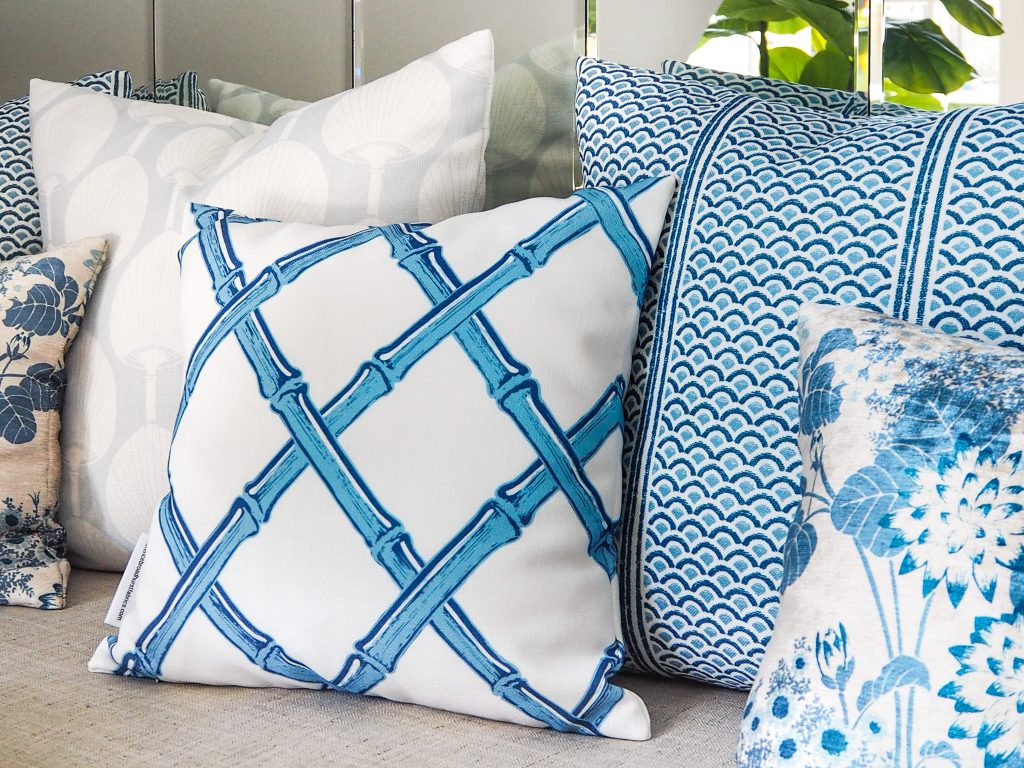 I also changed the downlights to something a little more interesting. Finding a stylish light that works on the curved underside of the staircase was quite a mission, but I think the brass spotlight adds some warmth and a hint of vintage charm.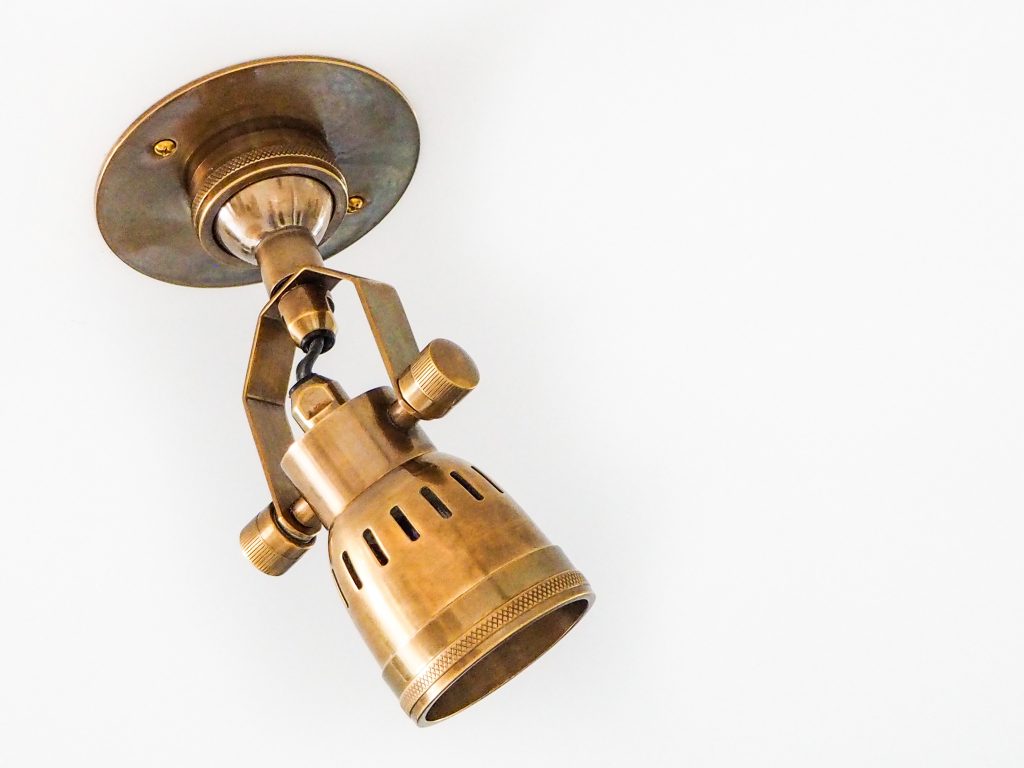 We will replace the floors eventually, that's stage two of the entry makeover which will also include the staircase treads, I can't wait for that! For now, I've added a natural jute rug to add some interest to the floors and break up the large expanse of empty space. It was really affordable and looks great.
The only other change we made in this area was to add sheer curtains on the huge glass sliding doors. The white sheer fabric gives the entire area a dreamy white glow that I just adore.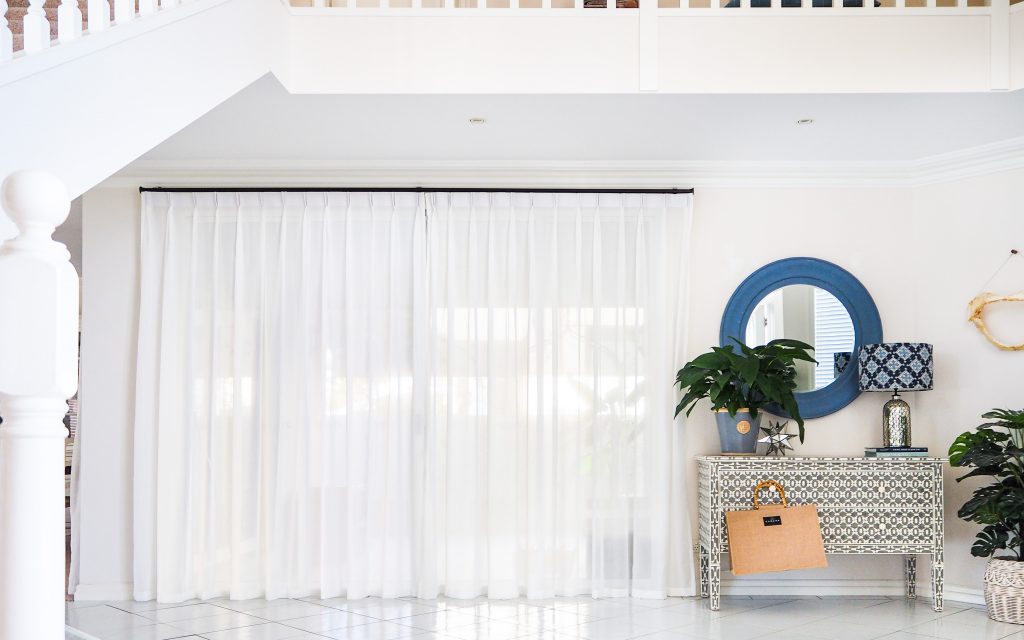 I am thrilled with this little makeover, it has made such a huge difference to this space and I love welcoming guests to our home now without having to explain 'what on earth' the mess under the stairs was.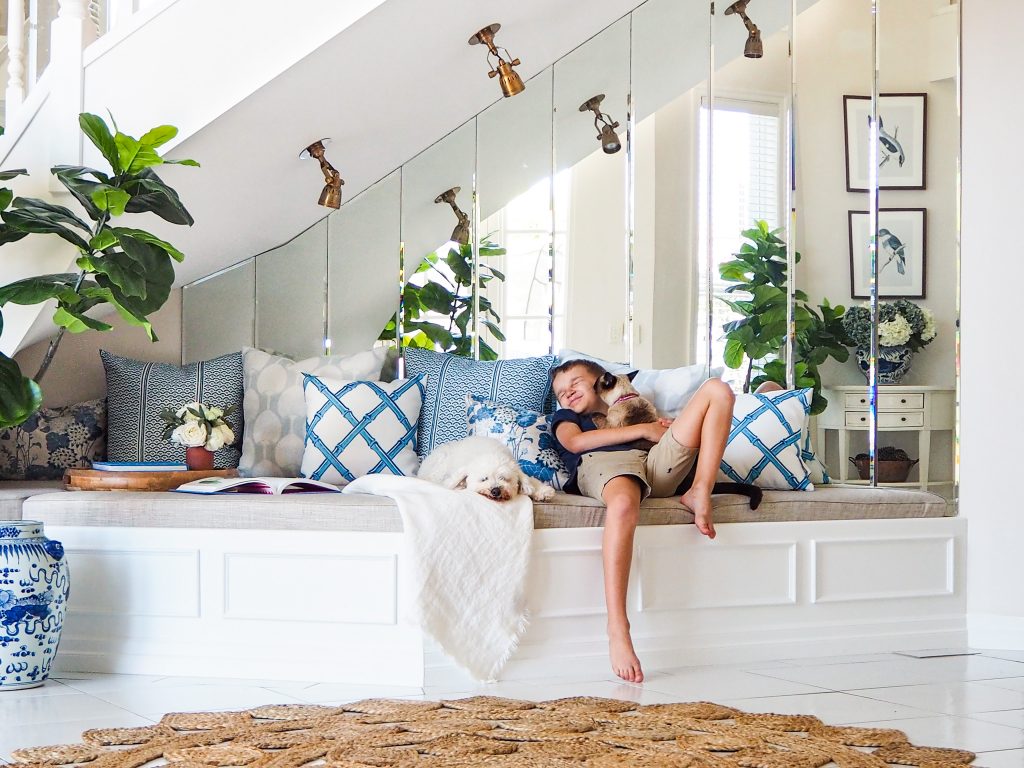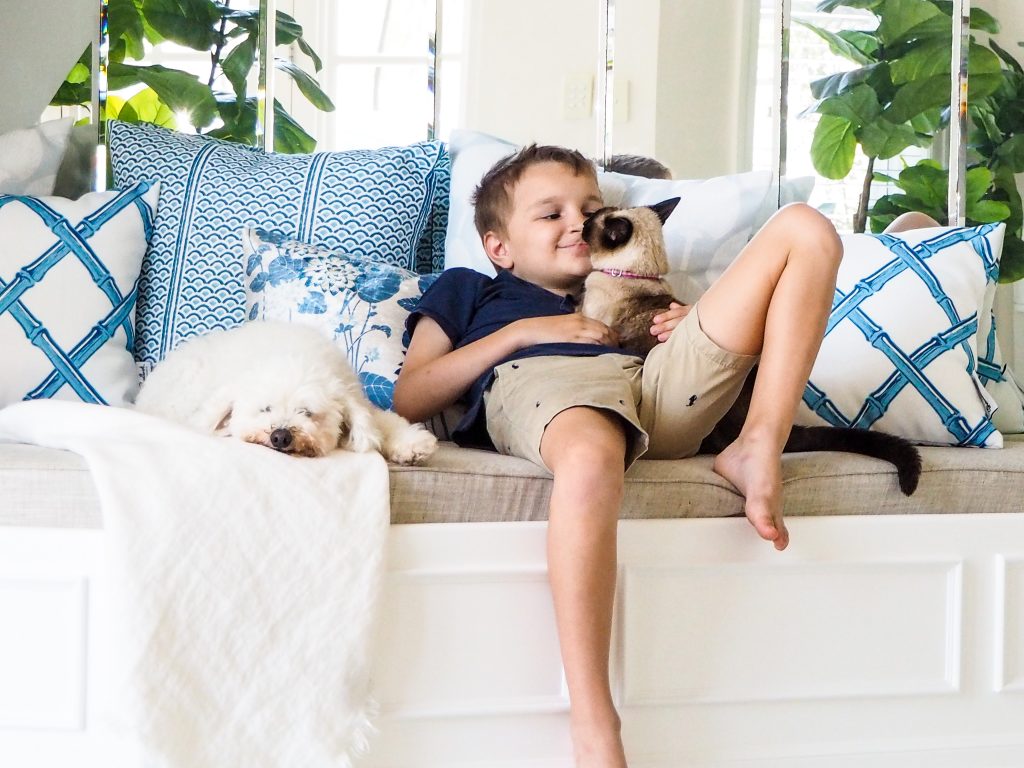 It's also a favourite spot for our fur babies to sit and watch the world go by, or wait for us to get home. I'm pretty sure they think it was just put there for them.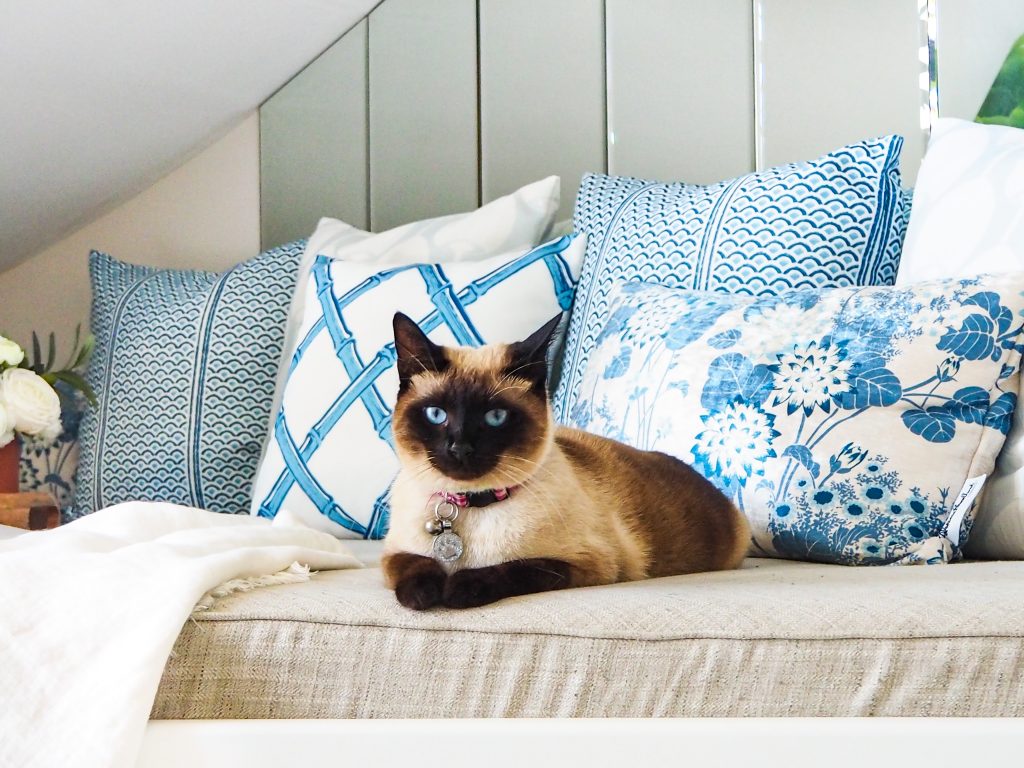 Stay tuned for my office makeover next, followed by my master bedroom before Christmas.
Happy Styling!
Hayley x
SOURCES
Seat cushion fabric – Handcraft Moonstone from Materialised.
Blue and White cushions – all Florence Broadhurst Fabric.
Floor rug – Tessellated Star rug, sold out, this one is similar at Catch.com.au.
Sheer curtains – Tahiti Snow from Blinds Online.
Lighting – Seattle Wall Light in Brass from Emac & Lawton.
Tray – Heathcote Parquetry Tray from Madras Link.
Flowers and Vase – Silk Flora.
Throw – Linen House Australia, discontinued, similar from here.