Recently one of the gorgeous girls I follow on Instagram (@nickyhacky) asked the question – What's on your interior accessories wish list? It got me thinking and wondering what are the things on my wish list, it seems to be so long, growing and changing everyday! I would love to know what's on your list?
Here's a few of mine, some of these have been on my list for quite some time, and other come and go, so this is my list today.
1.  Hermes Avalon signature H blanket in blue, I'm not fussy, any blue, any knit is fine. Seriously, they were made for me, they have an H on them, it's like buying a monogrammed blanket, a very expensive monogrammed blanket! (On my list forever!)
2. I adore Jill Rosenwald pottery, the Hamptons Link range is one of my favourites, but truly, I love her entire range and would be tickled pink with anything from her!
3. Art! I'm always lusting after some new art for my home, I love the colour, life and emotions that a piece of art brings into a home. I personally don't think you need to spend a fortune on art, if a piece 'speaks to you' or makes you happy, then buy it! I have the kids school art, lots of affordable prints and a few special pieces in my home. Having said that, it is also fabulous owning an original piece of art that nobody else has. 
Pip Spiro is a local artist and I adore everything she does, I have one of her prints, but an original piece would be a dream to own. 
Carolyne Hallum is also a local artist and has recently launched a range of canvases she calls the Mini Floral Collection. It was love at first site when I saw the first one and quickly snapped it up, it is truly beautiful. I'm sure it won't be my last piece from Carolyne.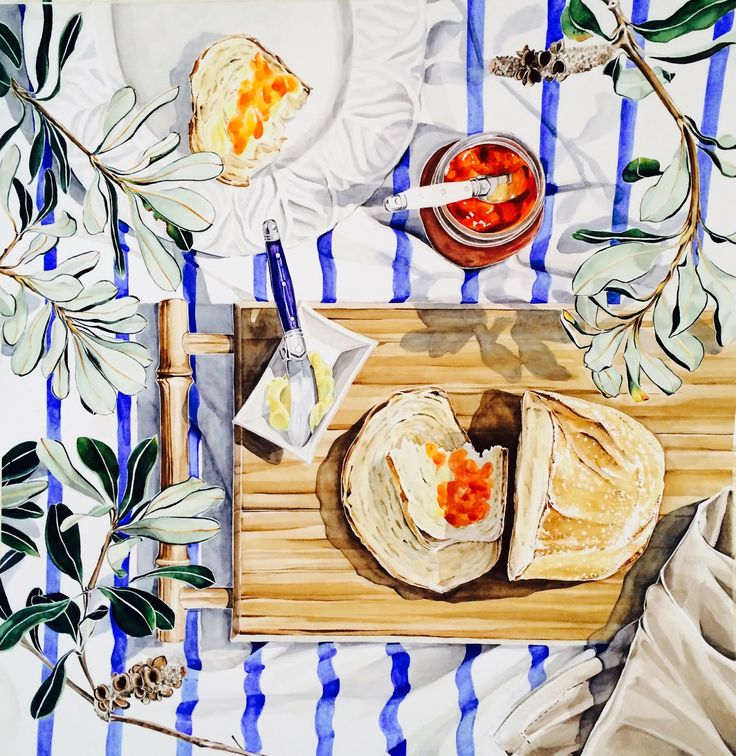 4. Jana Bek's hand poured and hand painted brushstroke lamps are a striking statement piece, I'd love a blush pink one to compliment all the blue in my home, I think this lamp deserves to stand out on it's own with a pop of pink!
5. We all know I'm a sucker for a blue and white ginger jar, but this isn't just another ginger jar, this is a hand painted Summer Palace ginger jar by Dana Gibson … Swoon!
6. Mrs Darcy's The Indigo Blue Quilt with all the trimmings. I die! All those blue florals with green leaves peeking through, does it get any better, sigh!
7. I am in desperate need of a new everyday dinner set.
I think this one by Robert Gordon would do just perfectly! It's the new Hardware Lane range, inspired by vintage cut glass and available in these three matte finishes. I'll take a set of 8 in white please!
If my budget were a little larger, I'd love the 'dot and dash' dinner set from Oscar de la Renta, actually anything from Oscar de la Renta! Don't even get me started on the brass heart julep cups, sigh!
Or how about the Tory Burch  blue and white sponge ware collection, classic beauty!
8. Cushion, Cushions and more cushions are always on my list. The whole mood of a room can change with a few new cushions, a splash of bright colour for summer and some chunky texture in winter. Some of my favourites are from Caitlin Wilson, Square Fox Designs, Gilles and Franck and Villa de Luxe Boutique. I'm always looking for more, where are you favourite cushions from? Please Share!
9. Some big, chunky, textural and beautifully coloured agate bookends in blue or green. These ones are perfect, they are from Harklo.
10. Tortoise glass – anything! I love tortoise glass, this pitcher with a gold handle is amazing! It is from Oscar de la Renta and is seriously swoon worthy! I have a couple of vases from Luca and Eve that I adore. I don't see much of it around lately, have you seen any? I need to know!
OK, your turn, what's on your lust list? Tell me! I'd love to know!
Hayley x