This year I was invited to join some of my favourite bloggers on a Christmas home tour.
The gorgeous Jennifer from Dimples & Tangles and Rachel from Pencil Shaving Studio put this one together and I am so excited with the group of gorgeous girls they have handpicked for you!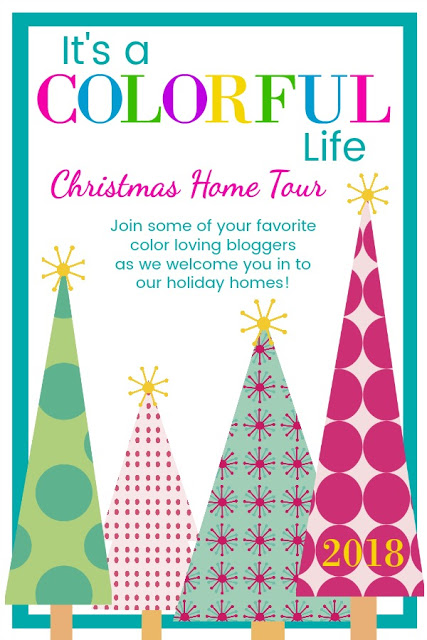 Firstly, let me just say I am totally chuffed to be part of such a fabulous group. I feel like I've found my tribe with these colour loving gals, their homes are bright, bold and beautiful and I love them all.
OK, If you are following the tour, you've probably just come from the self-proclaimed freak herself, Jenna from Rain on a Tin Roof, her pops of bright colour and amazing wallpaper selections always makes me smile.
(The full list of the home tour is at the bottom of this post)
Let's go!
Today I'm going to share my living room and bedroom with you.
I recently discovered plaid, I mean I knew it existed, but I have ever used it in my home before. Then I found a fabulous plaid at Pottery Barn that has a touch of blue in it, so it mixes back with my #blueandwhite home beautifully. Now, I have a little obsession with plaid, OK, make that a BIG obsession with plaid! It was my inspiration for this years Christmas colour palette, I pulled the red and green from the plaid, and added it to my existing blue and white decor.
I've also added lots of metallic accents like mercury glass, silver and galvanised metal to give it some sparkle!
Lets start in my living area where you are welcomed with pops of red and lots of plaid which is perfect with my blue and white ticking sofa.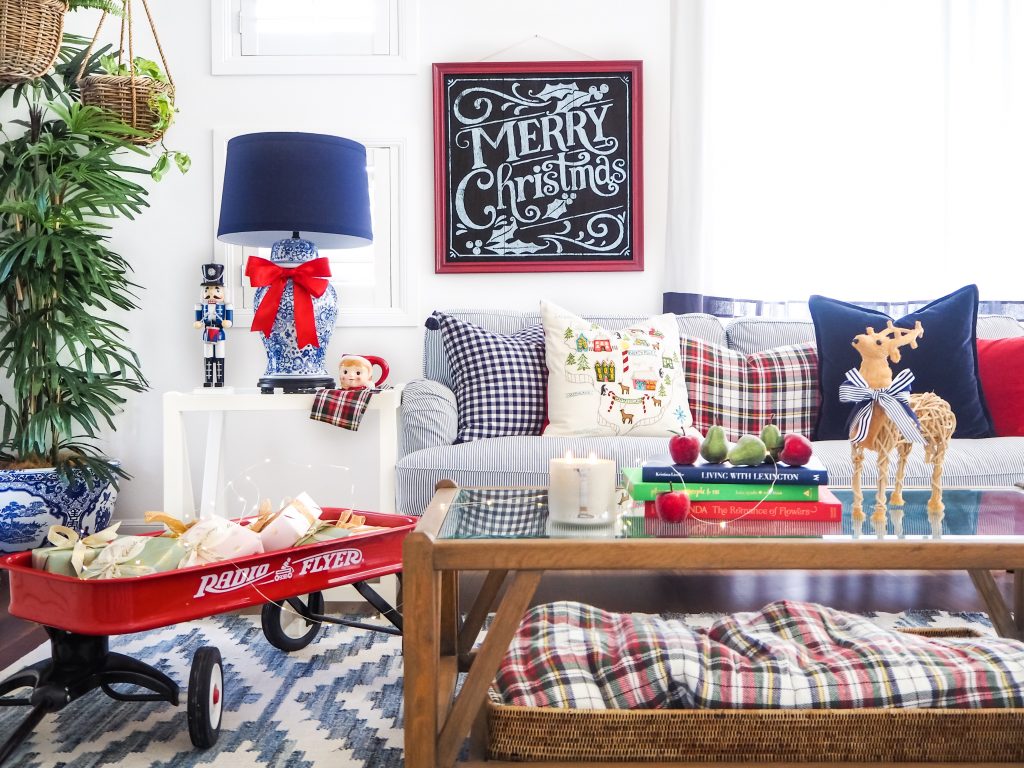 My favourite thing is this room is the sweet pillow with embroidered and beaded details. The colour and art have a vintage vibe that I adore, and the map of the North Pole has been a great conversation starter with the kids.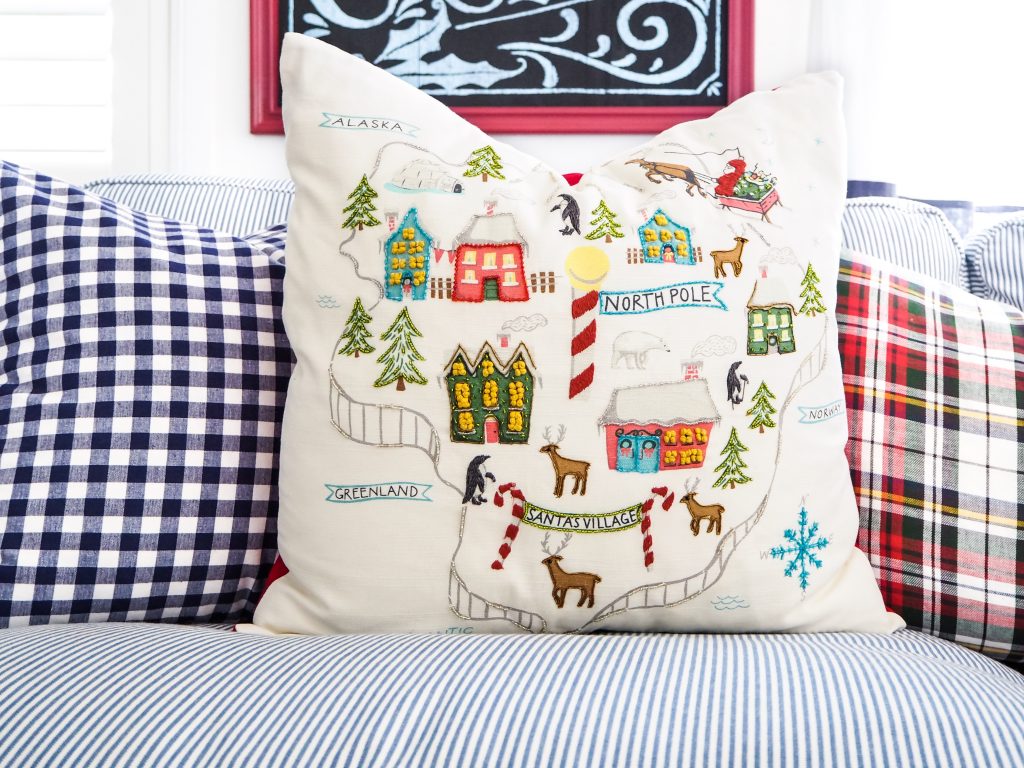 I also adore these gorgeous little sugared fruit decorations that I found at my supermarket for 80 cents each, proving that it doesn't cost a fortune to decorate your home!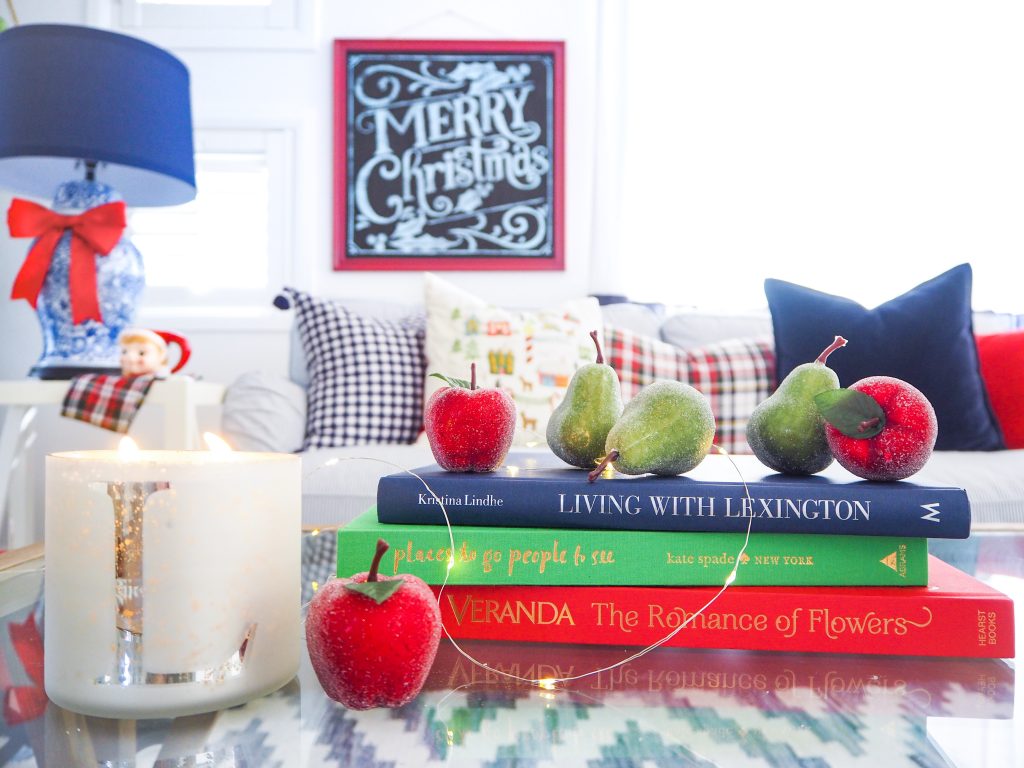 Just off the living room and next to the kitchen is this little area that I have turned into a FROZEN hot chocolate bar. It's summer in Australia and too hot for the traditional hot chocolate so we've put in our own spin on it. The kids absolutely love it and it's getting quite the workout!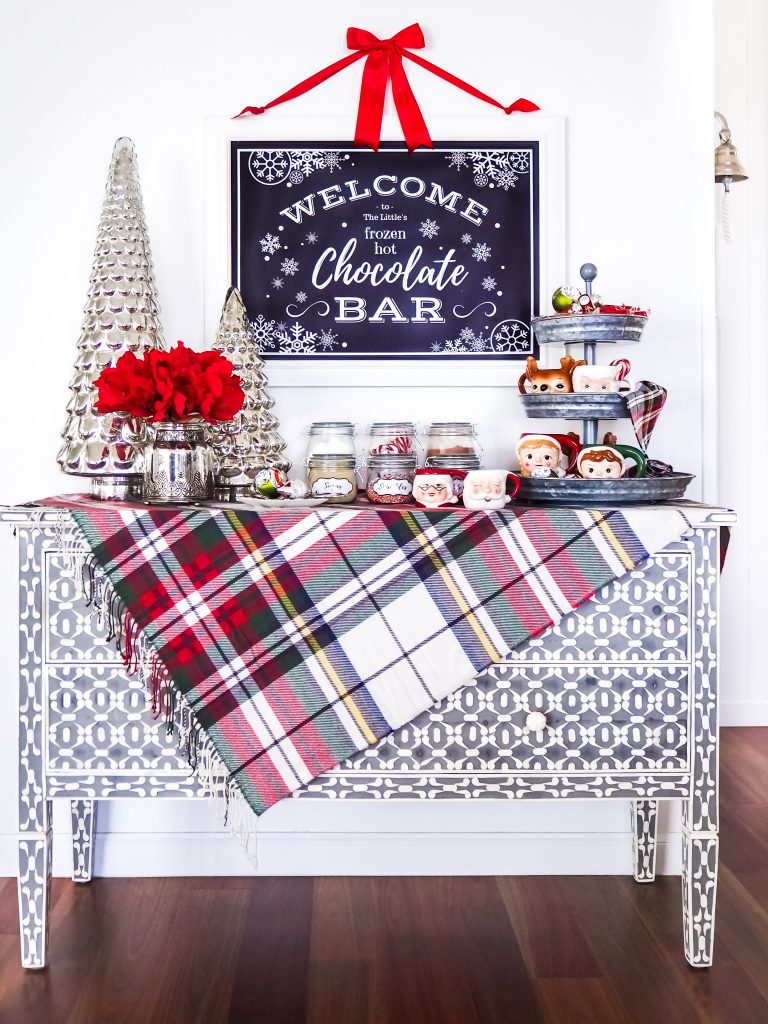 Everyone has their own mug and we have a few spares for guests.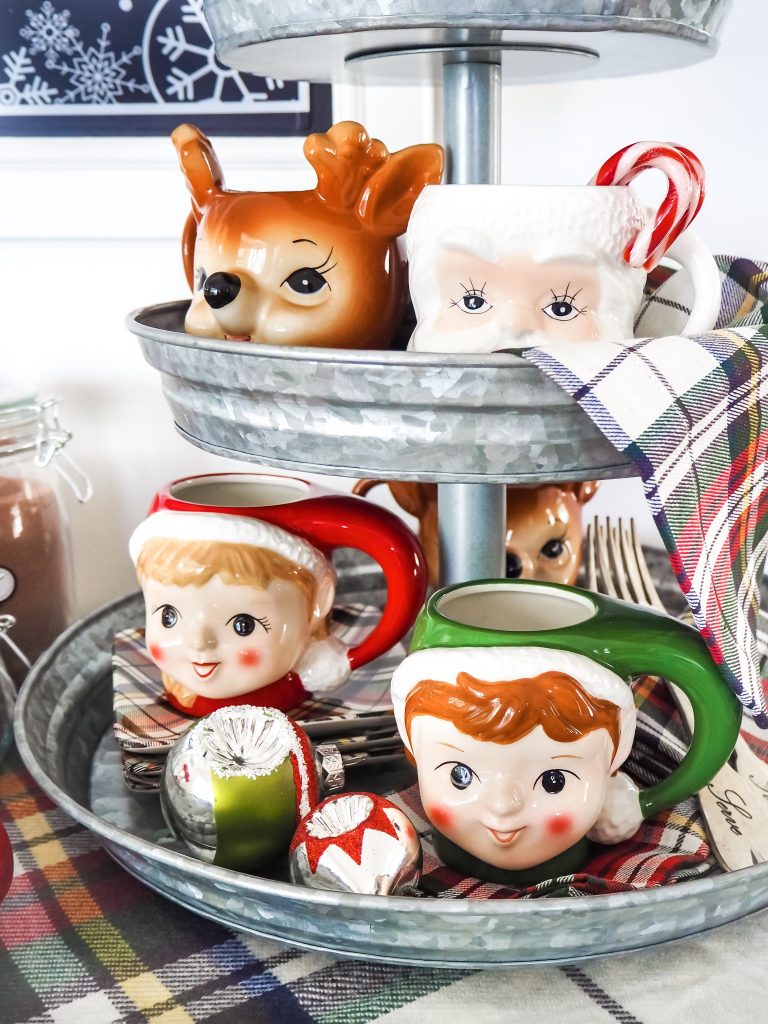 I designed the artwork myself and my Dad brought it to life. It was a quick and easy activity and I love that it is personalised with our family name.
I bought the large frame from a local thrift store for a few dollars, the frame was originally a yellow pine wood, it only took me a few minutes to spray paint it white. My Dad has a giant printing machine so he printed my artwork to look like a blackboard, I'm sure you could get this done at your local printers. Then I added 2 small brass rings to the top of the frame to use the ribbon for hanging.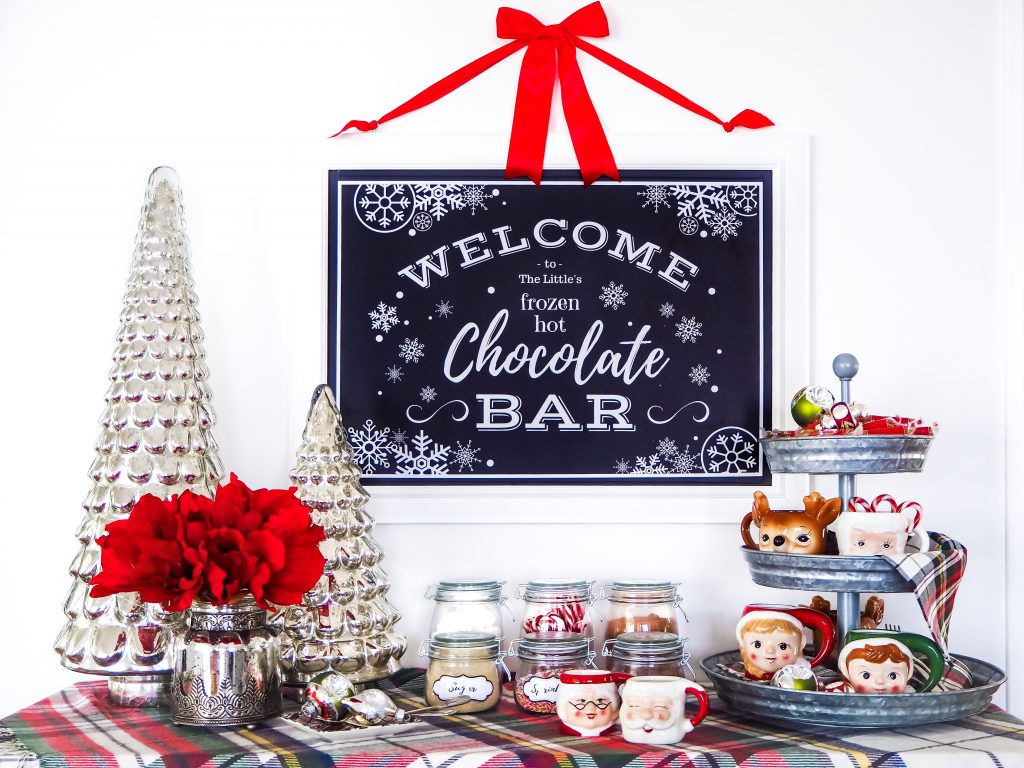 And as for the frozen hot chocolate, here's a couple I prepared earlier …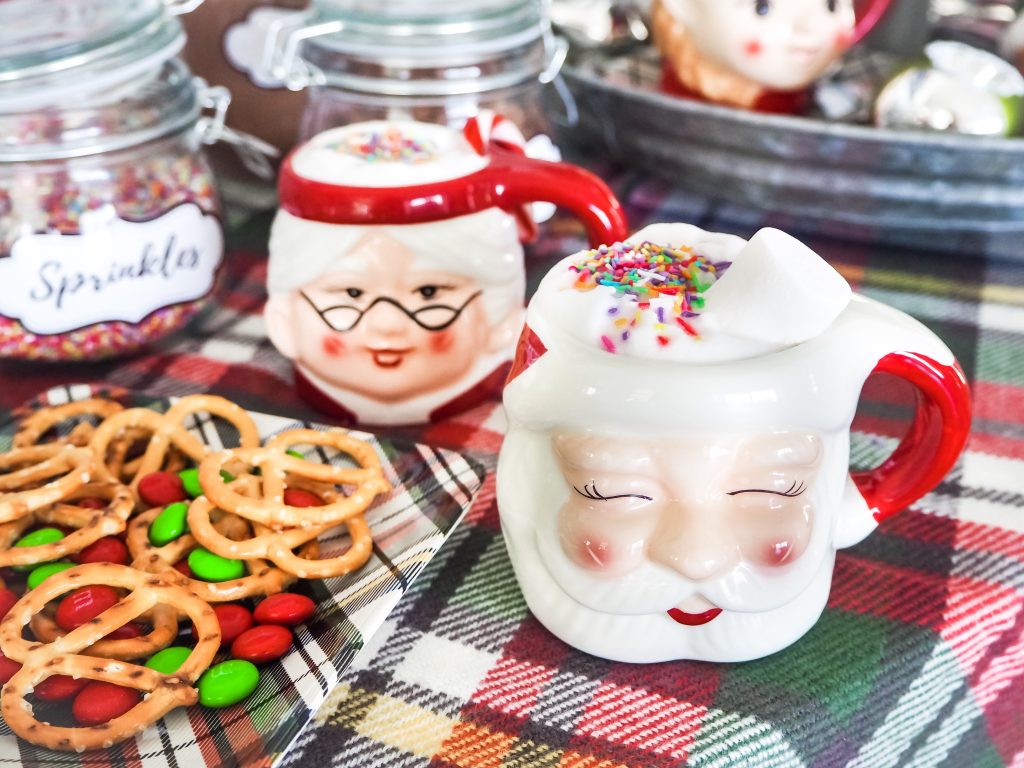 Let's go to my bedroom next where the backdrop of my blue walls really makes the red and plaid pop!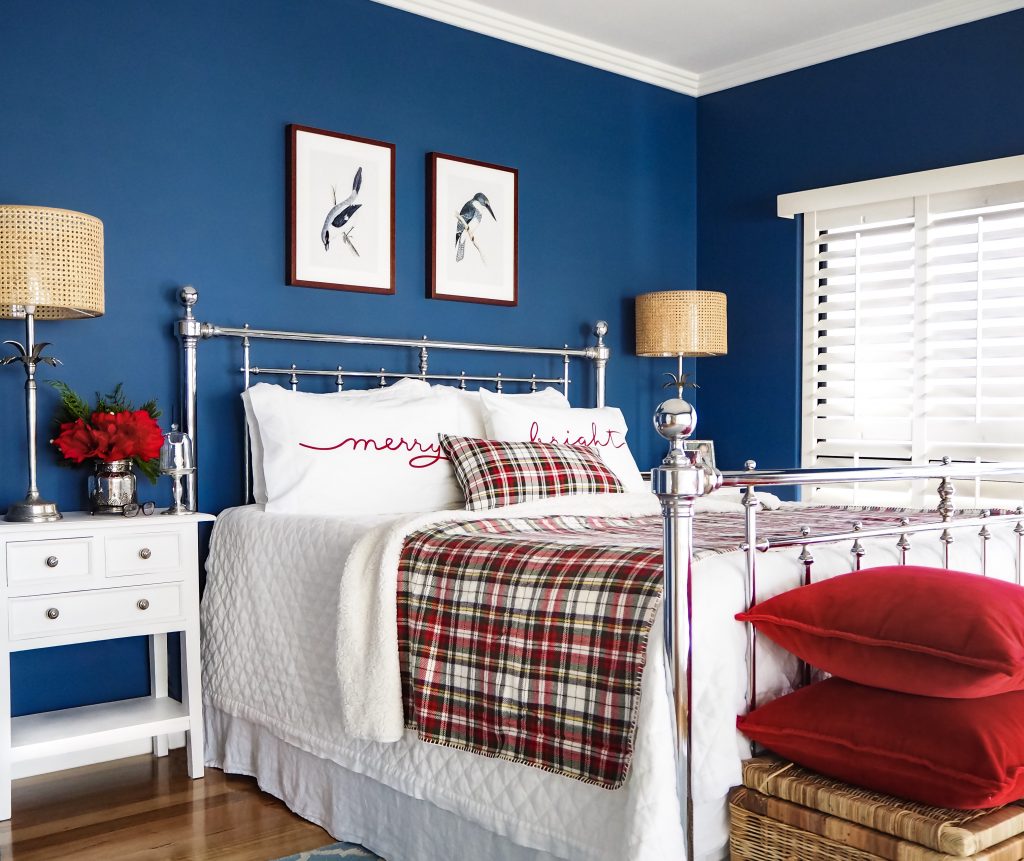 I've paired it with all white bed linen to keep it from looking too dark, and added the Merry & Bright pillowslips for a festive touch.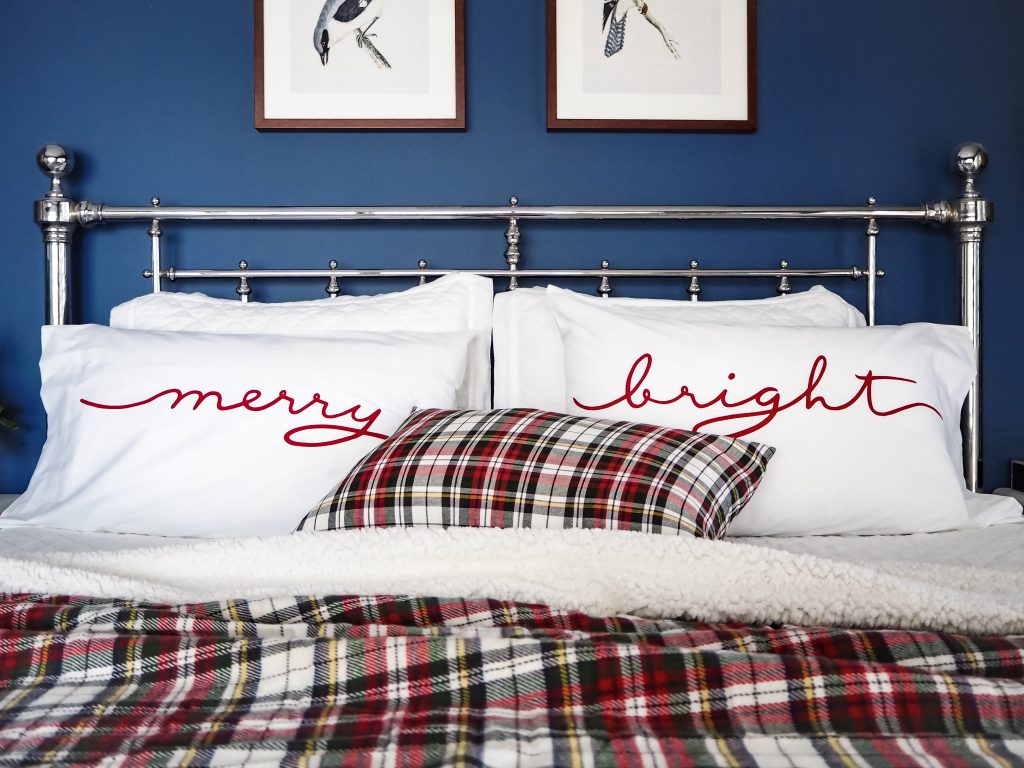 I popped some traditional Christmas flowers – amaryllis – on the bedsides in these gorgeous glass vases, I love the little bit of sparkle the mercury glass vase brings.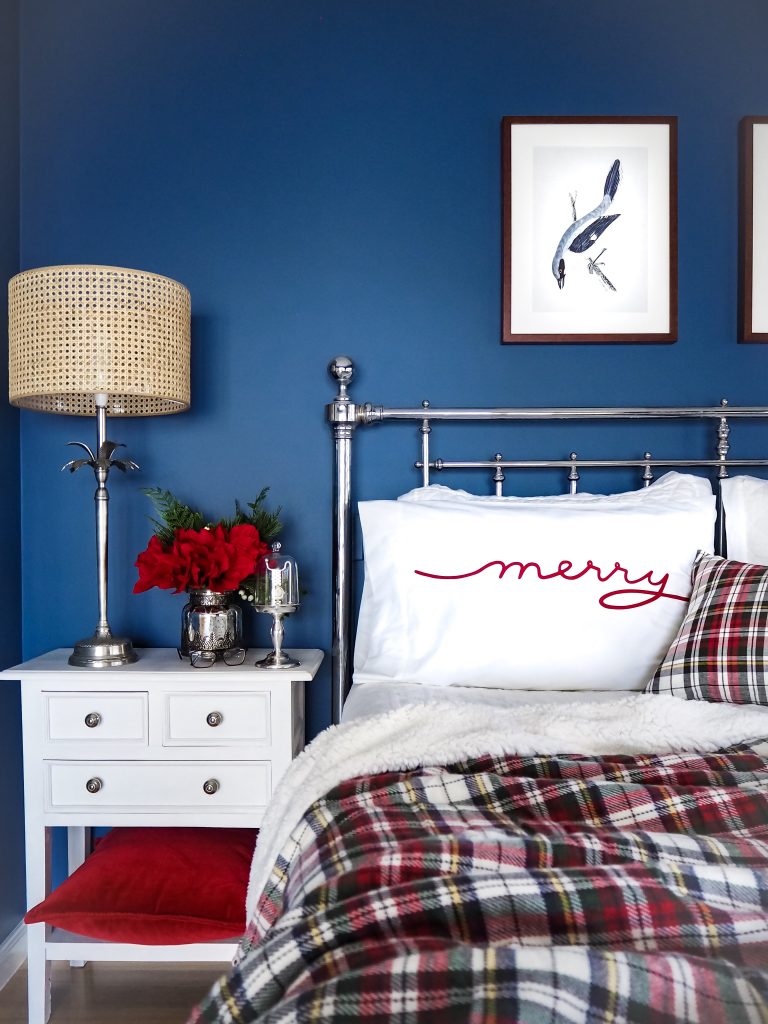 I hope you've enjoyed my colourful Christmas home tour!
I'll be sharing more of my Christmas decor over the next few weeks on my Instagram here.
 Now, refresh your cup of tea or glass of wine, and pop over to all of Tuesdays and Wednesday's home tours, they are listed below, seriously guys, there is so much inspiration in these gals homes and style, you don't want to miss them!
Then tomorrow start with Pencil Shavings Studio and say hello to Rachel who loves blue and white nearly as much as I do. I can't wait to see what she has in store for us!
Thursday, December 6
 Happy Christmas Decorating!
Hayley x