A few months ago a box full of goodie arrived on my doorstep from The Source. I have used the beautiful ceramics for a while now and I just love them. Every time I entertain with them people comment on how beautiful they are, so I decided I'd better share all the details with y'all. You know I'm all about sharing the love for little and local businesses!
Meet Alice, the face behind The Source.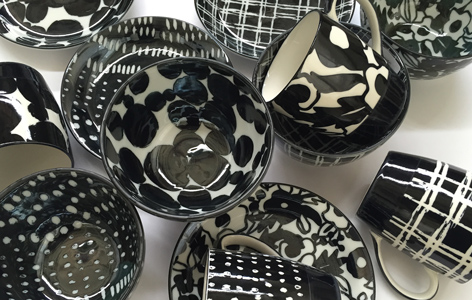 Tell us a little bit about yourself… 
Melbourne born and bred, I grew up in Eltham on the back of my horse. After finishing school I studied at the Cordon Bleu Cooking school in London and spent the next 10 years there cooking, and then a move into Fashion retail.
Single, one Labradoodle "Molly" whom I share everything with. Molly is the warehouse Manager!
I Live next door to my warehouse in Collingwood, it's such a vibrant suburb and I have been here for 15 years.

Tell us about The Source …
When I returned from London (wow, 20 years ago now!) I wanted to be able to keep travelling, and start a new career. My few years in fashion retail really inspired me, but more my love of design. So I opened a homewares shop in Port Melbourne. I loved it, but it didn't allow for much travel – until I found a product featured in a European magazine that I just knew Australia would love. A terraced Olive Oil dish from Italy, designed by an Artist from New York. I was going to New York for a holiday, and I met with the Artist Mary Judge who promptly offered me the distribution in Australia for her dish. The stock I had to bring in to fulfil sales quickly outgrew my parents garage, and my house, and I rented a small warehouse in Collingwood. My life as an Importer was away! I showed at my first Trade Fair in Melbourne with just my one little dish, and it was my staple favourite for 10 years!! Now I have my own warehouse, and every day I can't wait to get to work.
I'm so impressed that you design most of the ceramics yourself, where do you find your inspiration?
Inspiration can come from a walk in the park to the latest trends in Interior design. Everything is connected. I have no formal background in design at all, so usually it starts with an instinct and a piece of paper and a pencil! I'm off to visit the Ambient Fair in Frankfurt next month to see what is happening in the rest of the industry. You can become very insular working in your own environment and it's good to get out and explore what is happening in the rest of the world.
I love your use of happy and bright colours in the Elements and Hida range, have you always been a lover of colours?
I love colour in doses! I love it as a pop of brightness to a neutral base. For example my home is very neutral and calm, then I pull out the Orange Hida plates for dinner!
Your Aegean range is one of my favourites with its simple blue and green striped design. Do you have a favourite range, or is that like asking which is your favourite child?
The special place in my heart is my Elements range from Japan, as it was the first 'collection' of ceramics I put together that had patterns and colour, and a 'mix and match' theme that Australia had not seen before. I also love my 'Dimple' jugs – so simple and tactile. But today I am loving the new Tea pots about to arrive and join the 'Mono' collection! That is one good looking tea pot!!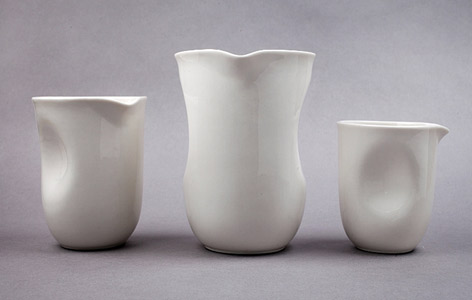 I can only imagine how fun setting the table is at your house!
Ha! The ranges often sell out much quicker than I anticipate, so my kitchen is not as well stocked as it could be. I end up with the faulty items and samples – I call them my little orphans.
What range do you use for a casual lunch?
This summer – Aegean all the way. It is chilled out and casual, as lunches should be.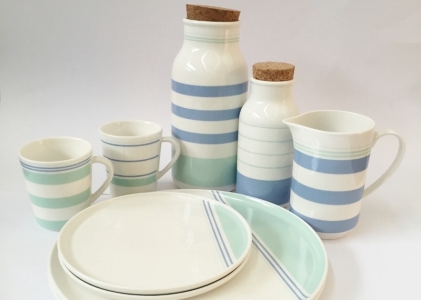 And for a dinner party?
I've been mixing ranges up lately, my last dinner party was a mix of Accent plates in slate and Marnie watercolour – the result was divine. So was the food! I'm a pretty good cook!!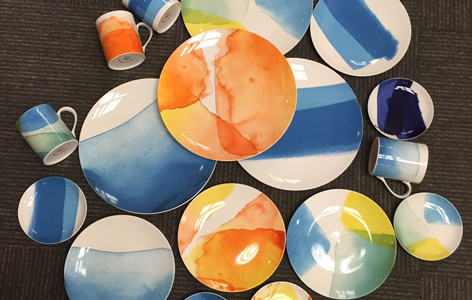 Your tea towels are beautiful and vibrant? Do you have any plans for more textiles?
This season was my first foray into textiles, and we had such a great response to them. I have some new ideas brewing.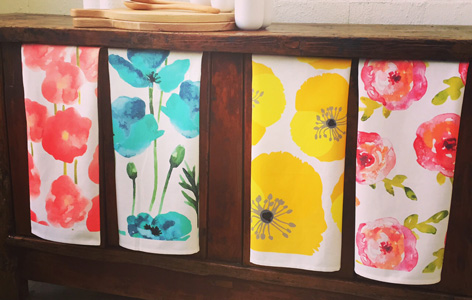 What does the future hold for The Source? (do you want to share any sneak peeks?)
The future is exciting, I am already designing products that will expand on the ceramic ranges, gorgeous items to use every day for dining, and as decorator items. 
Our next release is the additions to our Mono range, fantastic canisters and the divine Tea pots and cups. They will be arriving in a couple of weeks. 
We also have a brand new web site about to be launched. That is very exciting!!
*******
I hope you love it all as much as I do!
And FYI, my absolute favourite piece from The Source is my 'Elements' mug. It is a great size, with a pretty pattern and is really comfortable to hold. Oh, and it has a little base which makes it sit steady on the arm of the couch, not that I would drink on the couch, well not if my kids are reading anyway!
Happy Shopping!
Hayley x