Have you ever bought a piece of furniture that you thought was timeless and you were going to love it forever, then a few years later you're a little bored and the love is fading? That's exactly how I felt with my sofas, just a little 'meh'.
My sofas are from the IKEA Stocksund range, IKEA sofas are durable, practical and very affordable. Ours are super comfortable and only a couple of years old, they are still in perfect condition and they work well in our living room. The issue is that I am interior decor obsessed and I like to change things around often. I felt stuck in a rut with my current blue and white ticking sofas and was longing for a fresh new look.
That's when I decided to have a look at Comfort Works and see what they offered in the way of IKEA sofa covers or more specifically Stocksund sofa covers. I think slipcovers are a great choice for families as they are so carefree ….. who wants to be that parent that is always yelling at the kids and wrecking all the fun by being precious about the furniture? Not me!
When I asked for your advice and ideas about my fabric selection on my social media I was inundated with so many questions, so I popped up a quick blog post about the ordering process and a few other questions.
If you missed it you can find it here.
I was blown away by the customisation options and range of beautiful fabrics available at Comfort Works.
Firstly, lets talk about the fabrics. They have curated a collection of beautiful colours in a selection of both synthetic and natural fibres. Natural fibres tend to be softer and comfortable but less durable, while the synthetic fibres are tough but not as comfortable. A natural and synthetic blend tend to be a great compromise of comfort and durability. They also have speciality fabrics available like velvet and leather.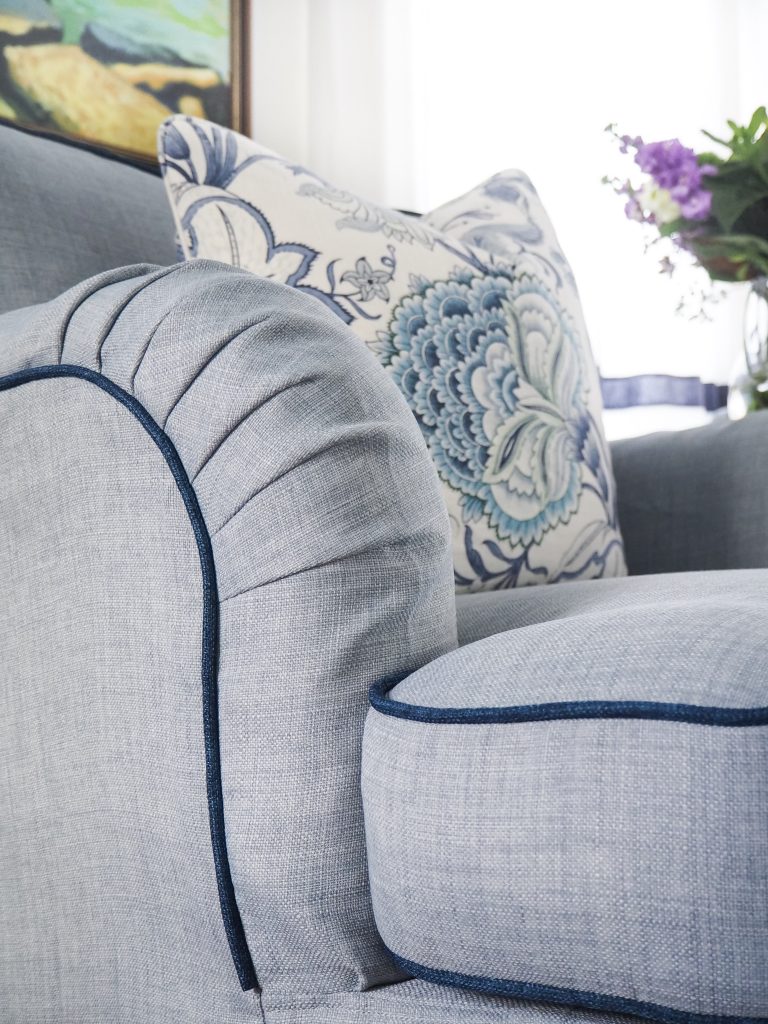 I chose the KINO fabric for my sofas. They are from the Heavy Duty range and are 100% polyester. This fabric will withstand lots of wear and tear from the pets and kids, it will hold up to lots of washing and is the most hardwearing fabric in the collection. With three kids and 2 pets, this is just what we need!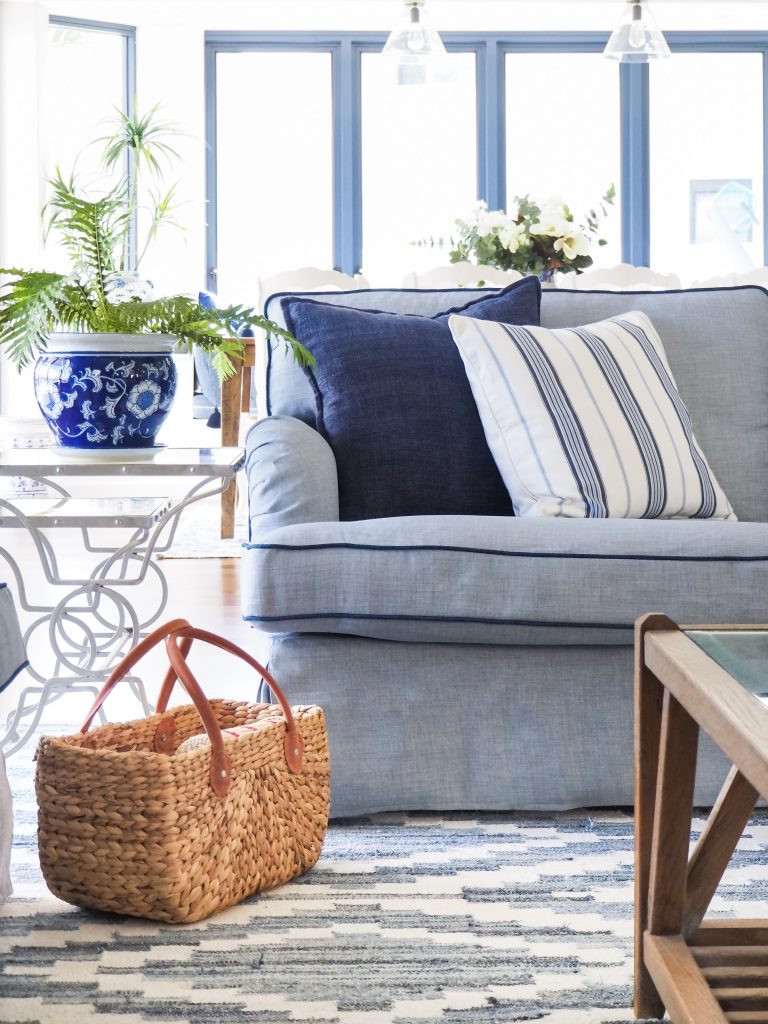 I also chose to have contrasting piping for my sofas. This is another customisation option available, you can choose plain seams, matching piping or contrast piping. I know most people tend do do a darker colour for the body of the sofa and a lighter colour for the piping, while I love this look I really want these slipcovers to be as carefree as possible, so I chose a mid strength colour for the body of my sofas and a dark colour for the piping.
I think if you want to do the reverse, with the light coloured piping, slipcovers are the only way to do it. Can you imagine trying to clean white piping on a sofa without removable covers!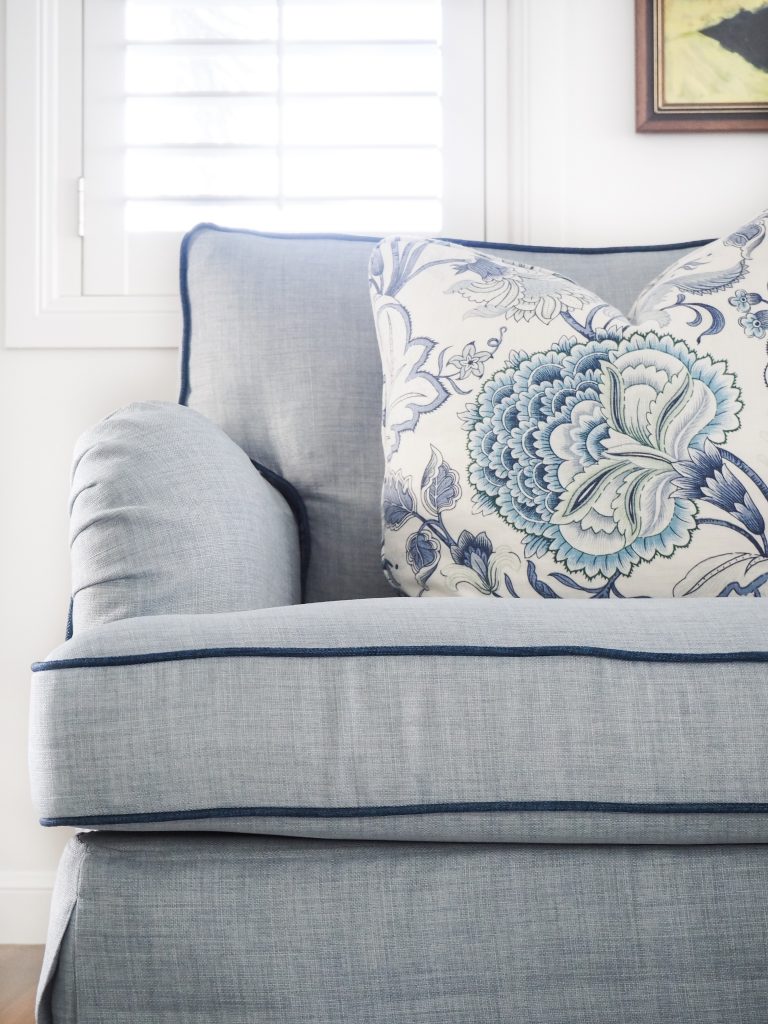 The last, and most exciting customisation option I chose was to have long skirted covers. The Stocksund sofa has tall legs and is high from the ground. I thought the open air underneath them would give our living room a sense of space, which it does, but now I find myself wanting a more intimate looking space and the long skirted slipcovers have created the warm and inviting atmosphere that I was looking for.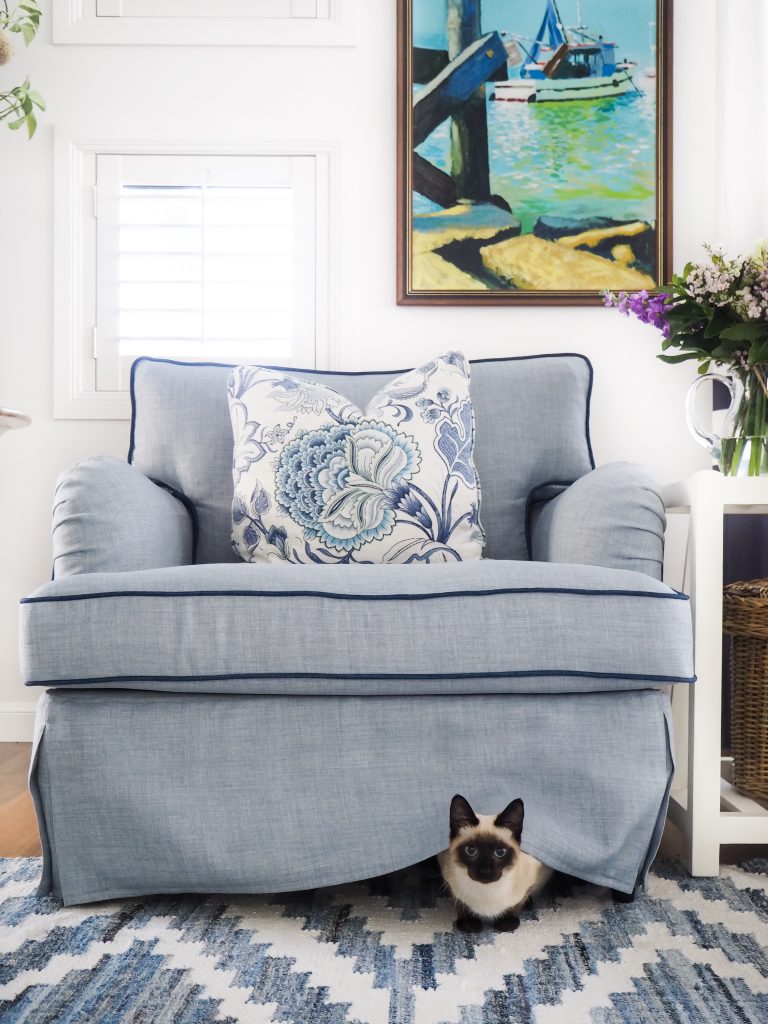 Other customisation options include built-in USB ports, yes you read that correctly, you can have a USB port built into your slipcovers for easy-peasy charging of all your devices. Genius!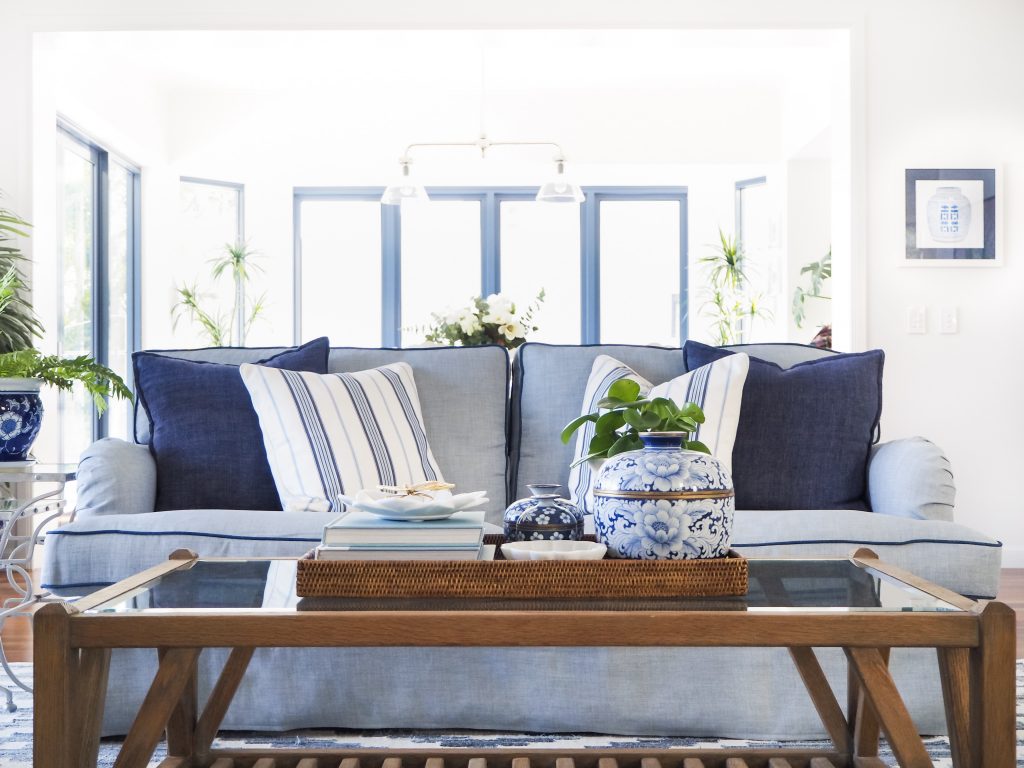 Comfort Works kept me updated with every step of the order process from the beginning through to shipment details and delivery date.
When my covers arrived they were neatly folded and packaged with care. They all had individual labels telling me what part of the sofa they were for, no guessing required. It made it so easy to pop them on, I had a whole new look in under half and hour!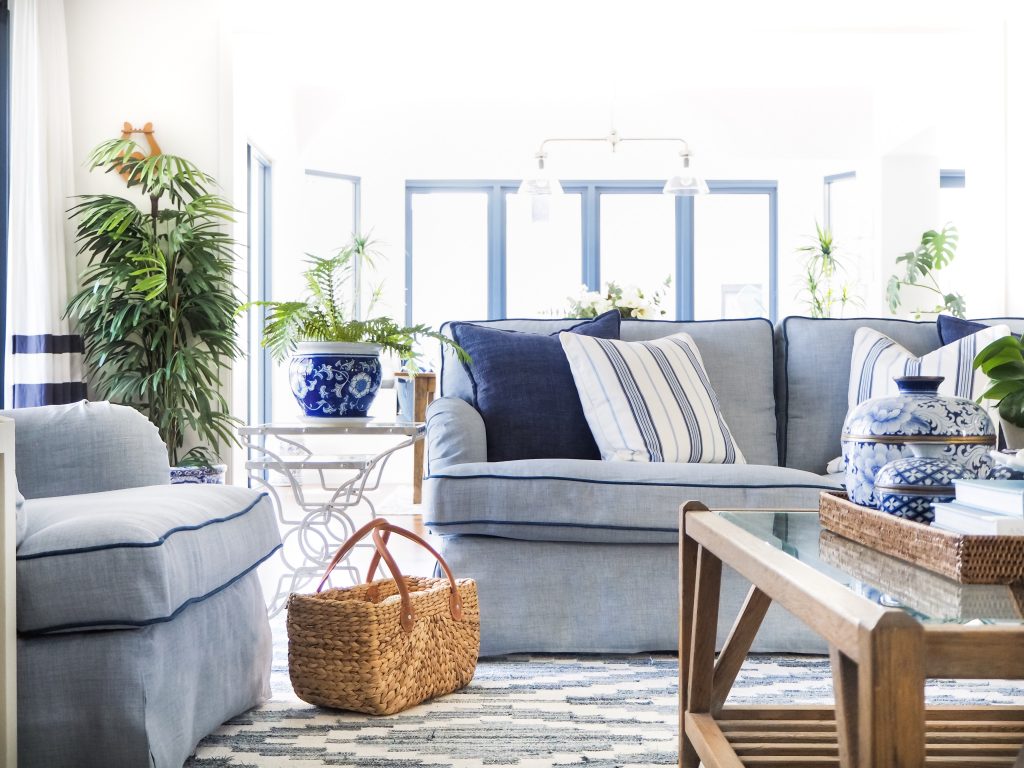 So, the big question on the edge of everyones lips is – Am I happy with my new slipcovers?
ABSOLUTELY!
I am thrilled with them!
The fabric is softer than I was anticipating and the fit is perfect. I love the colours I chose and the contrast piping is amazing. The best part of all … the long skirts, they have completely changed the look and vibe of these sofas and it truly feels like I have all new furniture.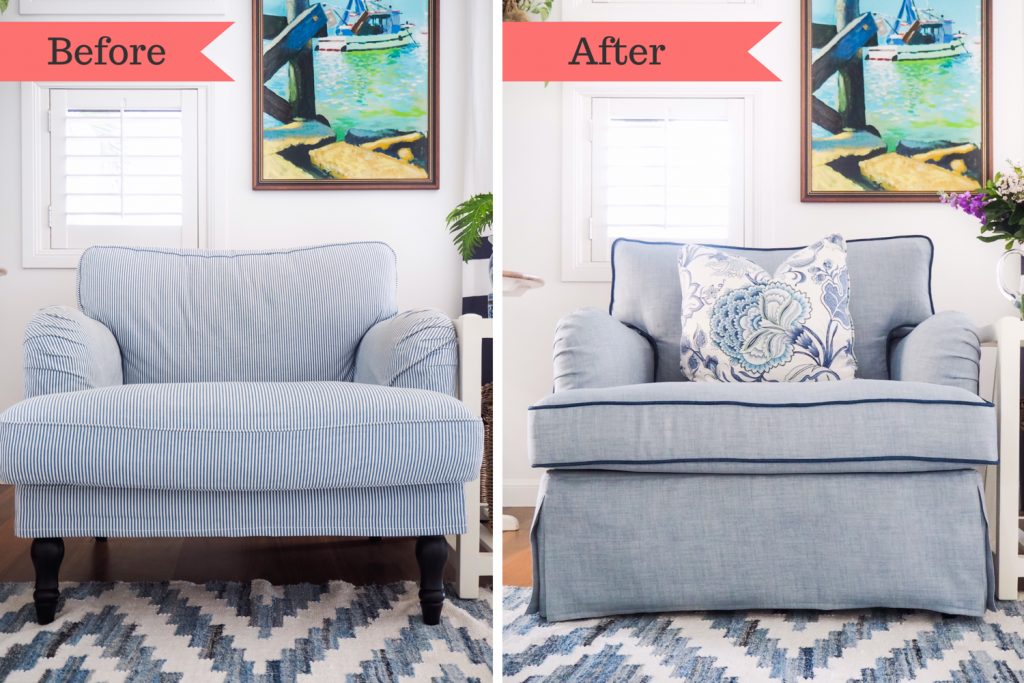 I am so happy with entire process and I have no hesitation in recommending Comfort Works for all your custom sofa covers and slipcover needs.
I am already planning my next transformation!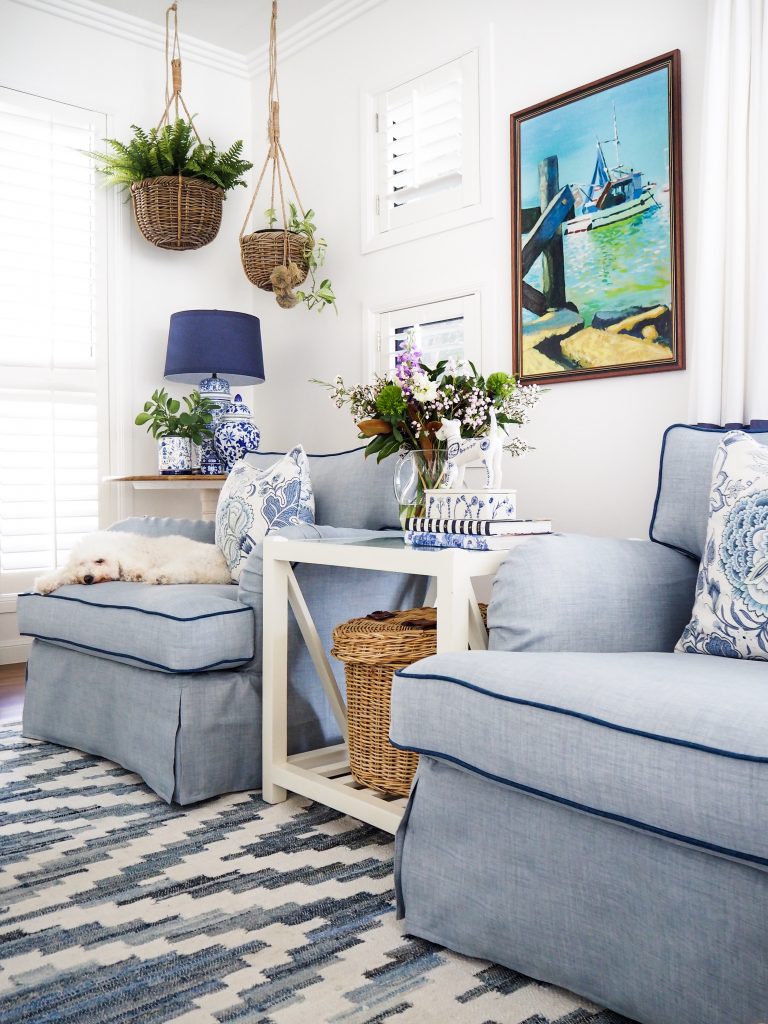 Happy Shopping!
Hayley
DISCLOSURE – I was gifted my slipcovers by Comfort Works. As you all know, I would never recommend anything unless I have used it or experienced it for myself. I know you trust me and I will not betray your confidence by recommending an inferior product or brand. All opinions above are my own.