I have always been a huge fan of India Hick's book – Island Life.  Her style is described as famously undone and gloriously bohemian. She mixes Caribbean culture with British colonial to perfection, and gets it right every time.
Her plantation style home on Harbour Island, in the Bahamas was built in the 1950's, the Hicks family purchased it in the 1990's. It is not pretentious or flashy, rather a family home that has evolved over time, layer upon layer. The house sits on 3 acres, on a hill overlooking the harbour, amongst a jungle of coconut palms.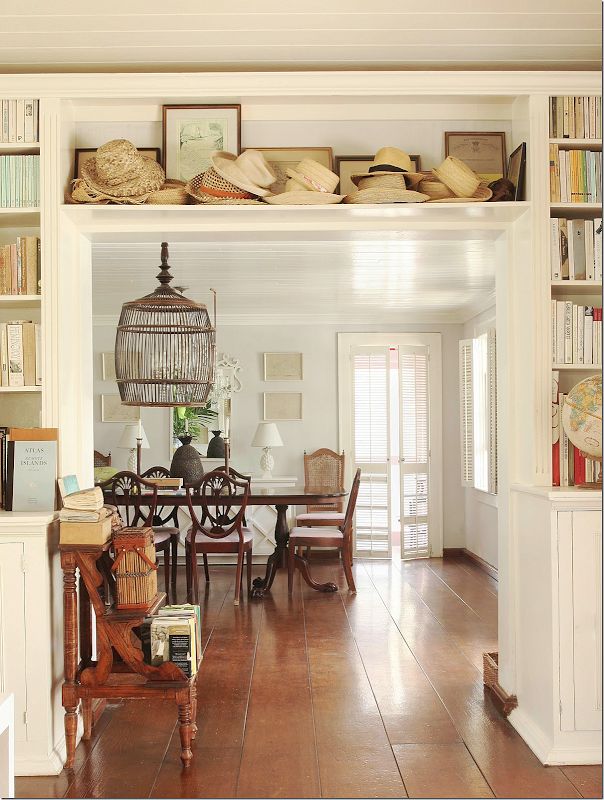 I love the wide plank timber floors, and white painted joinery. The accumulation of hats is a little quirky and perfect for a house on the beach.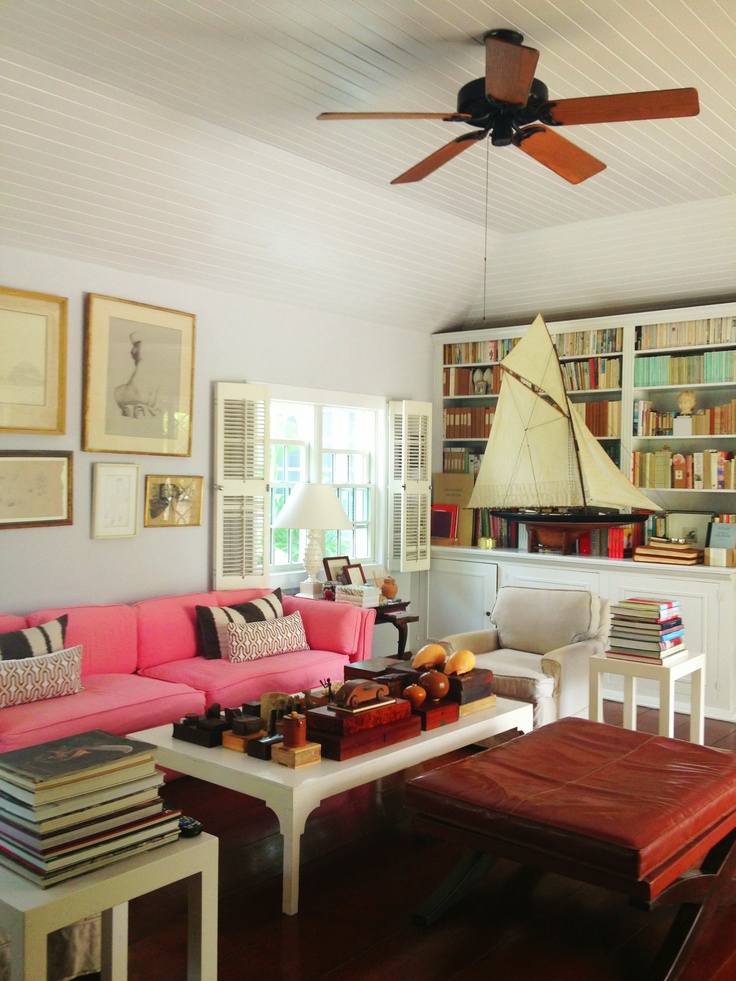 Most of the house is quite neutral, consisting of natural elements such as wood, paper or straw materials. Then there is unexpected pops of colour, such as this lolly pink sofa in the living room.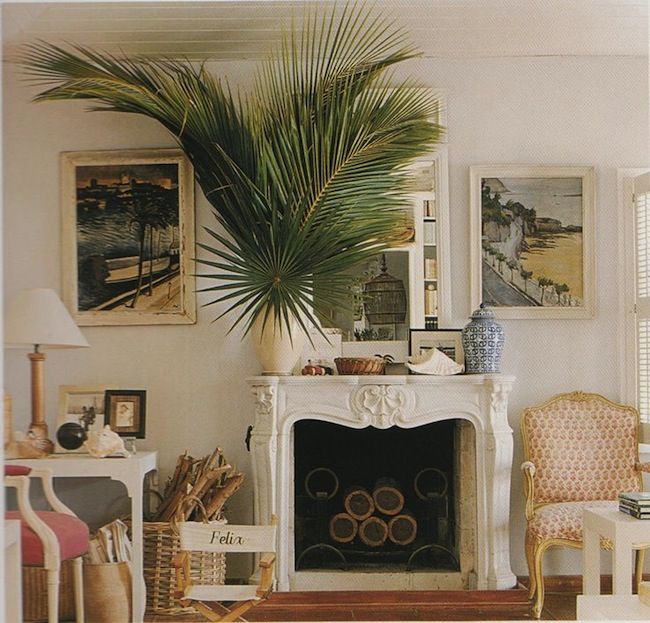 I love how India fills her house with foraged greenery.
(Pictures source: Pinterest)
The Hicks family, David Hicks and India Hicks have lovingly restored three houses on Harbour Island for family and friends, they are available for holiday lease. Oh, what a dream!
The Guest House is quite beautiful,  built in 1999 in the old Caribbean plantation style, it overlooks the pink sand beach and ocean to the East and the bay to the West. It has 4 bedrooms with 4 poster beds, and stunning living areas, completed with expansive verandahs and your own private path to the beach.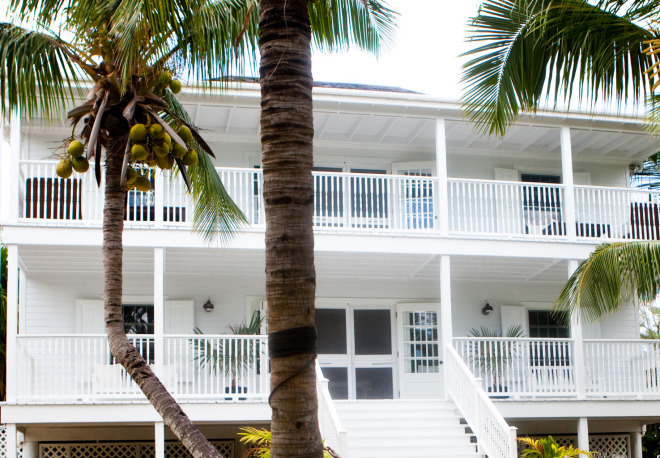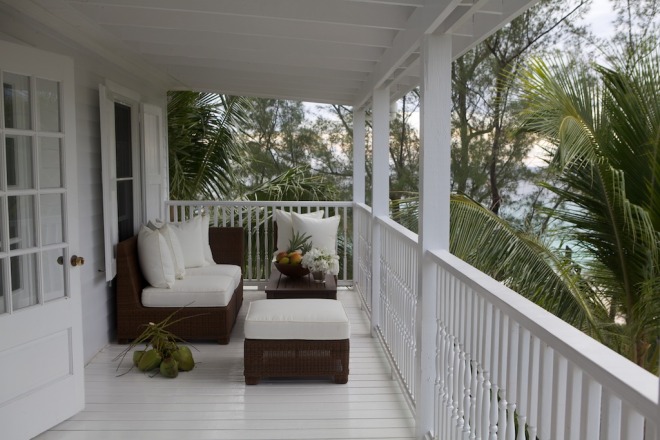 The Cricket Pavilion is a studio style house. The outside is classical English architecture. It has a large terrace, and beautiful views of the ocean.  The interior is more contemporary with a combination of modern and antique furniture and artwork.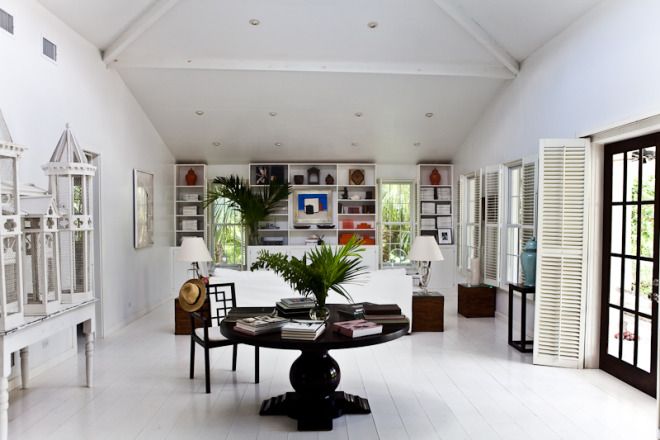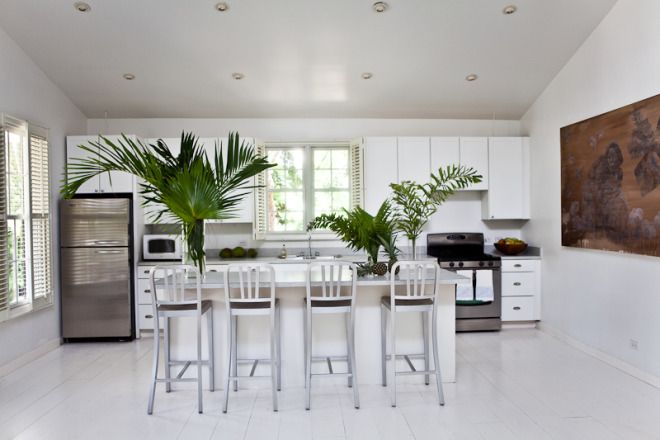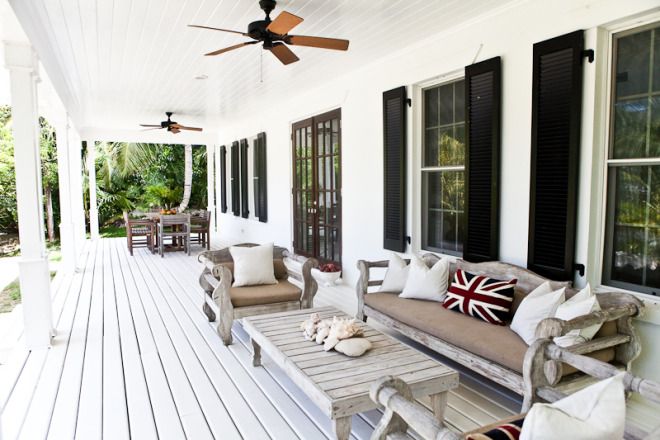 King's Treat is situated in the historic part of Dunmore Town, with views to the harbour and the fisherman's docks. It once was the house of a sea captain from the 1890's, and now owned by an Englishman, it is decorated with furniture, fabrics, art and mementos sourced both locally and worldwide, including Africa, France, India, Egypt and the list goes on.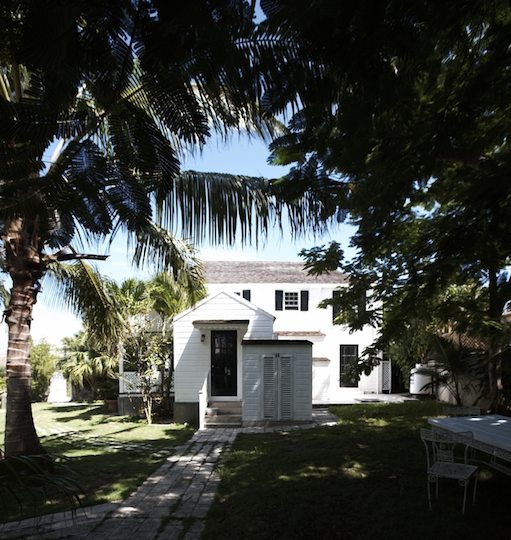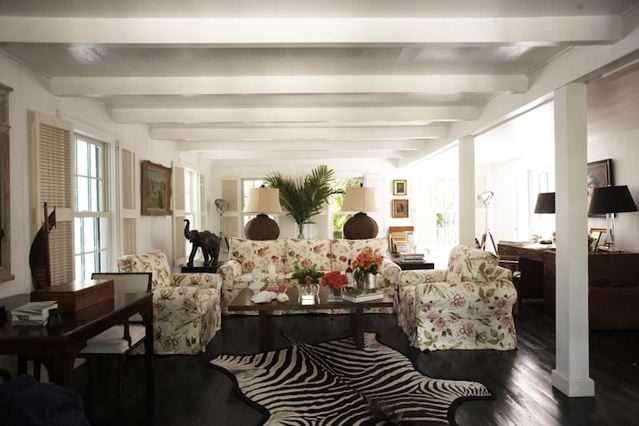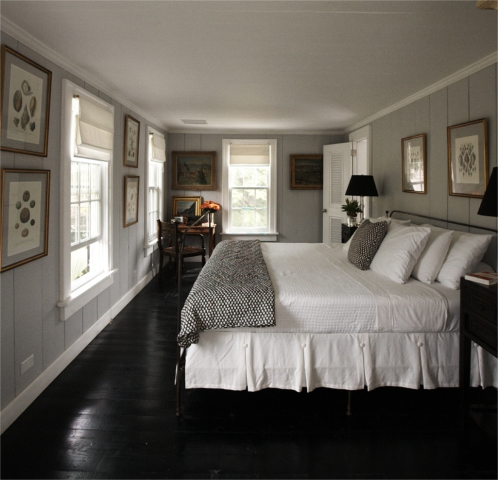 If you are lucky enough to be considering a stay at one of these magnificent residences you can find all the details here at Hibiscus Hill Harbour Island.
(All pictures from the Hibiscus Hill Harbour Island website)
Do you love India Hicks style as much as I do? Let's have a look at some ways to bring some India Hicks into your home, including some perfect shopping finds.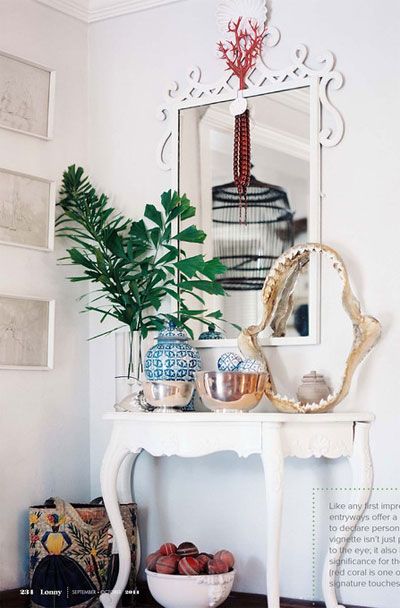 Bring your foraged greenery inside, the bigger the better, I know I'm always going on about this, but honestly, just give it a go, you'll be surprised what an impact it makes.
(picture source : Pinterest)
Use vintage nautical elements to decorate your home. Items such as coral, glass floats, wooden fishing reels, old oars, coral and shells. This image is from Coastal Vintage where you can find an impressive range of nautical and maritime treasures. You could also try Oars Galore for one of a kind oars.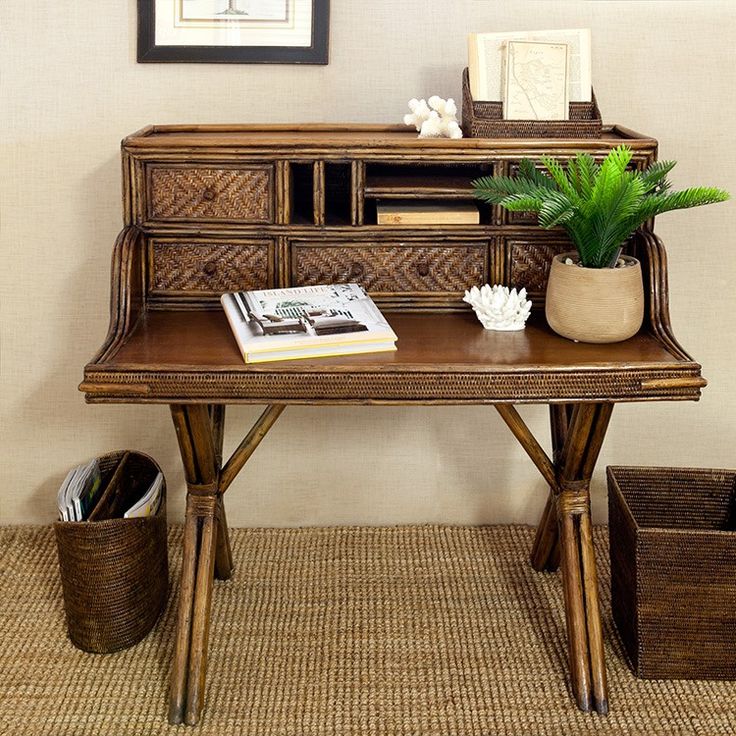 Use rattan in your home, in furniture and accessories. The Rattan Bahamas Desk from Alfresco Emporium is absolutely perfect.
Embrace mosquito net's, don't worry if you don't have a 4 poster bed, this gorgeous one is available with a 4 piece bamboo frame which hangs from the ceiling. I think the bamboo frame enhances the Bahamas feel. This one is available from Ozzie Mozzie Nets.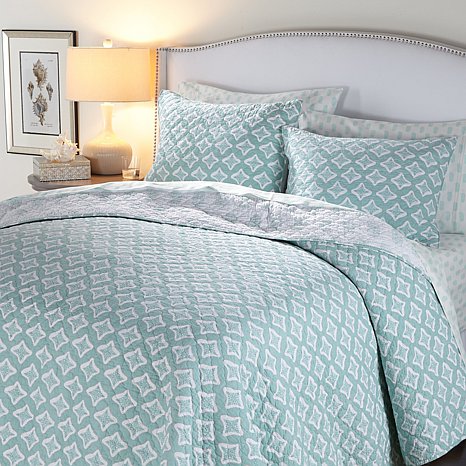 What better way to get the India Hicks look than to buy some linen designed by her! Yes, India Hicks has her own range of bed linen, available from HSN.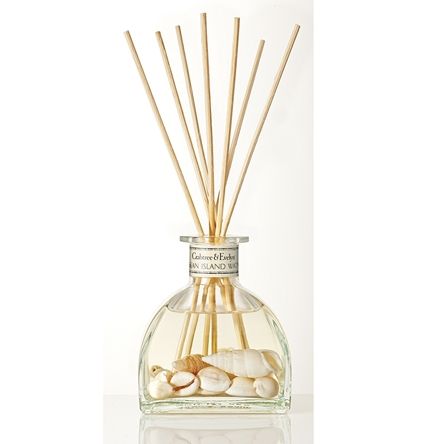 Add the scent of the Islands with this beautiful Crabtree and Evelyn Caribbean Island Water Lily Diffuser.It comes packaged in a beautiful wooden box with brass clasp. The heavy glass decanter is filled with sea shells and fragrant oil. This is definitely on my Wish List!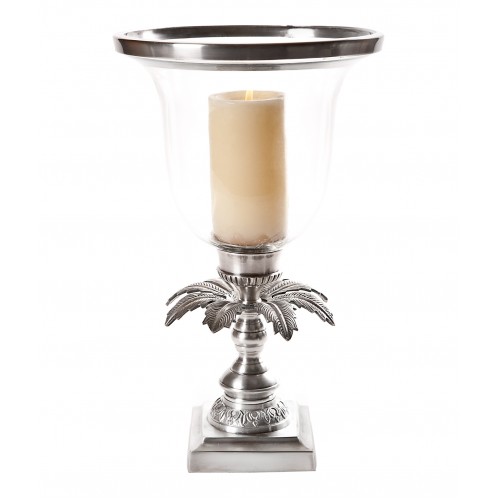 Use palm tree and pineapple pieces, I love this Plantation Hurricane from Hamptons Style.
Find yourself a few classic English antiques, I personally love drop leaf tables and have one in my own home. You can find a great selection at Botticelli House.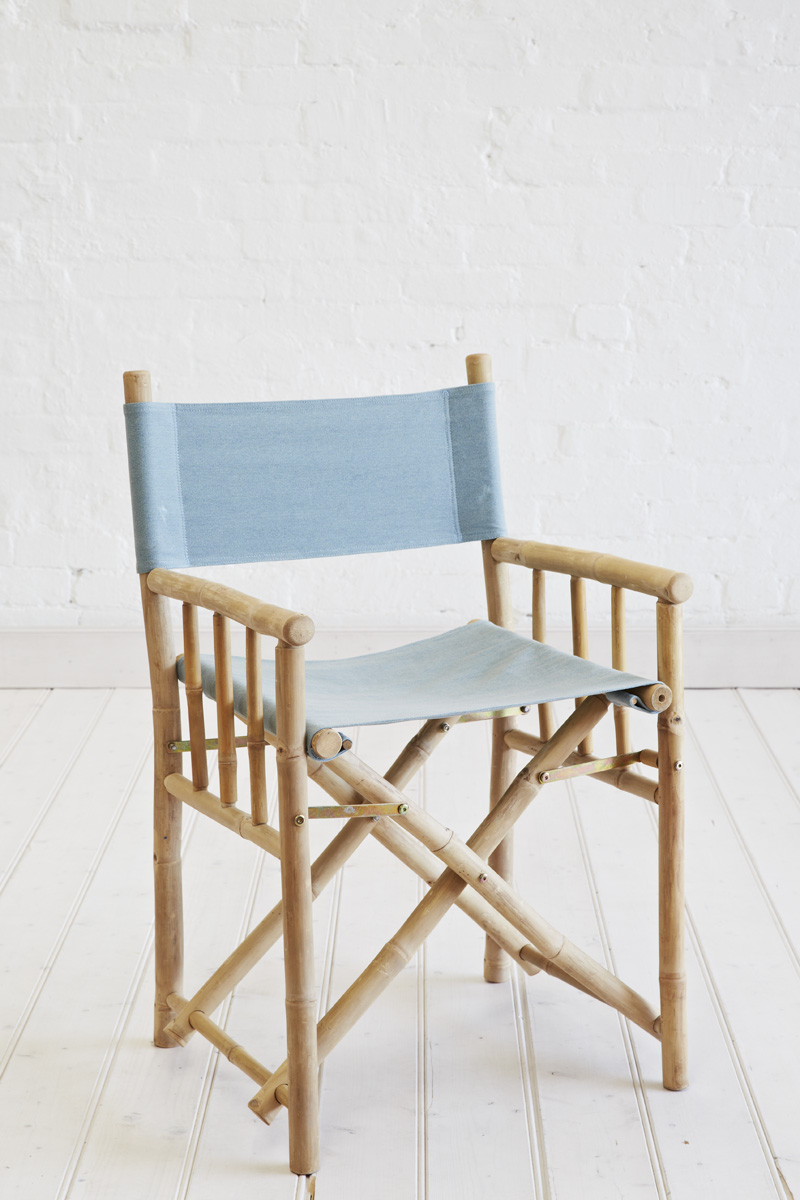 Fill your verandahs, balconies and sunrooms with bamboo furniture. These directors chairs from The Family Love Tree are quintessential island style.
India Hicks has a letterpress tray just like this one, full of shells, it looks amazing. This one is from Coastal Vintage.
India Hicks has a new book being released at the end of the month. It looks beautiful and I can't wait to get my hands on a copy.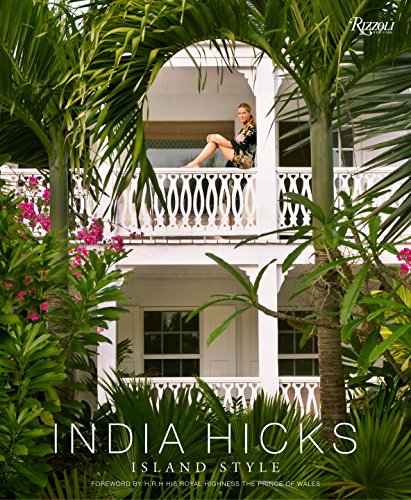 What do you think? Are you inspired to a bring a little India Hicks into your home? I'd love to know!
Hayley x