Since a huge part of our county is currently wet I thought I would find some ideas to keep you all busy while your trapped indoors.
If you have garage, get that spray paint out and paint anything that's not moving! Look at these easy peasy idea's I found on Pinterest. Add some bright glossy paint to any old lampbase for an instant update. Or steal some of your kids toys, glue them to old jar lids and give it a spray, don't they look fabulous!
If hand painting is more your speed, how about this gorgeous desk update with a simple ribbon border. Or these monogrammed drawers, so simple, yet so effective. I love these drawers, I want to try this one myself.
Now you have a smashing new lamp base, lets renovate the shade as well. It's quite easy to re-cover an old lamp shade, I have done many over the years. If your a beginner a drum shade is the easiest to work with. You can recover your shade in fabric, wallpaper, old maps, there are lots of tutorials on Pinterest, I have a couple pinned in my 'Crafty Ideas' board.
If that just sounds like to much work, you can always simply add a ribbon or trim. Again, I have done this many times. I don't think there is a lampshade left untouched in my house. I like to attach ribbon with 2-sided tape, it adheres well and is easily removed when I change my mind and want to change colours. You could use ribbon, upholstery trims, leather, tassels or anything that takes your fancy. Here is a couple of examples in my home.
If your handy with a sewing machine, how about adding some trim to your curtains or blinds. A greek key pattern looks expensive, and while it can be a little fiddly it just takes a little patience. This can also be accomplished without sewing anything, there are a few tutorials on Pinterest where you use ribbon and no-sew iron-on tape. This method also works well on cushions, as in the picture below. Click on the cushion picture to go to the step-by-step instruction at Sarah M Dorsey Designs. She has all kind of fabulous DIY's on there! If you'r feeling extra handy, try the Nailhead Metallic Linen Headboard, WOW, it is really sensational!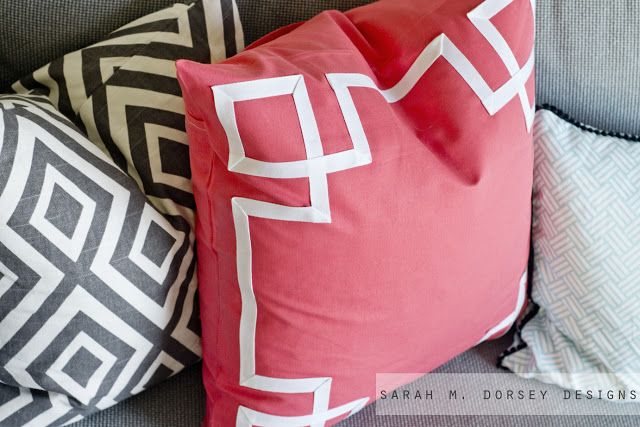 Well, that should keep you busy! I'd love to see your crafty activities, please tag me on Instagram or Facebook!
Hayley x