Firstly, let's get one thing out of the way, the one question I have been asked more than anything else ….. no, my husband doesn't mind having a pink bedroom, in fact he loves it, and I love a man than is comfortable in his masculinity and embraces pink!
Okay, so let's look at the pink, it's not a bright candy pink, nor a pretty baby pink, it's a dirty pink with warmth and depth. It changes with the lighting from a peachy sunset to a nudie tan.
It is Primal 1/2 strength from Dulux.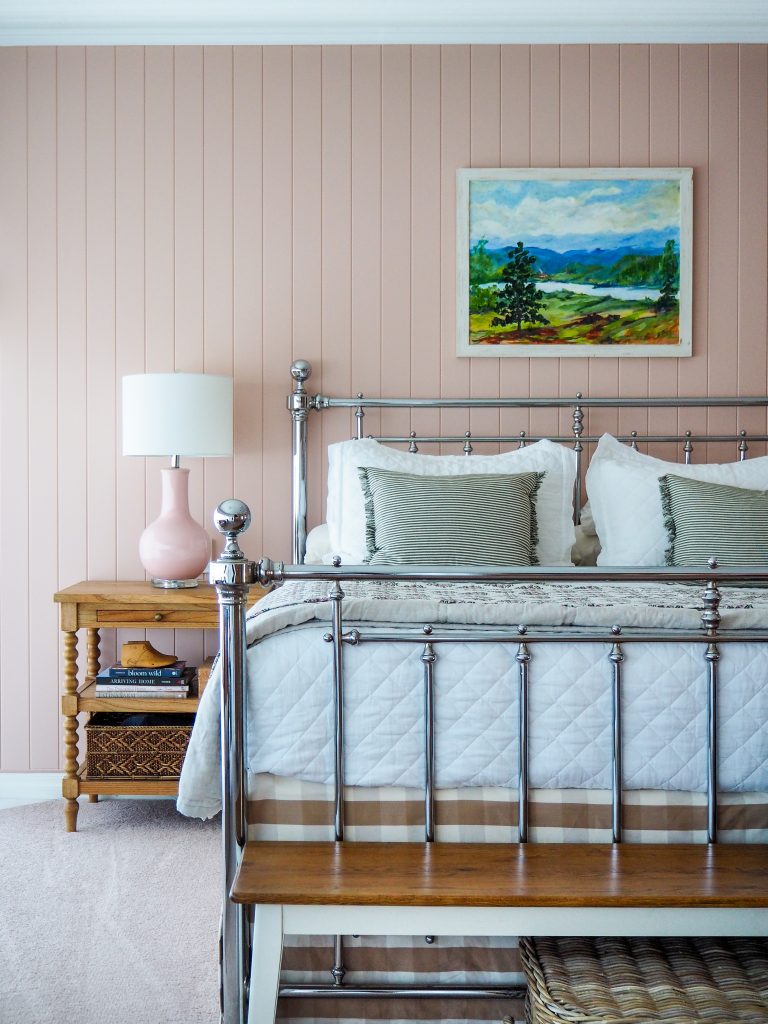 Why pink? Our ensuite is pink, floor to ceiling pink marble, while it is currently tired and dated, we are going to keep the pink marble and update the rest of the bathroom with a new vanity and hardware. Stay tuned for that makeover, it's going to be fun.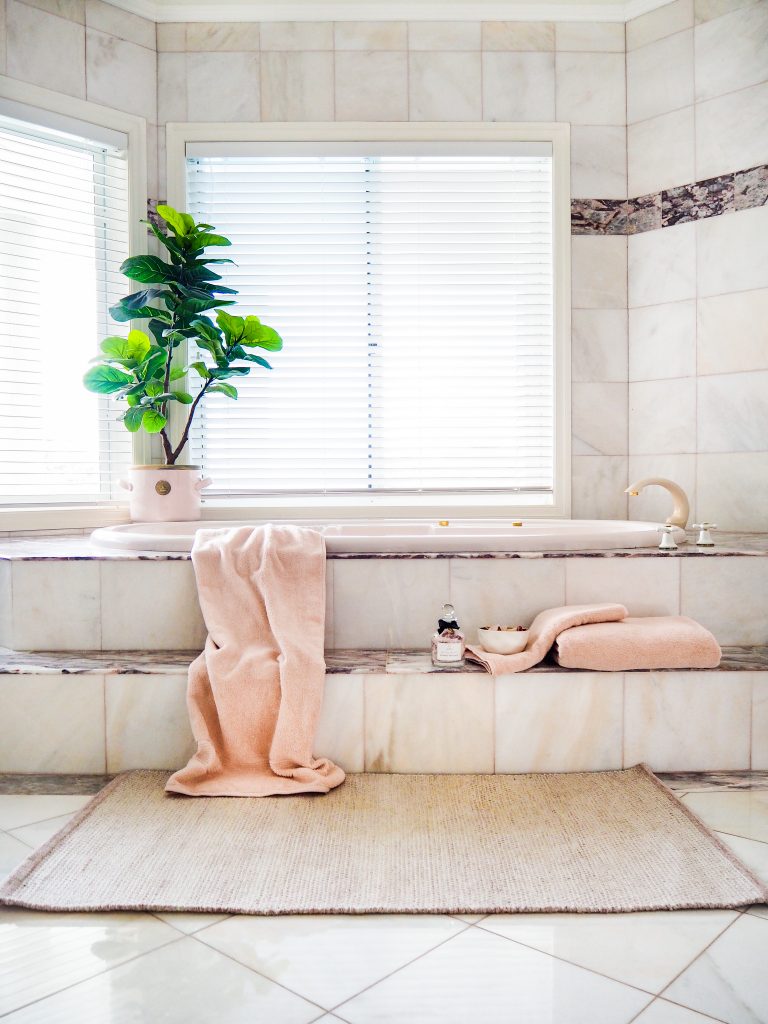 We decided to embrace the pink and work with it instead of fighting it. I have to admit, I was a little worried at first, so I kept all the other elements in the room neutral in case I hated it and wanted to change it, but now it's done, I absolutely love it and I think it's just what this room needed.
It was a quick and easy makeover with minimal effort and money for maximum impact.
So, what did we change in this space?
We added VJ board behind the bed, we used Easycraft from Bunnings which comes in sheets, it's easy to install and we got it up in a few hours. Then we painted the whole room pink, I wanted our bedroom to feel like a big warm hug and having the entire room in the same colour makes you feel like you're being enveloped as you walk in.
The biggest change we made, and the most impressive by far, is replacing the curtains and blinds. This room has a huge bay window with an adjacent sliding door to the balcony. It is nearly 9 metres long and the first thing you see when you walk in the room. It has a beautiful view out to the waterway, but this also makes it a giant fishbowl which is not ideal for a bedroom.
I wanted to retain the beautiful light in this space, but I also wanted some privacy, and of course we needed a block out option for sleeping. I initially wanted a sheer curtain with a block-out curtain over the top for sleeping, then I saw the remote control electric blinds on @blindsonline Instagram page and I was SOLD! I imagined myself welcoming the morning sunshine into our room without leaving the comfort of my bed, this is one of those little pleasures that I love having at fancy hotels, I just knew we had to have them at home.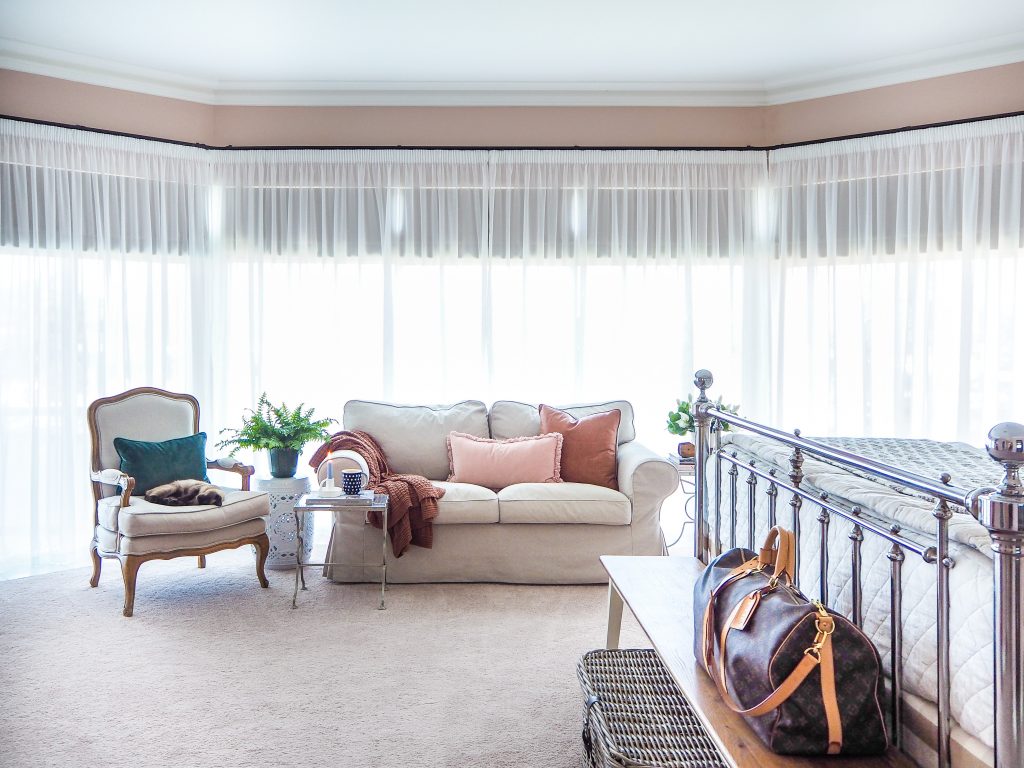 I chose the Berber Basket Beige fabric roman blinds with block-out lining, and I added the remote control electric option. The fabric is thick and textural, but soft enough that it folds up neatly every time. The colour is the perfect neutral shade that would work with any colour palette.
The remote control option is an added expense and I did have that little voice in my head telling me that I didn't 'need' it and that I could manually pull up my own blinds ….. I am so glad I ignored that voice! Honestly, this really is a little bit of luxury that you will appreciate at the end of every big day when you just can't wait to get into bed. You just press the button on the remote control and see the world disappear from the comfort of your bed.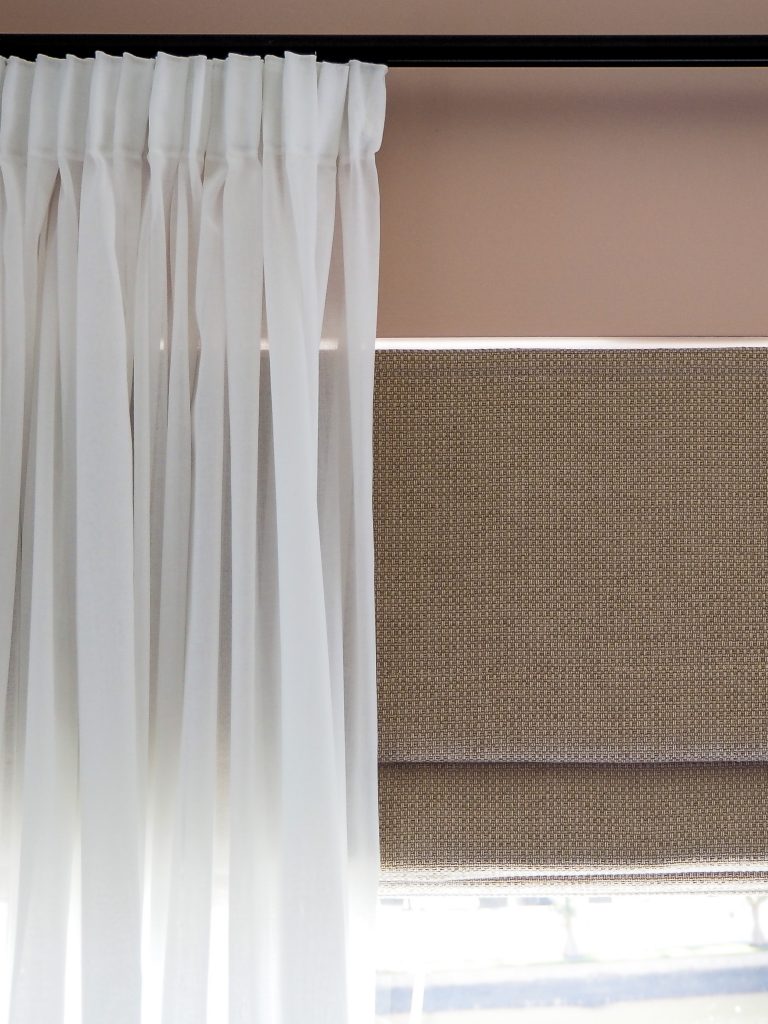 I used the same sheer fabric that I used downstairs for continuity through the house, plus why would I choose something different when I love them so much? They are a perfect white and the ideal weight to let lots of light in while still providing privacy. This time I chose a pencil pleat instead of a pinch pleat. I think the pencil pleat is a little more relaxed and not as formal as the pinch pleat. I want our bedroom to feel effortless and laid-back and the pencil pleat works beautifully.
I chose the Tahiti Snow fabric.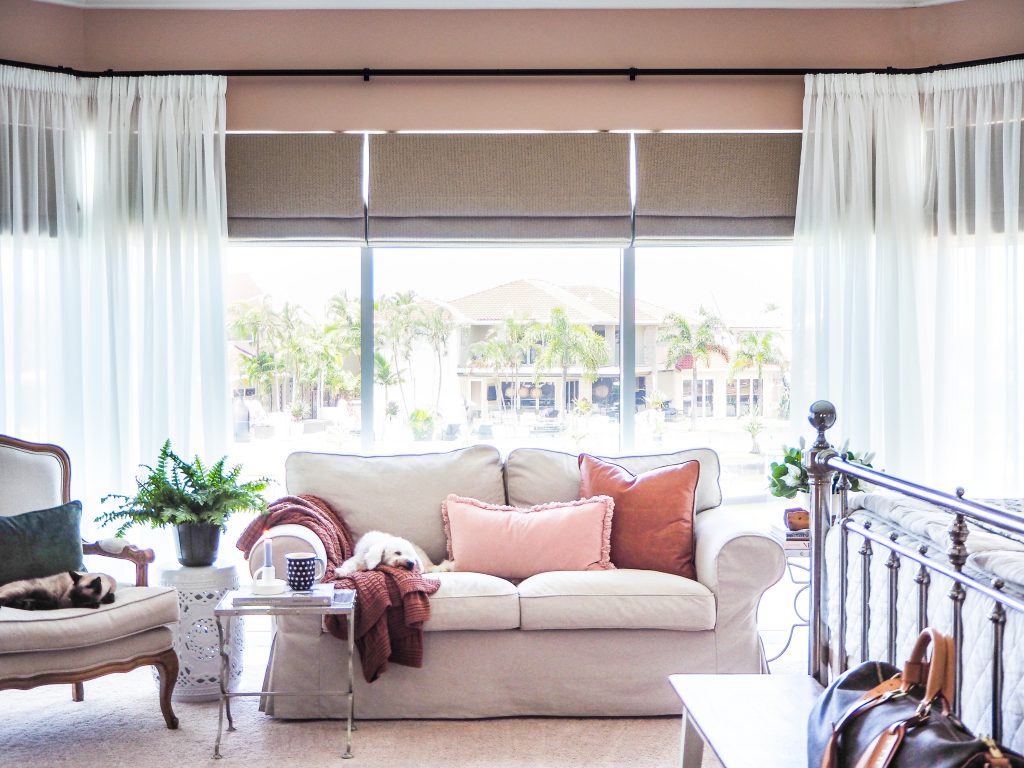 I shared the details of how to prepare a pencil pleat curtain for hanging on my Instagram and I was surprised at how many of you didn't know how to do it and didn't know how easy it is. I was also shocked at the incorrect information some of you had been given by retailers that clearly don't know how to install the products they are selling! A couple of you were told to put the hooks through the gathering strings, nooooooooo! I've saved the details of how to prepare them on my IG highlights, you can find it here.
You can rest assured, when you order curtains and blinds from Tuiss Blinds Online, you will receive step by step instructions for installation that are easy to understand and easy to accomplish, you can also find them online here and here.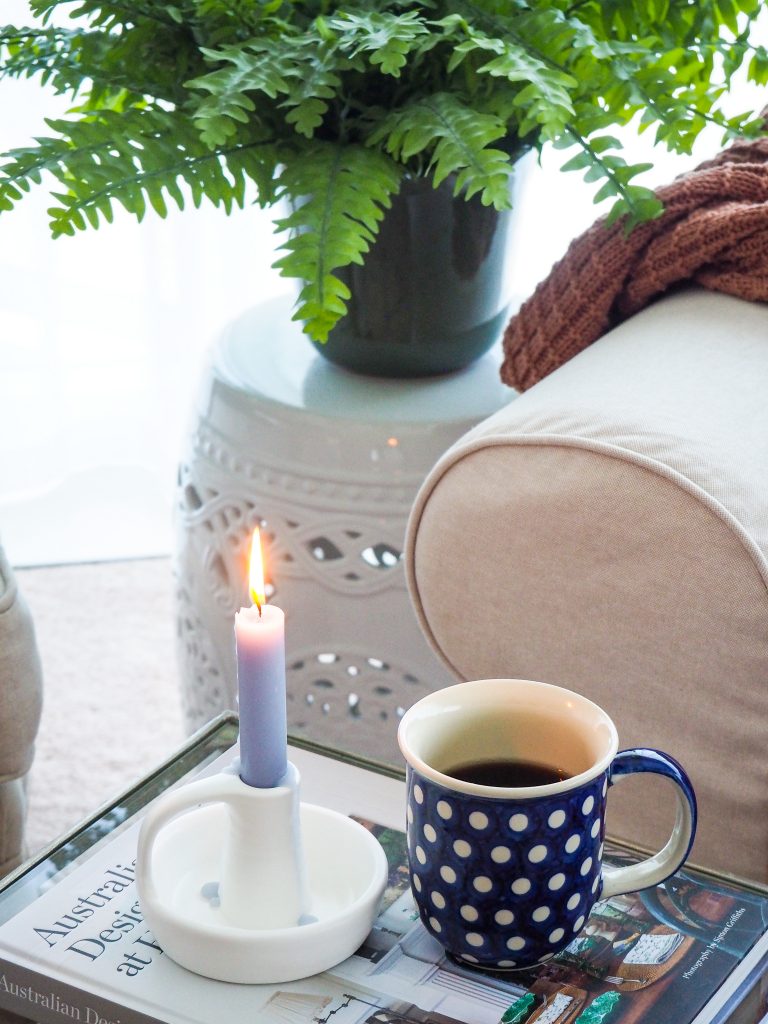 The sheers completely transform this space. I hung them from a matte black glider rod, they are simple, timeless and stunning. I can't gush enough about the difference the window furnishings make, look at these before and after photos! It's hard to believe this is the same room! My husband said he felt like he was sleeping at a hotel for the first few days.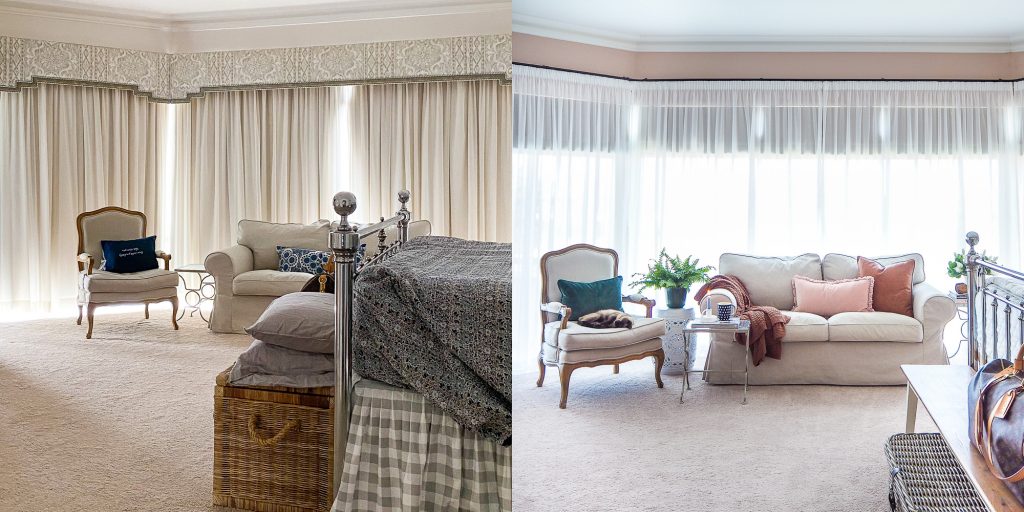 I can't believe how different it looks, even the carpet looks a different colour with the fresh paint and beautiful white light coming from the sheer curtains.
I've kept most of the same furniture in my room and I'm slowly restyling it with pieces that are more in line with the feeling of our new room. I don't want to go shopping and buy everything at once, I want to curate and collect the perfect things for our room and if that means that it's a little bare for a while, I'm okay with that. I'm currently hunting vintage art with meaning and layers of beautiful linen.
Instead of trying to achieve a particular style, I'm choosing to strive for a feeling. I want it to feel warm like a big hug, I want it to feel like home and I want it to feel so comfortable that you don't want to leave.
I think the few carefully considered changes we've made have helped achieve this and I couldn't be happier with the outcome.
What do you think?
Hayley x