I often get told I am so brave with the way I mix patterns and textiles in my home. Quite a funny statement to me as I always feel like I am choosing the safe option, and I never feel brave myself!
I also get asked it there is a method to mixing patterns. I've never really thought about it before, but I do have an instinct that seems to work, most of the time, I have had a few disasters. I sat down and tried to put words to the babble in my head when choosing fabrics, wallpapers and other textiles to layer in a room.
Here's how I work –
1. Mix patterns of different sizes. It can look a little messy and overwhelming if you don't balance out the scales of pattern. Choose 1 large pattern, 1 medium and 1 or 2 small patterns, and don't forget to add some solid colour to let your eye rest.
Below is a picture of my living room. Just out of shot is my large 3 seater sofa, it is the largest piece in the room and it is plain linen, then my 2 rattan chairs are upholstered in a small herringbone print. My cushions are all medium size floral patterns and the throw is a large scale shibori pattern.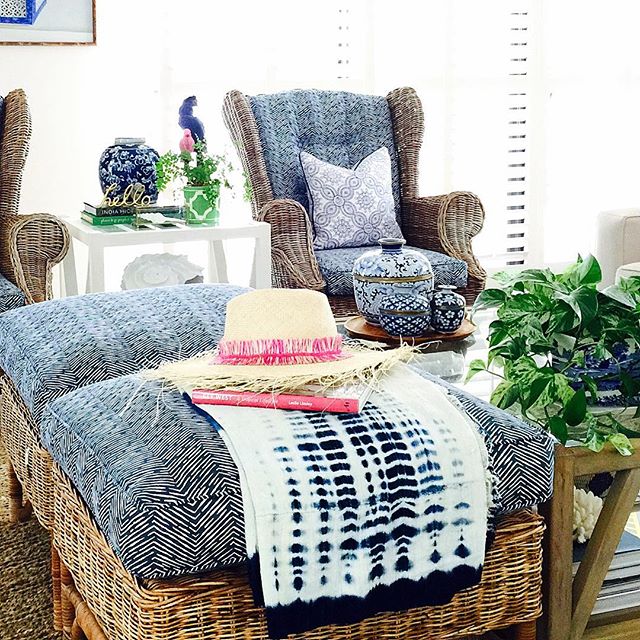 2. Mix a floral with a graphic, with an animal print, with an ikat, etc…. I'm not a big fan of a room full of florals, it can look a little too granny, and a room full of graphics looks a little harsh for me. Mix them up!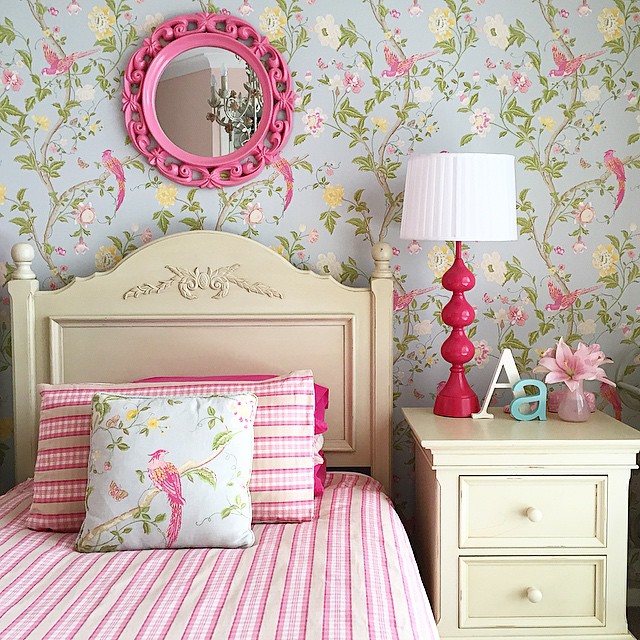 3. If your mixing patterns it's important to keep your colour palette under control, that doesn't mean you can't mix colours. I just like to restrict it to no more than 3-4 colours. You should choose a primary colour that will pull the room together, an accent colour and 1-2 small pops of colour. If one of your patterns has multiple colours in it, pull the other colours from it, as I've done in the photo above and below.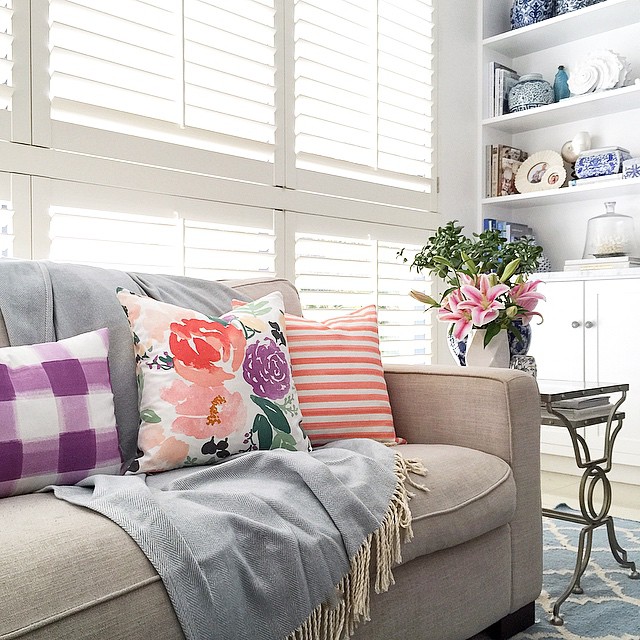 Alternatively you can choose 1 colour and really layer up the patterns, this always looks fabulous, especially with indigo/blue like the picture of my old bedroom below.
Don't be afraid to use this guideline for wallpaper and art too.
But remember – Rules are meant to be broken, play around, and have fun. This is your home and should reflect your personality!
Hx