I am often asked about my favourite homeware shopping spots on the Gold Coast, QLD. Today I thought I would share them with you, just in time for the weekend. If you don't live close to the Gold Coast, never fear, most of these shops have fabulous online stores and Instagram/Facebook accounts that you can go and drool over.
I'm going to start at the most Northern part of the Gold Coast and head South, follow the shops in order for the best route. Tap on the pictures to be taken to their websites, and I have also linked their Instagram and Facebook if it's available.
Let's Go!
Think elegant coastal style in a quaint little shopping village, surrounded by gorgeous cafes. Hamptons Style is the perfect spot to start your shopping day. They stock a fabulous range of local and international brands, including Dash and Albert and Lexington. They also have their own range of cushions, the Portsea in the Hamptons collection is a personal favourite. You can also find them on Instagram and Facebook.
While you are at Sanctuary Cove, there is another cute little shop just across the road called Tango Lima, find them here on Facebook. Also, if you have little ones to shop for, pop into Sparrow Couture, its my go-to shop for babies and young kids gifts. Find their website here, and their Instagram here.
If you love Caribbean Island style, with some Bohemiam Luxe thrown in, then this is the store for you. It is full of eclectic pieces, one-off finds and worldy treasures. You can also find them on Instagram and Facebook.
While your at The Brickworks, have a little wander around. You'll also find Freedom, Globe Interiors, King Furniture, Wheel and Barrow, Greenhouse and the most beautiful florist called Fleurus. See The Brickworks full directory here. Grab a take away coffee from Merlo, or a fresh juice from Quench, your going to need your energy for the next stop!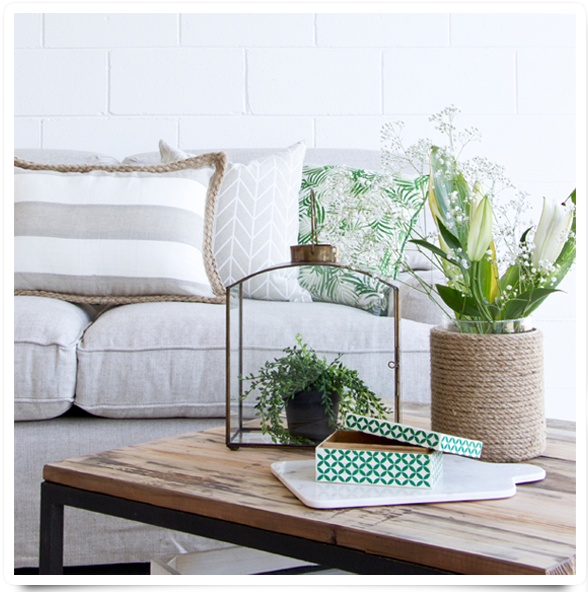 The Beach Furniture is young and fun, think handmade and bespoke pieces using raw materials and pops of bright accessories with a beachy flavour. Yum! You can also find them on Instagram and Facebook.
Step inside Village to find an eclectic mix of tribal, rustic, urban and luxe homewares. A beautifully curated shop with a big heart, they firmly believe in fair trade and using recycled and responsible materials to produce their drool worthy range of furniture. You can also find them on Instagram and Facebook.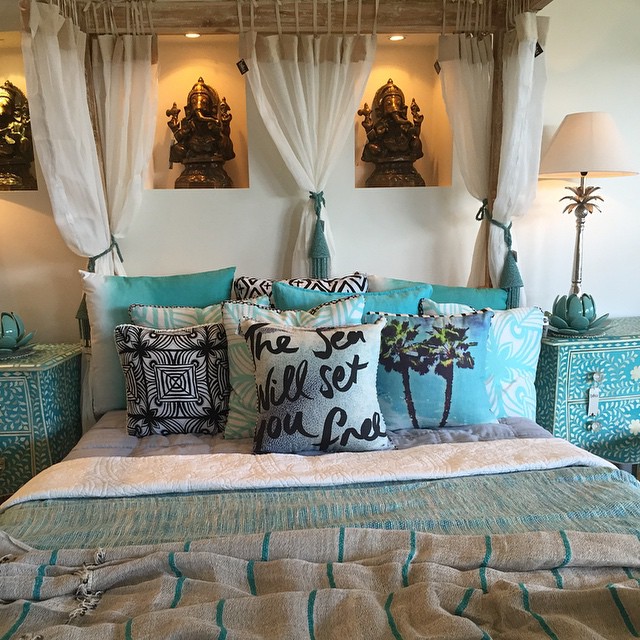 Biku is a fusion of global furniture and handcrafted items from artisans and crafters of remote villages in far away places. It is a visual feast of colourful bone inlay pieces, neon buddhas, copper serving ware and cowrie shell embellished baskets. Biku is also on Instagram and Facebook.
While you are here, pop next door to Apartment, Lifestyle & Living. I find this shop a little hit and miss, sometimes I want to take everything home and others … not so much.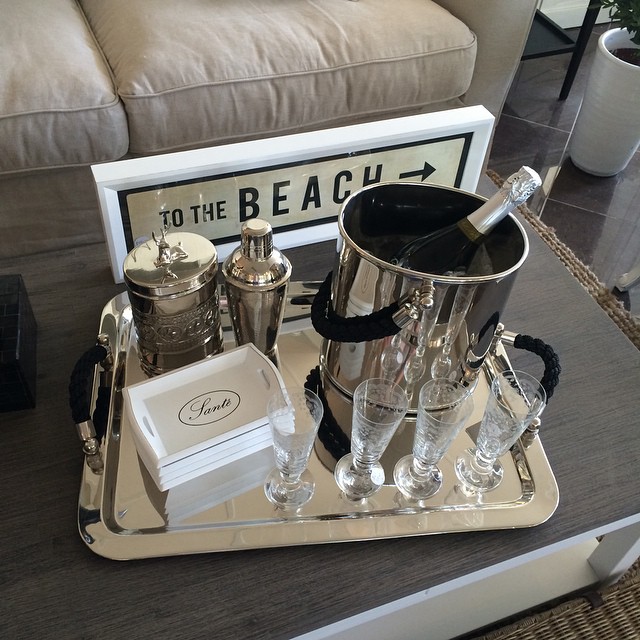 OK, Seriously, I want everything in Rococo Design, big statement, but true! The showroom is full of Hamptons style, white painted furniture, French oak furniture, vintage rattan, European linens and stunning silverware. You can find them on Instagram and Facebook too.
This is one shop you will walk into, sigh and never want to leave. There is blue and white ginger jars, chunks of coral, beautiful shells, big palm trees, rattan accessories, and nautical accents at every turn. Good luck leaving this shop empty handed! You can also find Alfresco Emporium on Instagram and Facebook.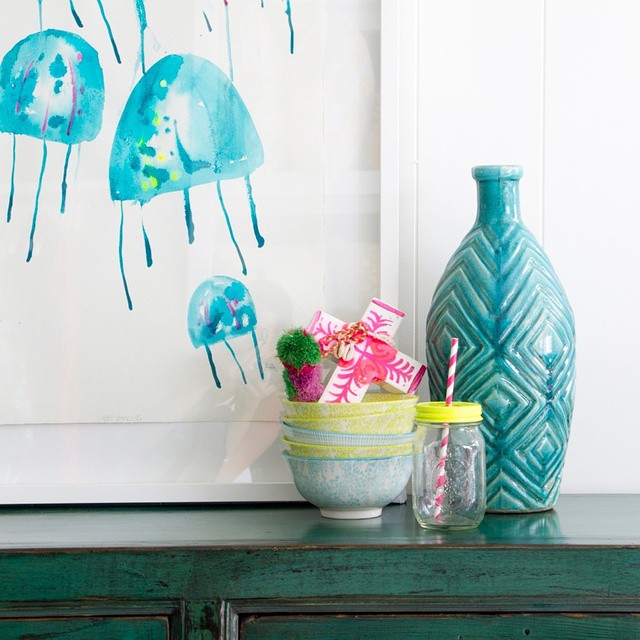 This is a lovely lifestyle store, it's young and tropical. They showcase fabulous local artists and crafters. The shop is often colour blocked, I really love this look and often find myself standing in front of the blue and pink sections for far too long. Find Villa Capri on Instagram and Facebook.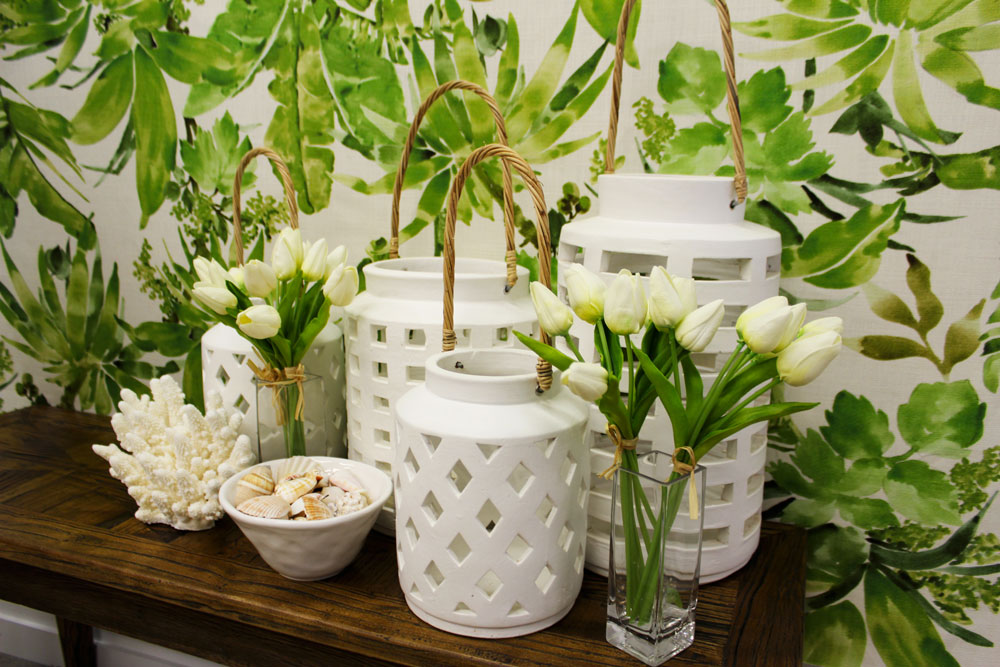 OK, Confession time, I have never been in this shop, I want to, I just haven't got there yet! I follow them on Instagram and they have such a beautiful range so I thought I'd include them. Find them on Instagram and Facebook.
I adore this little shop. Suga Suga has a pineapple as it's logo, love!  It is filled with items that evoke a modern take on British colonial island living. You'll find white wash, pewter, rattan, shells and tropical chic pieces. Follow Suga Suga on Instagram and Facebook.
Even though this is in no way a comprehensive list of all the great shops on the Gold Coast, it's just a few of my personal favourites. How did you go? Did you max out your credit card? Are you already thinking of ways to smuggle your stash inside without your other half finding them? Show me!!!
Where shall we shop next time? Shall we go further South on the Gold Coast starting at the beautiful Indiana Store at Burleigh Heads and heading down to Byron Bay? Or shall we go to Brisbane? Tell me, Your the boss 🙂
Hayley x