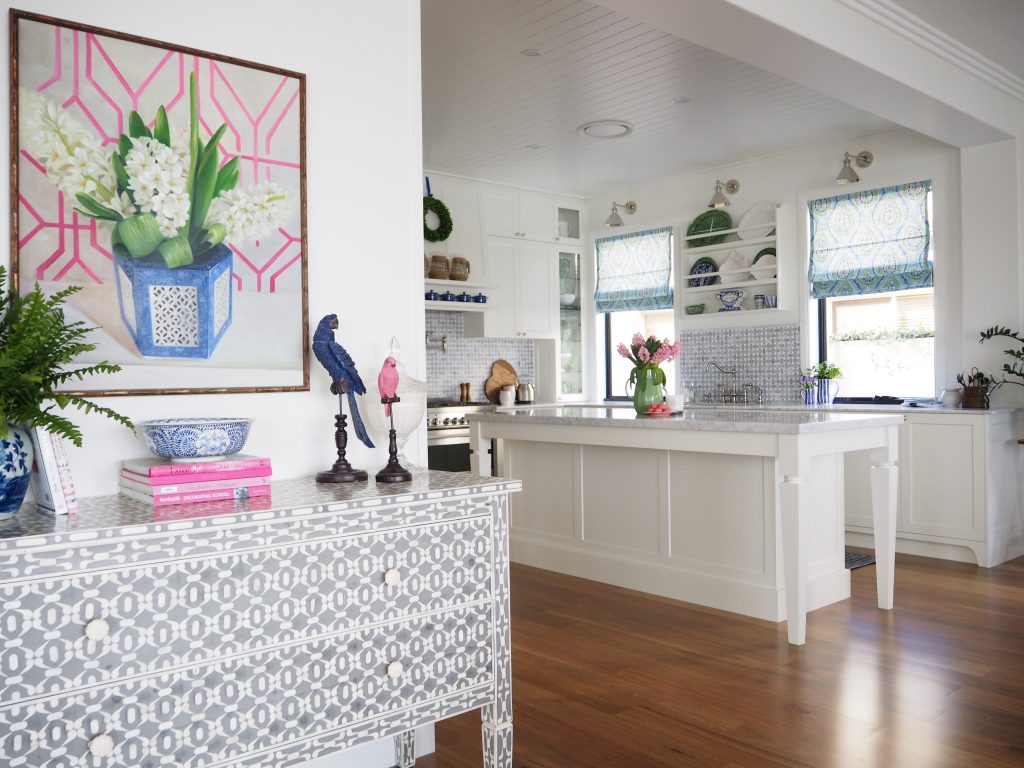 I split my kitchen reveal into 2 posts because some of you really want to know about the planning, the process and the products, while others of you are only interested in the pretty things. This post is for the pretty things. If you want to read about the process you can do that here.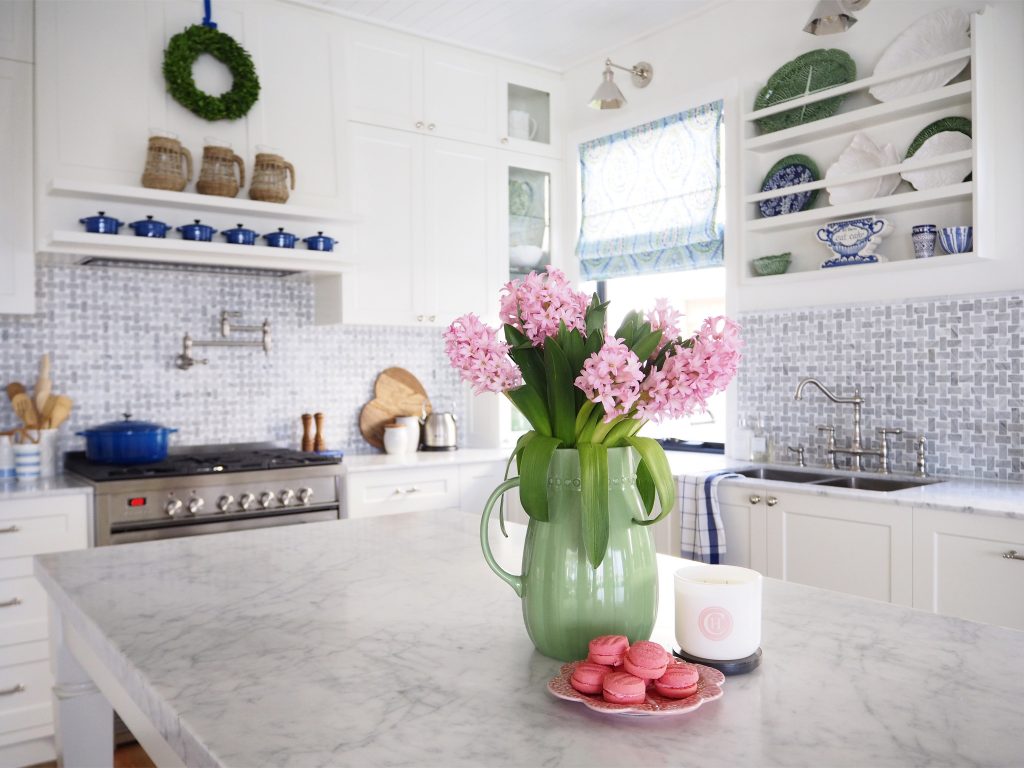 OK, now I have a beautiful, classic white kitchen, but I love a pop of colour in my home so I knew I needed to add that somewhere. I didn't want to do anything too permanent, but I did want to be a little bit risky. I decided to make my statement with the window treatments. I actually had the white cedar shutters that were originally in this room, but I was shocked how much more light streamed into the room when we removed them so I didn't want to put them back up. I wanted something that could be completely open during the day and give us some privacy at night. Roman blinds were the best option, so I went about finding the perfect fabric.
One thing I learned during this process is to always order a sample of the fabric if you are choosing something online or from a catalogue. I have 6 metres of another fabric that I ordered and thought would be perfect, but when it turned up it was all wrong. In the end I went with a heavy linen blend with a gorgeous pattern, it falls beautifully and I love the explosion of colour that I can control depending on how far I have the blinds dropped.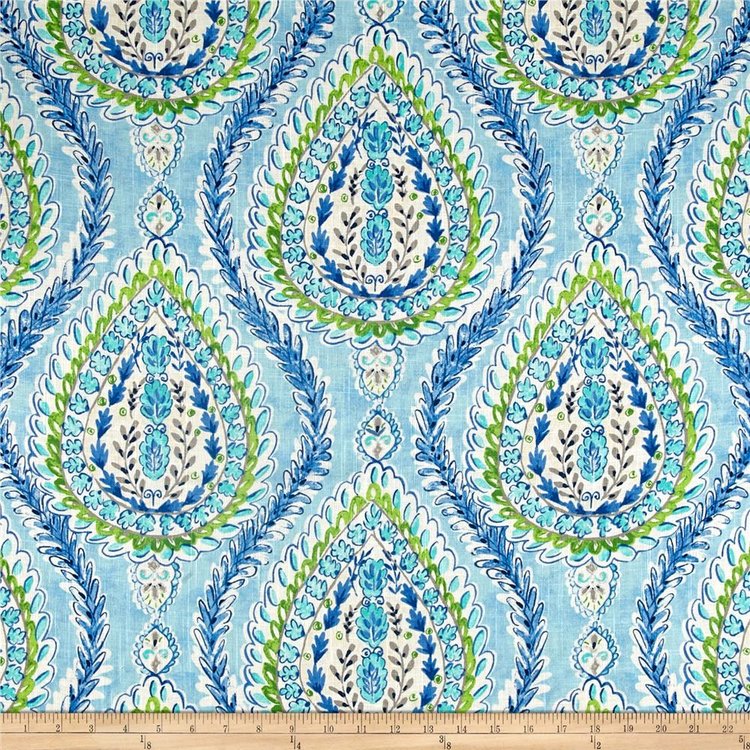 The roman blinds in the kitchen determined the colour palette for everything else, which I love … blue and green. Of course the obvious choice for me was to fill my kitchen with cabbageware and blue and white, which is exactly what I did. I don't have enough pieces of cabbageware to achieve the look I want yet, but thats half the fun … hunting them down. As for the blue and white, that's easy!
I already had some beautiful pieces in my home that fit perfectly, I love these little striped jugs, they look like they were made for the kitchen.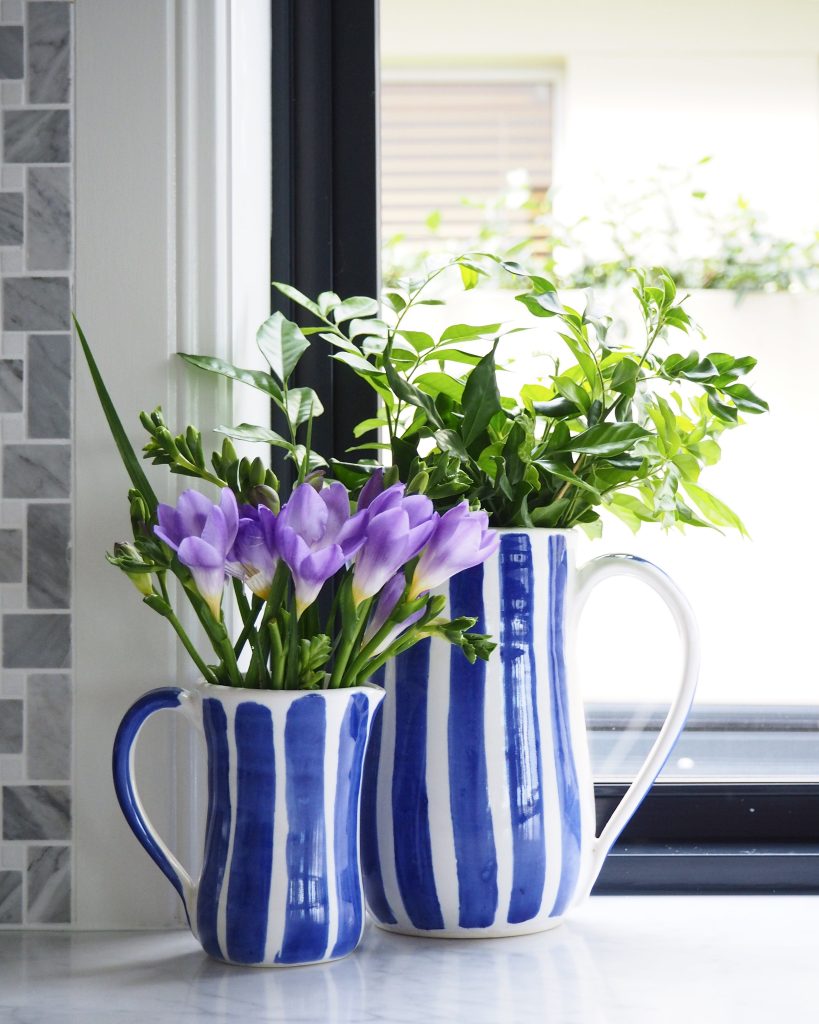 Another favourite ways to add colour to the kitchen is with a big french oven. You see them in all the stylish kitchens on Pinterest and that's half the reason I wanted one, but honestly they are a dream to cook with too. I leave mine out on the stove top, I also bought a few mini cocottes to display on the range hood and I think they look super cute.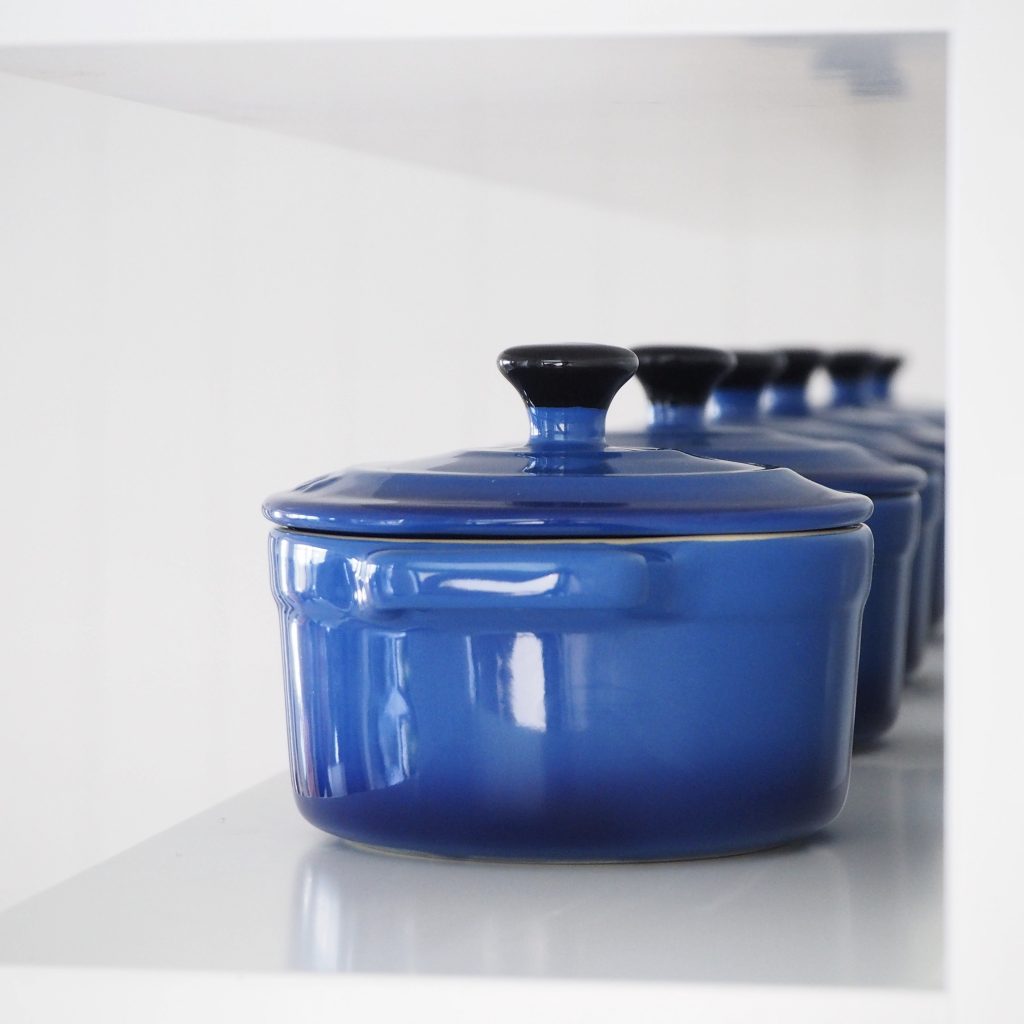 Also on the range hood is 3 rattan jugs that I've had forever, and my boxwood wreath which looks as fresh as the day I got it.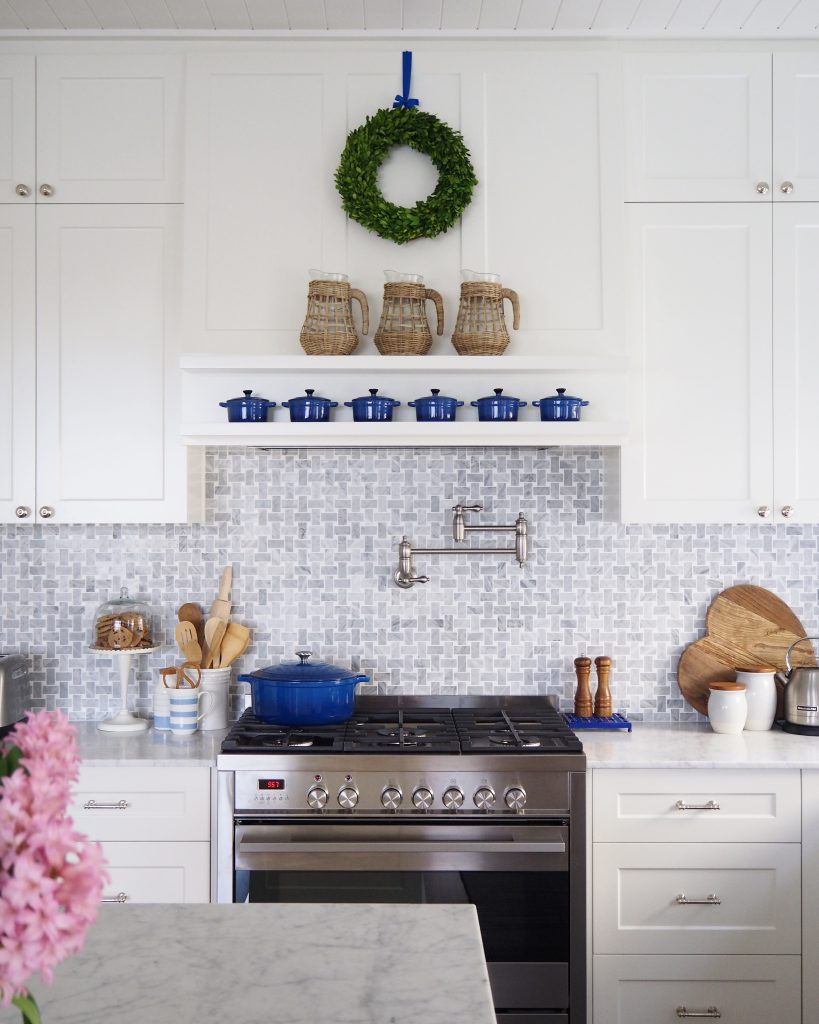 Probably the thing I was most excited about for decorating the kitchen was this floor rug. It is from the Dash & Albert indoor / outdoor range, I already own one of their rugs along with a door mat and couple of outdoor poufs, so I am familiar with their quality and how easy they are to clean, you literally take them outside and hose them. It is the perfect runner for messy spaces like the kitchen.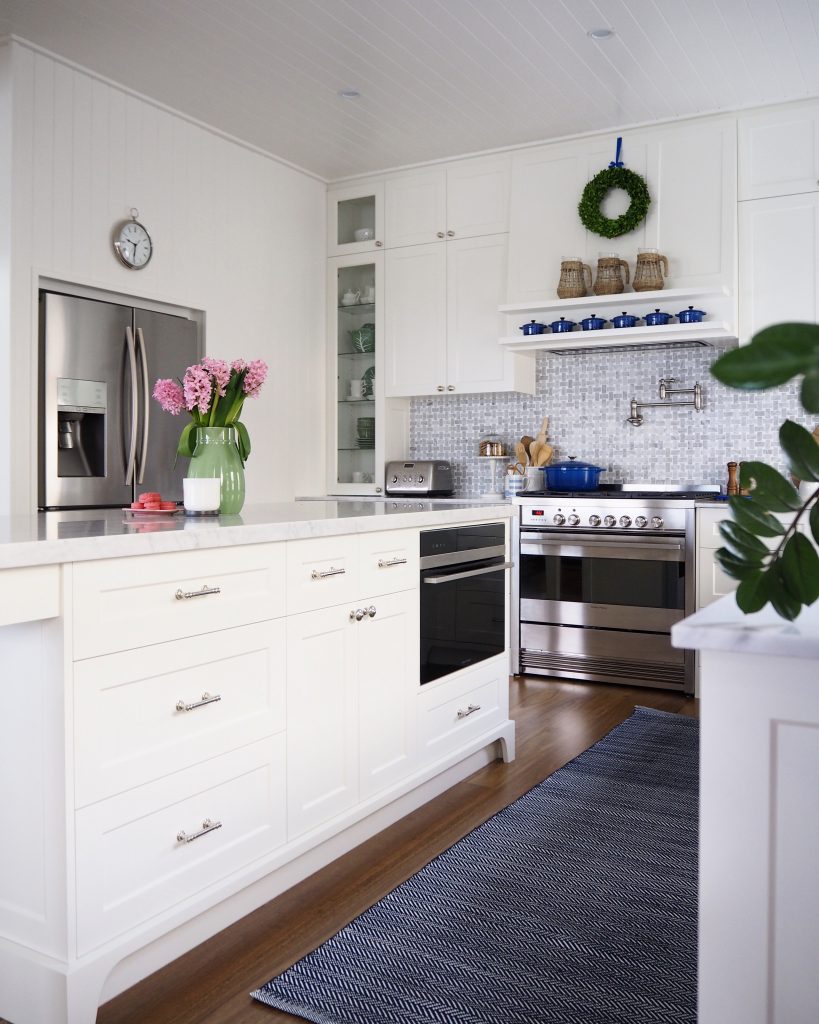 With all the hard lines and cool colours in my kitchen I felt like I needed to add some natural wood elements to warm it up. I chose a chunky elm cutting board in a fun shape that I love, and a pair of salt 'n' pepper mills in acacia wood.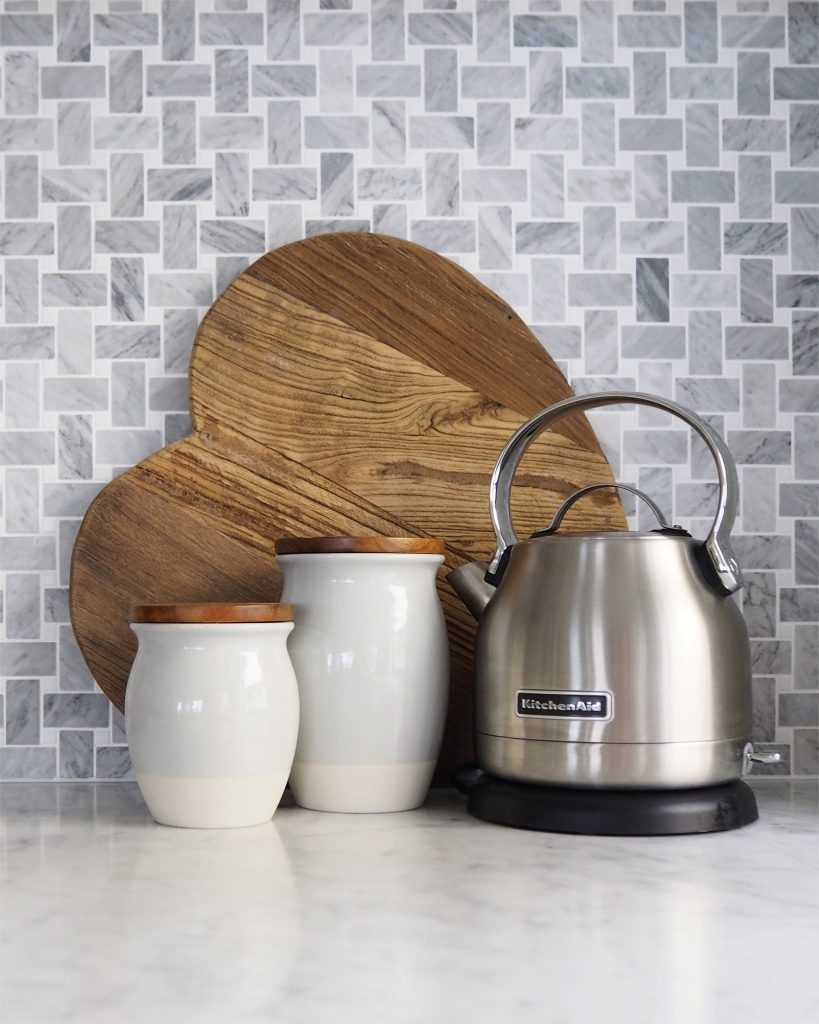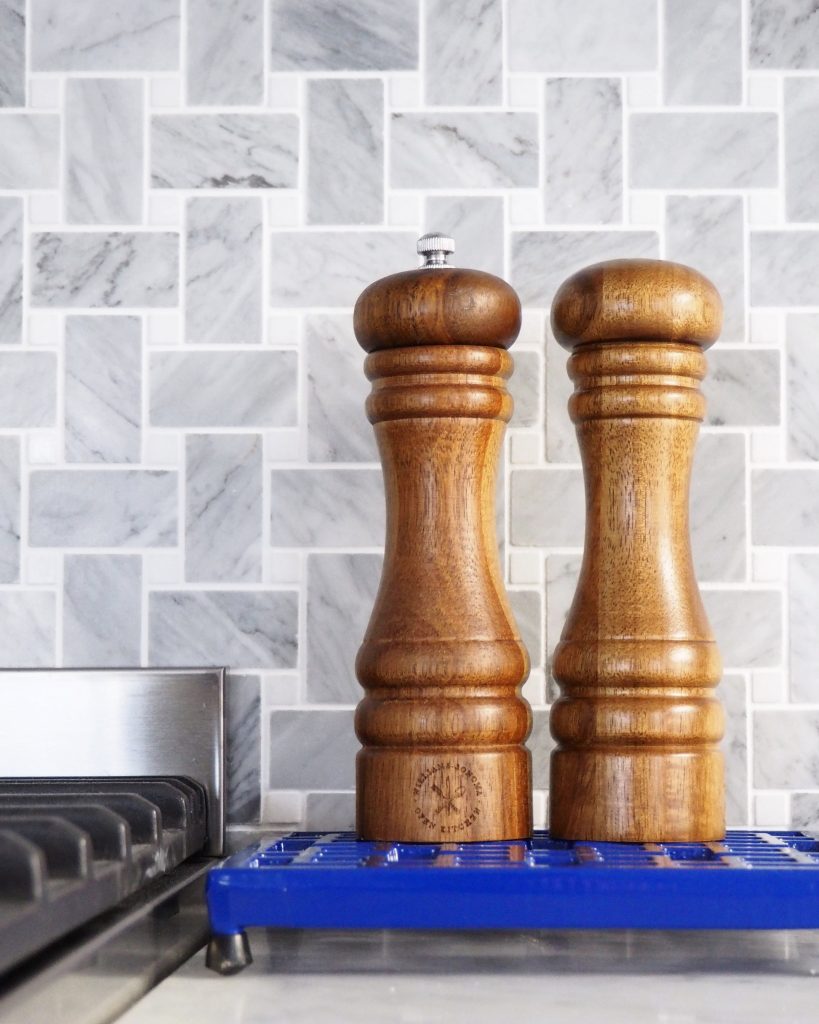 I alway like to have a clock in my kitchen as I often take my watch off when baking. I had my heart set on something timeless in a polished nickel and after quite a long hunt I found the perfect one at Pottery Barn, should have known to look there in the first place, duh!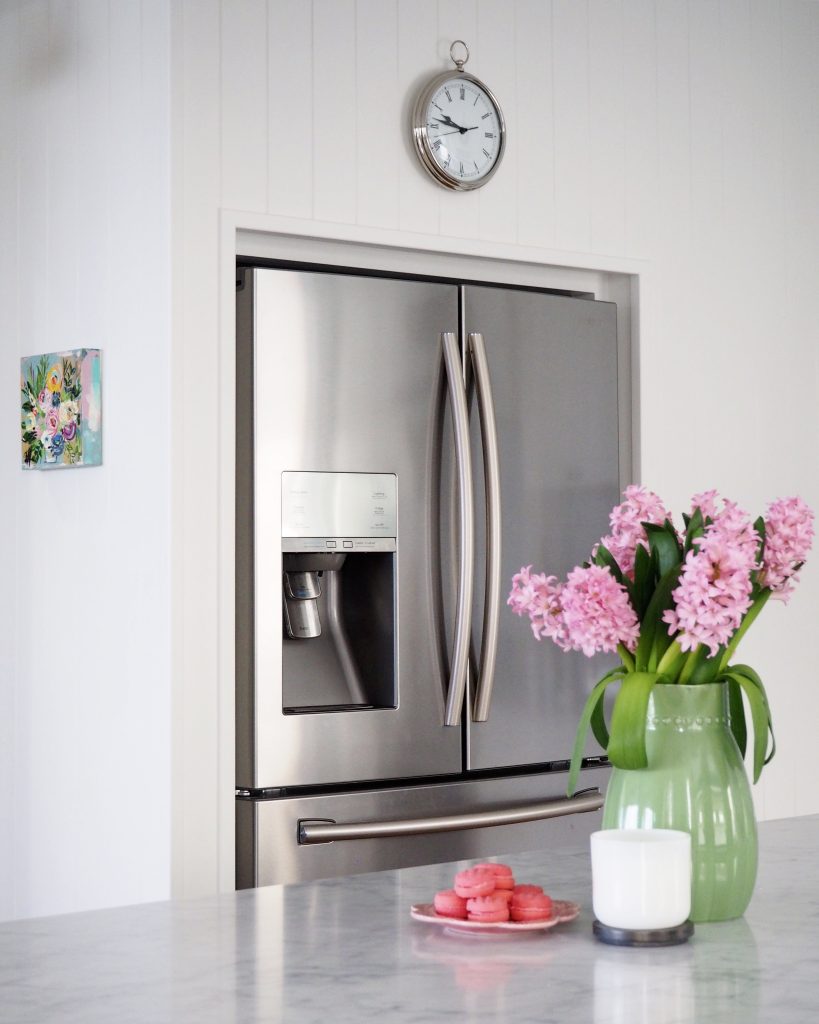 Another thing I had a hard time finding was a rattan cutlery holder, I saw them everywhere a while ago when I didn't need one, then when I decided I needed one I couldn't find it. Instagram to the rescue and I finally found one, it's perfect for quick access to the cutlery when the kids are sitting at the island bench (when we get stools).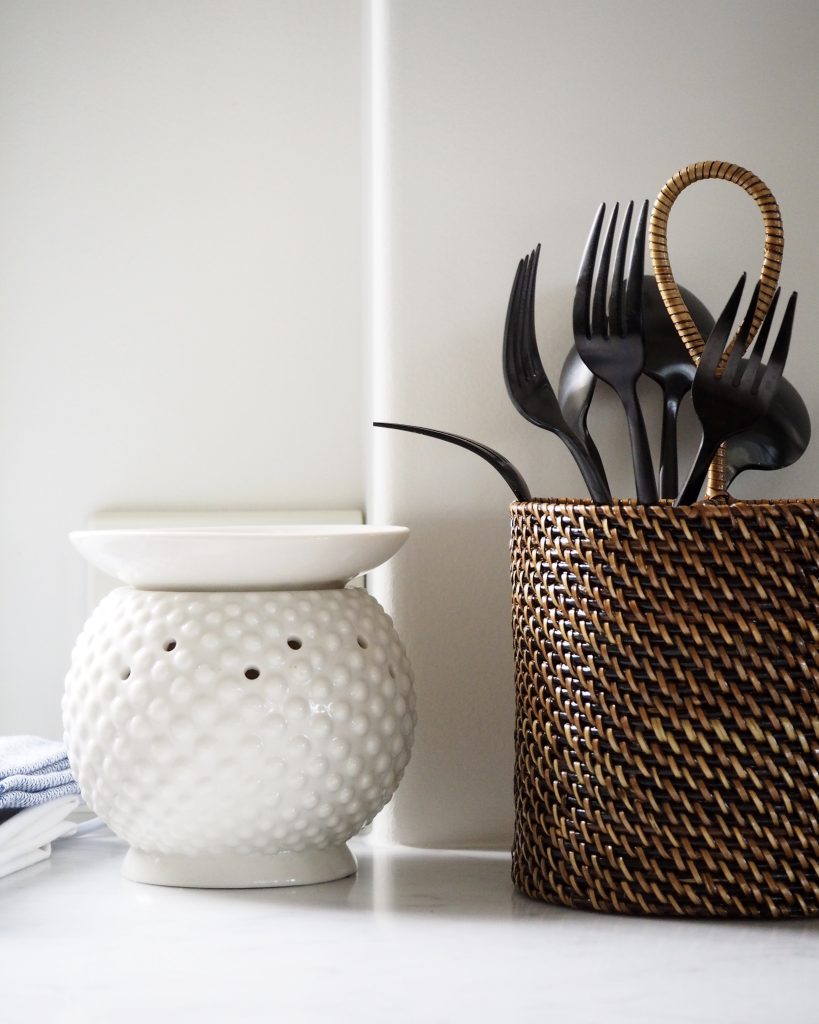 Then the necessities, the toaster and the kettle, they aren't always pretty but I think I found some pretty good looking ones. The toaster is all kinds of awesome with buttons and dials for every setting you can think of, plus it beeps when your toast is ready, very cool.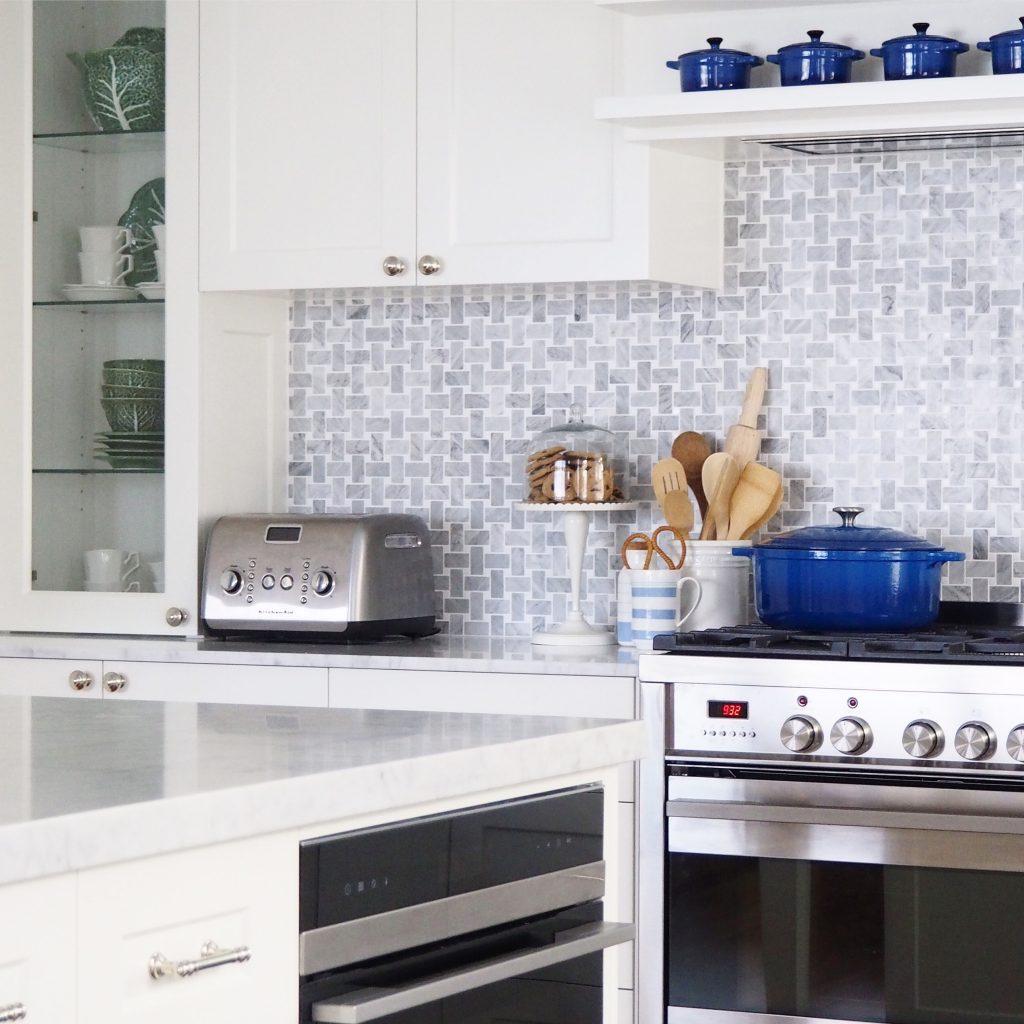 Another necessity in the kitchen is tea towels. We all have those yukky stained one that have been used for one too many bolognese clean up, maybe they are your favourites, maybe they dry really well … get rid of them! A dirty tea towel makes your whole kitchen look grubby, they are so inexpensive and easy to replace. I just bought a fresh new set of 4 in a pretty blue colour for the new kitchen.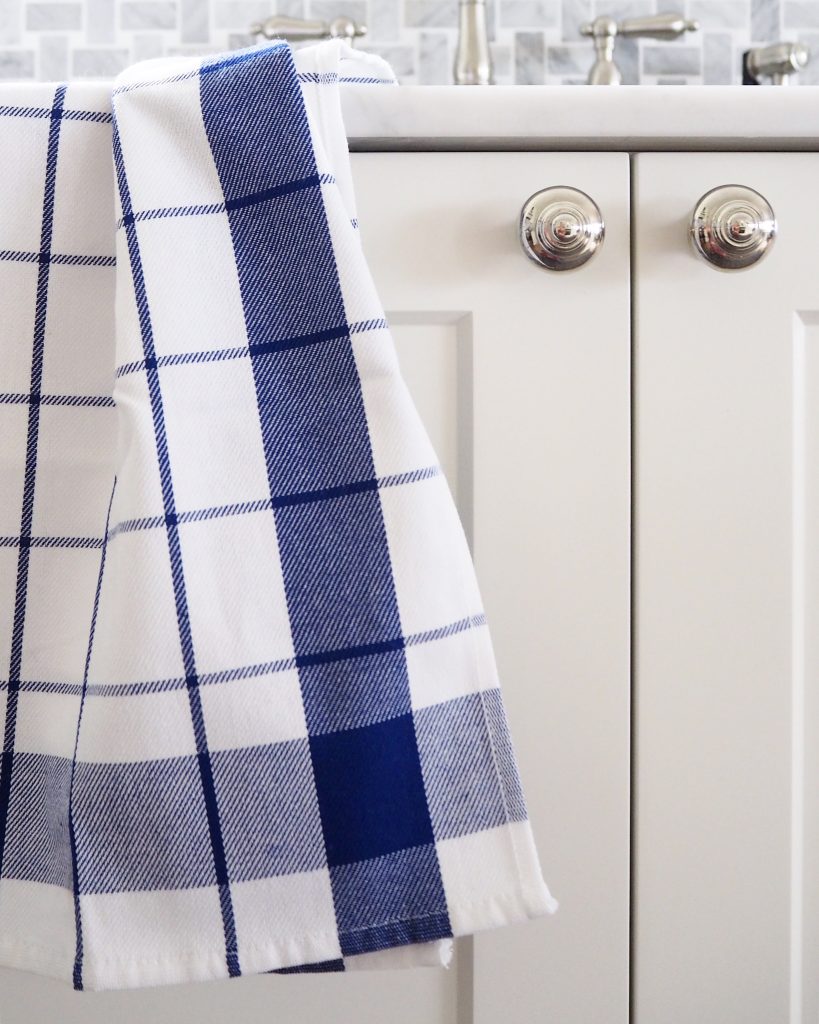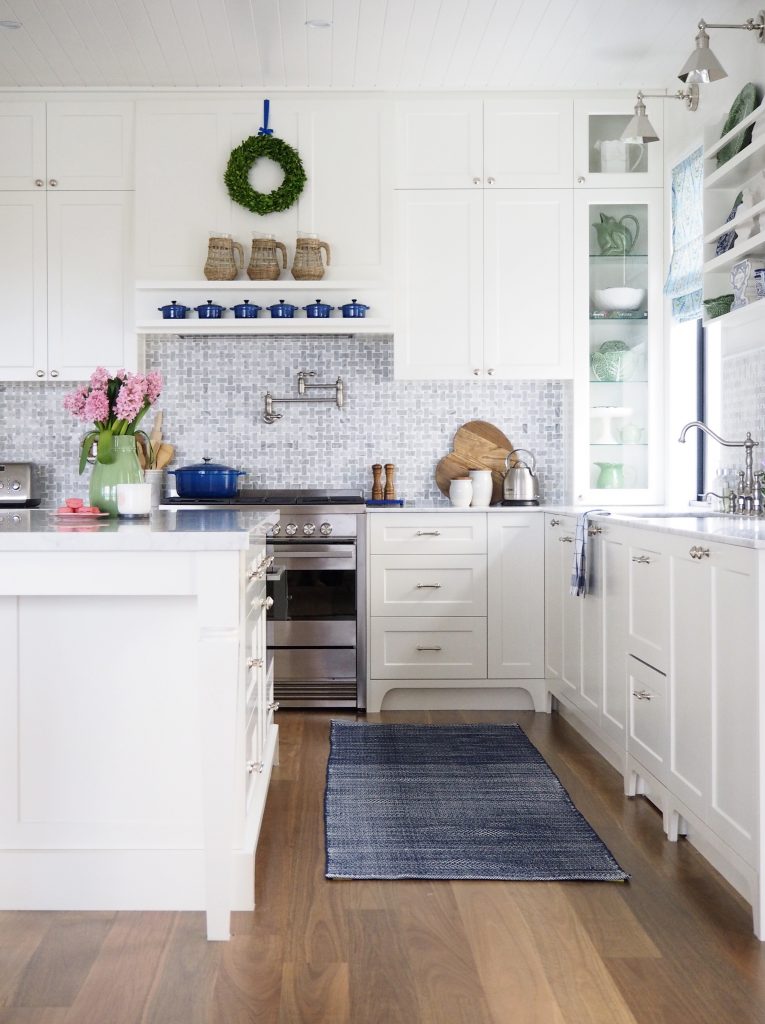 And lastly, I always like to have fresh flowers and a beautiful candle burning in my kitchen. I had the most amazing hyacinths for these photos, the scent was incredible and they literally made me smile every time I looked at them.
I change candles often, but one range that is pretty consistent in my home is the Circa Home range, they have a lovely collection of scents that I love.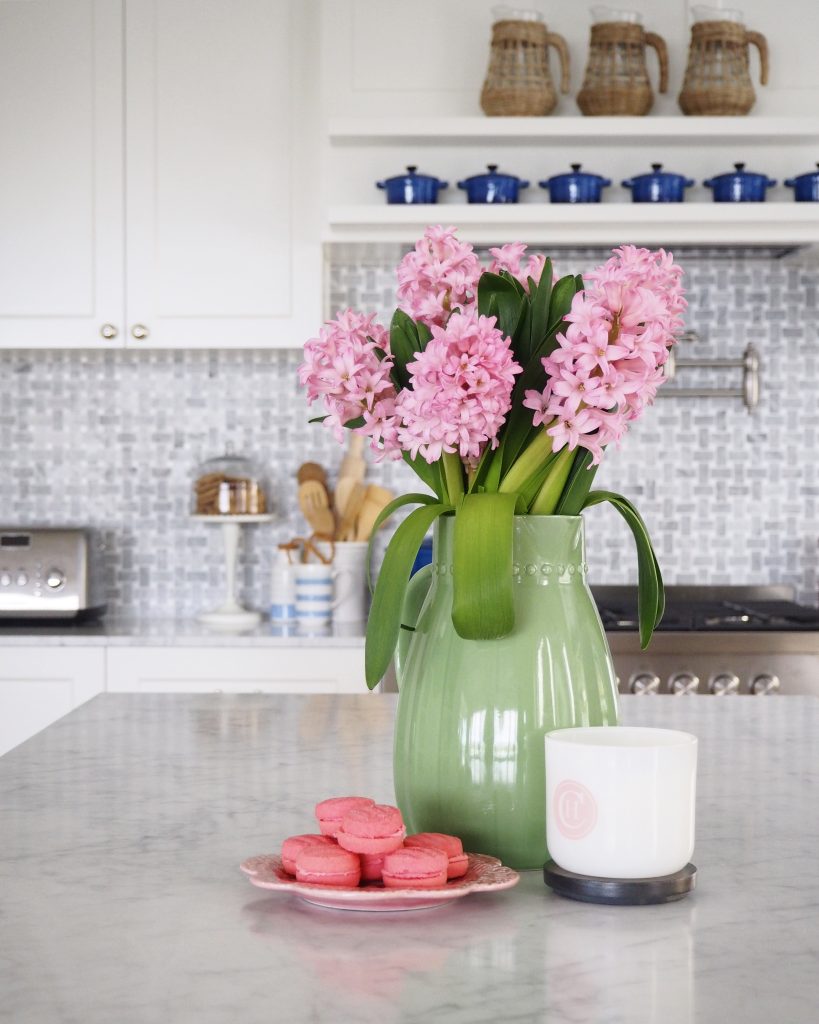 Now all I have left to do is hunt down the perfect barstools …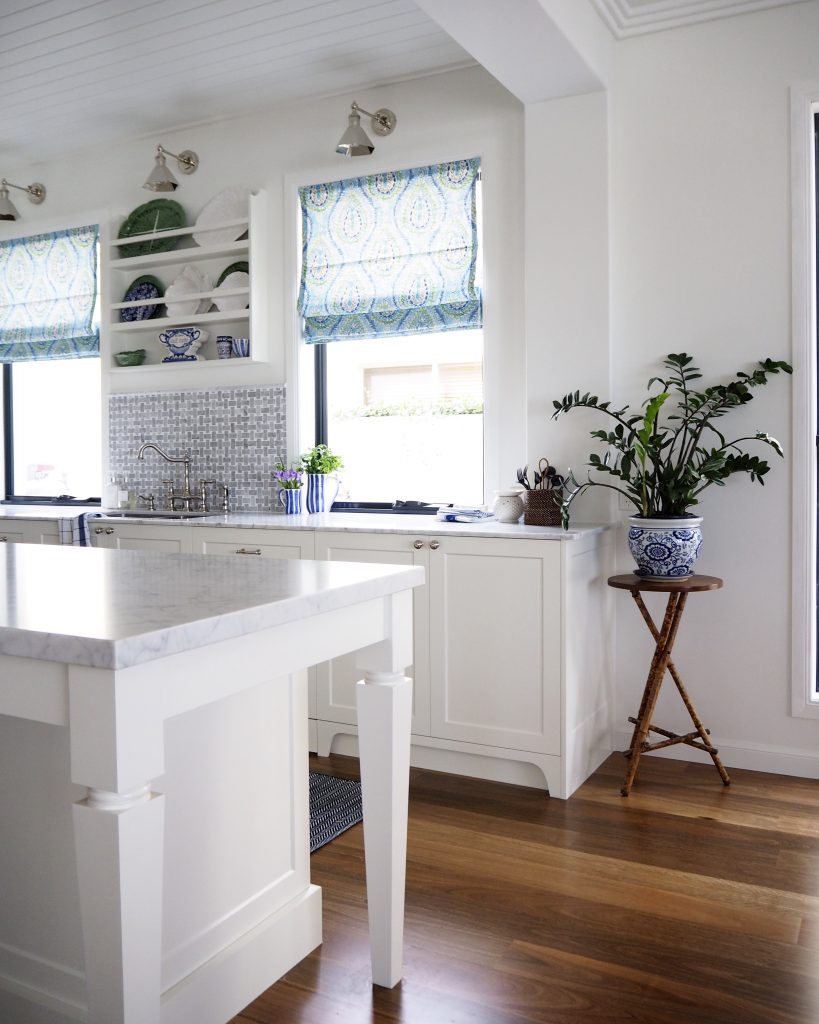 If there is something I haven't covered or answered, leave a comment or send me an e-mail and I'll get back to you.
Happy Shopping!
Hayley x
Roman Blinds – Coconut Raw Poolside fabric / Dena Designs
French Oven – Chasseur 6.3L in Imperial Blue / Kitchen Warehouse 
Floor Runner – Herringbone Indigo 76 x 243cm / Winton House
Clock – Pocket watch in Nickel / Pottery Barn
Toaster – Kitchenaid Artisan 4-slice in silver / Kitchen Warehouse
Kettle – Kitchenaid Artisan 1.25L / Kitchen Warehouse
Elm board – Elm cheese board Heart / Bloom and Co
Salt Shaker and Pepper Grinder – Williams Sonoma open kitchen / Williams Sonoma
Tea Towels – Multi-pack in Bistro blue / William Sonoma
Cabbageware  – White salad bowl / The Source Homewares
Striped Jug & Bottle – Aegean range / The Source Homewares
Flowers – Hyacinths / Flowerhaul 
Candle – Forest Berries and Fig / Circa Home
Blue Striped Jugs – Handmade on the Gold Coast / Fine Things
Wreath – Preserved boxwood / The Doors of Berry
Cutlery – Matte Black / Reform Merchant