One man's trash is another man's treasure … I couldn't have said it better myself. I am constantly amazed at what some people are selling and often at crazy prices!
As much as I love to wander around an antique shop looking for vintage treasures, when you are after a specific piece nothing beats searching an online marketplace for exactly what you want. You can search for the specific model number, colour, size, quantity or any other detail you require. Then you can narrow your search to find one near you, or in your price range, etc…
It couldn't be easier to find what you want these days.
My favourite place to find myself a bargain is Gumtree. I have the app on my phone and am guilty of lying in bed and scrolling for hours looking for that elusive piece of Spode or perfect piece of rattan furniture.
Those of you that have followed me for a while might remember my amazing Xavier Cayman drawers that I nabbed a few years ago, or my cane outdoor swing that I picked up for a song more recently.
When Gumtree contacted me and offered to help me with the purchase of something for our home renovations I jumped at the chance.
I desperately needed new counter stools for my kitchen breakfast bar. My problem was due to the design of the island bench I had very specific dimensions to work with. The kitchen bench has an 'apron' running around the perimeter that hangs down 10cm from the 4cm marble bench top. Ultimately this 'apron' is limiting the leg space under the bench. A standard counter stool is about 65cm high, which only gave me 11cm to squeeze your legs underneath, unless your really skinny, this is just not enough.
So, I looked high and low and even though I found a few that might have worked they were all over $500 per stool and I needed 4. That was not in my budget!
I decided to hunt for some on Gumtree. There are over 2.5 million listings on Gumtree, I thought surely somebody had what I needed!
I wanted something that, if needed, could be cut down to the right height, so the design had to allow for that. I also wanted something that was made from wood because I love the warmth of timber, but also wanted to be able to paint them in the same white as the kitchen, or another colour if I changed my mind (which I often do). I also preferred something that was upholstered and could be slip covered because I have 3 kids and need to be able to wash them.
Oh, and lastly, I didn't want to spend a fortune.
I know, big ask!
What I found after a couple of weeks hunting was 4 Ikea stools. I had considered buying these from Ikea when I started hunting, but they have a lighter wood finish than I would have liked, and they are currently only available with a white slipcover, really … white? In a kitchen with 3 grubby kids, I swear I would have to wash them everyday!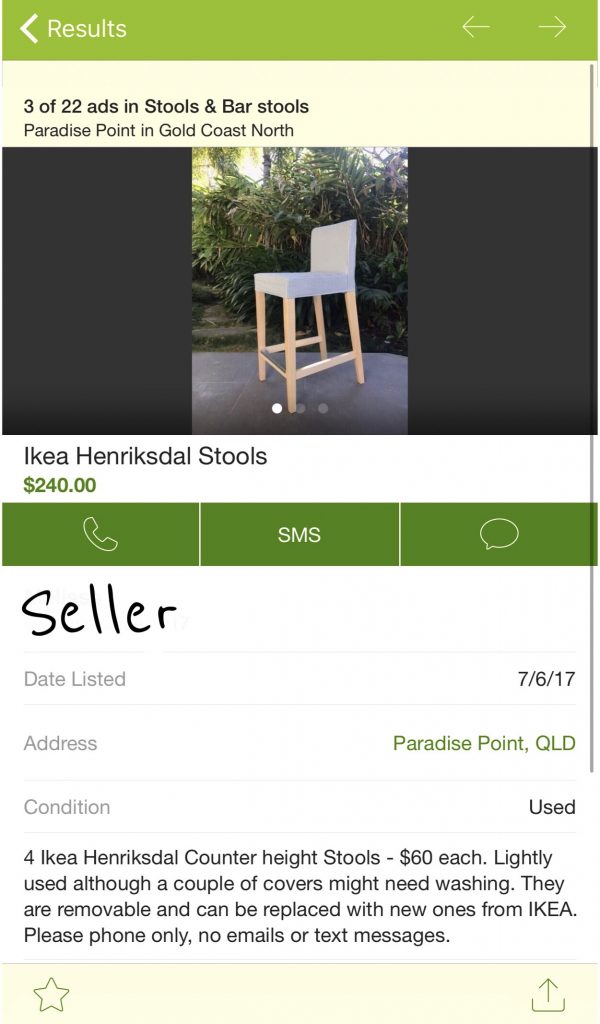 But … for $60 per stool on Gumtree, I decided to get them, paint the legs and have new slipcovers made. They were in pretty good condition, but a couple of the slipcovers were stained and yukky, which was really unfortunate because they had a gorgeous blue and white ticking cover originally. I chucked them out and bought a new set from Ikea to get me by until I got a new set made.
I am completely chuffed with them, they fit my brief exactly and after a quick makeover they will give me a  completely customised look for an absolutely incredible price.
Here they are with the white covers, literally 2 days after I put them on they had tomato sauce and milo on them.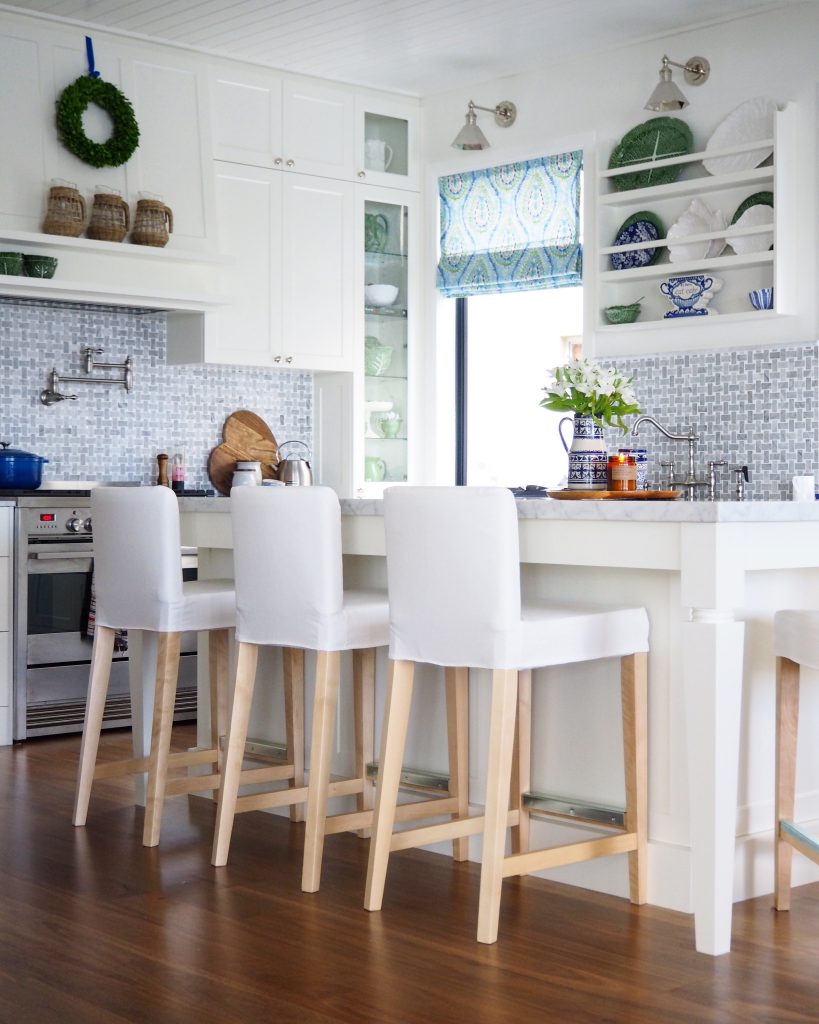 I dyed them in my washing machine with a cheap and effective home dye kit, and for now the green is much more practical.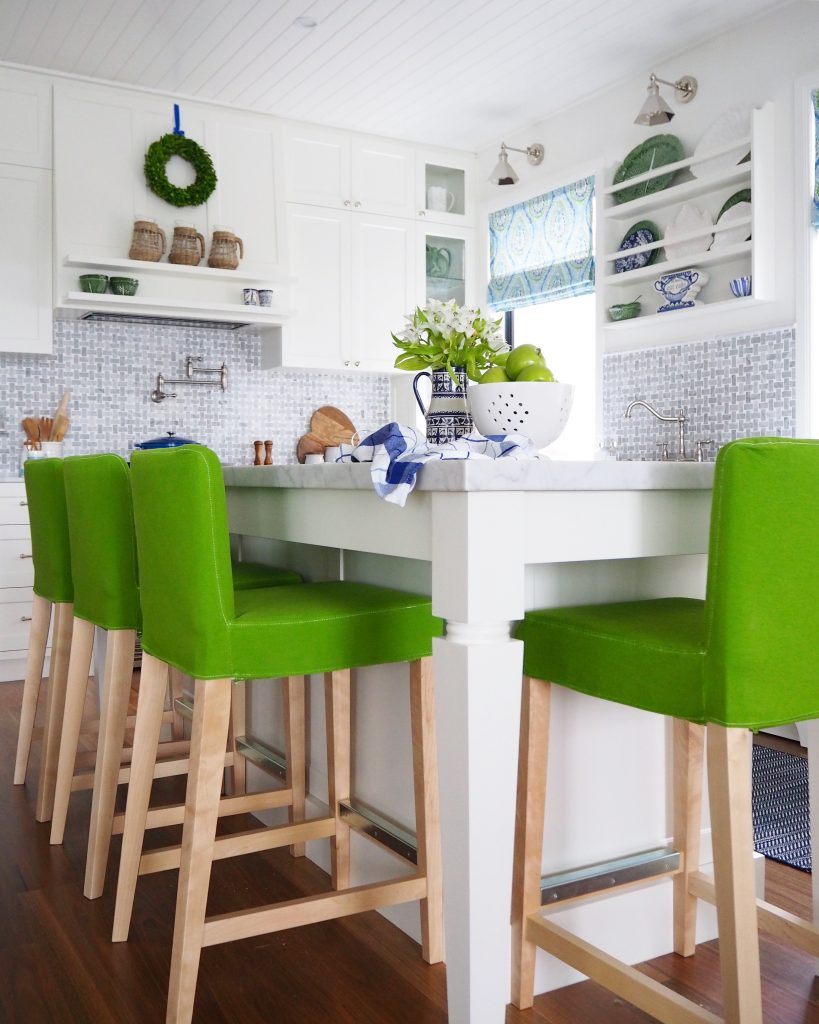 I am planning a full makeover of these including pretty new blue covers and a new leg colour, I'm not sure whether I will paint them white or sand them back and stain them darker. Stay tuned and I'll keep you updated.
In the meantime ….
I have been pretty successful with my Gumtree finds, I often get people telling me they never find anything and I'm so lucky. While I do think luck has a little bit to do with luck, there are also some tips that Gumtree suggests to help you find your perfect piece. I thought y'all might be interested in these and you know I'm a sharer, so here you go …
Do your research: Dedicate time to researching what's out there, what kind of style you're looking for as well as the full retail price of similar items (so you can see the savings you can make by buying on Gumtree)
Plan ahead: If you're overhauling a whole room, or an entire house, make a list of all the key items you need and decide which ones you could save money on. Consider investing more in lounges and dining tables and save on home décor items like plants, throws and cushions
Set your budget: If you're on a tight budget, research the average price of similar items on Gumtree and set your budget accordingly
Filter by price: If you do need to stick to a budget, Gumtree's search results allow you to filter by price – so you're not tempted buy any items out of your price range
Save your searches: If you're after a specific item or brand, say a Scandinavian style sofa or a certain make of wine fridge, the saved searches tool is ideal. Each time you save a specific keyword and location search, you'll receive an email update whenever a matching item is listed. You can decide how frequently you want to be informed; either immediately, daily or weekly
Expand your search region: If you can't find the item you're looking for in your immediate local area, try expanding your search to include a wider area. Instead of looking just in Newtown, search in Inner Sydney or Sydney region. You may have to travel to pick up an item, but by expanding your search region you're sure to find even more gems
Use your imagination: Sometimes it does take a little imagination to see an item's full potential. There may be some signs of wear and tear on the outside, but with a touch up and a coat of paint, it could become a key piece in your home and you'll forever be able to tell the tale of how you lovingly restored it
Ask questions: While most sellers will include key information, don't be afraid to contact the seller to ask questions. It's always worth asking about the condition of the item, why it's for sale, the dimensions and if there are any receipts or warranties available. It's easy to contact a seller via the Gumtree My Messages feature.
Negotiate: Don't be afraid to negotiate a price you think is fair but don't go too low – nobody likes an unrealistic offer!
Meet in person: We always encourage you to meet face-to-face with the seller so you can inspect the item, with an in-person payment made once the goods have been seen. We have some lovely Gumtree sellers who have plenty of stories to tell you about the item you're buying. You never know which piece of history you might find on Gumtree.
Ok, now you're armed with all the tips and tricks, go and find yourself a bargain and don't forget to tag me on FB or IG so I can marvel at your find!
You can shop here or download the app here for Apple or here for Google Play.
Happy Shopping!
Hayley x