Hello lovely friends!
Firstly, before I show you what we did in the dining room, which really wasn't much at all, I want to answer a question a few of you asked after my 'winter room' reveal. Lots of you were surprised that my sofa is from ikea and that I buy things from Facebook marketplace. I had lots of comments from you guys wondering how I 'make it look fancy' and why my house doesn't look like a flea market when so many of my pieces are second hand or from budget friendly stores.
I definitely believe there are places you can save money and places where you need to spend a little more, but that doesn't mean that it has to cost a fortune, you've just got to be smart and know where to spend and where to splurge.
I have young kids and pets, we don't have adults only zones and our home is pretty relaxed, I don't like to spend a lot of money of sofas because I know they are going to get jumped on, have food spilt on them and who knows what else! I look for an affordable option with covers that can be removed and machine washed.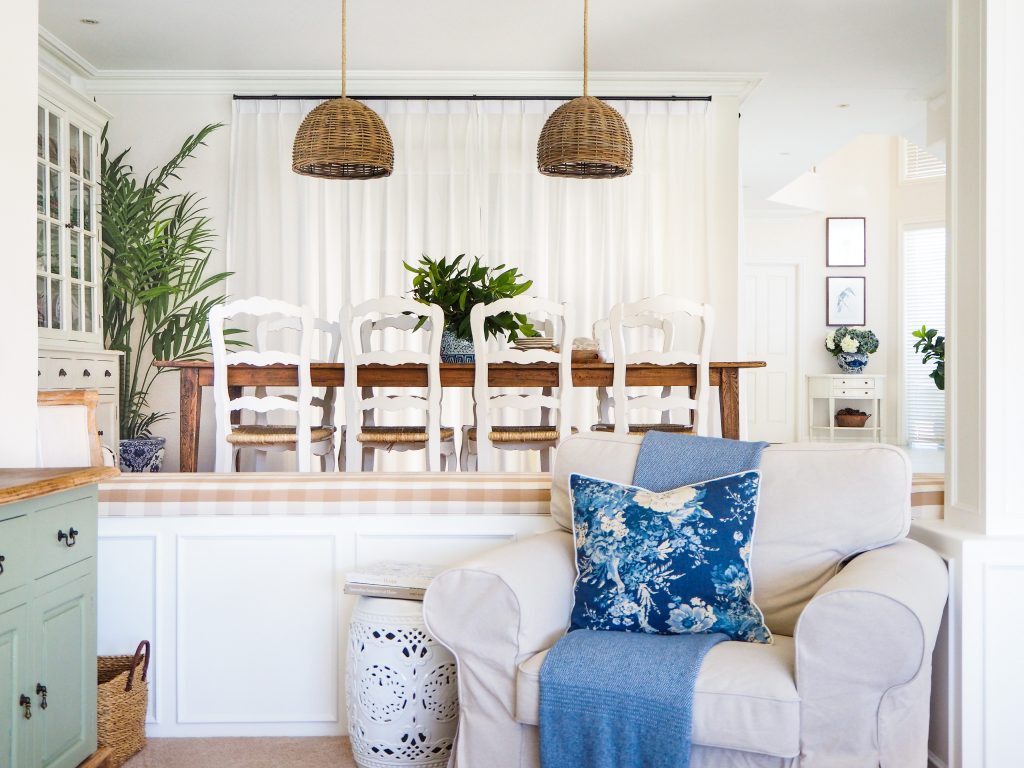 Where do I splurge?
I'm happy to spend money on quality house fixtures like taps, hardware, lighting and custom made window treatments. These are things that you don't want to get wrong. They form the foundation for all the layers of furniture and home decor. If you get them wrong nothing will flow harmoniously.
Lets talk about window treatments today as that is what has made a huge impact in my dining room make-over.
My dining room has grey tinted glass and lots of it, the grey glass reflects a dark hue throughout the dining room. I wanted to use white sheers to change that to a bright, white light radiating in the room.
There is 2 glass doors and one window in this space, they are all different heights and widths, I'll tell you more about this later, but their varying sizes made it impossible to get a cohesive look without having them custom made.
This is where you splurge.
When I say splurge it doesn't actually mean you need to spend a lot of money. There are ways to get custom made, professionally finished curtains, crafted from quality materials at a fraction of the price you would pay an Interior Decorator. It just means you need to measure them and hang them yourself.
I talked about choosing your window treatments here and installing them here.
It really is very easy, promise!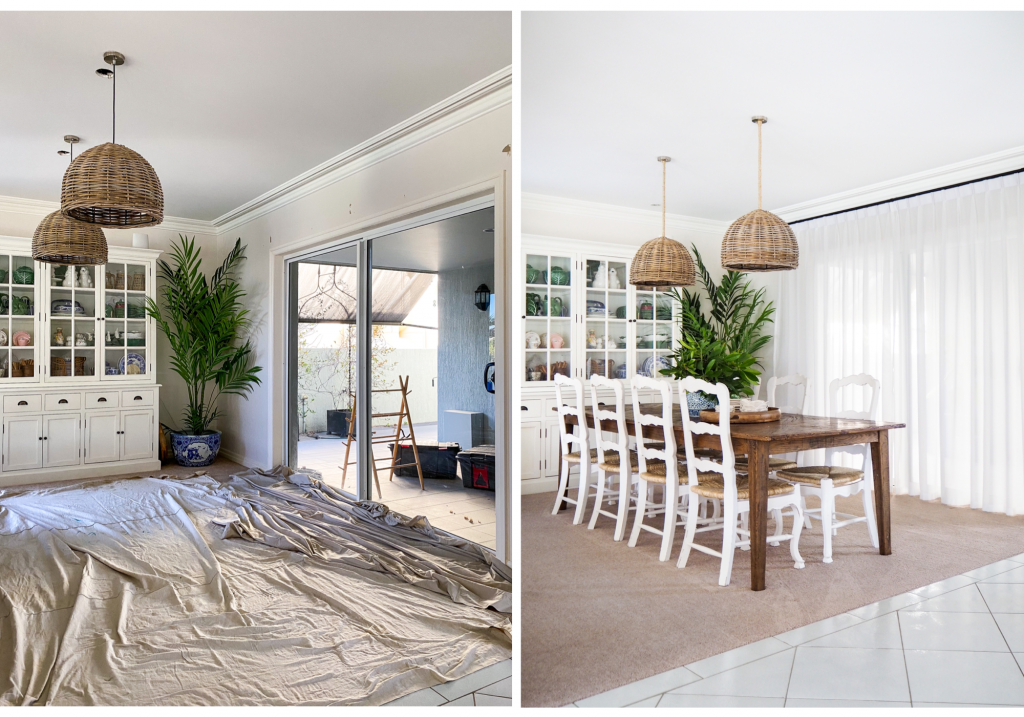 Back to my dining room sheer curtains, you'd think choosing would be pretty easy, right?
I went to Blinds Online to order my sheer curtains and discovered there were quite a few to choose from. I decided to order samples just to make sure I got exactly what I wanted. You can order up to 10 samples free of charge!
I have a little trick that I use to help me choose my sheer curtain fabric. I sticky tape all my samples to the window where the curtains are going and observe them in different lighting. It's the best way to see how your curtain fabric will look in the room and against the window.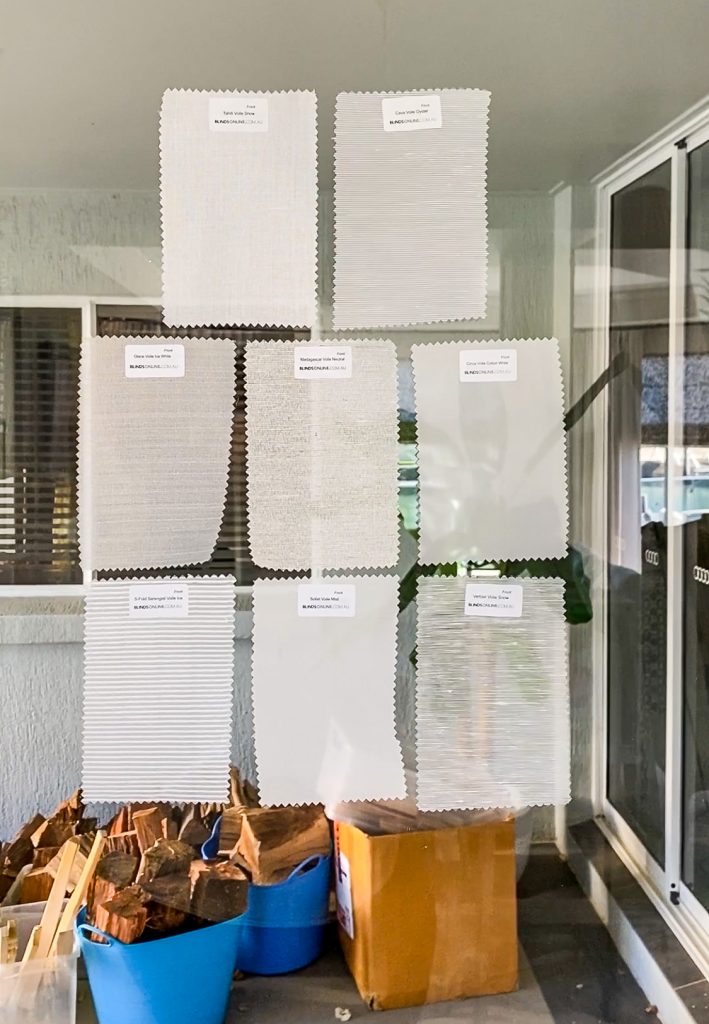 I chose TAHITI VOILE SNOW with a Pinch Pleat head and centre parting panels.
There wasn't much to do in the dining room. It is in an open living area with the 'winter room', the two rooms are separated by one of the bench seats that we did while we were doing that living space. The living space is 'sunken', 2 steps lower than the dining room. I love how cosy it feels in there.
The only real change we made to the room was to refresh the paint, add pendant lights and curtains.
We patched all the holes in ceiling and the walls, my husband started out in the building industry as a plasterer, it's very handy! Then we gave everything a fresh coat of paint.
I chose two oversized rattan pendants, they have a beautiful aged patina and even though I thought they were going to be too big when they arrived, once we got them up they looked perfect.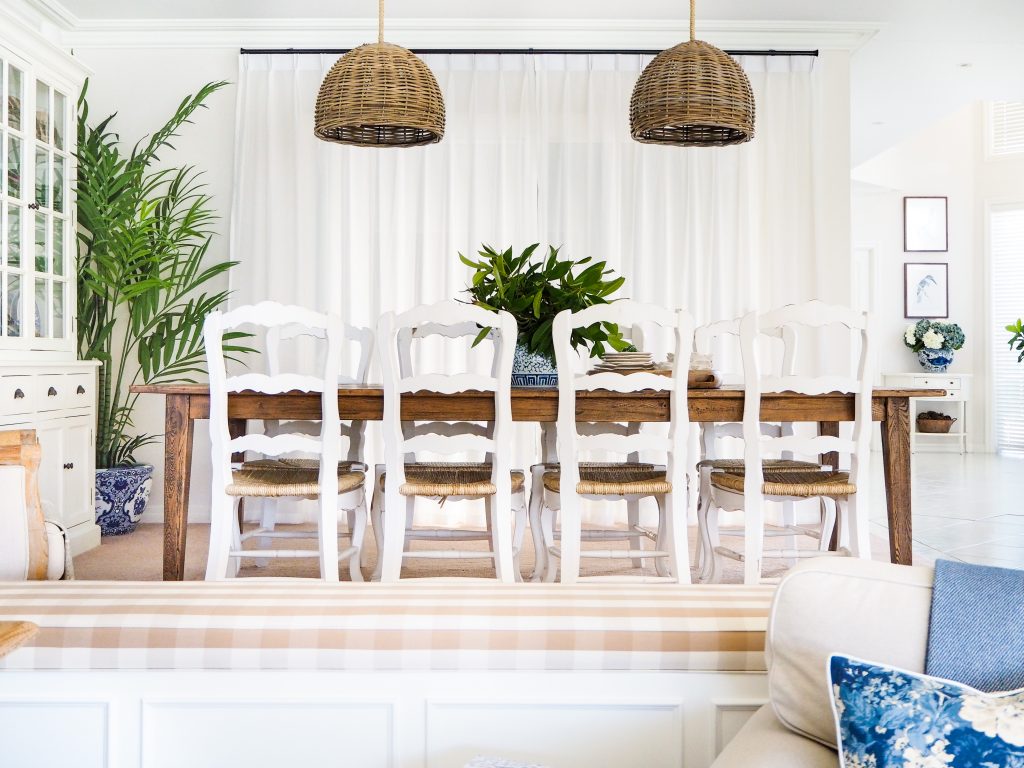 The real hero in this room is the new curtains, they've made a huge impact and they make the room so bright and light. They way they dance in the breeze is dreamy, it's like something from a beautiful movie. It's worth putting sheer curtains in your house just to get your movie moment.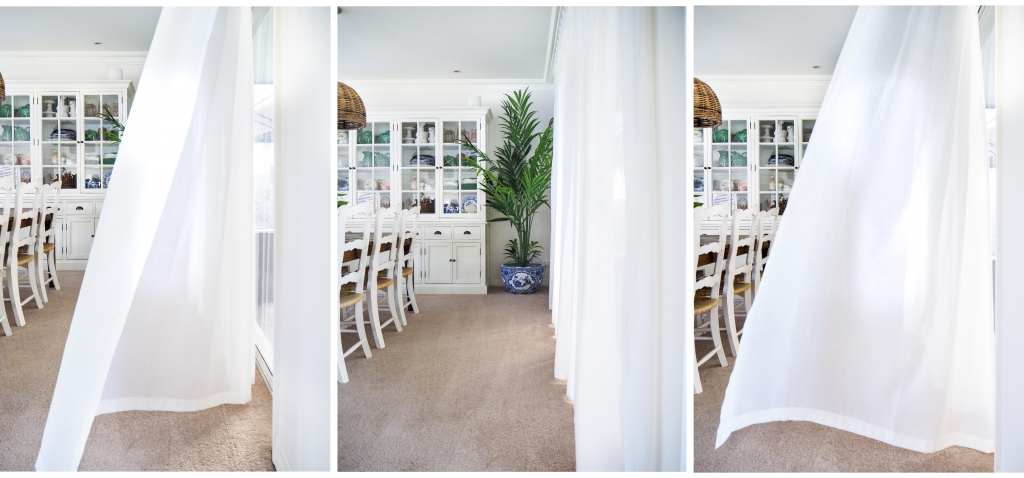 There are three windows/sliding doors in this area, two are in the actual dining room and one is on the adjoining wall. They can all be seen at the same time from multiple views, but they are different heights which is not pleasing to the eye and disrupts the harmony. Both the sliding doors also lead out to a central courtyard area which I am planning on making into a seating area, so I thought it was important to make them feel cohesive.
I decided to hang them all at the height of the highest door which was just under the cornice, and to be honest I probably would have chosen to hang them there regardless because the added height makes the windows feel larger.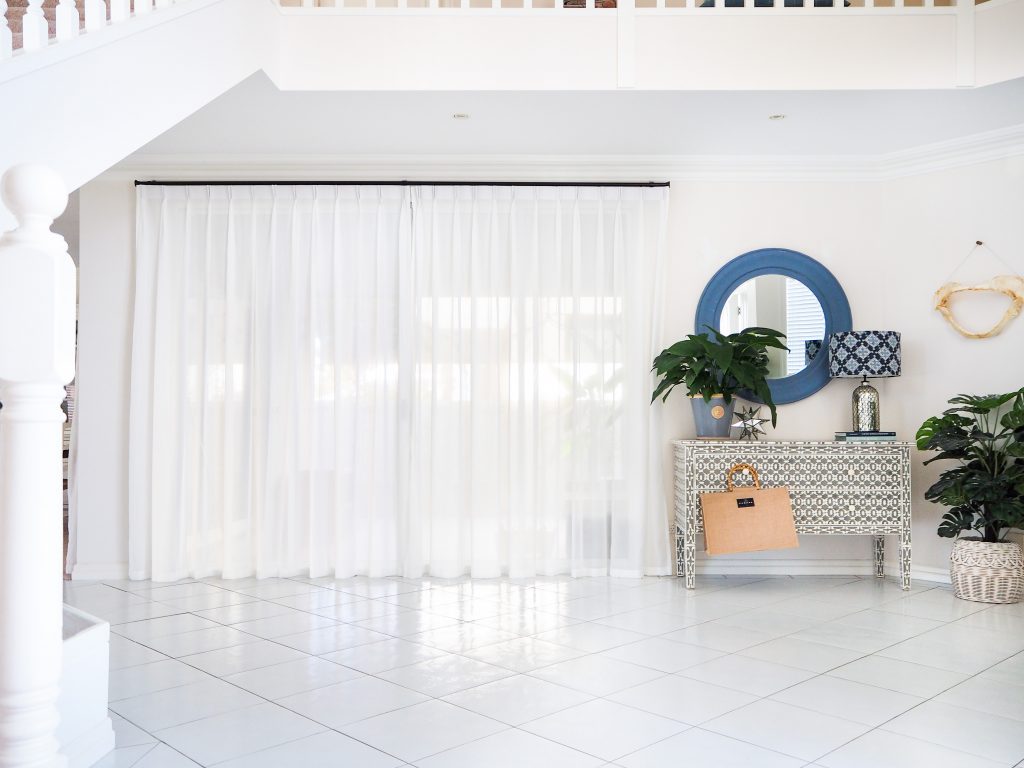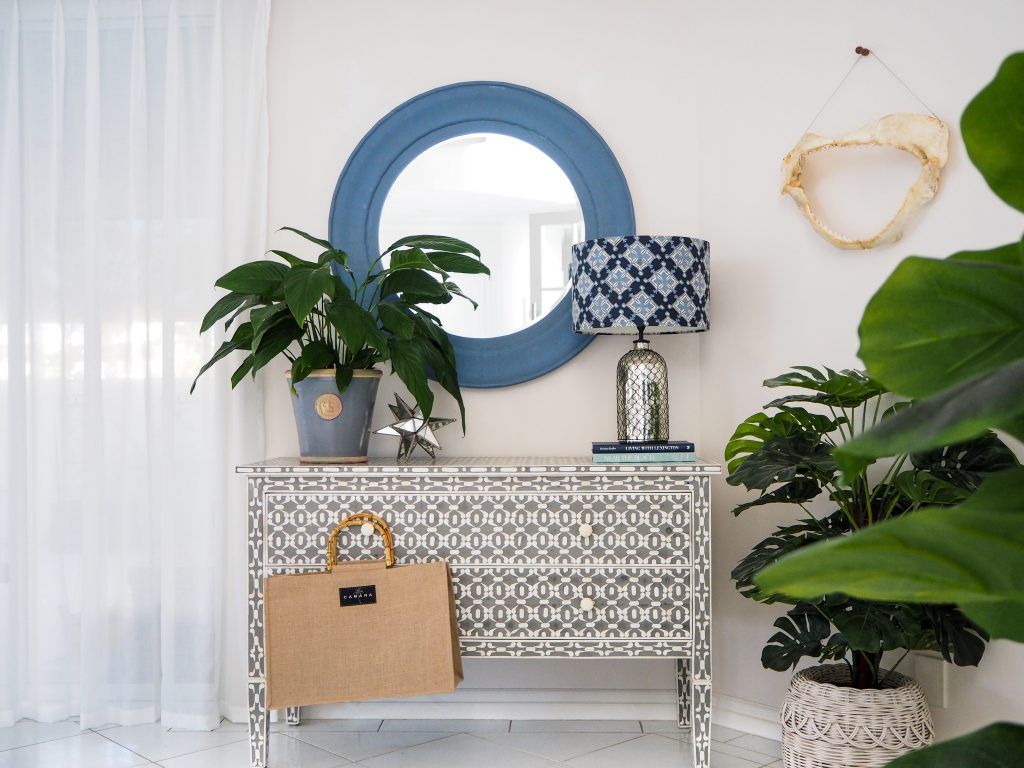 It's important to measure all your windows, don't just assume they are all the same height. I thought my ceiling to floor measurements was the same throughout this area, but there's a 15mm difference from one side of the room to the other. This is very common, especially in older homes, so check your measurements.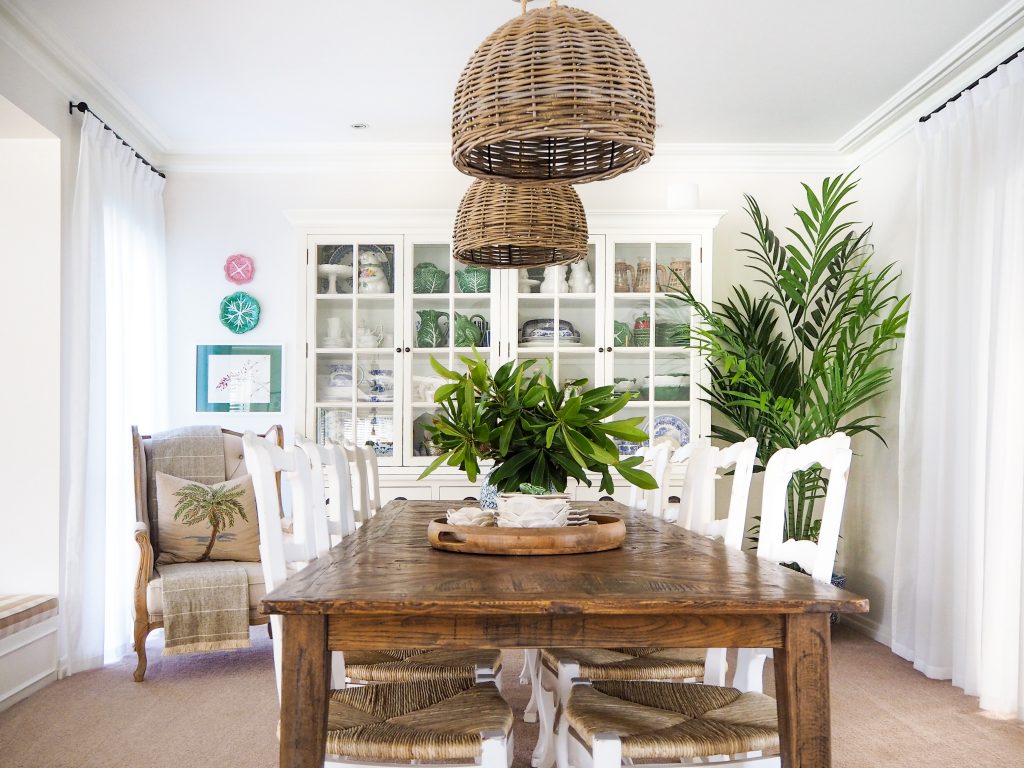 I chose the same curtain rods I used in the living room, firstly for continuity and secondly because I like being able to pull the curtains completely to one side or the other of the rod without a centre support interrupting them. The rod system is simple and unobtrusive which lets the curtains steal all the attention.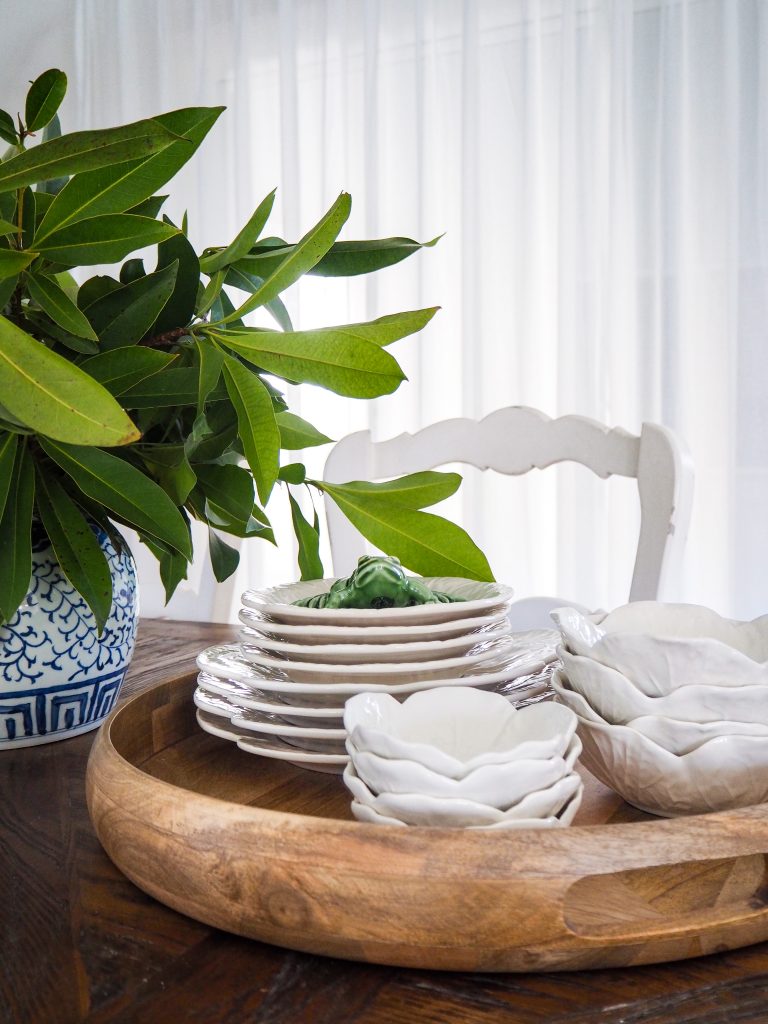 As for the furniture in this space, there's a mixture of old and new. I've had the chairs for about 10 years, they are a classic French Provincial design, they've been moved to and from 4 houses, they've been tipped over by kids, they've been broken and repaired … but I still love them.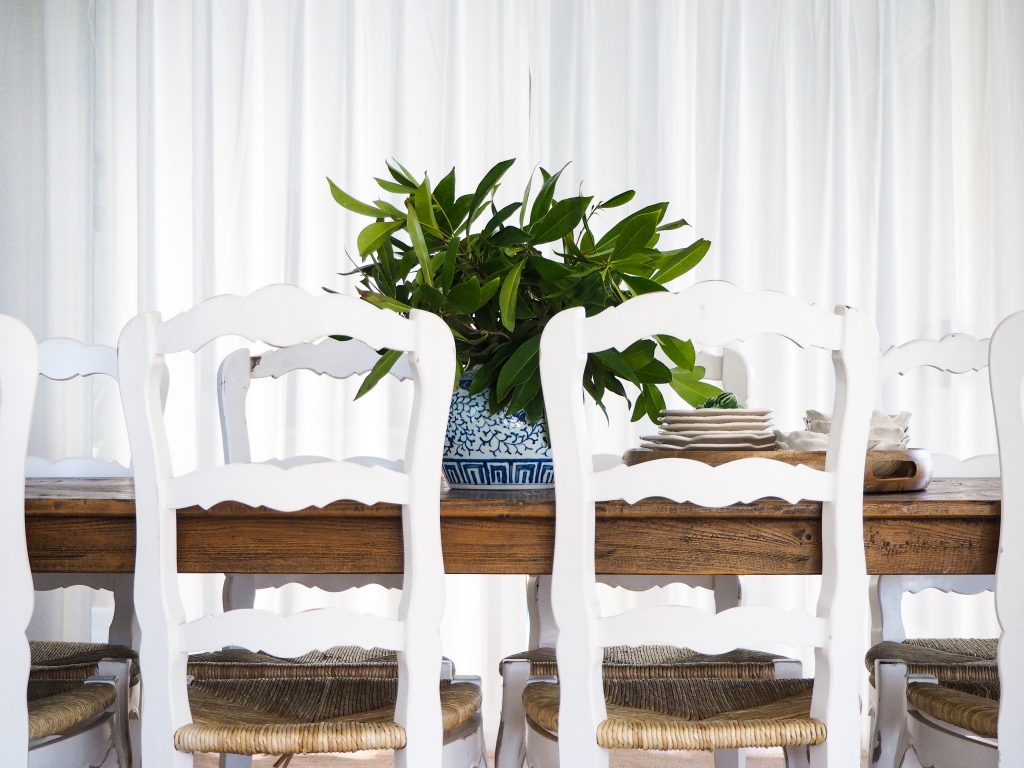 I bought the table 3 houses ago, again it's a timeless design, very simple in a warm timber with a parquetry top. It's a long table at 270cm, almost impossible to find tablecloths, but I like that I can fit 4 chairs each side. I love a beautiful carver chair at the end of a table, but sometimes I don't want to block the view down the table to what's at the other end. This is one of those times …
I bought the huge cabinet especially for this room. I wanted somewhere special to display all my collected and sentimental china and all the shelves and glass doors in this cabinet was perfect. The cabinet gives me the ability to add personality to an otherwise very simple room.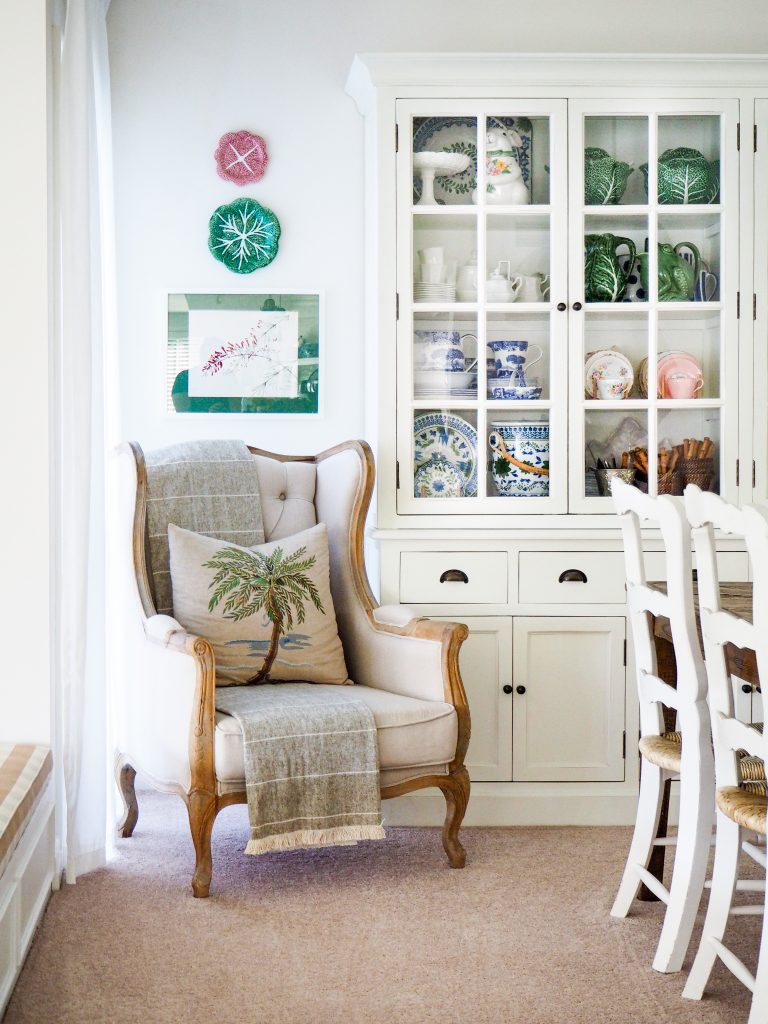 Eventually we will remove the carpet from this room and do either timber or stone floors. I personally don't like carpet in dining rooms, especially when you have kids, they are feral creatures and spaghetti bolognese doesn't mix well with wool carpet! The floors are always the last thing we do in a house, we've learnt from experience that flooring can get damaged during a renovation and it's best to leave it till last unless you need to do it due to a change in floor plan.
Thats about it in this space, lets have a quick look at the before and after to see what a huge difference a few small changes can make.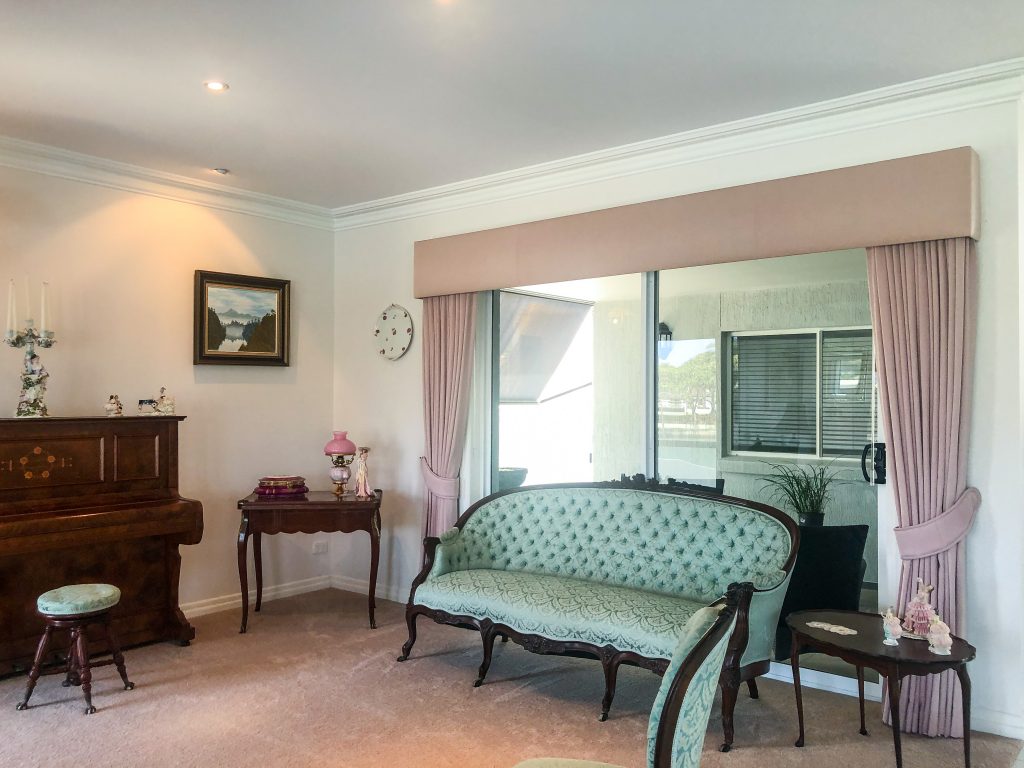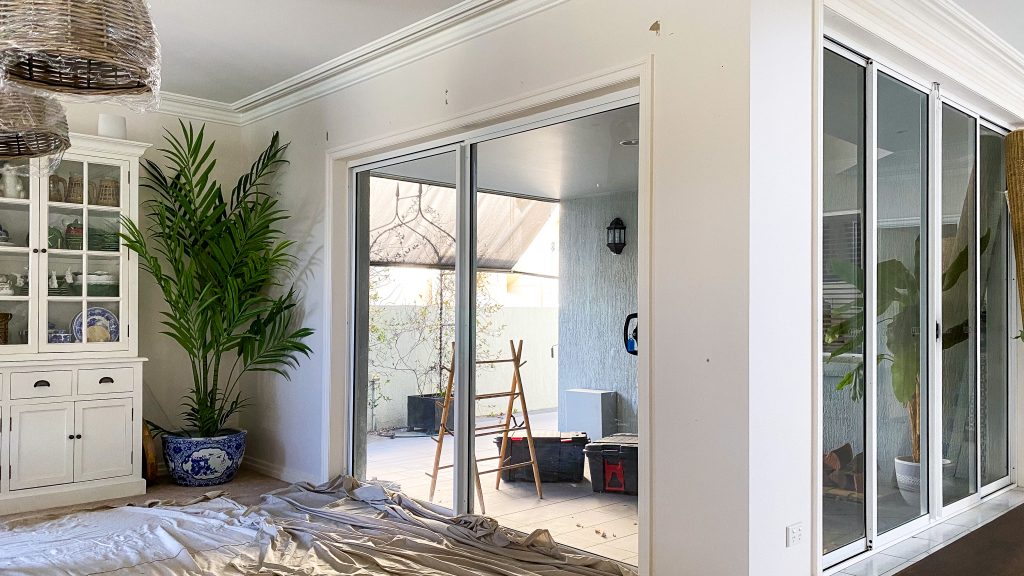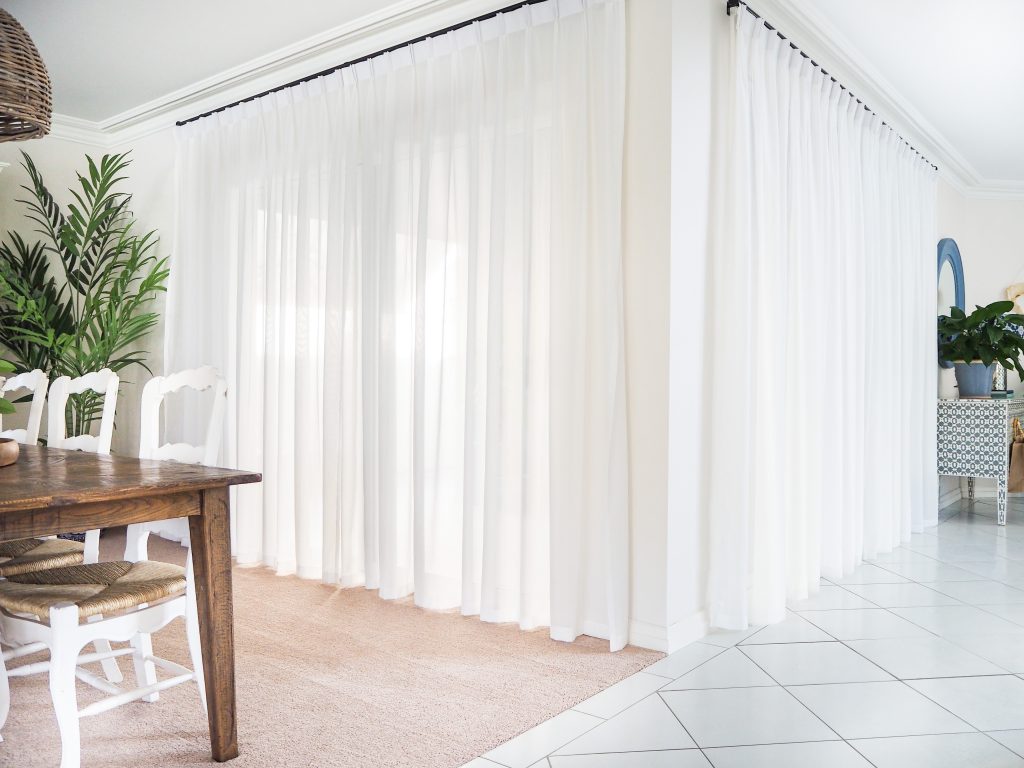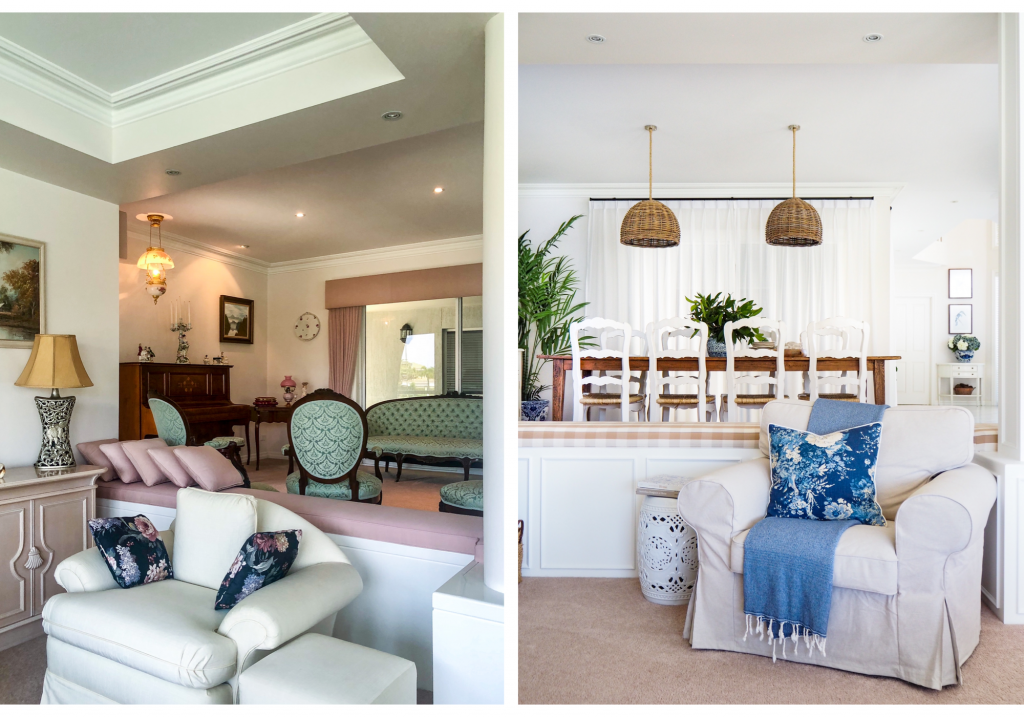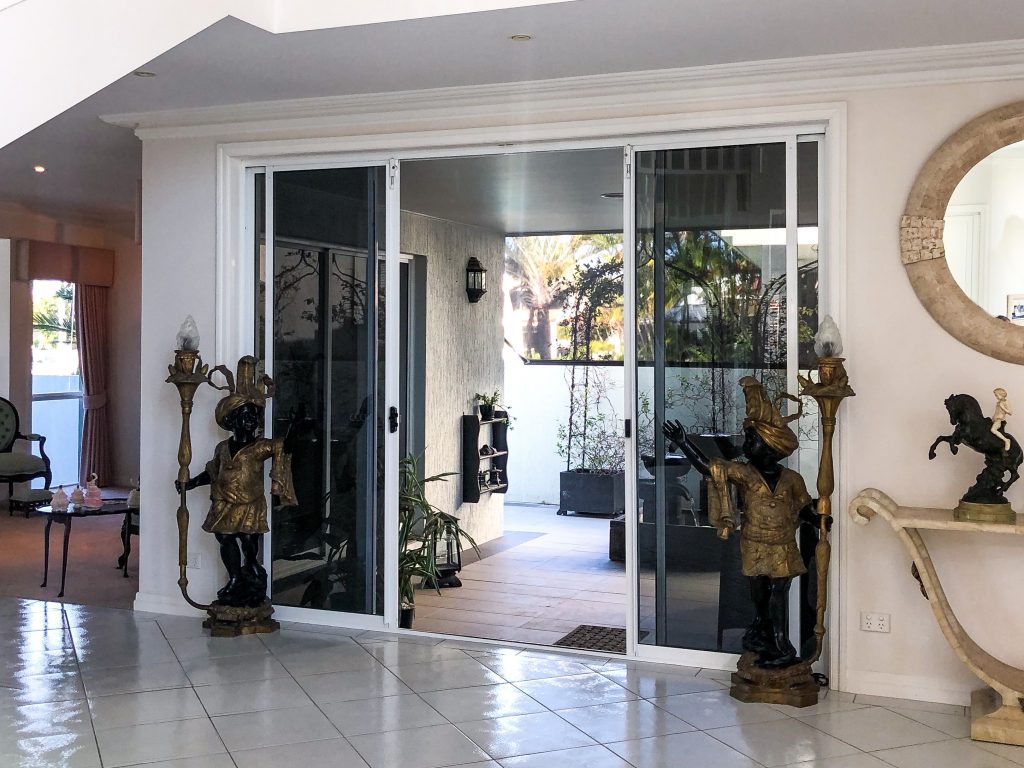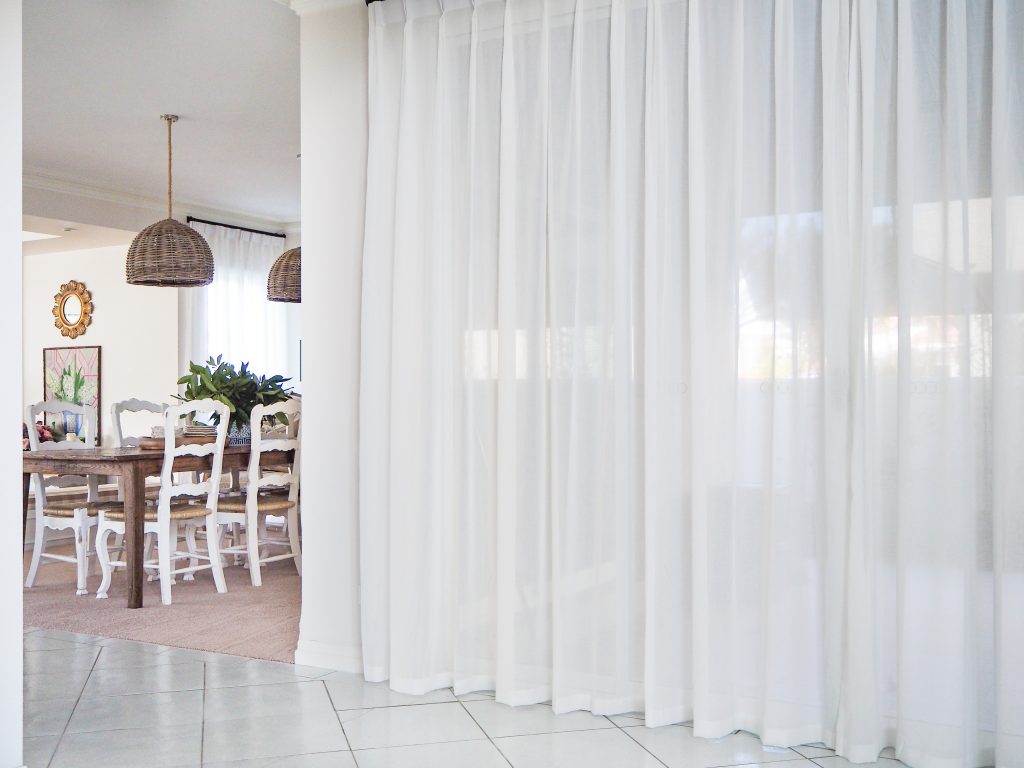 As always, I'm happy to answer questions, e-mail me or find me on IG anytime.
What do you think?
Happy Decorating!
Hayley x