Firstly, yes thats my surname – Little.
I'm not referring to my house as little, because even though it's smaller than our last house, it's still too big, I know … because I'm the one who has to clean it, urgh!
If you follow me on Instagram you will know that we are mid renovation and currently the entire upstairs of our house is out of bounds so we can paint everything, and I mean EVERYTHING and re-finish the timber floorboards. What this means logistically, is that every item we own is currently downstair or shoved in the upstairs bathrooms and balconies, you might have seen us camping out on our mattresses downstairs on the floor. Let me tell you, It is not an ideal living situation and I certainly wasn't excited at the thought of Christmas decorating.
My tree is HUGE and takes at least an hour to put it up, and then it always looks like it's on a lean no matter how much I try to make it straight. Next for the lights, I swear I wrap them up carefully each year but when I pull them out the next year they are in a pile of tangled mess, so I spend an hour untangling them (and swearing under my breath) to then spend another hour getting them on the tree. All that before I have even started decorating. I truly didn't know if I had it in me this year, but I have 3 excited kids so I knew I had to make an effort …
Until Balsam Hill kindly offered to send me one of their amazing trees this year, and they said it would be pre-lit. Did you just say PRE-LIT? I couldn't have said YES fast enough. It arrived in a couple of days, you might have seen the excitement from my youngest Orlando on my Instagram, he could barely contain himself!
We had the entire tree unpacked, assembled and the lights twinkling in less that half an hour. It was so easy and Orlando, who is only 6, was excited to help me fold out the branches with the included gloves, he was so impressed with himself. And I am so impressed with this tree, there was no wrangling lights either, the entire tree is pre-lit evenly and beautifully, all you need to do is plug it in.
FYI – My tree is the Monterey Pine 150cm, you can find it here.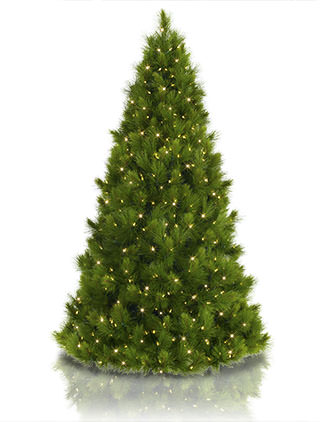 At 150cm, our tree is on the smaller side this year. The advantage of having a smaller tree is that it is much easier to find a spot to put it, it takes less decorations and is faster to decorate. It still looks amazing and gives us all the Christmas feels while I get to keep my sanity.
I did consider putting up a second tree, it seems to be very on trend to have more than one tree these days, but I just can't face my big tree. Maybe I can talk hubby into another Balsam Hill tree ….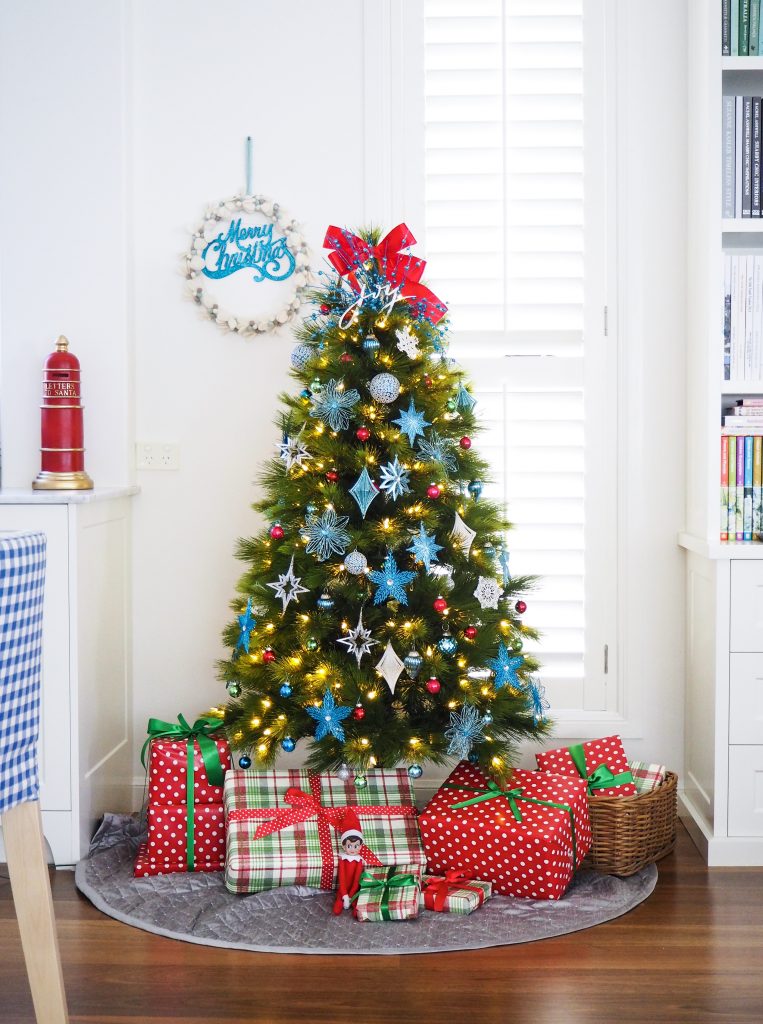 What do you think? Isn't she pretty with all those twinkling lights?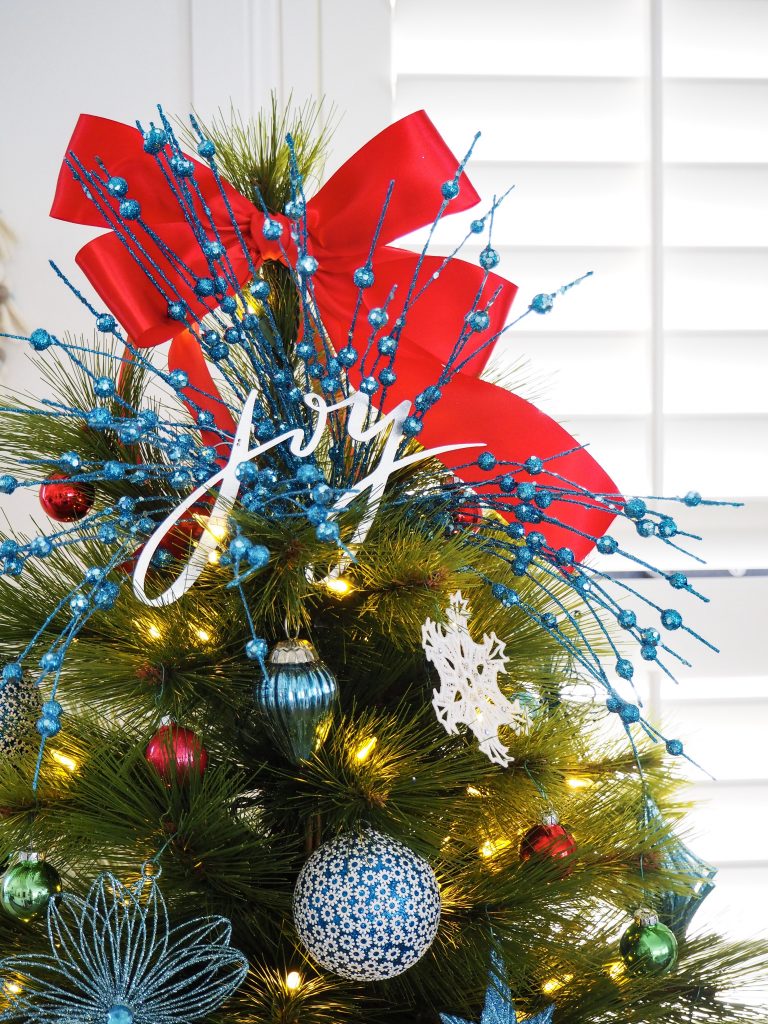 I didn't buy any new decorations this year, I would have loved to do a pink theme but to be honest, I think anything would look beautiful with those twinkling lights! I attached a big red satin ribbon bow instead of a star or angel. I thought the pop of colour was a pretty touch and seriously, who doesn't love a bow!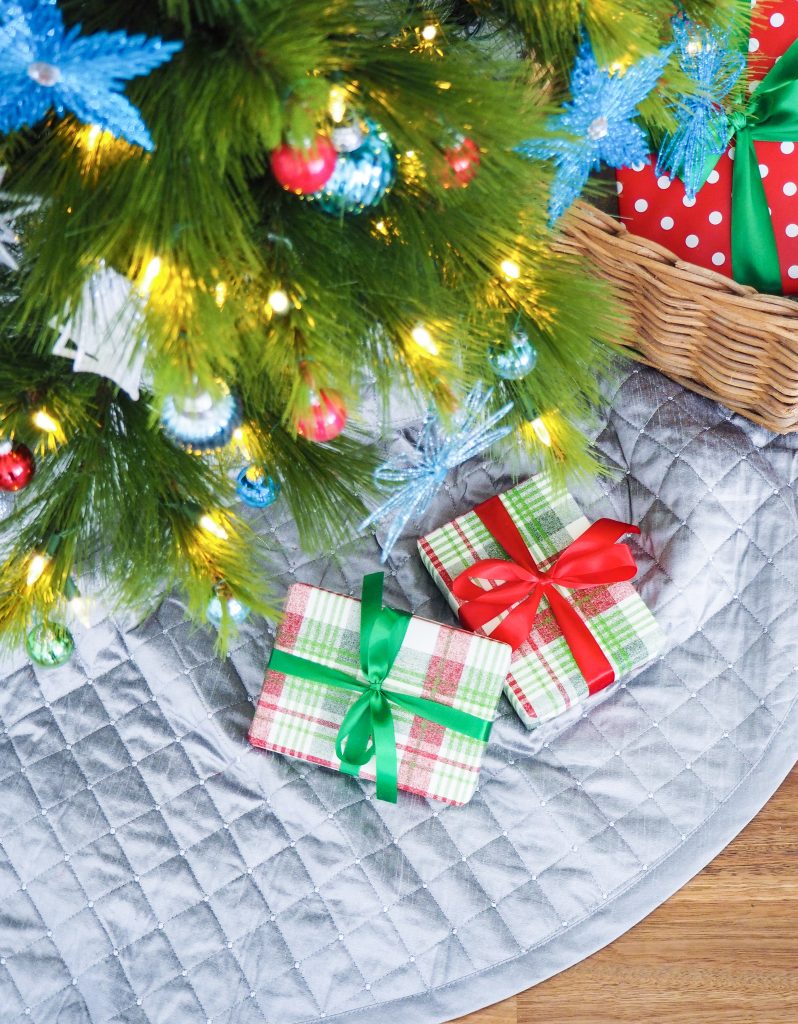 I used this Regency Dupioni quilted tree skirt around the base. It's pretty and classic, and will last me for many years. It's also from Balsam Hill, you can find it here.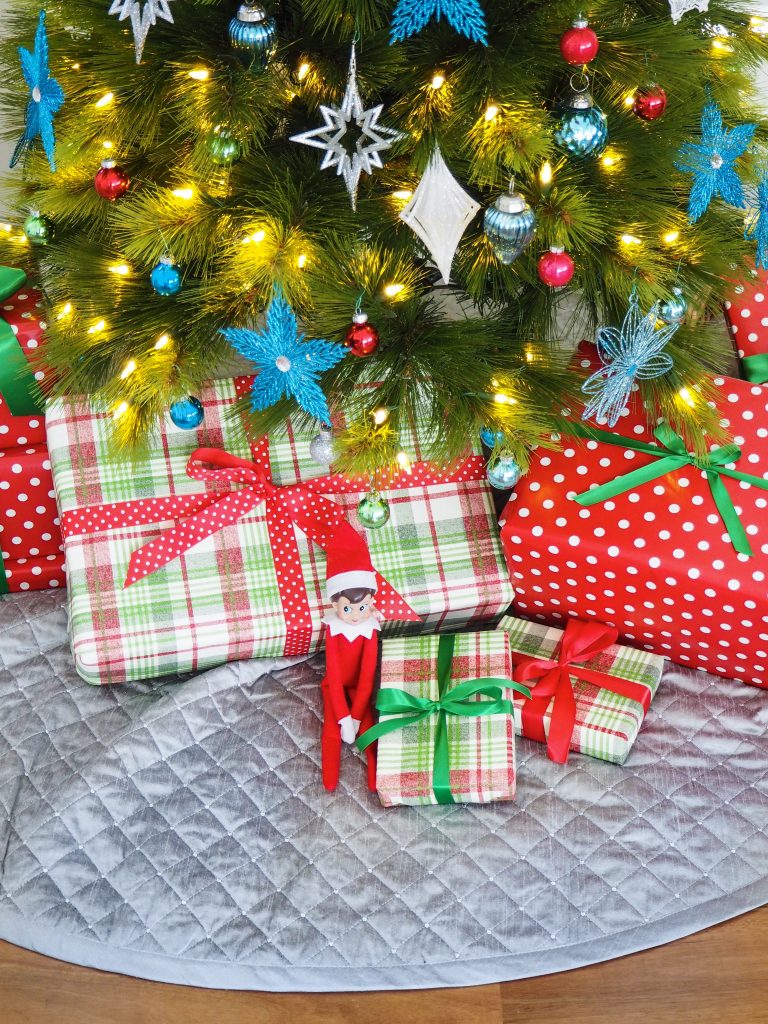 I went with traditional red and green wrapping paper. I don't often use red in my home decor, it feels like Christmas to me, so I probably go overboard with red at this time of the year.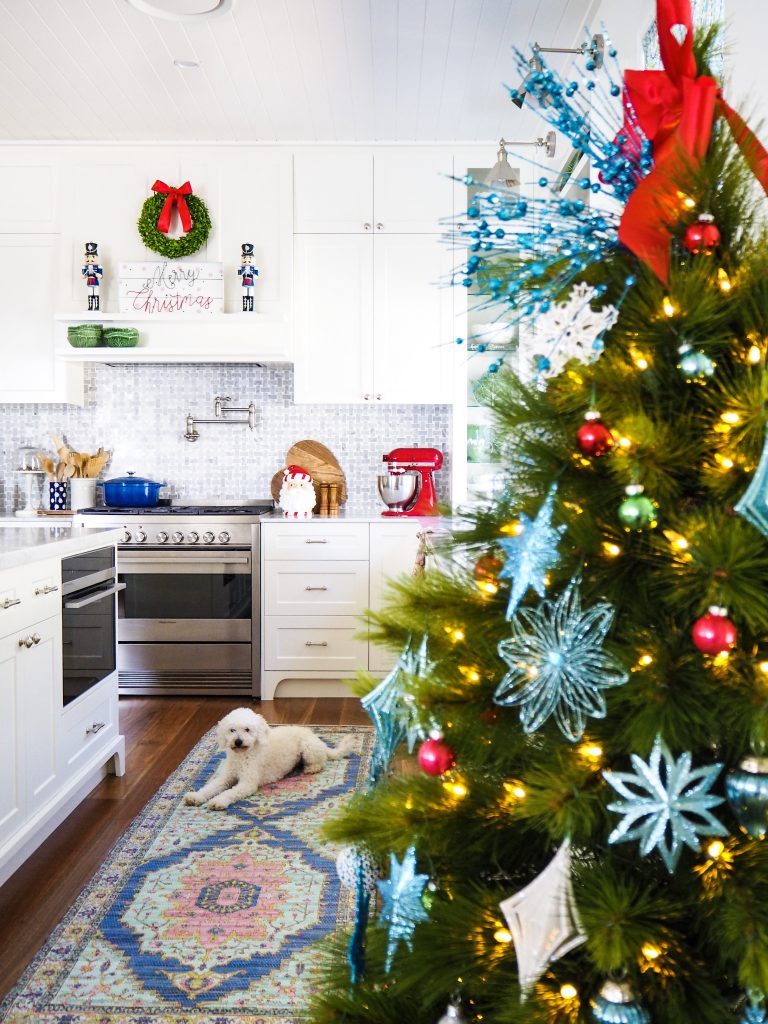 I even pulled my red Kitchenaid out of the cupboard!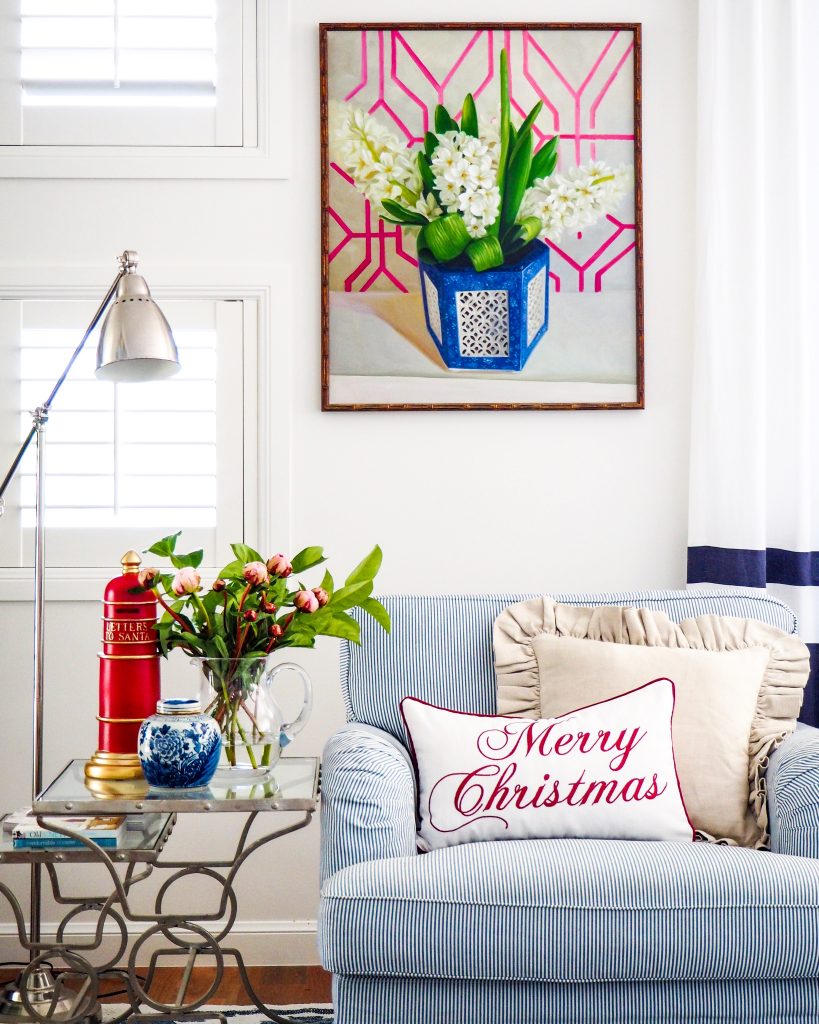 It creeps into my living room too!
Another thing that I like to sprinkle around at Christmas time is twinkling lights. They are just so pretty and elevate everything to the next level of beauty.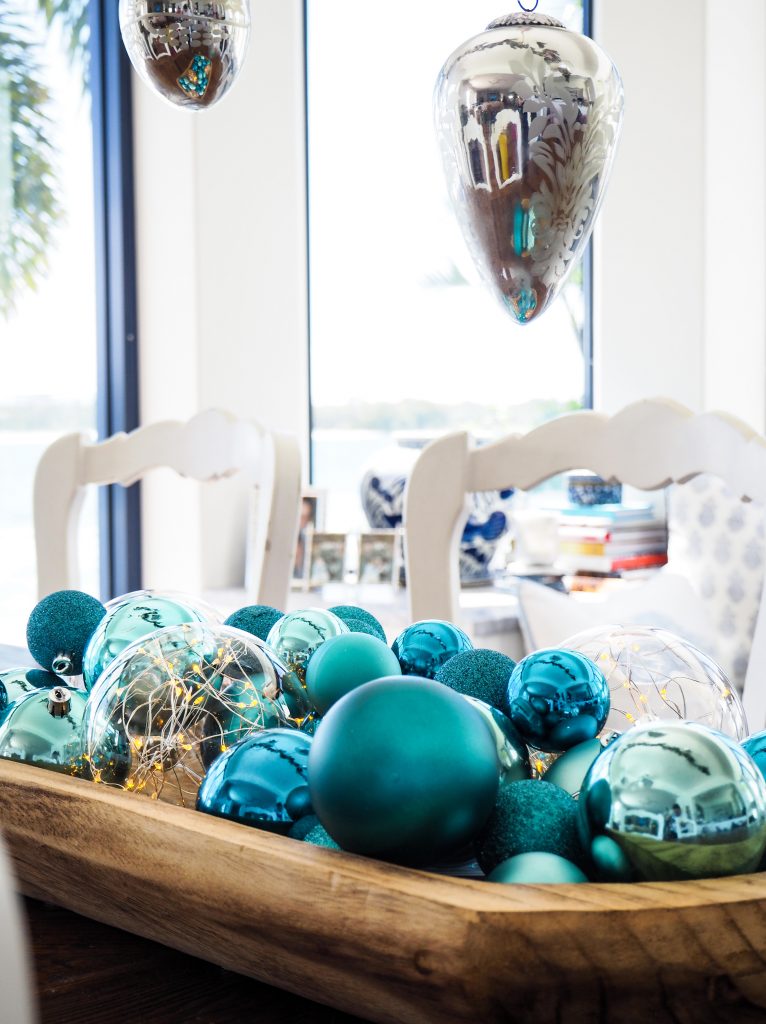 I created a fun centrepiece on my dining table with some pretty blue baubles, a big wooden tray and some of these gorgeous LED fairy light ornaments, also from Balsam Hill. I love the way they sparkle at night and give the table an inviting warm glow. You can find them here.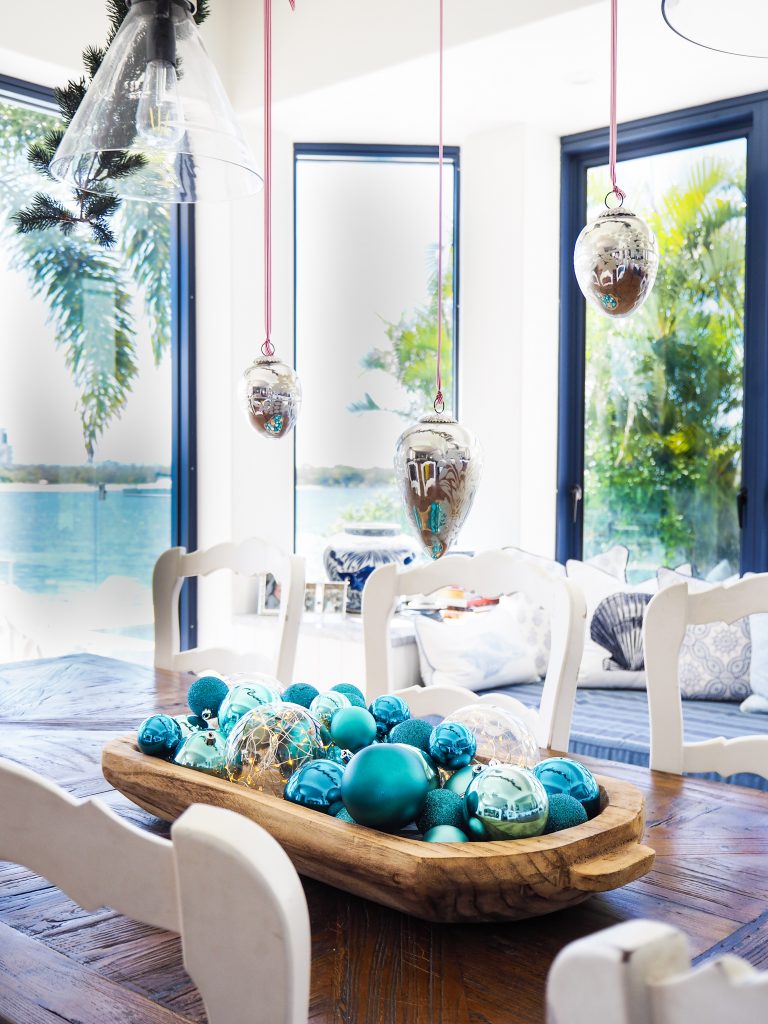 They come with individual battery packs and are also on a timer which is great because you don't have to remember to turn them off.
So, the Little house is ready for Christmas and I'm pretty happy with how easy and stress-free it was this year. I didn't go overboard, I would love to add some garlands to my staircase and maybe a beautiful collection of snow globes to my sideboard, but they will have to wait until next year.
Have you started decorating for Christmas yet? Do you go all out? Or are you content with a pretty tree?
I'd love to see your Christmas decor! Please tag me on SM or e-mail me.
Who wants me to share my favourites?
Hayley x