A few years ago we went to Hawaii on a Disney Cruise, we only spent 4 days between 4 islands and as much as I wanted to shop, I wanted to see Hawaii more and time was not on my side. I remember walking past a shop and seeing a traditional Hawaiian quilt, it was hand quilted in the most beautiful pattern and it just stole my heart.
A few years later we went back to Hawaii for our best friends wedding. We had a leisurely 2 weeks this time and plenty of time for shopping. The one thing I had on my shopping list was a Hawaiian quilt. I bought handbags, I bought homewares, I bought clothes and shoes … I did not buy a quilt.
You always regret the things you didn't buy, and I had regret!
Fast forward a couple of years and I spotted this quilt / coverlet, there was no question, I had to have it!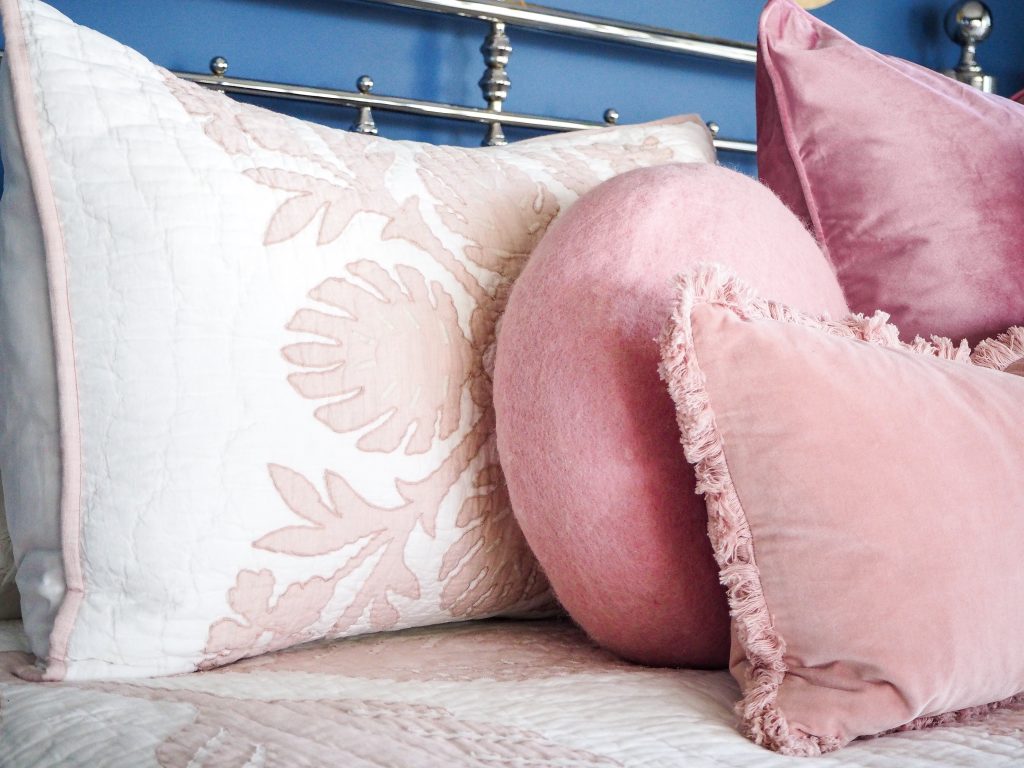 And so it begins … Project: Pop of PINK … I needed to create a bedroom where the pink coverlet would work. It was going to take a little bit of editing and a whole lot of adding. My bedroom was very blue … blue walls, blue rug, blue bedding, blue hued art, blue, blue, BLUE …… first up – EDIT!
I decided to start with the floor and remove the blue rug. I wanted to lay the foundation for a more neutral colour palette with a versatile, light coloured rug, which is also handy just in case the urge to change colours happens again, ha!
I wanted to switch out the art for something more appropriate to the new quilt but I wasn't quite sure what I wanted. It was one of those – I'll know it when I see it – ideas.
Obviously, I also removed the blue bedding to make room for the gorgeous pink coverlet.
I decided to keep the blue walls, I really love this colour and I haven't had it long enough to get sick of it yet.
So, I'm working with a navy blue and pale pink colour palette.
Next is the fun part – ADDING …
Now, I know you're looking at those pink ceramic lamps with all the heart eyes, which is exactly what I did when I saw them on Instagram. They stopped me in my scrolling tracks and I knew I had to have them. They are a perfect match to the quilt.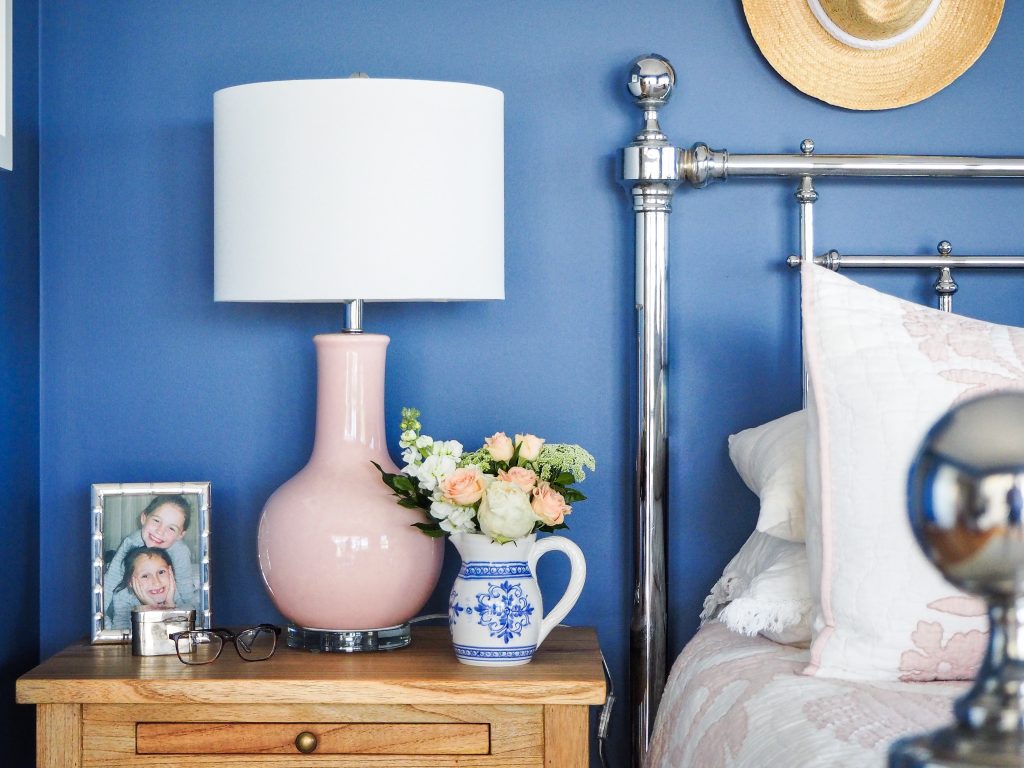 I didn't realise how much I needed new lamps until I saw these in my bedroom, the difference they make is incredible. They soften my bedside tables with their pretty pink hue and delicate shape. The base is crafted from solid crystal, while details like the sweet finials finish them off with a timeless sophistication.
Next, the rug, I ordered this one for my daughters room and I loved it so much when it arrived I decided to try it in my room. Sorry Bella, I'm keeping it!
It's a wool blend in a chunky textured knit design. It's super soft under foot and the colour is a warm cream without being yellow. It has lots of flecks through it which makes it perfect to hide stains.
The art … I'm still not sure what I'm going to do here permanently but I know I'm not going to rush into an art purchase, it has to 'speak to me' before I buy it.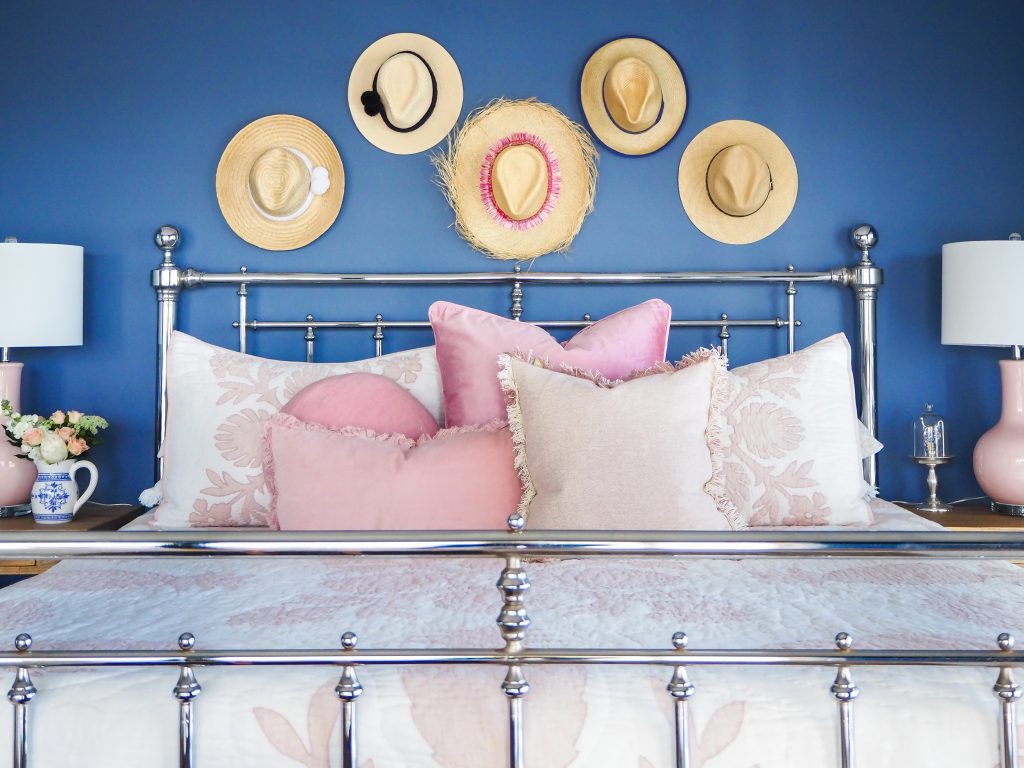 For now I've done something fun that fits with the Hawaiian vibe and makes me smile. I hung a collection of hats on the wall. I've used the 3M damage-free, removable sticky hooks so I don't make lots of holes in the wall. I think a more curated collection of hats would look better but I worked with what I had and it only cost me $15 for the hooks. It has the tropical vibe that I'd like to achieve and is something that would be fun to add to, especially with all the gorgeous hats available these days, although it might not be too practical since I wear these hats often.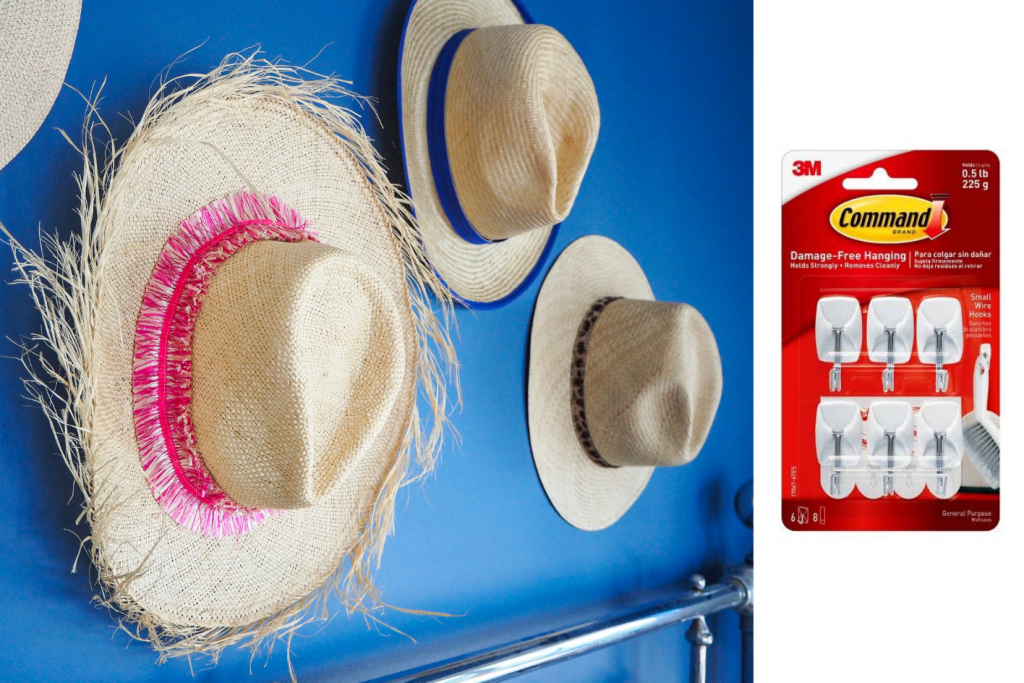 Which brings us to the bedding, the beautiful Leilani coverlet. Usually I would layer my bed with luxurious throws but I feel like the pattern on this quilt is so pretty and I didn't want to cover it up. Instead I chose a collection of pink cushions of various sizes, shapes and textures to add some interest without detracting from the quilt design.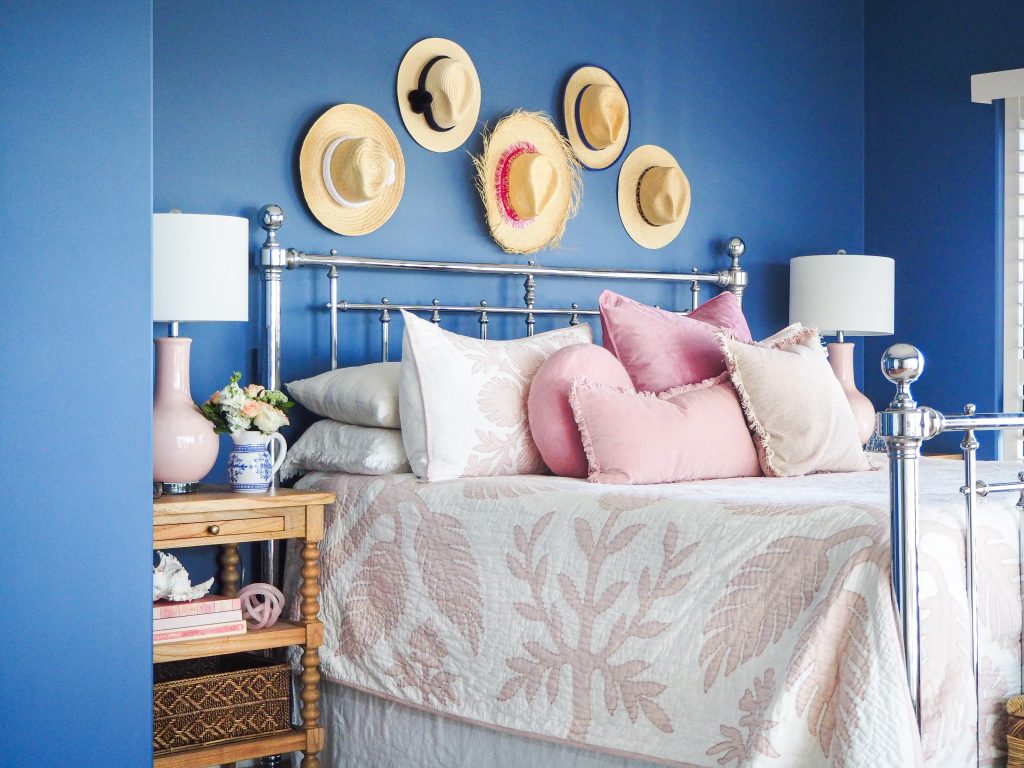 I had most of the cushions in my collection already, the only new addition was the luxe velvet large cushion in the blush pink, which was the size, shape and colour that I needed to pull them all together.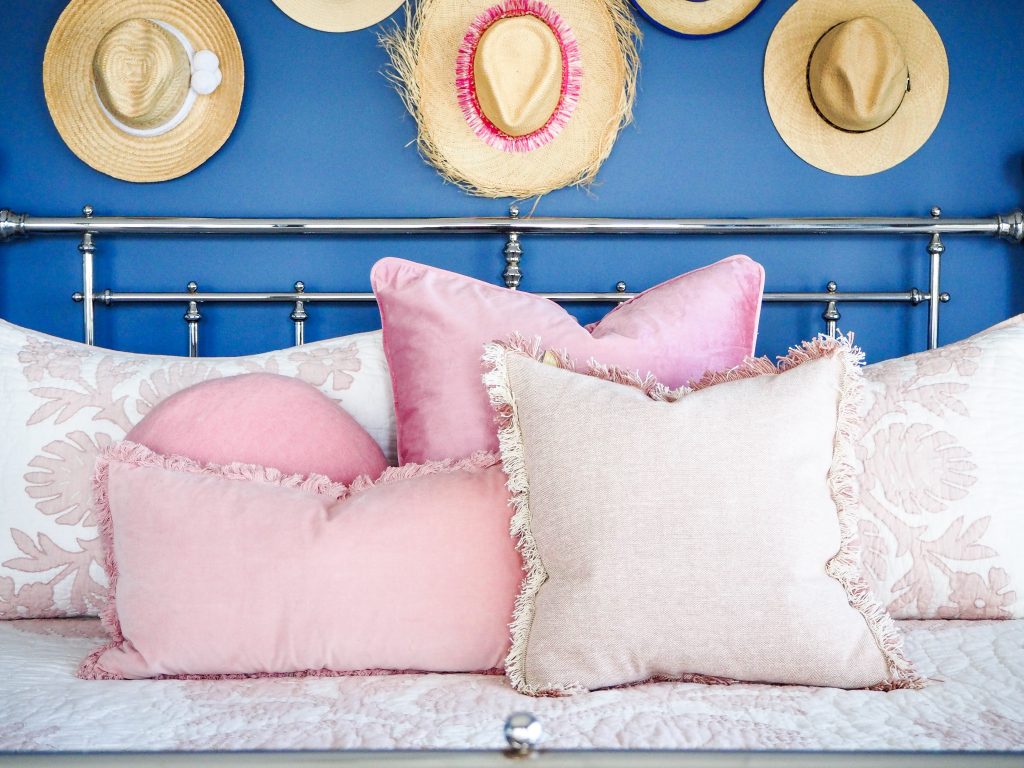 Whenever I'm redecorating a space like this, I like to shop my home for pieces before I buy anything new. Especially when trying to add a colour like this, I walk around my home and collect all the items I own in that shade, then put them all together to give me options.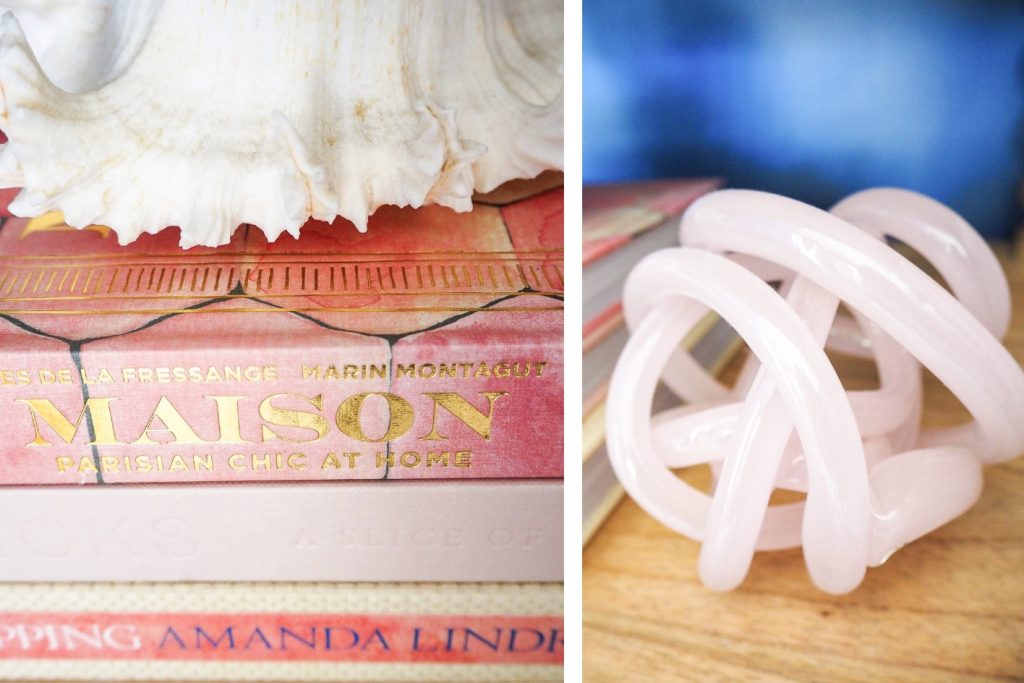 I didn't have very much in this beautiful blush pink, but the addition of a few book and decorative items is enough to repeat the colour and tie it all together. I picked up the gorgeous pink glass knot the same day I bought the quilt because I knew I would need a few decor items to compliment it. Isn't it sweet, it's one of my favourite little pieces.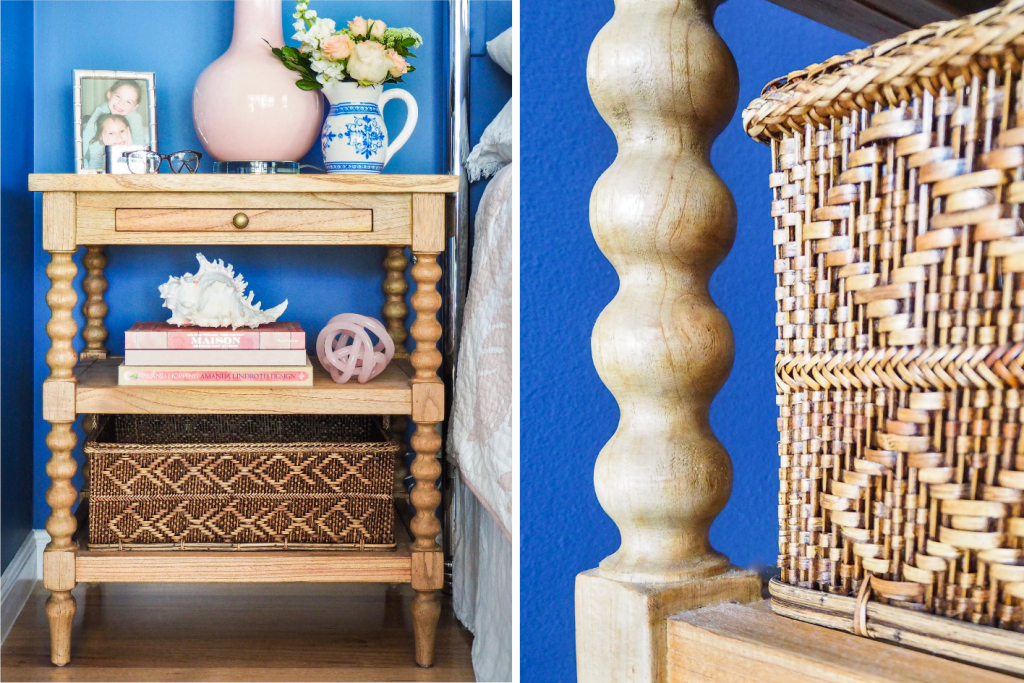 Just a few changes makes such a difference!
What do you think of my pop of pink?
Are you tempted to change something or add a pop of colour to your space?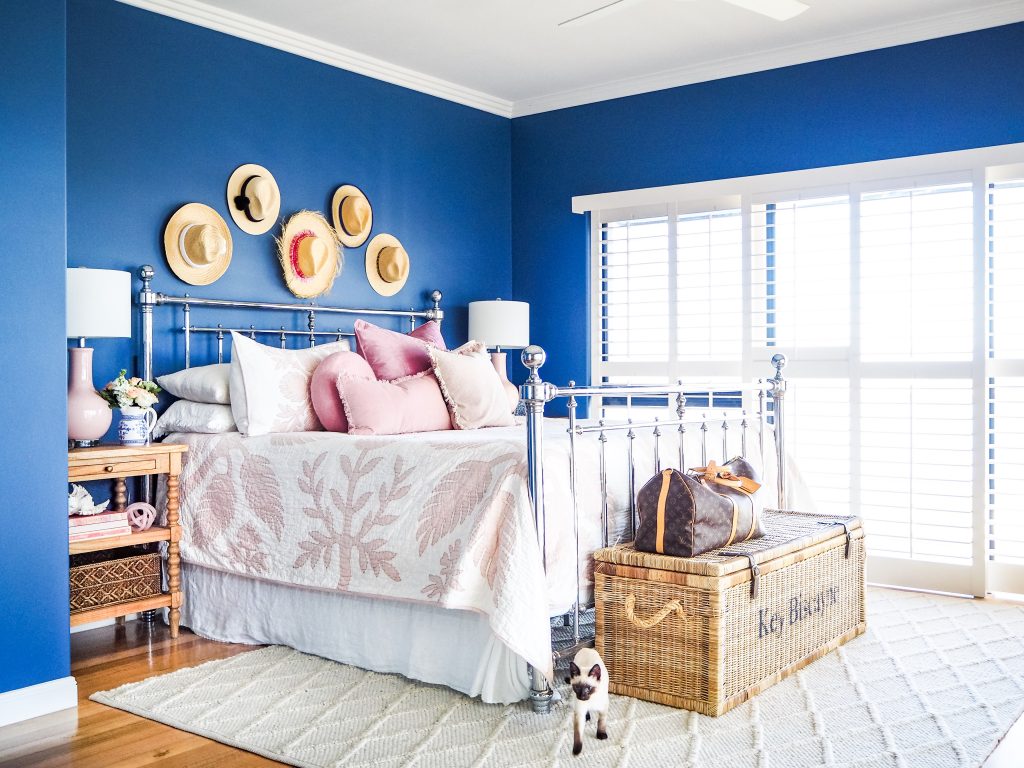 Hayley x
SHOPPING DETAILS
Ceramic Table Lamp in Pink 
Diamond Trellis Hand Woven Viscose Cream Wool Rug
Leilani Tropical Coverlet and Pillowcases
Velvet Cushion Cover – Pink 60 x 60cm
Velvet Breakfast Cushion – Rosewater
Fringed Cushion – Pink
Pods Pirka Cushion – Pink
Glass Knot in small pink
If I haven't listed any items you would like details for, just drop me a message here or over on Instagram. Hx