I love pattern and colour.
I love the emotions of colour, I love the way it can change the mood in a room, I love the way pink takes me back to my childhood and makes me smile, or the way blue reminds me of the ocean and makes me feel cool and relaxed.
I love the playfulness and personality of patterns, I love how patterns can make me feel calm or invigorated, I love how a simple stripe makes me feel at peace, or a sprawling wall of flowers makes me insanely happy.
So why not use the largest canvas in your room to conjure all those emotions? Wallpaper is one of the most statement stealing, impact punching and cost effective ways to convert your room from boring to breathtaking.
Wallpaper has recently made a huge comeback, there is something to suit every style and the options are endless.
I recently worked with Edge Wall Art and wallpapered two rooms in our new home and I used different types of wallpaper for each room. For Bella's room I used a peel & stick paper and for Lucy's room I used a pasted paper. I did it myself with very minimal help from my teenager daughter. I had so many of you message me with question about how easy/hard it was to hang, which style I preferred and how long it took.
Firstly, lets talk about the peel & stick paper.
Upon receiving my paper I was pleasantly surprised by the thickness and quality, despite being called wallpaper, it's actually a polyester type fabric. The printing was sharp and saturated and the pattern was exactly as it was represented on the website.
I took my time to read the enclosed instructions and make sure my walls were prepped and ready for the wallpaper.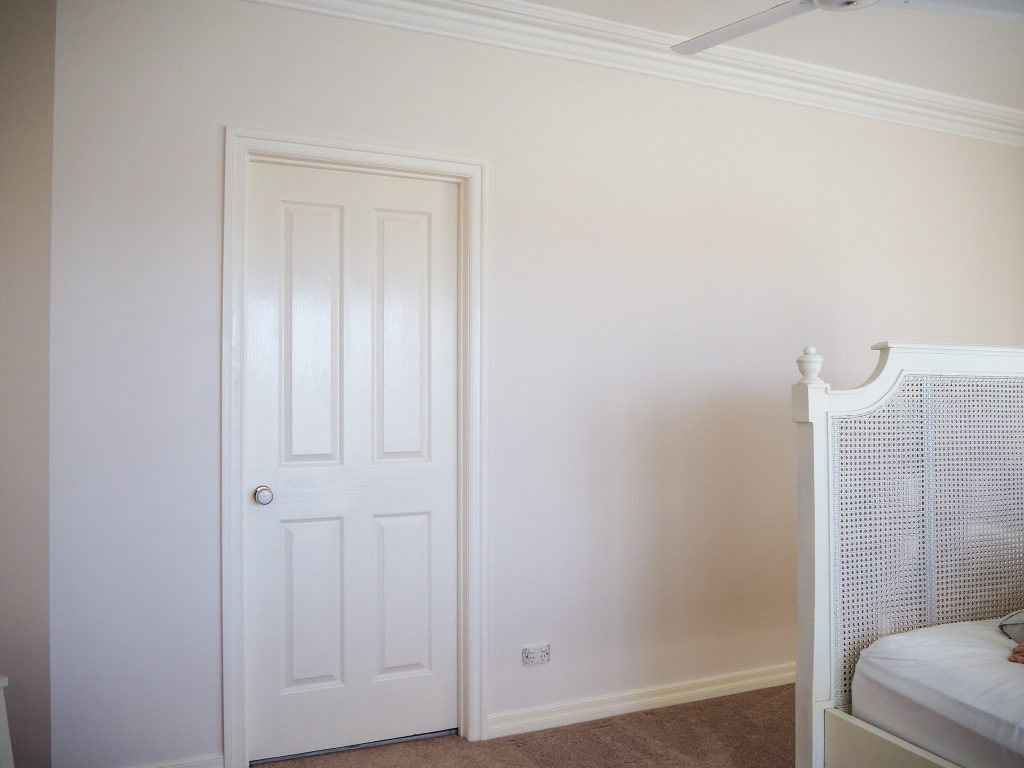 We started on the left side as specified in the instructions. Its important that you start on this side as the overlap of the joins is printed to go from left to right. It is like a giant sticker and you literally peel away the backing paper and stick it to the wall, a little bit like contacting your school books.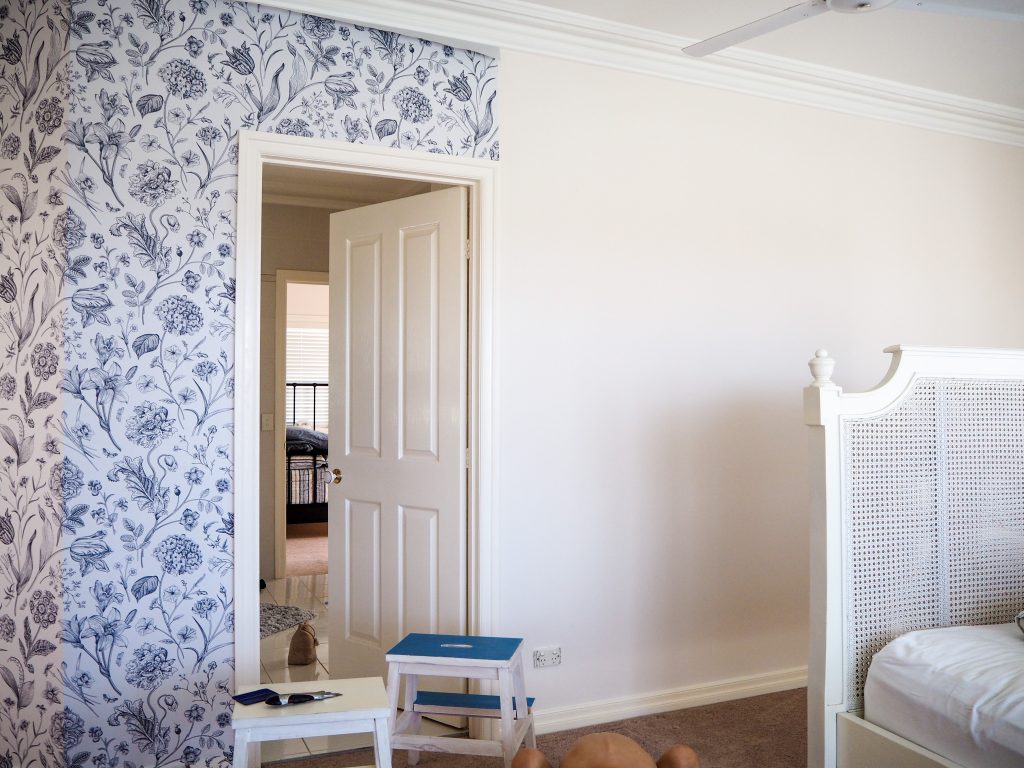 The first panel is probably the most important as it sets up the lines for the rest of the panels. Unfortunately for me our first panel was a tricky one as it had a 45% turn in the wall and our gyprock wall finish was not very straight, that's what you get with a 25 year old house I suppose. Despite that hurdle we managed to get it up okay and it was all smooth sailing from there.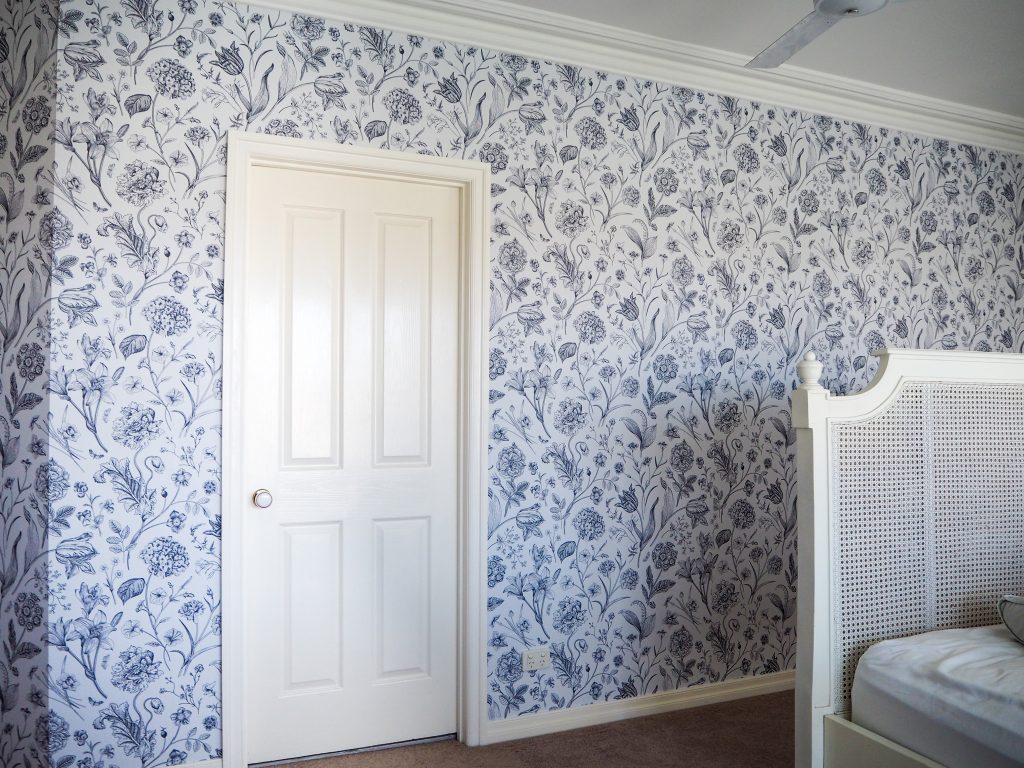 I was pretty happy with the finish except for one panel that I didn't get straight and the overlap pattern doesn't line up exactly. Luckily the floral print is busy enough that it is not very noticeable. In hindsight, I should have made sure the top was straight with the ceiling cornice and in line with the pattern, then let the wallpaper fall naturally rather than try to manipulate the paper to match the pattern from the sides. In other words, I should have listened to the instructions from the professionals instead of doing it my way … *insert big eye roll at myself* … you live and learn!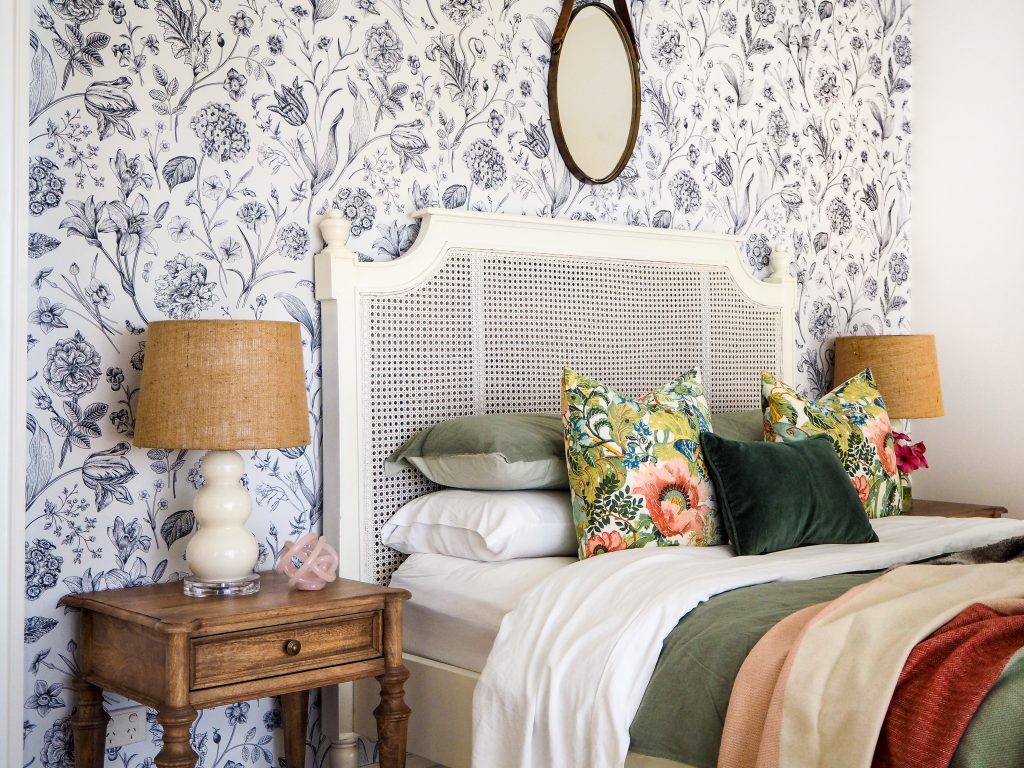 So, what's my verdict on the peel & stick wallpaper?
The sticky is pretty sticky and I did manage to get myself stuck and to also fold the paper back on itself more that once, fortunately it peels apart easily and can be removed and re-stuck multiple times until you get it right. I also have a few tiny air bubbles which I didn't notice while I was hanging it, they can only be seen at night time with the lights on, I could probably fix them but they are so small and hardly noticeable so I'm going to leave them alone.
It took me about 2-3 hours to hang this paper.
The peel & stick is great for renters as it can be removed easily, and also for people who change their mind often like me!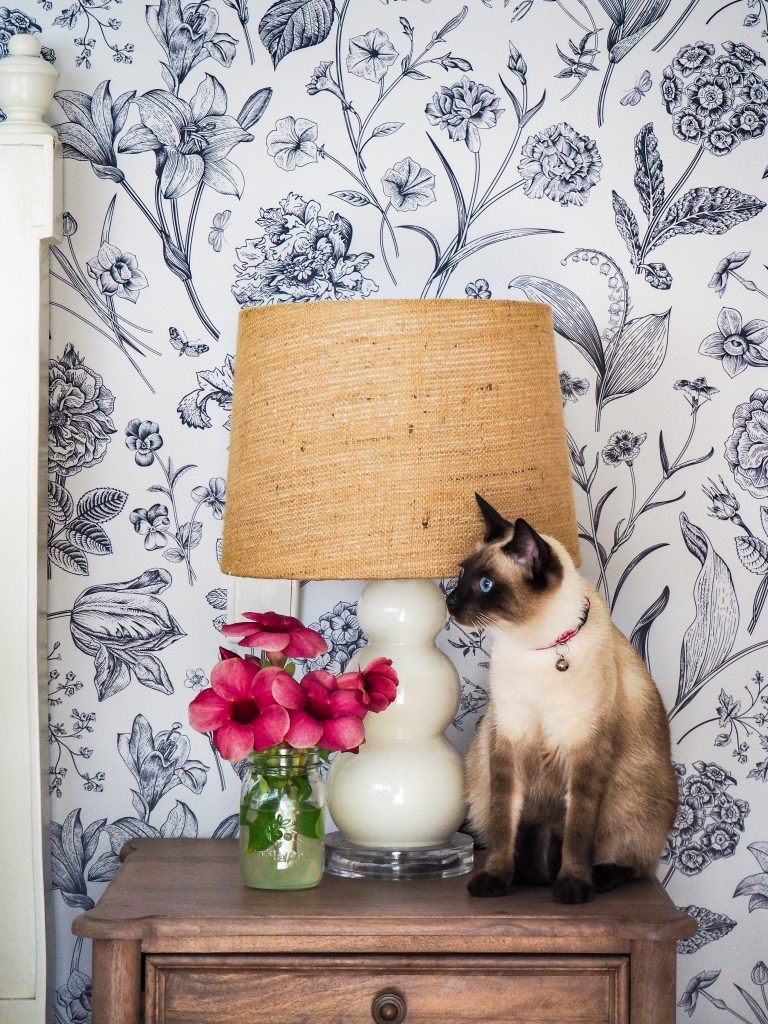 Now, lets look at the pasted wallpaper.
When this wallpaper arrived I instantly fell in love. Sometimes I am hesitant buying things online because the colours can look different, and I took a risk with this one and didn't order a sample first, but when I opened it I was so excited and couldn't wait to hang it. The pasted paper is actually a paper, not a fabric, it is thick and the colours are rich and beautiful.
Again, read the instructions and makes sure your walls are clean and suitable for wallpaper.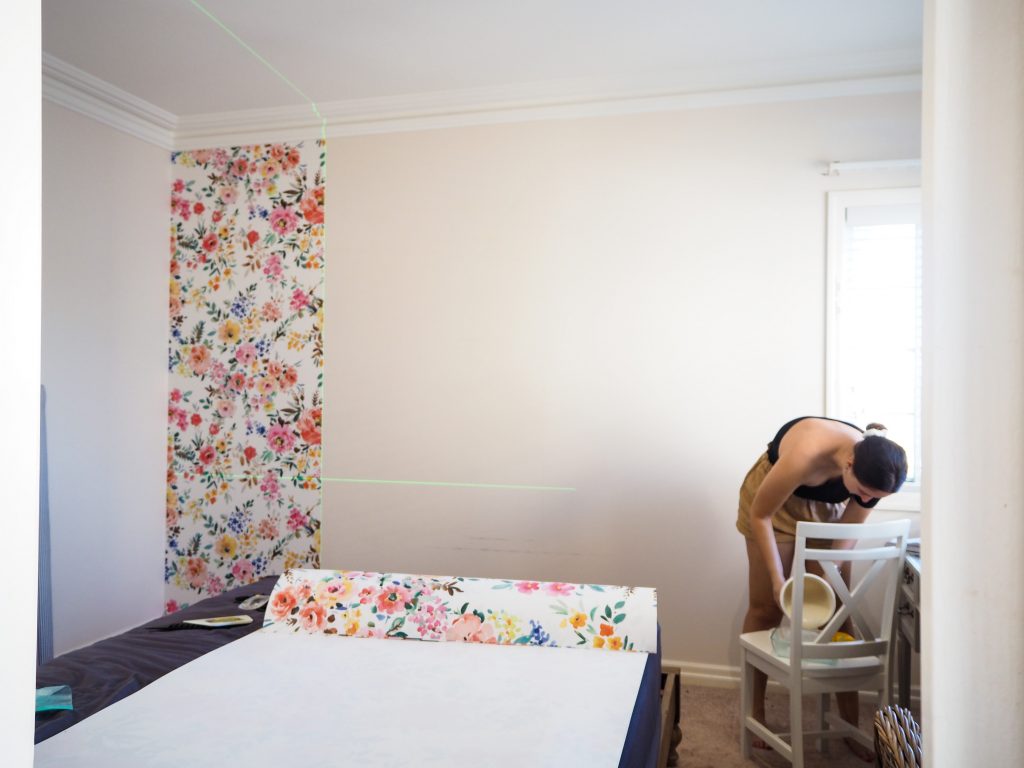 Lucy's wall was easy peasy, straight across without any weird angles. I used a laser level in this room to make sure my lines were straight and to show me how far I needed to paste the wall for each panel. I used a roller and applied the glue generously enough to get a good even coverage. Again, we started on the left side.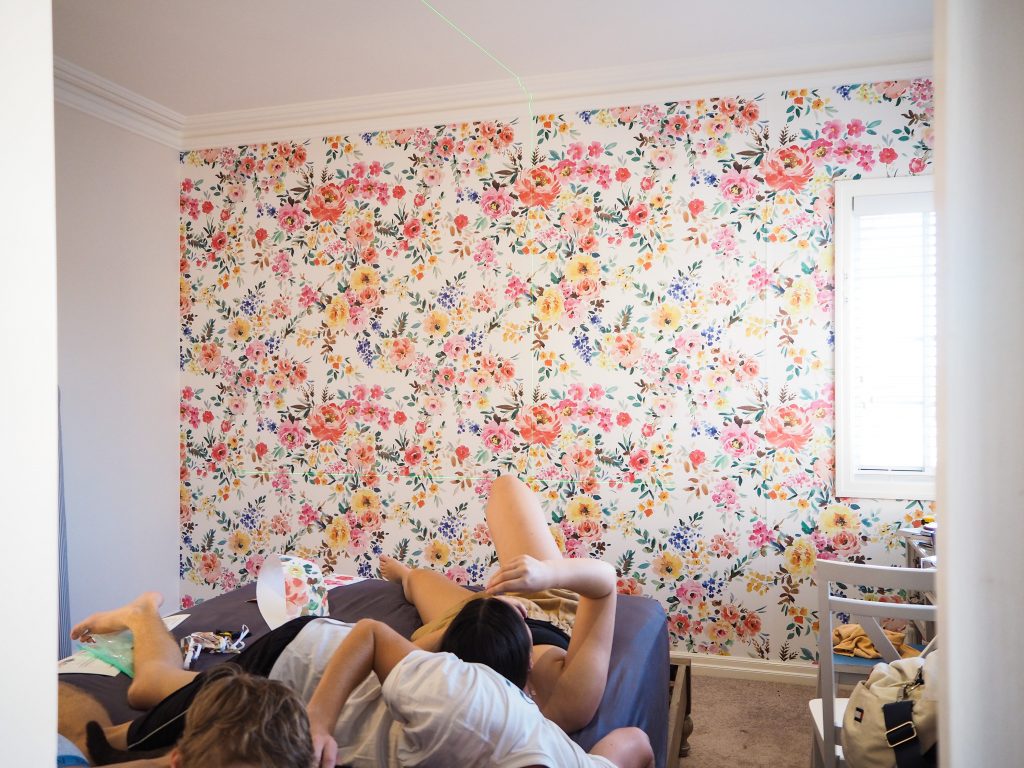 This paper is also printed to overlap from left to right like the peel & stick. Once it is hung you can choose to leave the overlap or you can choose to do a double cut, which is what I did. It sounds scary, but it really is quite easy, you just use a razor blade or knife and run down the join making sure you are cutting through both layers of paper at the same time. Then you remove the excess strips from both panels and your cut lines will line up perfectly.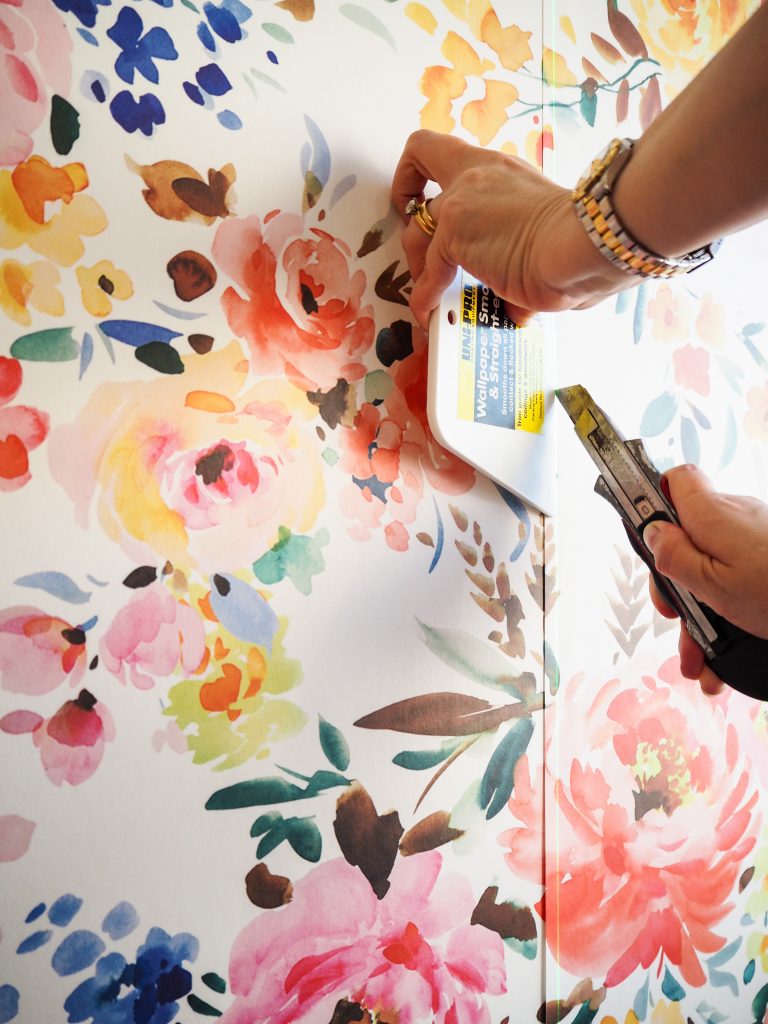 It hung like a dream and was quick and easy. The finish is perfect, I managed to get this up without any bubbles, the patterns line up and the edges are straight and even.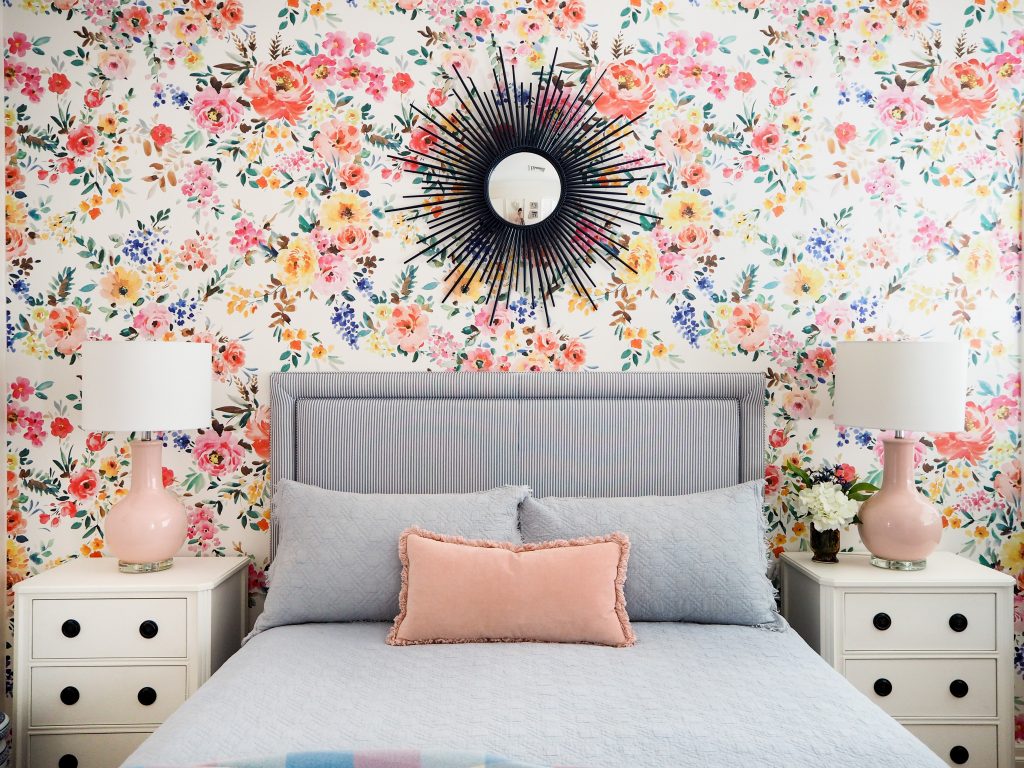 My thoughts on the pasted paper? I found it much easier to hang, I think taking the sticky factor out of the equation gives you the extra ability to move it around and get it straight, you can actually slide it around the wall a little to get it perfect. It is however, a little bit messier, excess glue will be pushed out the side as you smooth out your paper and you should have a damp sponge to clean it up as you go. It does require the added steps of rolling the glue on the walls and cleaning it off at the end. It took about 3-4 hours to hang and clean up.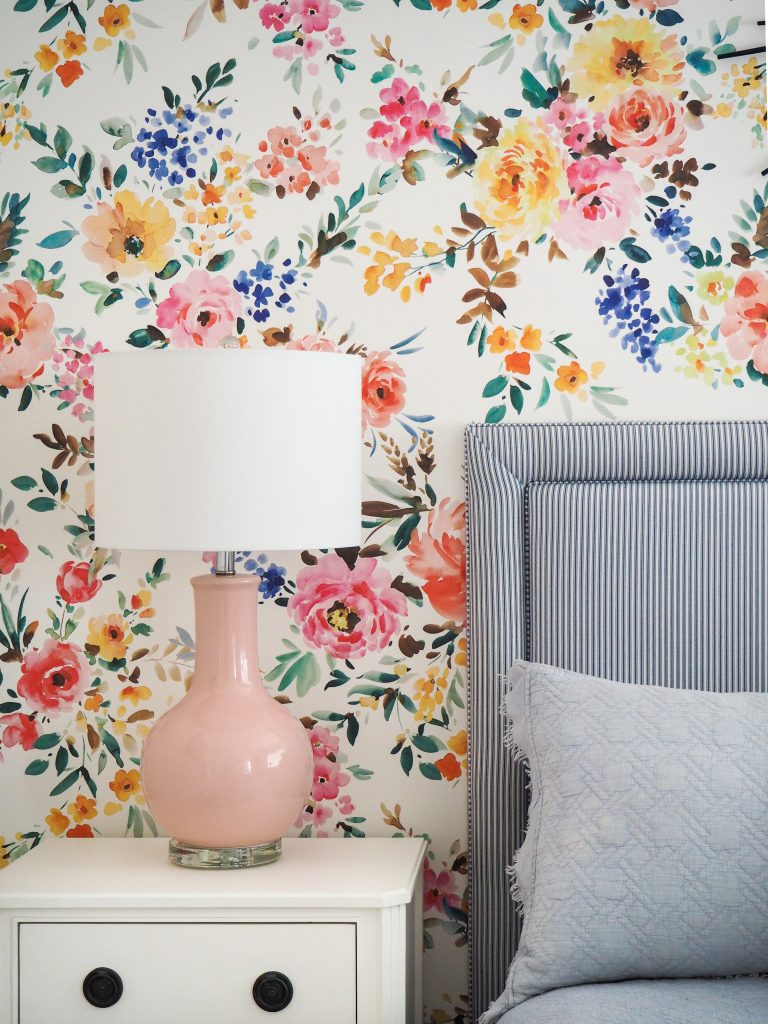 So which do I prefer?
This seems to be a really personal decision and people really love one or the other. While they both have their advantages and you will end up with a beautiful wall with both options,  I prefer the pasted wallpaper. I am not a professional and I found the pasted paper easier to get a perfect finish. Although I wouldn't rule out using peel & stick again, I would chose pasted if I had the option.
Luckily, Edge Wall Art have both options available.
If you're keen to have a go at wallpapering, I've got you!
Use this discount code – use 'mumlittleloves' for 10% off at Edge Wall Art (valid until 1st June in Australia only).
Happy Wallpapering!
Hayley x