There is nothing better than having a piece of original art in your home, especially a piece that makes you smile every time you walk past it.
I bought a sweet little floral piece from Carolyne Hallum a couple of years ago and it does just that, makes me smile.
What's even better is when Carolyne visited Brisbane last year from her home in Melbourne we met, and now that little piece of art makes me smile even more because I know it was created by one of the most gorgeous gals I've ever had the pleasure of meeting.
I wanted to introduce you to Carolyne and her love-filled paintings today.
I know your going to love her and her paintings just as much as I do!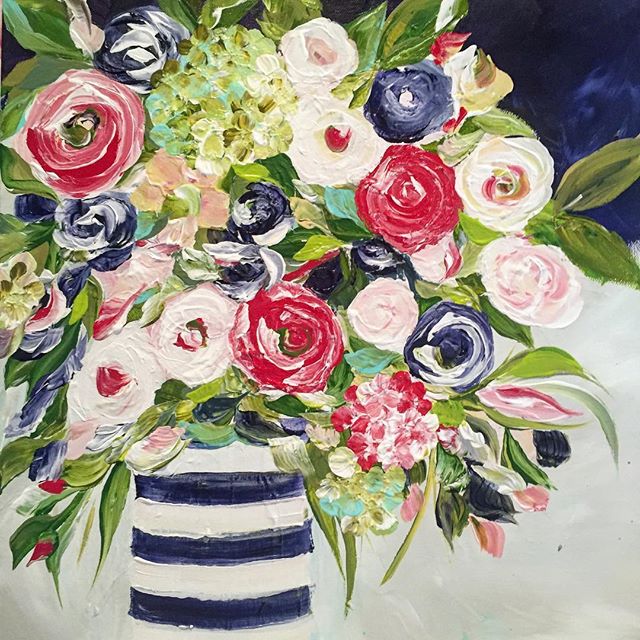 Tell us a little bit about yourself?
I live in Melbourne, up near the hills of the Dandenongs with my husband and two children, Daniel 26 and Sharna 22. When I left school I went straight into a job with a Shipping Company and worked with them up until I had Sharna. To keep myself busy and make some pocket money, I started my own business Attic House Designs and made ceramics and folk art wood pieces – this is where my love of art came to play. I can't tell you how many markets I did and party plans I booked but it got to the point where I would have had to employ people to start painting for me, this was when I decided to close the business and work outside of home in retail. I worked in retail for quite some time until I had enough and then became a merchandiser for a card company, in this time I was working with my sister in her family business as well and thats when the urge for painting came back. I finished up working and with 2016 I wanted to solely concentrate on my art and here I am today with Carolyne Hallums Art.
Where did you learn to paint?
To be honest, I didn't have any formal training, I didn't go to any art school or classes other than painting at someones house once a week with a group of other craft women. Every day when I pick up the paint brush, I learn something new. When I head to my art supplier and chat, I am constantly learning. I think that is just the way with artists, you just keep evolving.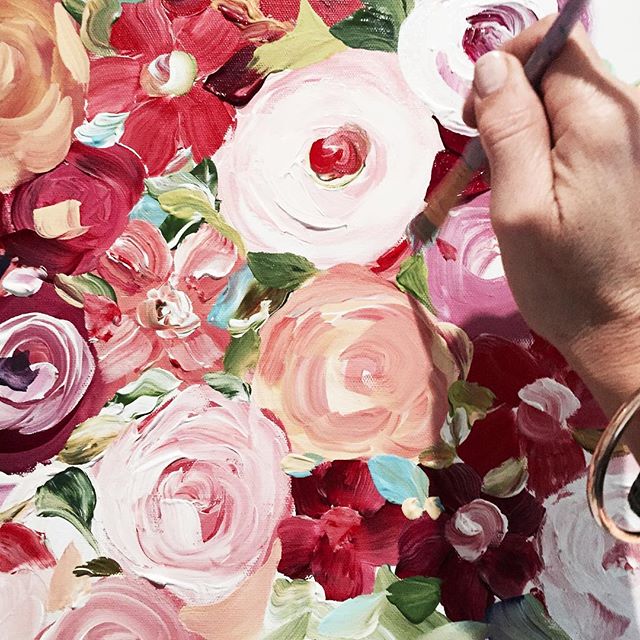 You know I adore your art, where do you find your inspiration?
Thank you so much – I find that inspiration is everywhere. From floral arrangements, bouquets, rooms with certain colours or even colour matched towels hanging together in a magazine. When you open your eyes it's everywhere.
What was the first piece you sold?
Before the florals, I hand painted stags which I still do from time to time – so a few of those went to some gorgeous homes. My first floral would have to be you, Hayley – so grateful.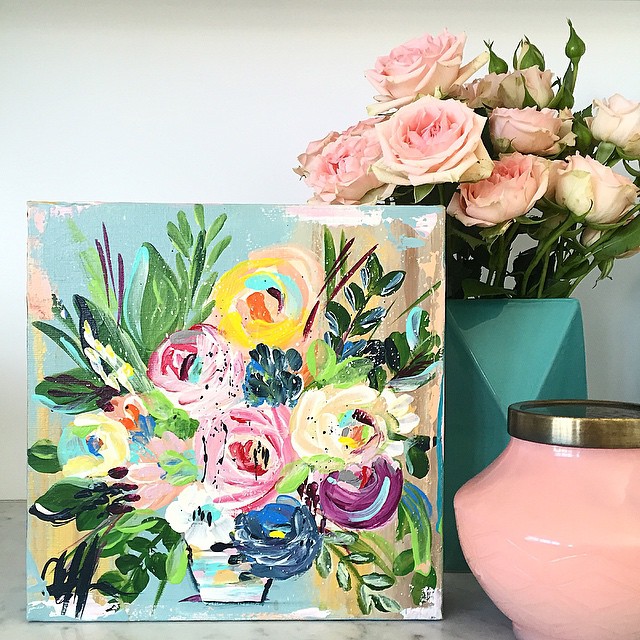 How do you feel when you see your art proudly displayed in somebody's home?
I love it – although I still get a little embarrassed when I see earlier pieces, I have to remind myself that you had to start somewhere. I am totally honoured to know that people like my art enough to put on display in their homes. This is why I paint and I love having the connection with people who purchase a piece.
Do you have any tips for buying a piece of art?
Not really – art is such a personal thing and the prices on some pieces are jaw dropping but if you love the particular artist and their work, you'd pay the price.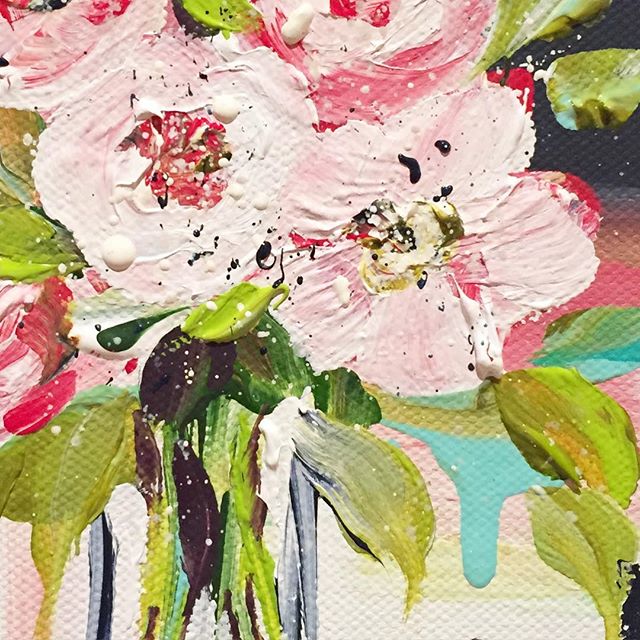 Where can we buy your art?
The best way is to contact me direct challum66@yahoo.com and we can discuss pieces or commissions. At the moment I have a few large pieces at Mood Home Brighton, Victoria or Fine Things Gifts, Benowa Qld. Other shops are Auld Alliance Merchants and Bella Bianco & Homewares – I'm working on some new pieces on my return from our vacation, so these shops can be re-stocked.
What does the future hold for Carolyne?
Goodness Hayley, I hope I can keep painting and growing. I love what I do but I feel I am still learning as a painter and still teaching myself new things as I go. I would love to fill more houses with my art and be able to keep my prices low so you can afford to enjoy them. I'm taking a little break over May/June but I hope I come back with some new inspiration and that my pieces will reflect that.
Isn't she a sweetheart, full of gratitude, grace and a gorgeous heart!
You can find Carolyne on Instagram here, or Facebook here.
I know a piece of Carolyne's art will make you smile too,
Happy Shopping!
Hayley x