Those of you who have been following me for a while will know my husband and I are long time renovators.
Terry, my husband, is a qualified MBA builder and I am, well … I am a qualified optical dispenser, which means I didn't know anything about the building industry before meeting my husband. We are currently renovating our 6th house together, and my husband did a couple more before I came into his life. I have learnt so much during the last 20 years and I often get asked for advise about renovating.
Renovating and building so many houses together has taught us some useful lessons. Some of them we had to learn the hard way, and trust me, you don't want to learn the hard way!
The cabinetry at our last house ended up costing us nearly double our initial quote due to mistakes made by the 'tradesman' who never returned to fix them and stopped answering his phone after he realised the huge mistake he had made. We had to get another cabinetmaker in to repair and finish the work. It was a time and budget blow out.
I wish I'd done my homework and researched the tradesman before hiring him.
So, for all of you that have asked, here's the best bit of advise I can give to you or anyone renovating or taking on any household maintenance, no matter how big or small.:
GET THE RIGHT TRADESPEOPLE!
Seriously, if you find a good tradesperson your building work will run so much smoother and from our experience, end up being more cost efficient also.
I know you're all thinking that's easy for us, Terry is a builder, he must know heaps of people in the industry, but the truth is, he works in an office 5 days a week as a Commercial Project Manager and barely sees anyone on a jobsite anymore. He does all the building work, but we still require qualified professionals for our cabinetry, plumbing, electrical and a few other trades.
After the disaster with the cabinetmaker at our last house I was determined to find good, reliable, respectful tradespeople who would get the job done right for our latest renovation.
I started doing some research and asking around, every corner I turned brought me to an online business directory called True Local. If you've never heard of it, True Local is a rating and reviews service for local businesses, including tradies (www.truelocal.com.au).
It is super easy to use – I was able to look for a tradie in my local area (enter the details of what trade you are after and what suburb you live in, and a list of tradespeople in your area appears), read reviews and ratings from their previous customers, and take a look at photographs showing their previous work. All of this information was important to me, given my cabinet disaster – before using the site, I had no idea where to start when it came to knowing that my next tradie would have a proven track record of great work. It turns out I'm not alone – two thirds of Aussies find it really difficult to choose a Tradie, and don't know what kind of questions they should ask or research they should do in order to separate the good from the bad. So the reviews, videos and photos help clear up this confusion.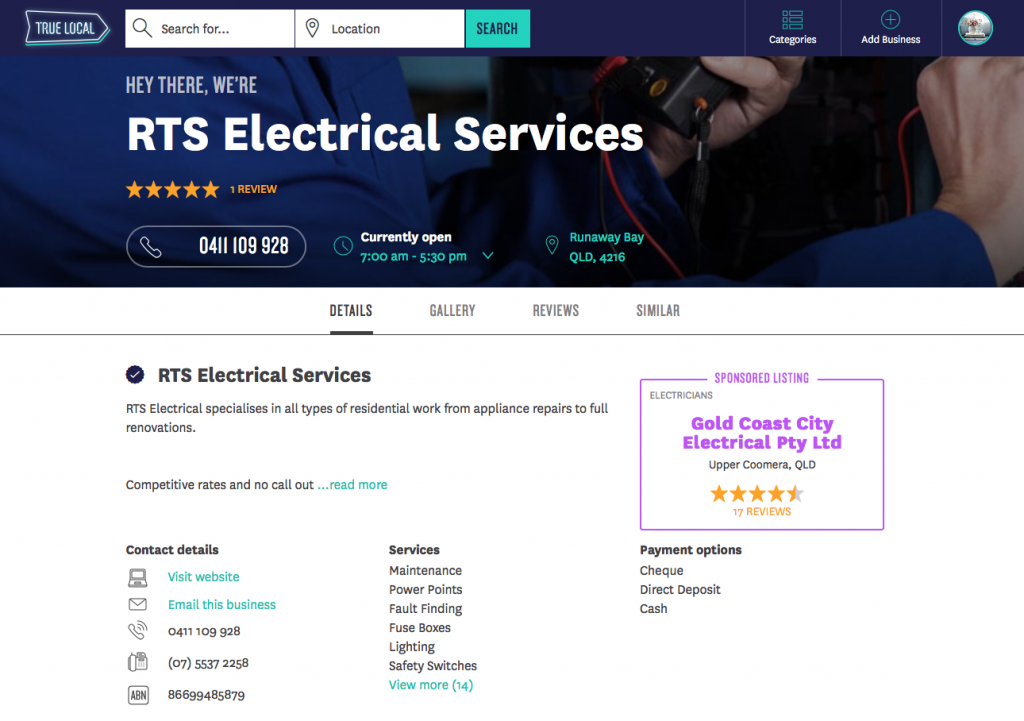 I find the reviews particularly helpful. I am a Mum of 3 children, I am often home alone or with the kids when I need a tradesperson to be in the house with me, I'm sure I'm not the only one that feels a little apprehensive about letting a complete stranger into their house. I want to know from real people if they are trustworthy, not only that, I want to know whether they are reliable, whether they will actually turn up when they say they will and that they will do a decent job. The reviews I read from others definitely helped put my mind at ease that I was making a good decision when I employed a tradesperson.
Some tradespeople also have these cool 'get to know your trade' videos so you can Some tradespeople also have these cool 'get to know your trade' videos so you can hear about their business and get a feel for the type of person/tradie they are before you decide whether or not to employ them- such as the one below.
.
Now, because this blog post is all about personal recommendations, I better give you my first hand review of using True Local.
As some of you know, we recently renovated our dining room, bar area and TV room. We needed an electrician, as Terry would be at work and I would be home by myself when the tradie needed to be here I wanted to make sure I was employing somebody who was reliable, respectful and honest. I also had a large glass pendant light to be installed and was a little nervous about it being broken during installation so I needed to be sure they could handle it correctly.
I used True Local and I took my time and had a look through the contenders, I checked out their reviews, pictures of their work and their trading times. We found a fabulous electrician who not only completed our jobs without any hassle, but also gave us great advice about changing out our existing lighting to LED bulbs to save on our electricity bill. We were thrilled with him and will most definitely use him for all future work.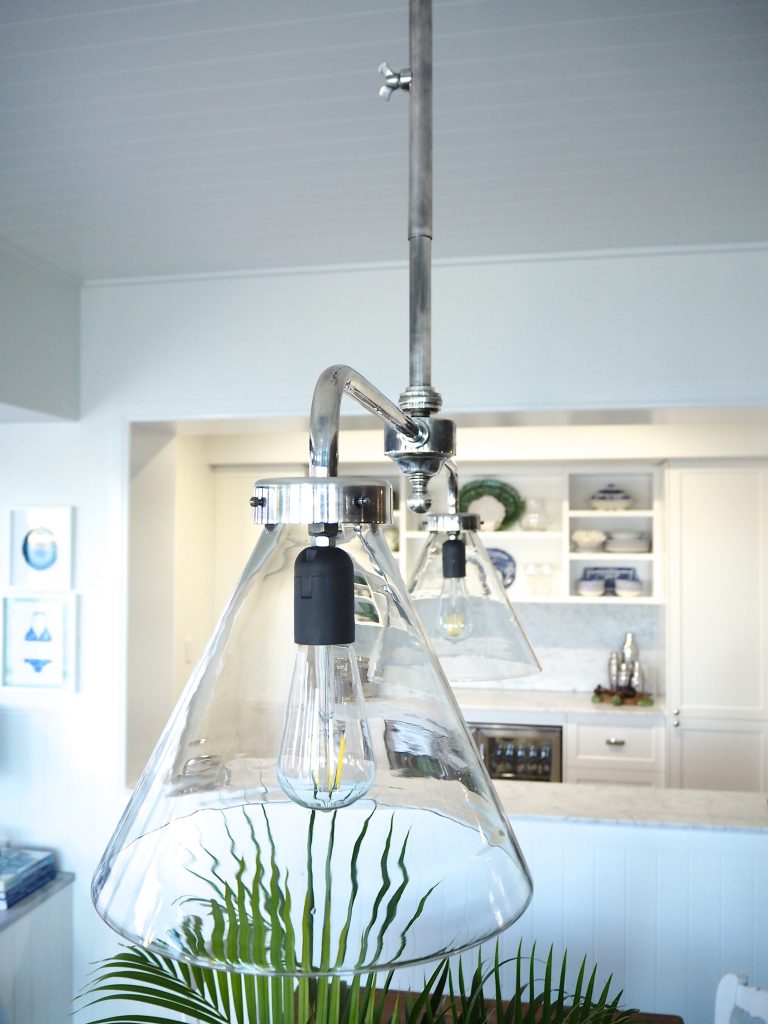 Importantly, I also left a review for him on his business's True Local website listing so other will also benefit from the information of my experience.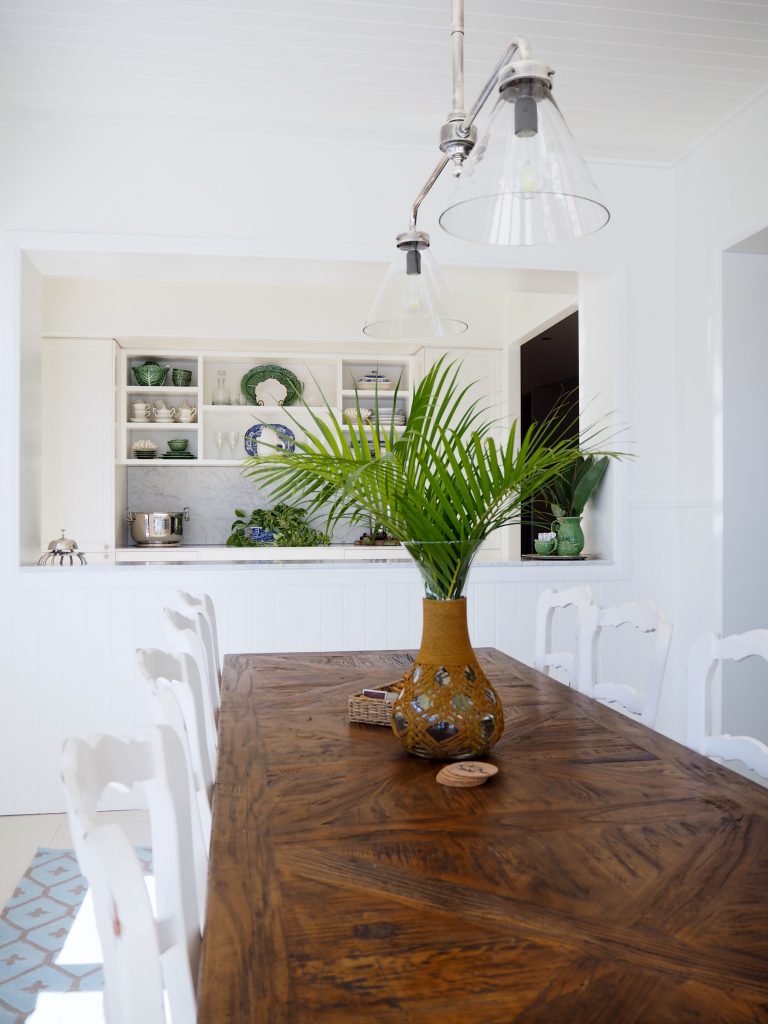 What's next on the renovation?
The kitchen, and I'm so excited! Kitchens are fiddly rooms; we'll need carpenters, cabinetmakers, plumbers, electricians, stonemasons and tilers. I'll tell you what though, I'm feeling much more confident about this kitchen because with the help of the internet and new ways to connect with businesses, I know I can find tradies easily on sites like True Local and make a decision that I feel confident with, rather than having no idea what I'm going to end up with.
Happy renovating!
Hayley x