Would you be happy to live naked, completely exposed to the world at all times?
What about a sheet? Would you be happy to wear a sheet in lieu of a beautiful frock?
Of course not!
Then why do we leave our windows stark naked and expose our lives to the whole world with no privacy?
Then we decide we need privacy ….. so we staple ugly old sheets up on our windows, is that look you are trying to achieve?
In my case the ugly sheets may have been a better option, I inherited these putrid pink curtains with our new house, I say putrid not because of the colour but because I'm pretty sure they had been hanging there for 20+ years, and I'm pretty sure they had never been cleaned, they were PUTRID! They were also very heavy and dark and I had no option to control the light in the room other than open or closed. They made the room feel dark, dated and dirty.
Some of us live with our current situation because window coverings can be tricky, the options are endless and confusing and we don't know where to start. Or maybe you decided to take the plunge and got a a local curtain maker around for a quote and were blown away by the price. Or maybe you got savvy and decided to order them online but the process of ordering and hanging them yourself was a little overwhelming.
I've done the research, got the quotes and made the mistakes, now I'm here to share all my tips for getting the perfect window treatment at the best price without the hassles and headaches.
Your first step is deciding what type of window covering you would like in your space.
You need to consider both practical and functional elements, as well as the decorative factors of how it will make your room look and feel.
Lets talk about practicality and functionality.
Think about your natural sunlight or light from other sources like street lights or adjacent building. How much you do you want to control it? Do you need a full blockout, or do you want to filter the light? Also consider which way the window is facing, the sun can be harsh in Australia and choosing the right lining can help you with heat and energy efficiency.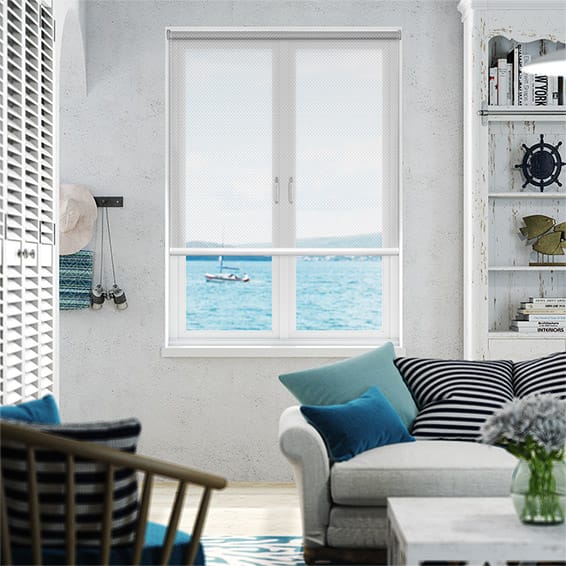 Often a bedroom will require a sheer for privacy and a blockout for sleeping, this can't always be achieved with one layer and you might need to consider a blockout blind with a sheer curtain, or a blockout curtain and a sheer curtain, or a double blind.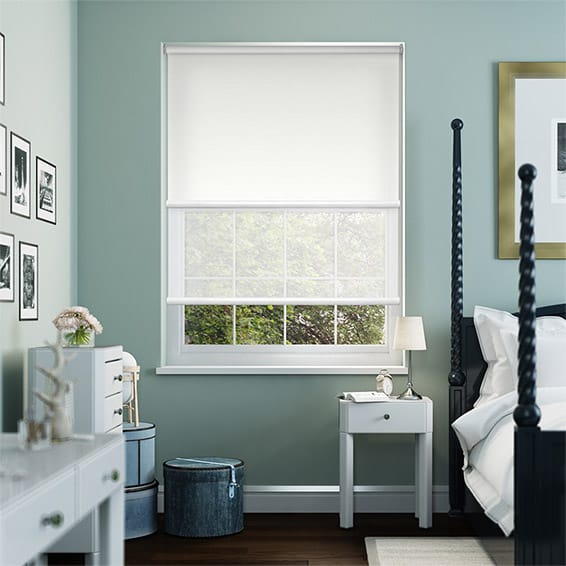 What other elements do you need to consider in this space? If it is a bathroom you might need to consider water and condensation and choose a material that can withstand the moisture.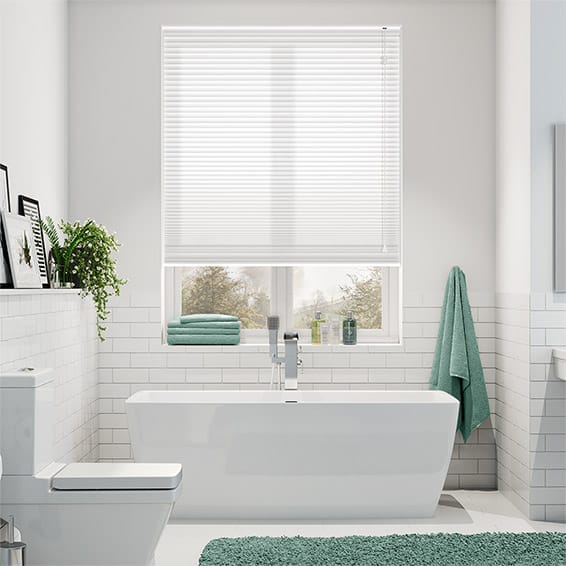 Next, think about your furniture placement. Are you putting a piece of furniture under a window? In that case I would choose a blind, curtains never fall nicely if they are tucked behind a piece of furniture, and sill length curtains don't give you the same impact a beautifully made roman blind or classic plantation shutters will.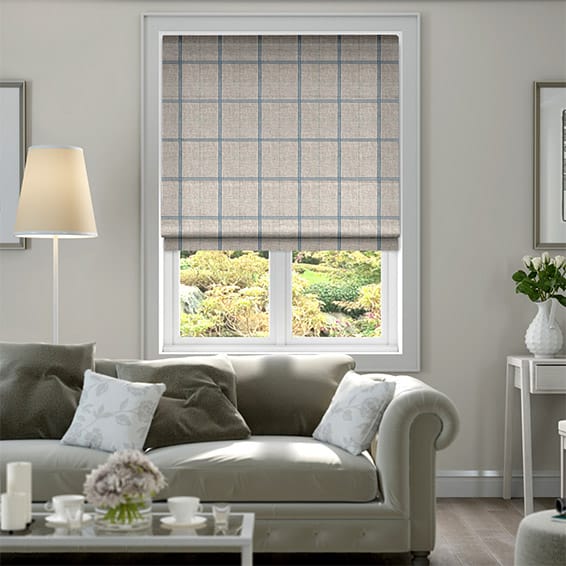 Lastly, where are you going to hang your window coverings and/or stack them? Do you have room to hang a curtain rod above your window? If you don't have room above your window, can you hang curtains from the ceiling, or can you fit a blind recessed inside your window architrave? Do you have space to stack your curtains to the side? If you chose a plantation shutter, have you got room to open it to access the window?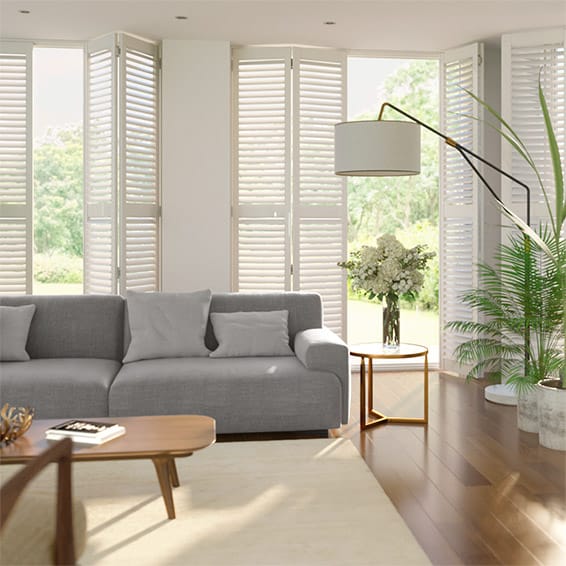 Now lets talk about the look you want to achieve and how to choose fabrics and colours.
What is your decor style? Do you want your space to feel casual and relaxed or would you prefer a more tailored and formal look? Some types of window coverings work better with certain styles than others, for example, a floral curtain would be perfect in a cottage, but probably not in a sleek and modern highrise with minimalist style. It would take me days to go through all the different styles and options available, I would suggest popping on to Pinterest and finding your style, then have a look at the window treatments that are used in the rooms you love.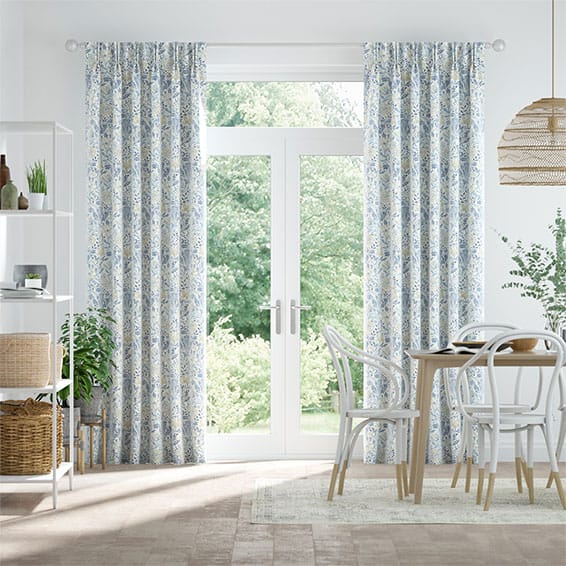 Often larger rooms with large windows look beautiful with curtains and smaller rooms benefit from the more streamlined look of blinds, but this isn't always the case and each room needs to be considered individually. Maybe you have an tiny window with an amazing outlook, curtains are a great way to frame your view.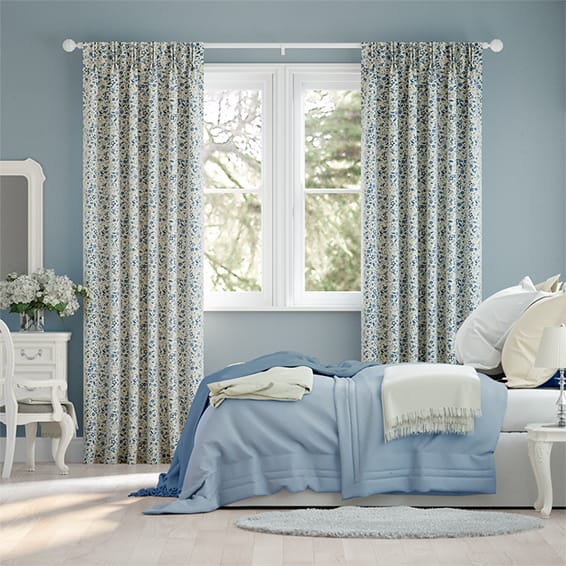 When you are choosing your fabric and colours consider what other elements are already in the room, things like floor coverings, paint colours or wallpaper and existing furniture. Remember, you don't have to create a matchy matchy space, but you want all your colours and patterns to compliment each other. If in doubt, choose a beautiful sheer curtain or neutral fabric, they are timeless and won't date.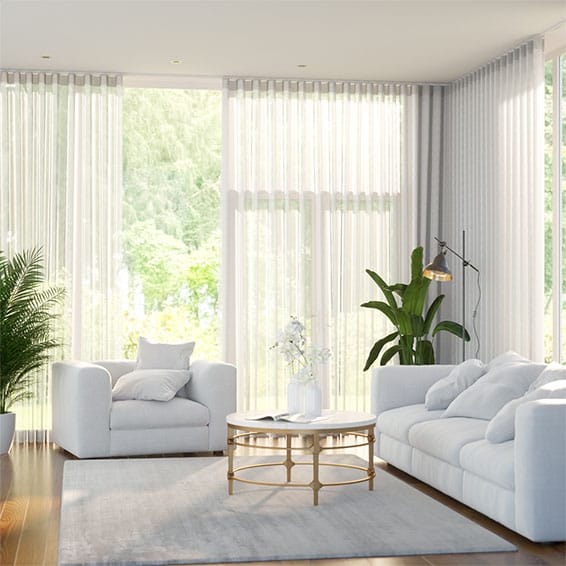 Lastly, don't forget to consider what your house will look like from the outside? You might prefer all your window coverings to be the same colour from the front of your home, or it might not matter to you at all.
When I finished my research and I was confident I would make the right decisions, I took the plunge and ordered my curtains and blinds for my living room from Blinds Online.
Here's the thought process I had for my space.
It's a tricky bay window, very large and high with multiple 135 degree angles and minimal space at the sides to stack my curtains.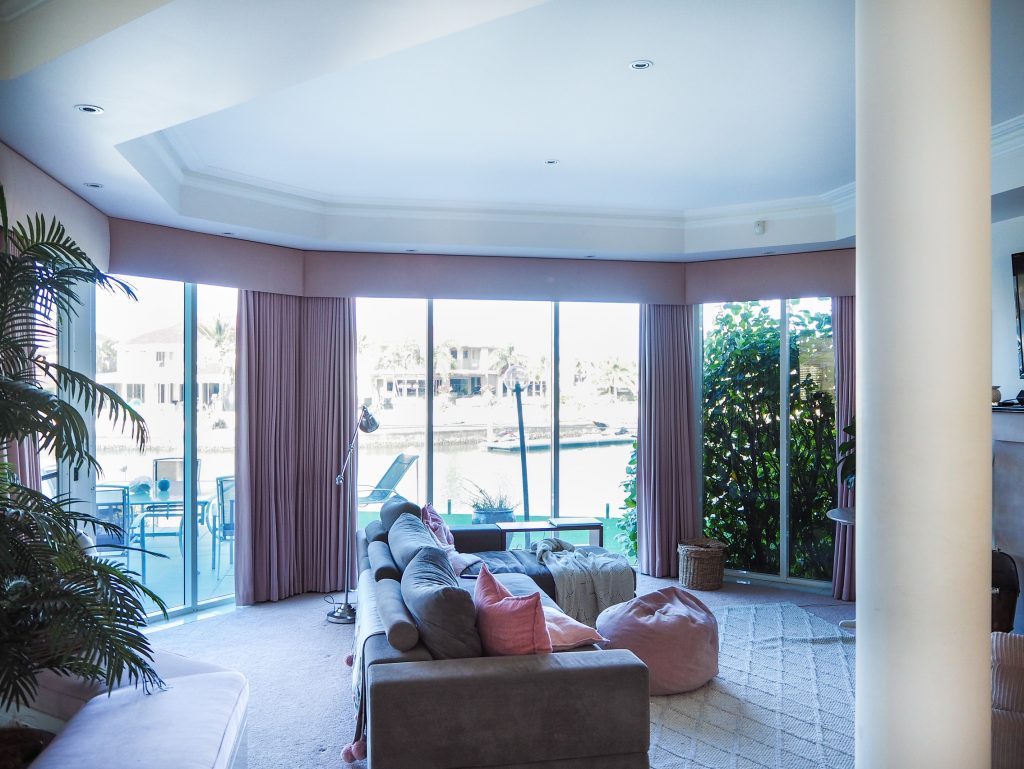 I wanted to filter the light, and would usually choose a sheer but I ruled this out as I didn't want to block the view. The window faces East and gets the morning sun for a short period of time, I decided a roman blind would be perfect as I can lower them enough to block the sun but not close of the window entirely. We also have a fireplace in this room and I wanted it to feel cosy in the winter, so I added a curtain to layer over the blinds. Having two layers gives me the ultimate choice to control the light from partly blocked with the roman blind to nearly full blockout if I close both the blind and curtains. You can choose from S-fold, Eyelet, Pencil Pleat or Pinch Pleated curtain headings, I chose the pinch pleat for this room for it's classic and tailored look.
I chose to recess fit the roman blinds as the windows are very high and it will only block the light I want it to block.
The curtains will be ceiling hung on a simple rod I had bent to mimic the shape of my window as this gives me the cleanest, most streamlined look and doesn't detract from the beautiful roman blinds. I know I'm ignoring my own advice as I don't have space at the sides to stack the curtains back on the walls, but as I also said, each room is individual and some rules need to be broken, especially when you are dealing with a tricky window.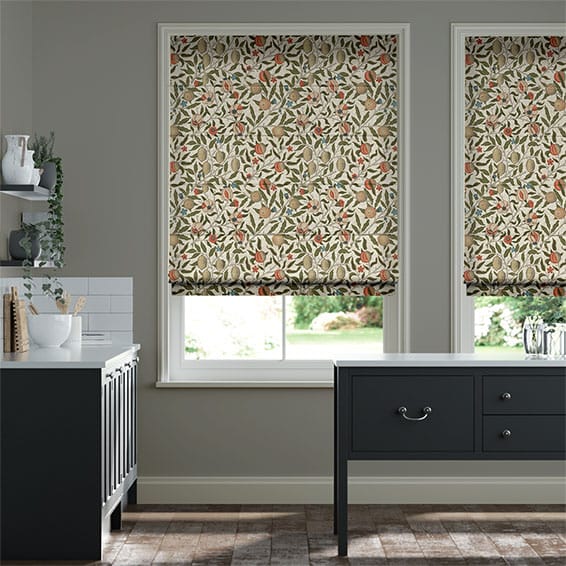 As for fabric choices, I knew I wanted something fun, but also timeless and I wanted to add colour without it being too bright or overwhelming. I saw the Blinds Online  collaboration with V&A featuring the range of William Morris fabrics and I knew this was something I would like. I popped online and had a browse. I instantly fell in love with a fabric called Fruit (AKA as Pomegranate) in the Autumn colour palette. I knew I had to use it, but things often look different on your computer screen than what they do it person, so I ordered a few samples. You can order up to 10 samples for free to help you choose at home from Blinds Online. I knew I was having a roman blind and a curtain so I also ordered a few plain fabric samples for the roman blind that I thought would coordinate well with one of the patterned fabrics I chose.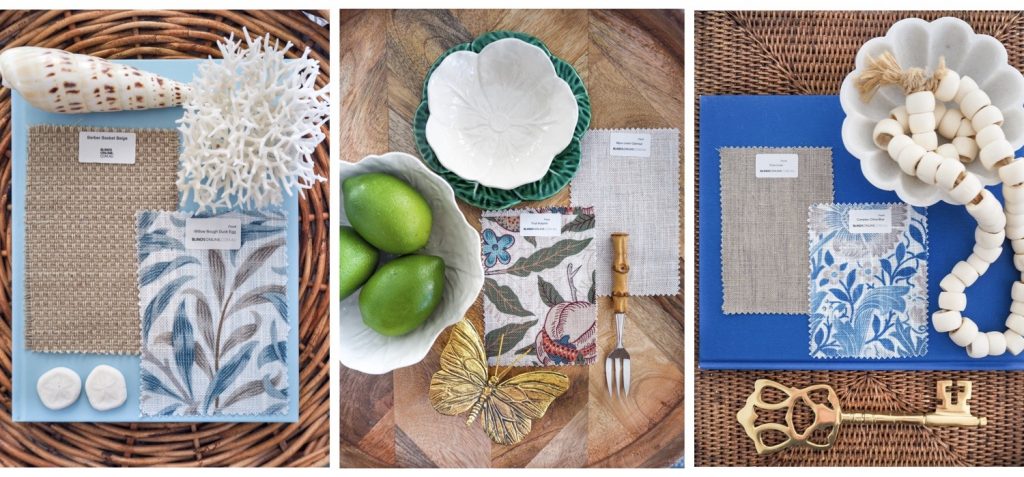 Once my samples arrived I placed them in my space and observed how they looked throughout the day with the changing daylight. I still loved the Fruit fabric and had to use it. I knew that the curtains wouldn't get closed often in this room and certainly not during the day, but I really wanted to appreciate the full pattern of this fabric so I decided to switch up my original plan and use it as the roman blind where I could enjoy the full design more often.
Then I chose a plain Oatmeal linen blend for the curtains, It compliments the Fruit fabric and is beautifully classic and timeless.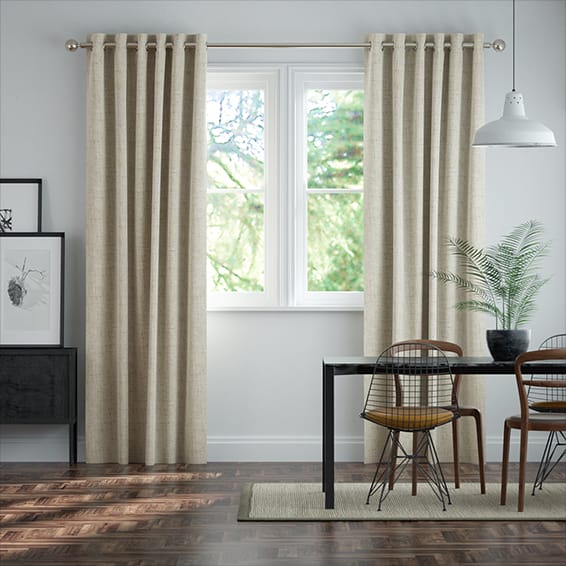 Now I knew what type of window coverings I wanted and I'd chosen my fabrics, it was time to measure up and order online. I know this sounds scary, but it really isn't hard at all. Before you start measuring, here's a few things to consider –
* Even if your windows are all different, try to have your window coverings all at the same height.
* Place your curtain rods high above your window and extend it out past the window so your curtains stack on the wall not on the window, but be careful not to expose any wall between the window and curtains. This will make your windows look larger and grander. It will not reduce any daylight, but it will provide a better blockout when they are closed.
* When determining the length, nearly touching the floor is ideal, Blinds Online suggest 15mm above the floor. I know we've all seen the images of curtains puddled on the floor on Pinterest, it looks so luxurious and glamorous, it's hardly practical if you have kids and pets, but if you have a space it will work in, go for it!

To measure up you will need a tape measure, something to write your measurements down on and possibly a stool if you need to reach your ceiling. I also found it handy to have another person to help me hold the tape measure in place since my window was so big.
Tip : Please don't try and use a ruler and shimmy it along to measure a large window, you want these measurements to be as accurate as possible.
Bigger Tip : Follow the measuring instructions online from Blind Online, they are the experts who have been doing this for for 46 years, and online for more than 14 years. They know what they are doing. If you take the time to read the instructions and follow them closely, you will be fine. They are written in easy to understand language with lots of pictures and diagrams to help you. They have separate instructions for blinds, shutters and curtains.
Once you've placed your order you can track it here.
As soon as I've got mine ready to go, I'll show you how to hang them and the before and after photos.
I can't wait, are you as excited as me?
Happy Shopping!
Hayley x