We've all heard the studies about how important sleep is. As adults we definitely notice our body slow down and our mood change if we have a few late nights, but what about our children?
The latest research says that adequate sleep can help children fight obesity, avoid colds, illness and increase their concentration at school. The studies suggest that sleep is essential to good health. Kids that get enough sleep have fewer learning problems and attention issues and when kids don't get enough sleep it directly affects their mood and behaviour.
Last year we had so many problems with our youngest, Orlando. He's 6 and due to our crazy lifestyle and hectic hours, he just wasn't getting enough sleep. He had minimal self control and was constantly fidgeting at school. When the school teachers suggested his behaviour was not normal for his age, I started taking his terrible sleep routine more seriously. Wow, what a difference it made!
It's obviously crucial to nurture their sleep habits, so how do we make sure our kids are getting what they need?
It's not always easy, especially if your little one is a night owl or has trouble getting off to sleep.
There are definitely things you can do to help your children sleep. You can use lavender oil on the soles of their feet, you can limit their screen time, you can wear them out with sport activities and numerous other tactics. However, the most important tool to help your child have a good night sleep is to make them feel safe and happy in their bedroom.
Their bedroom should be their sanctuary, it should make your child feel comfortable and content, they should be surrounded by their special things and feel like their room reflects their personality. Kids love to be involved in the planning and decorating of their own space and by letting them help, they feel a sense of ownership and pride in their space.
So what do you need to create the perfect bedroom for your little one? Let's start with the most important thing – the right bed.
Forty Winks have been the sleep experts for more than 30 years, they know beds and they can help guide you to the right one. The variety nowadays is vast and beds come in lot of sizes and styles. Consider the age and size of your child now, but also think of how much they will grow in 5 years and future proof your purchase by thinking ahead.
Before you decide on the bedroom furniture, have a good look at your child's belongings, assess how much storage space he/she needs and how he/she will use their bedroom space. Does he/she need extra storage space for a large toy collection? Do you have teenager that needs somewhere to study? Do they have friends sleepover often where a trundle-bed or bunk bed would be handy? Do they have a small room that need to be multi-functional?
By simply choosing furniture that fits your needs and offers the right storage solutions you can create an organised and serene space.  Creating a place for everything helps your child to be neat and tidy and put their belongings away. Sleeping in chaos is not relaxing, having an organised space bring a sense of calm and makes it easier to relax.
Let's have a look at some great furniture solutions for all your kids, from their first big bed, to shared spaces and the teenage years.
If you have a little bookworm, a bed like the Pluto would be perfect. It's crafted from solid Victorian Ash and with its built-in shelves there is space for all your kids book right next to them in bed. It also has a trundle which is handy for sleepovers.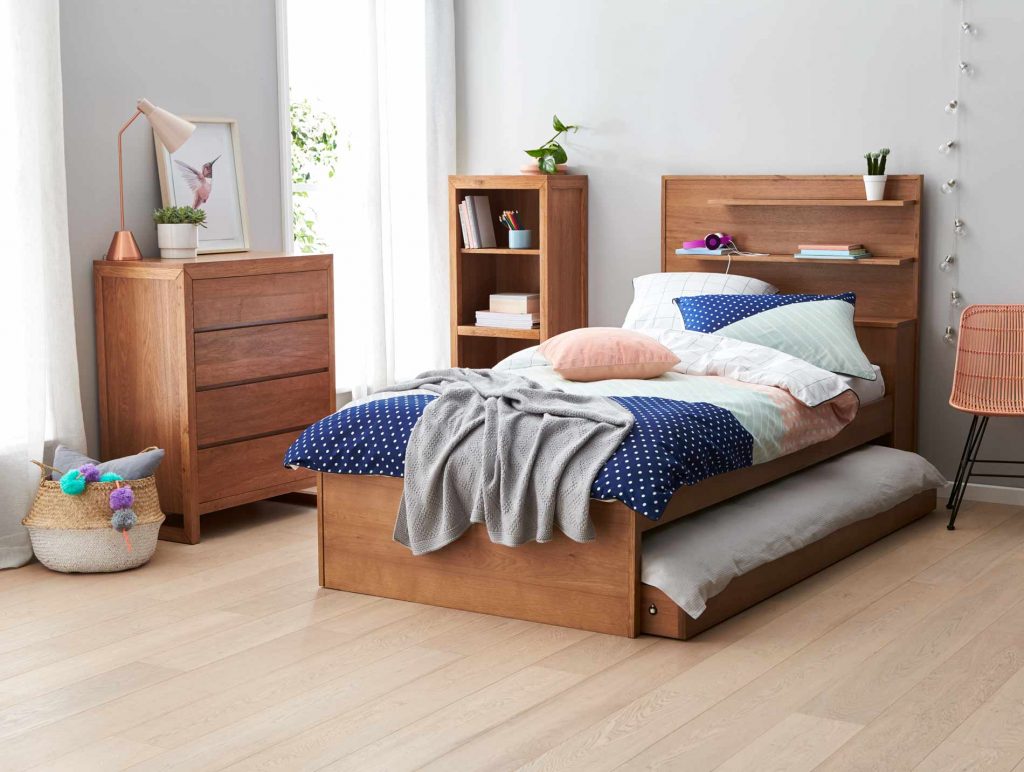 If your child shares a bedroom with a sibling or is simply a social butterfly who has lots of friends over frequently, the beautiful French style SNOW bunk bed might be the perfect option. It is a slanted design with a single bed on top and a double bed on the bottom, it also has a trundle for extra sleeping space.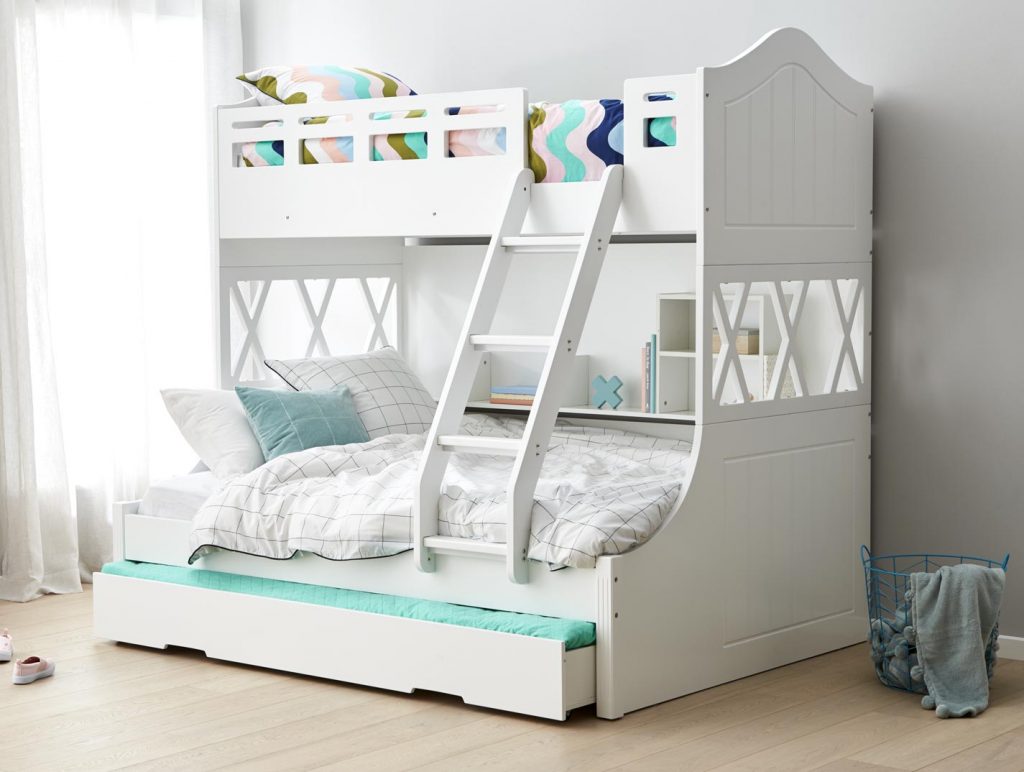 If space is tight, the Quantum Loft bed packs a lot into its smart design. It only requires the floor space of a single bed, but it is a complete sleep / work / study / play solution. With a loft bed, desk and utility area, wardrobe storage and toy storage it really is the workhorse of kids' beds!
The ODYSSEY is a great option for kids or teens. It has under bed storage and a 'secret' compartment in the bed head, perfect for stashing diaries and special things. This range has a fabulous range of matching storage solutions such as the 2-drawer bedside table, 4-drawer tallboy and study desk.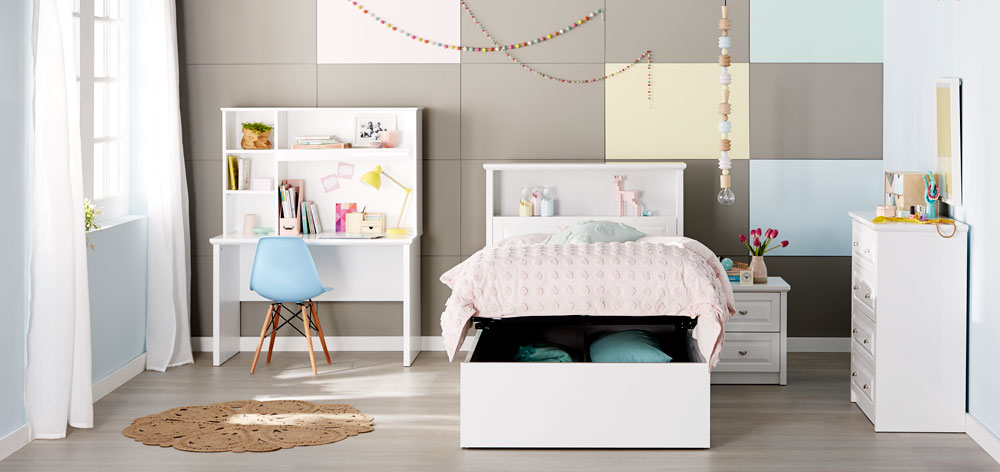 The ARC is a great choice for kids that don't like the dark, it has a bookend bed head with built-in LED lighting so the kids can quickly and easily access the light without having to leave the safety of their bed. This king single sized bed also features a trundle and under bed drawers for extra storage.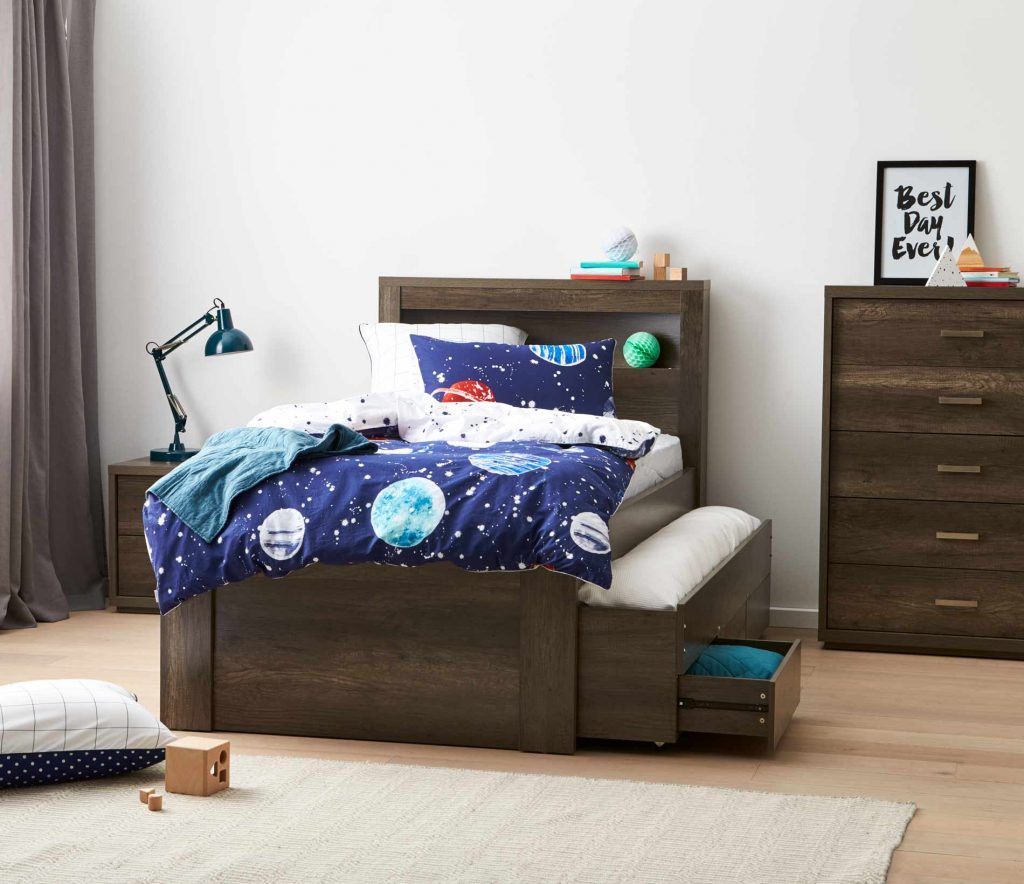 As you can see, Forty Winks really do have you covered for all your children's furniture needs.
Once you have determined your furniture you will need to choose a mattress. Take your child with you and let them lay on the mattresses and find what's comfortable for them. Of course, you can be guided by the experts at Forty Winks, they will help you with the right fit for your space and budget. Keep in mind your child is growing fast and they will need the right support and comfort through these important growth years.
Bedlinen is also important, especially to some children who are sensitive to different textiles. Choose soft, warm and comforting layers that they can add or remove for their personal temperature control.
Lastly, finish with the decor. Ask them their favourite colour or talk about a theme for their room. We're not talking about splashing Transformers or Barbie's all over their room, choose a more subtle theme such as the ocean, the solar system or rainbows and unicorns.
If your child insists on a character theme, you don't need to have licensed quilt covers and character cushions to get the look, think about the colours in that character and use them as your base to work from. For example, if your child chooses Mickey Mouse, you can work with red and yellow with a splash of black.
Personalise their space with family photos, framed art, baby mementos or special belongings. Give them a place to display their latest Lego creation or school art project.
Creating a bedroom with your child will give them a sense of ownership and make them want to spend time in there. Ultimately, that's what we want, and that's what will help them relax and sleep like a baby!
I'm happy to say, after making a few changes to Orlando's bedroom like adding some comforting elements and removing some stimulating ones, he sleeps like a baby and is a much happier, calmer and attentive child.
Happy Shopping!
Hayley x
Disclosure: This post was written by me in partnership with Forty Winks. I only work with brands that I personally love and think you will too. Thanks for supporting that brands that help me keep Mum Little Loves alive.