Born out of a desire to find affordable art for her clients, Interior Designer Lauren started Wall Style.
Fast forward to now and I am on the hunt for affordable art for my own home, when I found Wall Style I knew it was too good to keep to myself, so I thought I'd better share it with my home obsessed tribe – YOU!
So, let's go meet Lauren and find out what makes her tick …
What age did you start taking an interest in art and interiors?
I grew up with an Architect as a father, so I have been interested in design / art / interiors for as long as I remember. When I left school I completed my Bachelor of Built Environment Majoring in Interior Design at QUT in Brisbane. I have worked in the interiors industry for around 15 years. I now live on the Gold Coast with my husband , twin 7 year old daughters and our beautiful labradoodle dog. I work out of a small studio in Currumbin.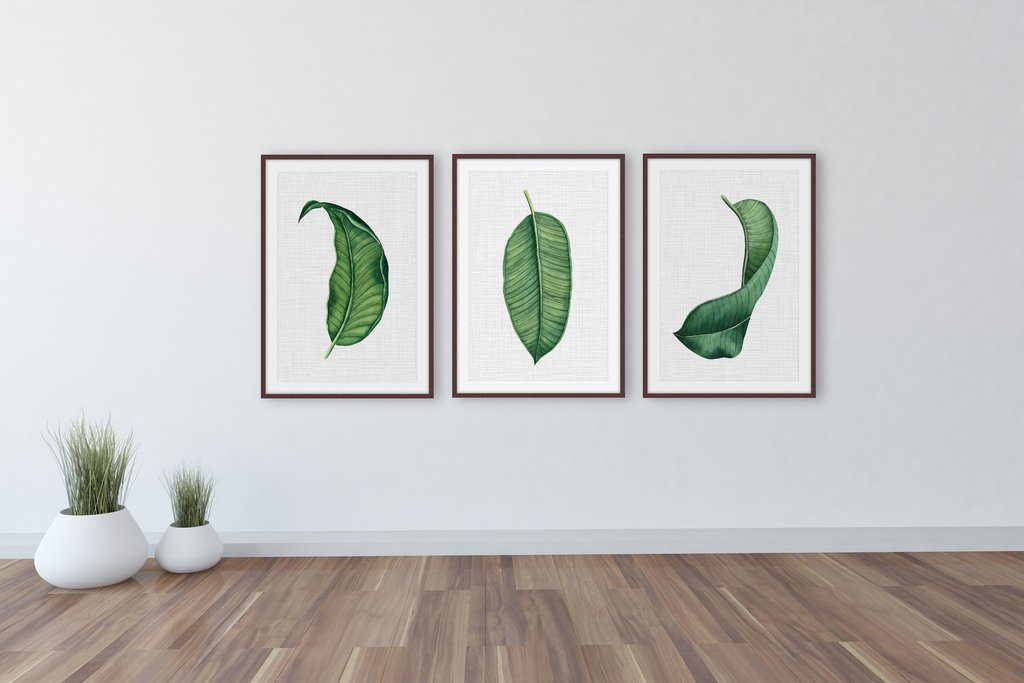 Why did you start Wall Style?
For a few years my family and I lived in a small mining town in Rural Queensland. Seeing as there wasn't a huge market for high end residential interior design out there, I started a small E-Design business to keep myself busy. It was during this time when I was trying to source art for my clients (that they could shop for and purchase themselves), that I realised there was a gap in the retail market for timeless, quality art prints with customisable framing options. Interior Designers have access to a lot of trade only businesses, but the general retail market don't. Hence where Wall Style was born. I have designed the prints in various sizes, so customers have the option of buying the print to fit in a pre bought frame – such as Ikea or Country Road, or they have the option to purchase it already framed.
My whole business ethos is to produce a quality product and service rather than focusing on quantity. In saying that, I love to work with clients custom orders, sizes or different framing specifications. I recently had a customer ask if I could design her a green budgie instead of blue one.. I loved that she asked and was more than happy to help. The fact that end result was gorgeous helped also!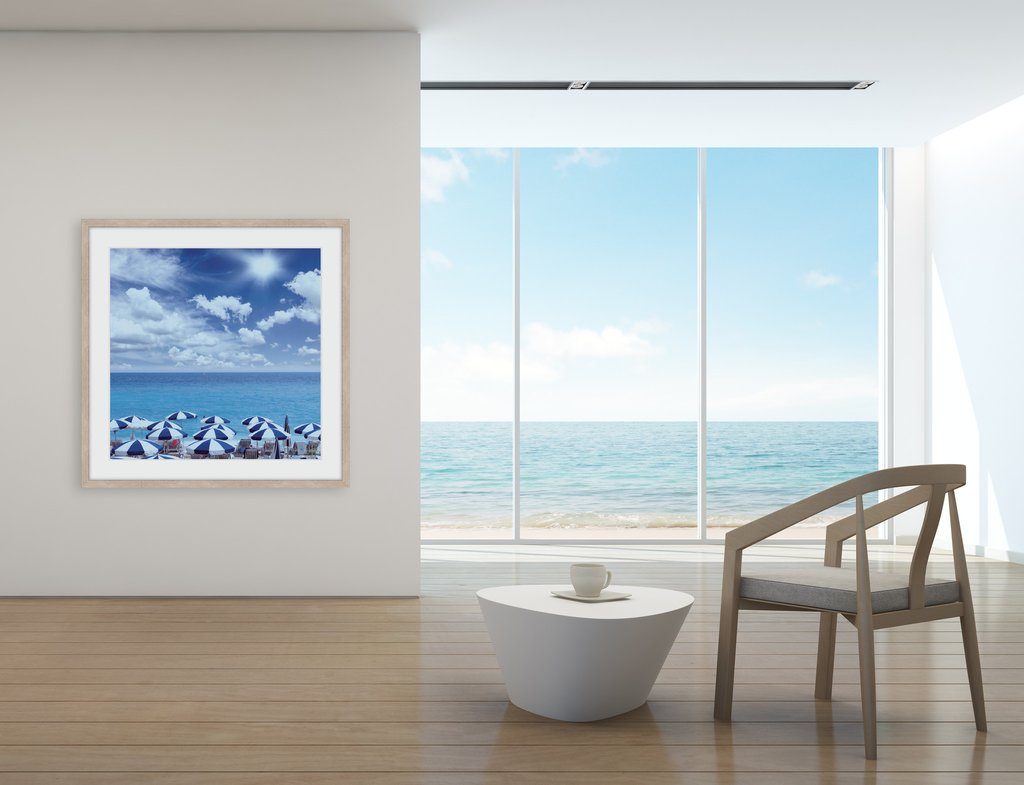 How do you decide what pieces to add to your growing collection?
I really try not to focus on trends, which is why you don't see Typography and Scandinavian style prints on the Wall Style website. We live in throw away society, which I detest. People buy too many items, that aren't quality, that do not last. My aim is to produce timeless, exclusive designs, that will last the text of time in both style and quality. All of our prints are archival quality, printed on PHahnemuhle Photo Rag Ultra Smooth 188gsm. They will last for over 50 years.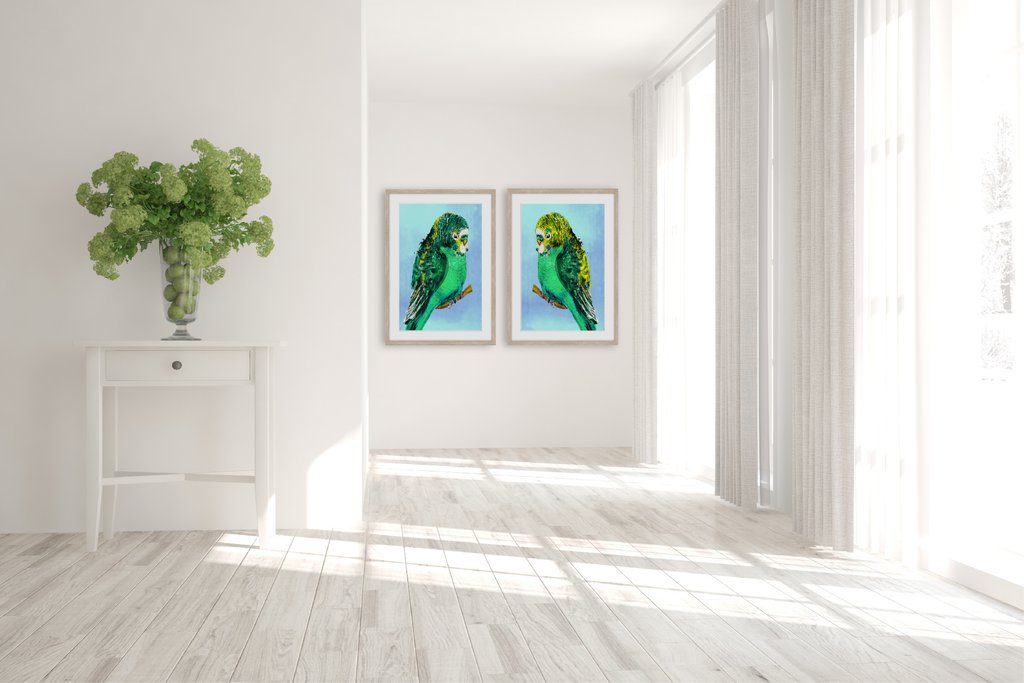 How does it make you feel when you see your prints hanging in someone's home on social media, etc?
Amazing! I LOVE it when people tag me in their shots and share the love. Your home should be a space that you love and want to spend time in. You should be able yo relax, thrive and be happy there. It should be an extension of who you are and how you aspire to live. For me being able to add a beautiful piece of art to a space so personal, that people love, makes me so happy. I love creating beautiful things and beautiful spaces – and beautiful art makes such a difference to a space!
Do you have a favourite piece? Tell us about it?
Oooh that's a tough one, as my favourite piece depends on which house it is on. If I had to choose it would probably be the Blue Budgies. I have these framed above my dining table and they look stunning.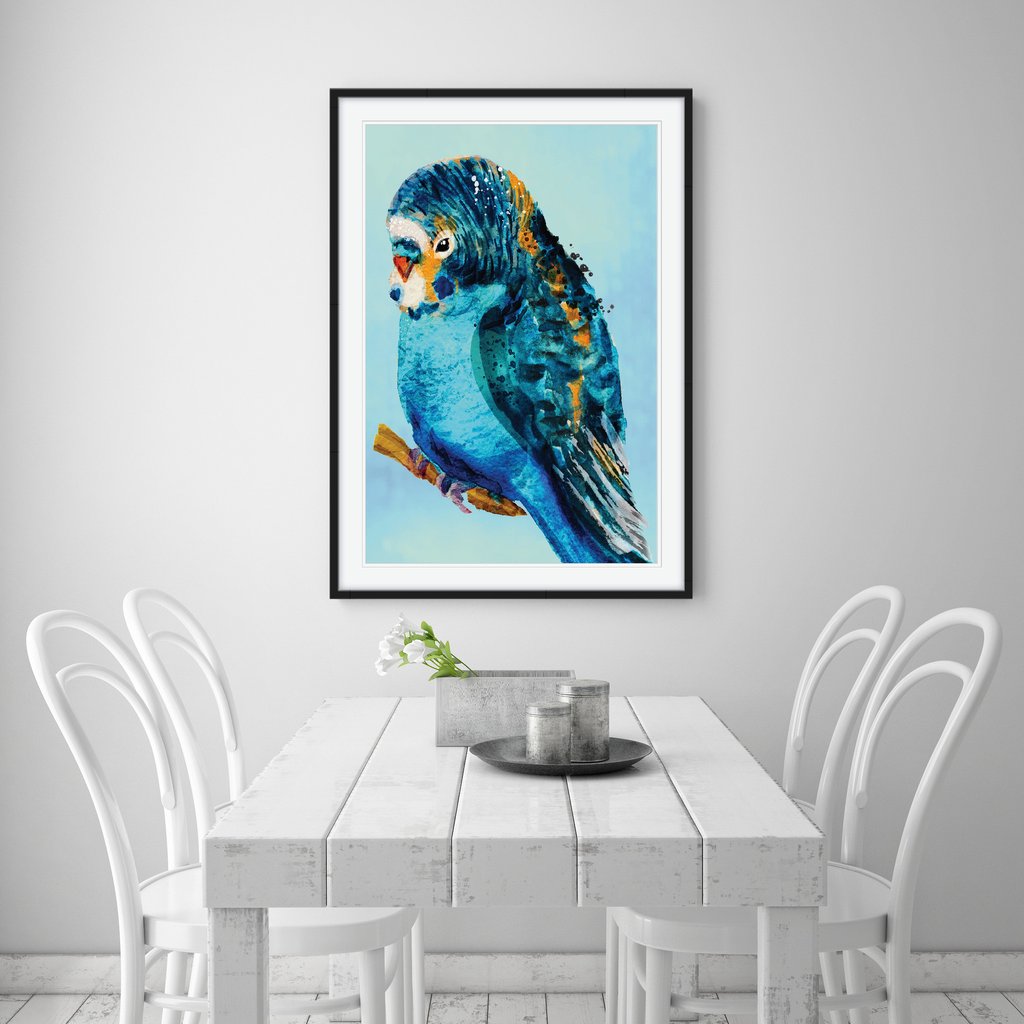 Where would you like to see Wall Style in five years from now?
I have a lot of plans for Wall Style, which I won't mention right at this moment. But I definitely do plan on growing the collection quite dramatically and introducing some feature exclusive ranges. More on that to come!
I ordered 2 pieces from the Wall Style range to add some much-needed colour to our TV room. I chose the two blue birds from the Legend Bird Collection. I had them framed by Wall Style in a dark wenge timber frame and they look incredible. I think they are timeless and beautiful. If you want to see them in my home pop over to Instagram where I'll be sure to share lots of pictures of these beauties!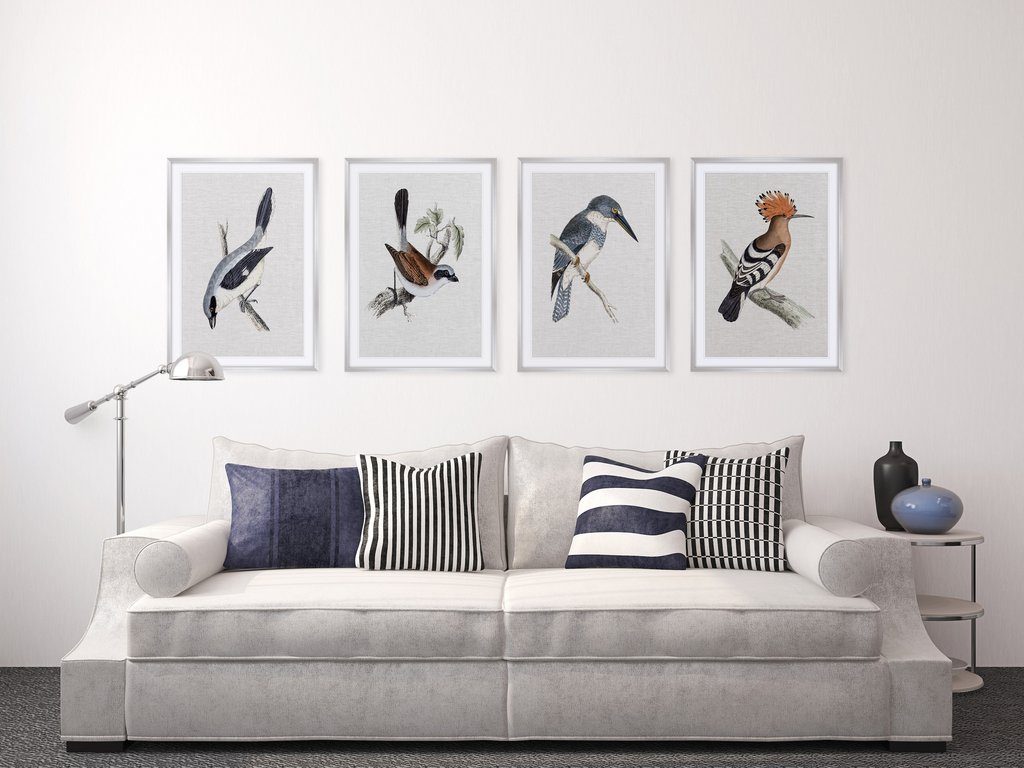 The print quality and beautifully executed framing really impressed me and now I have my eye on these 2 piece for my entry hallway, what do you think?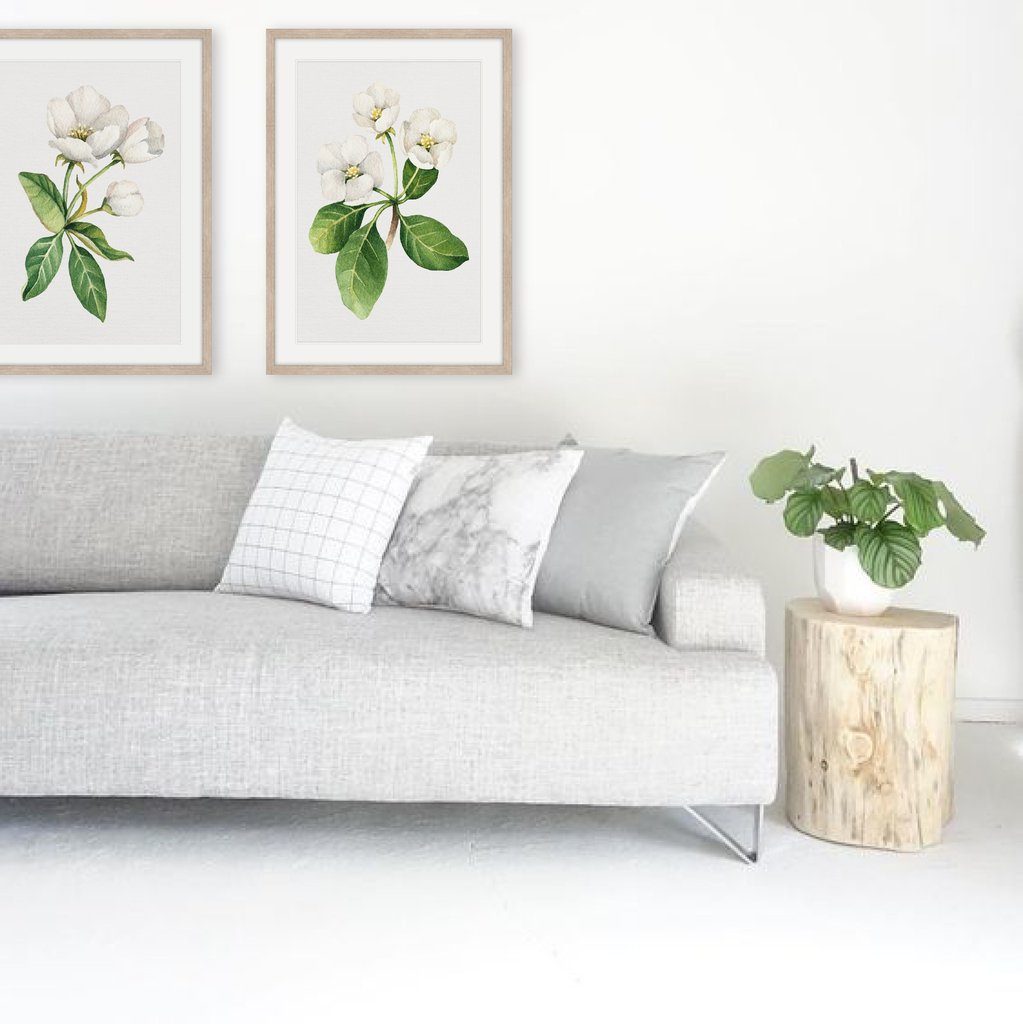 The prints are cleverly made to fit IKEA or Country Road frames to make it even more affordable. Or if you would prefer to receive your art framed you can choose your frame preference and Wall Style will have it professionally framed and shipped straight to you.
If you want to have a look at all the gorgeous artwork available from Wall Style you can shop here.
If you want to follow Wall Style on Instagram, you can find them @wallstyle_studio
Happy Shopping!
Hayley x