Our Mum's, Mom's, Mummy's and Mother's are all unique and different, that's what makes them special.
That's why I've put together a gift guide with something for every Mum.
I've selected gifts for the Mum's that love pretty things, the Mum's that choose comfort, the Mum's who are practical and the Mum's who already have everything …
Let's go!
Mother's Day in Australia is on the second Sunday in May, its Autumn and the weather is starting to get cooler, which makes it perfect timing to buy her some luxurious layers for Winter style. Think scarves, hats, bags or sleepwear.I've hunted down the pretty, the comfortable and the practical.
I love the colour palette of this check scarf, it super soft and big enough to double as a throw. The pom pom on the beanie had me at hello, who doesn't love a big fluffy pom pom! And the french style purse (see below for a view of the inside) is the perfect size in the best shade of caramel.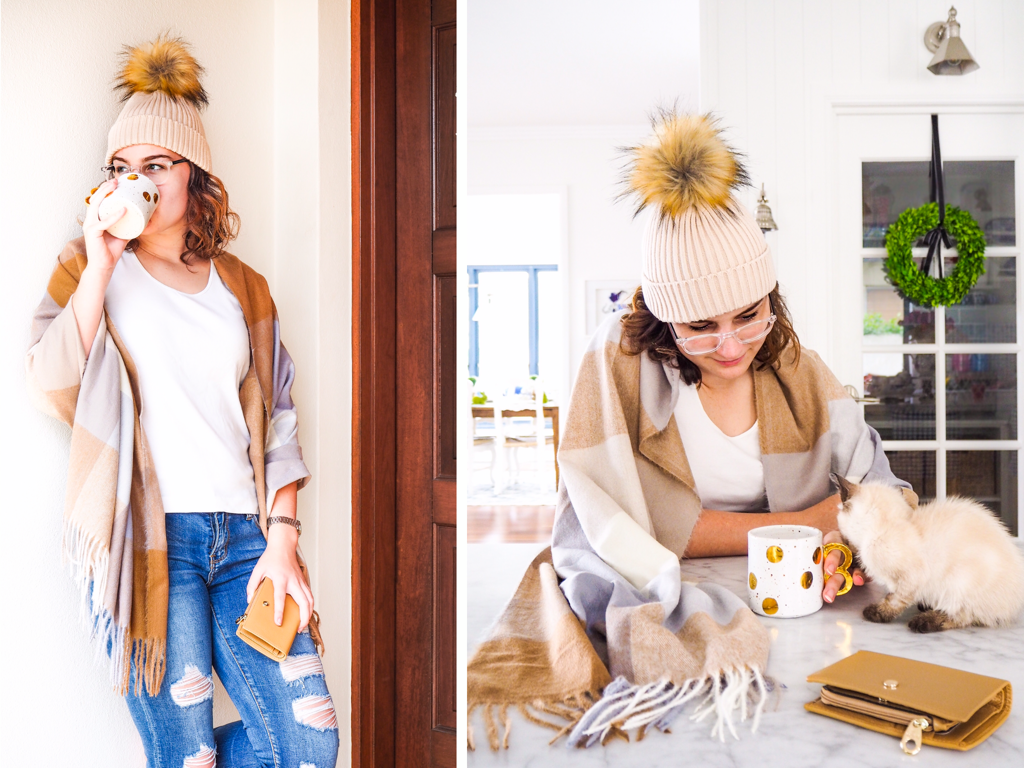 If Mum is more of a pink girl, I found a gorgeous blush felt hat which is perfect to protect her from the winter sun, while also looking super stylish. The gorgeous grey bag (my Mums Mother's Day gift, Shhh) is crafted from a buttery soft leather with antique brass hardware and those tassels are so fun! The pink star scarf is a gorgeous match to complete her accessories.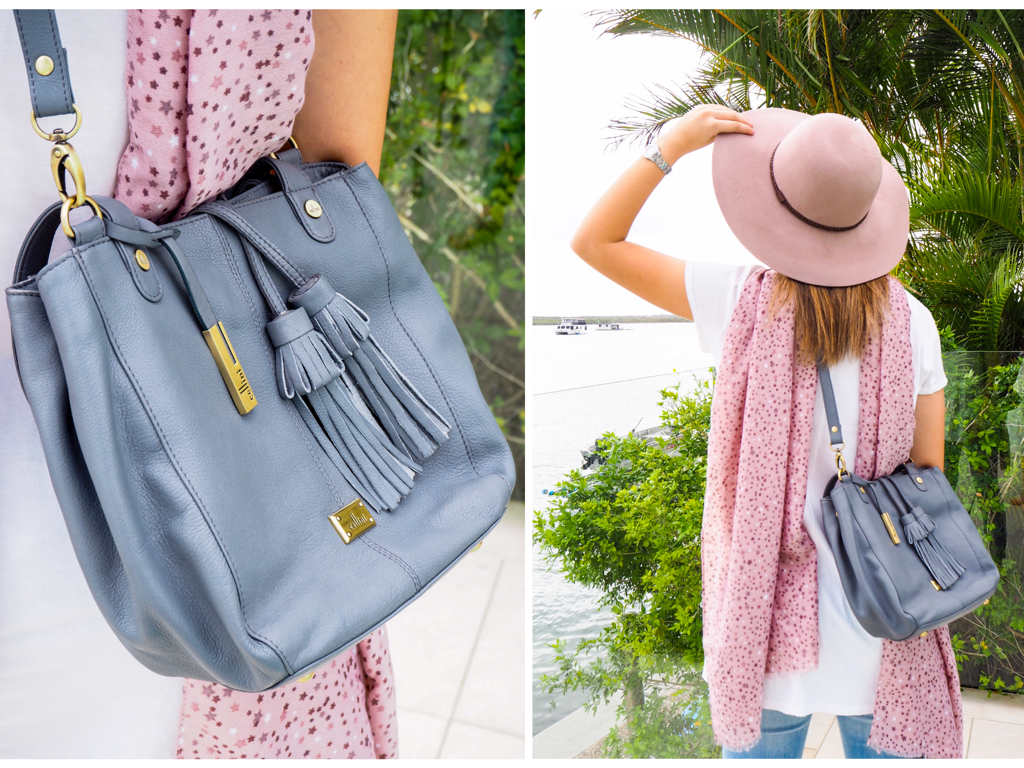 Does your Mum like a little bit of sparkle? This combo is just what she needs. The metallic spotty scarf is light and versatile with just the right amount of sparkle. While the phone holder in rose gold metallic is ideal to keep the essentials safe in a comfortable cross body or long strap style.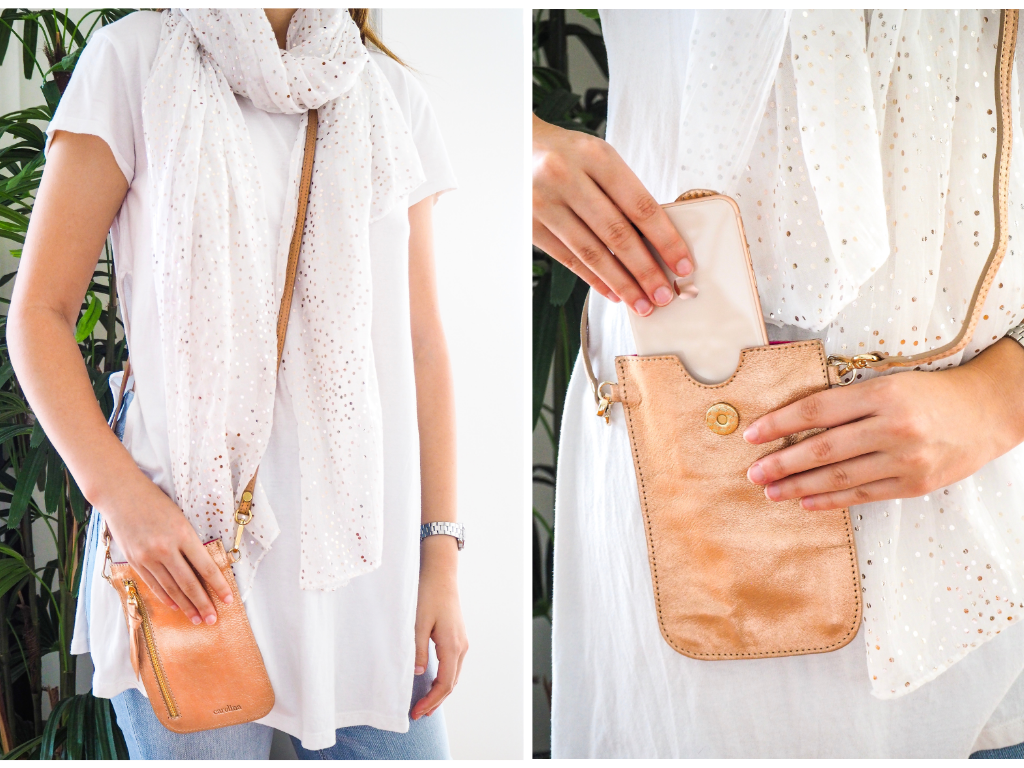 Slippers are one of the best go-to gifts for Mother's Day, my Mum looks forward to a new pair each year. Have a look at what your Mum is currently wearing to decide what type of slippers to get her, you might like a slip-on type while your Mum might like a loafer or a boot. My Mum likes a boot type slipper and needs extra support after some foot problems, I chose a pair from Vionic as they are podiatrist designed for extra support. While I was there I also grabbed a pair for myself because hello … they are plush leopard print in my style – a relaxed slipper.
EXTRA BROWNIE POINTS – Watch a movie with Mum, make her a cup of tea and let her choose the movie.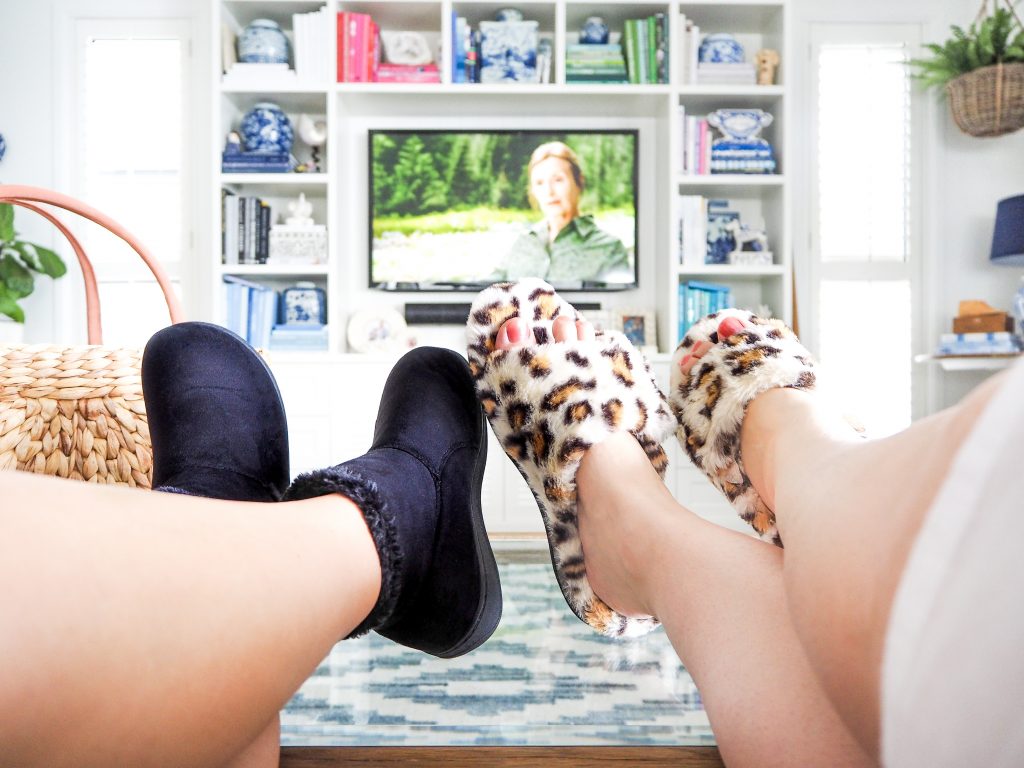 While we are talking slippers, you might also want to consider some sleepwear. I personally love a pretty cotton nightie and while I love a simple white nightie, I really love the floral print on this one.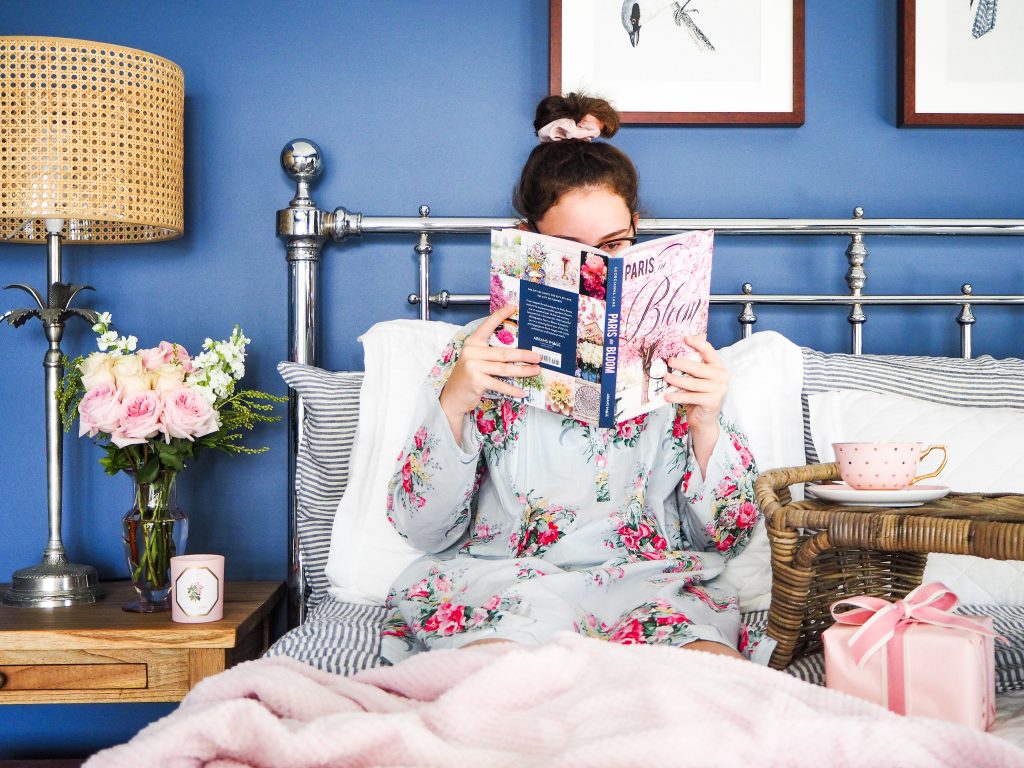 Pair it with a sweet teacup, a vase of beautiful blooms, a candle in her favourite scent and a beautiful book to make it a complete gift experience.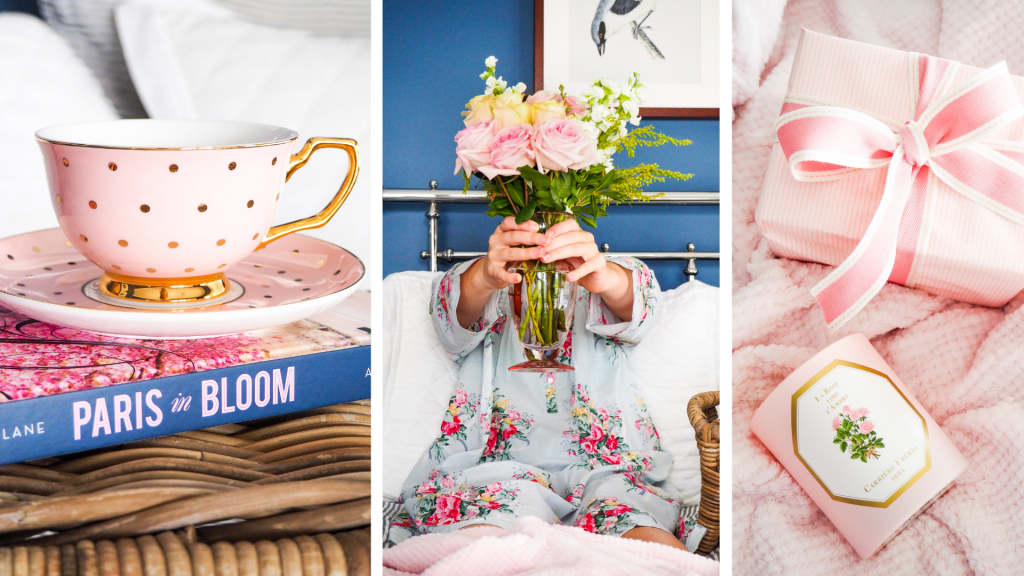 EXTRA BROWNIE POINTS – Make her a breakfast tray with her favourite tea and then let her stay in bed as long as she likes.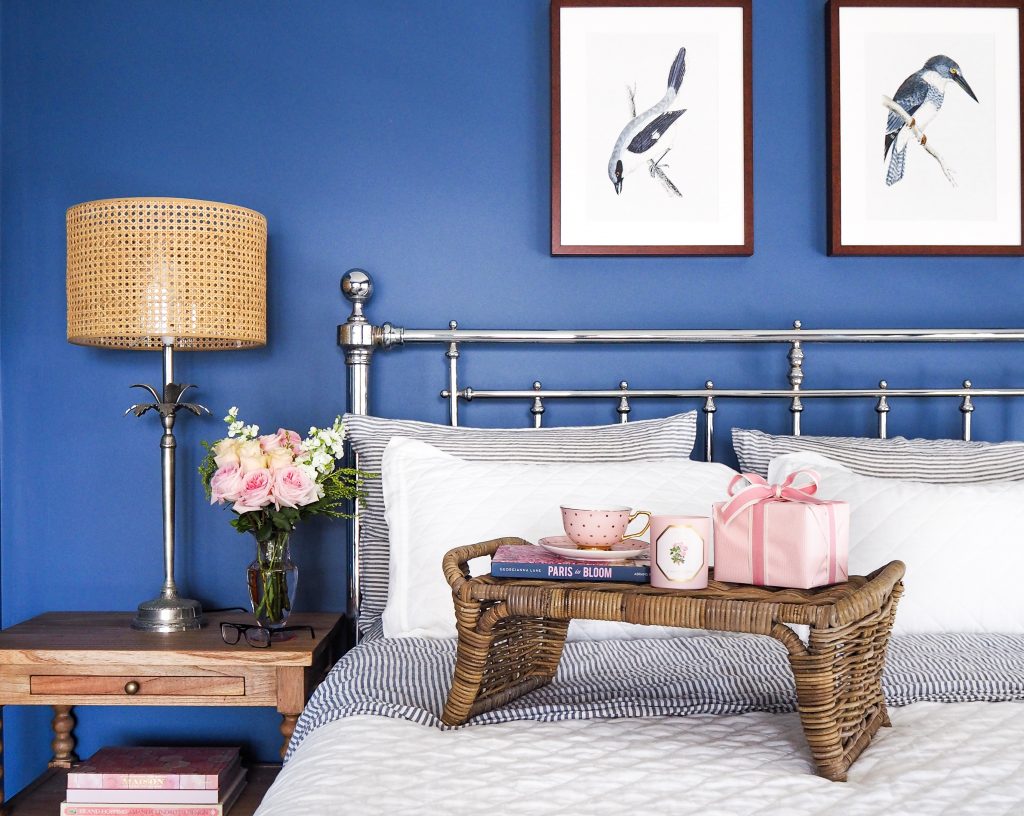 If your Mum is a bit of a coffee connoisseur, consider getting her a new coffee machine. If you follow me on Instagram you may have seen my old pod style machine die a little while ago, I replaced it with an amazing automatic machine that grinds the beans, froths the milk and makes the coffee all at the touch of a button. It is super easy to use and look after, I thought my old style pod machine was good, but this … THIS IS AMAZING!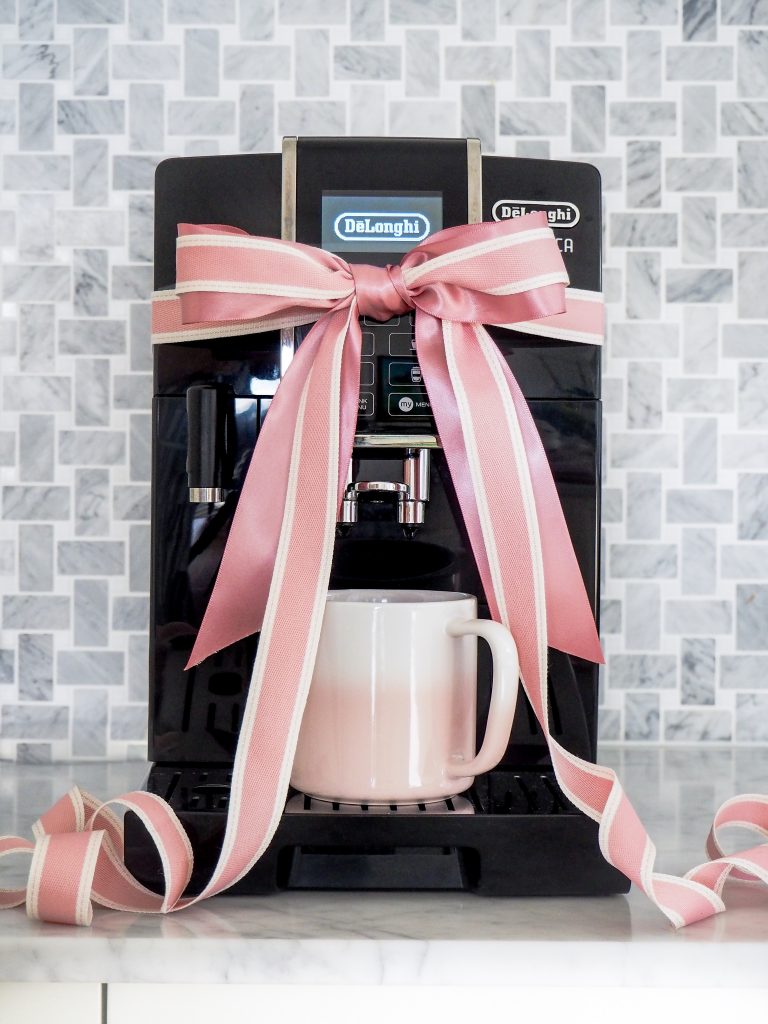 EXTRA BROWNIE POINTS – Make Mum a cup of coffee and magically make the house silent for at least half an hour!
The plush pink loungewear is my Mother's Day gift to myself, it is so soft and snugly, the only problem is my daughter keeps 'borrowing' mine.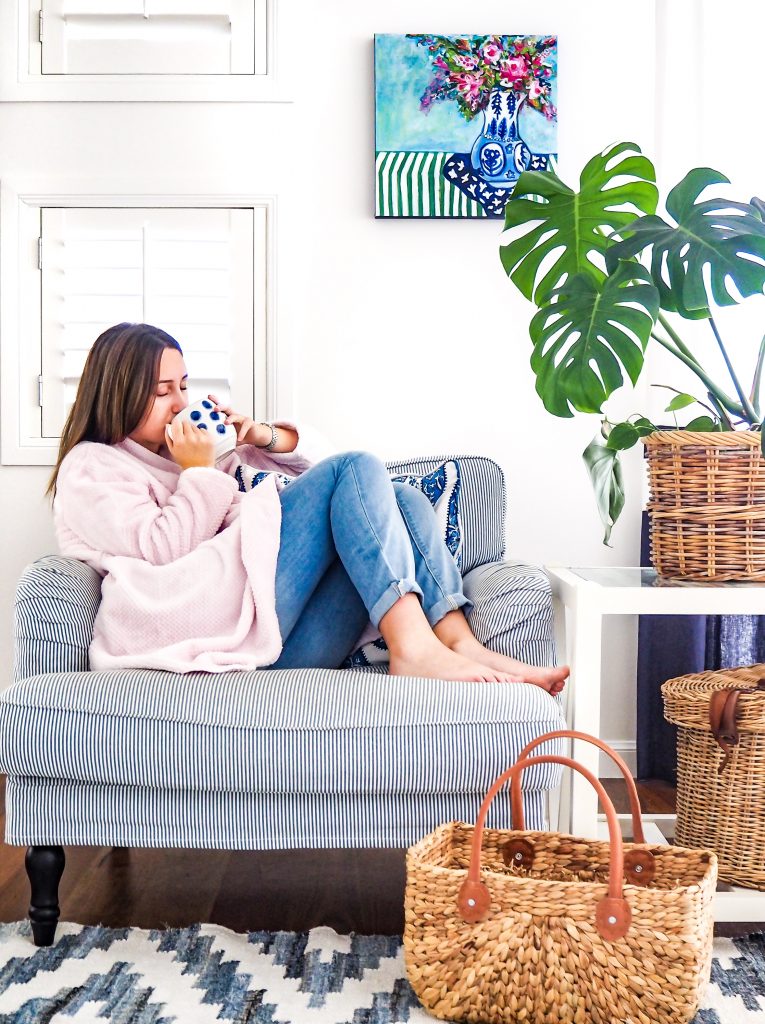 A classic Mother's Day gift for good reason, it's always a winner – get her some bubble bath or scented soaps. These have the prettiest packaging and they smell just as gorgeous as they look.
EXTRA BROWNIE POINTS – For the ultimate bliss, pop on some music, light a candle and pour her a glass of wine or champagne and let her soak the day away.
For the practical Mum, gift her some luxurious housekeeping products. I love this beautiful bench spray and hand wash, they are scented using Australian bush oils and are available in a range of unique scents.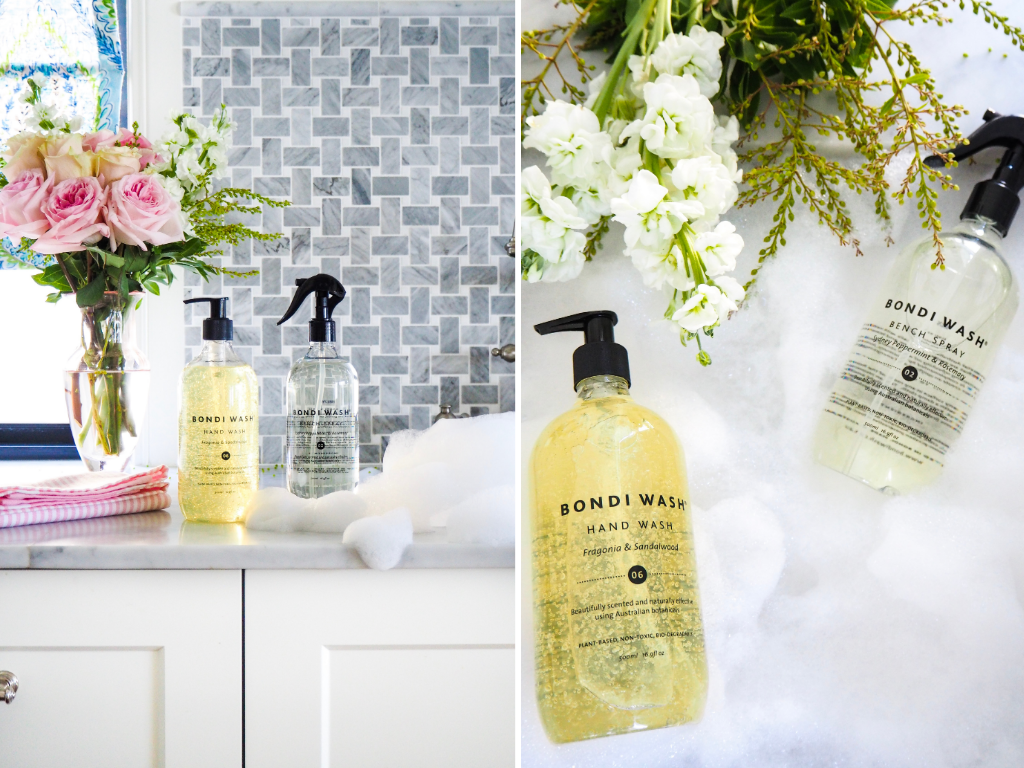 If your Mum is a baker, how about the gift that keeps on giving. I recently got a kitchen mixer and I absolutely love it. Trust me, she'll love it so much she'll find any excuse to use it and you'll have cakes and cookies because it's Tuesday, okay, maybe that's just me.
Pair it with some cake mixes and some fancy cake tins and she'll never leave the kitchen!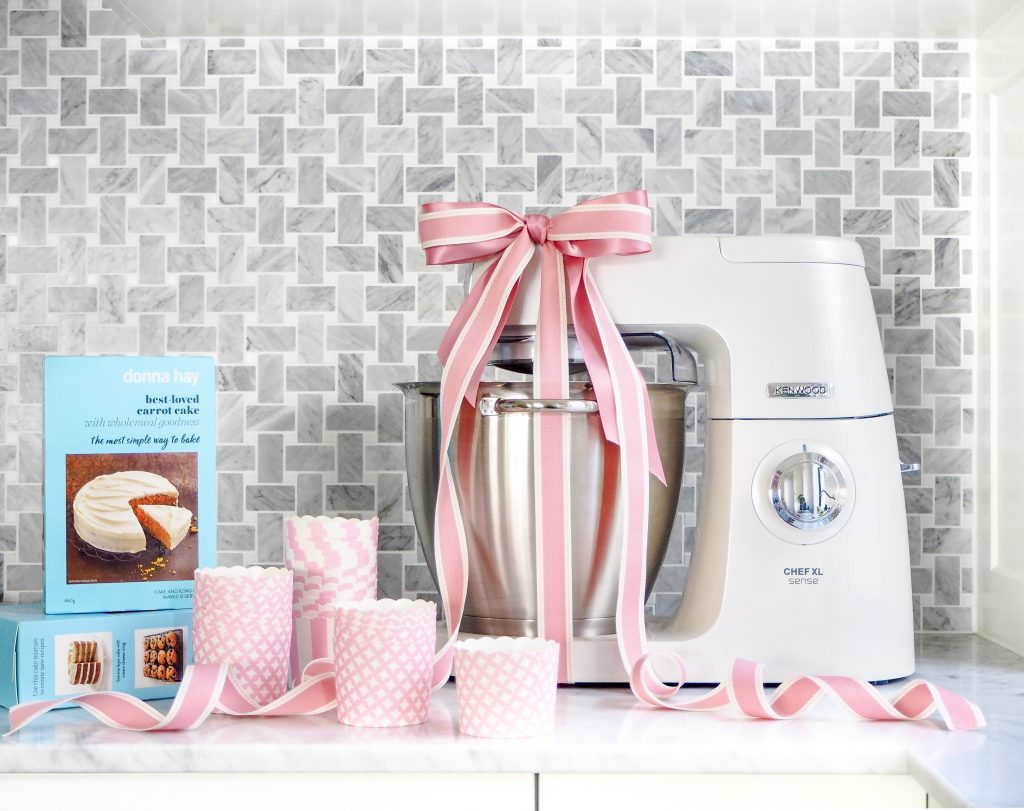 If your Mum appreciates the finer things in life, consider gifting her a beautiful tea set. You could buy the whole set or just a few pieces for each occasion until she has the whole collection. I love this collection inspired by the Quinsai Gardens with its exotic flowers in delicate and pretty colours, there are peonies, camelias, magnolias and chrysanthemums. Each bloom has a deeper meaning, for example the magnolia shows special respect for beautiful women, what could be more perfect as a Mother's Day gift?
CHEEKY TIP – Choose a tea set that you love too, then cross your fingers your Mum hands it down to you one day!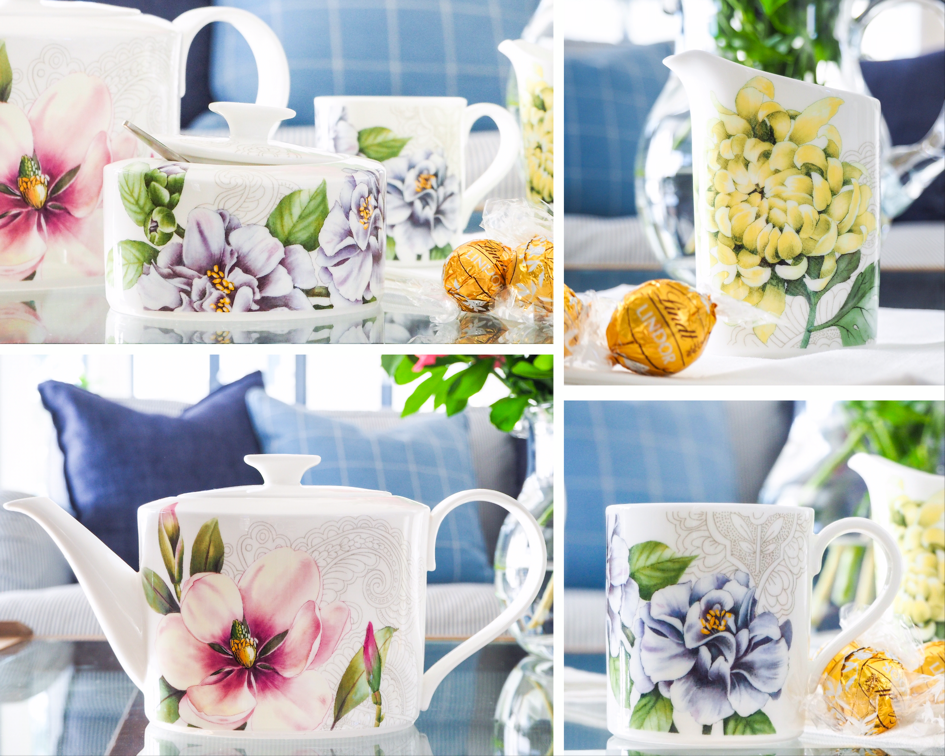 Lastly, this is always one of my favourite gifts to put together – a basket full of goodies. I love finding a stylish big basket and filling it with lots of little gifts that I know Mum will love.
I know my own Mother loves receiving candles, flower seeds, chocolates and handmade trinkets from the kids.
Your Mum might like these too, or maybe she'd like skincare, make-up, jewellery or craft supplies. Here's a few ideas to get you started …..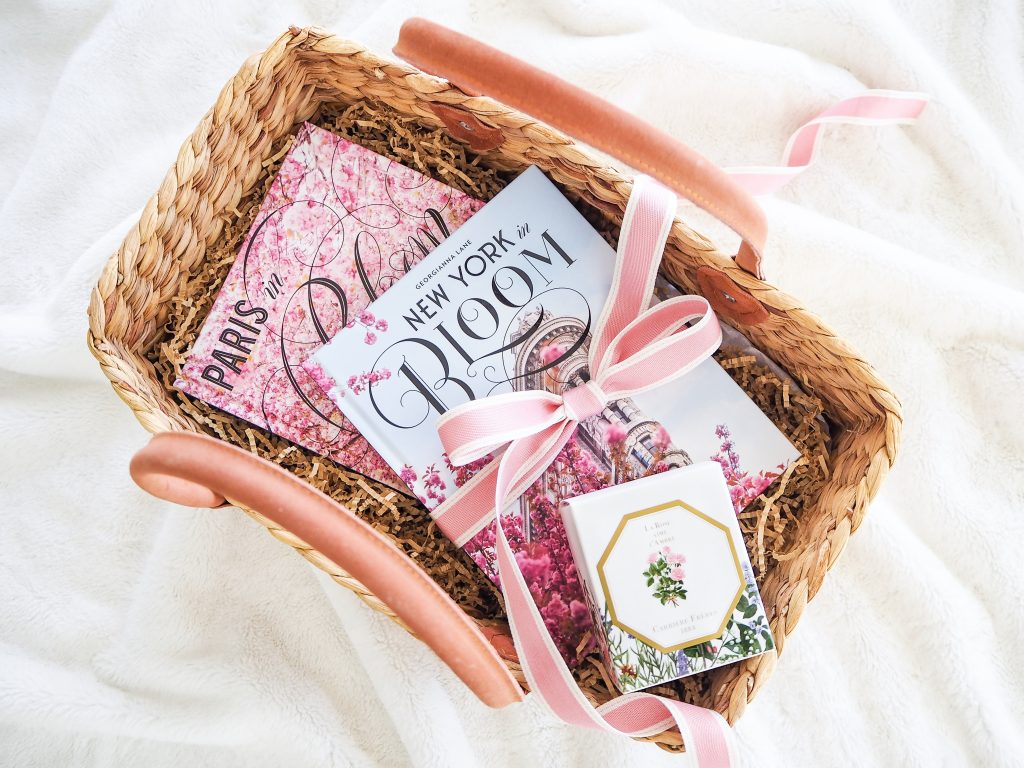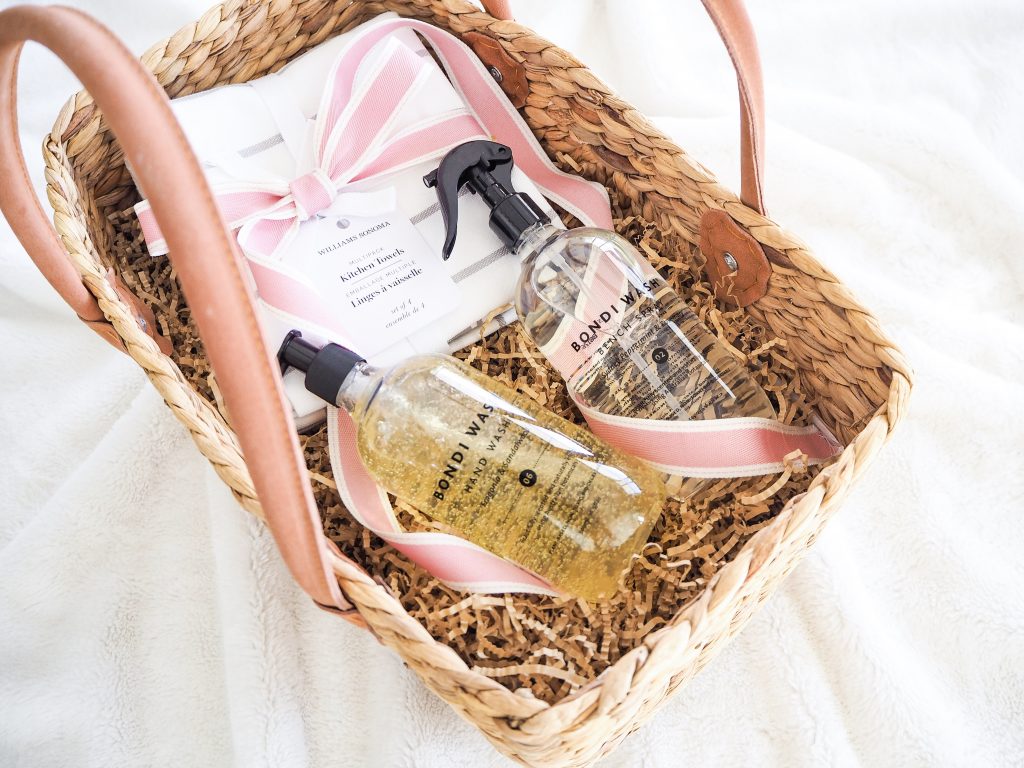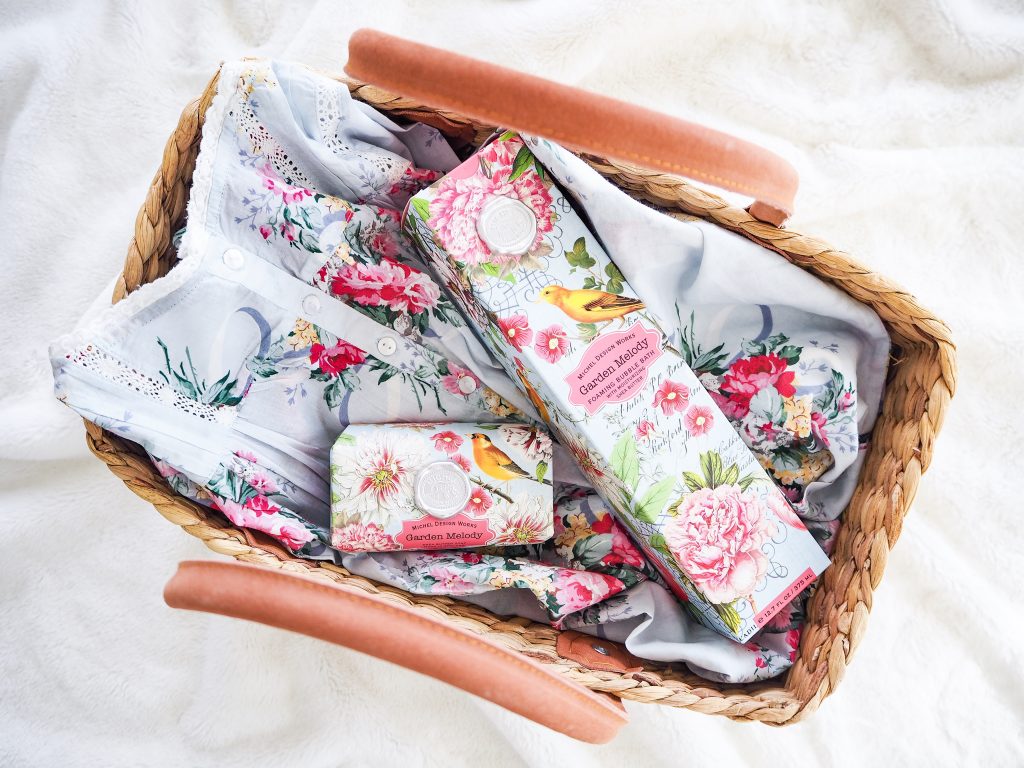 One last tip for Mother's Day shopping – many stores offer free gift wrapping, take advantage of it!
Here's an example of the wrapping available at Bloom & Co.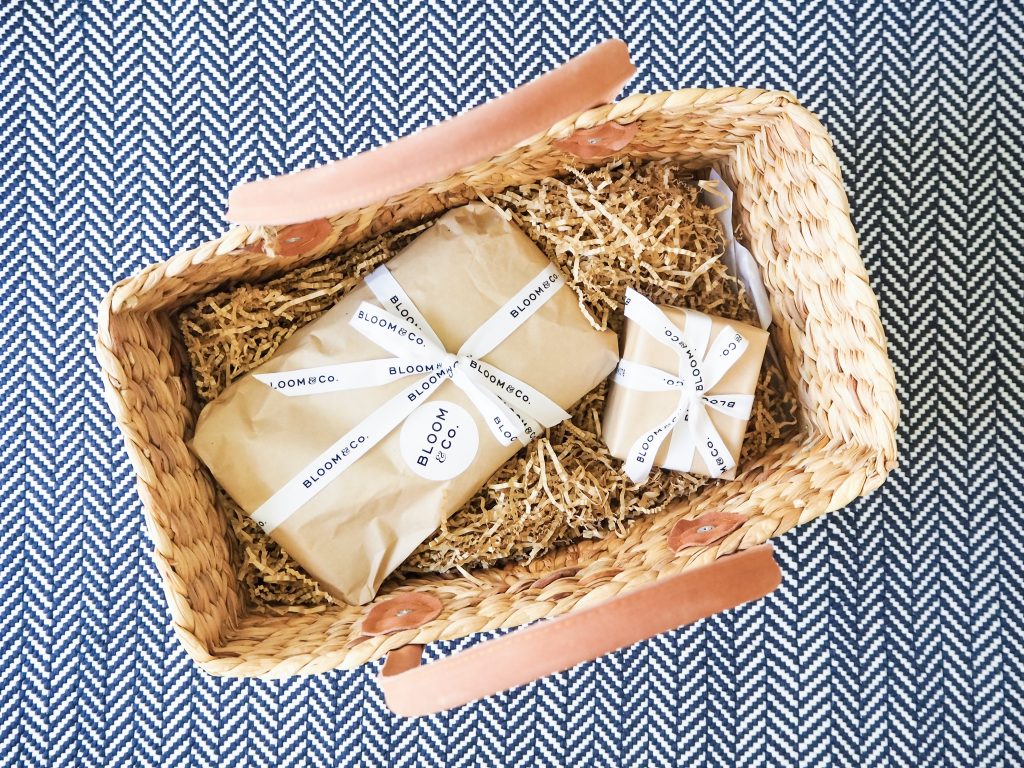 Now for the fun part, here's all the shopping details for you to find all these gorgeous gifts. Click on the links to go directly to the gorgeous stores where I found these beautiful gifts.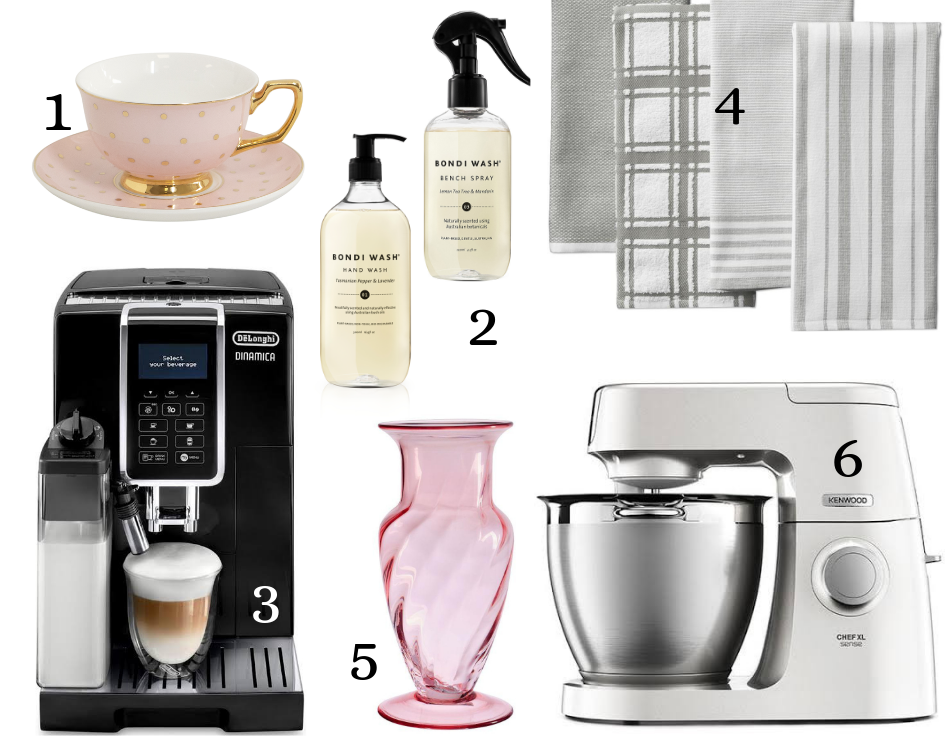 1. Pink and Gold Spotty teacup / 2. Hand Wash & Bench Spray /
3. Automatic Coffee Machine /4. Tea Towels / 5. Monique Lhuillier Clare Swivel Vase /
6. Kitchen Mixer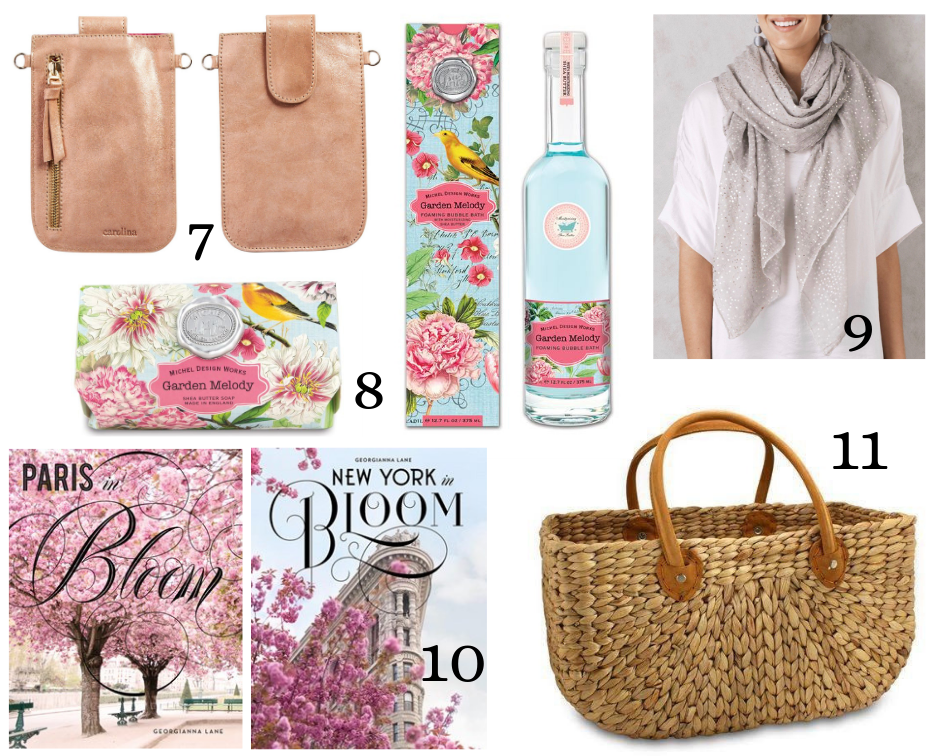 7. Walker Mobile Phone Holder / 8. Michel Design Works bubble bath & soap / 9. Liana Metallic Scarf  / 10 Georgianna Lane books, Paris in Bloom and New York in Bloom /
11. Market bag with Suede Handles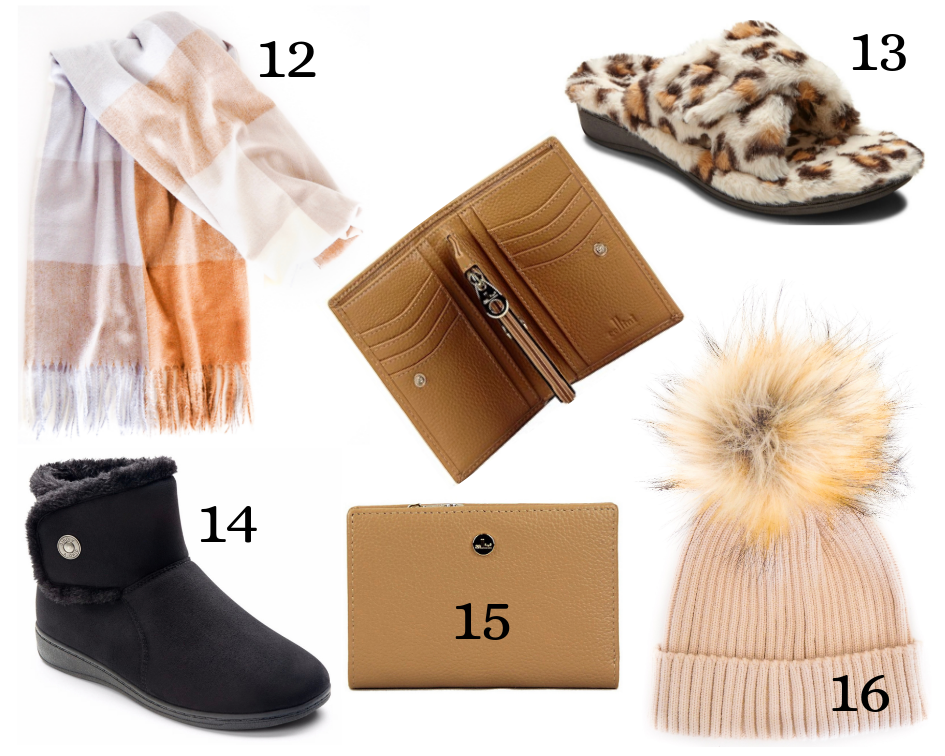 12. Tritone Check Scarf / 13. Relax Plush Slipper in Leopard /  14. Vanah Boot Slipper /
15. Greta French zip purse / 16. Faux Fur Beanie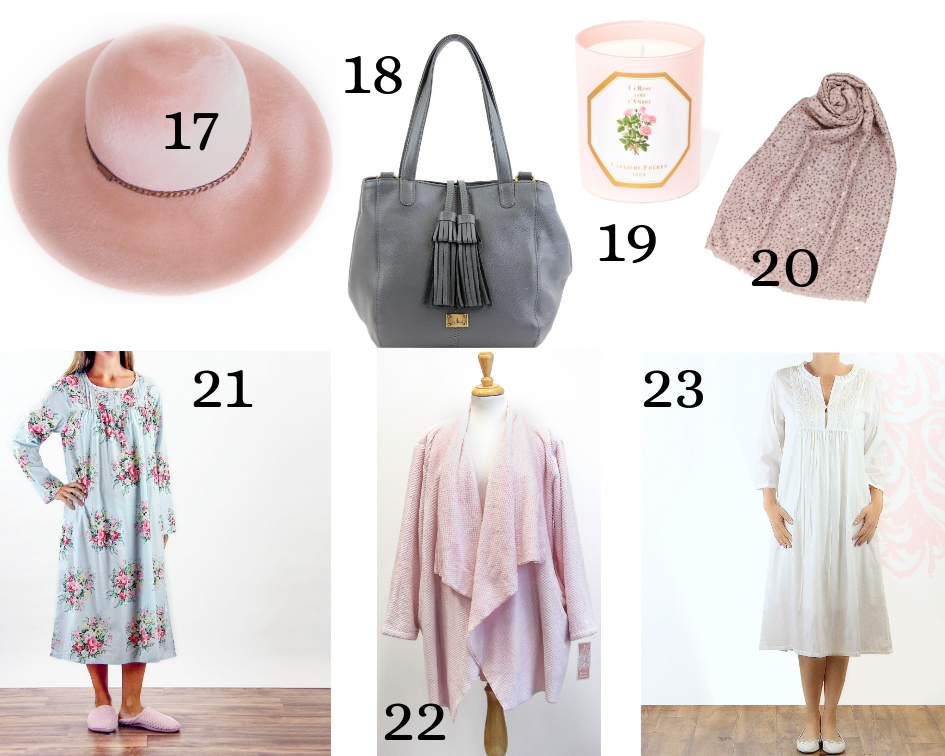 17. Braid Trim Felt Hat in Blush / 18. Cameron Satchel bag / 19. Carriere Freres Rose Amber Candle / 20. Star Print Scarf /  21. Kyrielle nightie /
22. Plush Pink Waterfall Poncho / 23.Ariella nightie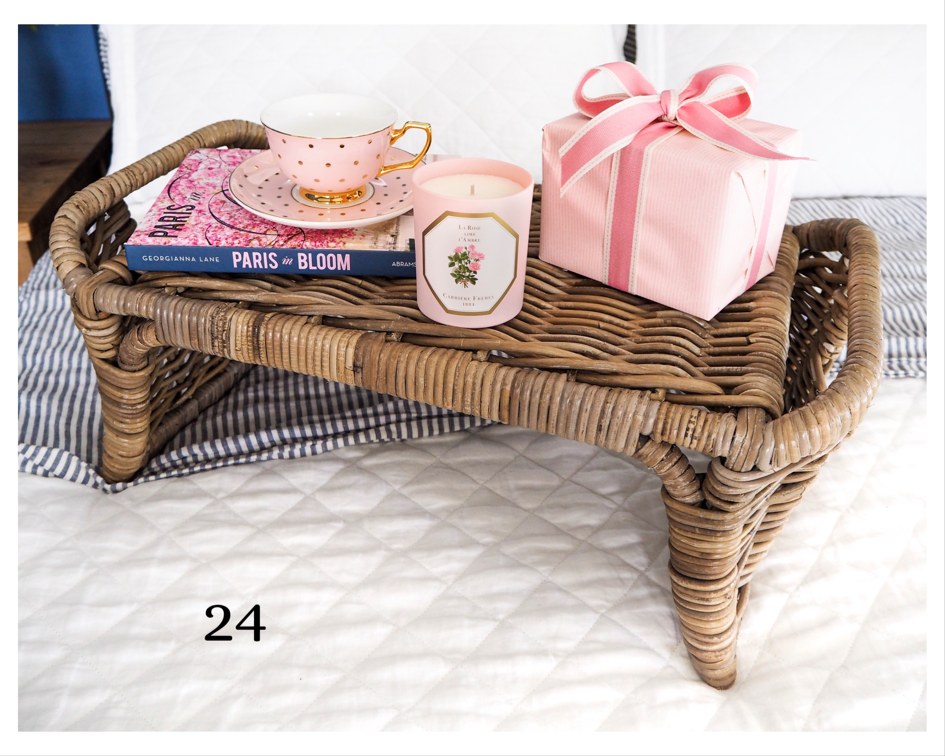 25. Lindt Caramel Balls / 26. Quinsai Garden Sugar/Jampot / 27. Quinsai Garden Creamer /
28. Quinsai Garden Teapot / 29. Quinsai Garden Coffee Cup
I hope you found something perfect for your Mum.
Happy Shopping!
Hayley x
Disclosure : Some of these items were gifted to me, all of them were hand selected by me, all opinions are my own. Y'all know I don't share things unless I love them, I love the quality and I love the brand.