Who remembers when I was all excited to create a summer camp style bedroom for Orly? I was planning log bedside tables, brightly coloured wall pennants and striped blankets … then I stumbled across the most adorable curtain fabric … I fell in love and everything changed.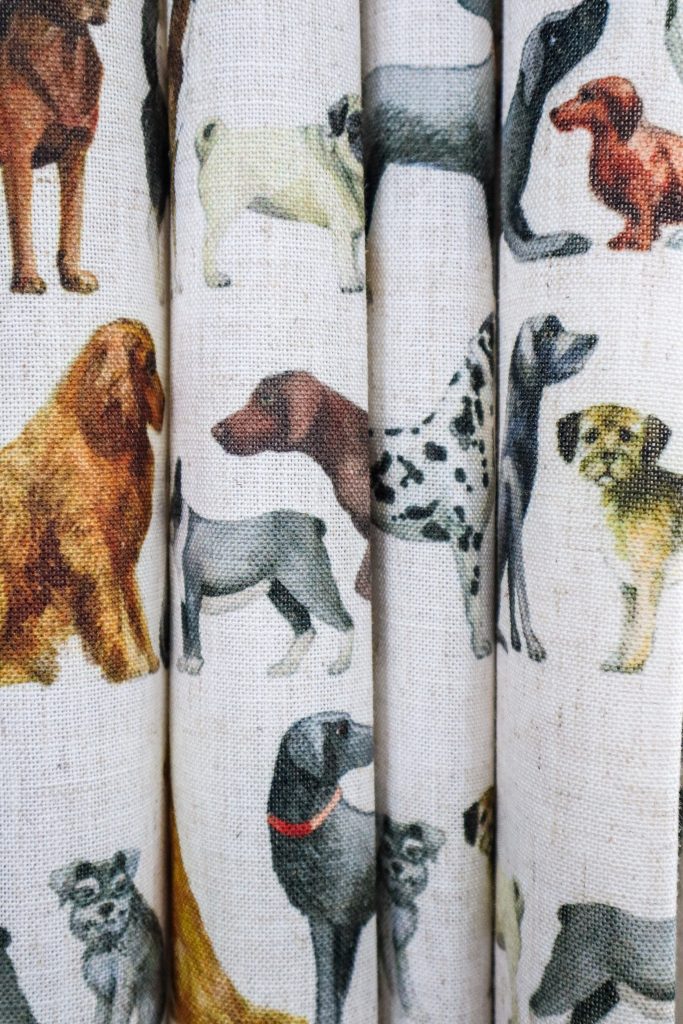 When I saw Tuiss Blinds Online had a range of Emma Bridgwater fabrics available for curtains and blinds, I knew I was going to love them. I popped online for a little sneak peek thinking I could use them somewhere else in my house, then I saw the Dogs Multi fabric. I knew I had to use them, I would happily put them in any room of my house but I decided they would look amazing in Orly's room. I showed Orly and he loved them too.
Orly's only request for his room was to use his favourite colour – orange. When the fabric sample arrived I knew it was going to be fabulous, the colour palette is warm with shades of brown ranging from tan, to mocha and rust through to greys and a touch of black. I knew I could mix a burnt orange into this mix perfectly. I didn't waste a second ordering them, I chose a pencil pleat curtain with the light filtering lining. I hung them on simple black rods to flow with the rest of the house.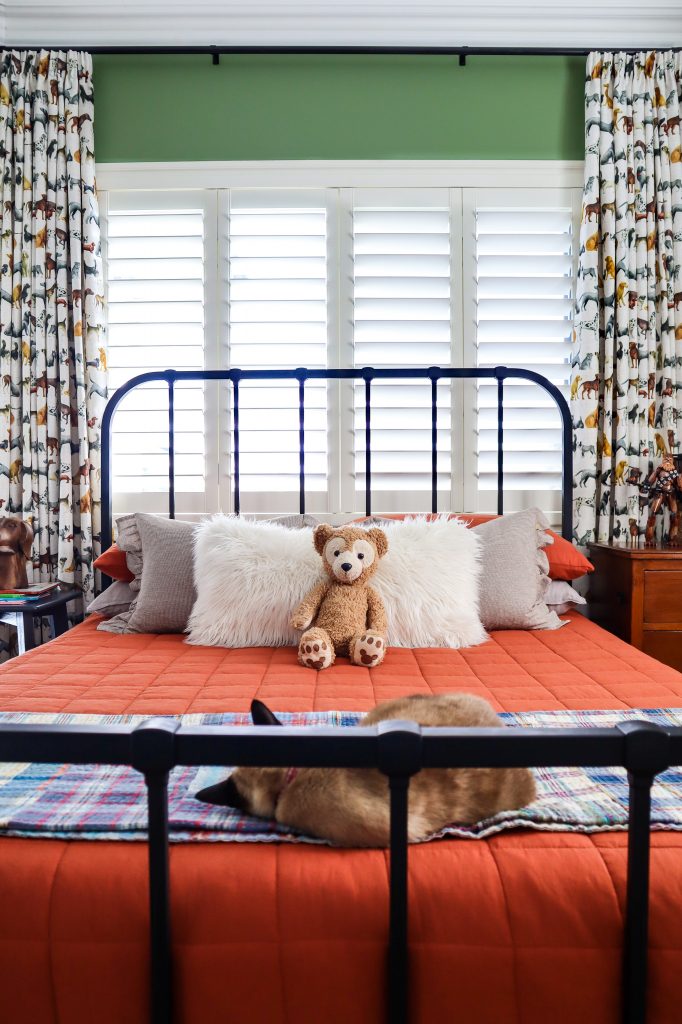 I had already painted his room green (Dulux Backyard) ready for his summer camp room. I really love the colour and although I probably wouldn't have chosen this colour to go with the new look I decided to leave it and if it didn't work I could easily repaint. In theory, using split complimentary colours on the chart, I knew it should work, especially if I added a little bit of blue to balance it all.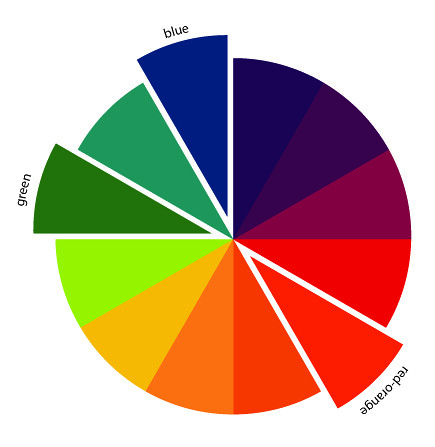 So, the curtains were locked in, the wall colour was flexible and we decided to keep his bed frame, then we worked the rest of the room around these elements.
 First we addressed the practical problems in this room. Storage! Although he has a double wardrobe, it is quite small and he didn't have any drawers. I decided to use drawers as a bedside table, unfortunately I could only fit them on one side of his bed, if I had more room I would have used them on both. I wanted to encourage the modern country vibes of the fabric and I went to Facebook Marketplace and found a beautiful old set of drawers complete with brass handles. They are a perfect fit while still keeping the bed centred under the window (I'm totally OCD about that).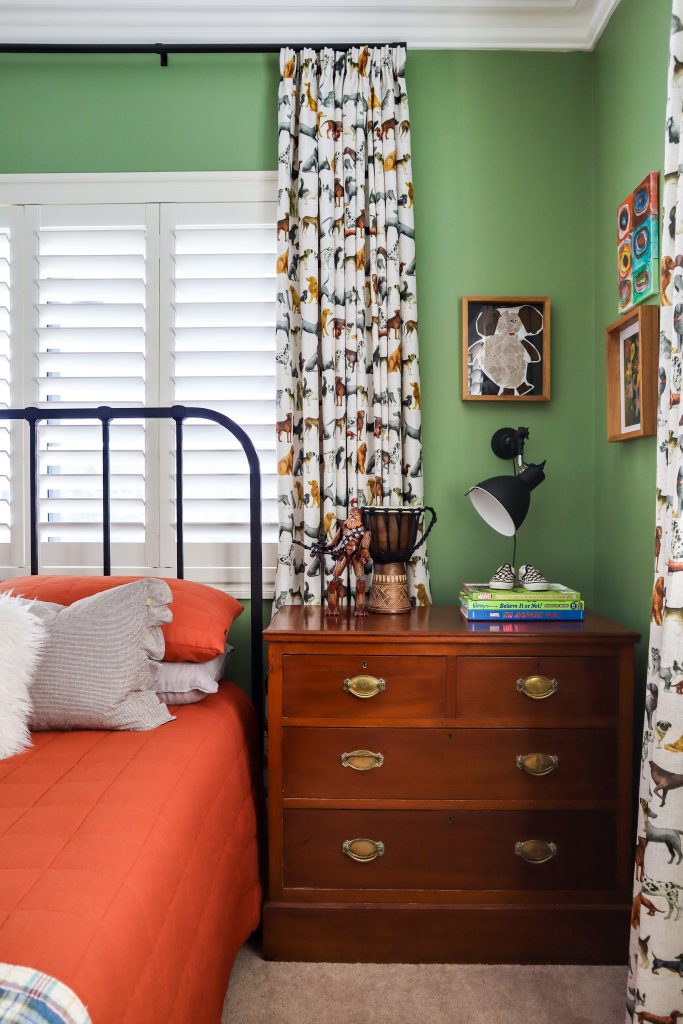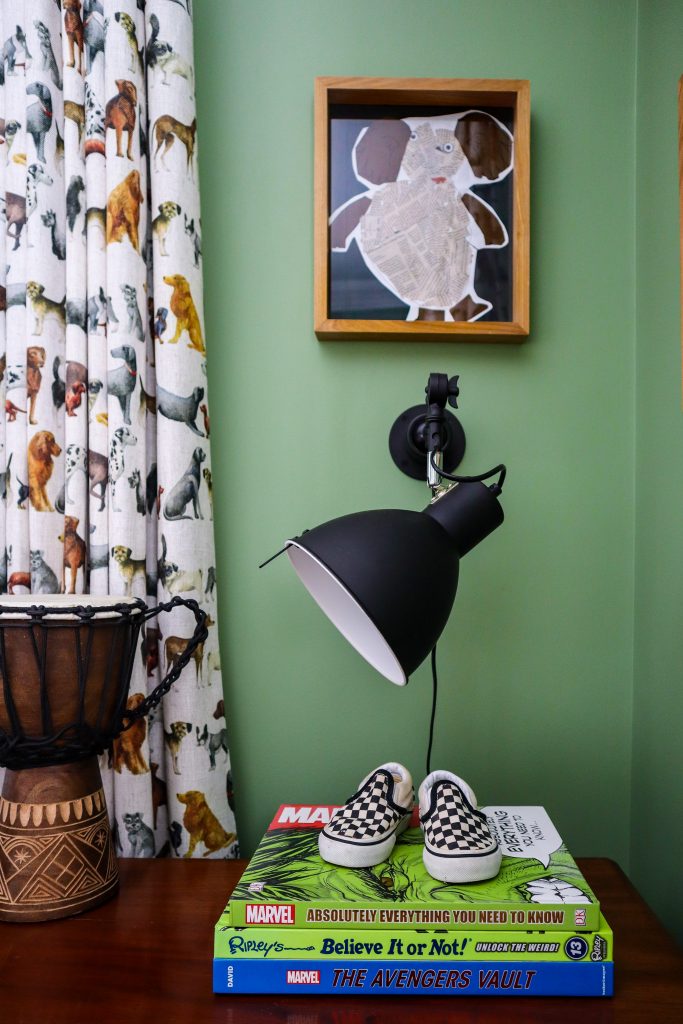 The next issue in this room is only a problem in summer, but his room faces west and the sun really heats up his room in the afternoons. It makes it uncomfortable to go to bed when it's so hot. Plantation shutters provide awesome insulation properties, they keep the heat out in summer and help retain the heat inside during winter. You really can't beat the clean lines and versatility of shutters, being able to tilt the slats and control the heat and light is worth every cent. Plus, we ordered them from Tuiss Blinds Online again and fitted them ourselves, it saves a tonne of money and it really is surprisingly easy. I shared all the details of how to fit your DIY shutters here.
I also wanted to use shutters in this room as his window is along the front of the house, by keeping all the windows coverings the same along the front facade it creates a cohesive and stylish look.  The office is directly under Orly's room and I used shutters in there too.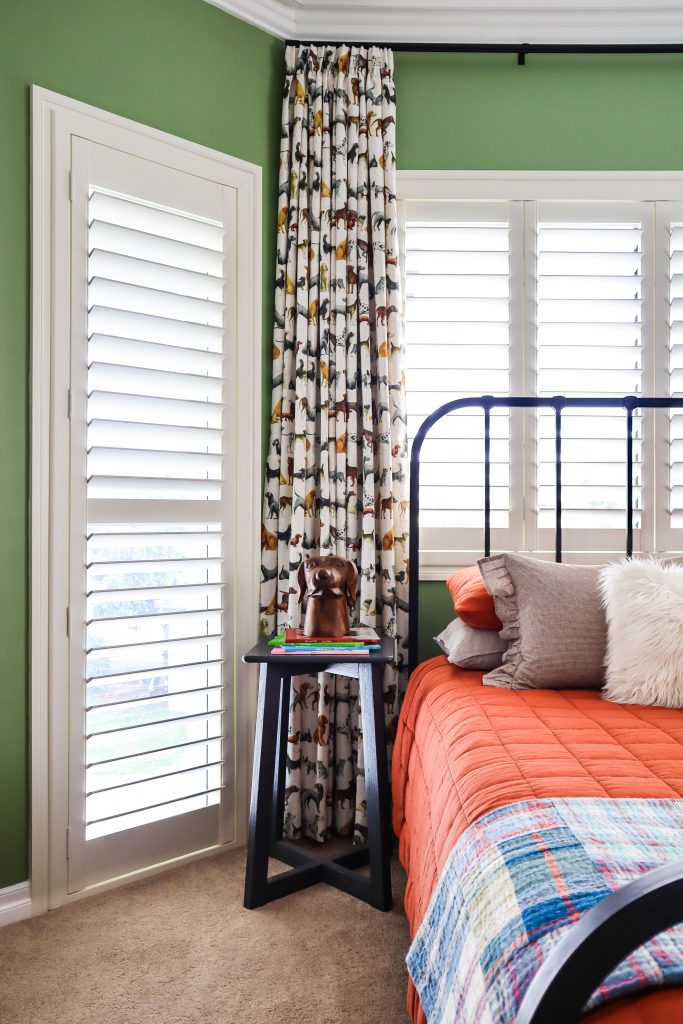 I couldn't fit a big bedside table on the other side of his bed due to the 45 degree turn in the wall, I hunted high and low for a vintage style round table. I couldn't find anything I liked within my budget that was in stock (thanks Covid), so I settled on this table, which turned out to be perfect.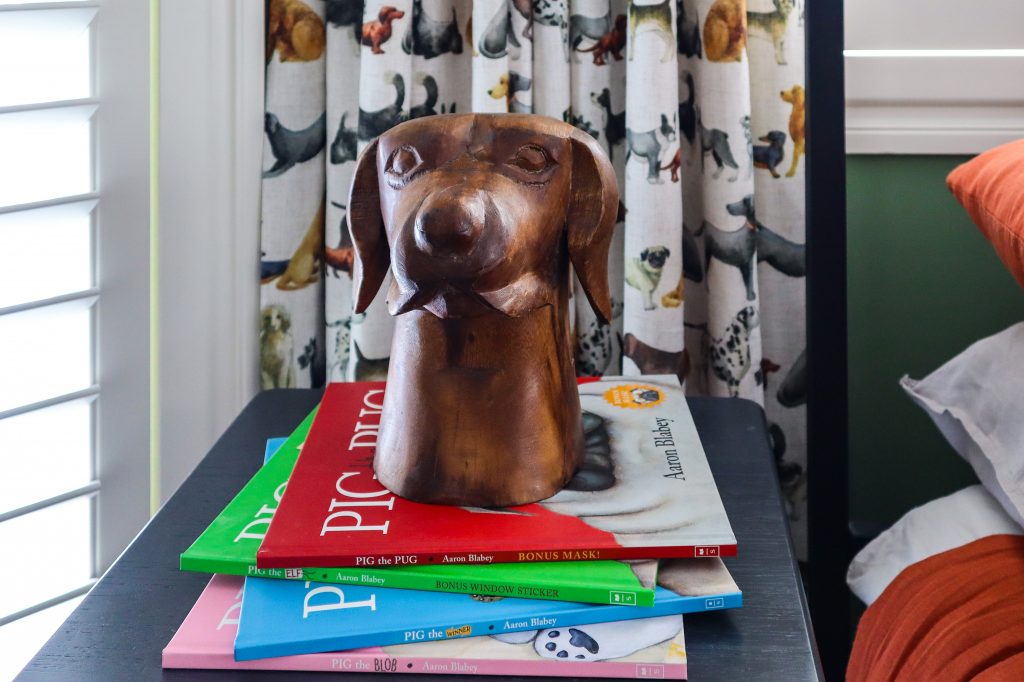 The last thing I had to address in this room is how to inject Orly's request – orange. I had intended on using blue or green bed linen with orange cushions and a throw, but then I found this coverlet in the perfect shade of orange (brick) and I decided to go for it. Yes, it's a lot of orange, but it really warms the space up and Orly's loves it.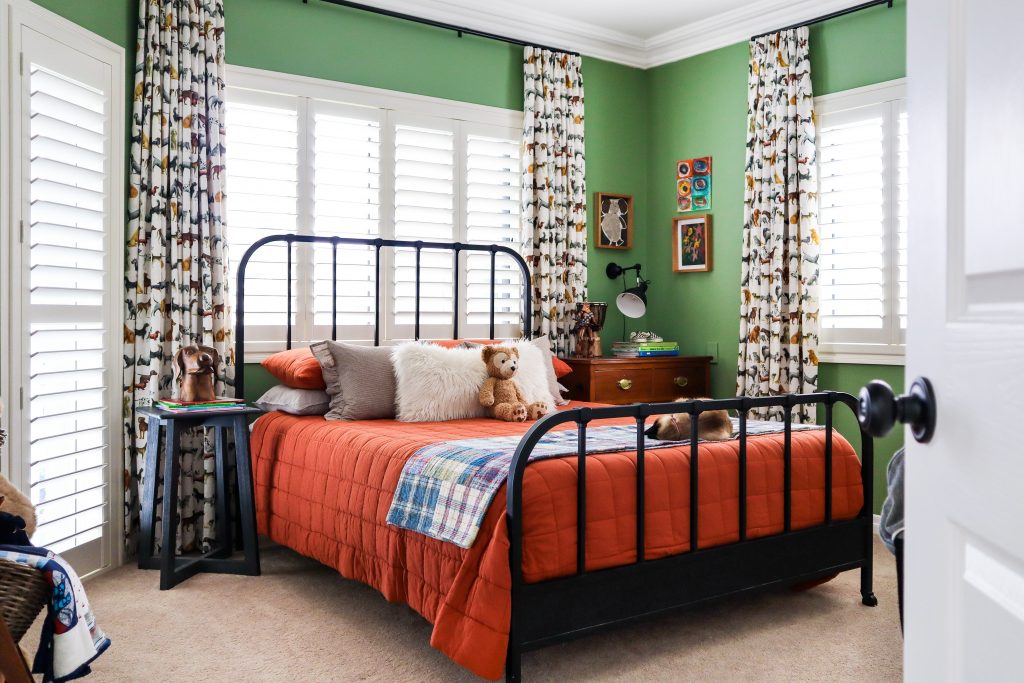 Everything else in this room we already had. His desk sits in the corner and although I'd love to use that space for some gorgeous drawers and a gallery wall, he uses it all the time, he builds lego, plays with his air dry clay and I'm hoping one day he'll do his homework there, so it stayed. I paired it with a $20 vintage chair I found on Marketplace and recovered with a remnant of fabric.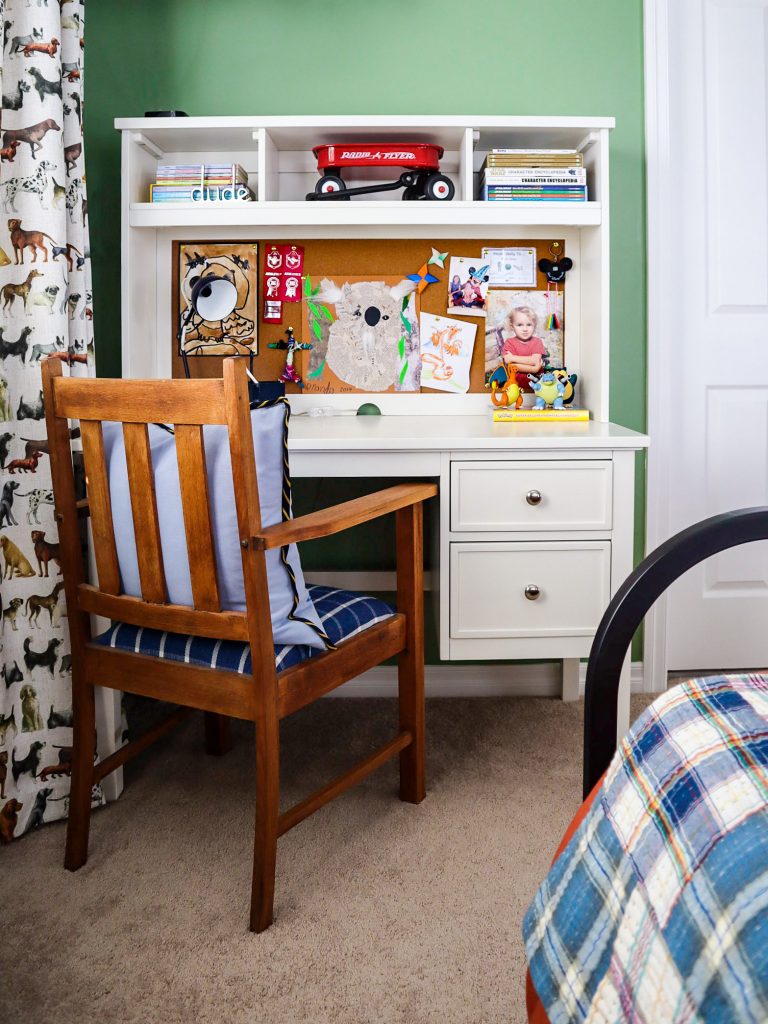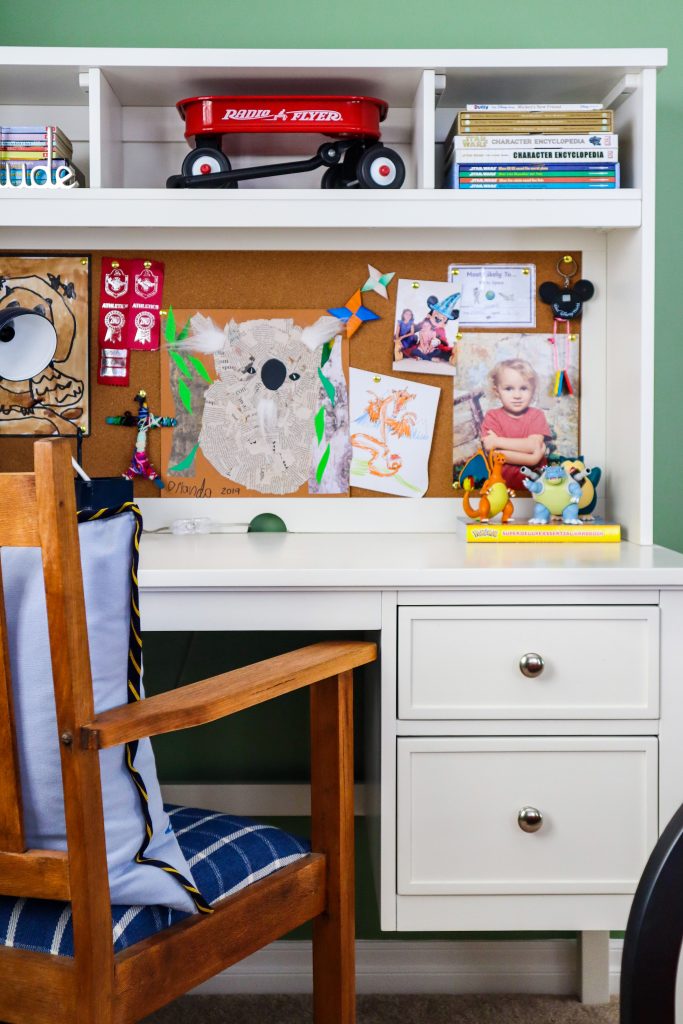 We also kept his basket ladder, this is such a handy piece and I could definitely use it in multiple spaces around the house, but for now it is home for his plush toy collection.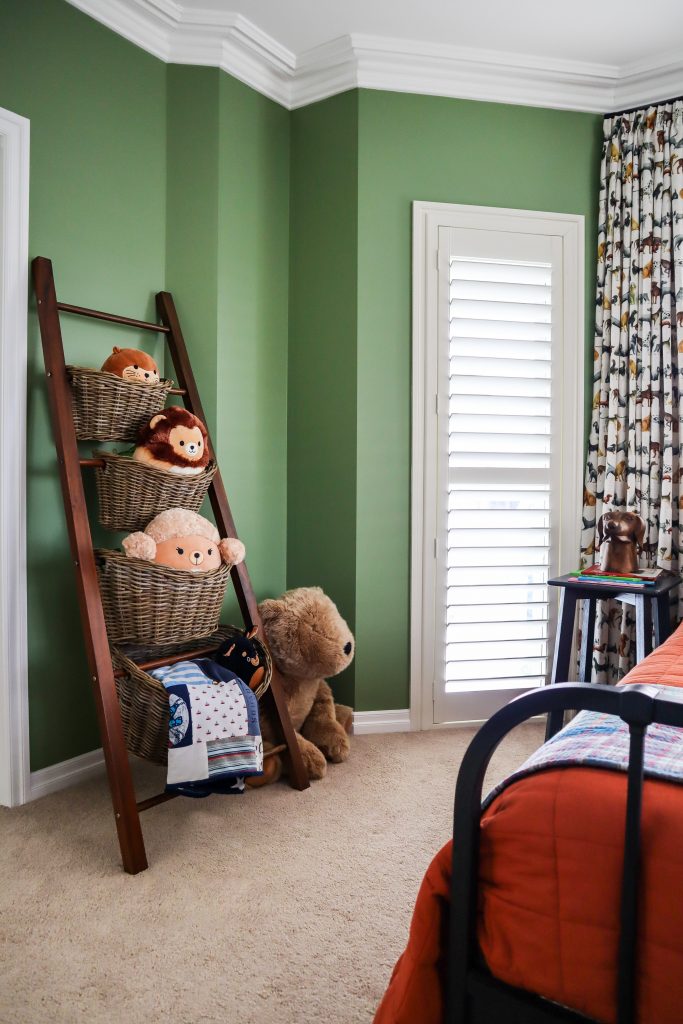 This room seemed to evolve by me changing my mind multiple times, working with what I could find and not being scared to take risks, and I have to say I think it is my favourite out of all the children's rooms I've done. Sometimes things don't go to plan, sometimes you have to work within a budget, sometimes you can't find what you want and sometimes you just change your mind, but sometimes all those things end up being positive and your room comes together beautifully. I love the colours, the little gallery of Orly's art, the mismatched bedside tables and the curtains … the curtains make me so happy.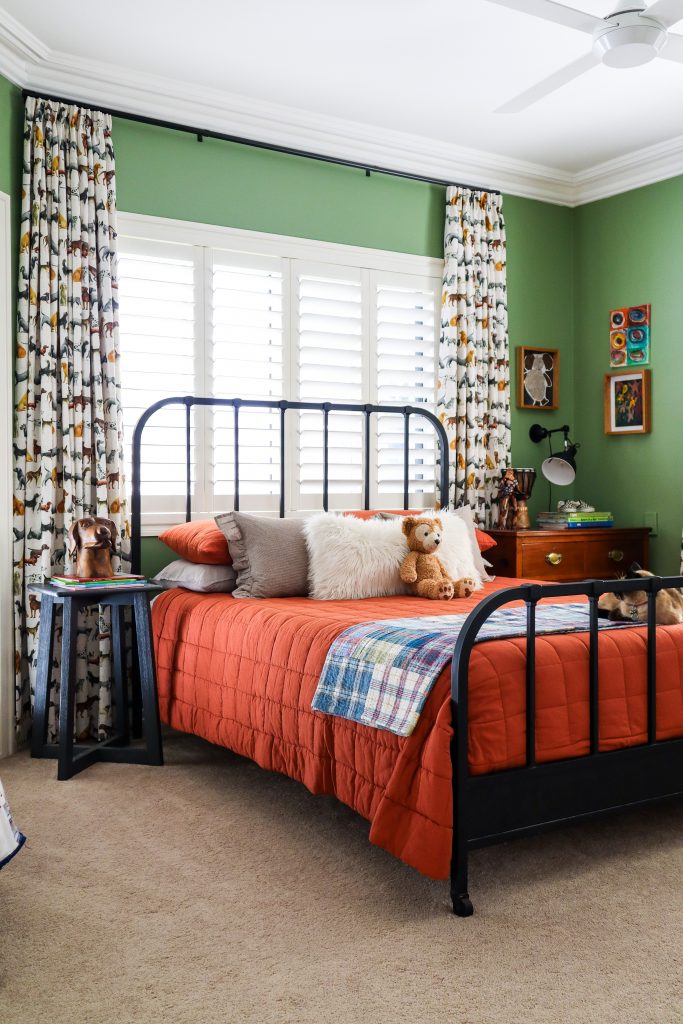 As you can see, Skipper loves this room too, this is often where I find her snoozing during the day.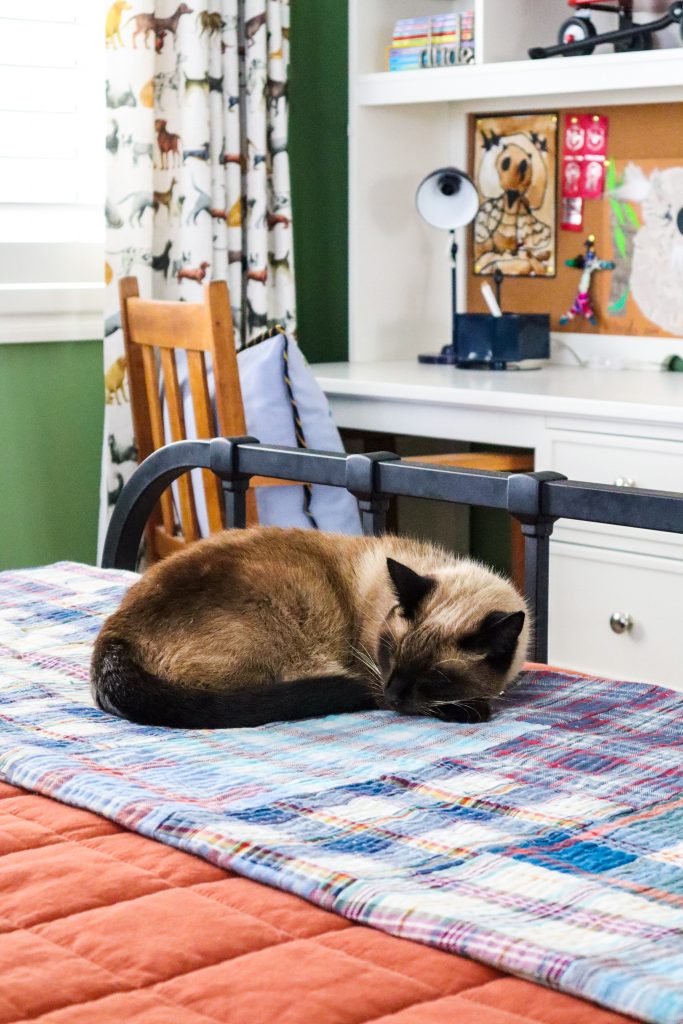 I also love pulling the curtains closed at night, this room feels so warm and inviting. I took this photo in the middle of the day, you can see how much light the shutters stop, they are nearly complete block out. Orly loves going to bed and I have to admit I have fallen asleep in there while reading him a book. It's such a cosy room.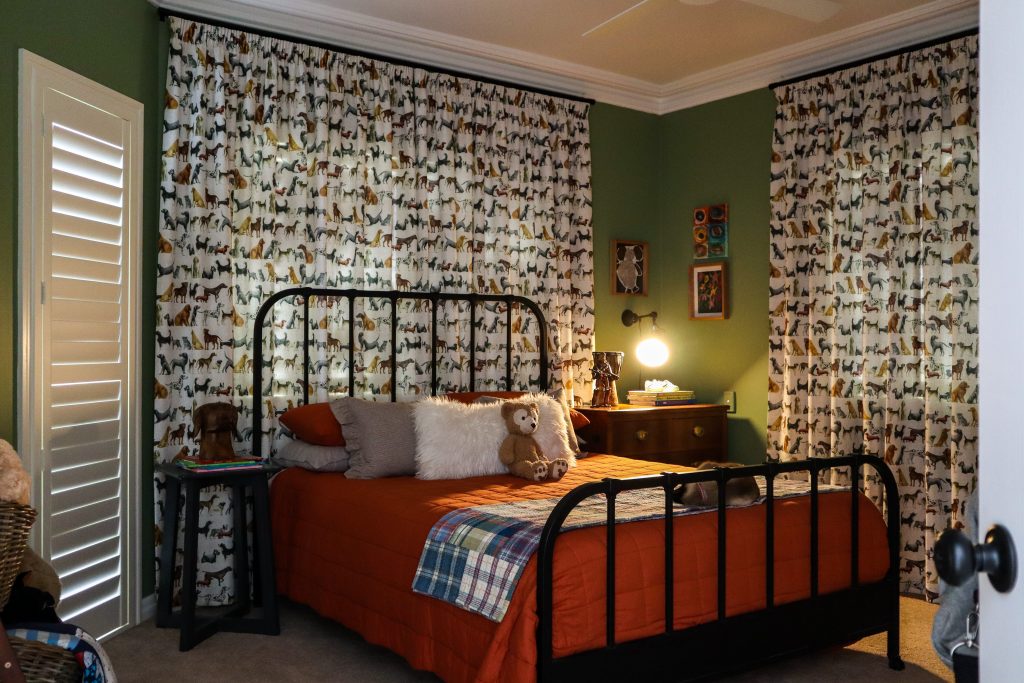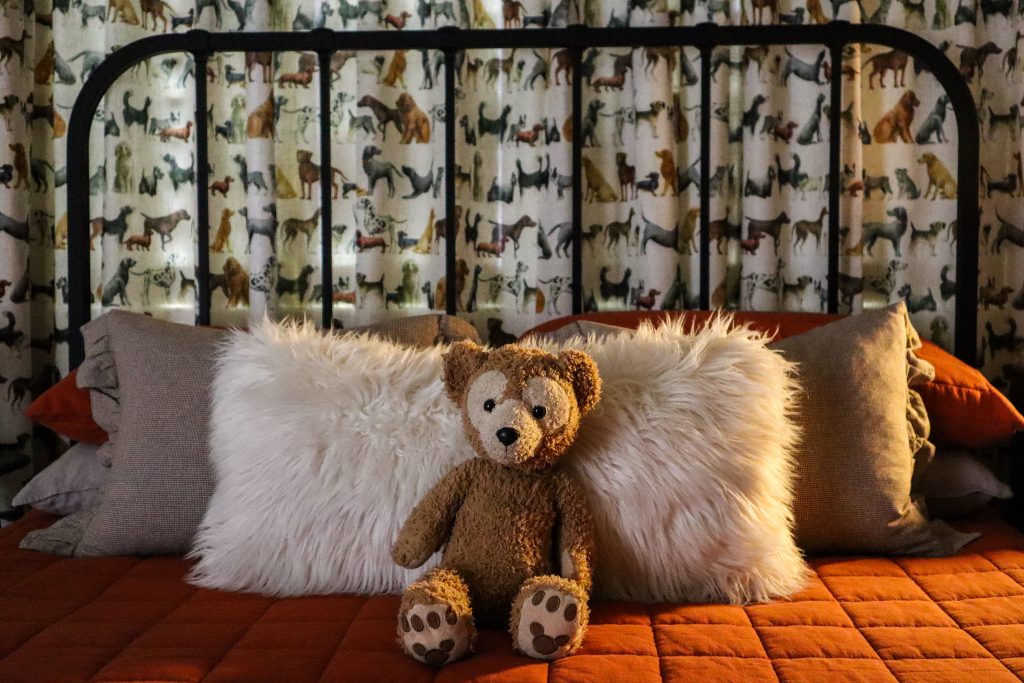 I hope you love it as much as we do. As always, I'm happy to answer your questions, you can comment here or pop over to Instagram and find me there.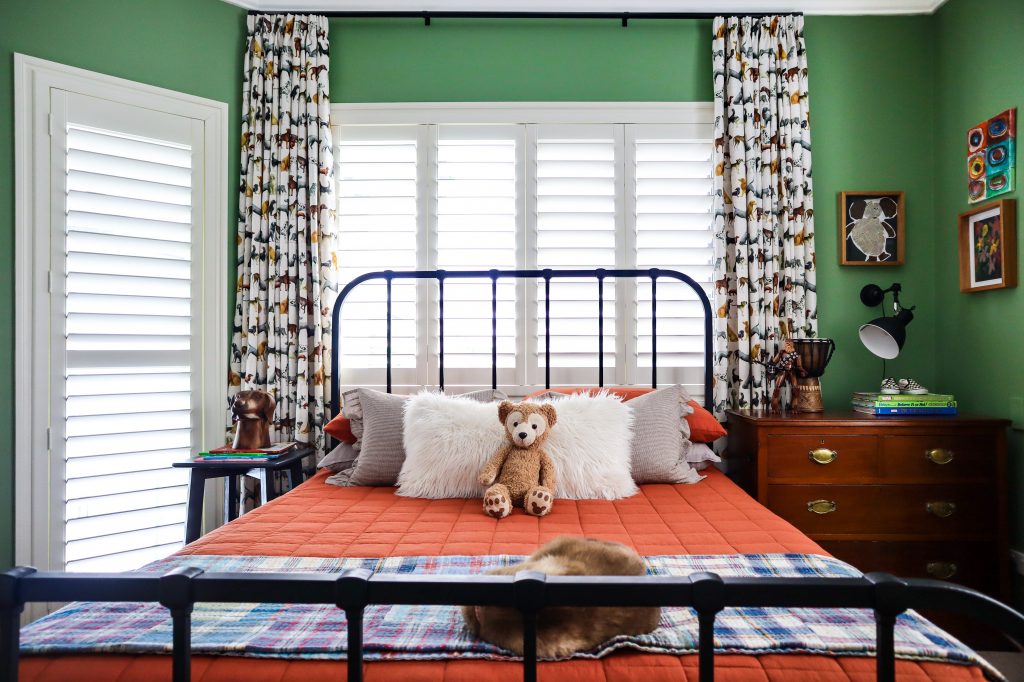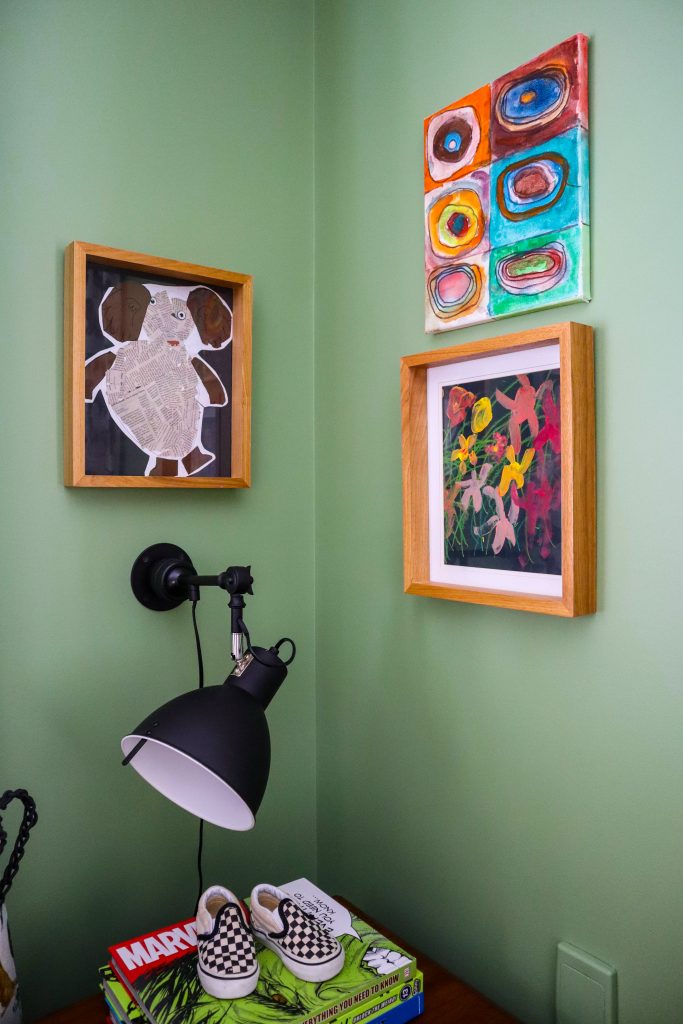 Happy Styling!
Hayley x