My baby is starting grade one this year,
I have absolutely no idea where those years have gone?
I swear he was just learning to walk yesterday!
My girls are 16 and 17 years old and luckily for Orlando, he gets to benefit from the lessons I learnt with the girls.
One thing I have discovered is that I need to implement good study habits from a young age, trust me, I am not going through the homework headaches with another child!
When Pottery Barn Kids approached me to see if I'd like to create a study space for Orly, I thought they might have read my mind!
Um, YES!
Of course I'd like to give Orly a space of his own and of course I'd like to work with Pottery Barn Kids, my go-to favourite kids store!
I decided to put the desk in Orly's room to start creating those good study habits NOW.
I know what you're thinking – 'Are you serious? You're making your 7 year old study already?'
No, he's not cramming for maths and geography just yet, but by making his desk a fun space to play and work, we hope that it becomes a place where he wants to spend time.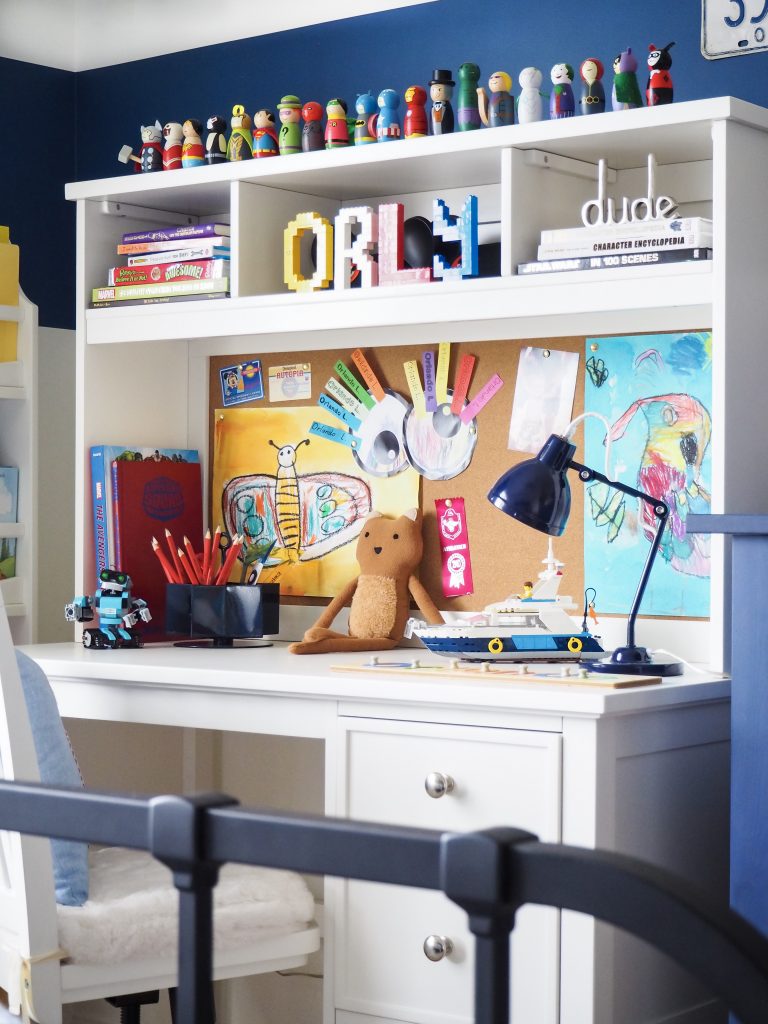 I got Orly involved in creating this space right from the beginning.
We popped on to the Pottery Barn Kids website and looked at the desks and chairs together. We talked about options like colours, comfort and storage.
I found out pretty quickly that the things that were important to me, were not important to him, and vice versa. He wanted somewhere to display his artwork and Lego creations, while I wanted ample storage and a timeless style that would grow with him into his teenage years.
We chose the Elliot Desk and Hutch. It's classic design, overhead cubbies, double drawers and fun corkboard ticked all the boxes and we both love it.
We already had the Madison 4-shelf Bookrack which is a great complimentary piece to use with the desk as it keep all his books within arms reach.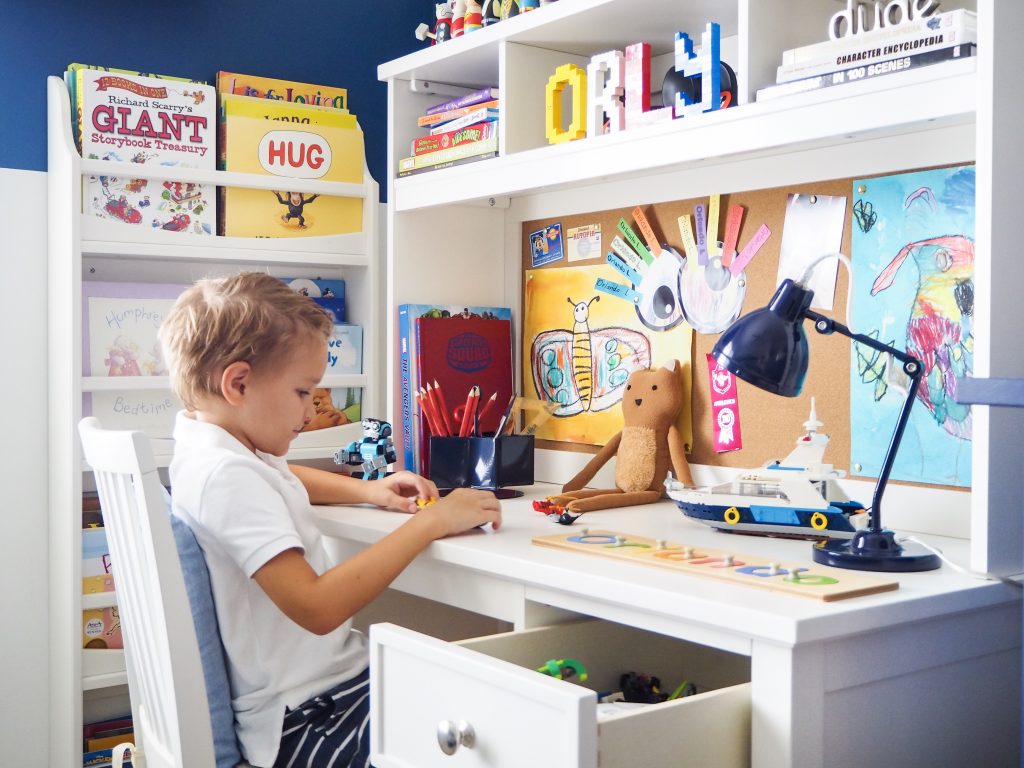 When it came to the chair, he wanted a furry seat cushion and 'a chair that spins like the teacups at Disneyland', while I wanted something sturdy and safe.
The Carolina Swivel Chair was the perfect fit, it's a little bit playful and very practical.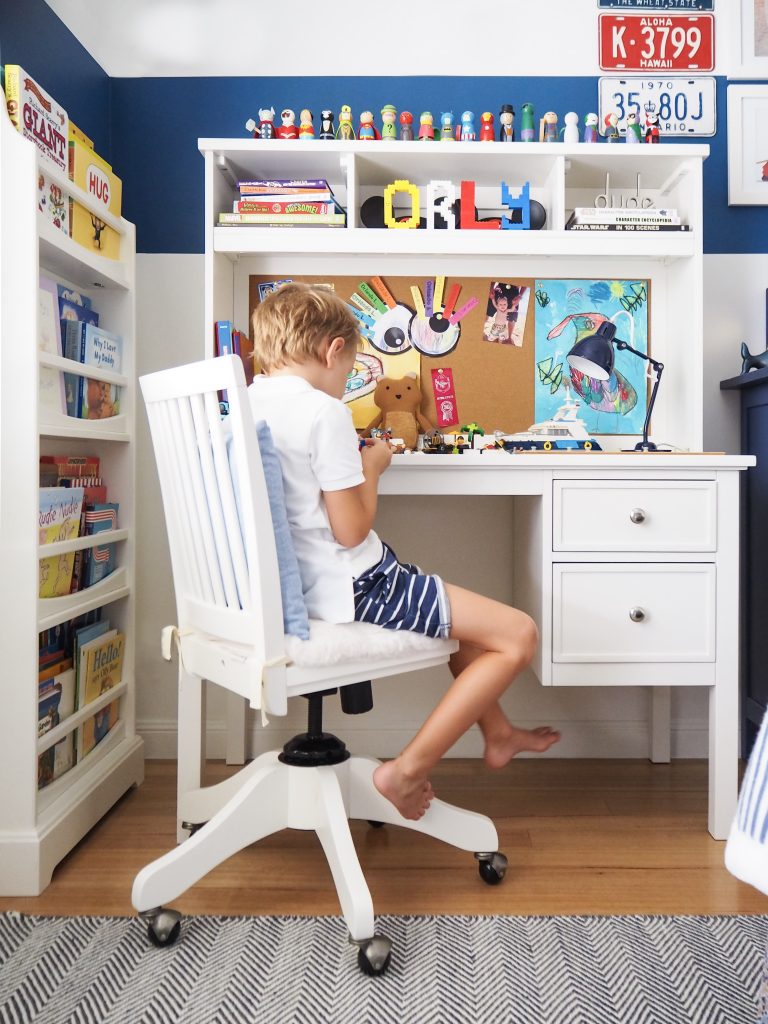 Next on my list was lighting. I am an Optical Dispenser by trade, so I understand how important adequate lighting is. While reading and working in the dark will not cause permanent damage to your eyes, it may cause headaches and eye strain, these are completely avoidable by selecting the correct lighting such as the Solid Task Lighting with it's directional gooseneck that can be angled to shine on their workspace.
Also on my list was desktop storage for easy access and quick clean-ups. The Shaped Lazy Susan was a winner for both of us, the compartments keep his pencils and stationary organised, while the spinning star keeps him motivated to clean up.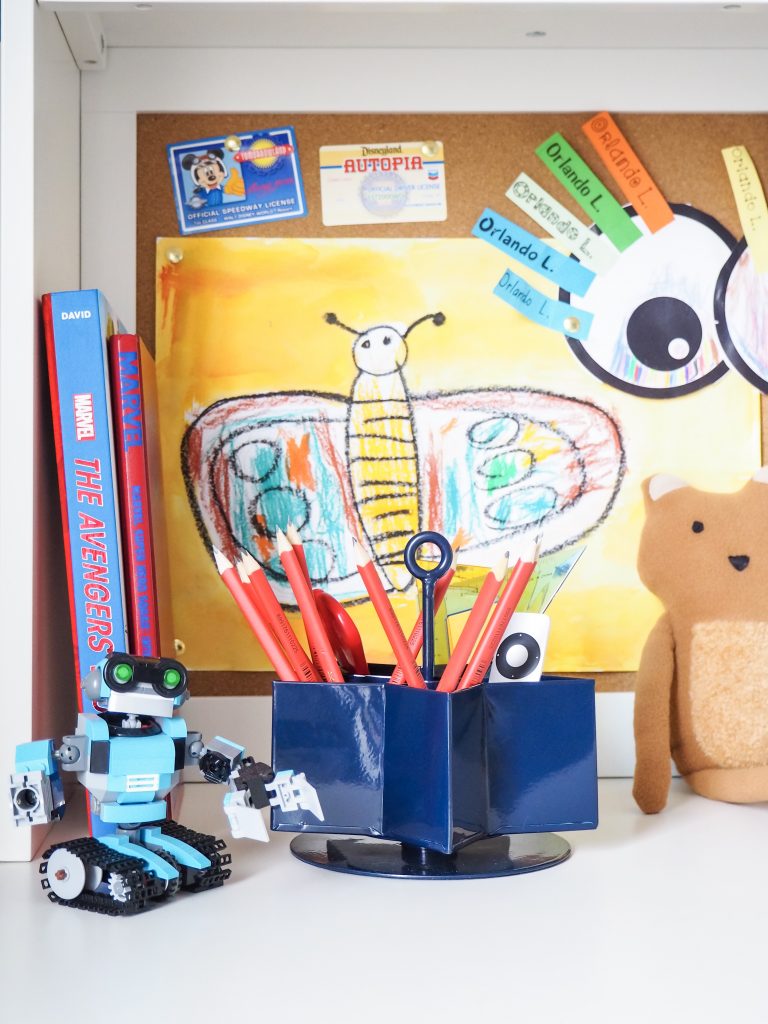 When the functional things were ticked off, I let Orly choose some comfort items to make him feel cosy at his desk.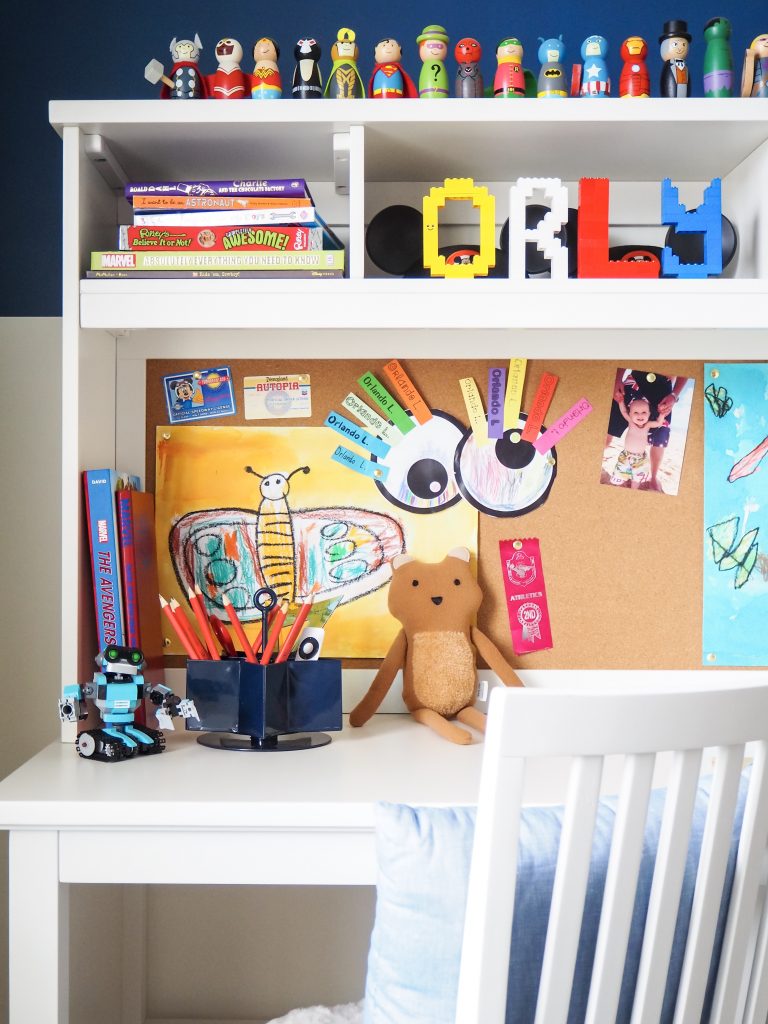 If you know Orly, you will know he has a obsession with soft textiles, he loves anything fluffy or super soft. He wanted a blanket to 'wrap up like a burrito' when he's working. I think this might be a case of monkey see, monkey do! #guilty
We chose the Stripe Fur Throw with classic stripes on one side and faux fur on the other.
As you can see by that toothless smile, he absolutely loves it!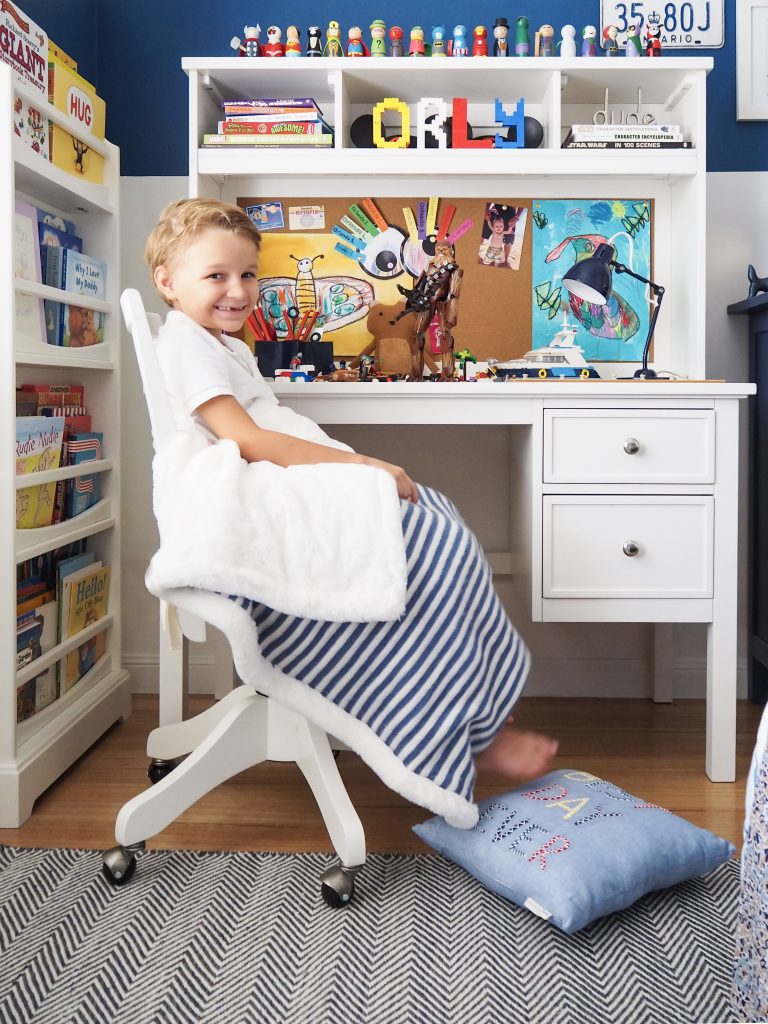 Because I'm savouring every minute that he still wants to play with soft toys, I let him have this adorable west elm X PBK Bear to keep him company while he works.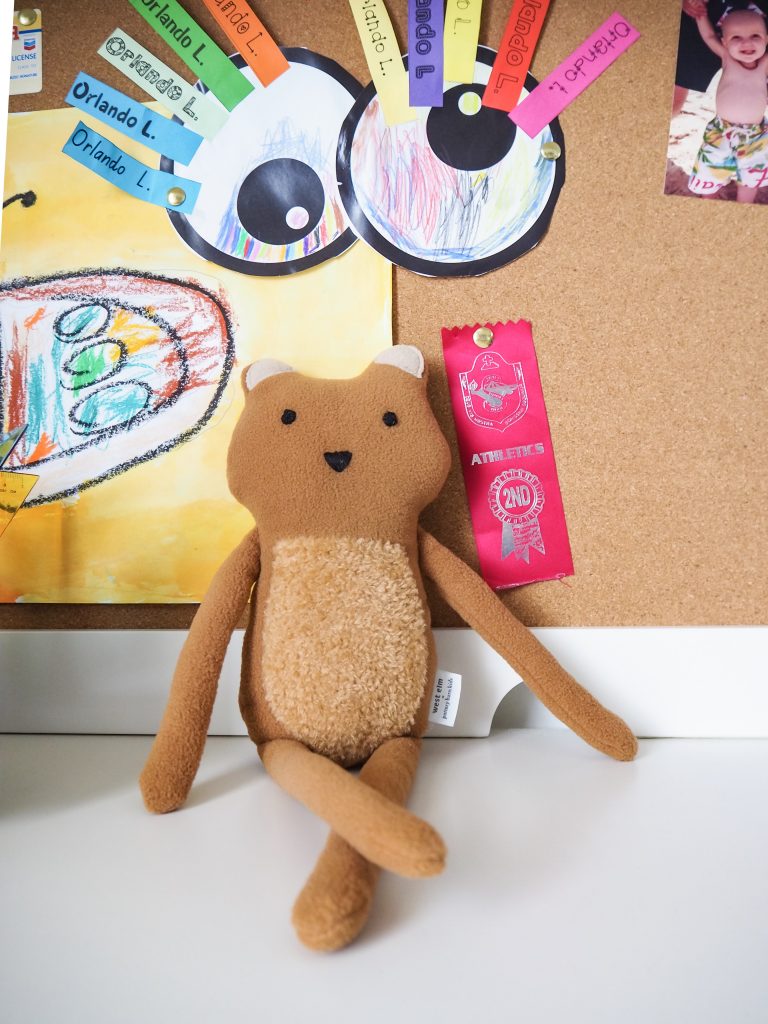 We also chose this fun Best Day Ever cushion for a pop of colour and positive reminder to make every day your 'Best Day Ever'!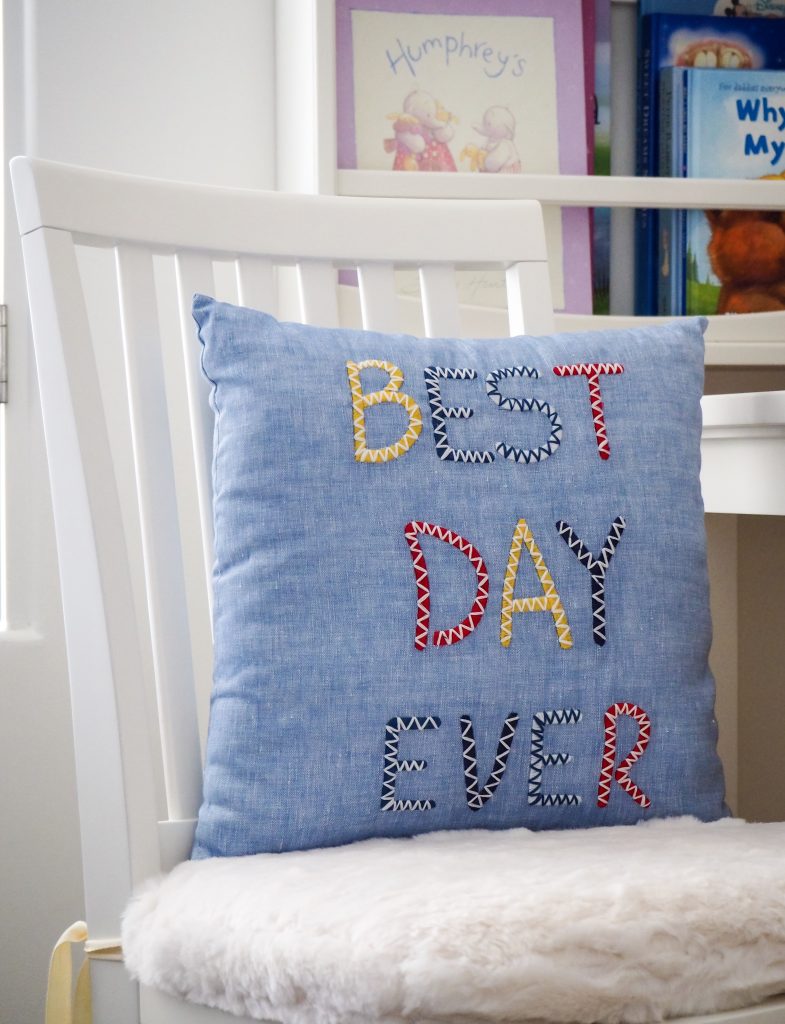 When we had finished selecting our items, we placed our online order and awaited delivery.
A quick little tip here – the deluxe delivery service is worth every single cent.
The friendly delivery team brings the items to your home, assembles the furniture, places it where you want it AND takes away the rubbish. It was a little bit of luxury that was greatly appreciated in our busy life!
 Orly was so excited on the delivery day, he was dancing around the house like it was Christmas.
He didn't waste any time in making it his with all his special things.
He loves the corkboard and carefully went through his art folders to find his favourite pieces to display. I love that we can keep it fresh with new artwork now, but it will also transition to a great memo board for him as he gets older. We used the cubbie holes for his favourite books and vacation mementoes and his big sister made the ORLY letters from Lego for him.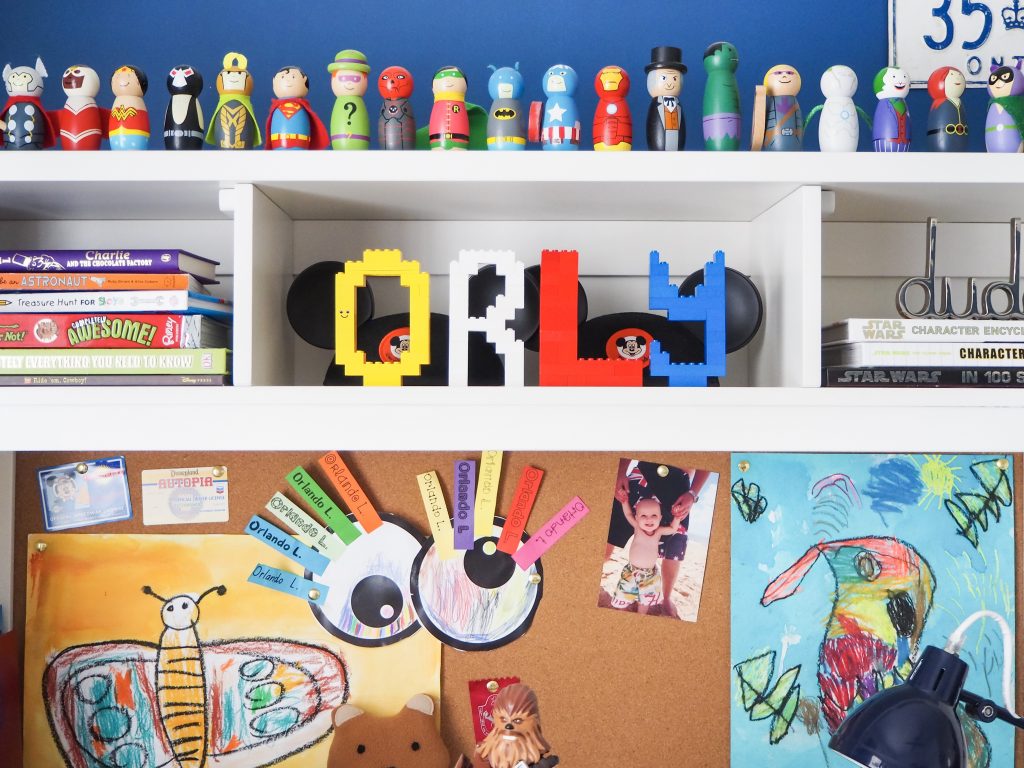 He took great pleasure and pride in showing his space to both his sisters and instructing them that they had to ask him if they wanted to sit on his special chair. #siblinglove
He's had it for a couple of weeks now and I am so pleased with the way he has been using it every day.
He plays with his Lego, does craft activities, colours-in and practices his writing. Not only does it keep this mess off my kitchen bench, but we are starting to develop those habits I was talking about … the study habits that I was hoping to implement. My first mission was to get him to use his desk, to sit and play or work independently and to enjoy it.
Mission accomplished!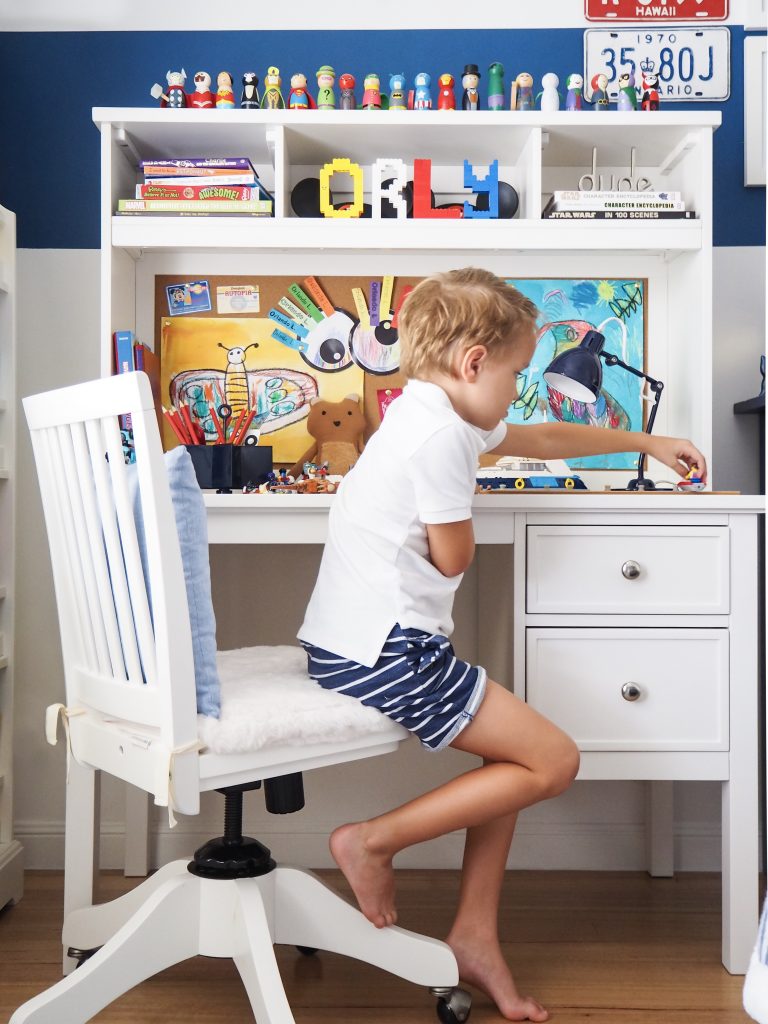 Now lets see if we can produce a doctor with those study skills, or a nurse, or a builder, or maybe an astronaut … whatever makes him happy, as long as he tries his best, oh gosh I sound like my mother!
If you want to create a study space for your children you can find loads of inspiration here.
Or pop in to your local Pottery Barn Kids store, the shop displays are always full of fabulous styling and ideas.
Happy Shopping!
Hayley x
Disclosure : Some of these pieces were gifted, all of them were hand selected by me, all opinions are my own. Y'all know I don't share things unless I love them, love the quality and love the brand.