Creating a study space for a child that is functional is one thing, creating a study space that is functional, and where your child actually wants to do their homework is another.
I wanted to create a space for my daughter Arabella that she loves, a space that reflects her personality, a space all of her own, where she feels inspired and motivated to learn.
Arabella is 13, she wants a grown up space, but she still loves pretty things and a touch of pale pink. 
We worked with Pottery Barn Kids and both Arabella and I are absolutely thrilled with the outcome.
Putting together a functional and inspiring space for your child is not as hard as it sounds. Consider your children's requirements, ask them what they think they need, and it can be a space that you both love. It's a great idea to let your kids help you choose a few things so they connect with their space and will want to work there.
Now, It's all very good to have a desk and a chair, but if it's not inviting and interesting to your children, they will not want to be there.  It's also great to have a fabulous looking space, but it has to be functional. Let's have a look at how to make it both fabulous and functional.
**********
 A DESK – Do they need one with a big table top to spread out paperwork and projects? Or maybe they only require a small space for a computer or tablet? I like to look for a desk with a couple of drawers to hide all the uglies out of sight, you know the 'uglies' … the crazy amounts of cords and charging cable our kids seems to collect, along with their eraser and sticker collection. Yep, they still have them at 13 years old!
We chose the Blythe desk in vintage grey. It ticked all the boxes for both Arabella and I. She loved the colour and the drawers, I loved the turned legs and beautiful hardware.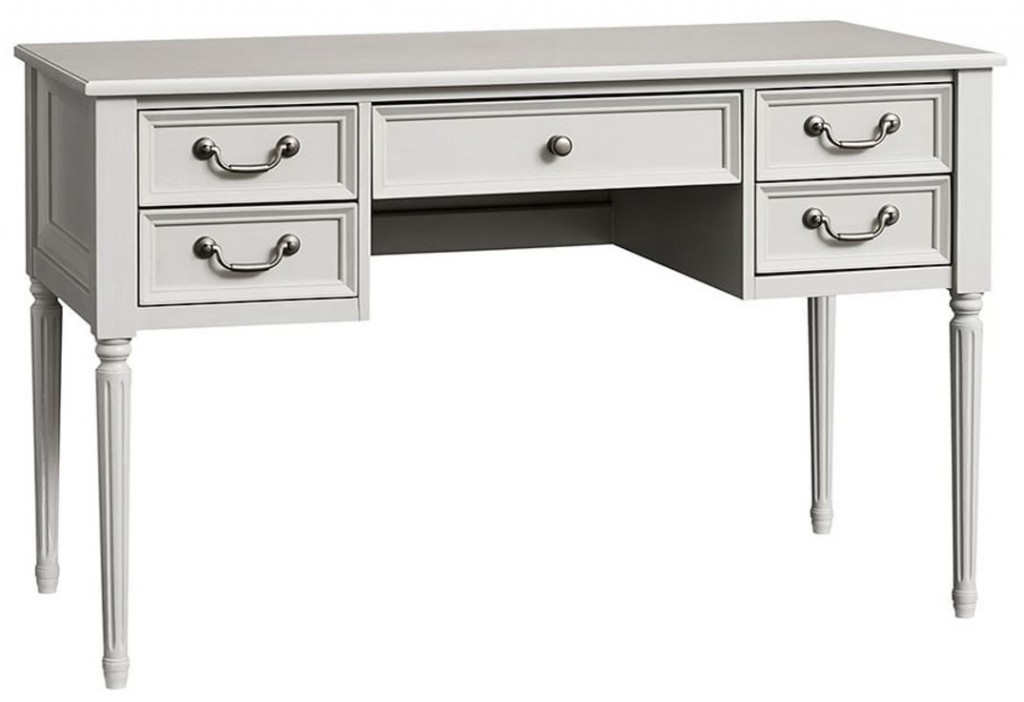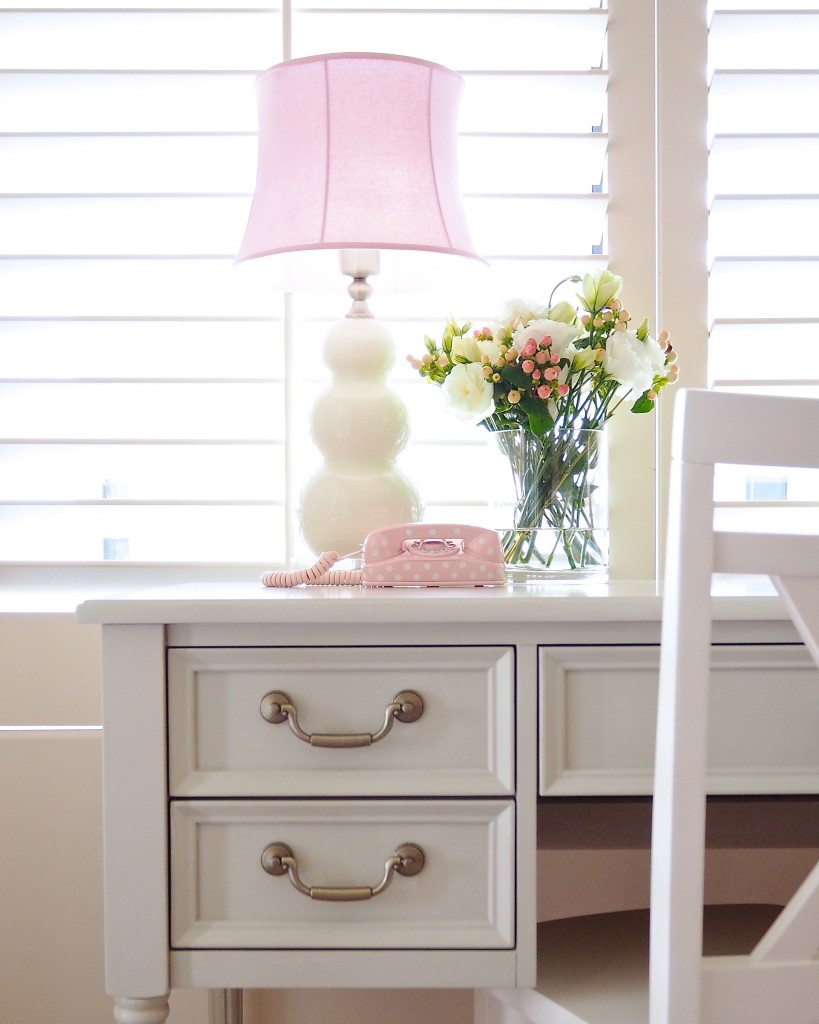 A CHAIR – Here's the trick, you should choose a chair that is comfortable, but not so comfortable that they fall asleep.
We chose the Knox stationary chair in Simply White. It has a saddle-cut seat for comfort and is built from solid rubber wood which makes it exceptionally durable for many years to come. I love the cross back design.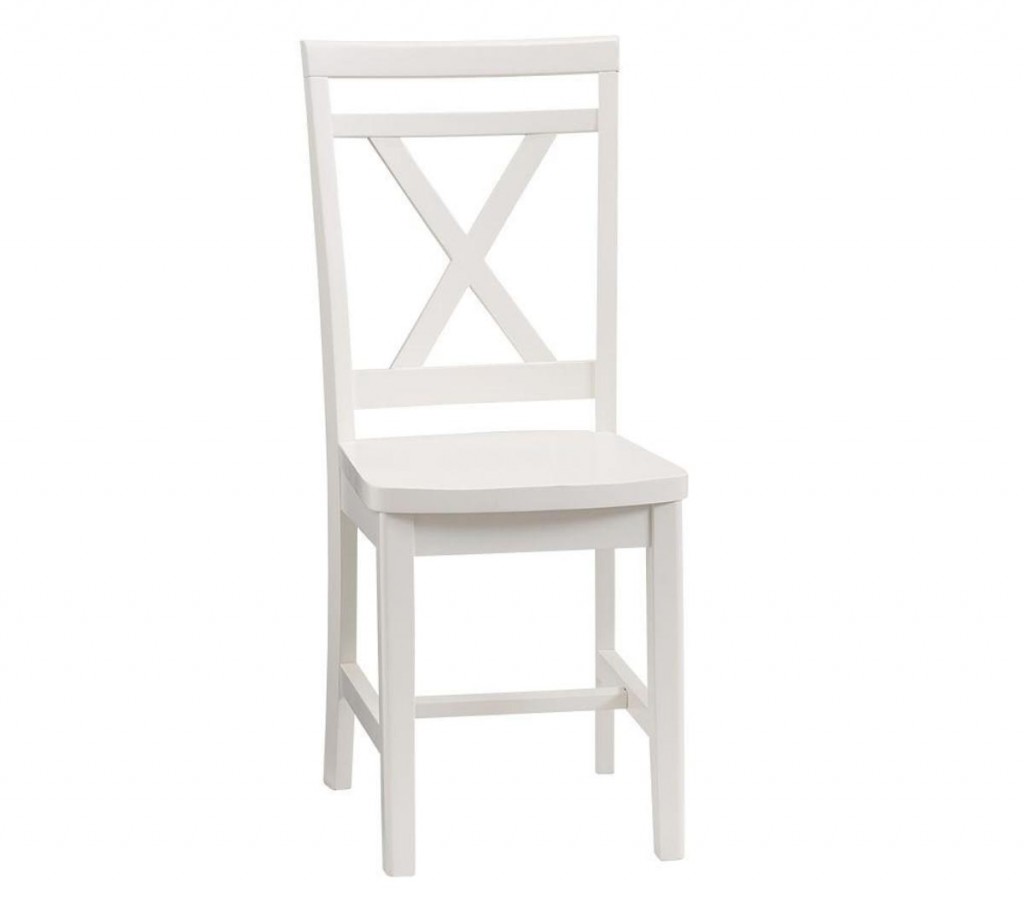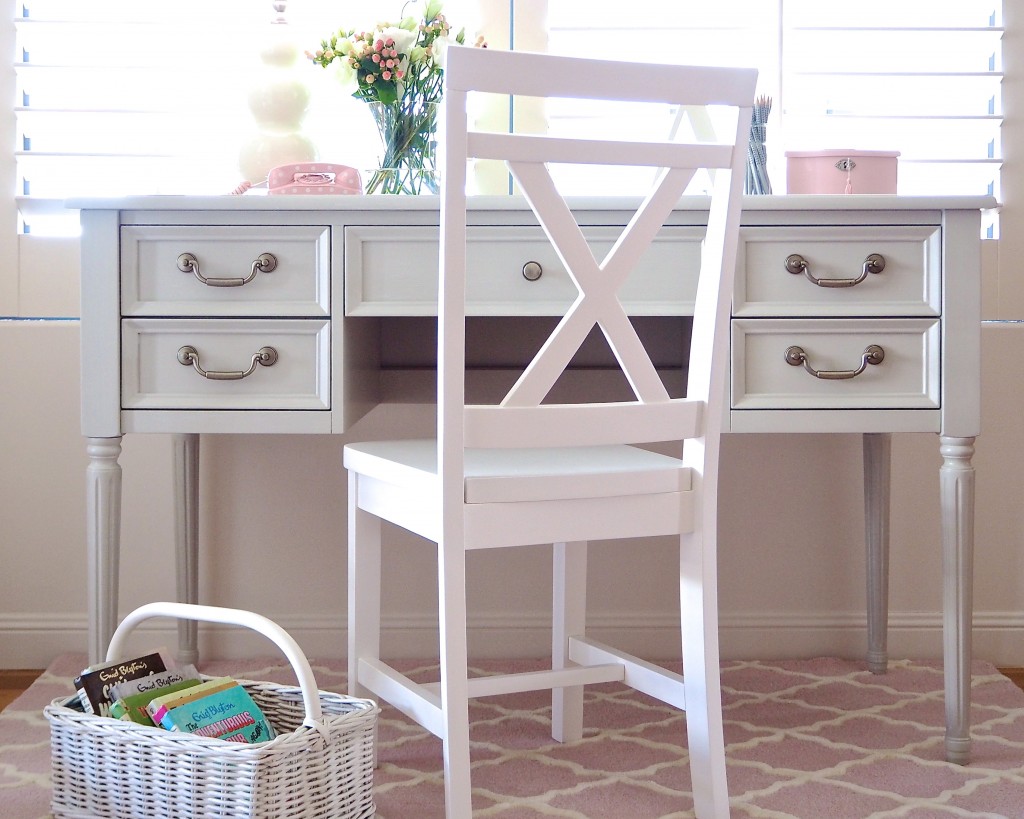 Now that the absolute essentials are taken care of, ask your child to help you layer the space with things that make it comfortable and inviting, things that reflect your child's character and things that will help them concentrate and learn.
Here's what Arabella and I chose to personalise her space.
A LAMP – If lighting is low in your study space, choose a lamp with directional lighting. Also, size is important, you don't want it to take up all of their work space.
We love the Brinley Bubble lamp base paired with the Vivian shade in pink. What I love about PBK Mix and Match lighting range is that you can choose your own base and shade separately. I don't know how may times I've bought lamps in the past, only to replace the shade with something more to my taste.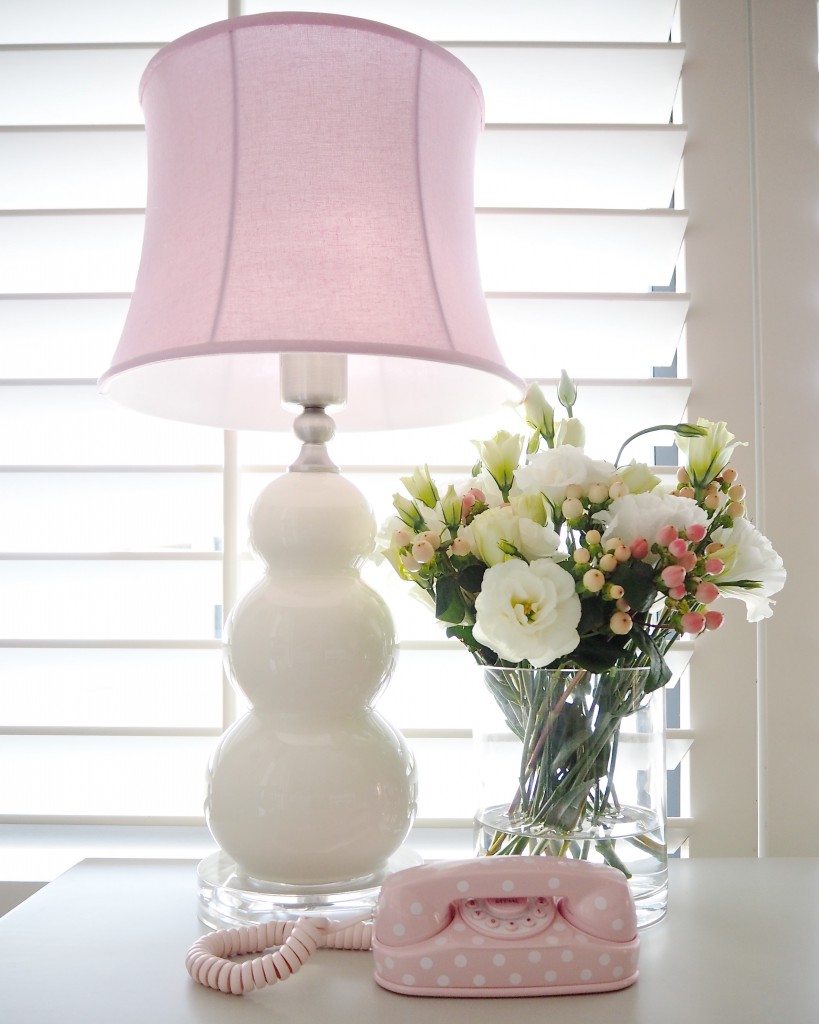 STORAGE – There are so many options for storage available. Choose storage that is easily accessible for items on high rotation like pens and pencils, then choose boxes and containers for items that are precious or used less often. Luckily the Blythe desk has lots of drawers and Arabella can keep all of her bits and pieces out of sight.
We chose a basket for Arabella to keep her revolving pile of books in. She is an avid reader and I used to find little piles of books everywhere. The Simply White Sabrina nursery basket is perfect. Yes, this basket is a nursery basket, it's actually a nappy caddy, but there are no rules, and it often pays to look in areas where you wouldn't normally venture. I'm glad I did, this basket is perfect!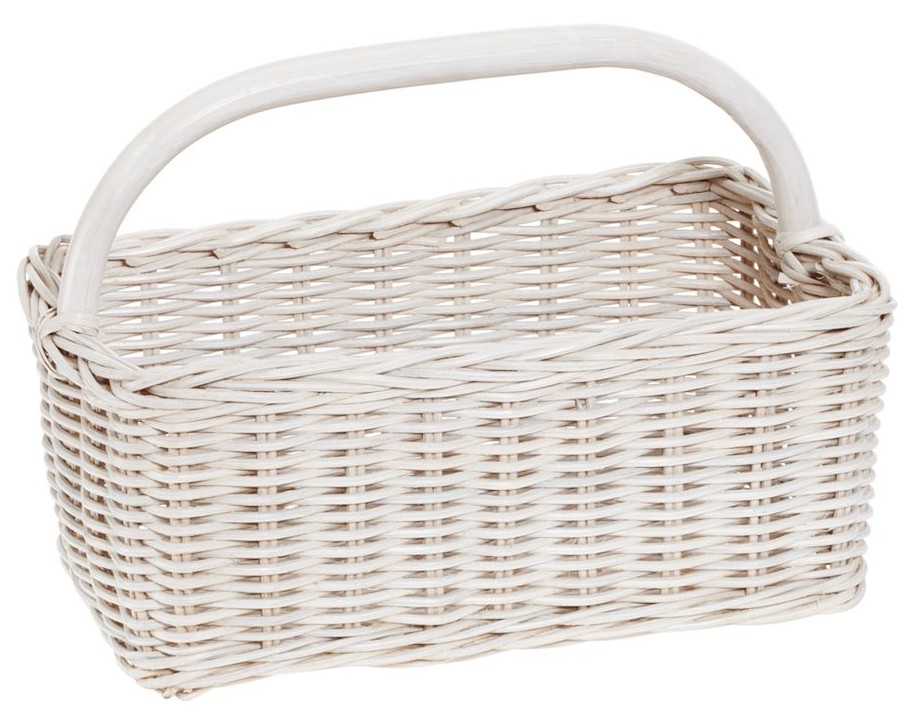 We also chose the Abigail Medium Jewellery box for storing precious items. Arabella is a dancer, she loves the fairy ballerina that twirls to the music of Swan Lake, she also loves that it comes with a key so she can keep her special things safe from her pesky little brother.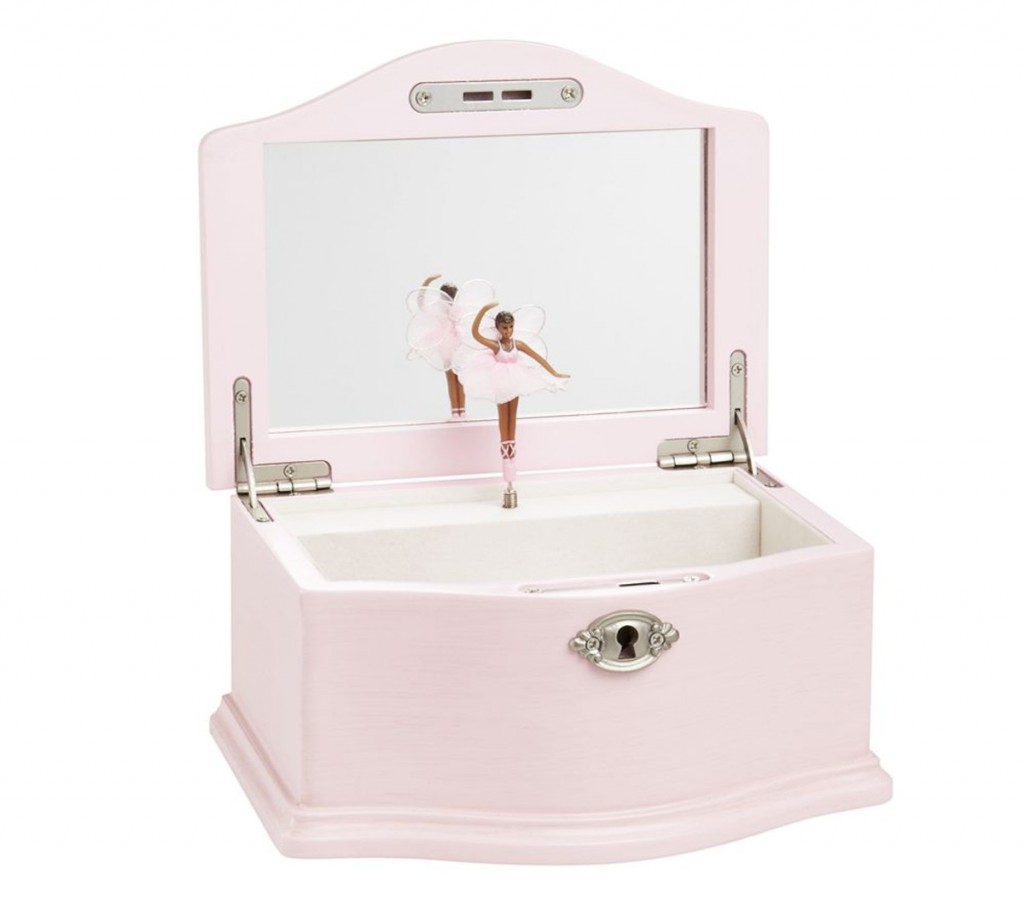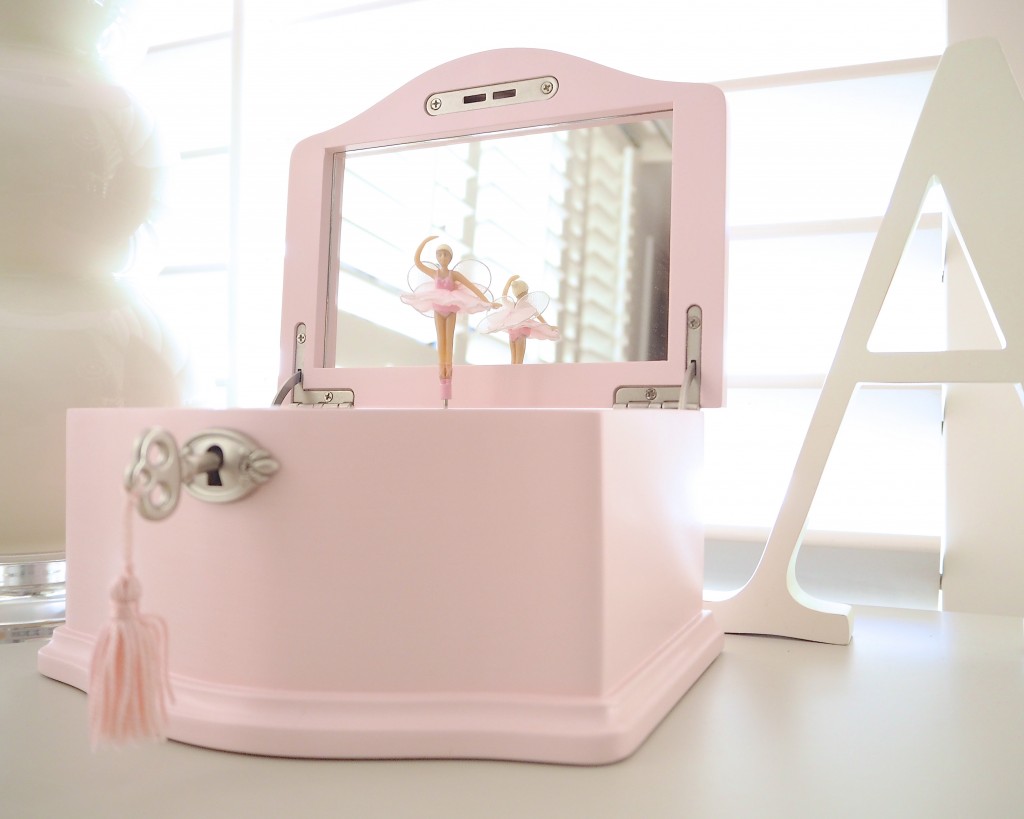 A RUG – I think layering the space with a rug makes it feel warm and inviting.
This gorgeous hand tufted wool rug in the prettiest of pale pinks. Arabella loves to stretch out after dancing and read books, the Addison rug is soft and comfortable.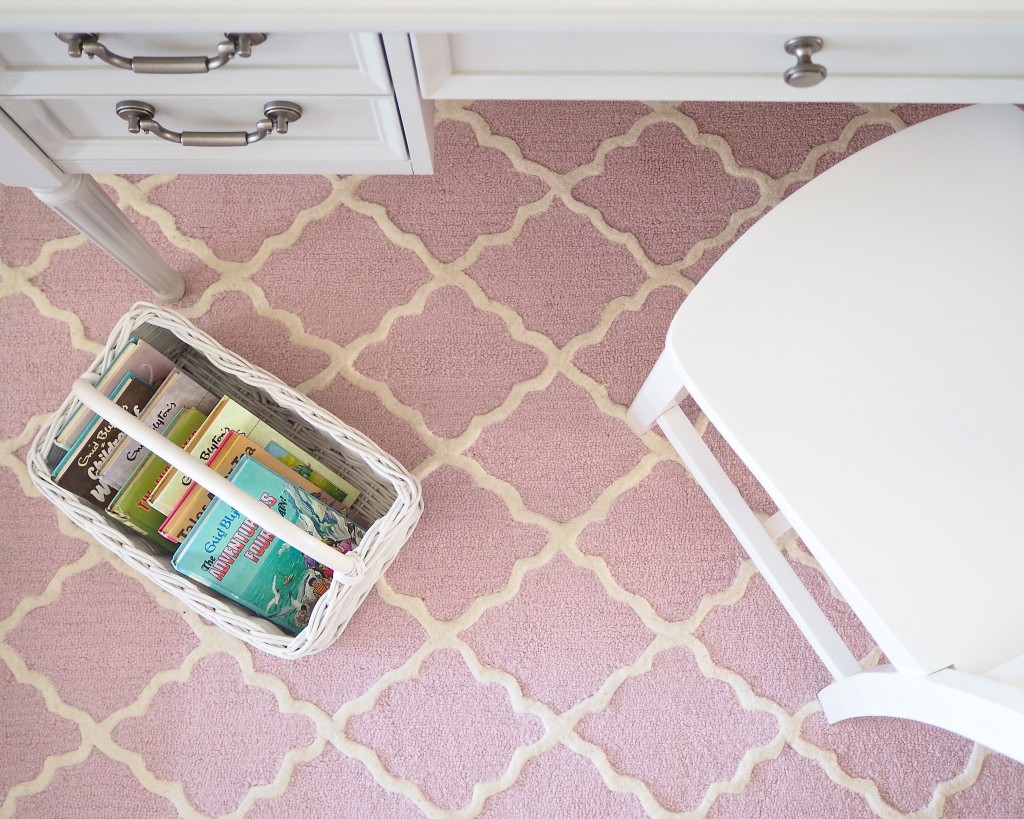 DECOR – This is a great area to let your children help you choose a few things. Pottery Barn Kids has pencil cases, bookends, speakers and so many pretty little things to choose from.
Arabella chose an 'A' for Arabella, of course!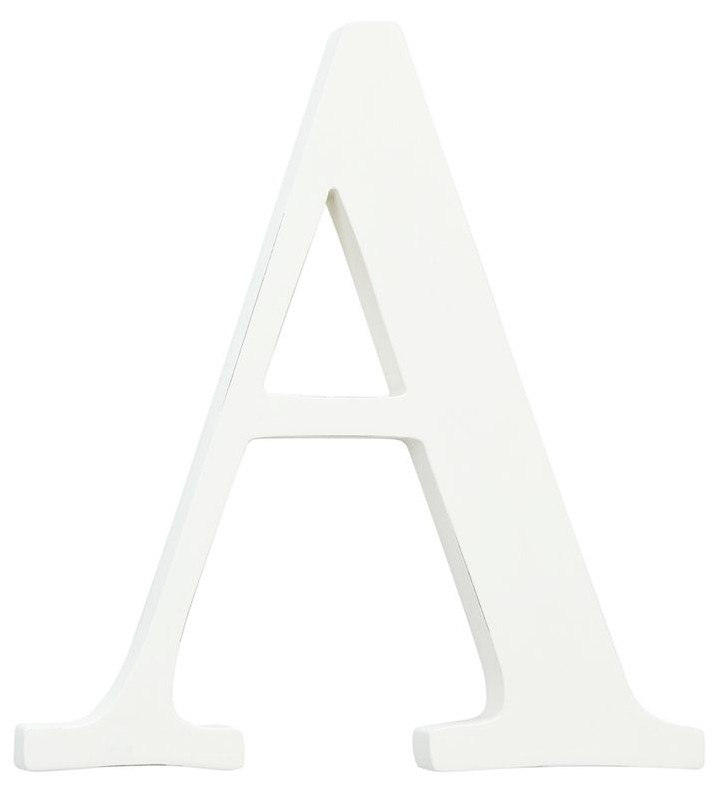 I chose a gorgeous white gallery frame for Arabella to display her choice of art or photo. It can be changed easily when she tires of the current picture, as teens tend to do! For now she has one of her prized possessions, an autographed photo of Minnie Mouse from a family vacation to Disneyland.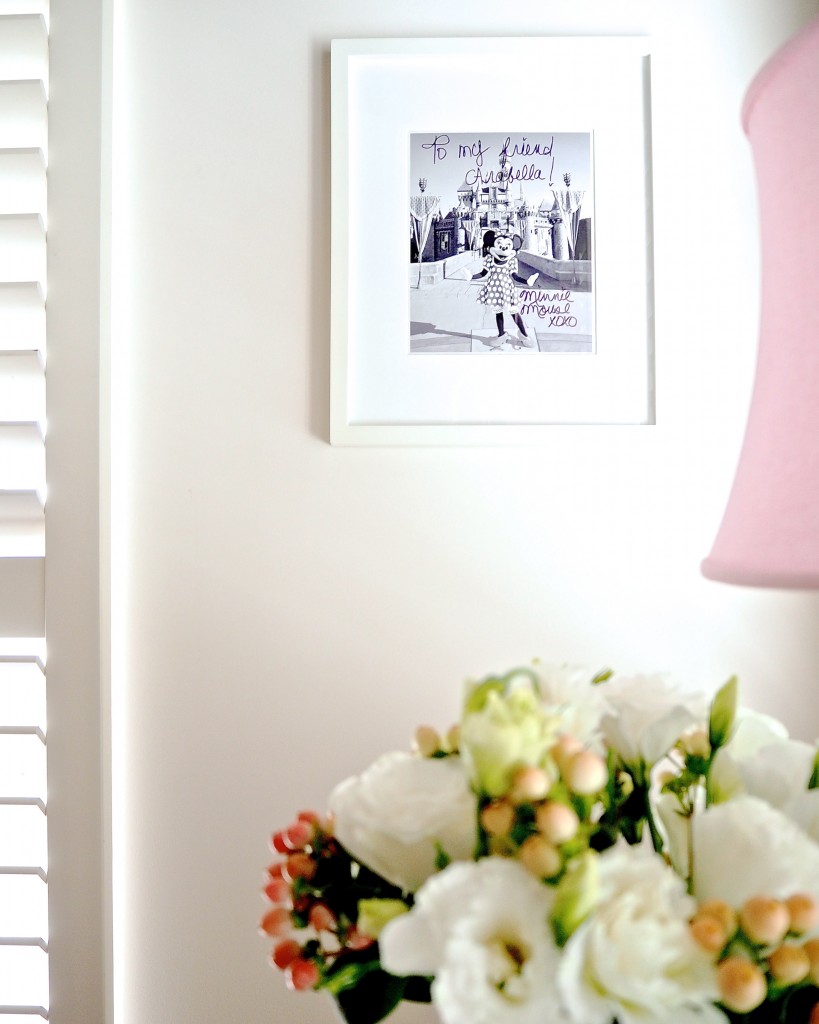 I'm sure over time we will collect more bits and pieces as her needs change, but I am confident that the big items we chose will grow with her until she leaves home. Actually, Miss Arabella has informed me that she is taking it all with her when she moves out! Cheeky!
I managed to catch Arabella at home soaking up some afternoon sunshine, which is a miracle in itself with her crazy school and dance schedule. She adores her new space and spends so much more time there than she ever did at her old desk.
Lets just hope it makes her a brilliant scholar!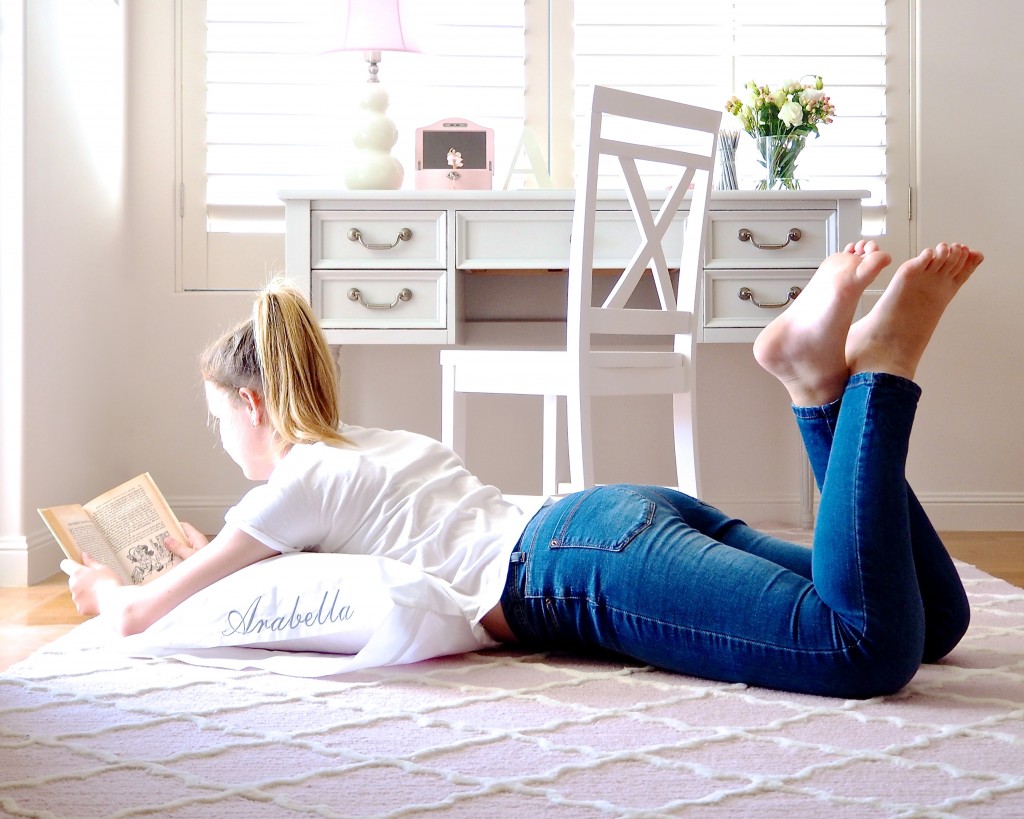 Arabella is relaxing with her favourite pillow she's dragged from her bed. I love the PBK monogramming service, it truly makes an everyday item into something quite special. She has an Organic cotton pillowcase in white.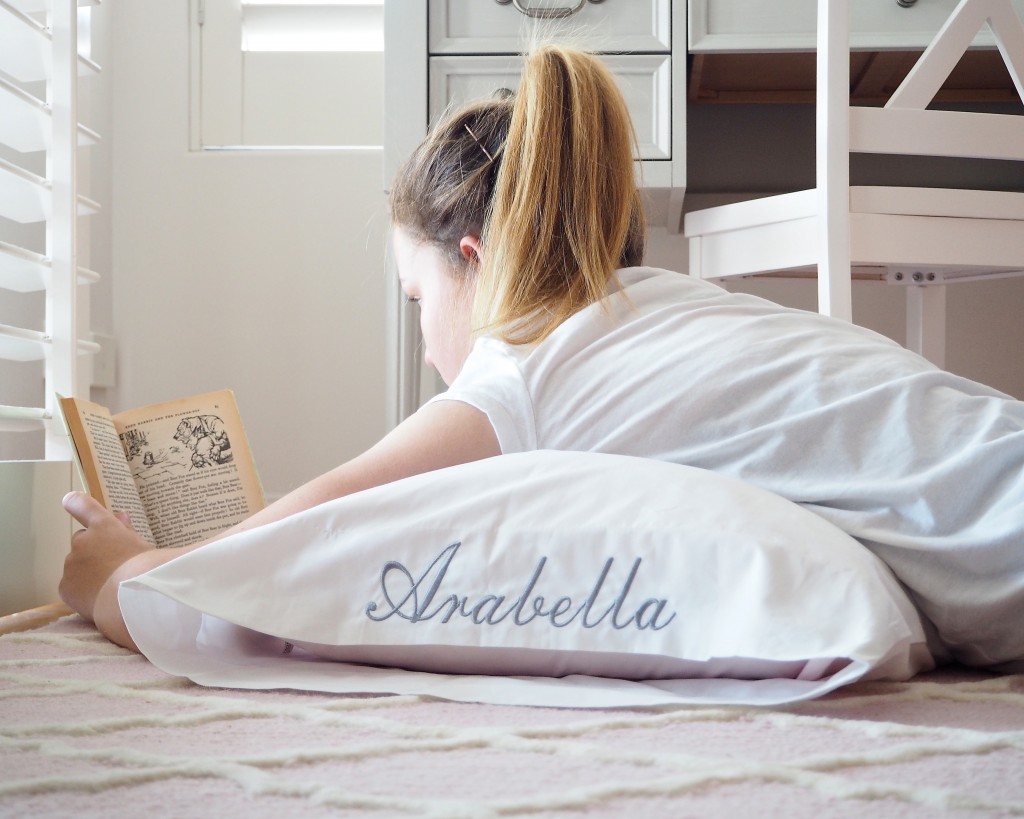 What do you think? Do you love it as much as we do?
If you want your own Pottery Barn Kids study space, or maybe some help with colours and furniture selection or maybe an entire room makeover, PBK has a fabulous design service to help you out. In fact you can get a design consultation from Pottery Barn or West Elm also. You can choose to work with the design team in store, over the phone or possibly in the comfort of your own home if you live in Metro Sydney, Melbourne, Brisbane or Perth. They can work with you to design a single space, or your entire home. And the best bit … their design service is free!
You can contact Pottery Barn Kids here.
Or Pottery Barn here.
Or West Elm here.
I hope I've inspired you to spruce up your office or study space, or any other space in your home.
Happy Shopping!
Hayley x