It's no secret that I love Instagram. I find so much inspiration, ideas and beautiful things there. Every so often I come across a home that makes my heart skip a beat. Not one of those mega budget, interior decorated, styled to perfection for a magazine shoot homes, just a gorgeous REAL home, with real people who actually live there.
I started following @ingridand3 a while ago, her taste is so similar to mine it is almost scary. I love her home and everything she does, and I knew y'all would too, so let's all meet Ingrid together, and I'll even give you a sneak peek of her gorgeous home …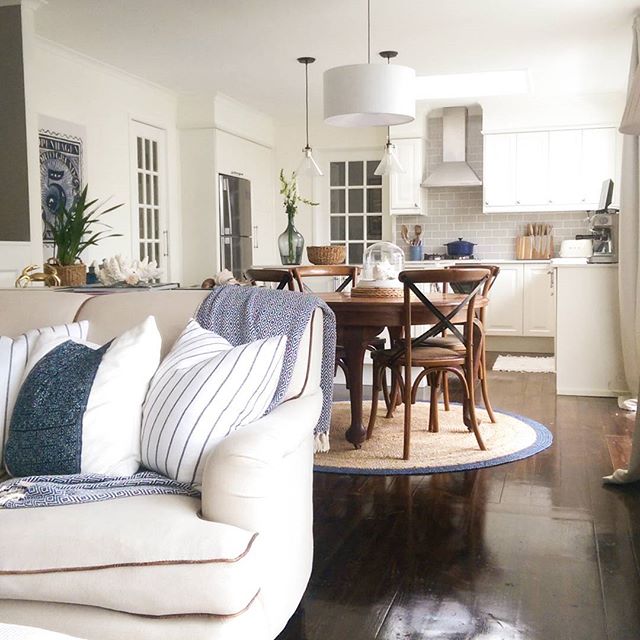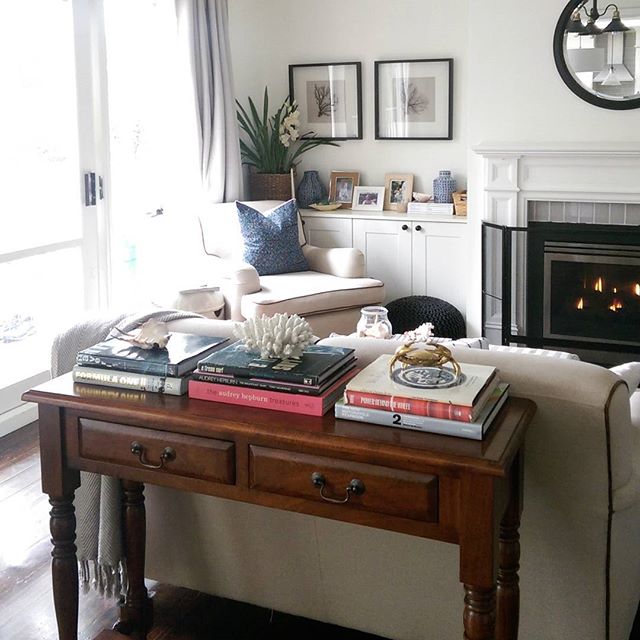 Tell us a little bit about yourself?
My name is Ingrid, I'm 29 and for the time being am a stay at home mum. Once upon a time I studied Interior Design at Uni, however once I graduated I never worked in the industry. I am still absolutely enamored with interior design/decoration and I can't see that ever changing.
Who do you share your home with?
My husband Shannon (31) My 2 boys, Austen (3) and Crawford (1) and Twilly (dog)
What made you choose your home when you bought it?
One of the reasons we chose our home was the fact it needed renovating. I have particular taste and knew how I wanted my kitchen, bathrooms etc and as it was our first home I wanted everything to be how I had been imaging. We also loved the setting, the outlook is so green and leafy and it has a large deck off the living space which was a real draw card.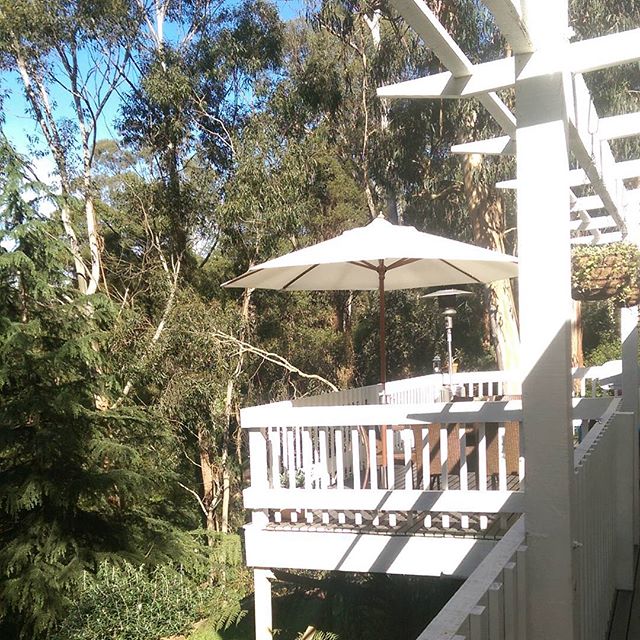 Have you renovated much? Tell us about it?
I grew up with my dad renovating every home we lived in, so it seemed only natural that I would follow his influence. This is our first home, so our first renovation and it definitely won't be the last. We have put our mark on every square inch of this house. When we moved in it had orange timber floors, salmon carpet, apricot walls and ceilings, and 1970's kitchen and bathrooms with lino floors…it was not at all pretty. But we saw through all of that and saw its potential and are pretty happy with the results. There were many compromises due to budget etc but with my dad's help we managed to do a lot of what we had planned.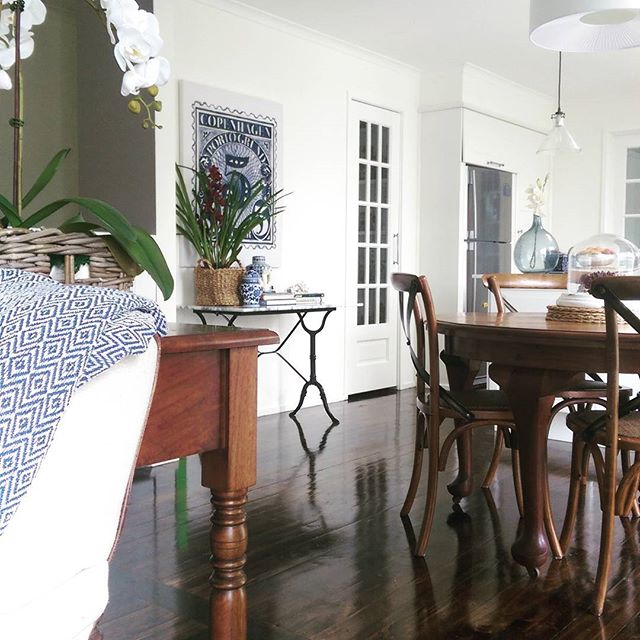 Are you finished? Or what is next?
Unfortunately we are not finished, but we are very close though. All the big jobs have been done, there is just a lot of finishing touches and some painting to do. We added a bedroom downstairs many months ago and still it does not have cornice, skirting or a door frame. But we are looking to get it all done quickly as we are thinking about putting the house on the market in the near future.
Do you do much yourself, or employ the professionals?
We have done everything ourselves with my dads help. He lives in Canberra though so came down for several weeks at a time to get the kitchen and bathrooms done and removal and building of walls. My husband and I have both acquired many new skills through this experience which has been enjoyable and challenging in equal parts. Doing it ourselves definitely makes it feel like 'our' creation.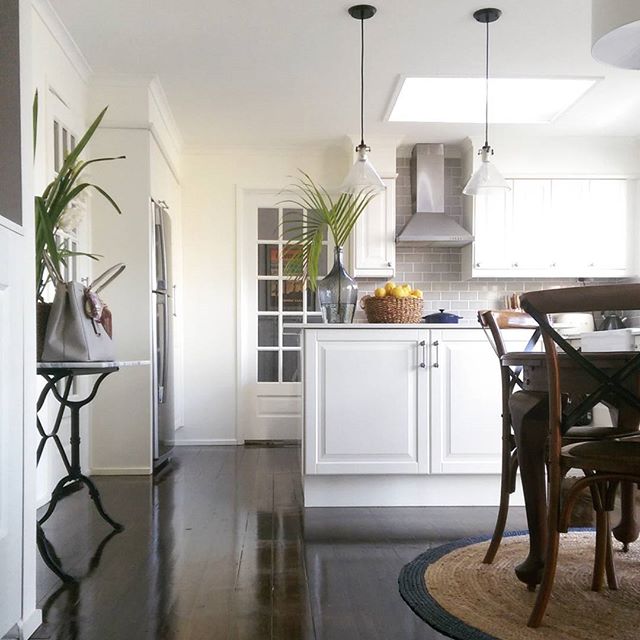 I adore your linen sofa with leather piping, did you have it custom made?
No we didnt, that was actually purchased on sale from Schots Home Emporium here in Melbourne (for $1500 can you believe). It was one of those pieces that we had to have as soon as we saw it.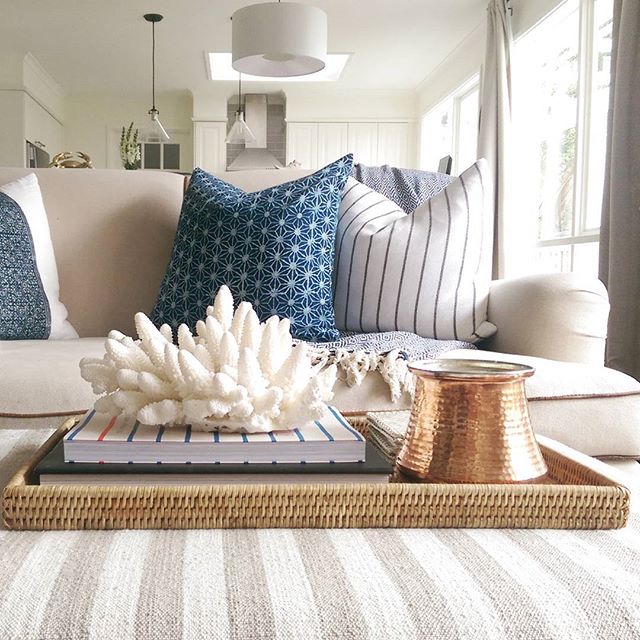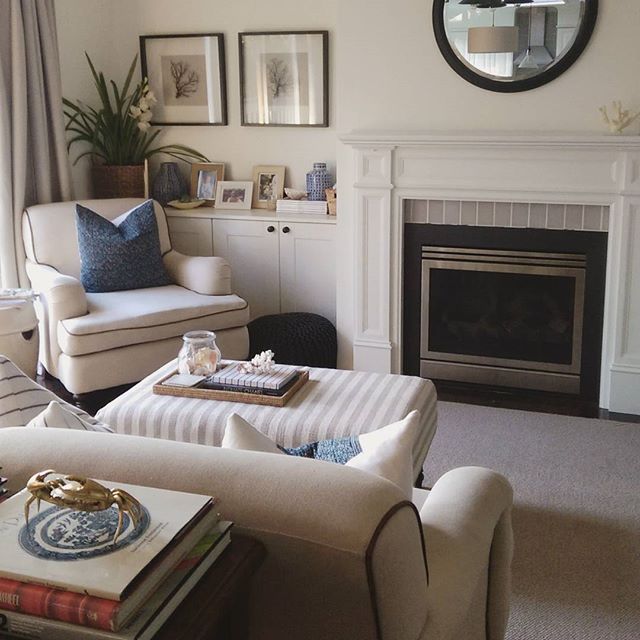 What is your latest interior décor crush?
I am absolutely obsessed with Hmong batik and African mud cloth cushions at the moment. I spend pretty much all of my spare time looking at fabrics!! This new found obsession has also led me to a love for Modern Bohemian style which I am slowly and subtly looking to introduce into our home.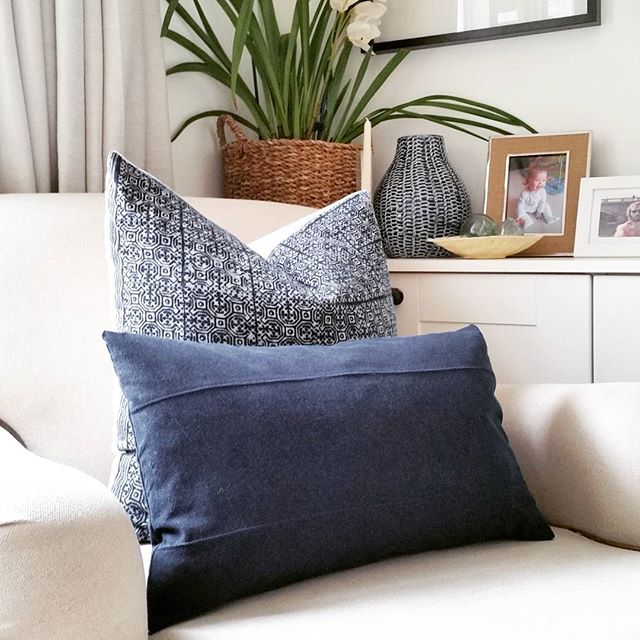 What are your favourite shops?
Well I adore Pottery Barn, I find it hard to walk in there and not purchase something, even if its little. I also love Coastal Living Sorrento which is down on the Mornington Peninsula, I would love to be able to furnish my whole house with their furniture and accessories. And Schots Home Emporium, we have purchased many things for our home from there.
What's on your Christmas wish list?
The real question is 'whats not on my Christmas wish list'!! The problem with things like instagram is that you see so many beautiful photos each day from peoples homes and shops, so I feel like I'm constantly saying to myself 'I'd love that'. But if I could have one thing it would probably be a new rug for our living room, our current one is looking a little sad thanks to the boys.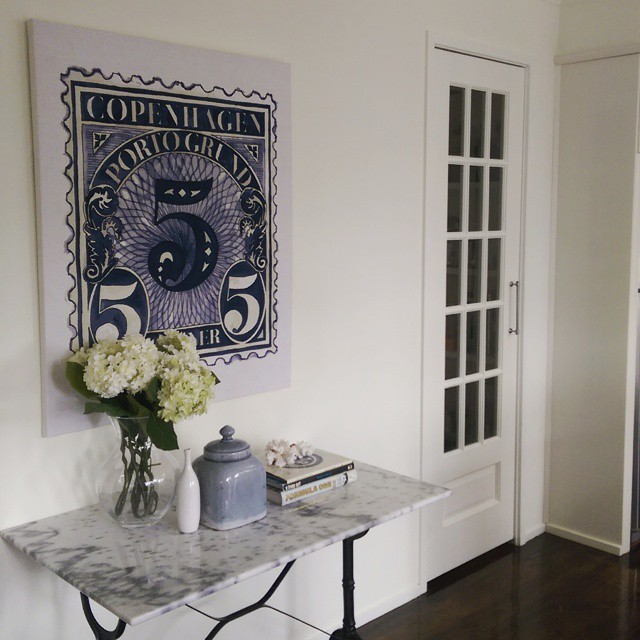 I know! Isn't it gorgeous! I knew you would all love it! Now go and find Ingrid on Insta, follow her and say Hi!
Hayley x
*** All pictures taken by Ingrid, and used with permission ***