The day has come, my new curtains and blinds have arrived and the excitement levels are out of control.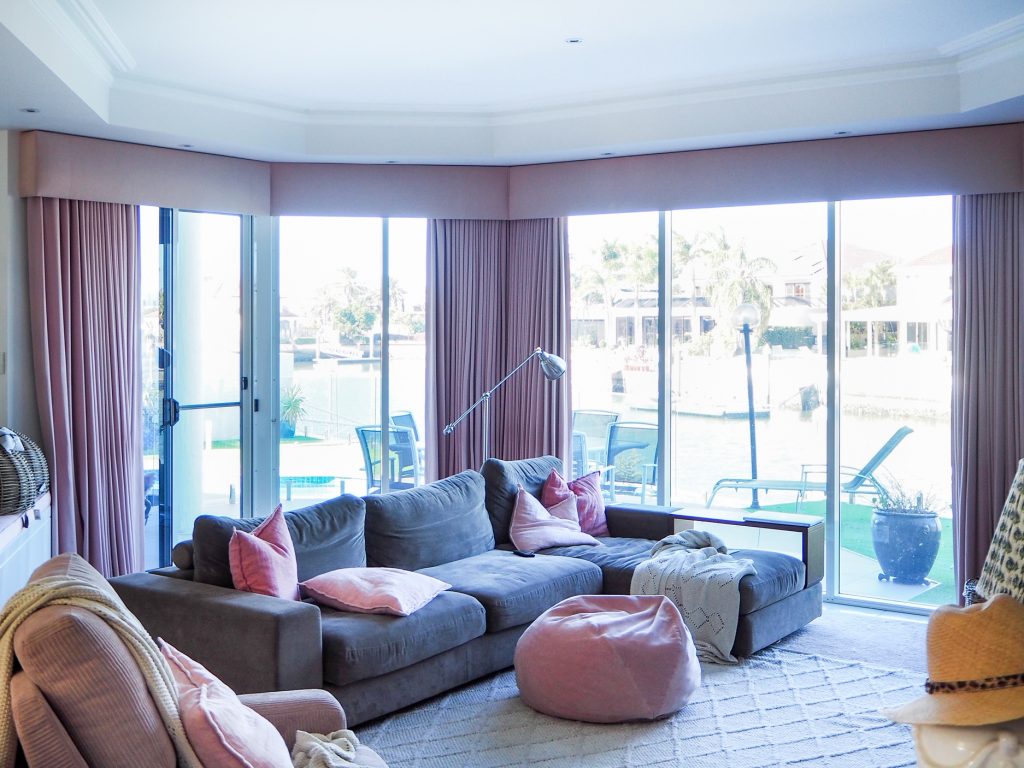 The putrid pink curtains have gone, thank goodness because I'm sure they were a health hazard, they were so disgusting! I must have sneezed 7,823 times as I was pulling them down, the lining was covered in black mould and they had dead cockroaches falling out of them everywhere.
I had no idea they were so nasty, they didn't look that bad while they were hanging! Check your curtains friends, they could be extremely unhygienic and causing you all kinds of health concerns. Also, just so you know, we just moved into this house a few months ago and I have no idea how long those curtains had been hanging there.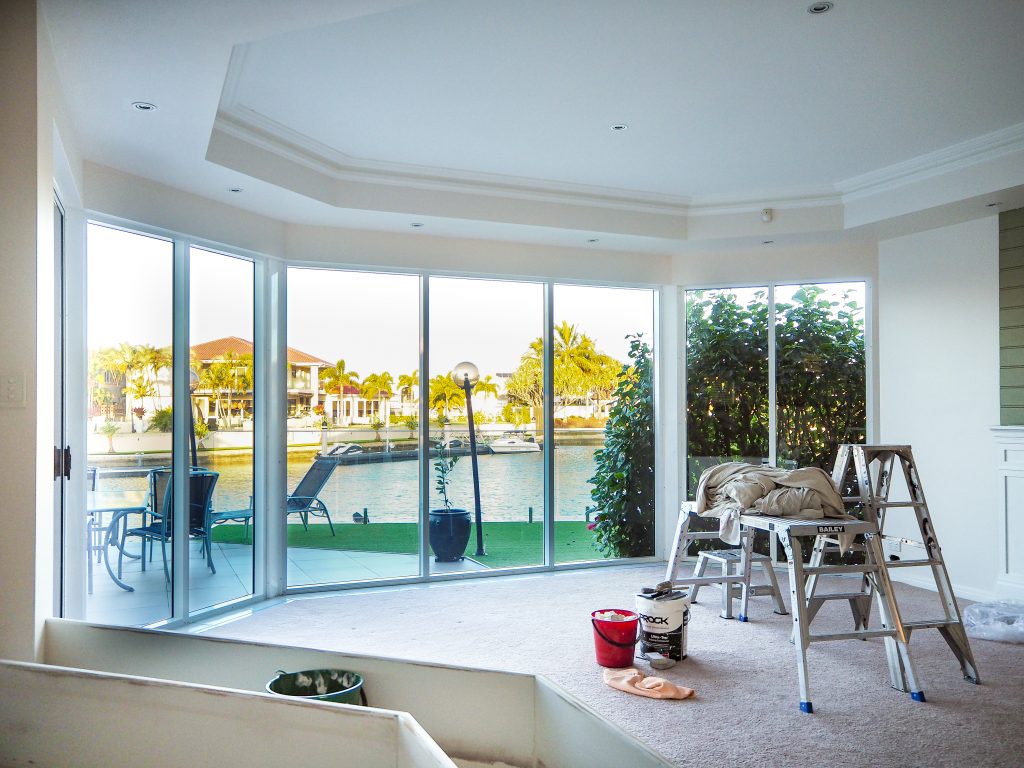 Okay, back to my new window coverings.
I ordered them online from Blind Online.
You can see how I chose and ordered my blinds and curtains here.
The entire process was an absolute pleasure, everything from choosing my fabrics, the excitement the day the samples arrived, the feeling of accomplishment when we installed them and the happy husband when he learnt how much money we saved by doing it ourselves. They arrived safely and on time (even during Covid delays) and were packaged well.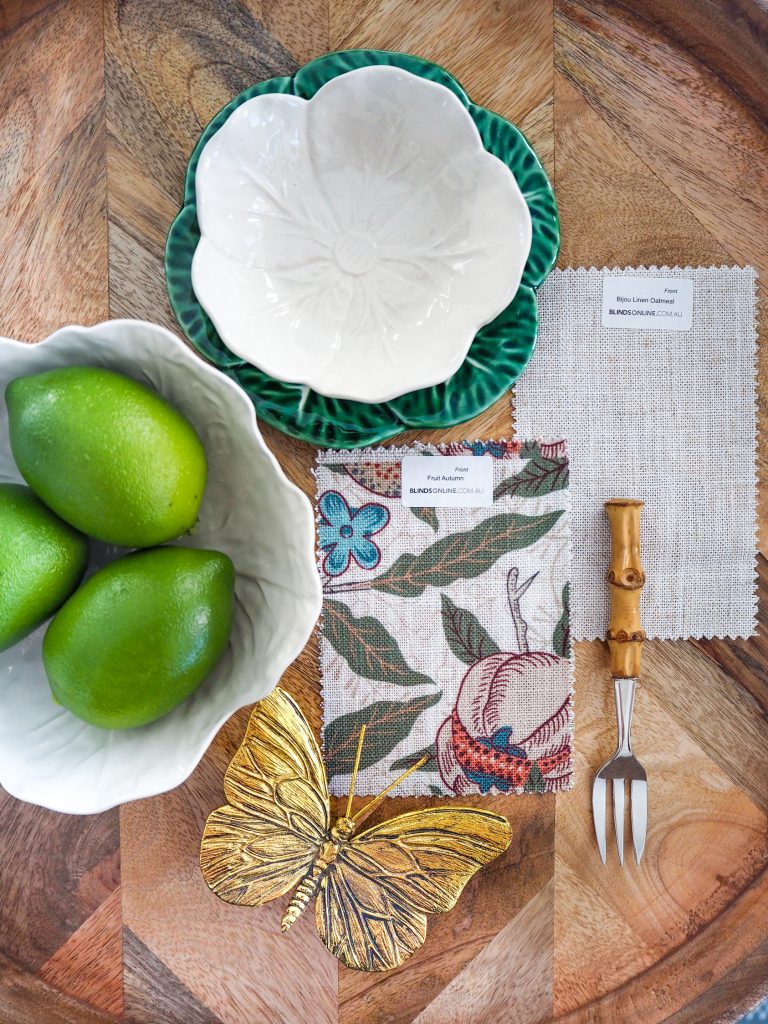 When you receive your online order confirmation, you will receive an installation guide, you can also find the installation guides here. They explain everything in basic language and it really isn't hard. All you will require is a few basic tools depending on how you will be hanging your blinds and/or curtains.
We hung the roman blinds first. They are really easy to install yourself as they only require a couple of brackets to be screwed into your wall or architrave. The blinds just clip into the brackets and you're done. So easy!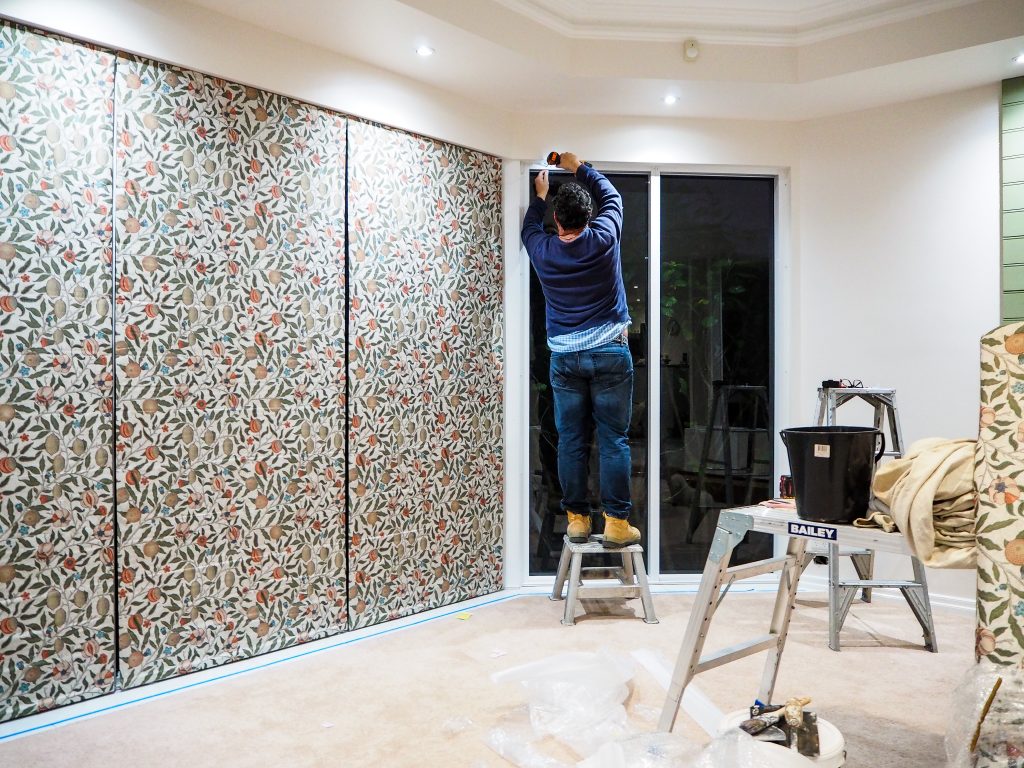 I shared some video of us hanging them on my Instagram and have saved it to the highlights here.
As I explained in my previous post, this window was a little bit tricky, so we decided to fit our roman blinds into the aluminium window head. This is probably the hardest place to hang them because you have to screw into the aluminium, and it's still really simple.
First we made a small hole with a drill, then we use the screwgun to put the screws in. We used two screws per bracket.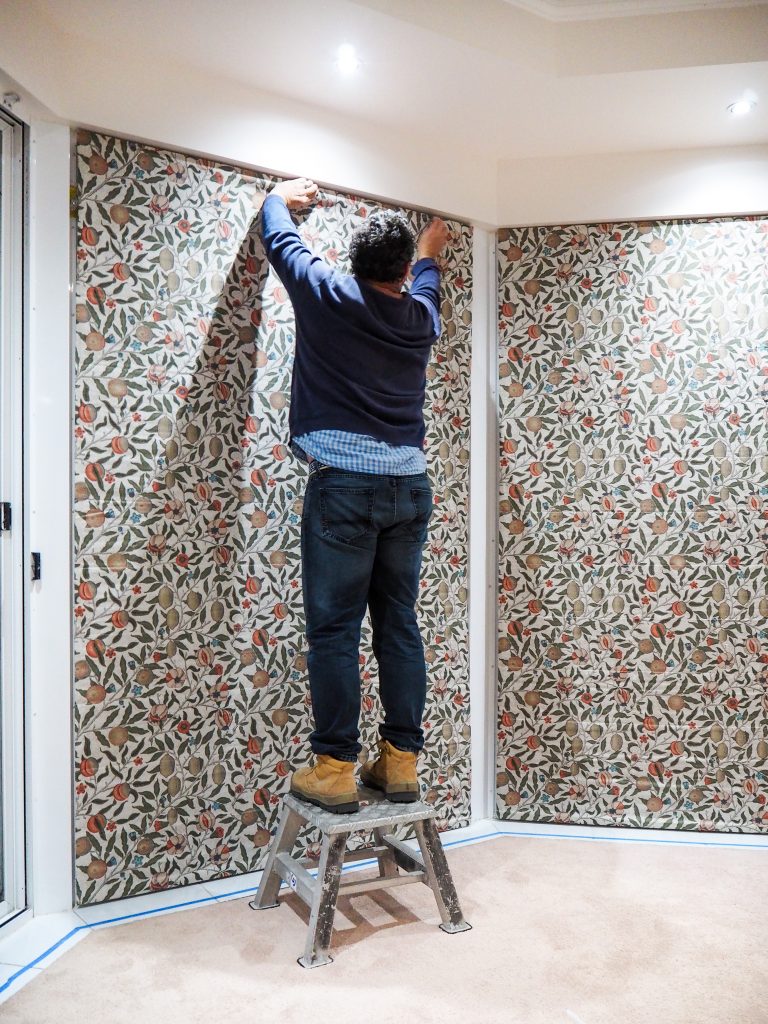 Then they just click into place, I know that sounds easy, but it's true, they simply clip into the bracket.
I got so many questions about the roman blinds as we were hanging them. I'm going to answer some of the questions here in case you have the same queries.
Are they lined?
Yes, they are beautifully lined with a separate layer of fabric. I chose the standard lining and it is a white cotton blend fabric.
Is the lining a separate layer or is the fabric coated onto the feature fabric?
As above, it is a separate layer, your feature fabric is not coated.
You can choose the standard lining, a thermal lining or a block-out lining.
How do they open and close?
They come with a metal ball chain, the chain runs smoothly and can be operated easily with one hand.
They also come with a child safety clip to be attached to the wall.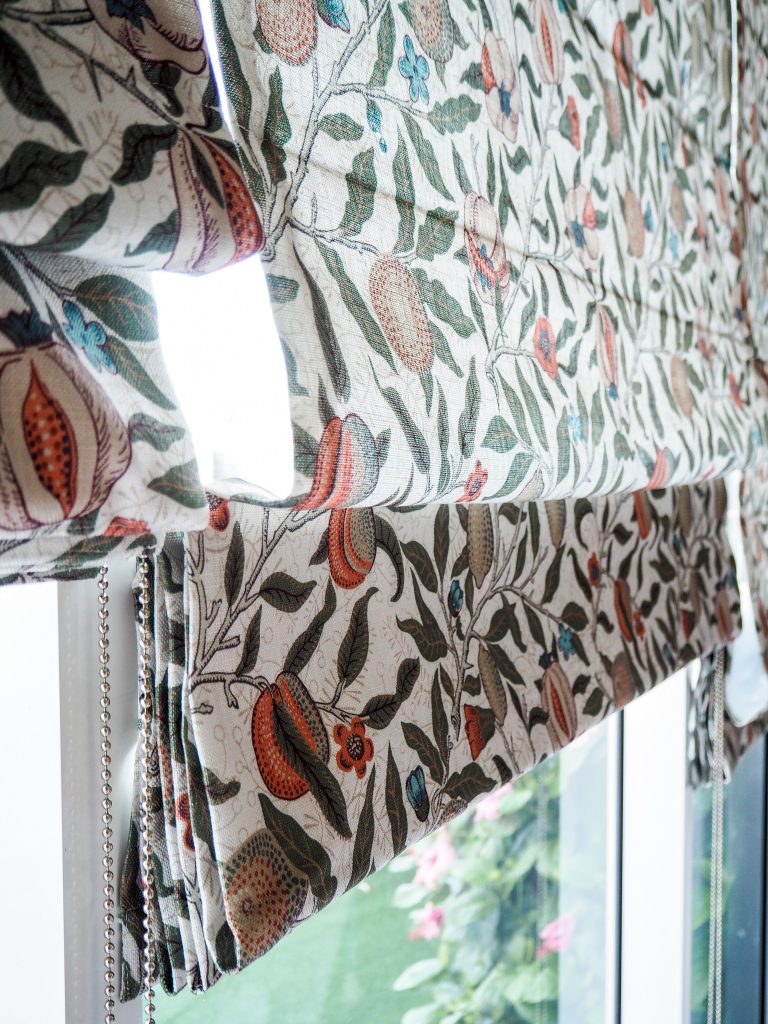 How far up do they pull up?
They pull all the way up to the top layer and fold on themselves neatly.
My windows are nearly ceiling height which makes my roman blind very long and it sits nearly flat against the window. It will depend on your unique measurements but it usually pulls up to between 26cm and 30cm.
Then we hung the curtains.
If you already have curtain rods, then it will be as simple as unhooking the old curtains and hooking up the new ones.
If, like us, you have a new curtain rod, follow your manufacturers instruction to install them first. I had a rod custom made and bent to suit my awkward window. It came with ceiling mounts that were simply screwed into the ceiling.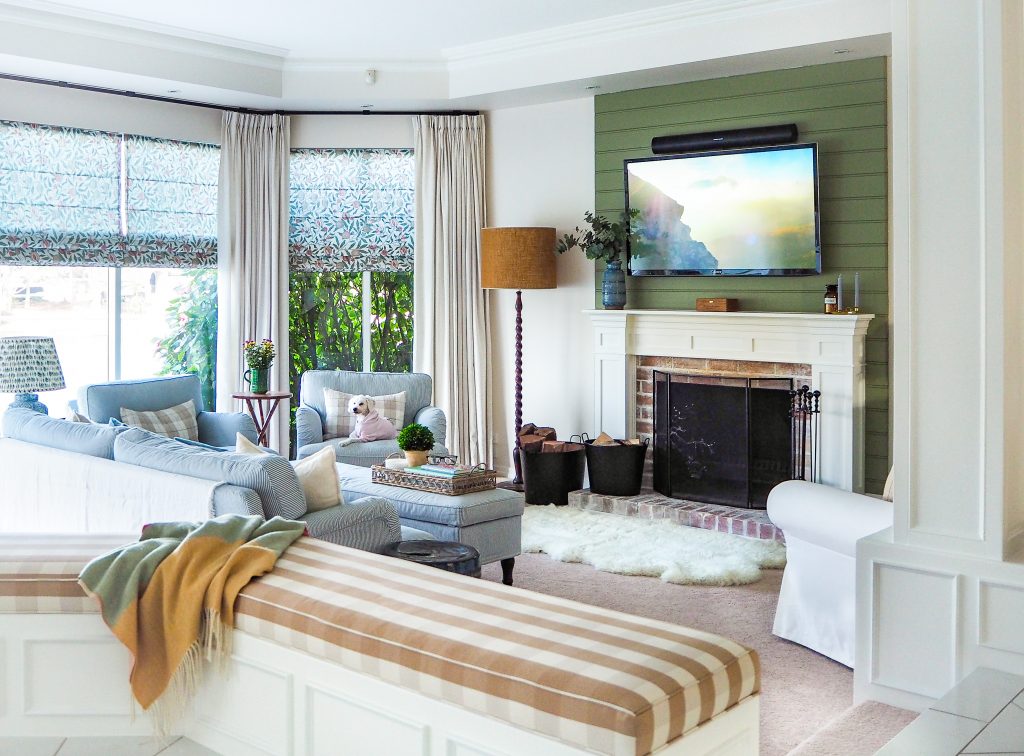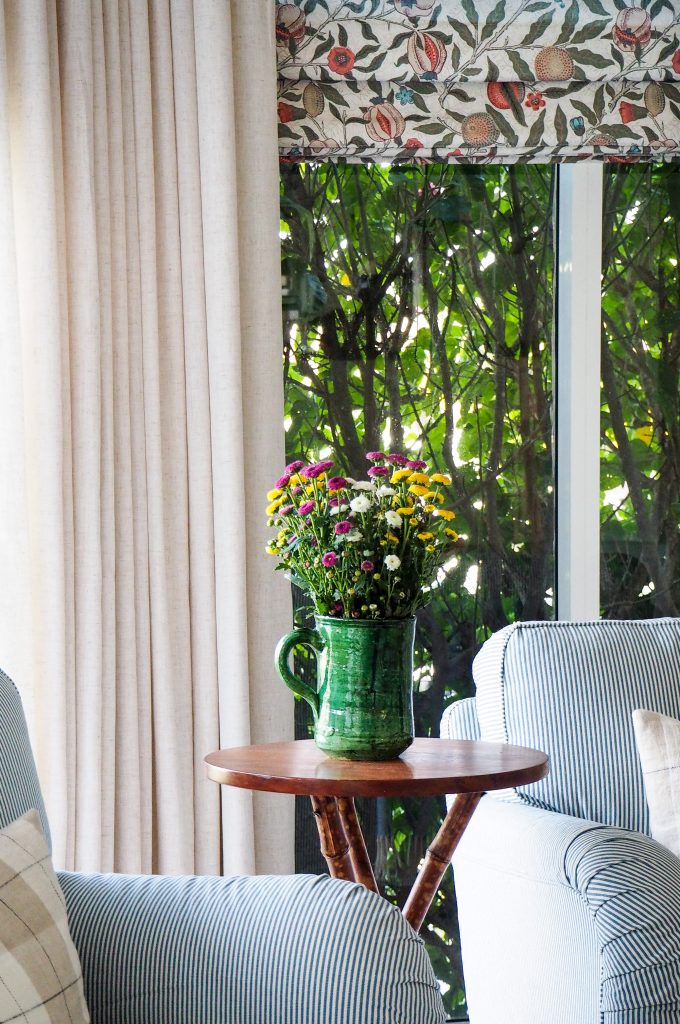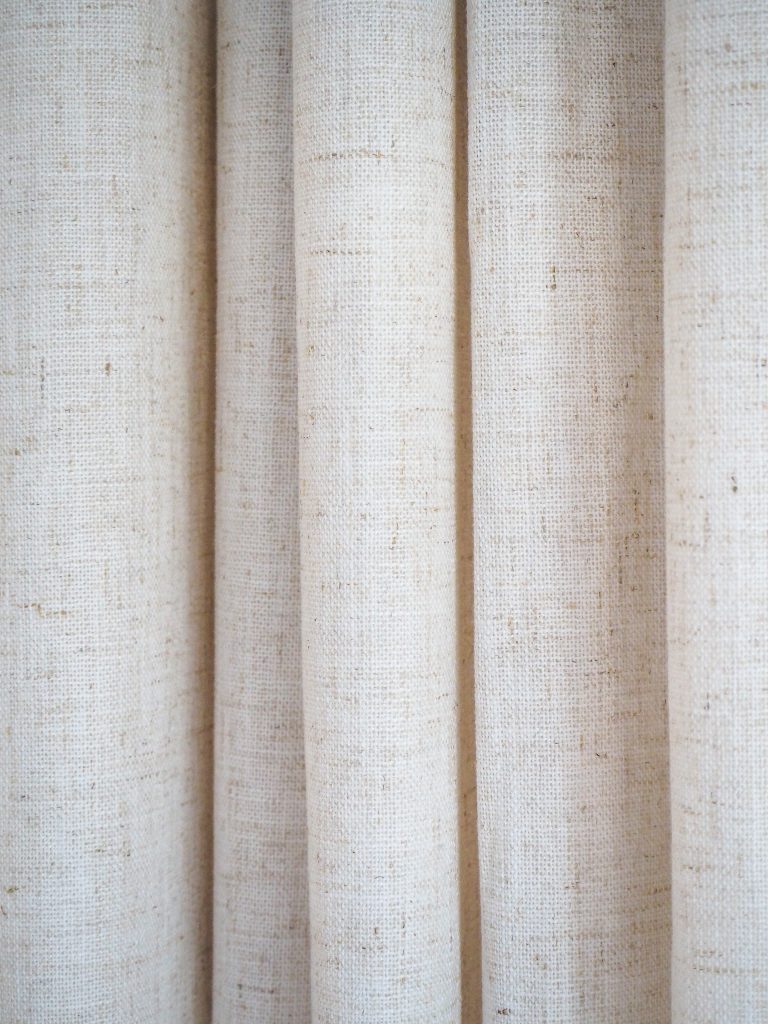 I chose pinch pleat curtains, you can adjust the position of the hooks on the curtains by gliding the hook towards the top or bottom of the heading tape. As I had a nice pole that I didn't want to hide I chose to position them  towards the top of the heading. The adjustable hook also gives you a little bit of control with your length, depending on where you position the hook you will lose or gain a few mm's so you can get them to fall at the exact length you want.
I made sure I had enough glider rings in my rod to accommodate all the curtain hooks and simply hung them starting from one side and working to the other.
If you choose Eyelet or Pencil Pleat curtains the fitting process is similar and explained thoroughly in the Installation guide.
What did I learn during the process?
This was the first time I had ordered blinds online. I measured everything myself, I took my time and I checked and double checked my measurements.
My roman blind measurements were absolutely perfect, my husband was so impressed with me!
As for my curtains, what I didn't take into account was that we changed the curtain rods, the layout of the new rod is slightly different to the old rod. The old rod was 4 separate pieces and they overlapped in the corners, ultimately making the rods longer. The new rod is one continuous rod with no overlap, hence shorter overall. So a couple of my drops are a few centimeters too wide for the rods, it doesn't really matter, you can't tell when they are open and they are just a little fuller when closed.
Lesson learnt and I thought I'd warn you so you don't make the same mistake. I probably should have put the rod up first and measured from that rather than taken my measurements from the old curtains.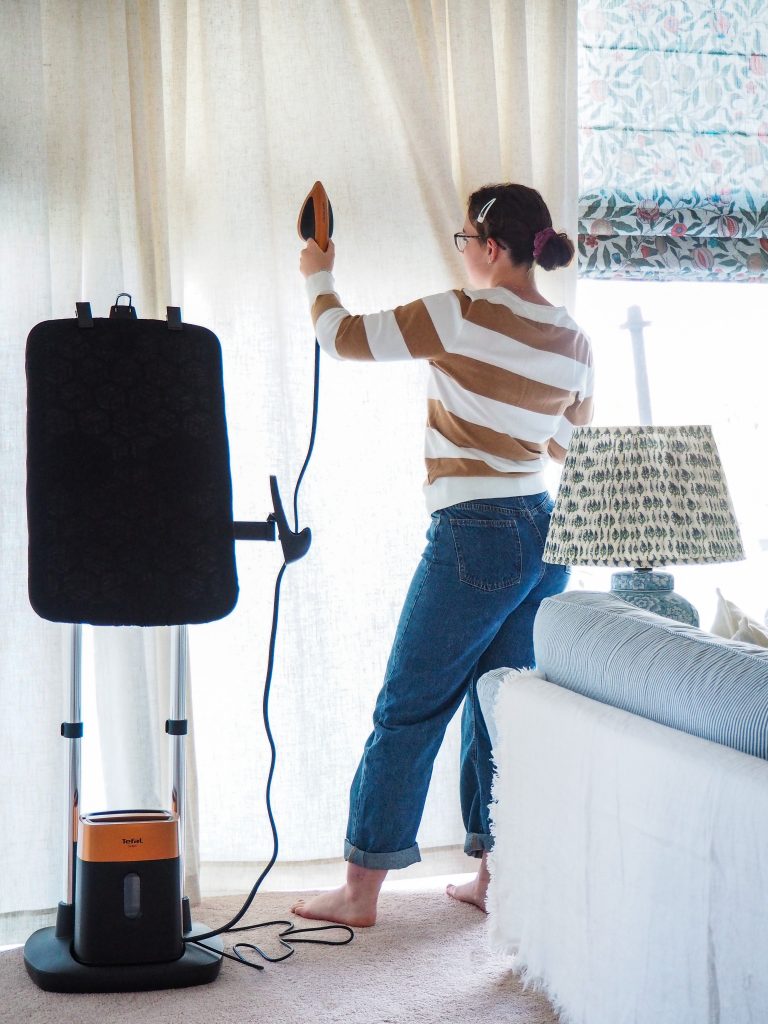 The last thing I did was gave them a quick steam to help the fibres relax.
They will drop on their own with time, but I helped the process along because I'm a bit OCD like that, ha!
Ta Dah!
All hung in a few hours and I couldn't be happier!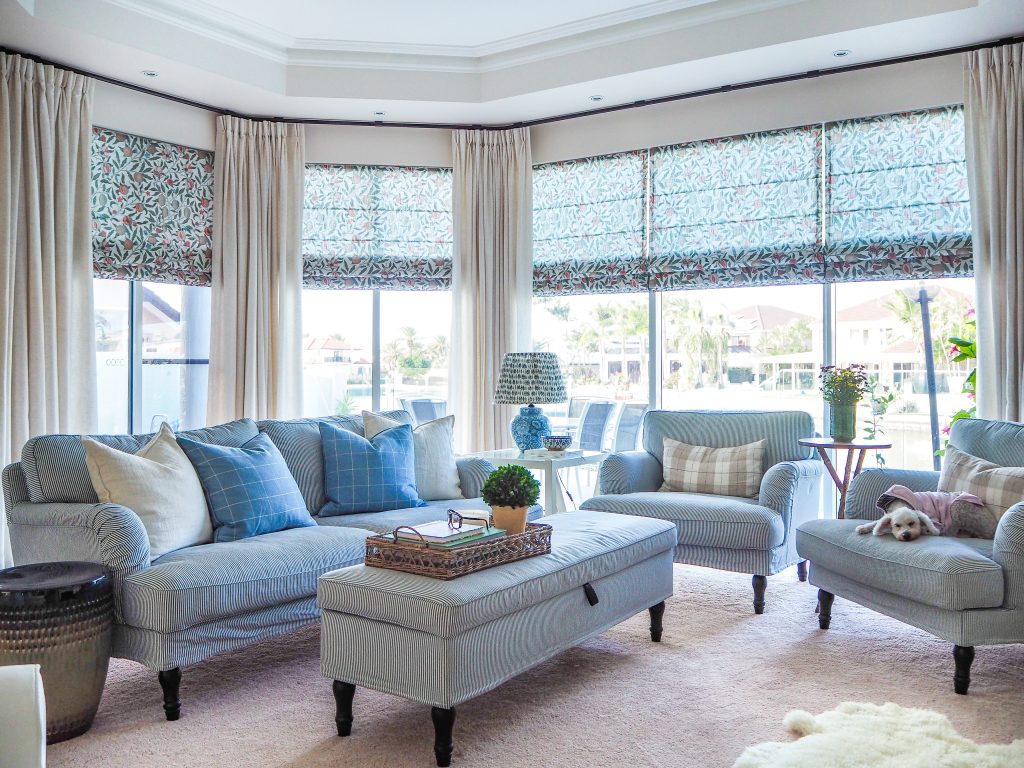 The total transformation of this space is phenomenal. The window treatments have changed the entire look in this room from dated and drab to classic and chic. I don't think there is another component in this room that would have made such a huge impact.
Have a look at the Before & After … mind-blowing!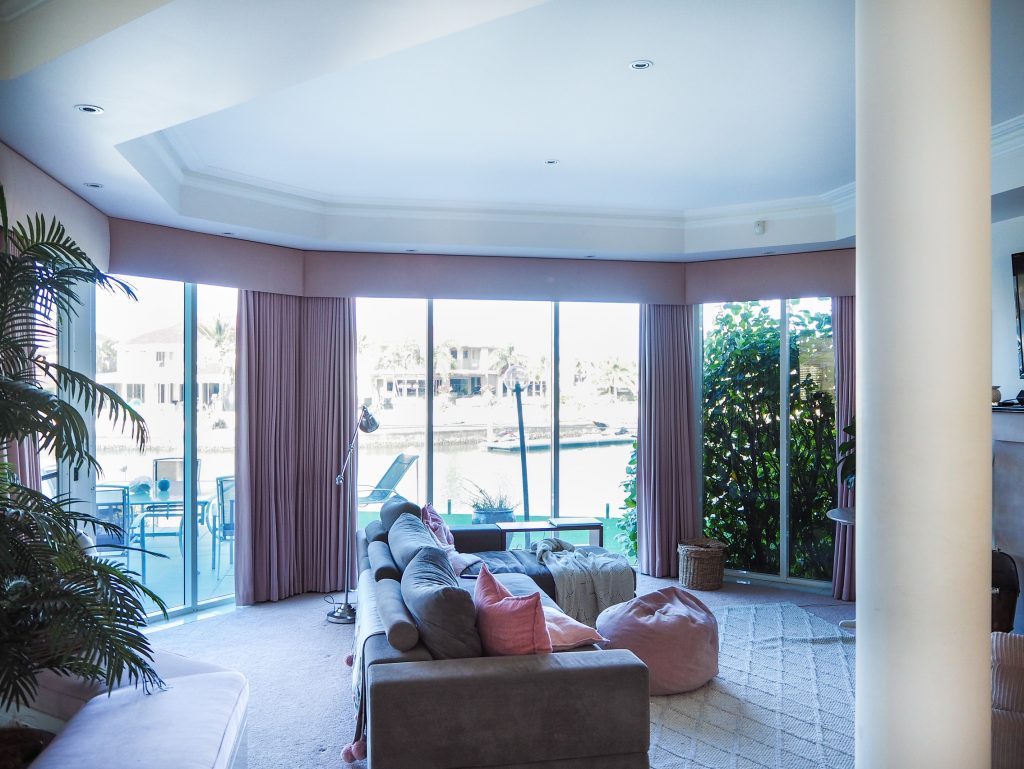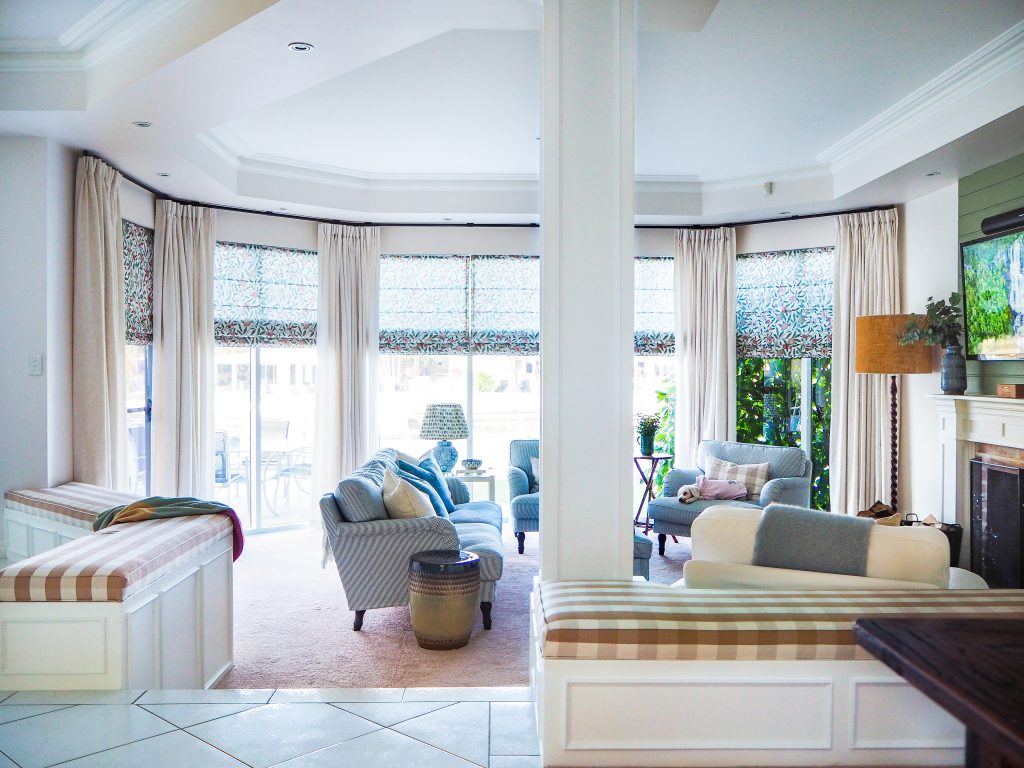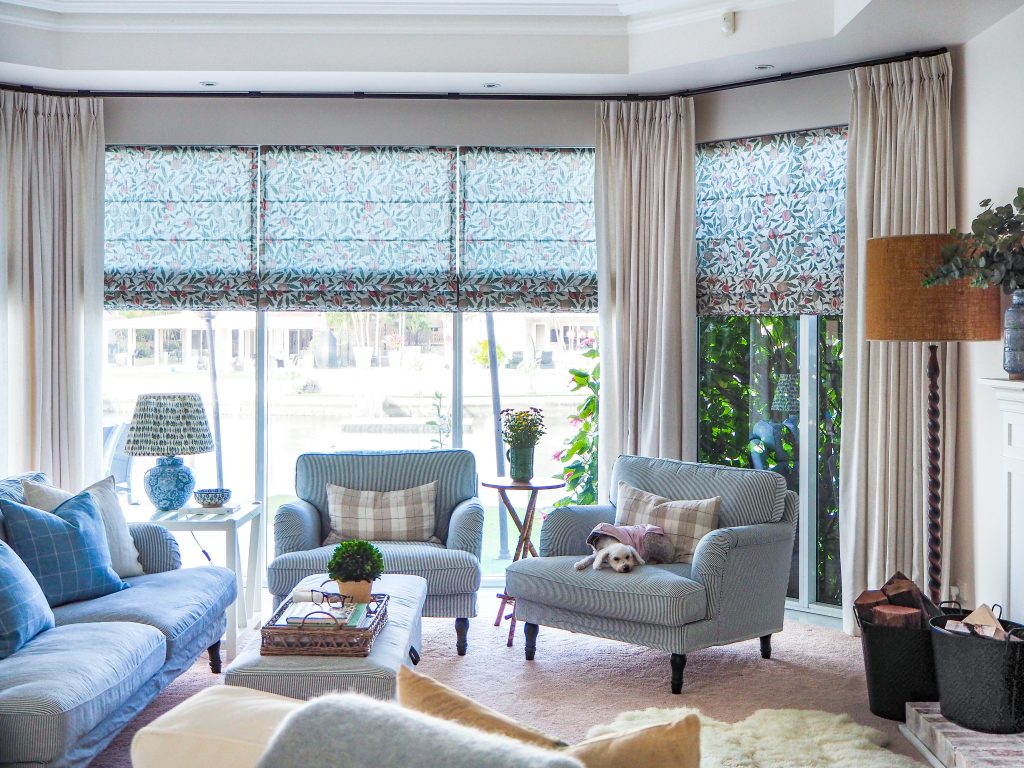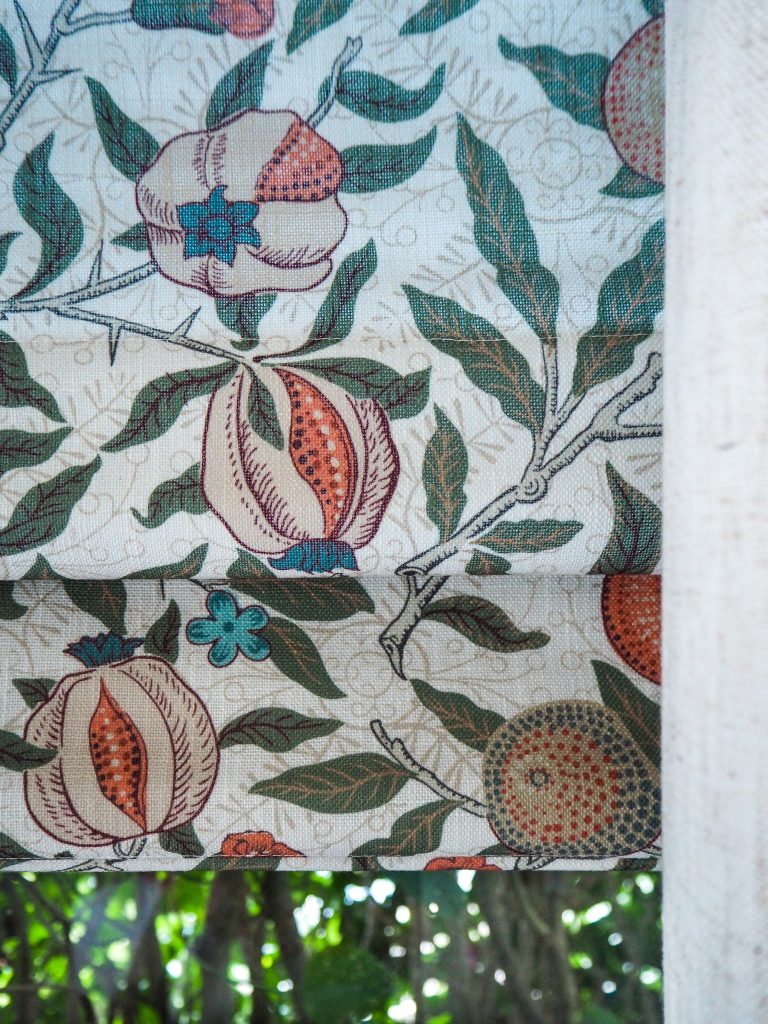 If you still have shabby old curtains or broken vertical blinds, or maybe your windows are still naked, what are you waiting for? Read my blog post full of tips for selecting the perfect window treatments for your space, then order them online  from Blinds Online and transform your house into a home.
Happy Measuring!
Hayley x