I recently heard somebody say that they couldn't have coastal style in their home because they didn't live by the ocean. I pondered this for quite some time, why … why if you love the ocean can't you surround yourself with its treasures in your home? I don't know what the fancy interior designers would say, but I say – go for it!
We live in Australia, we are surrounded by ocean, so adorn your home in shells and coral, splash the colours of the ocean on your walls and check out these gorgeous cushions …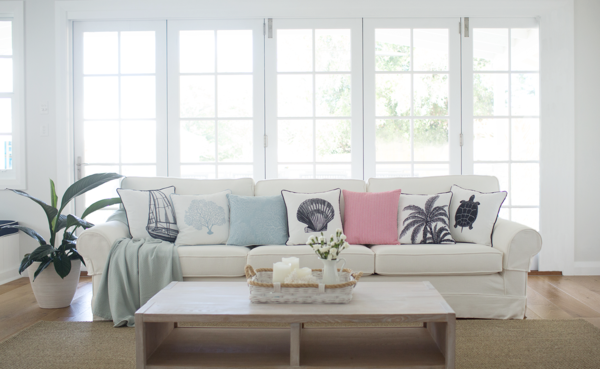 I have been dying to share these with you, it has killed me to keep them under wraps while we waited for all the stock to arrive!
I have a few in my own home and every single person who steps foot in my house has loved them, I even had one friend trying to smuggle some out in her handbag! You know who you are!
Introducing Seacova and the lovely face behind the brand, Clare.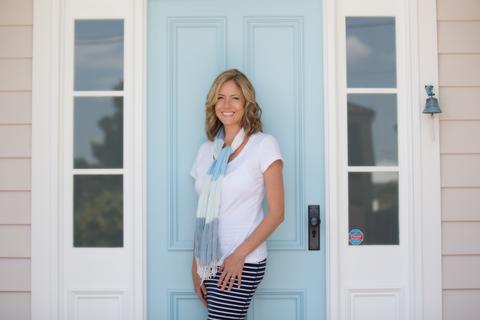 Seacova Coastal Interiors is the result of Clare's love for the Australian coastline and the charm of American seaside cottages. It is a luxurious brand celebrating coastal living with a stunning range of cushions and furniture. These pieces are perfect for Australian living, with their coastal motifs and stunning colours straight from the depths of the ocean.
I absolutely fell in love with this range as soon as I saw it and knew it would be perfect for my new day bed. When it arrived I was even more excited, these cushions are even prettier in person. They are embroidered on 100% cotton, and piped in coordinating fabrics.
The Cape Cod collection in duck egg blue and sky blue is timeless, sophisticated and beautiful. Perfect for those of you who prefer a more gentle colour palette.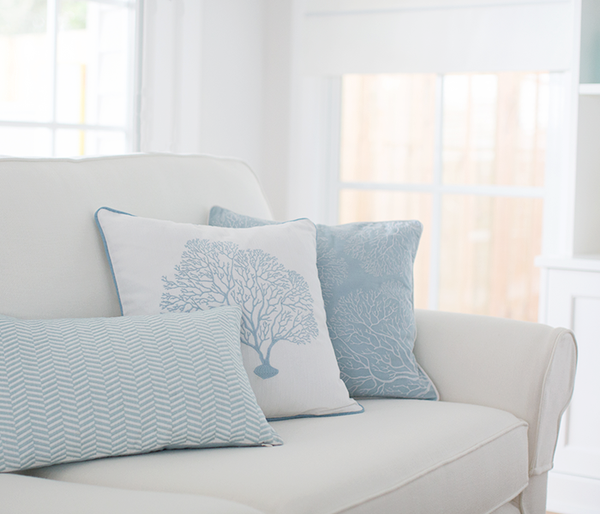 The Florida Keys collection is all about palm trees, sail boats and sea creatures in a crisp navy and white. It is classic coastal style and really makes a statement.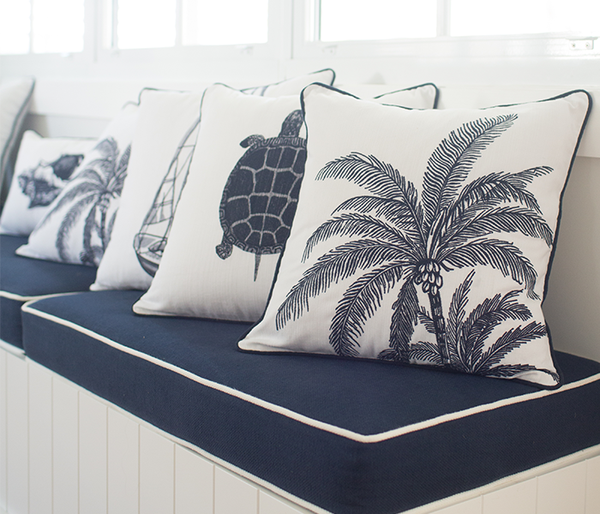 Also, don't miss the outdoor collection of a faux bamboo sofa and chairs, they are powder coated aluminium and ideal for an Australian summer outdoors.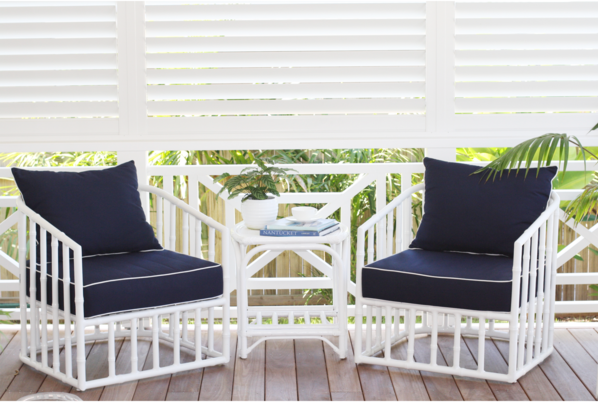 I was lucky enough to steal 1/2 an hour of Clare's busy day to dig a little deeper and learn some more about Seacova …
Tell us a little bit about yourself?
I strapped my travelling boots on after college to explore Asia and Europe. My sister and I finished up living in London where we bunked on the floor of my aunt's trendy Islington apartment for two whole years! I am grateful for the travel experience as it was character-building and opened up my mind up diversity.
Since then I have always lived close to the Australian seaside where I met my husband twelve years ago after re-locating to Brisbane. In the Spring of 2011 we were married on a tropical island in Fiji and now have two young children. Life is busy to say the least – our 7-month old girl and 3-year old boy certainly keep us on our toes!
 Is your background in something creative or is this a new venture for you?
 In 2010 I completed a degree in marketing at the Queensland University of Technology in Brisbane. From there I worked as a production manager in a graphic design studio followed by a management position at a boutique advertising agency in West End. Because we were part of a small team I was able to participate in developing strategies and brainstorming sessions with the qualified creative team members. I absolutely loved working with my colleagues: creative people are a hoot to be around.
 I was always passionate about interior decorating on the home front, and it was the coastal style that initially grabbed my attention. On weekends I spent hours looking through coffee-table books, shuffling various items around the house and scouting stores for new accessories. Eventually, my hubby actually banned me from buying any more shells or coral!
 As my passion for interiors continued to grow, I decided to take the leap and merge my work with that passion. Seacova became my creative outlet whereby I could develop coastal style interiors from the designing to the sourcing, managing suppliers, building websites and accounting. I could not have become a one-girl show without my previous job experiences and background.
It is clear the inspiration for your beautiful coastal-style cushion range comes from the ocean and seaside, was there something in particular that prompted the designs?  Do you design them all yourself?
I have been infatuated with American seaside cottages for as long as I can remember: front porches, white picket fences, french doors and light, bright rooms filled with shaker cabinetry…they stop my heart.
 My inspiration for the collection came largely from these coastal dwellings. I tried to picture complementary interiors that would create a soothing, relaxing space whilst using a colour palette inspired by the clear blue waters of the Australian coastline. In addition, some of the designs were derived from old ancient engravings I came across in my readings. The designs were created using Illustrator software, and then digitized for embroidery.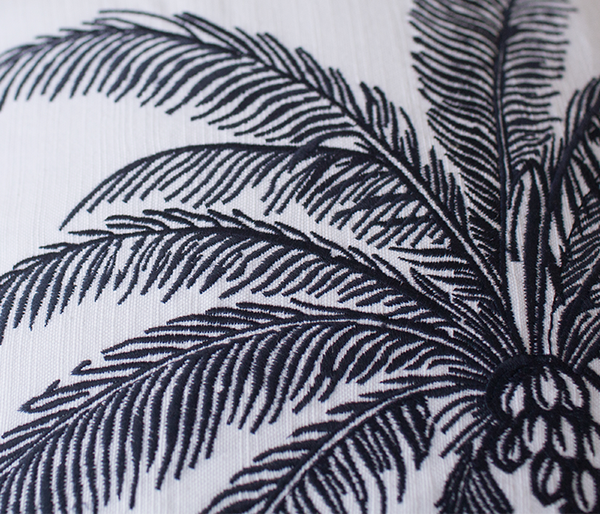 The colour palette for your 2016/17 range is fresh and relaxed with soft blues, navy and white, then you have an unexpected pop of coral pink, where did this come from? 
 When it comes to colour, I am blue and white all the way, so naturally that dominated the collection. But there is definitely something to be said for a pop of colour. The seaside is largely blue and white on the surface, but underneath the water is a vibrant community of brightly coloured fish, plants and coral. The coral pink represents a hint of this vibrant underwater life. I was not sure about it in the beginning, now it is one of my favourites!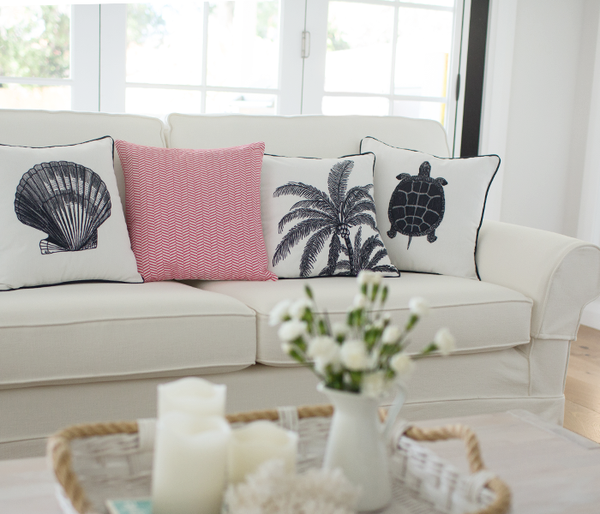 Your collections are named after the famous seaside destinations of Cape Cod and Florida Keys. Have you been there or are they on the travel bucket list?
 I daydream about being there quite often, but have not travelled there as yet; it is definitely on the bucket list. When the children are a little older our plan is to hire an RV and drive all the way up the coast from Florida Keys to the Hamptons, Cape Cod and Nantucket.
Tell us about your own home and decor style? 
 My husband and I recently designed and built the family home. Yes, you guessed, the design was influenced by American architecture but also the attractive 'Queenslander'. It is a hybrid of all the features we adore: a weatherboard construction with a front porch, exposed eves, french windows and shaker cabinetry. I would describe the style as classic coastal. As we had a limited budget, a lot of thought went into the design and how we could maximise our investment. Luckily, we had a fantastic builder who appreciated the character-build and was on-board with our vision. We are still finishing off a few elements. My husband, who loves to strap on the tool belt on weekends, has built a shed to match the house and is currently working on the white picket fence!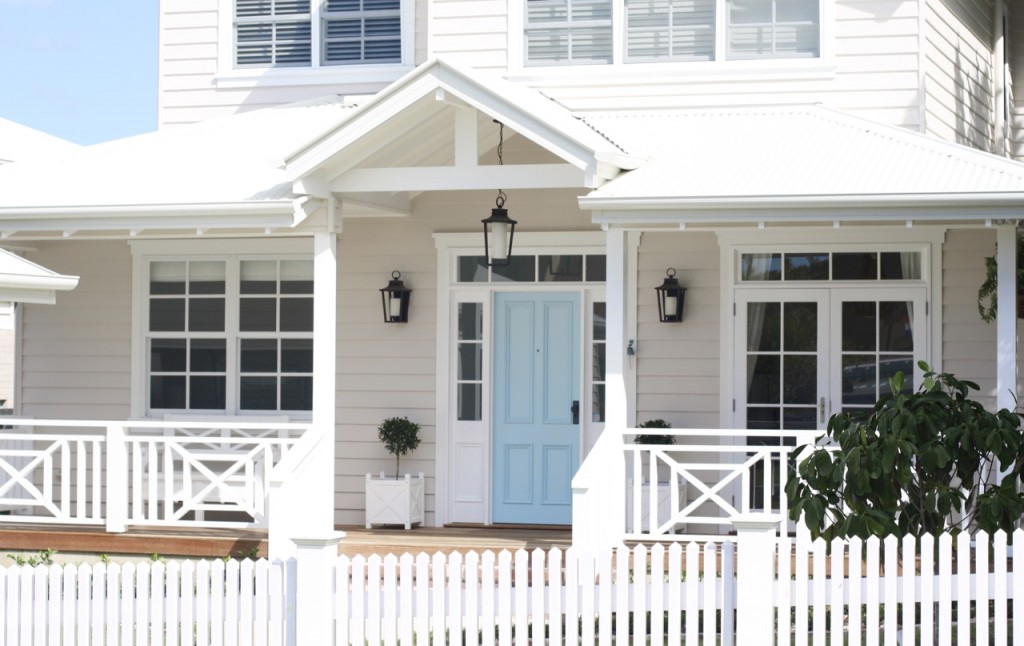 What does the future hold for Seacova?
 I hope to expand Seacova by developing more design elements and bringing more collections to the market. The internet certainly helps small businesses achieve that these days. I have also been working on some custom statement pieces. Here's a sneak peek at the Hampton's wing-back chair and matching ottoman that has just been introduced to the market.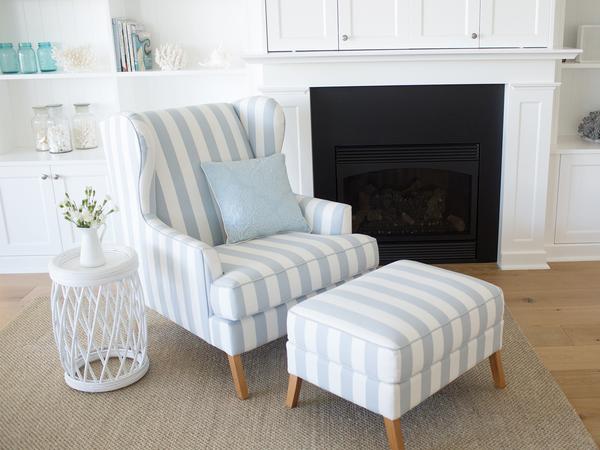 **************************************************************************** 
I know you're all itching to grab your credit card and start shopping, but before you go I just want to show you how gorgeous the cushions look in my home. Sometimes you see these beautifully styled images and wonder what they actually look like, just hanging out, like cushions do, in an everyday persons home.
They are so good!
Aren't they gorgeous!
Happy Shopping! #sorry #notsorry
Hayley x