Making your house a 'home' has never been more important. We are all spending much more time at home, in fact most of us are spending all our time at home during the Covid-19 self isolation. Take the opportunity to create a space that you love, a space that makes you feel nurtured and a space that you want to spend time in.
As most of you know, we moved house a couple of months ago. Our master bedroom hasn't had any attention and is looking a little unloved, the room needs some work, but in this current climate it might be some time before we can access new curtains and flooring. That doesn't mean that I can't make it into our sanctuary right now.
I've given it a mini makeover with my friends at Madras Link and I'd love to share it with you …..
AND
We'd also like to extend a very special offer to all of my Mum Little Loves readers!!!
Firstly, let me tell you why I love Madras Link.
They are an Australian business that design everything in house. They travel the world to find inspiration, then start each season with a storyboard. Their designers paint the prints which are used across their range of furniture, lighting, tableware and textiles. This means that you won't find that print anywhere else. It's becoming harder and harder to find unique homewares these days and I love that I can buy from Madras link and know that it is an exclusive design.
I particularly love their Country Style range. It is relaxed and cosy with natural elements and fresh prints.
Just wait till you see the new rattan furniture, a pair of these incredible rocking chairs just went straight to the top of my wishlist. Oh so swoonworthy!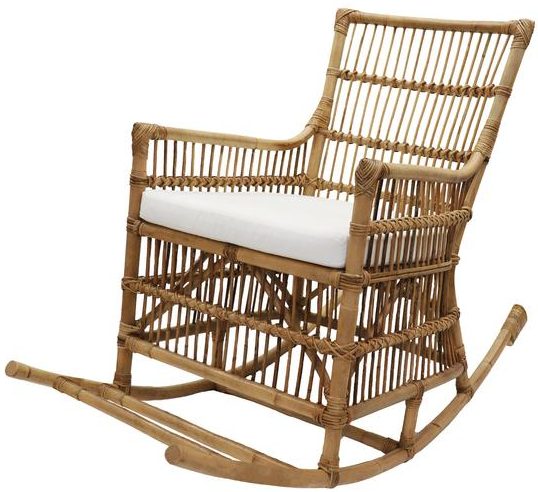 Back to my bedroom.
You all know how much I love blue, and I haven't removed it completely, but I definitely felt like something different for this house. After living in a bold blue bedroom at the last house, I was longing for something calm, fresh and peaceful.
I have been drawn to green lately, a colour I never thought I'd love so much after wearing a green school uniform for most of my primary school years that I absolutely hated, but here I am … swooning after all the pretty green things.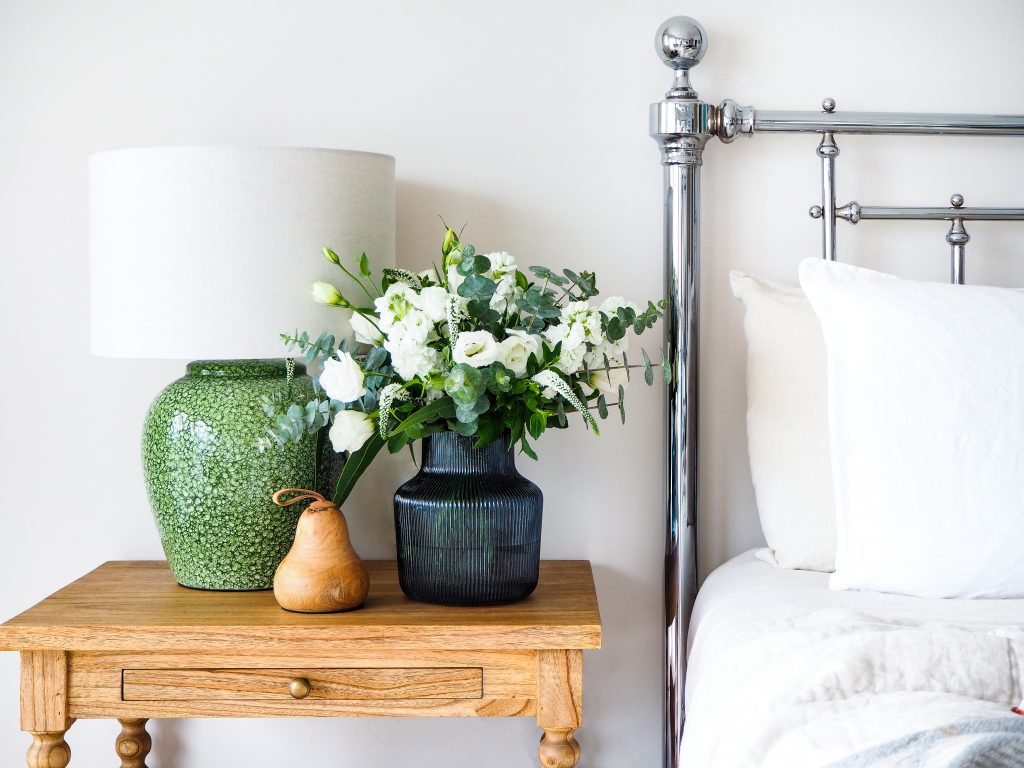 When I saw this beautiful cushion featuring blue and green proteas I knew that it was the starting point for my mini makeover. I adore blue and green together and this cushion immediately stole my heart.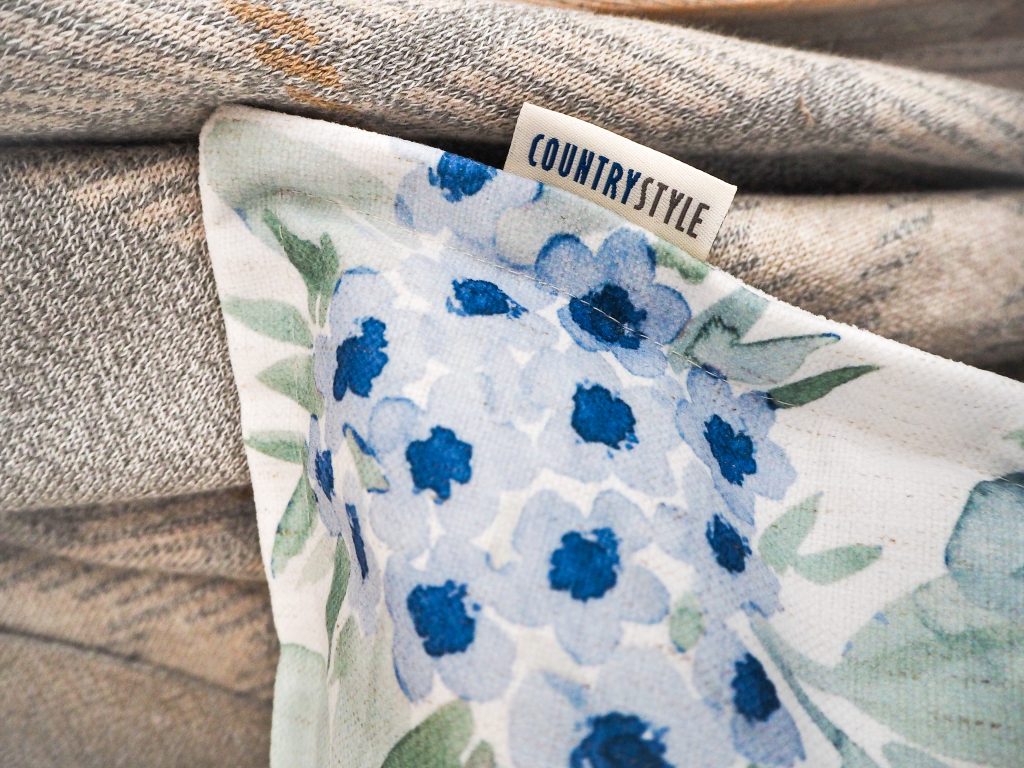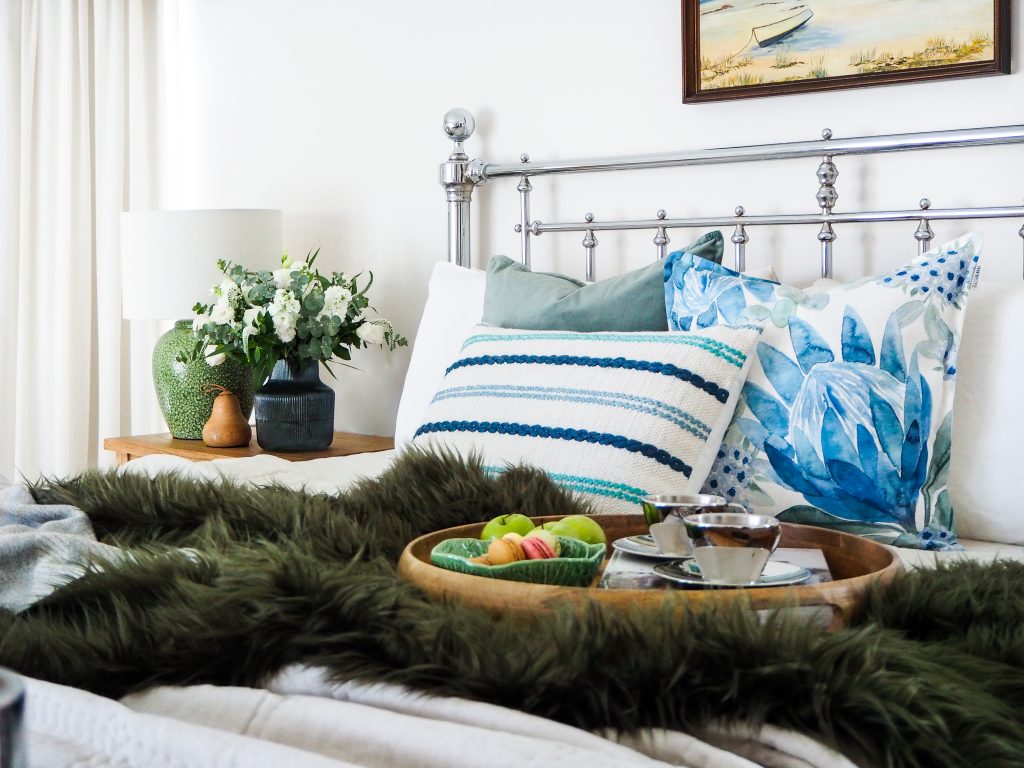 I chose a couple more cushion to coordinate with the proteas, I like to draw the colours from the feature cushion and enhance it with at least one block colour cushion and another pattern. The pistachio velvet cushion gives me a pop of subtle green, while the blue and green stitched cushion adds some texture and a different shape to the trio.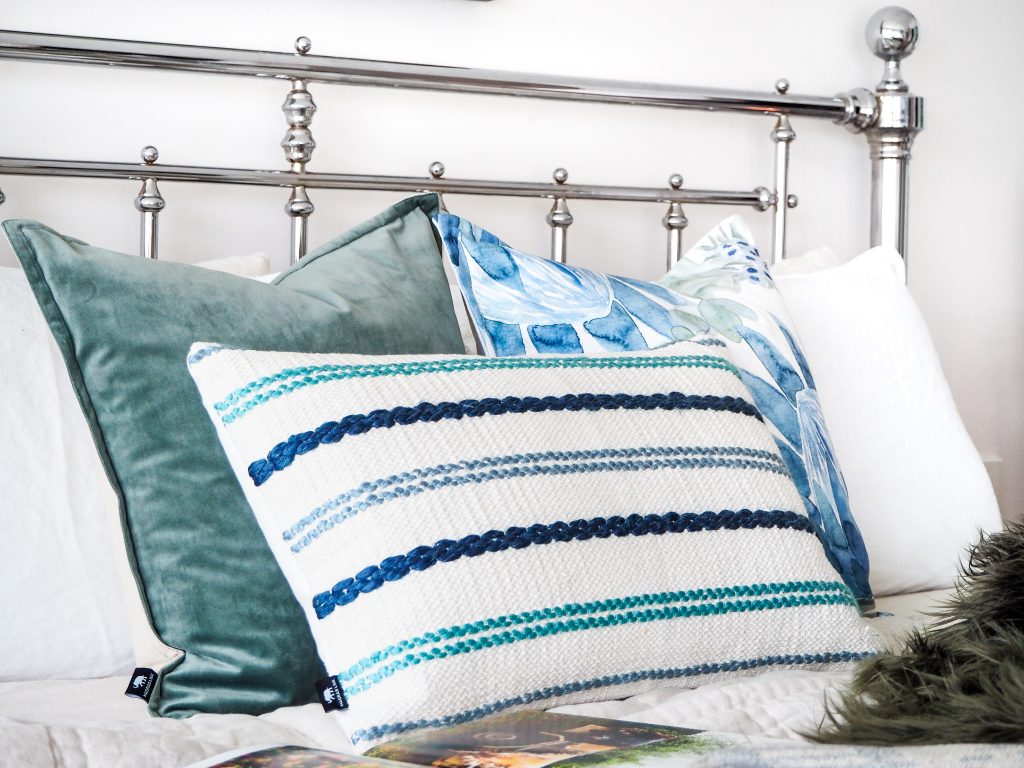 I chose the throws with the same ideas in mind, colour and texture. The olive faux fur throw adds rich colour and luxurious texture, it makes you want to snuggle up with a hot drink and a good movie. The second throw adds more interest with a plaid pattern in blue, cream and mustard. I love plaid, it's a classic pattern that mixes easily with most prints, especially florals. It looks warms and cozy in this gentle colour palette.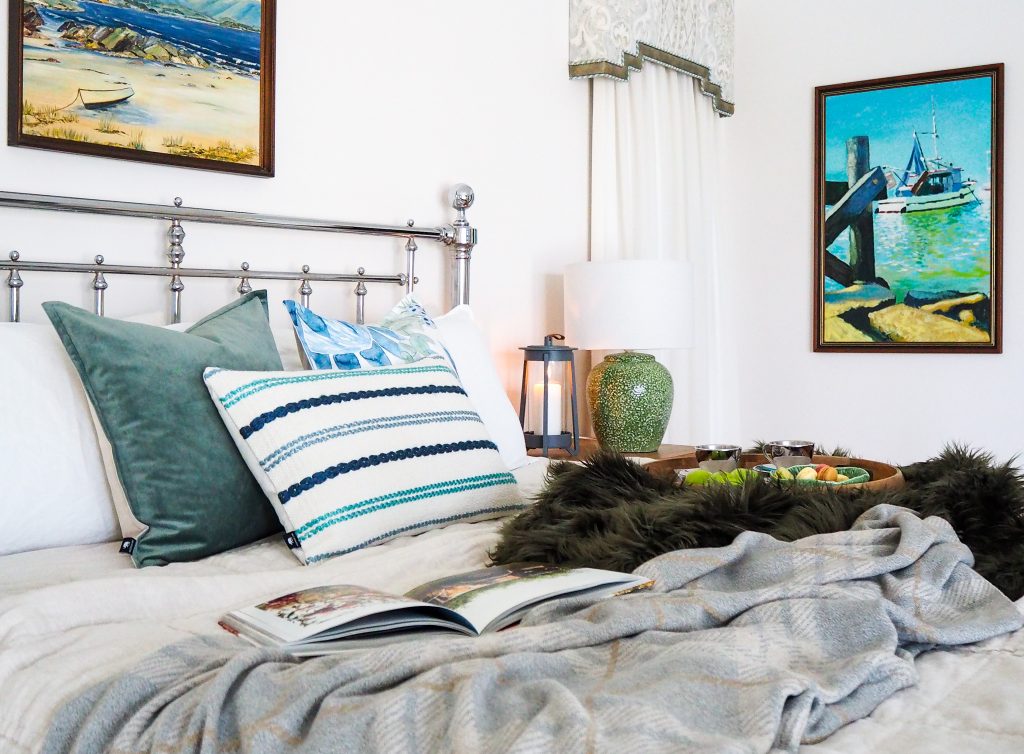 The green lamps make a statement with their glossy speckled finish and voluptuous shape. The shade of green is perfect and the linen shades are timeless. I fell in love with these immediately.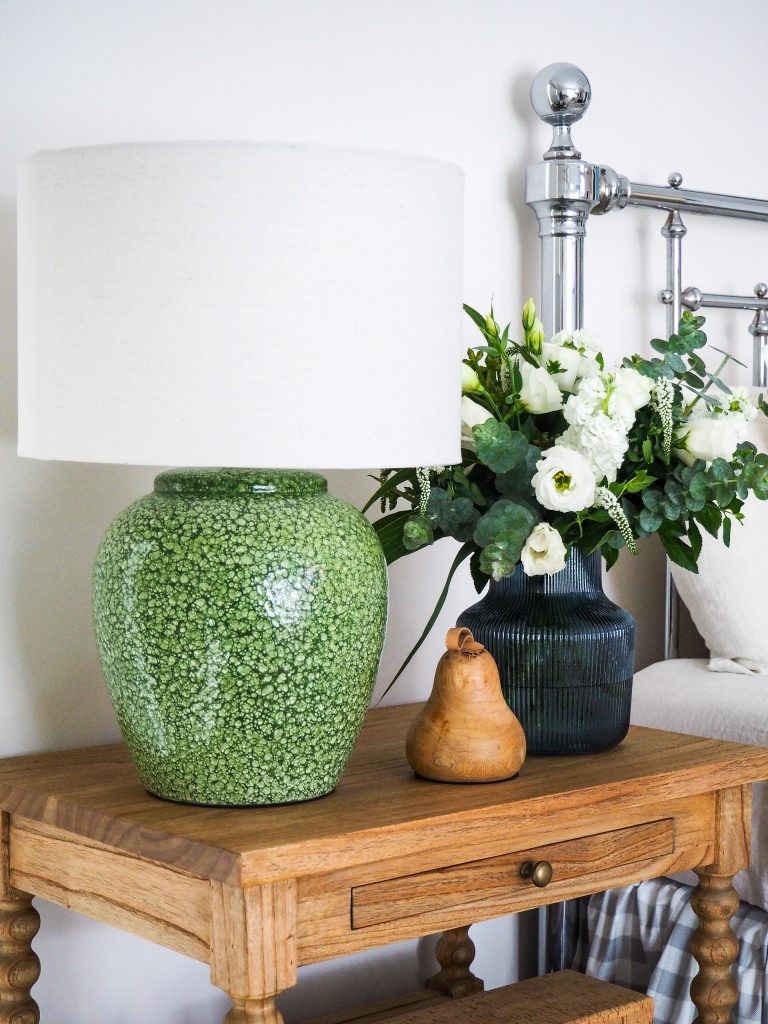 Including a few creature comforts in your bedroom elevates it from a boring bedroom to a place where you can linger and lounge for a little longer. A tray is ideal for cups of tea, iPads and books. It's handy at bedtime, but just as practical in nearly every other room in your home … serving food in the kitchen, a centrepiece on your dining room table, a styled vignette on your coffee table or a catchall in your front entry.
This tray is full of charm with its parquetry finish and soft circular shape.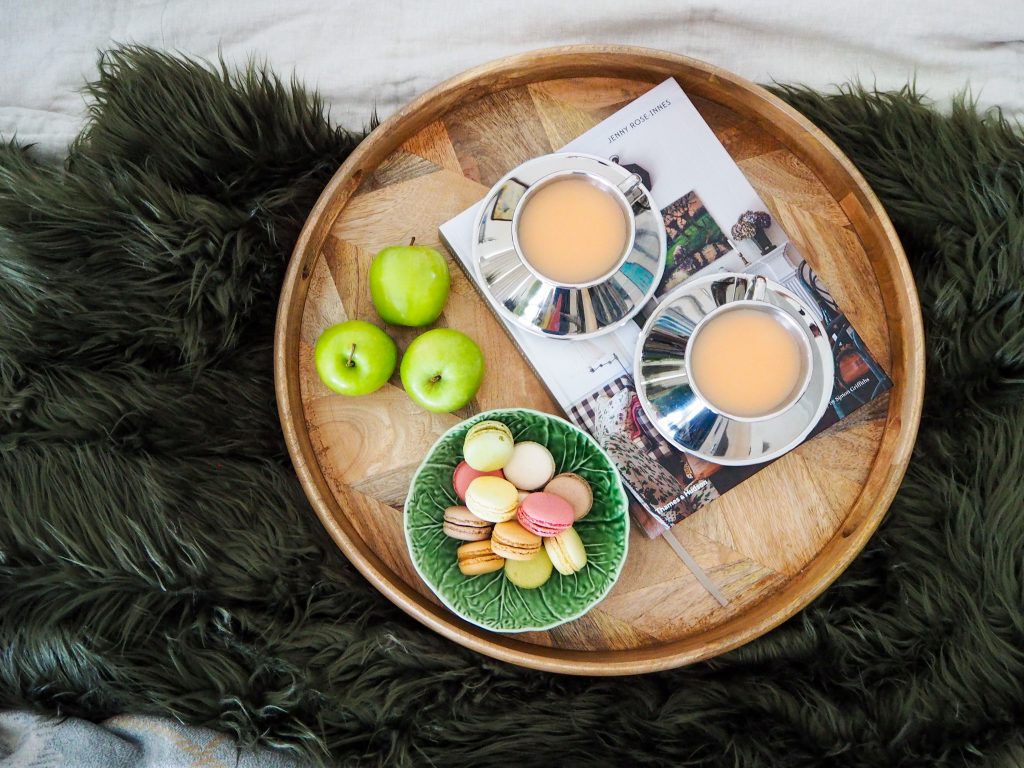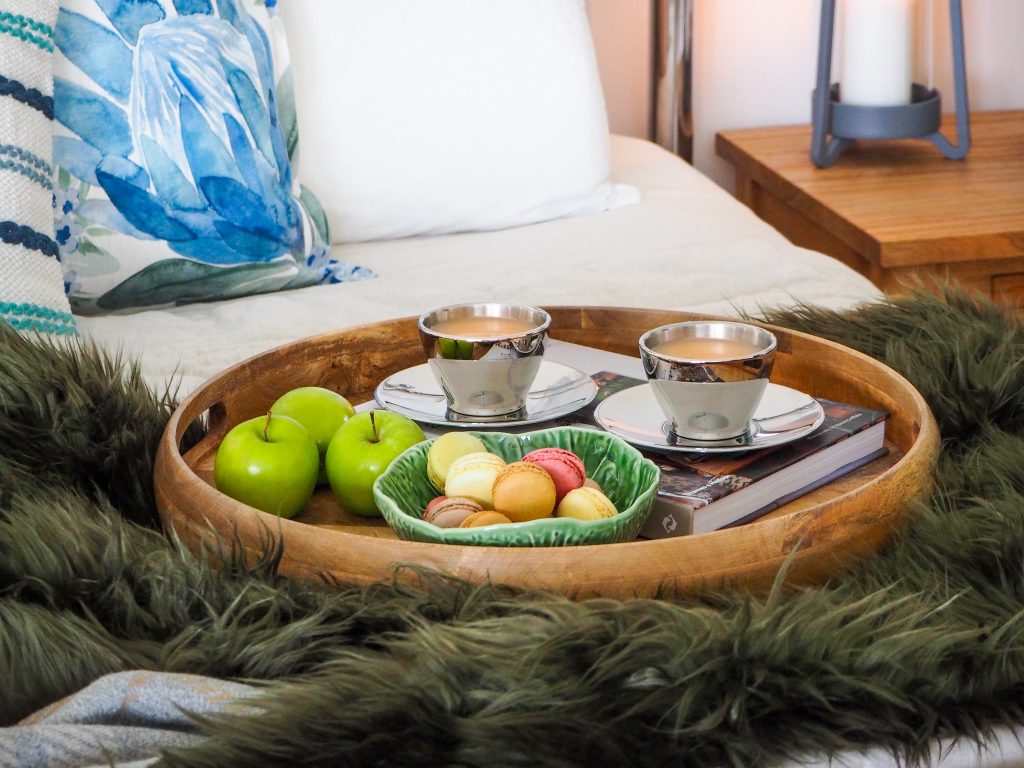 Which brings me to this incredible chunky wood framed mirror that I chose for above my bed, it would have been perfect to add some warmth and natural texture. I love the circular shape which works so well above a bed, unfortunately we discovered that our fireplace chimney runs from downstairs up the wall to behind our bed. We aren't keen to start drilling screws into the chimney until we are sure exactly what is behind there, so I hung the lightweight vintage paintings which I will add to and create a gallery wall, then I hung the gorgeous mirror downstairs in my front entry.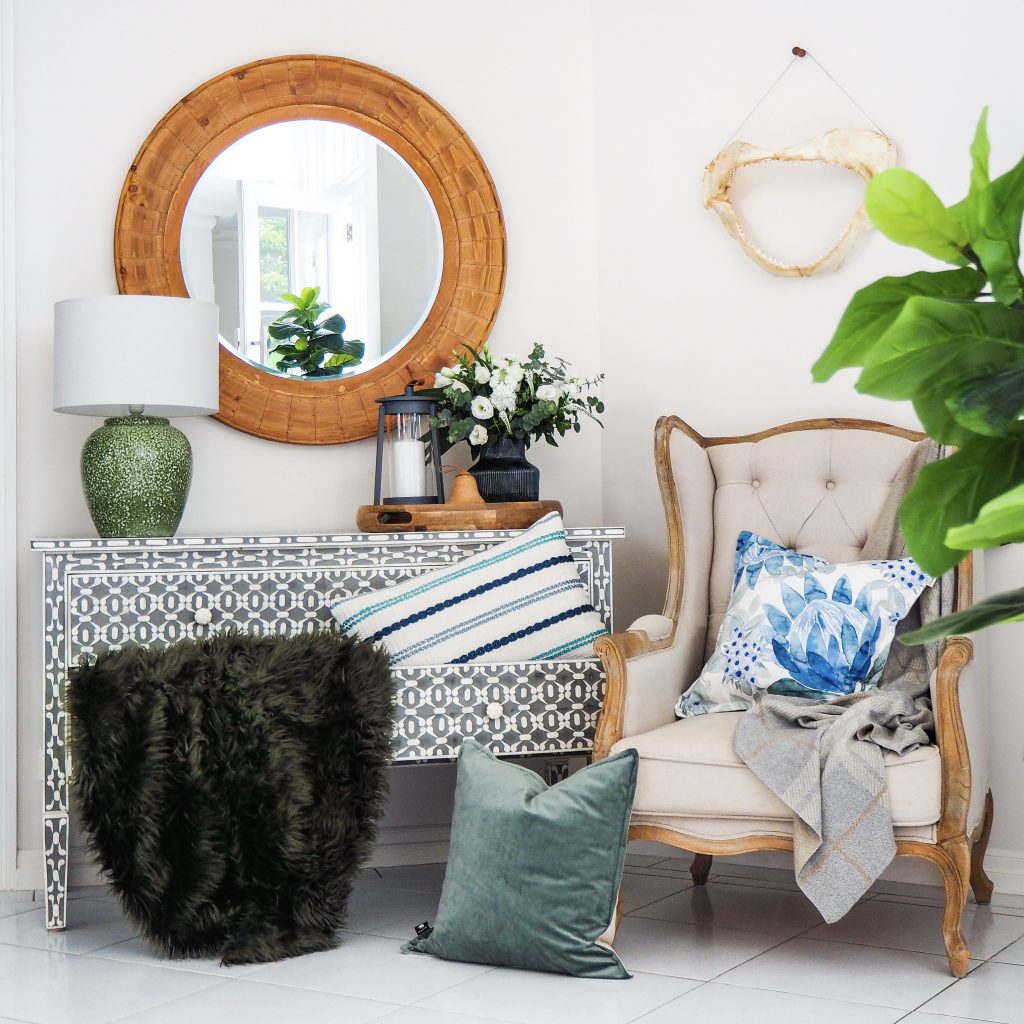 It ended up being a happy mistake because I absolutely love it there, as you can see, so does Skipper!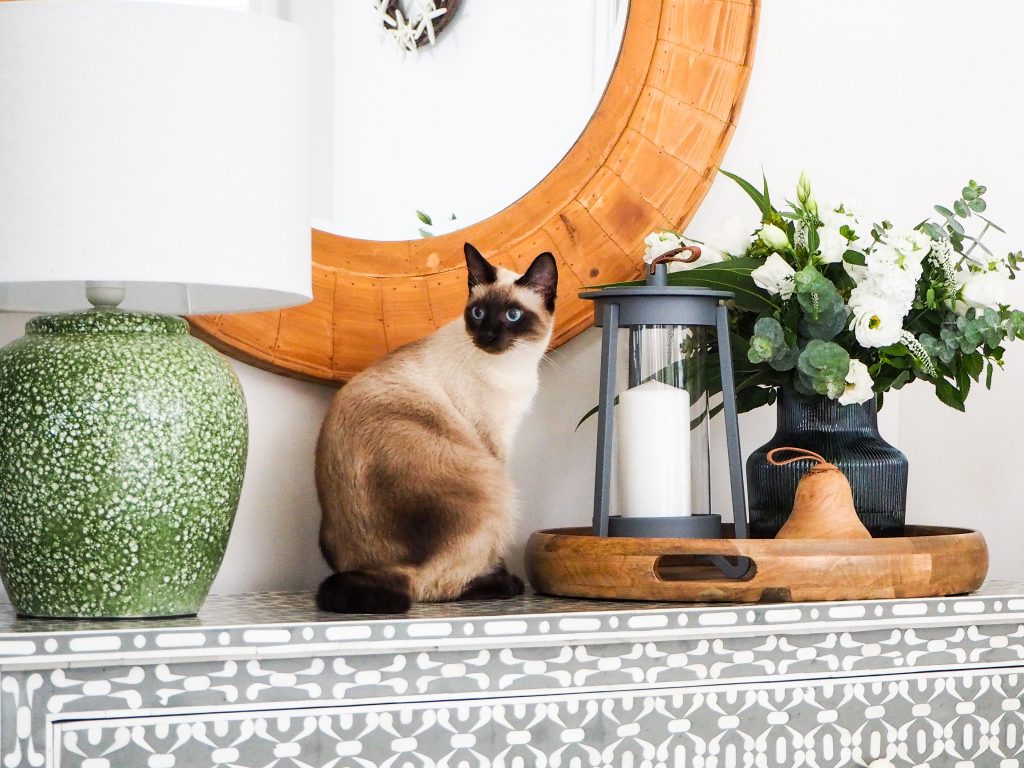 I took the opportunity to style a few of the other pieces with the mirror so you can see how well they all work together, you can also see how versatile these pieces are and how they look equally as gorgeous in a bedroom as they do in a living space of your home.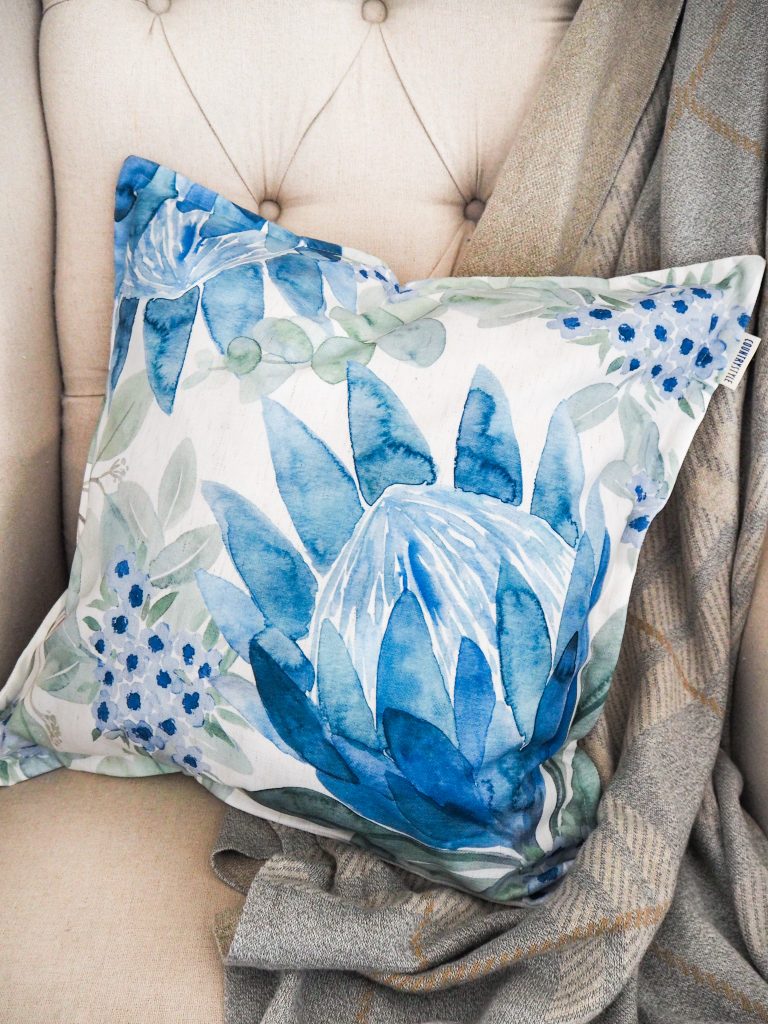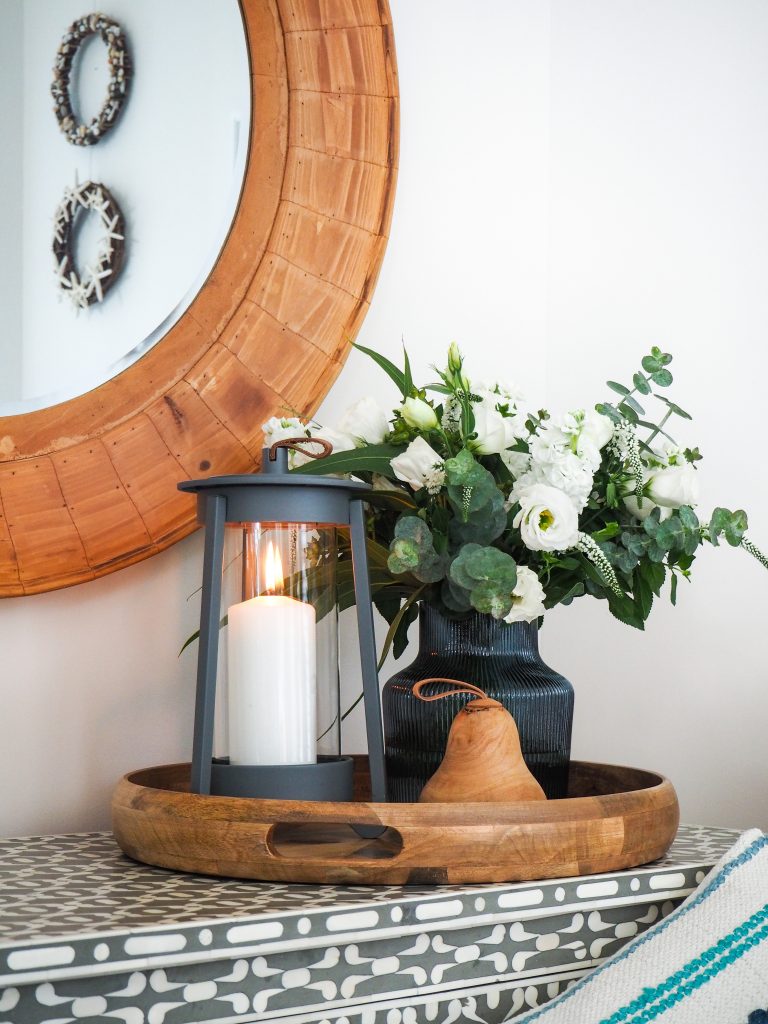 The country style lantern is functional and versatile in gorgeous grey aluminium and finished with a sweet leather handle. This is one of those pieces that will look good anywhere, it allows you to have a substantial size candle and the glass hurricane enhances the candles glow.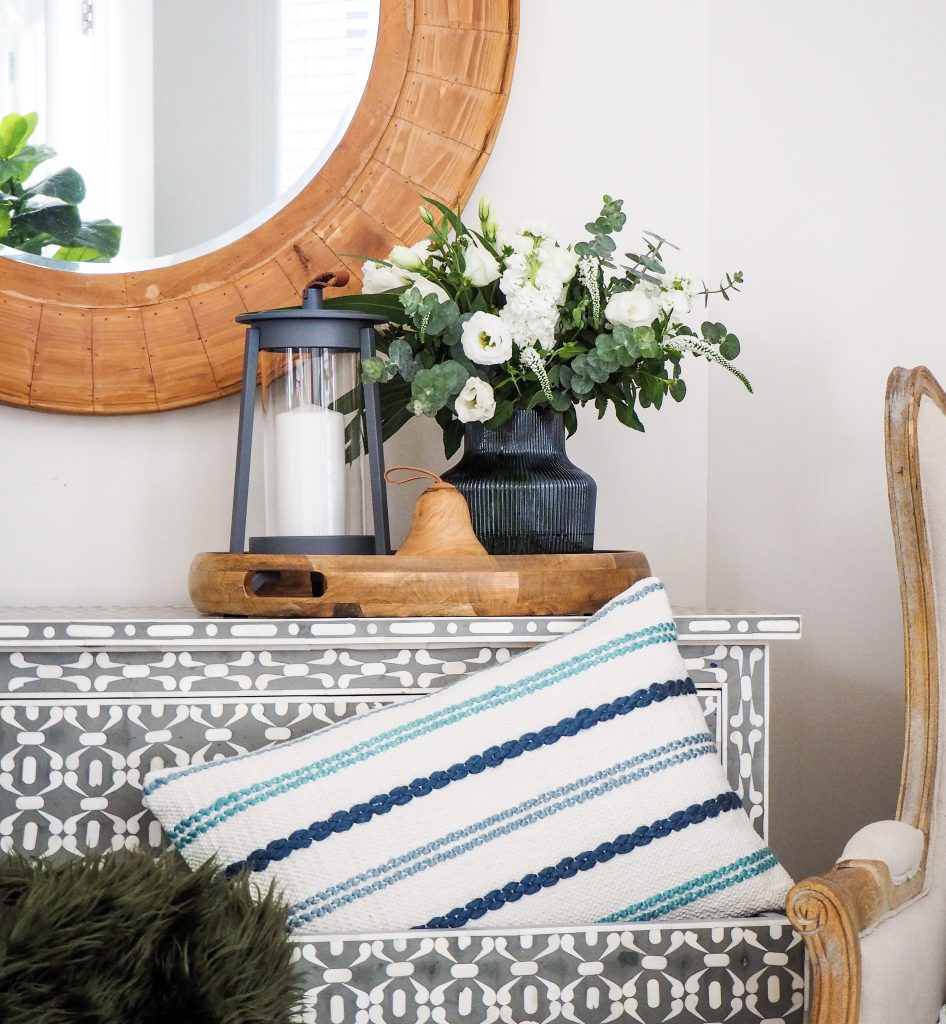 The ribbed vase is the perfect shade of blue and the ribbed design is textural and interesting.
I like to work with odd numbers for little vignettes or styled tray like this. I bought the sweet wooden pear from Madras Link last year knowing it would be a great little accent for styling, unfortunately it has sold out, but they still have an equally as cute apple.
Speaking of cute … I couldn't resist sharing a couple outtake photos, I told you my pets were little models, they see the camera and they just have to get in front of it!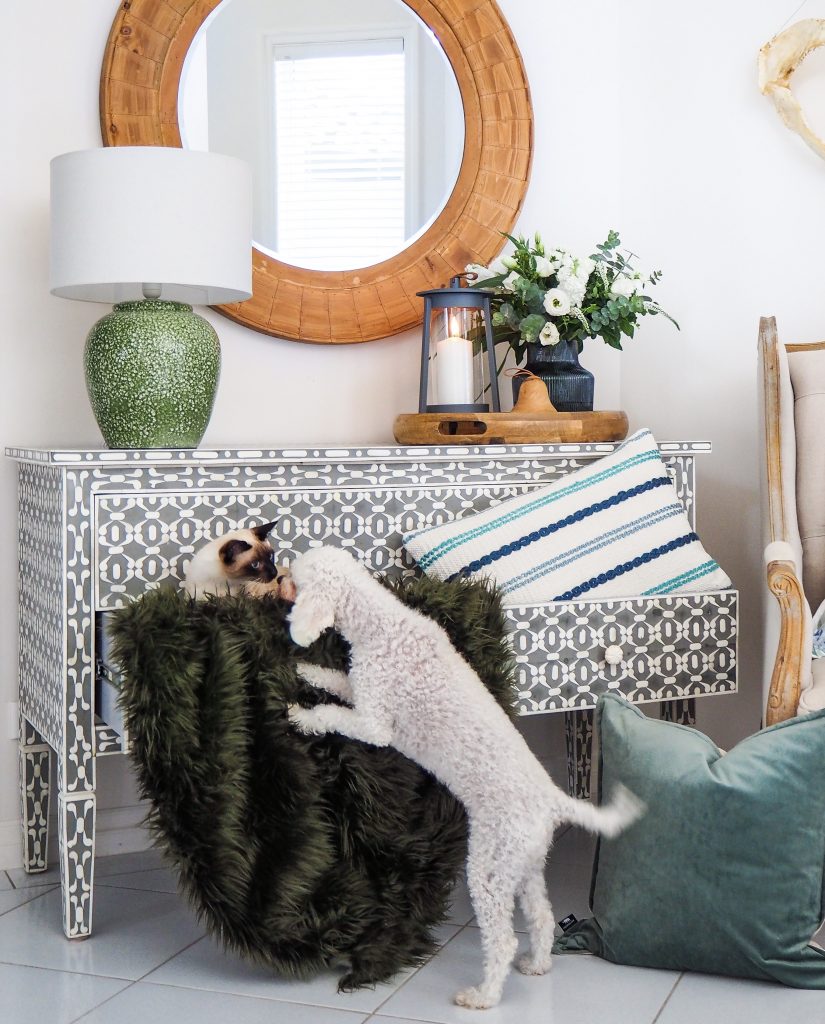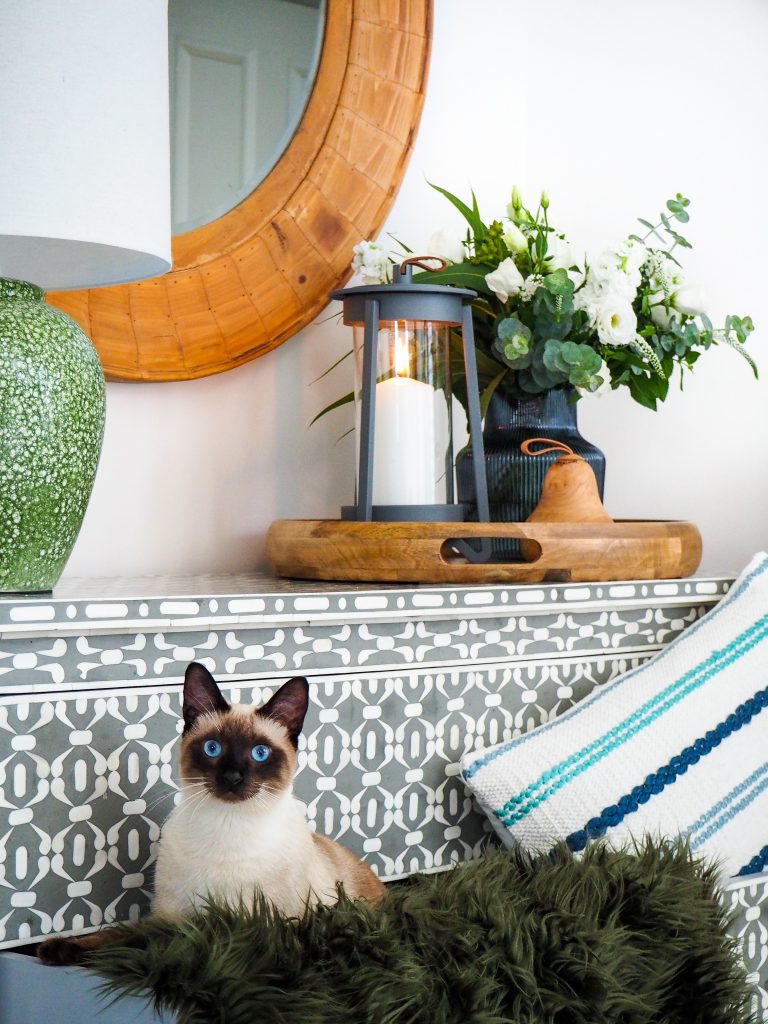 Isn't it amazing how just a few pieces can make such a difference to a space.
Don't be afraid to layer textiles, mix patterns and venture outside your comfort zone and try something different. I never thought I'd use green in my bedroom, but to tell you the truth, I think it's my favourite bedroom look so far and I'll definitely be using more green.
You can find all the pieces I used in my room from Madras Link here.
Now for that special offer, its a good one –
Use the code MUMLITTLELOVES for 25% off all full-priced items at www.madraslinkonline.com.au
*Offer valid until 30th April 2020
HURRY!
Happy Shopping!
Hayley x