If you follow me on Instagram or Facebook you would have seen me gushing over my gorgeous new cushions. You would also know they are from Square Fox. What you might not know is that the face behind Square Fox is a lovely Brisbane gal who started it all from her home with children at her feet.
Square Fox was established in 2014 and has grown a steady following of customers who come back for more due to the outstanding quality and unique designs.
The latest indoor collection – Any Given Sunday is not only beautiful but soft and luxurious making it perfect for everyday use in your living or sleeping areas.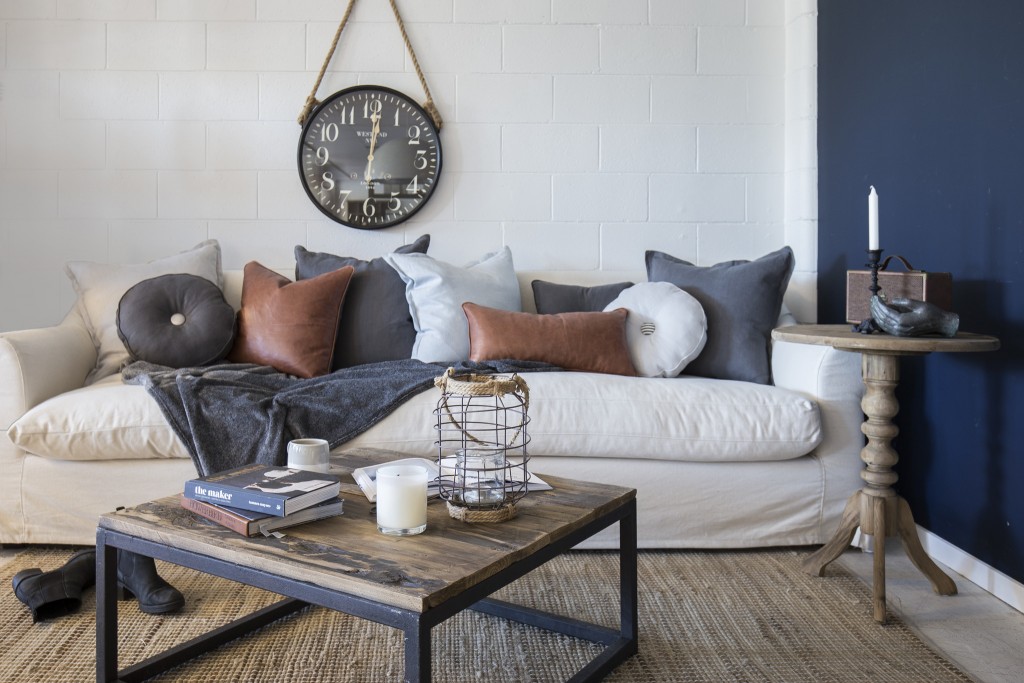 Sarah recently contacted me and asked if I would like to trial a few of her new designs in my home, of course I jumped at the chance, because as we all know – cushions are my weakness. Now, I have a few cushions, ok … I have lots of cushions so I think I can give you my opinion and we can be safe in the knowledge that I know what I'm talking about, which doesn't happen all that often, but if there is one thing I know, it's cushions!
Sarah has hunted down the softest Belgian linen in the most gorgeous colours, you know when the colour is just not quite right, trust me, these are spot on from the palest baby pink to the rich navy blue, I love them all.
Then there is the tan leather sourced from ethical NZ tanneries, which is backed with a gorgeous charcoal linen and stuffed with a duck feather inner, so luxuruious!
Let's not forget the denim stripe, I mean it's blue and white and it's striped, it doesn't get any better, right?
Yes, it does get better!
You can design your own cushions by choosing your own button colours. Put the same colour on both sides or mix it up for a different look at the flip of the cushion. The buttons are available in 9 delicious colours and textiles, and even better you can order spare buttons and change them up whenever you like.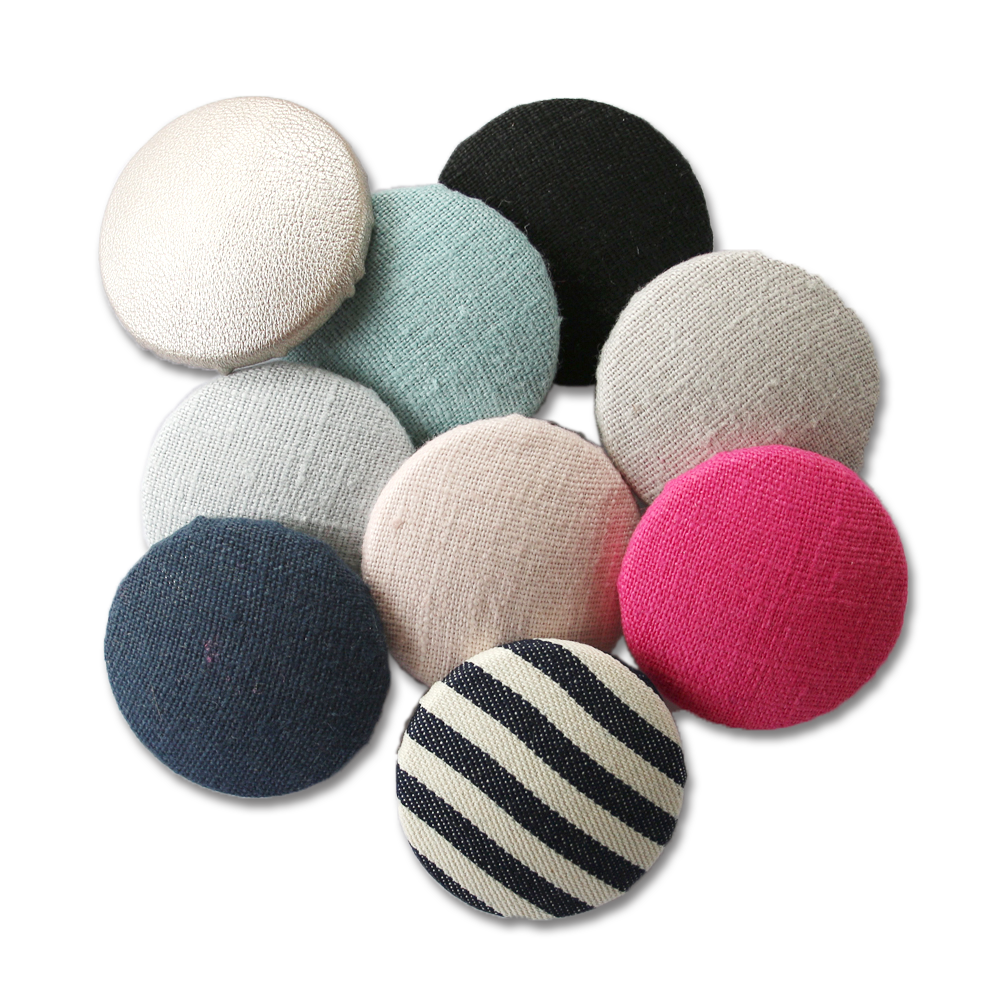 If you love a bit of pattern, Sarah has chosen a stunning linen/cotton in a botanical print which is available in shades of blue and green or warmer reds and browns.
The entire Any Given Sunday range is coordinated and looks perfect together no matter what combination you choose, you can't go wrong.
I have met Sarah on a few occasions at Insta-meets and she is so fun, friendly and bubbly, I wanted you all to meet her too.
Meet Sarah …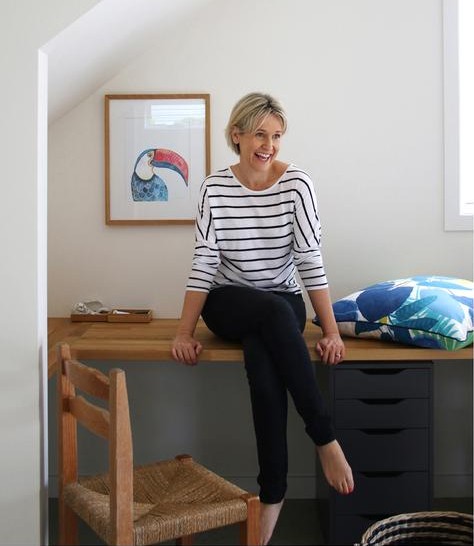 You are one busy gal Sarah, tell us a little bit about yourself?
I am married to an Irishman, who I met when I was living in London. We have two children, a 6yr old daughter and a 4yr old son. I qualified as a vascular sonographer (specialist radiographer) and have been fortunate to work clinically in Australia, the UK & US. I still work one day/week in a hospital – just can't completely give it up! I really enjoy working with my colleagues and the patients. And I relish the variety between my medical and design lives!
Tell us why you established SquareFox back in 2014?
Establishing SquareFox in early 2014 was the culmination of many years searching for a viable creative outlet. My work in the hospital is generally "non-creative", so for a long time I have spent my downtime doing creative activities. I attended many photography courses, completed a graphic design degree and spent a lot of time sewing. Maternity leave from the hospital offered me even more time (well, apart from the baby thing!) and Etsy seemed like a great place to start. So, I enrolled in (yet another) short course, called "Setting up an Etsy shop" (run by Jess Van Den) and by its completion, I had launched. To be honest, I didn't anticipate it would be so successful – but it has kept me very busy ever since!
Do you remember the first piece you sold and what was it?
Yes, I remember many of my very early customers, as many have re-ordered from me since. However, it was my 6th customer who was most memorable. He wanted to purchase the "Green Palm" pouf in the Tommy Bahama fabric in a 'custom' large size. I would later offer this 80cm diameter ottoman as a standard product in the shop…. and it continues to be one of my best-sellers. He also introduced me to Instagram. And for this, I will be forever grateful! It has been both an effective market tool and a wonderful way of meeting new 'likeminded' friends.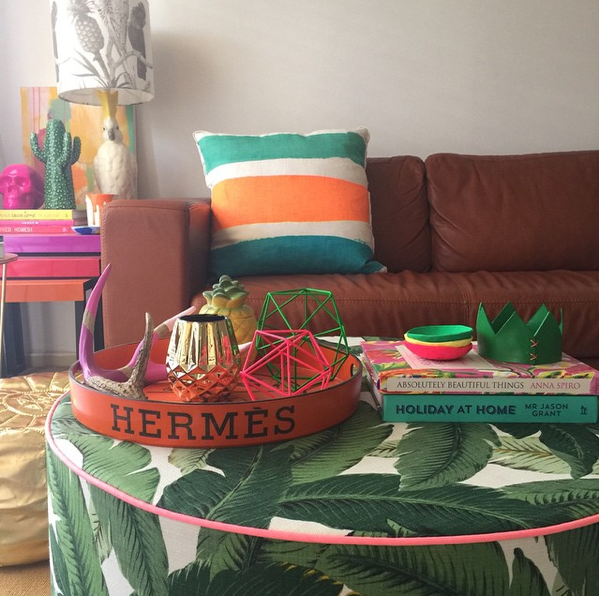 How do you feel when you see your cushions featured in other people's homes on social media and magazines?
I am flattered when I see my products in magazines; sometimes I know they will be there; sometimes not. I was in Bali on a holiday recently; sitting in a salon, having a pedicure. At the same time, I was flicking through an old (2014) issue of Marie Claire Aust. magazine…..and spotted one of my ottomans. Had no idea it had been published. Those kind of times are quite surreal! But, mostly I really love it when my customers send or post photos of my products in their homes. It is really important to me that my customer is happy with their purchase – and am very chuffed when it brings a little smile to their face!
The new 'Any Given Sunday' range is incredible. The tan leather and soft linens are beautiful. What inspired this range?
Oh, easy question!….. I wanted to produce cushions which were closer to my personal style. And the inspiration came from one image! The photo of the kitchen/dining space in Foreshore House. Designed by Justine Hugh-Jones, it was a finalist in the 2015 Coco Republic Design awards. The tan leather bench seat & the large linen cushions in organic colours…..I just love it! And it is exactly my style.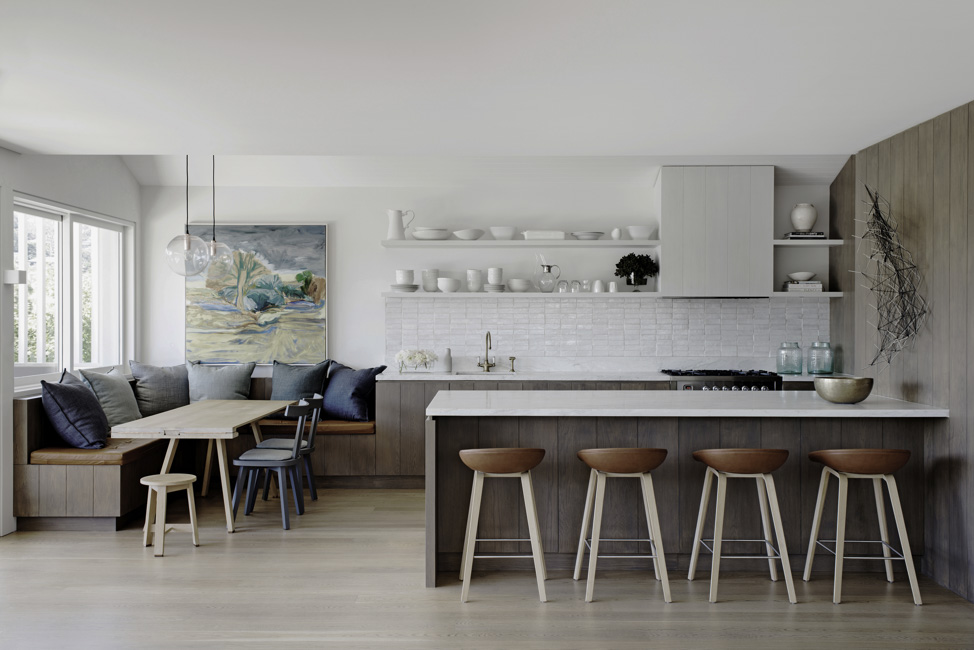 Your button cushions are pure genius, being able to switch out the buttons to create a new look is fun and practical. Where did this concept come from?
Haha! Thank you….however, the idea to offer interchangeable buttons came as a by-product of the design process! I still make all the samples for each cushion collection. (I then have a little team of machinists, who go on to make the production range). It was during the initial sample-making process that I discovered how time-consuming and physically difficult it was to hand-sew the buttons to each cushion. I had done this with previous custom work, but it needed a little 're-think' for larger quantities. So, together with my Dad, we devised a way to make the buttons "clip on" a wire hook. I imported some large format buttons from the United States and 'ta-da', we can now offer interchangeable buttons! You also have a fabulous floor cushion and outdoor range of cushions. It is clear you consider our Australian lifestyle when designing new ranges.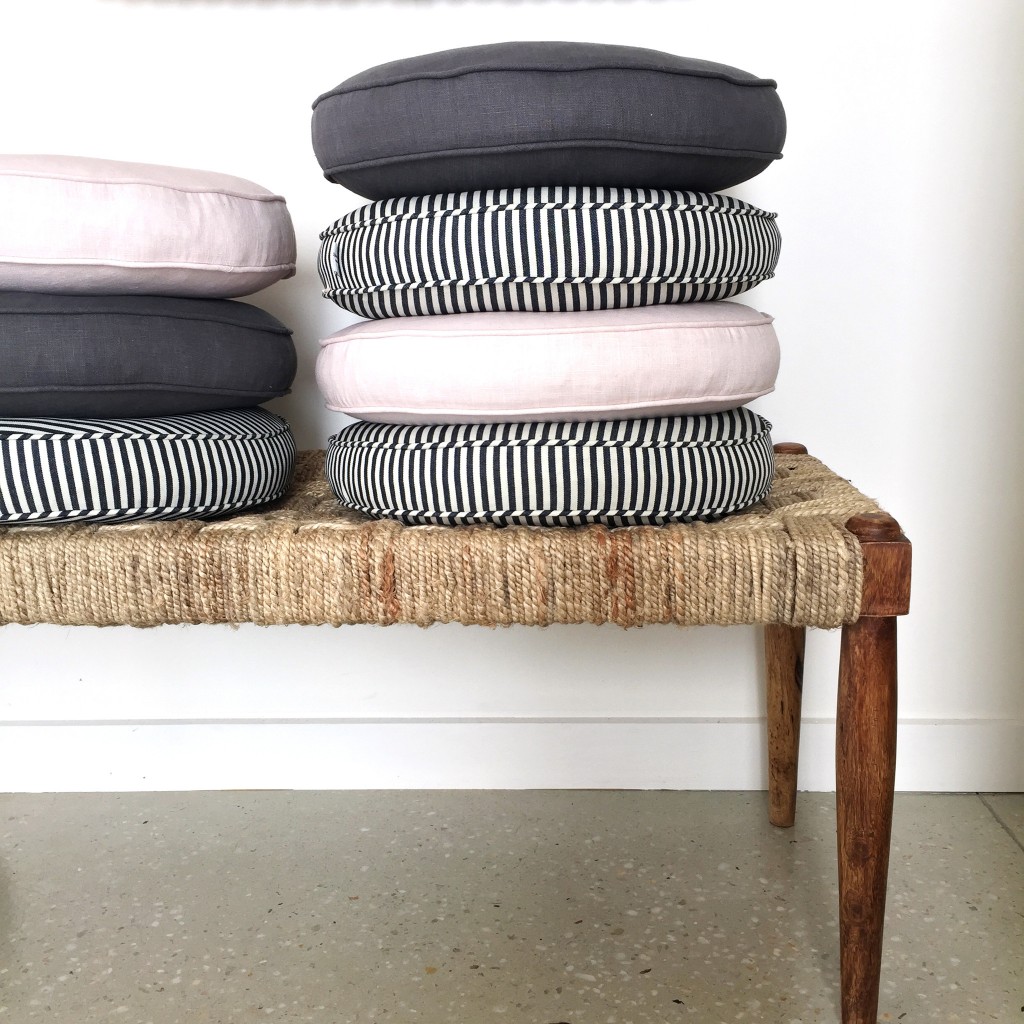 Is function equally as important as aesthetics for you?
To be honest, I believe that function may be more important to me! I appreciate great design, but I am also the mother to young children and am a "realist" when it comes to living spaces. I understand how important it is for the look you see in a magazine to translate to the everyday. Tell us about your own home and interiors style? Well, my current design style/state is "Wabi Sabi" (nothing is perfect; nothing is finished – japanese), as we are completing the renovation of our inner-city Queenslander. However, I think my preferred design style hovers somewhere in the minimal, industrial, mid-century modern space. I like natural, organic materials and finishes and we have just put in polished concrete floors and sisal carpet. Generally, I prefer a neutral colour scheme, with the occasional pop of colour (not always in the form of lego!!).
What is on your current home decor wish list?
Oh, this is always a long list! After recently investing so much in the structural design of our home, I am looking forward to furnishing the space. I love the Barnaby Lane collection. Also want a few of Green Cathedral's Babanees plant stands – going to try to incorporate more greenery into our space! And finally, I am about to purchase some bar-stools which I have been hunting down for almost a year. They are designed by the Danish owner of "JungleFish Bali" (which is where I originally spotted them!) and I have now discovered where I can purchase them in Oz!
What's next for SquareFox?
I would like to include an ottoman or floor cushion to complement the current range. And personally, I am trying to restructure the business slightly, so I spend less time working on the weekends! I very recently employed a wonderful lady to help with my social media and marketing. I find it incredibly difficult to "market my own work" and she has made my life so much easier.
****************
 I am personally in love with the new range.
They fit with my aesthetic perfectly and they look like they were made to go in my family room. That's the thing with using natural textiles like leather and linen, they identify with so many different decor styles and are very versatile. Classic textiles are hard to beat when it comes to standing the test of time also, I think these will look just as stylish in 5-10 years as they do today.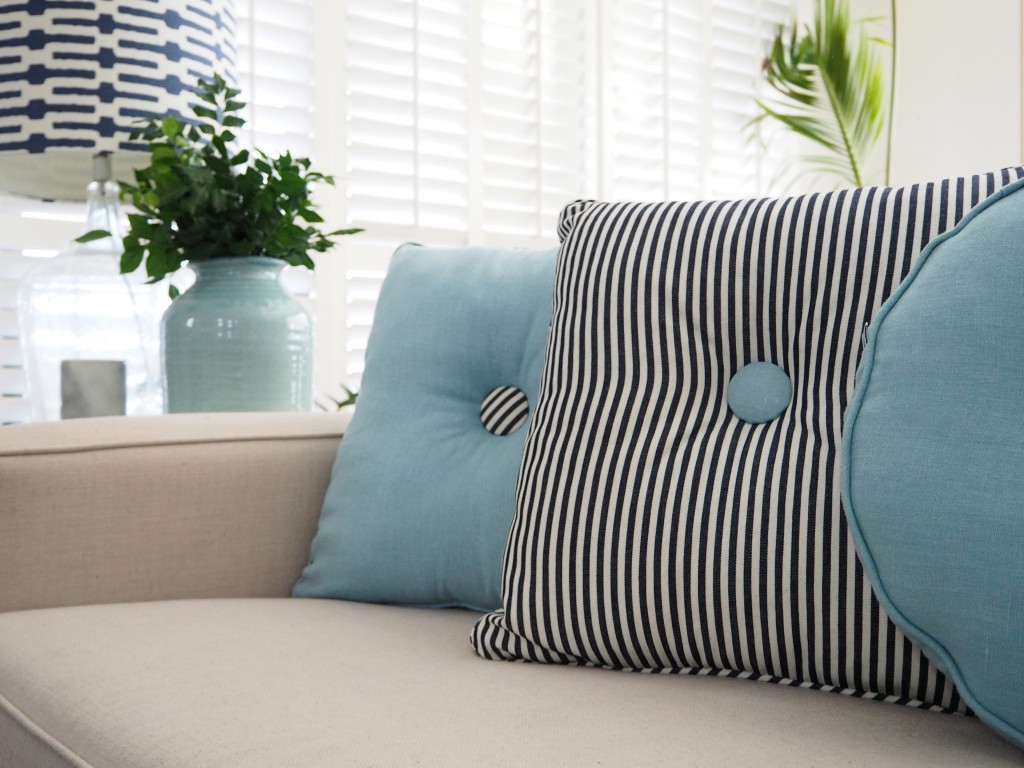 And just as stylish in the bedroom. This look is definitely going to be on high rotation. So fun!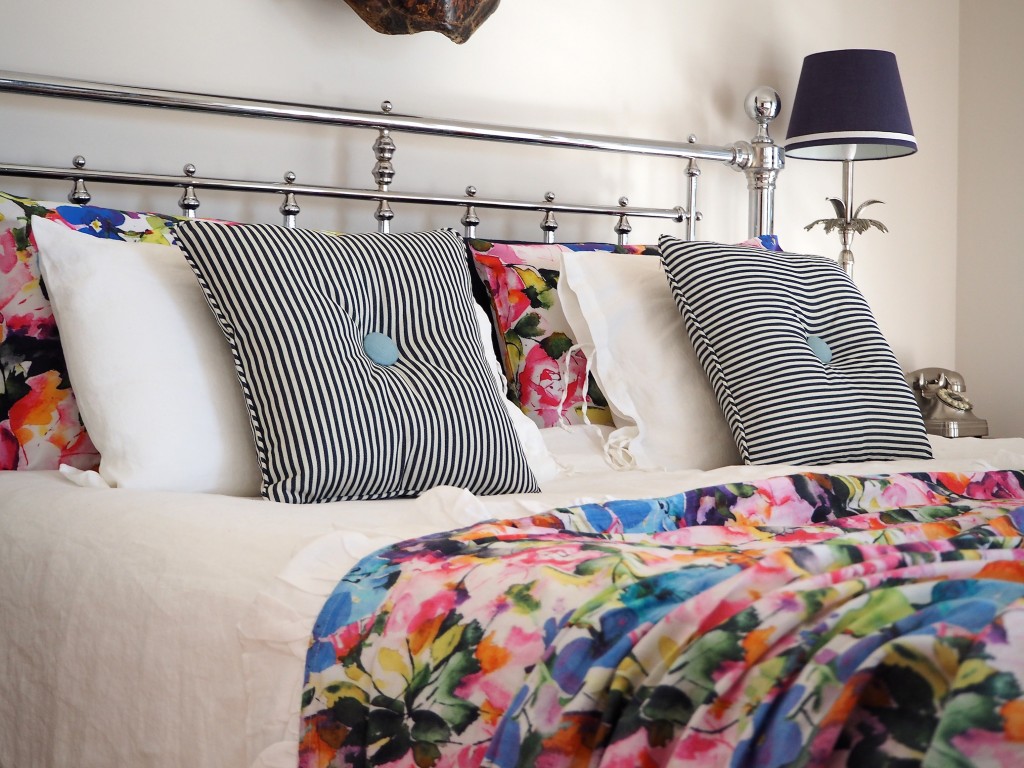 So what are you waiting for?
Go and get yourself some cushions, I highly recommend getting some extra buttons too, such a fun way to change the look in an instant!
You can shop at www.squarefox.com.au
Or find Square Fox on Instagram or Facebook.
Happy Shopping!
Hayley x
* Photo's from the Square Fox website used with permission.