It's that time again! I'm sharing another beautiful home that I discovered on Instagram. I follow so many people on Instagram that have gorgeous homes. Families actually live there, they are not styled for magazines, just a real home, with real people and real stuff. I'm hoping to share lots of them with you this year.
Let's be honest, who doesn't love a peek inside somebody else's home, and you might just find some new friends to follow on IG! Here are the links to few I've shared in the past – Ingrid's house, Dave and Jaime's house, Jo's house.
I stumbled across Kristen when I ran the #mypotterybarntable competition, she was our deserving winner and once I had a peek at her IG I was hooked, I was also curious to find out a little bit about her home style, not just her impeccable table styling.
Meet Kristen ….
Tell us a little bit about yourself?
My name is Kristen and I have been married to my beautiful husband for 11 years. Together we have four fur children – one British bulldog named Newman and three lilac Burmese cats named Sophie, Spencer and Charlotte. I work part time in an admin job and the other part of my time, I spend writing for my blog called Table Decorate Celebrate.
Tell us about the area you live in and why you chose to live there?
We live in Shorncliffe which is a northern bayside suburb of Brisbane. My husband is originally from this part of Brisbane and I was easily convinced to move here because of its beauty.
Shorncliffe is a suburb rich in history and has many beautiful, historic homes. It is also situated by the water and in amongst many old trees making it a tranquil suburb. It is filled with lots of wildlife yet is only a 30 minute train ride to Brisbane CBD. It is a little piece of paradise!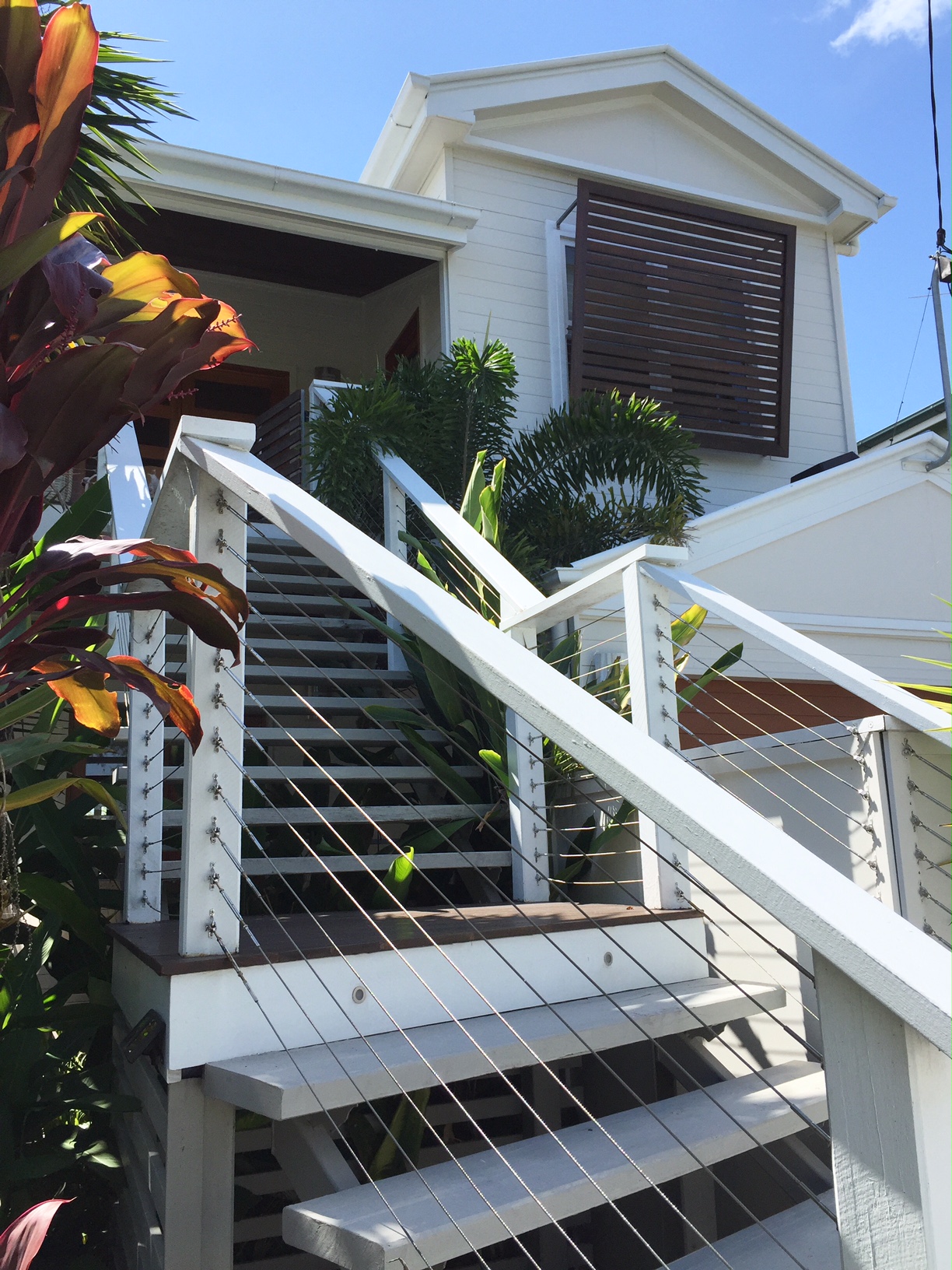 Tell us about your house?
My husband and I bought our home around 7 years ago. At the time, it had been fully renovated three years earlier. The façade of our home is a Queenslander but once you walk through the front door, it is a modern space. We fell in love with our home because of the open plan living and resort style feel.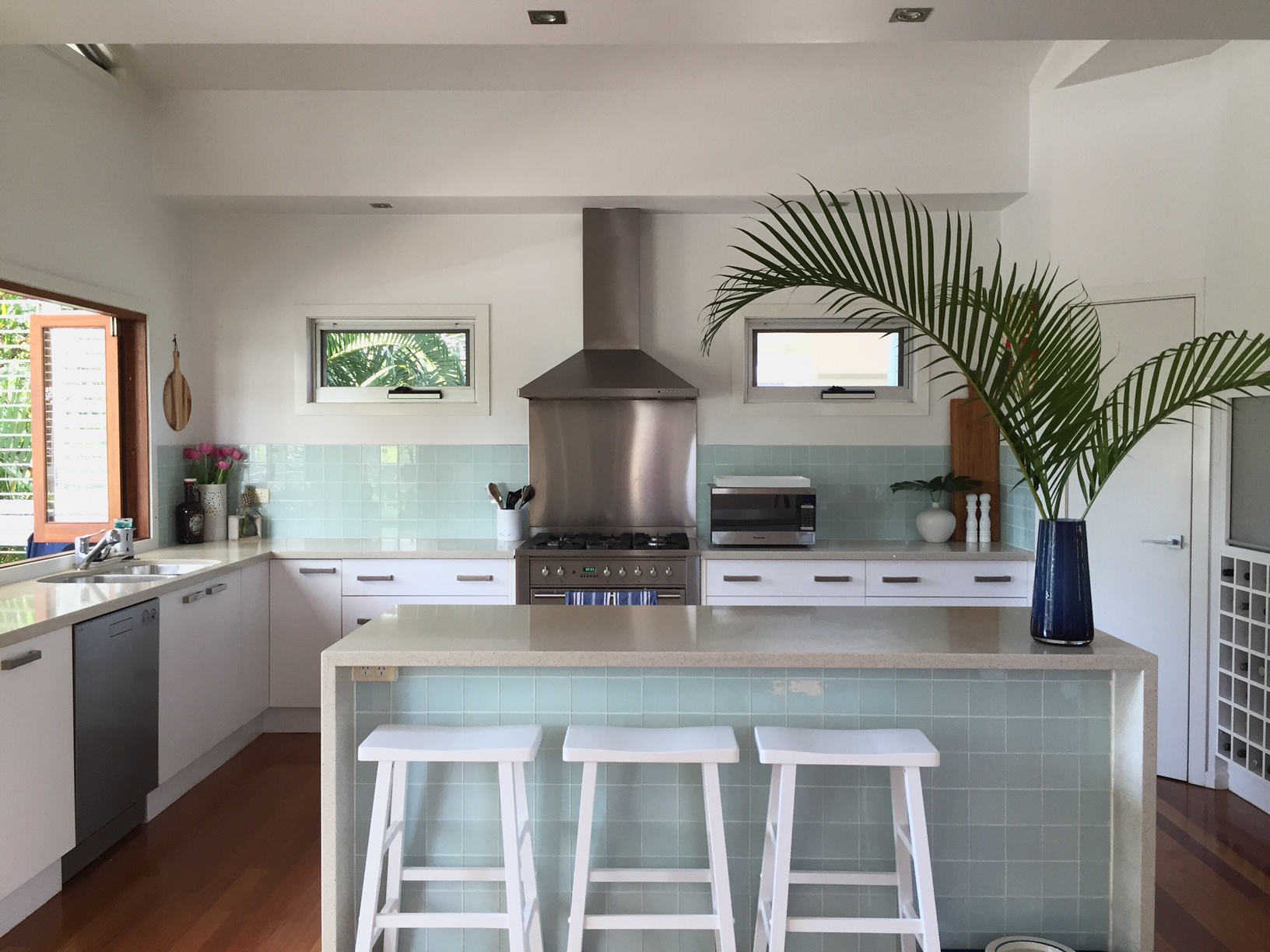 Describe your style?
My style is definitely coastal with a sprinkle of preppy. I can not walk past anything navy and white stripe without picking it up and buying it!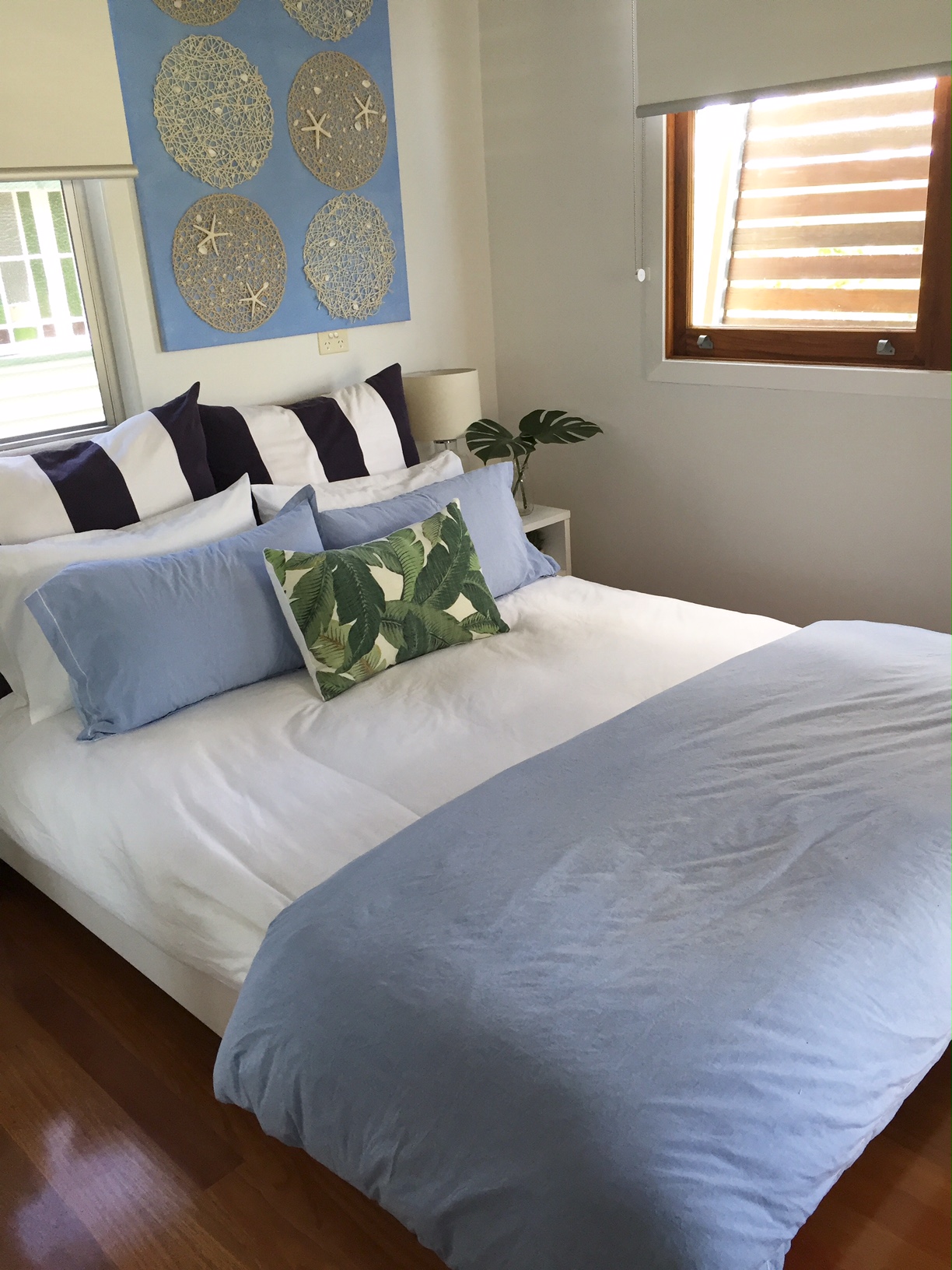 Where do you find interior inspiration? 
I find my interior inspiration from the beach. There is something about the beach that makes me feel grounded and at ease. It is such a relaxing place. My favourite beach is Noosa Main Beach. I have also been lucky enough to visit the Hamptons several times so I have lots of photos from my trip around my home as inspiration.
When I am at the beach, I love to forage for items and incorporate them into my decorating at home. I also love the colour palette of the beach and its surrounds and that colour palette is reflected throughout our home.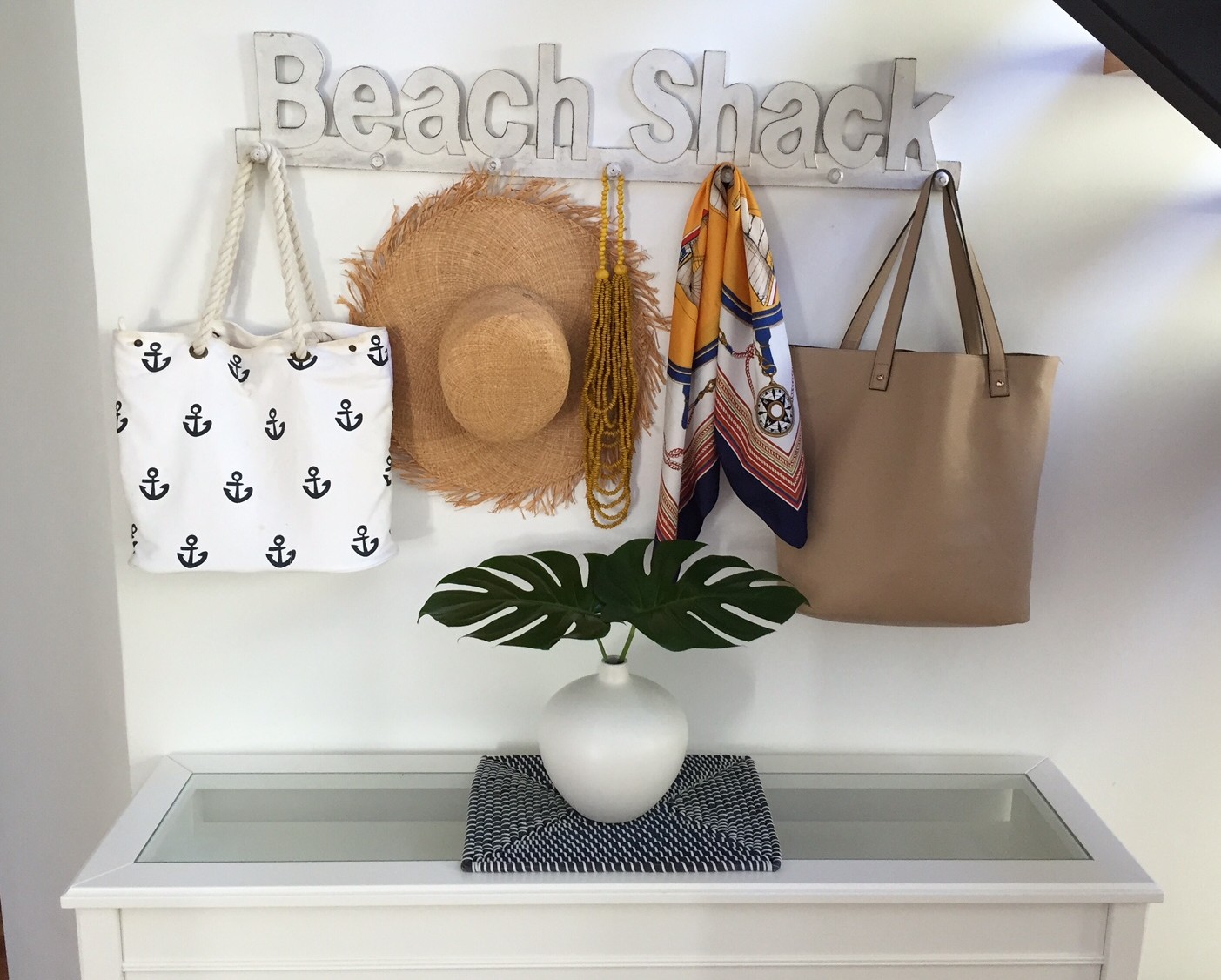 What is your favourite space in your home, and why?
Most absolute favourite space in our home is our back deck. It has a lovely view of our pool and palm grove and catches lots of bay breezes. It is a perfect space for entertaining and chilling out. When you step onto our back deck, the resort style feel of it makes it very hard to not sit down, put your feet up and have a drink! My friends lovingly called our back deck The Noosa Deck.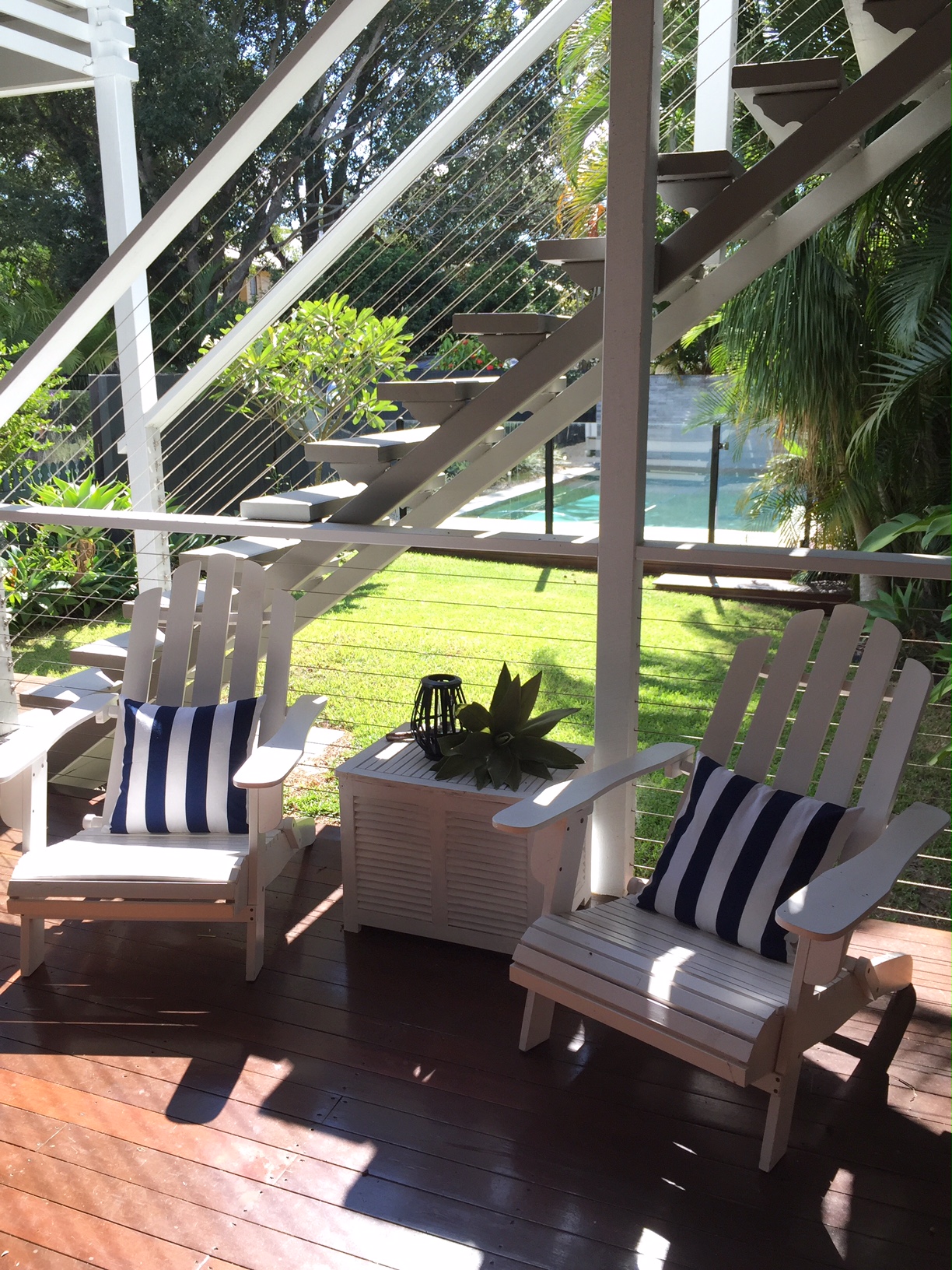 What is on your current wishlist for your home?
 Oh geez how long have you got! I have loads of things on my wishlist namely replacing some furniture. The top two things on my list at the moment are replacing my dining room chairs and buying a new outdoor lounge setting.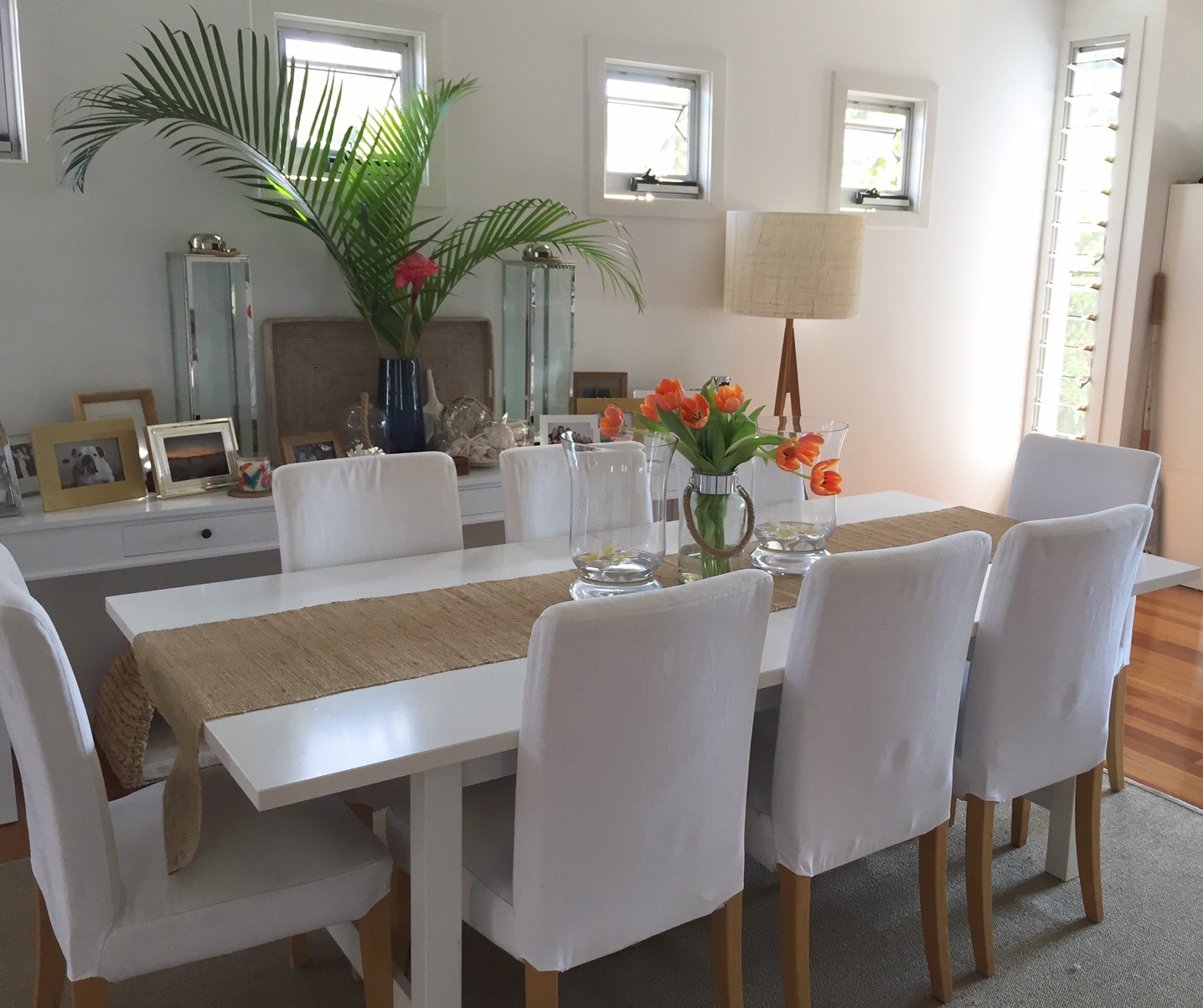 Where are your favourite places to shop?
I love going shopping along Hastings St at Noosa Heads and Signature on Hastings would have to be one of my favourite stores! I also really adore The White Bungalow in Nundah and my local florist shop Hua Girl in Sandgate. Both stores are stocked with so many pretty things! And when I am not spending all my money in those three stores, I also love a shopping trip to James St!
*************************************************************************
And just because I already had Kristen's attention I thought I would ask her a little bit about her Table Decorate Celebrate IG and blog success. It is an idea dedicated to beautiful table settings for small groups.
I asked her to share some flat lays of her favourite table ware, totally swoon worthy!
 Tell us a little bit about your successful Table Decorate Celebrate IG and Blog?
I started Table Decorate Celebrate three years ago as an online store selling party supplies and table décor. Whilst I really loved having my online store, I felt I was missing my focus. I was mostly supplying my goods to people having big celebrations like parties and weddings when my true passion is for small gatherings like dinner parties and barbeques at home. In mid 2015, I closed down my online store and I decided to put my heart and soul into what I love doing.
I created my blog and changed my social media accounts into a place where I can share my entertaining at home ideas. My focus is for small gatherings of two to 12 people. Like most people, I don't have a time machine or money tree in my backyard so my other focus is to make my table styling ideas easy and affordable! When you look around there are so many different ways to create looks for your table and to wow your guests that don't cost the earth.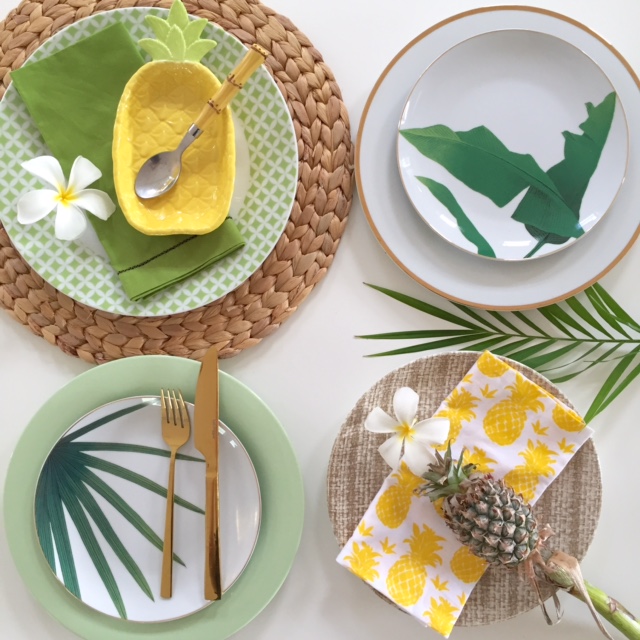 My blog and Instagram account have been a great success and have put me in contact with many fantastic people. I have lots of dream goals and places where I would like Table Decorate Celebrate to take me. One of them is to have a bricks and mortar store filled to the brim with beautiful table décor. In the meantime, I am enjoying sharing my ideas with everyone and who knows what will next get served up on the table for me!
You can find Kristen on her blog here, and Instagram here.
I hope you enjoyed our latest Real Home.
If you have a home that you think should be featured here please e-mail me or tag me on Instagram.
Hayley x