It's that time again! I'm sharing another fabulous home that I discovered on Instagram. I follow so many people on Instagram that have great homes with their own style and personality, I'm hoping to share lots of them with you this year.
Let's be honest, who doesn't love a peek inside somebody else's home, and you might just find some new friends to follow on IG! Here are the links to few I've shared in the past – Melissa's house, Ingrid's house, Cathy's house.
Today we're ooohhhing and aaahhhing at a beautiful home in Sydney, Meet Jo …
Tell us a little bit about yourself? 
My name is Jo, I'm married to a very patient man and we have two boys, Callan 14 and Finn 11, both are sports mad and keep me pretty busy! I'm interior obsessed and love anything to do with decorating, diy and home decor! In a previous life I worked in corporate Admin and HR and then in retail merchandising. I now work from home, product styling and refinishing furniture for clients. Every now and then I have a market stall selling beach house style handmade, new and vintage goodies. I'd love to do some further study and get into home styling and staging for sale.
What made you choose you house when you bought it?
We've been in our current house for about 6 years, when we first looked through the open house we disregarded it thinking it was too big for our family. We were coming from a small fibro home which we had totally renovated. I didn't want to feel like we would be rattling around in a big house with wasted space! It had good bones, was in a great location with a lovely leafy outlook with views of the Royal National Park and Port Hacking. I'm glad we had a second look and went for it, as the kids have grown from little boys to teens and with the addition of beautiful Flat Coat Retriever, Paisley, we've definitely grown into the house!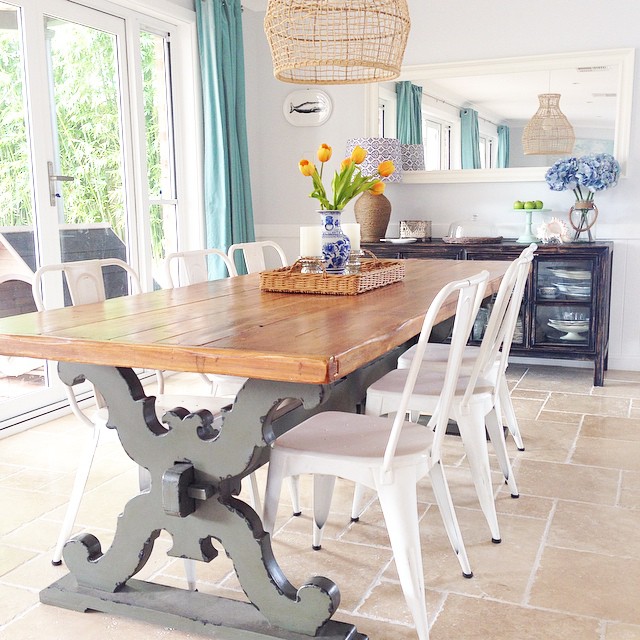 What changes have you made? Tell us about them?
 We've actually done lots to our home since moving in, the house was built around 2000, so whilst it wasn't old it lacked the character we love. The first big change was putting in a swimming pool, this totally changed the backyard and the way we live. We've added retaining walls, landscaping and painted the outside trims. Inside we have new flooring downstairs, my hubby is pretty handy and installed our timber flooring. We added plantation shutters which I love. In the back of the house is our kitchen/family/dining area, this whole room was gutted about 2 & ½ years ago, we put in a new kitchen, travertine flooring and 3 sets of French doors to open the space to the outside. We've also renovated our laundry and downstairs power room. Upstairs is still a work in progress! Our master bedroom has had a half make over, we added VJ board to the wall, repainted and got a new bed. The bathrooms and painting our bannisters are on my hit list for this year!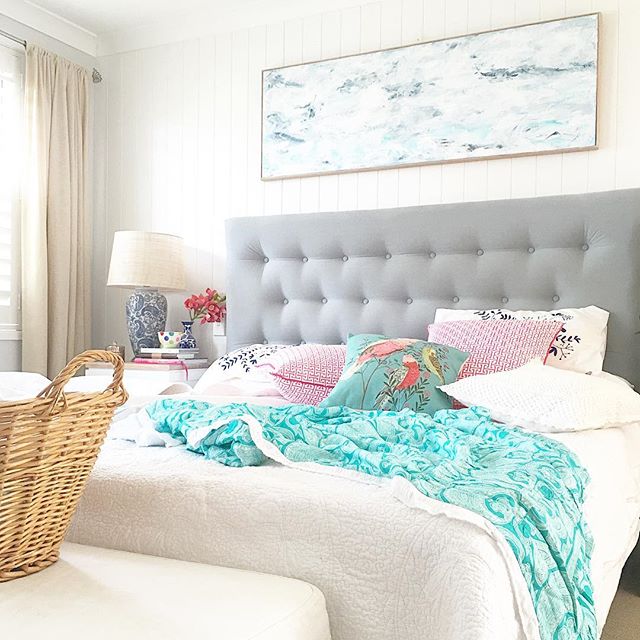 What's your favourite room in your home and why?
I'd probably say our kitchen/family/dining space as this is where we spend most of the time, eating, watching tv and entertaining. We love having a large island, it's great for eating, homework or just having a cuppa.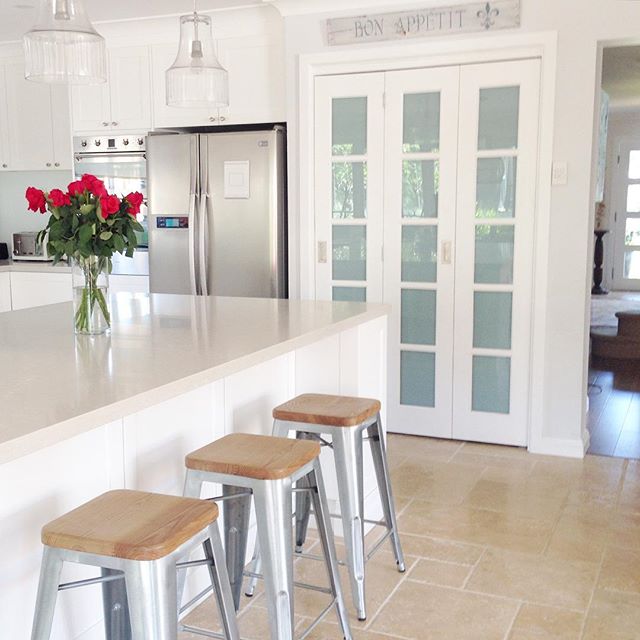 How would you describe your style?
 Mmm well I feel my style is always evolving, of course I love coastal sytles but I also like mixing in vintage items and eclectic pieces from our travels. I hope that our home is welcoming and comfortable! I don't want to be too precious about anything in our home, we have boys and a dog so it has to fit with that!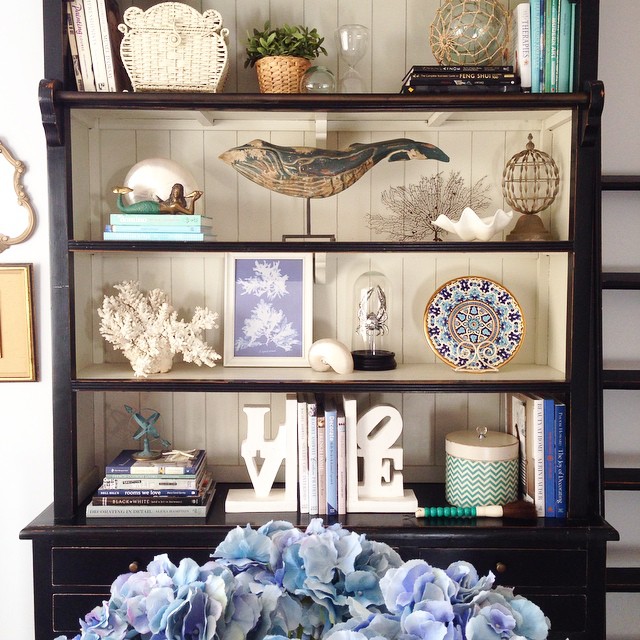 Where do you find inspiration? 
I love to flick through mags, I'm IG obsessed and follow some amazingly creative and talented people. I also love browsing furniture and home wares shops, I could do that all day! And of course love I don't mind a good Pinterest session now and again!
You are a bit of a DIY'er, We've seen many of your furniture pieces get a makeover with paint, what's your favourite paint and why?
Well it depends on the project, but I think the key to any good finish is the prep work! I know many of the new chalk paints say no sanding, and whilst that's appealing I prefer to give my pieces a light sand and good clean before starting. It just makes for a better finish. For furniture I mostly use Annie Sloan, Blake and Taylor, Porters or an aqua enamel depending on the finish I'm after. I love Zinsser for undercoat, you can't beat it! For a quick spray job the Rustoleum and White Knight ranges are great.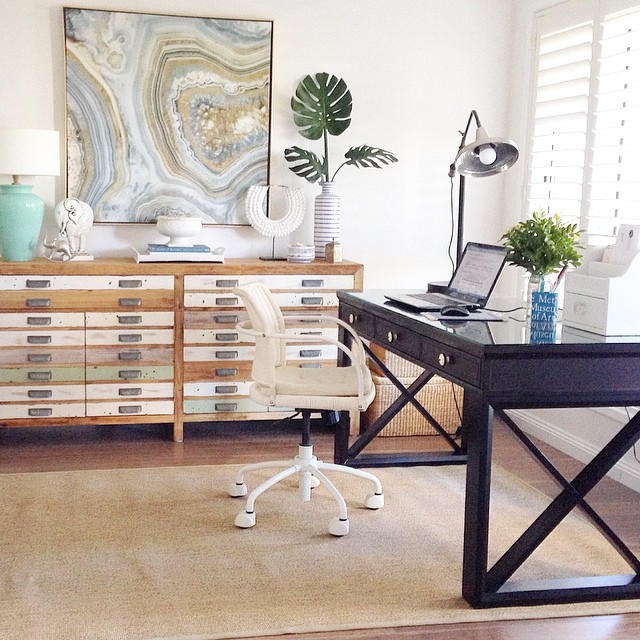 What's your favourite piece you've upcycled?
Each time I finish a piece it becomes my new favourite for a while! I've sold many favourites over the years, not enough space to keep them all, that and I tend to move things around the house as my tastes change! My husband loves it! At the moment my fav is probably the sideboard in our lounge room, it has great storage and is a good focal point in the room.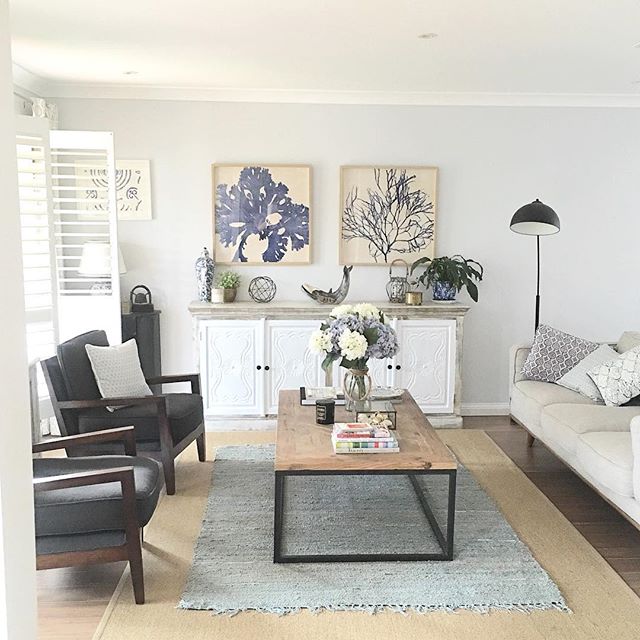 Where are your favourite places to shop?
Oh wow where do I start! I love shopping online at sites like Temple and Webster, The Home, Zanui etc I also love Instagram for discovering new shops, there are so many wonderful small online businesses with beautiful pieces! Of course I love Alfresco Emporium, a wander through Freedom, Ikea etc. If I'm searching for a specific item I'll often check eBay, Etsy, Gumtree or local op shops for vintage treasures!
What's on your current wish list?
oooh a few things… I'd love a new mirror for our downstairs powder room, I'm obsessing over getting a Bamileke side table! I'd also like a big squishy armchair for our library room. Pretty accessories like cushions, vases and plants etc are always on my radar too!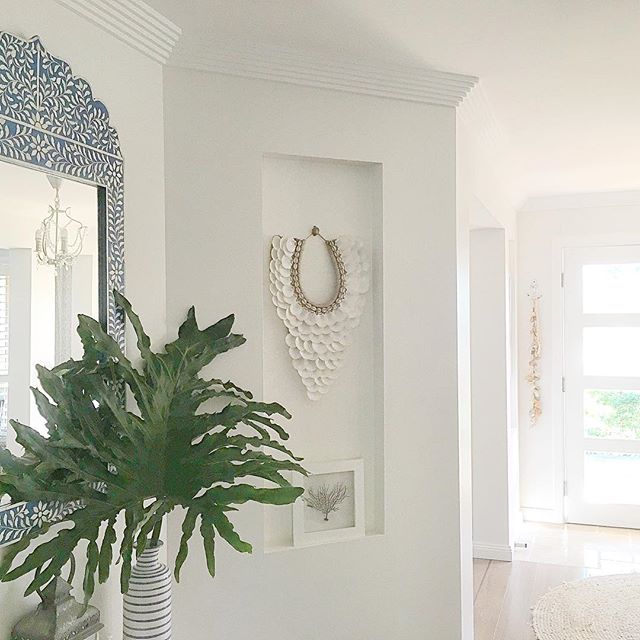 I think we'd all agree that Jo and her husband have done a fabulous job at creating a beautiful family home. If you want to see more you can find Jo on Instagram at @coastalhomelove or over on her blog www.coastalhomelove.com.au.
You can also shop some of Jo's crafty creations here.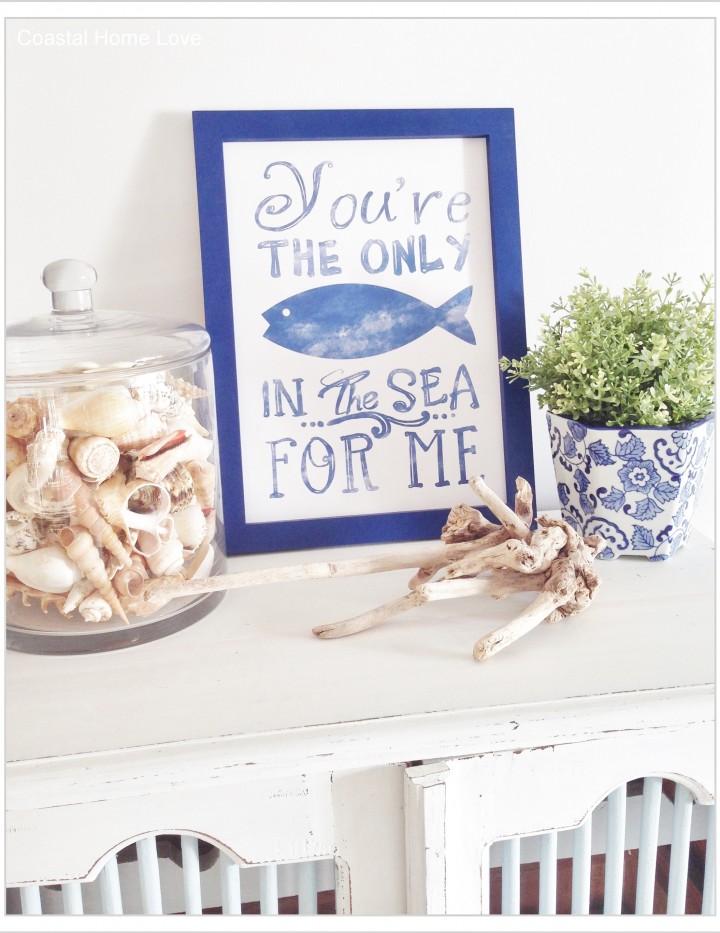 Thanks for sharing your lovely home with us Jo!
Hayley x