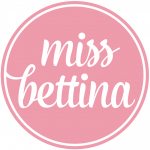 I have 2 teenage girls in my house and I find it hard to dress their rooms in beautiful bedding that is young, fresh and fun for their age group. I find a lot of bedding ranges are too young, or too mature.
I want my girls to love their bedrooms. I want their rooms to be a place for them to relax and dream, and I want their space to reflect their own style and personality.
When I came across Miss Bettina on Instagram,  I instantly knew it was going to be a hit with not only my girls, but ALL girls!
This range ticks all the boxes and had both my daughters and I excited.
I love the beautiful quality of the linen which is crafted from 100% cotton sateen, and I adore the hand drawn florals and painterly patterns. I also am excited by the fact that they are reversible and you can just flip it over for a different look.
The girls love the bold prints, romantic colour palettes and typography cushions.
I knew I had to share this little business with y'all, and honestly,  I was curious to know a little bit more myself.
Let's have a chat to Christina, the talented designer of Miss Bettina boutique bedding.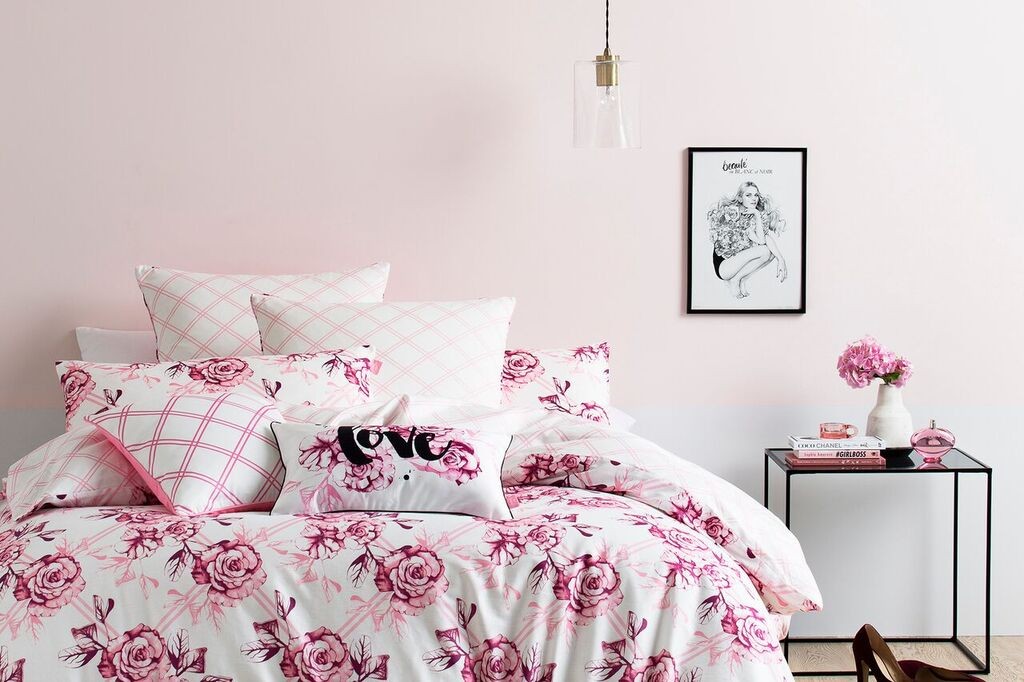 Tell us a little bit about yourself? 
I'm a graphic designer with experience in textile design, illustration and branding design. Design has always been a big part of my life, from studying visual communications in high school to landing myself a design job before completing my Diploma in Graphic Design at Box Hill Institute. I've always been a high goal setter and believe in doing what you love and working at it everyday!
 I love to implement my own creative style into everything I do. This is what gives me true happiness; from the fashion choices I make, to decorating my bedroom, or doing my makeup. I love it, and believe we should all embrace our creativity.
Tell us how and why Miss Bettina began?
I studied textile design at the Melbourne School of Fashion along side my full time job. After the course had finished, I continued to design my own unique fabric prints as I enjoyed the creative release. I've always seen a real gap in the market for bedding designs that were youthful and feminine, a problem that my friends and I had all faced at some point. And so I saw an opportunity for my particular design style to be put to great use! Many girls hold their bedroom special to them and it was a shame to see such a lack in options for them to choose from.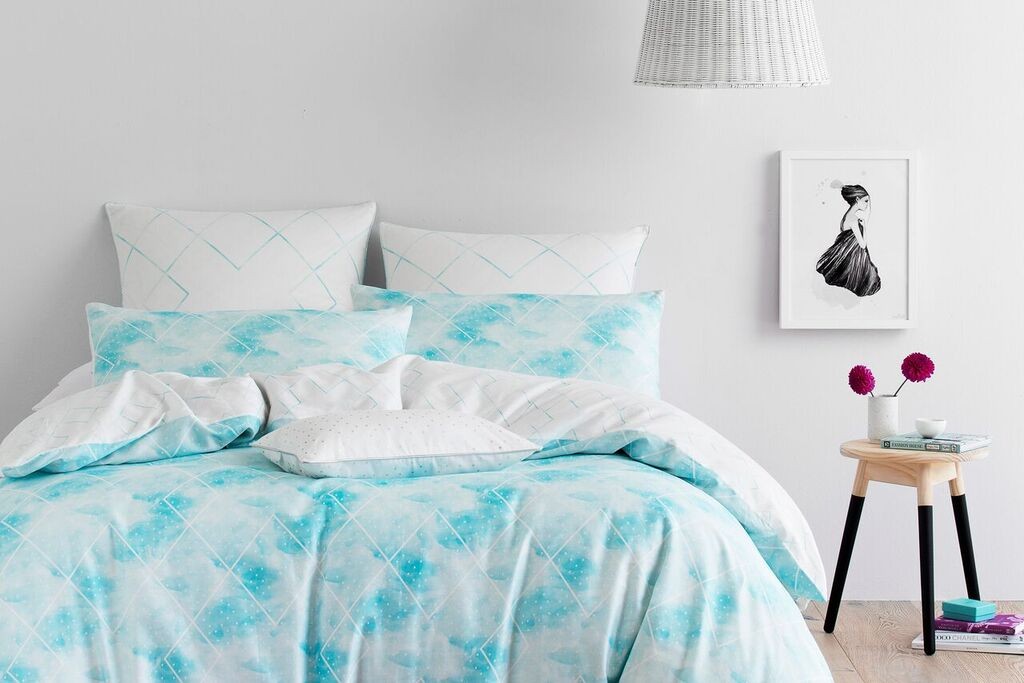 Where does the name Miss Bettina come from?
The name Miss Bettina comes from my grandmother's nickname (Bettina from Elisabetta). She was always such a creative woman and was a big inspiration to me. She worked as a seamstress for many years and growing up as a child I would always see her with a different project on the go; hand embroidering cushions, sheets and wall hangings! I felt it very fitting to name my boutique bedding brand after her.
 Your capsule collection is young, fresh and bold. Where do find inspiration for your beautiful designs?
My inspiration tends to come from anywhere and it often comes from something totally random, like even just hearing a great song for the first time! This is one thing I love about the creative process, you just never know when your next design idea will spring to mind! I'm naturally drawn to prints in women's fashion, floral photography, abstract artwork and interesting interiors. And I also find it handy to have a chat with my girlfriends to find out what designs and colours they're loving! I do at times look to trends just to stay up to date, but I always make sure to put my own spin on them. I'm also a big fan of creating mood boards and use Pinterest and Instagram to get my ideas going.
How do you create your design? 
I like to implement a different process for each collection so that each one is unique and has its own personality. I like to make sure there's some hand created element within the design, whether it be painted textures or illustrated florals. I scan my artwork onto my computer and recolour it in Photoshop and I might add in other design elements using Illustrator to create depth and contrast within the pattern repeat. Once I've created my statement quilt cover print I'll pull elements apart to design matching pillows and cushions that compliment the range.
I love that you have chosen 100% cotton sateen for your bedding. Do you think that a luxurious feel is just as important as the look of the bedding?
Yes of course! As well as working hard to get the designs looking as unique as possible, I made sure I was not making any compromises on the fabric quality. Cotton sateen is know for its soft hand and lustrous finish which really compliments the print design. It's also super absorbent and easy on sensitive skin. Not only do I want my customers to have a great looking bedroom, but also to have a good night sleep in some quality bedding! Even my dress cushions are made from a thick cotton sateen, so they're an extra special finishing touch!
Describe your dream home?
My dream home would definitely be something straight out of the book 'Fashion House' by Megan Hess (a big inspiration of mine!). I love a slight Parisian look with a modern twist. I can imagine a white shag pile rug over a glossy marble floor, vintage chairs, reupholstered with bold floral fabric, fashion prints on the walls and lots of fresh peonies in antique vases! As for colours, I love mixing up black and white with soft pinks.
What is on your current wish list?
I'm currently re decorating my office space, and looking at getting some really feminine and chic desk accessories. I've got my eye on the grid mood boards from H and G Designs, perfect for organising my inspirational finds!
What does the future hold for Miss Bettina?
There will be more quilt cover designs added to each collection in the coming months! I've also got some wall art designs under way and I'm working on expanding the product ranges to cover more bedding needs and bedroom decor. I've also got dreams of opening up a Miss Bettina brick and mortar store. I love the idea of my customers walking in and instantly feeling that sense of beauty and joy that the brand persona brings. My vision for the brand is to open up the possibilities for creating a personal sanctuary, that's an inspirational space where dreams grow.
……………..
 Christina sent us the Secret Love Letters quilt cover,  matching Pillowcase Set and Euro Pillowcases and the Love cushion.
We absolutely adore it, the colours are just so pretty and the design is dreamy.
Here's a few pics of the Botanic Romance range in Arabella's room …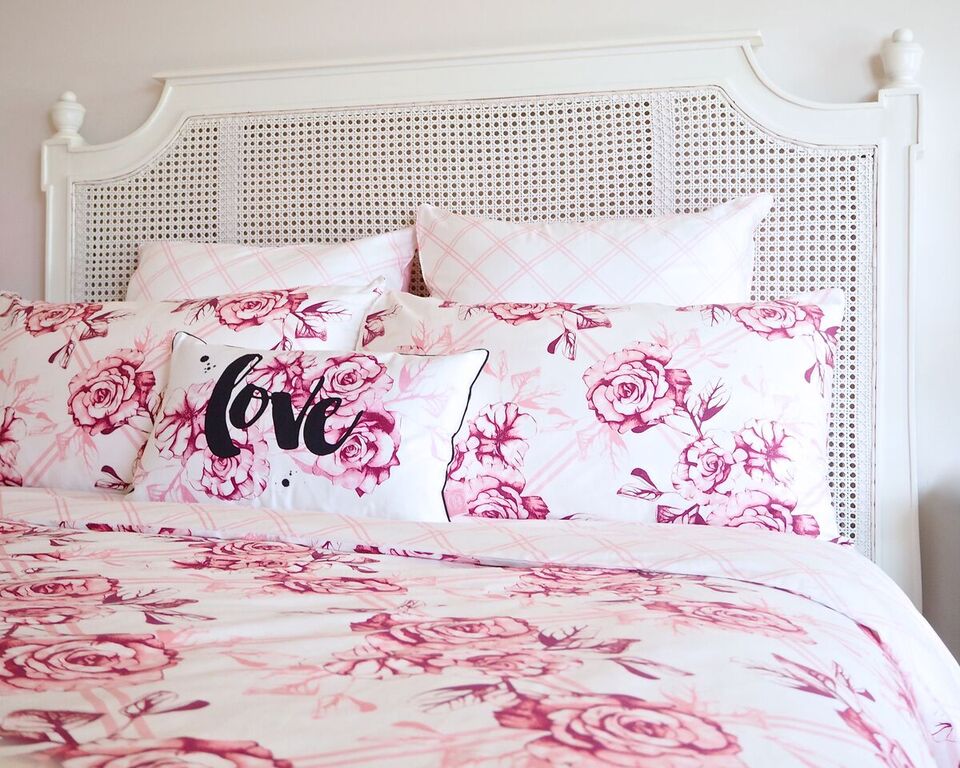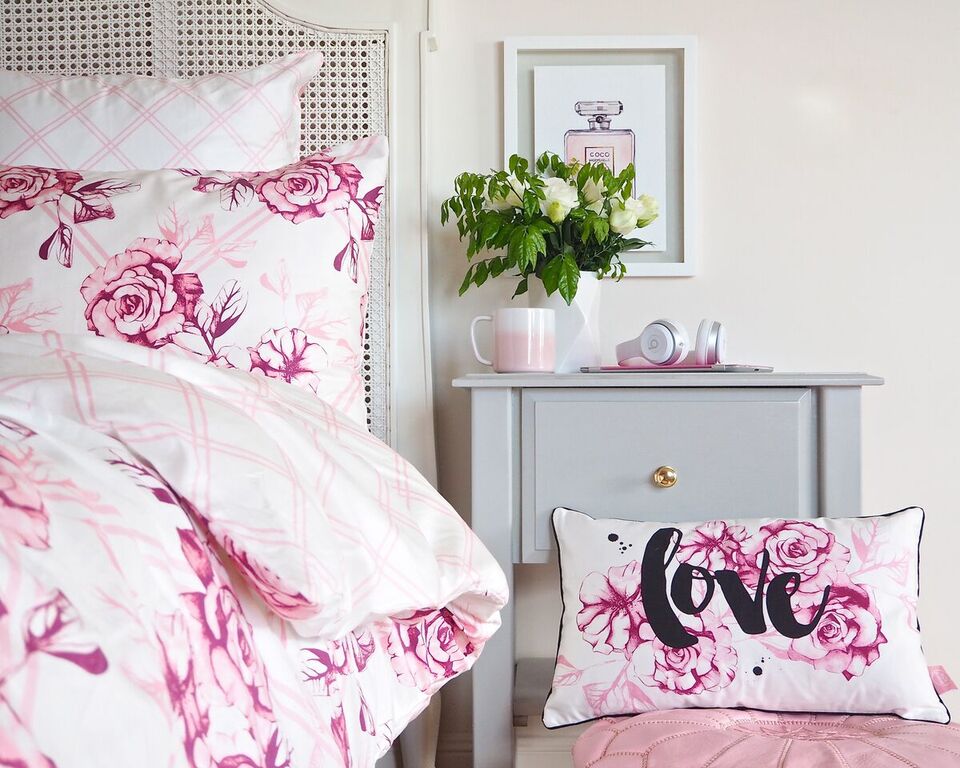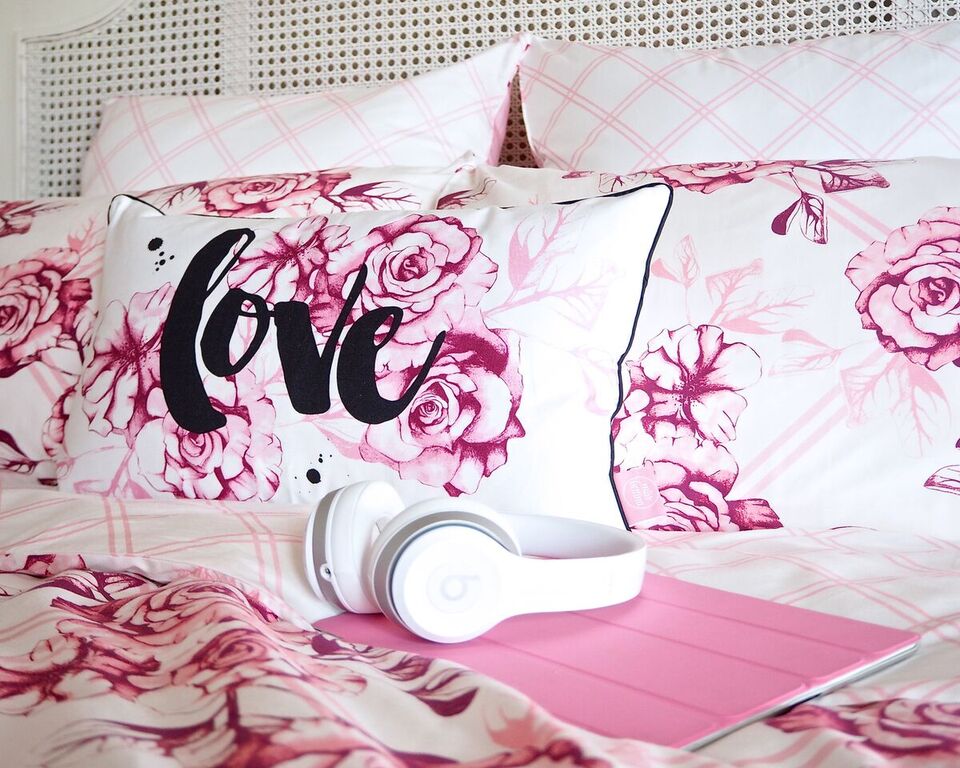 Isn't it gorgeous!
If you would like to add some dreamy linen to your home, you can shop here.
You can find Miss Bettina on Instagram here.
Happy Shopping!
Hayley x
* Miss Bettina professional photos taken by Martina Gemmola and used with permission.
* Photo's in Arabella's bedroom taken by me.