Do you collect souvenirs from your vacations? What have you bought? A tacky magnet, a leaky pen or maybe a plastic keyring? Do you wish you could find a unique memento that you could proudly wear or display in your house, without it looking like you shopped at the airport gift store?
McKean Studio is offering a stylish and fun selection with their City Series of souvenirs. They have the best mementos of some of the most visited cities in the world. From scarves and bangles to mini cities and dominoes, they have you covered for a reminder of your favourite place, hometown or holiday that is fun and fabulous.
McKean Studio is a husband and wife team. Megan and Joshua McKean have a background in Industrial Design, Visual Communication and Illustration. They are passionate travellers and find inspiration for their range from the cities they visit. 
DOMINOS
An illustrated set of 28 dominoes featuring iconic images of the cities (available in NYC and Palm Springs). Each tile is cut from bamboo ply, hand sanded and hand painted by Megan and Joshua. They come presented in a fabulous bamboo box. These would be a very cool on your coffee table, encouraging playful competition with family and friends.
MINI CITIES
Each miniature model set is handmade and hand painted. They can be arranged and displayed in any way your heart desires as each piece is individual and stands alone. Perfect for your mantelpiece, your windowsill, your bookshelf or your desk. I love these for kids and adults.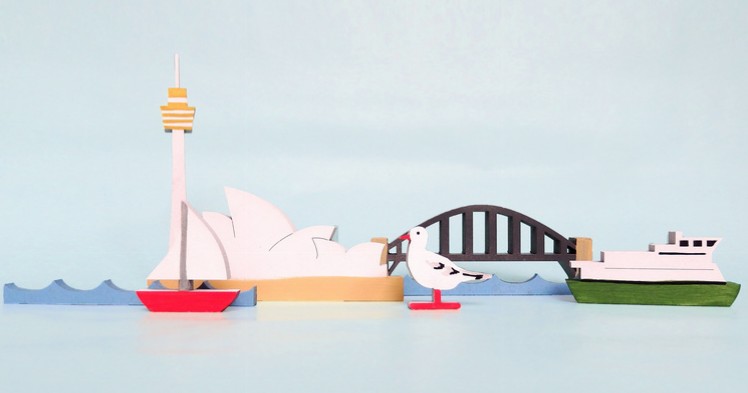 SOUVENIR SCARVES
McKean Studio have really captured the spirit of the cities in their souvenir scarves, they have highlighted all the most memorable places and used colour to convey the mood of the city. The gorgeous range of 70% cotton and 30% silk scarves are hand drawn in ink and digitally coloured by Megan McKean. Scarves measure approximately 90cm x 90cm, and are digitally printed, hand cut and sewn with a rolled hem.
CITY BANGLES
These fabulous bangles display a skyline image of the cities, showcasing the iconic shapes of buildings, bridges and trees that instantly remind you of the city. Cast from stainless steel, plated in 18k yellow gold and hand finished with a beautiful enamel colour.
I was lucky enough to catch Megan in between her busy schedule and ask her a few questions, read on to see what she had to say…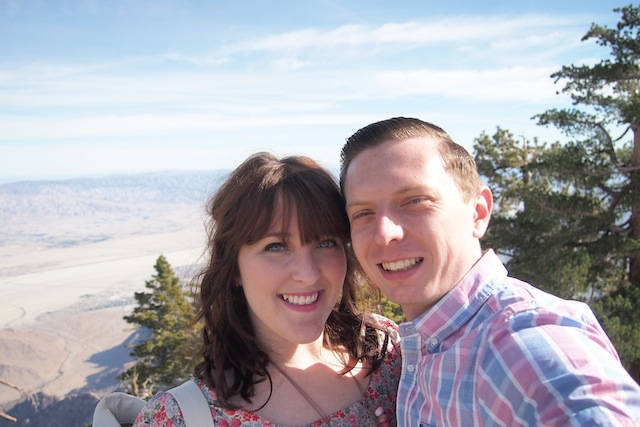 Tell me a little bit about yourselves?
McKean Studio is the collaborative efforts of husband and wife duo, Joshua and Megan McKean. We're two designers based in Sydney's inner west, with a love for travel and exploring new cities – and working to make souvenirs better! We have backgrounds in industrial design, visual communication and illustration – so we like to think there's no design problem we can't tackle!
What made you decide to start McKean Studio?
We started McKean Studio initially as a blogging platform. We were both partway through design degrees when we started dating, and found ourselves collaborating more and more on projects together, using each others different design disciplines to inform new aspects of our projects. We were 6 months out from getting married, and I was already planning on changing my surname, so we decided to just make a start on McKean Studio!
What was the first piece you sold? And is it still current today?
The first piece we sold was probably one of the souvenir scarves. I had designed a small run of scarves, of three different cities we'd travelled to (San Francisco, Amsterdam and New York) and they were mostly just a passion project. They were met with overwhelming success when we launched them online, and they sold out so quickly, it seemed like we were on to a good thing! All of those cities are still in the current range, and we've added many other cities to the Souvenir Scarf collection since then, and changed our base fabric to a gorgeous Silk Twill which feels downright heavenly to wear.
How do you feel when you see someone wearing one of your pieces, or lovingly displaying them in their homes on social media?
There's no better feeling then when a customer gives you the best kind of feedback – which is wearing our product or displaying it in their home. It's incredible to think that the little pieces we designed in our dining room are now proudly displayed in homes around the world. We've had customers from Britain, Palm Springs, New York, Germany…countless really, and it's a great reminder of why we do what we do!
You have both travelled extensively; do you have a favourite city? And why?
There are so many favourite cities of ours, but Palm Springs would definitely be up there in the top ranks. It's such a special city, and like no-where else in the world. The mid-century architecture, the constant sunshine, and the amazing mountain backdrop that makes you gasp every time you turn around and catch them again. I always find myself saying to Joshua when we visit there, "can you believe this is real life!?", it's incredible.
Do you have any travel tips or must see destinations you'd like to share?
I would put Palm Springs on the 'must see' list for anyone who's visiting the west coast of the USA. It's a very worthwhile stop in! If you've made the effort to get to PS, and have a hire car, I'd also recommend a trip out to Niland to see Salvation Mountain, an art installation a couple of hours away from Palm Springs. It's not for the faint hearted, it's location can be a bit on the confronting side, but it's unlike anything else you'll ever get to see.
You've just released your incredible new City Dominoes, and they've received lots of attention. Were you expecting such a positive reception?
The City Dominos had been a long time in the works. I was obsessed with dominos and memory games when I was a kid, and have been wanting to work on a range of dominos for over a year now. I had the vision, just not the time to get them happening! They took a lot of time and love (they're very labour intensive being hand sanded and painted) but we're so happy with how they turned out. It always makes it worthwhile in the end! They've had a great response, and we're so pleased. We always hope that our customers can tell when something has a lot of love poured into it, and that's what makes it so special!
What have you got planned for McKean Studios in the future?
McKean Studio always has something in the works… but some of those projects have to stay hush-hush until they're ready to be unveiled! We have a Palm Springs range of wall stickers coming out this month with Jimmy Cricket, and are hoping to collaborate with a few other brands this year too. We're tentatively planning a trip for later this year, I think it's time to tick Iceland off the bucket list!
What a cool couple, and a very cool concept. If you want to have a look at all the mouthwatering goodies over at McKean Studio you can do so right here!
Happy Shopping!
Hayley x
*** All Photos from McKean Studio website, with permission from Megan McKean.