When the Island Girl herself decided to launch a Polynesian inspired range of home wares, it was destined to be a winner.
Kathy Sheeran is the face behind Island Trading co.  Kathy is the blogger behind www.shoppingconfessions.com.au and Australia's online shopping queen. She has always had a weakness for beautiful interiors and Polynesian culture, and when she used her experience to bring them together in her home wares range, something quite special happened.
Island Trading Co. was born in 2014 with a beautiful range of candles, linens and marble pieces inspired by the rich cultures of Polynesia. The items are luxurious and unique with a big emphasis on crafting them with quality and care.
Island Trading Co. is conscious of our precious environment and oceans and have designed packaging that is both beautiful and ideal to be used for other applications.
Each and every Island Trading Co piece has been carefully thought through from the beautiful designs to the environmental impact, and it's these little details that make them truly special pieces.
CANDLES
The Island Trading Co. candles are all hand poured with the finest soy blend wax. The tropical aromas of each candle are produced with essential oils and natural extracts. The glass vessels are moulded and wrapped in hand woven rattan and embellished with antique brass labels.
I love how Louise from Villa Styling chose to reuse her candle packaging.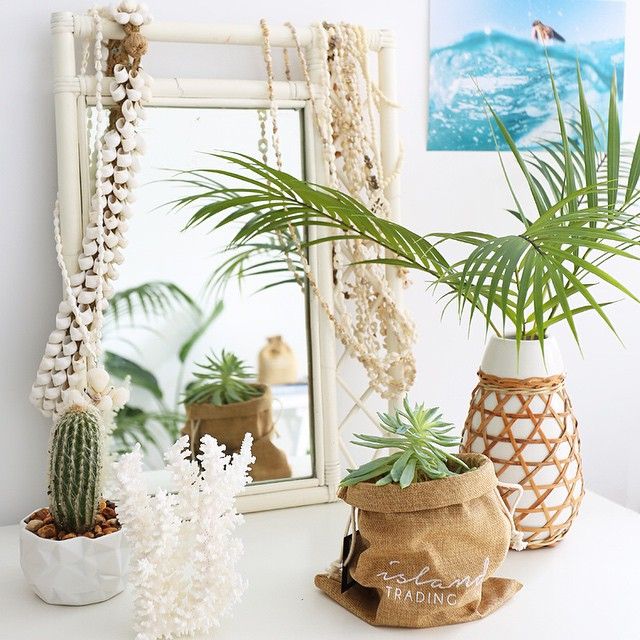 BEDDING
The Island Trading Co sheet sets are made from cotton sateen with a high thread count, they are soft, glossy and durable. There is options to buy a complete sheet set in various sizes, or simply a set of pillowcases. You may choose embroidered pineapples or palm trees in white on white, or stone on white colour ways. They come in a large drawstring bag crafted from the same cotton sateen and adorned with embroidery and an antique brass tag.
The little detail I love about these sheets is that they have a printed size reference on the labels. I don't know how many times I've pulled out queen sheets for my king bed by mistake, and we all know what a pain they are to fold back up!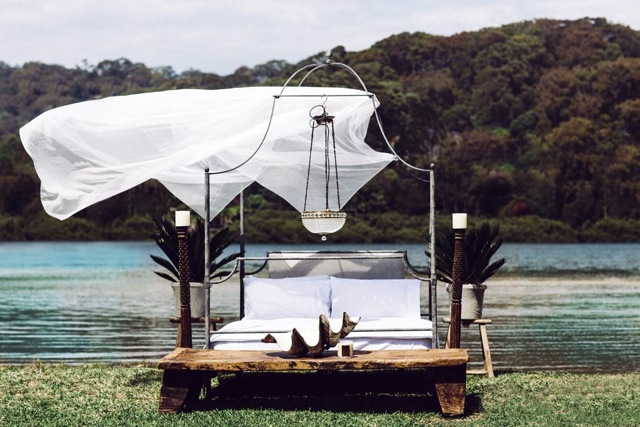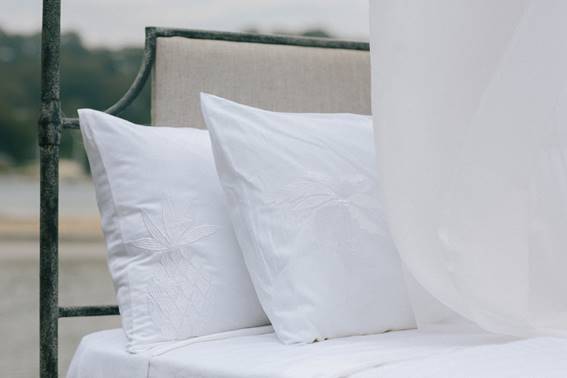 MARBLE
Classic and contemporary, hand carved marble pieces are perfect for any decor style. The practicality and functionality of stoneware makes it suitable for any room in your home, from the kitchen to the bathroom, or the living areas. Each piece of marble has it's own colours and highlights making each bowl, plate or canister unique.
I love having something in my home and knowing that nobody else has one just like mine.
I was lucky enough to ask Kathy a few questions recently, I just know your going to love her as much as I do!
Tell us a little about yourself.
I was a finance broker for 20years until 4 years ago when I started Shopping Confessions. I'm the eldest of 3 kids and from a Greek background. I've been married to my best friend Mike who's Irish but born in Jersey for 11years.   We live on Sydney's Northern Beaches and Maui is our 4 legged baby she's a staffy x lab. I have always loved to shop and I have shopped online for over 10 years. I'm a pineapple collector and have a weakness for homewares and shoes.
You're a self-described 'Island Girl at Heart'. Where's your favourite beach location?
It's funny for work and TV appearances you have to dress up to the 9's but I'm always happiest in a cossie, sarong and being barefoot and my nick name growing up was Island Girl.
I have been lucky enough to travel to some amazing places over the years and I still think Australia has some of the most beautiful beaches on the planet. In Sydney, Bilgola Beach would be one of my favourites. In February Mike and I visited Vanuatu and stumbled across a little beach called Eton it was only us and the locals; it was magical. I have to say Vanuatu stole a bit of my heart. We are going back again soon.
 You were lucky enough to turn your hobby into a job and become a professional shopaholic. Do you have any advice on how to turn your passion into a career?
 I'm not going to lie, it's really hard. I kept working full time for the first 12months while starting my business and I made a lot of mistakes. Research, read, ask questions, listen and the number one thing don't try and do everything yourself which I did. Do what your good at and outsource the rest, it will work out cheaper in the long run to pay someone else. This will sound so cliché but don't do it for the money it has to be passion and the money will follow. It may take a while but it will. Stay true to yourself and treat others how you want to be treated.
You get to review so many great products. What is more important to you, style or comfort and functionality?
My girlfriends and I were just talking about this on the weekend. If you asked me this in my 20's definitely style no questions asked, now I'm in my mid 40's comfort and functionality is priority without compromising on style. I could try on the most amazing shoes you have even seen but if I can't walk in them they can stay at the store.
You recently launched Island Trading Co. Did you have a big part in designing your pieces?
I designed all the candles, bedding and marble myself 100% including packaging even down to the brass swing tags. I deal with all the manufacturers direct. It's a big job but I love it. This has been my dream for so long.
Is there a story behind your triple palm tree logo?
No not really, I think everyone was expecting me to do a pineapple. Palm Trees are another love of mine. The original idea I had was a single palm. This is an example of outsourcing. I sat down with Lauren from Culture Fox Design and showed her examples and styles of what I love, the only thing I said was essential was the colour, I wanted sepia as it has an old school feel. Lauren who is amazing gave me several options and that's what I choose.
Your range has been a hit with the Australian Market. Were you prepared for such a great response?
 I knew it would be well received only because I'm a big believer of 'you get out of it what you put into it' and blood, sweat and tears and sleepless nights went into Island Trading Co. I changed the design of the candles so many times until I was 1000% happy. I just didn't think it would be this quick it actually caught me off guard a little. Receiving orders from the US, UK, NZ and even Tahiti I cannot begin to explain the feeling.
 Your packaging is all environmentally friendly. Is this something you are passionate about?
Absolutely. It saddens me the amount of plastic that's found in the ocean. When I take Maui for a walk the amount of rubbish I pick up is disgusting. I wanted everything to be re-usable including the packaging. The candle vessels have so many uses when there finished. I have them in the kitchen with tea, coffee and sugar and thanks to Villa Styling I use the bags for my herb pots. I've even had people send me pics of the swing tags being used as key rings. I love it. The bags the bedding comes in has so many uses.
Something people don't know is that the rattan covers are all hand woven. We have been able to provide income for 10 families in Lombok. The mums can actually stay at home to work while looking after their kids.
How do you feel when you see someone proudly displaying your home wares in their own home on social media?
It is the greatest feeling. I've even shed a few tears and done a happy dance. It makes all the hard work worth it and I cannot thank everyone enough. It's a great compliment. I love there are so many island lovers out there.
I have been lucky and met some amazing people over the past few years and Donny Galella (fashion stylist) called me when we launched and made me cry when he said 'Kath I'm so proud of you this has your name all over it' and that's what I wanted to achieve. Then when you receive hand written notes and text messages from the likes of Kylie Gillies, Sally Obermeder and Maha Koraiem it's a real pinch yourself moment. Let's face I'm just a girl who lives in the burbs who loves to shop, had a dream and took some big risks.
Could you please share with us your favourite
Jeans – NYDJ. Anything that lifts and tucks I'm sold.
Lip Balm/gloss – I'm not a big gloss girl my hair keeps getting stuck to my lips. I do love the palmers coco butter balm.
Coffee Table Book – India Hicks is my idol. I just bought her latest book Island Style.
Cocktail – Anything with coconut vodka although I do like an espresso martini.
Scented candle – This is like asking who my favourite child is. I love them all.
Plant – Just about every vase in the house is filled with golden cane palms, it's an affordable way to bring the tropics indoors and I do love a hibiscus tree.
Tea or coffee – Definitely coffee but I have been drinking coconut crème tea lately. I've brought some in from Hawaii and now selling on our website.
Exercise – My hubby loves to walk and run we have a bit of a joke that my walks are to the letterbox and back. Stand Up Paddle Boarding I'm obsessed with and just recently have taken up Pilates; any exercise that involves lying down is a winner in my books.
Linen – Has to be our Palm Tree or Pineapple sheets of course. I love hotel quality sheets.
Dish to Cook – I love cooking. I'm big on platters and sharing plates. Lamb and seafood probably my favourite things to cook but I do love moussaka on a cold winters night.
 Kathy has very generously offered all my readers 20%! Just use the code – 'mumlittle'.
Happy Shopping Island lovers!
Hayley x

* I received some goodies from Island Trading Co. for editorial consideration, therefore I can personally vouch for the quality of these beautiful pieces. Trust me, you're going to love them!