Frankie Jean creates fun and colourful textiles and art for your home. They first caught my eye on Instagram about a year ago when I stumbled across their gorgeous cushions. They have a new range ready right now, and I thought it would be a great time to introduce them to you.
Meet Lyndsay, the face behind all that colour and pattern at Frankie Jean.
Tell me a little bit about yourself?
I was born and grew up in regional Victoria, in a city called Bendigo, where I studied Visual Arts at La Trobe University for five years including an Honours year in Digital Illustration. My husband and I have been married for seven years and we have a dog, Oscar (our fur-child). We have been living in a leafy suburb in Melbourne for about five years now – I am a country girl at heart but happily call beautiful Melbourne home. I currently make all of our Frankie Jean products in my home studio which is filled with piles and piles of fabric, zippers and cushion inserts and not much room for anything else!
What made you want to begin your little business?
I had been working as a freelance graphic designer for some time and like most, had an interest in decorating too. I was reading a lot of decor/DIY blogs and magazines, as well as spending evenings on Pinterest, always researching products for my next project. I like having a go at making most things myself however I had no idea how to sew!
On a rainy weekend in 2012, my Mum, who is a great sewer and quilter, taught me the basics of putting a zipper in between two squares of fabric and I remember feeling like I had just learned a super-power. Once I had made far too many cushions for our small house, I began to dream about doing it for pocket money. The initial plan for Frankie Jean was that I would sew cushions out of fabrics I bought in stores for friends and family, but then I experimented with designing my own fabrics and it seemed silly not to make my cushions out of those instead. We came up with the name for Frankie Jean over dumplings in Box Hill shortly after – "Frankie" is from where my husband and I were the day we were engaged (picnic-ing at Mt Franklin in Central Victoria) and "Jean" after my maternal grandmother: a stylish, friendly and honest woman with a spirit I aspire to emulate. I now sew almost exclusively with fabrics I have designed myself that have been digitally printed onto high quality decorator fabric, selling them through a website that my husband and I built.
Frankie Jean has grown very organically into what it is now, mainly due to the support I get – I am so lucky to be surrounded by generous friends and family, and they've all been endlessly helpful with all aspects of the business. It is so fun to get to share my hobby and passion with the people I care about the most.
What was the first cushion you sold, and is it still available today?
Funnily enough, even with a core collection of cushions online my first sale was a black and white fold-over clutch, a few months before our website launched at the end of 2013. I had posted a picture of some prototypes on Instagram and a lovely girl from NZ approached me to buy one, I almost fell off my chair with amazement.
From there, my first cushion sale was an aqua Gem cushion with pom pom trim, which is still a popular product in our store.
Who or What inspires you?
I think primarily, colour and pattern really inspire me. I am surrounded by them every day and I get quite a thrill out of a good combination of both. I am mostly inspired to create items I would buy for myself if I saw them in a shop – my home is my portfolio these days and I figure I can't be the only one that loves bright colour and cheerful pattern (and more than a touch of animal print, I do have to admit).
I credit the Internet and Instagram as my main source of inspiration. I love looking at professional interior decorators' portfolios and studying how they have composed a room or arranged their textiles, like pillows, rugs and throws. The layouts tell a story and it's magical how a space can incorporate heaps of different textures, colours and patterns and still look cohesive. I have a lot to learn, but I greatly enjoy blogs as a way to wind down and observe what's new or what is trending in the world. I try to take bits and pieces away with me which will then usually become an idea for a colour way or product.
I am also really inspired by the process we use to print our fabrics. The beauty of digital fabric printing is that a design can go from being an idea or sketch to a fully-fledged product in a matter of days. It means we can be really experimental and try different ideas to see if they will work with little to no risk. I really love the "designing new things" part of Frankie Jean, and I'm always excited about what's around the corner.
How do you feel when you see someone proudly displaying one of your items on social media?
My business still feels very new, even though I have been working on it for over three years. So I am still delighted and humbled when someone wants to buy something from my store, and even more so when they take the time to put a photo up or use the hashtag we send out with our orders. It is completely thrilling and I don't ever take it for granted.
What is your proudest achievement?
Learning to sew, and to re-thread my vintage overlocker?! My original overlocker belonged to my paternal grandmother (Edna, who I think of every time I dig into a basket of threads and buttons she left me, she was a seamstress and I try to channel her if I am working out something new that I haven't sewn before). I now have a slightly newer model but it still takes courage to put a new spool on!
Other than that, I am always proud that I can work on Frankie Jean in my spare time with my husband in our home, that we can make our products in Australia using environmentally-friendly practices and that people dig what we do enough to buy what we make. I also took Frankie Jean to our first market recently and it was a very proud moment seeing months and months of sewing in one big collection, a little bit like having my own mini-shop (which to be very honest, is the dream!)
What have you got planned for Frankie Jean in the future?
I would love to introduce other textiles such as throws and bedding, as well as start to experiment with ceramics and lighting. It would be great to develop Frankie Jean into a homewares brand with a well-rounded (and well-priced) range of decorating items, and I hope to be able to work on our online store and gently expand our collection as time goes by. We are also starting to do a few custom/bespoke projects which is super exciting!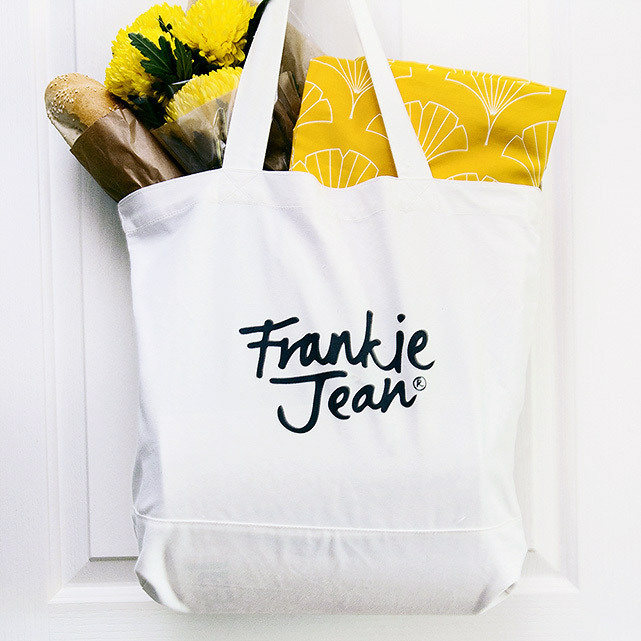 Lyndsay has offered a special deal just for Mum Little Loves readers until the end of May – If you spend over $50 on anything from Frankie Jean you will get FREE SHIPPING! Just put 'mumlittleloves' in the discount code field when checking out. YAY!
 If you want to add a pop of colour and personality into your home with Frankie Jean, you can head over here to shop.
Happy Shopping Friends!
Hayley x