After such a positive response to my last post about beautiful books I quickly established that many of you love books also. So what do you do with your books? Do you plonk them on the coffee table, maybe throw them up on a bookshelf, or do you use them around your home to decorate with?
Books are fantastic for adding splashes of colour, for adding height to vignettes and for defining areas within a bookshelf or display space. Lets have a look at how to use books in your home.
Colour blocking your bookshelves is so much fun and very effective, you don't need to have a full bookcase of books, just enough to define similar colours in each 'block'. I love this look!
If you don't have a huge bookshelf like these, your coffee table 'needs' book, it's practically naked without them. They're not called 'coffee table books' for nothing.
Most people have books on or in their bedside tables, don't hide them away, use them to add height to a posey of flowers, or for a touch of colour.
If you don't like the covers of your books, cover them! Brown paper looks effective, or for a little vignette you could use some wrapping paper, left over wallpaper, fabric or music sheet paper.
Here is how I decorate with books in my home. I often coordinate my book spines with flowers, candles or other items to give the colour pop greater impact.
I've chosen to restrict my bookcase to a colour palette of blue, white and neutrals. I have only used books that fit this palette. The books adds height, colour and interest to the overall scheme. I also use books to balance out smaller items to give them more impact.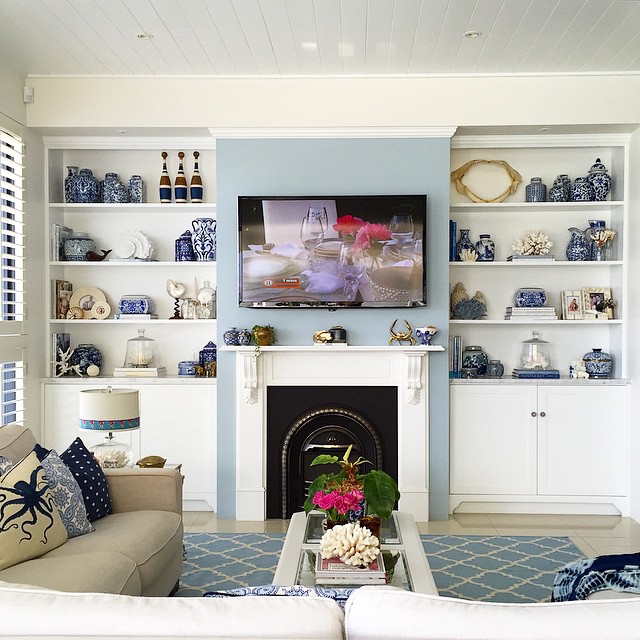 Hayley x
*All images, unless stated, are from Pinterest, pop over to my Pinterest and have a look at my 'Books' board for further details.