I've made no secret of the fact that I am completely in love with Couani's range of gorgeous woven baskets and bowls. I have included them on my Instagram #mumlittleloves and on a blog post or two, So I thought it was about time I found out some more about Couani. Kiki from Couani was gracious enough to answer a few questions and share a little bit about her business.

Tell us a little bit about yourself?
My name is Kiki Couani, I grew up in Sydney and was one of four children. At 27 I got married to my partner. The idea for COUANI began on our honeymoon in Africa actually! Today we live near the beach in Maroubra. We would love to get a puppy!!! But we will have to wait till our backyard is bigger.

How did Couani start?
I have always wanted to start my own homewares company. I just adore colour, pattern, textiles and homewares. After watching local weavers in Africa on our honeymoon it inspired me to combine these passions and that's when COUANI began really. It wasn't until I was in Africa travelling that I realised stylish homewares can also have heart and be good and fair.
Couani is my married name… though it does sound African – or a lot like a Hawaiian cocktail.
What does this support mean to the women of Africa who expertly craft your bowls, baskets and pieces?
I never truly understand how powerful it is, but I received a letter from one of the women weavers and it was so simple and so beautiful – and sometimes I read it when I need more focus on why we started. She mentioned how every time she weaves a basket for COUANI it helps her children have a better future by providing her with funds for their education. It's great to be part of something that helps these talented artisans on the other side of the planet.

Where do you find inspiration for the brilliant colours and playful patterns?
I find inspiration for the range by painting – mixing colours and patterns. I love reading books, and designers blogs or Instagram pages.

What does the future hold for Couani?
The future is exciting! More items to design, more wonderful artisans to meet.
********************
I am dying to bring some Couani into my own new home, I'd love to hang a few of them on my walls. They are also ideal for hanging on curved walls, such as those around curved staircases.  Here are some of my favourite inspiration pics for using woven bowls and baskets in your home.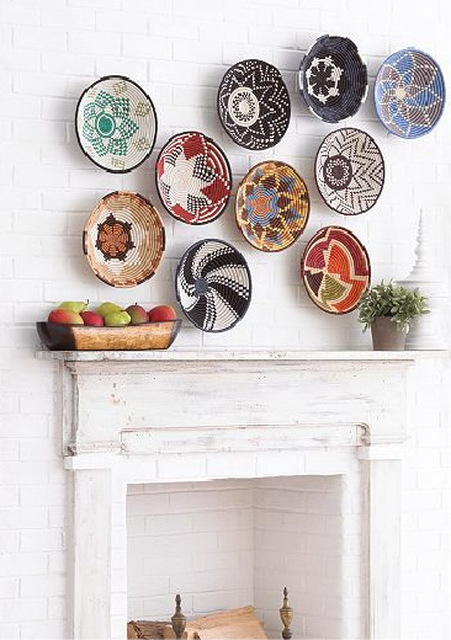 I adore these walls of fun and colour and have just the spot to recreate this in my home, it's on the 'to do' list, which is very long at the moment!
This is also a great idea, and quite easy to do yourself. You can buy pendant light kits from your lighting retailer for a reasonable price. It's as easy as opening a small hole to fit the cord through and having the light hung. You can have your light installed by an electrician or buy a kit where the light plugs into a power outlet. Easy Peasy!
What do you think? Are you inspired to bring a little bit of Africa into your home? You can shop here.
Happy Shopping!
Hayley x