I follow so many people on Instagram that have great homes with their own style and personality, I'm going to try and share lots of them with you this year. Let's be honest, who doesn't love a peek inside somebody else's home, and you might just find some new friends to follow on IG! You might remember the gorgeous home of Ingrid I shared late last year, if you missed it you can find it here.
Today I'm sharing Cathy's home with y'all. It has been featured in Australian Homes + magazine, and her master bedroom made the top 15 in Australian Home Beautiful's Top 50 Most Beautiful rooms for 2015.
It is tropical and beachy, and it scream summer vacation. I think your going to love it!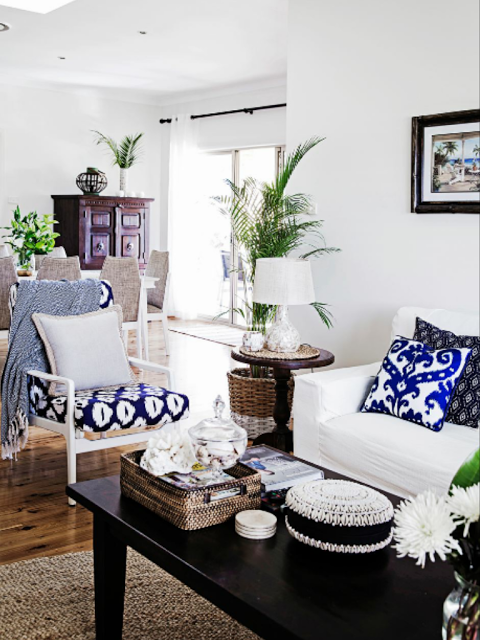 Tell us a little bit about yourself?
I work from home hairdressing. I'm a mum of 2 teenagers PJ and Shania and I'm married to a wonderful man named John , I'm a diy and homewares addict who loves all things home.
What made you choose your home and have you done any work to it?
We actually relocated our house 18 yrs ago onto our 2 acre property in Austral Sydney, and since then have done 2 major renovations and thankfully we are finally finished. The last reno was 2yrs ago when we added a master suite, which I can proudly say was a top 15 finalist in Home Beautiful 2015 in the 50 beautiful rooms competition a very proud moment, we also added a rumpus room study and fresco area.
I love your bed, the before and after pics look amazing, where did you find your inspiration?
As you know I love a good Diy and I made my bed head. In my bedroom I wanted a tropical look as I was inspired by a trip to Bali and Hawaii many years ago, I love to feel that I'm always on a tropical holiday, the bed head was a black wrought iron bed previously and It wasn't going to suit the look I was after, my husband of course the practical man couldn't understand why I would want to buy a new bed when that one was perfectly fine ( men just don't understand ) so I made a bed head head and stained the wood, it came up gorgeous keeping the original bed.
If you want to see the instructions on how Cathy made this bed head you can see her blog post here.
I know your a bit of a DIY'er, tell us about some of your projects?
Other diys include my daughter's furniture I painted ,a mosaic mirror, a pallet vertical garden, beaded chandeliers, and I've recovered and painted our dining suite which was my husband's when he was a young boy.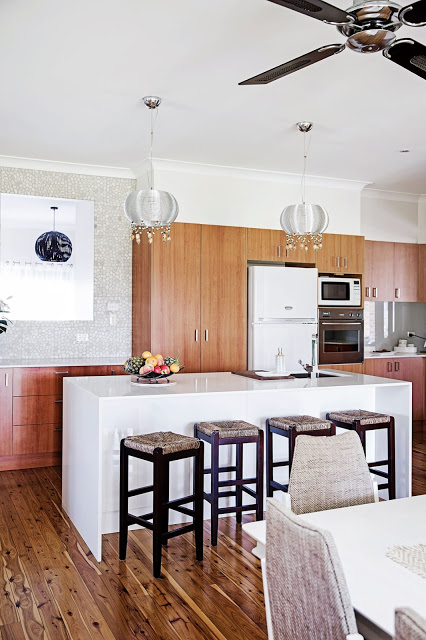 What is your latest interior design crush?
My latest interior crush is concrete, so I'm loving polished concrete floors, benchtops , concrete pots and pendant lights, just loving the concrete look with a light timber mmmm.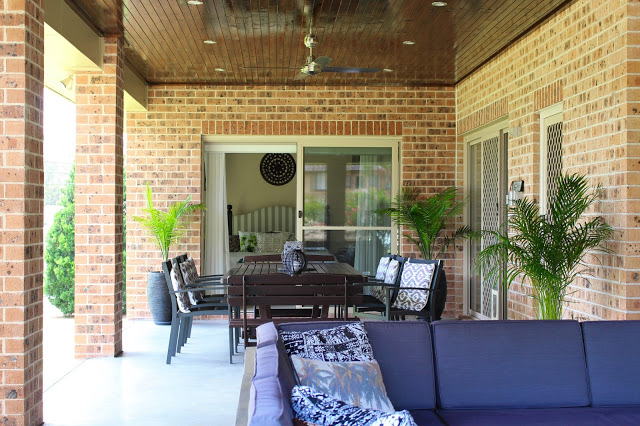 Where are your favourite places to shop?
Some of my favourite shops are Freedom and Ikea. I love shopping online including Temple and Webster and supporting local businesses, and I love a good market. 
What's on your current wish list?
On my wish list interior wise is a moroccan wedding blanket but somehow I don't think I'll get …fingers crossed 
You can find Cathy's own blog here, or follow her on Instagram here.
Hayley x