I've always loved the look of plantation shutters, there's something so sophisticated about them, yet they are also casual and classic. They complement nearly every home style and are very practical.
I knew I wanted shutters in my office space for a few reasons.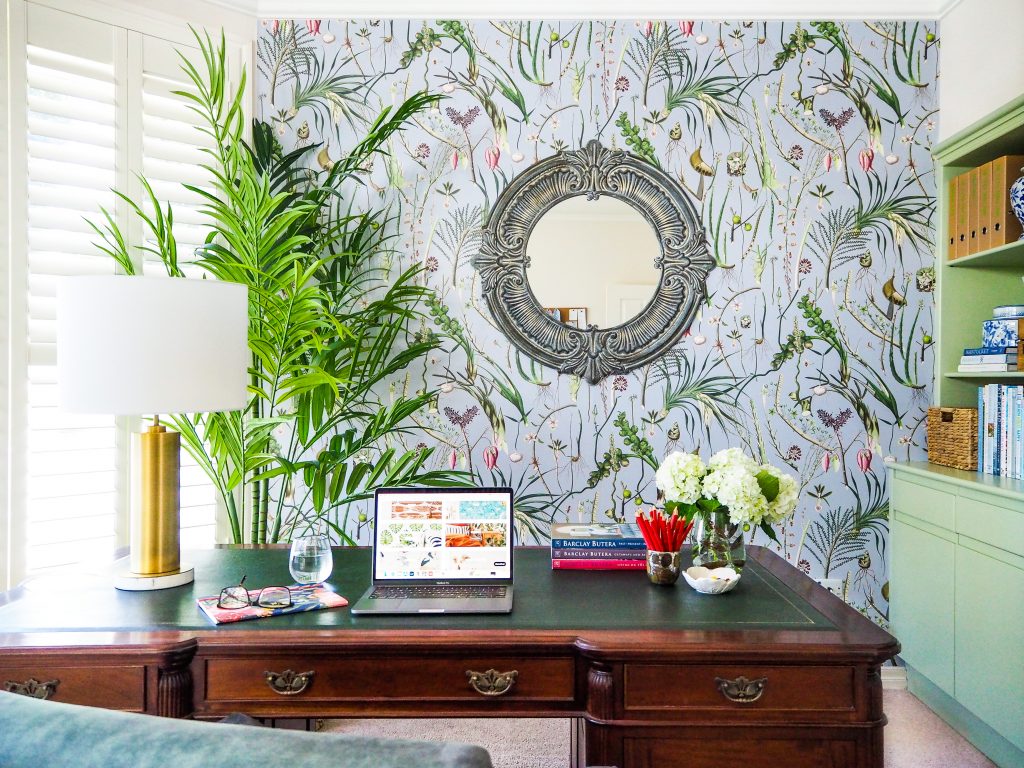 Firstly, our office is right at the front of our home, it is visible from the street and I knew shutters would compliment the curb appeal, they look just as beautiful from the outside as they do inside. I would eventually like to match the entire front elevation of  our house with the same plantation shutters.
Secondly, the office is a bit of a dumping ground in our house, if someone doesn't know where to put something, – in the office, anything that needs to be retuned to a store or someone else – in the office, half done projects – in the office, leftover decor that I haven't found a spot for yet – in the office …. you get the idea. So, I wanted something very clean in the office, clean looking to reduce the visual clutter and easy to keep clean. Shutters tick all the boxes.
Lastly, the office faces west and has 3 huge windows, the afternoon sun can be awfully hot in summer and absolutely gorgeous in winter. I like being able to control the light by tilting the slats to an angle that blocks the light or lets it stream in, while the bifold design makes them easy to open to access the windows.
So, they say DIY … how easy is the DIY and can you do it?
If you can measure your window, drill a hole, read a spirit level and screw in a screw – YOU CAN DO IT!
If you said no to any of those things, keep reading and I'll show you how easy it really is.
I'm going to give you the quick version of how they arrive and what you need to do to put them together and install them. Please don't use this as your instructions if you order your own shutters, it's just meant to show you the process so you can see how simple it is.
Depending on what fitting option you choose your installation may be slightly different. The fitting guide from Tuiss Blinds Online gives you step by step instructions that are simple to understand and easy to follow. We have the 'Recess with Sill' option to fit on the inside of our sill, at the same projection as the architraves.
You shutters will arrive in separate parcels with the framing in one package and the shutter panels in another. Unpack everything before you start, lay your components out on the ground and familiarise yourself with the tools in the fitting kit.
The fitting instruction from Tuiss Blinds Online tell you to assemble your frame first, then drill your fixing holes, but we found it easier to drill the holes first as our frames were so big and it was much easier to manoeuvre the frame lengths before they were assembled.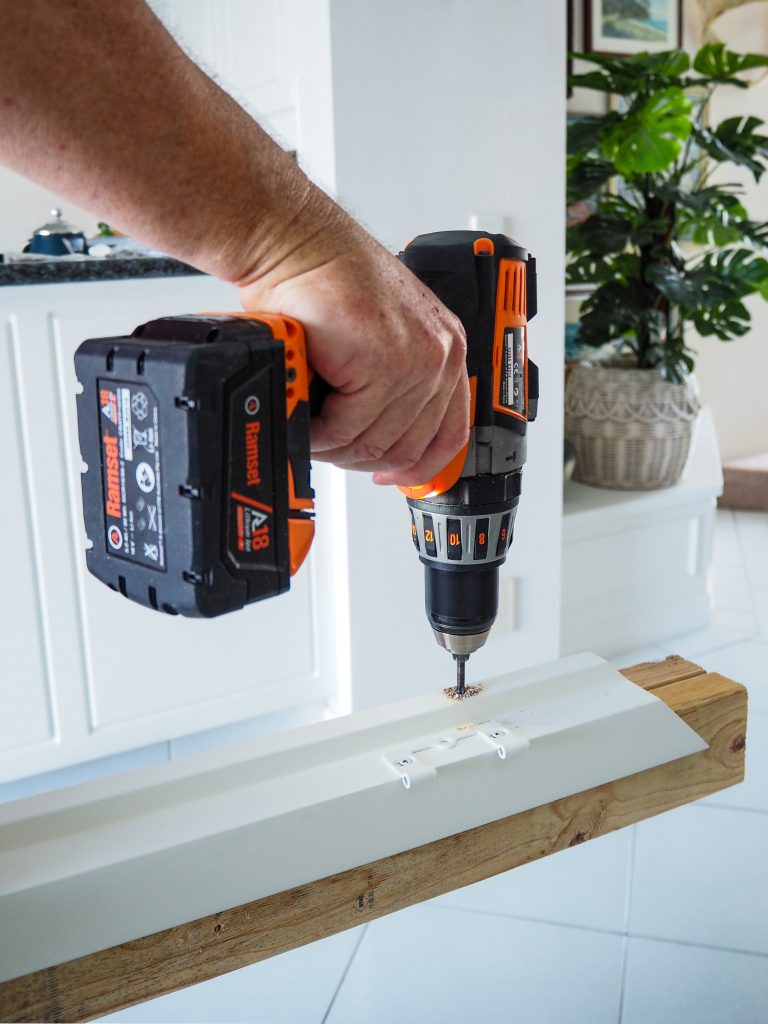 I know this bit sounds scary, but if you have basic knowledge of how to use a drill, it really is very easy. We drilled one hole 10cm in from the top and bottom of the ends on all 4 sides and also another hole in line with the centre of each hinge on the side pieces. We measured and marked our holes with a pencil first, my tip is to measure twice and drill once!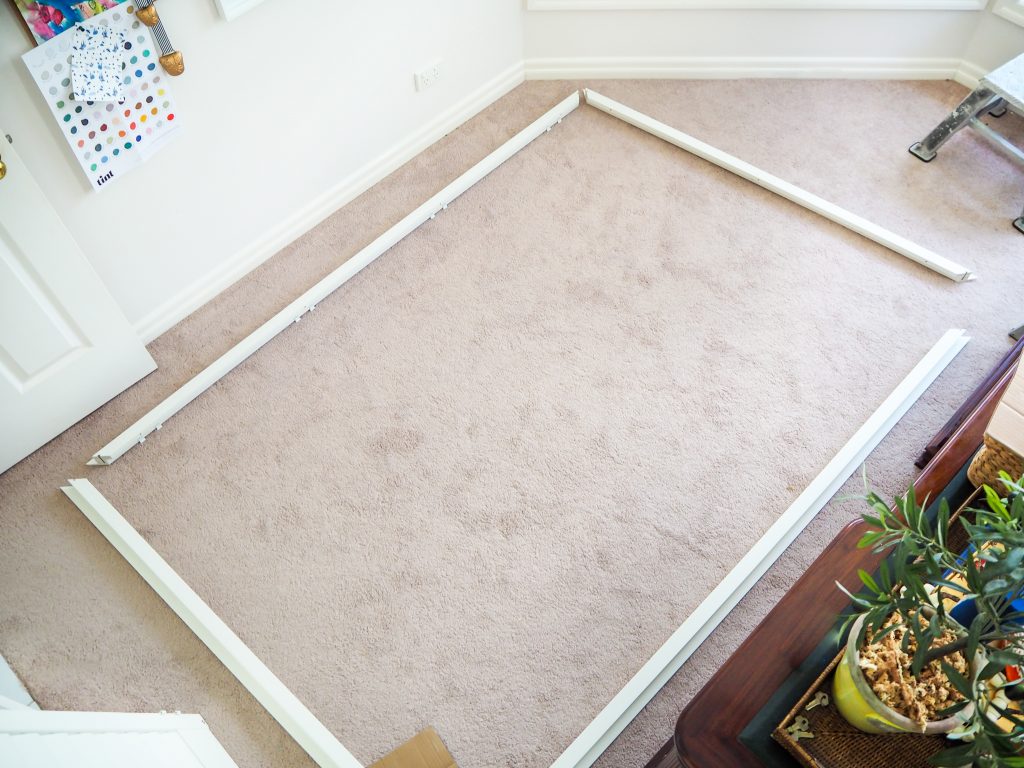 To assemble your frame you just need to push the hoffman keys into the holes, you might need to give them a little hammer into place.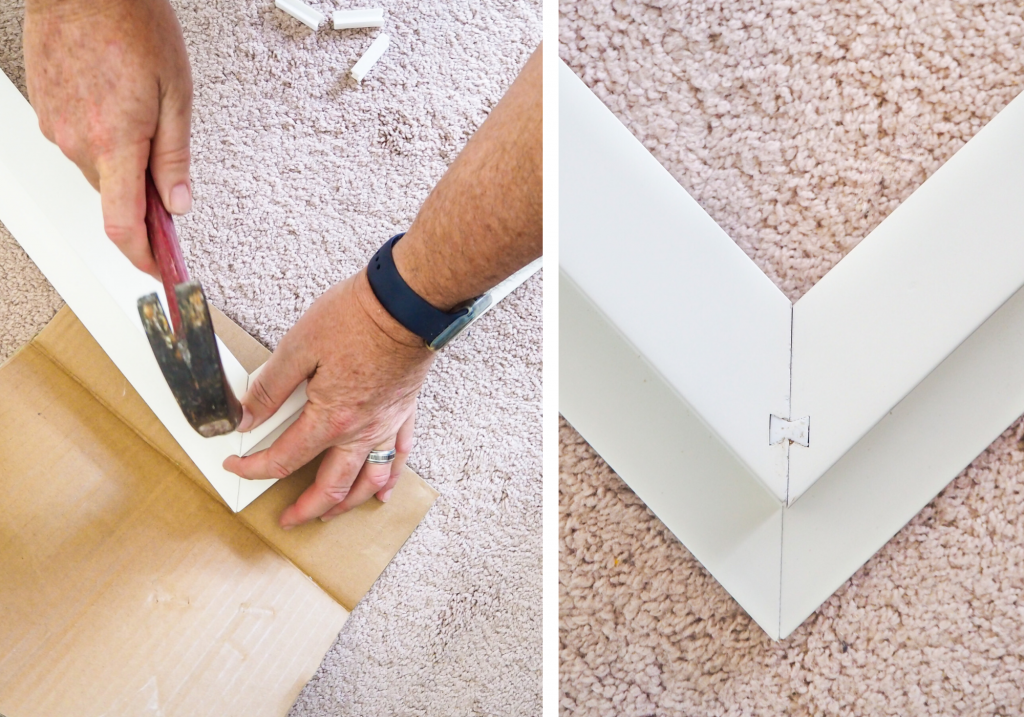 Now you are ready to install the frame into your sill, or whatever fitting option you chose. Use a spirit level to make sure it is sitting level and straight in all directions. You can use the 'shims' or 'packers' provided to adjust it horizontally or vertically.
Drill your pilot holes through the holes you made in the frame and into your sill or wall. A pilot hole is small hole that is used to guide the threaded screw, it reduces the risk of the wood splitting and makes it much easier to drive the screw in.
Once all the pilot holes are drilled, use the long screws from your kit to secure the frame to your opening. We put the screws in loosely at first then checked the frame with the spirit level again to make any small small adjustments before tightening up all the screws.
It is worth taking your time through the frame installation step to make sure everything is level as your shutters will hang straighter and operate smoothly.
Now you are ready to hang the shutters.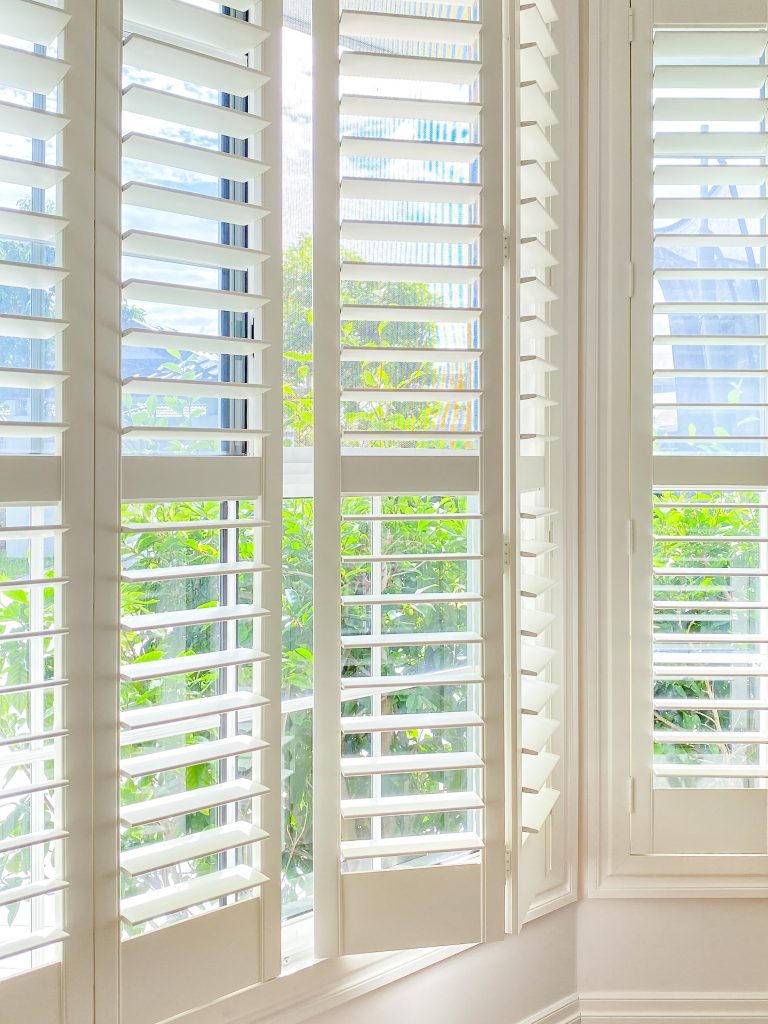 If you loosen the hinges just a little it will give you some movement and flexibility which makes popping the pins in much easier. This is the only part of the process where I found it helpful to have someone else help me, the panels are not heavy, but the extra hand is helpful, one person to hold the shutter steady in place while the other person pops the pins in. They just push in, but they are made to fit snug and may need a little tap from your hammer.
You shutters are now installed.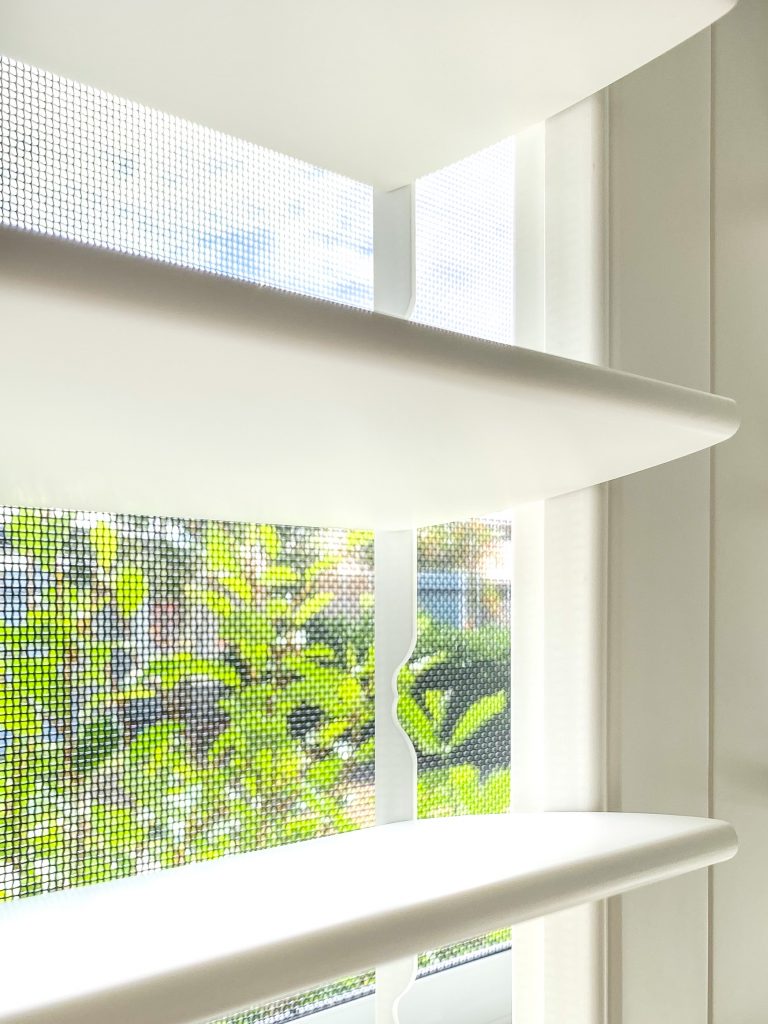 If they are not perfectly level or sitting slightly off centre, you can adjust them. The fitting guide shows you the best way to adjust them depending on where they are uneven.
See, it's really not hard at all!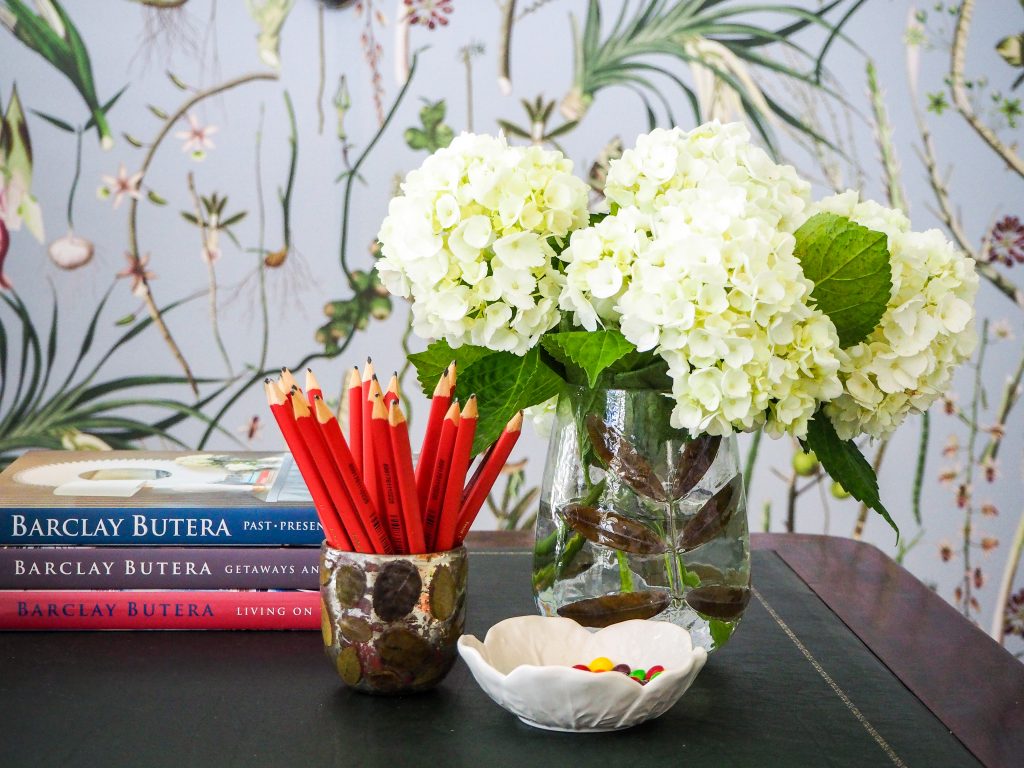 And your next question – Why would you WANT to install your own shutters.
Two reasons, convenience and money.
I find it much more convenient to measure up myself, order online and fit my shutters at my own convenience instead of having pushy salespeople coming to my home and having to wait all day for them to turn up when they feel like it. I'm not saying all tradies are bad (I married one) but I have had a few that walk dirt through the house, bump into walls and the worst – use your loo for number two, ew!
And money … do you have any idea how much money you can save by doing this yourself? You're basically doing the labour yourself, and we all know that the labour costs is quite often the most expensive part of any home renovation. Obviously I can't tell you exactly how much you'll save as prices differ from business to business, but to give you an idea – we ordered shutters from a local business at our last house, we looked at their invoices and worked out a rough meterage price, then we did the same with our quotes from Tuiss Blinds Online. The DIY shutters were LESS THAN HALF the price of what we paid last time.
Seriously!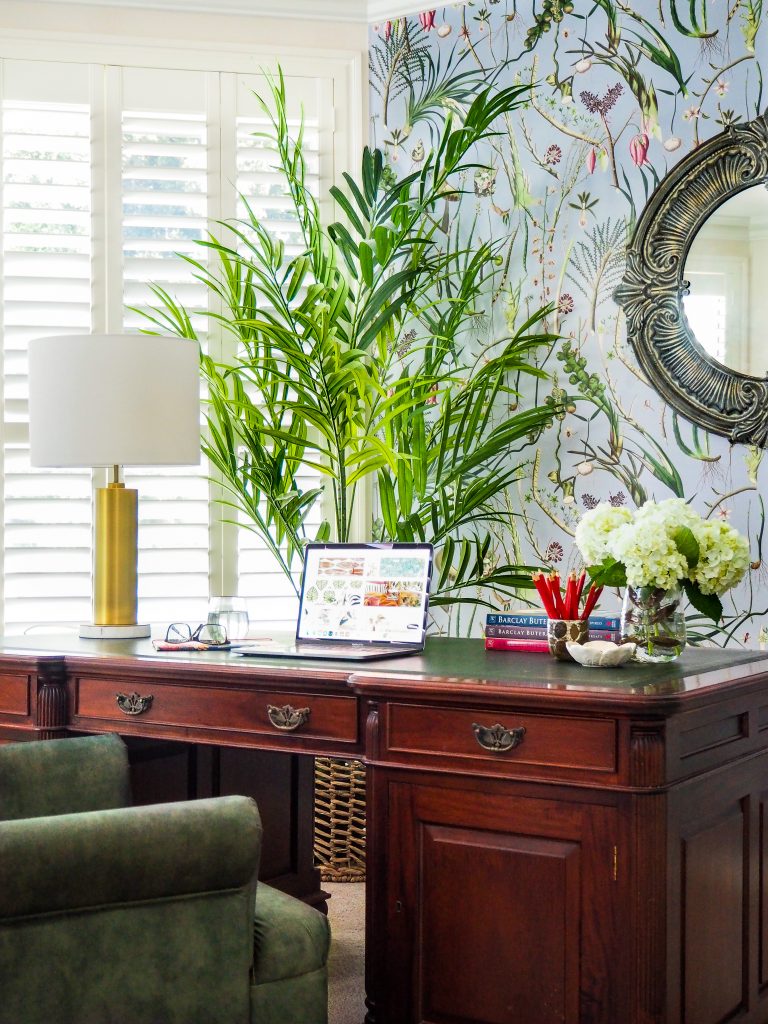 We chose the Sherbrooke Egg Shell shutters from Tuiss Blinds Online and we couldn't be happier.
Here's a few before and afters.
The first 'before' is when we first moved in, the windows had greenish-grey sheers over the blinds. We removed them pretty quickly. The second picture shows the blinds just before we removed them.
I'm thrilled with the transformation in this space!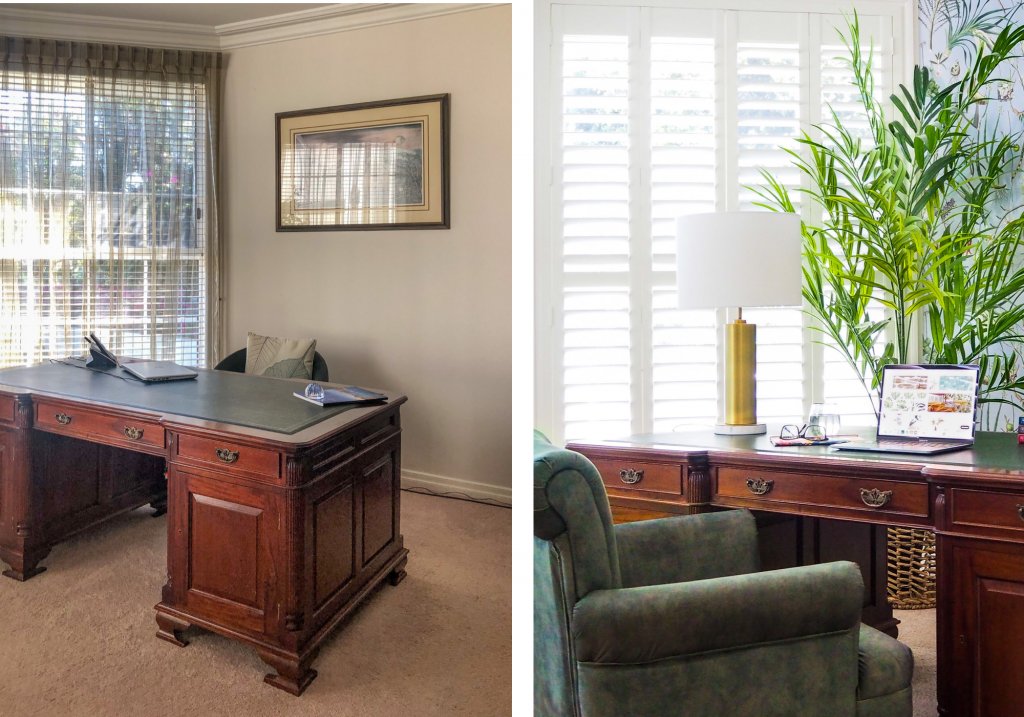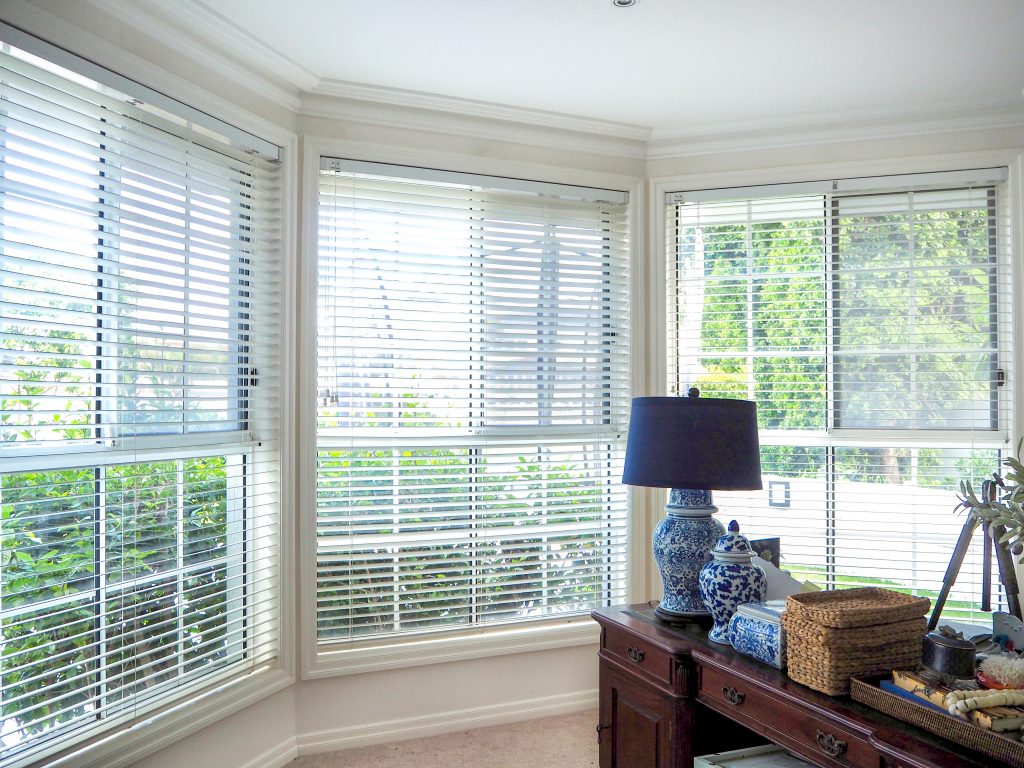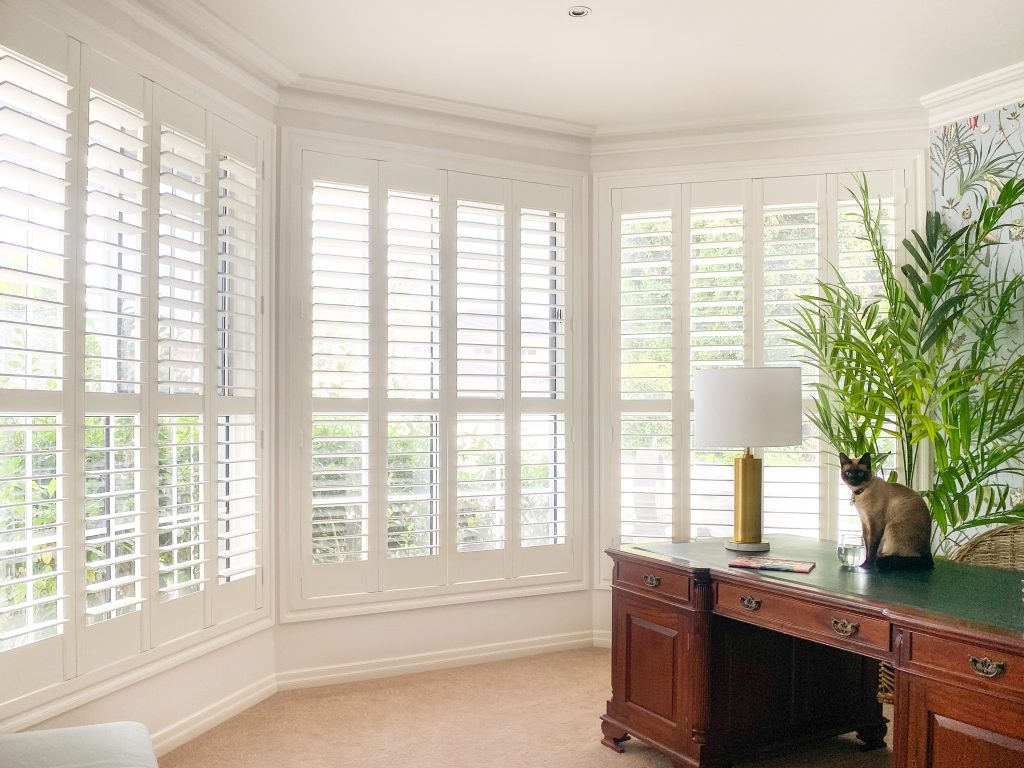 What do you think?
Leave me your thoughts or questions here or on IG here.
Happy DIY'ing!
Hayley x